Top Emoji Trends of 2021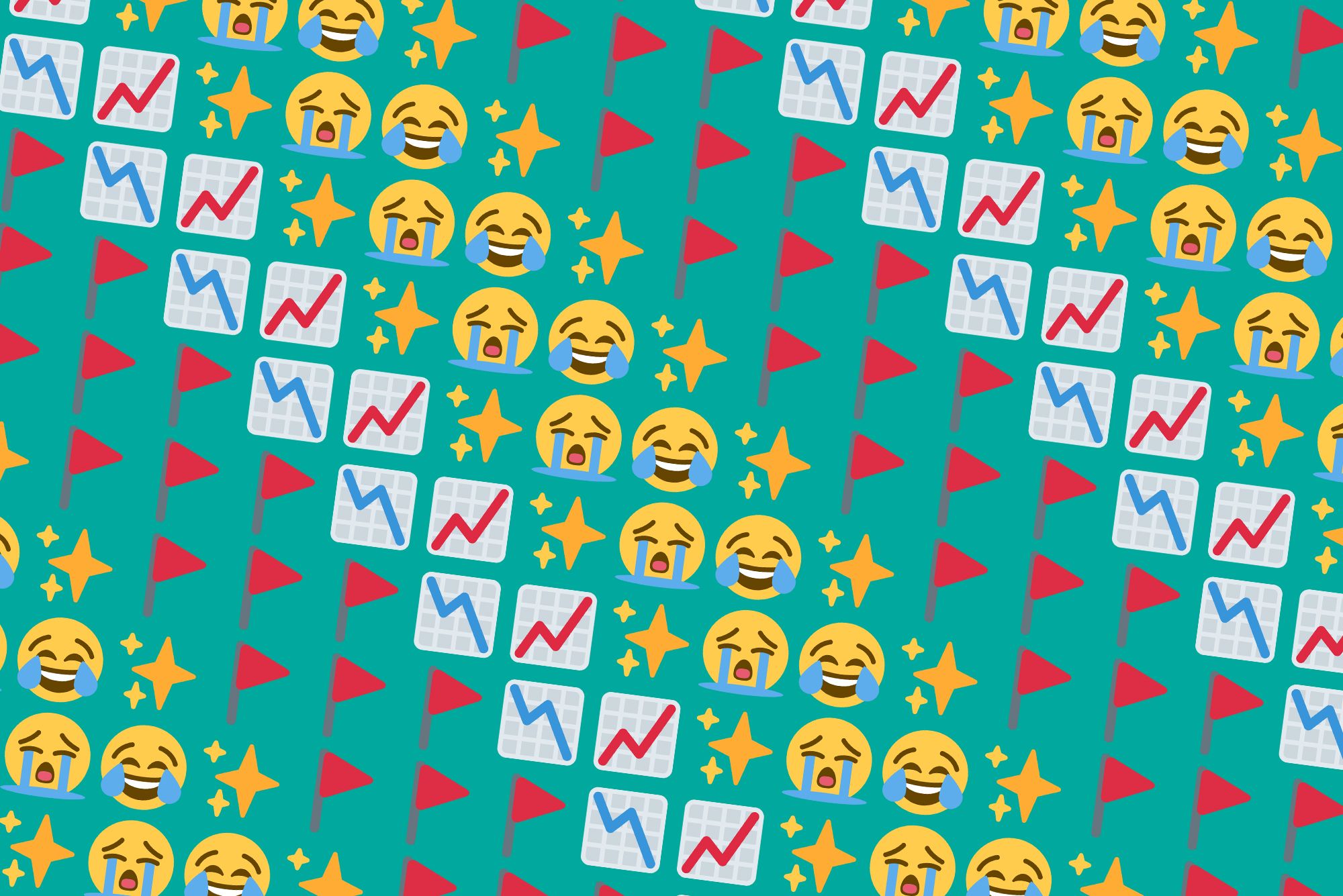 As another year enters the annals of history, a new record of global emoji use has been reached. Meanwhile, changes amongst the top ten global emojis continue, though as a whole the world's most popular emojis remain highly stable.
Come the end of the month[1], 21.54% of all global tweets sent in December 2021 have contained at least one of the now 3,633 emojis approved by the Unicode Consortium.
This is the highest percentage recorded across the last ten years[2], surpassing our previously-reported peak during July 2021[3].
As shown above, December has been the peak month for emoji use each year going back to 2017, buoyed by the popularity of Christmas emojis such as 🎄 Christmas Tree and 🎅 Santa Claus.
You can read more about the usage rates of these and other Christmas emojis here.
🔝🔟 Top Ten Emojis
According to the over 386 million tweets we collected throughout 2021, the top ten most used emojis across the year were, in descending order:
These are the exact same ten emojis that topped our 2020 review, albeit with some slight adjustments in order.
No other emojis entered the top ten on a month-by-month basis in 2021.
This means that the top ten emojis in the world were even more stable in 2021 than in 2020, during which a total of thirteen different emojis appeared across the monthly top ten throughout the year: the current top ten as well as 💕 Two Hearts, 🔥 Fire, and 👍 Thumbs Up.
Most notably, the previously dominant 😂 Face with Tears of Joy has been usurped by the 😭 Loudly Crying Face as the world's top emoji. According to our data, this has been the case since March of this year.
Therefore, on Twitter at least, the 😭 Loudly Crying Face remains the most popular emoji in the world.
This may well differ across other platforms, however, as was strongly indicated by Unicode's own emoji data which was released at the start of this month.
92% of the world's online population use emoji — but which emoji are we using? https://t.co/q5ecmDjmyP #UnicodeEmojiMirror pic.twitter.com/KAByoFAIC8

— The Unicode Consortium (@unicode) December 2, 2021
Using amalgamated data from across its various members' platforms (including Emojipedia's Twitter data collection), alongside a possibly different method of counting emoji popularity[4], their research found that 😂 Face with Tears of Joy remained the top emoji across the globe, with the 😭 Loudly Crying Face placing fifth.
This in many ways is unsurprising, given that the platform and context in which emojis are being used can of course dictate the nature of their use, as per the adage "the medium is the message".
Yet with that being said, there is a striking similarity between the emojis that have appeared within the top ten in both our data and the Unicode data: eight of the top ten emojis in each study were the same, with 👍 Thumbs Up and 😘 Face Blowing a Kiss appearing in Unicode's data in fourth and seventh place respectively -#11 and #23 in our Emojipedia Twitter sample - taking the position of ✨ Sparkles and 🥺 Pleading Face which appear at #14 and #36 within their data.
Returning to Emojipedia's collected 2021 Twitter data, while 😭 Loudly Crying Face and 😂 Face with Tears of Joy are still the top two emojis in the world, it is evident that neither are at the level of "peak" 😂 Face with Tears of Joy, which occurred in June 2019.
This is especially interesting given the overall increase in emoji usage on the platform seen during these years.
While claims that the 😂 Face with Tears of Joy has been "canceled" are exaggerated, we have seen emoji users begin to speak out alternative means of expressing laugher in emoji in recent years. These have included the 😭 Loudly Crying Face, which is certainly a major contributing factor to its 2021 popularity.
How did we turn " 😭" into a laughing emoji...

— Skai (@skaijackson) March 31, 2021
Use these emojis for crying
😪😰😢😥
Not this emoji
😭
That one is "OMG so funny I'm crying."

I'm so sorry for your loss 😭😭
Looks messed up.

— Jasmyn (@JasmynBeKnowing) September 9, 2017
While the top ten emojis on Twitter have as a whole remained incredibly stable since 2020, the cumulative ranking for the year belies some recent changes in the popularity of these emojis.
While the 🥺 Pleading Face had been the third most popular emoji on Twitter since April 2020, the ✨ Sparkles emoji has been experiencing an incredible surge in use since August of 2021.
Thanks to this late 2021 surge, the ✨ Sparkles emoji has passed out ❤️ Red Heart, 🤣 Rolling on the Floor Laughing, and 🥺 Pleading Face to become the third most popular emoji on Twitter.
This leaves the order of the top ten emojis on Twitter at the end of 2021 as follows:
🔝🆕 Top New Emojis
Despite it initially being feared that the pandemic would lead to a major delay in new emojis being approved, 2020 saw two sets of recommendations made by the Unicode Emoji Subcommittee: Emoji 13.0 and Emoji 13.1.
Based on data collected throughout 2021, the top ten most popular emojis from these two sets are as follows:
The ❤️‍🔥 Heart on Fire taking the top spot here is consistent with our earlier research this year ahead of World Emoji Day, where we found the ❤️‍🔥 Heart on Fire to be the Most Popular New Emoji as part of the 2021 World Emoji Awards.
The high placement of 🥲 Smiling Face with Tear is also unsurprising, given that it was declared the Most Anticipated Emoji during our 2020 awards.
This bodes well for 2021's new 🫠 Melting Face emoji once it becomes more widely available across our emoji keyboards.
Though only presently available within Google's Android 12L beta release, 🫠 Melting Face was found to be 2021's Most Anticipated Emoji, has appeared on the front page of the New York Times, and been included within a segment by American late-night talk show host Stephen Colbert.
😵‍💫😵🤩😎🤠😁 My story on the new melting face emoji on today's @nytimes front page https://t.co/t09skD9RzK pic.twitter.com/ZLoVH5V5k8

— Anna Kambhampaty (@anna_p_k) September 30, 2021
"Emojis are designed to convey emotions like happy or sad or penis." pic.twitter.com/An2bYyZGZm

— Jennifer Daniel (@jenniferdaniel) October 1, 2021
🔎📈 Other Trends of Note
Last year we noted an increase in use for the 💉 Syringe emoji following the announcement of vaccines for COVID-19, with this increased use also noted during the early months of 2021.
Looking at 2021 as a whole, we can see this increased use of 💉 Syringe peaked globally in August with a rate of use over double what the emoji experienced in the first month of the year.
Additionally, earlier this year we assessed use of the 🦠 Microbe and 😷 Face With Medical Mask emojis across 2020 and into 2021.
Based on our findings, we concluded by and large that Twitter was quite bored of the pandemic, at least no longer interested in using 🦠 Microbe and 😷 Face With Medical Mask to discuss it. Looking at 2021 as a whole, we draw a similar conclusion.
On a lighter note, one previously obscure emoji was subject to a huge increase in popularity in late 2021 due to a new text-based meme format: the 🚩 Triangular Flag.
Previously most commonly associated with golf alongside ⛳ Flag in Hole and 🏌️ Person Golfing, in October of 2021 this emoji saw a previously unprecedented level of use.
Channeling the idiom "red flag", users began to use considerable multiples of the 🚩 Triangular Flag emoji as a tongue-in-cheek warning sign, usually concerning the behavior or preferences of another person.
going all day without talking to me 🚩🚩🚩🚩🚩🚩🚩🚩🚩🚩🚩🚩🚩🚩🚩🚩🚩🚩🚩🚩🚩🚩🚩🚩🚩🚩🚩

— I N A (@inaflorescaa) October 12, 2021
"me and my ex are still friends" 🚩🚩🚩🚩🚩🚩🚩🚩🚩🚩🚩🚩🚩🚩🚩🚩🚩🚩🚩🚩🚩🚩🚩🚩🚩🚩🚩

— 🧘🏾‍♀️ (@mykelrenee) October 12, 2021
"I'm not on Twitter" 🚩🚩🚩🚩🚩🚩🚩🚩🚩🚩🚩🚩🚩🚩🚩🚩🚩🚩🚩🚩🚩🚩🚩🚩🚩🚩🚩🚩🚩🚩🚩🚩🚩🚩🚩🚩🚩🚩🚩🚩🚩🚩🚩🚩🚩🚩🚩🚩

— Twitter (@Twitter) October 12, 2021
Twitter itself reported a 455% increase in use for the 🚩 Triangular Flag in a single week.
Additionally, the 🪑 Chair saw an increase in use in September of this year following a viral Tiktok video that encouraged others to use this emoji as a symbol for laughter to confuse those not aware of this new suggested meaning.
While this meme format was primarily focused on Tiktok comments, we were also able to detect a significant increase in use within Twitter data.
These are far from the first instances an emoji has gained unexpected popularity thanks to a new viral meme format.
Some of the popularity of the 🥺 Pleading Face emoji throughout 2020 can be attributed to the shy pose "Two Fingers Touching" meme (🥺👉👈) (as well as its association with simping), while last year we also found that use of the 👁️ Eye and 👄 Mouth emojis to have increased usage thanks to the 👁️👄👁️ "It Is What It is" meme.
Alongside memes, pop culture events can also propel an emoji's use to new heights. For example, during mid-November, the 🧣 Scarf emoji briefly saw a considerable jump in usage.
The cause? The release of Taylor Swift's 2021 recording of her "Red" album, entitled "Red (Taylor's Version)".
Included on this record was a brand new 10 minute version of her song "All Too Well", which allegedly details the relationship between Swift and actor Jake Gyllenhaal and has opening lyrics that prominently feature a scarf.
Our discovery of this data was covered in a recent Tiktok video by Kindred Media.
.

The emoji has also continued to have an association with Swift, both within the text of tweets and within Twitter usernames.
happy birthday to all too well writer-actor-director taylor swift 🧣✨ pic.twitter.com/azWk9M6Qlr

— Letterboxd (@letterboxd) December 13, 2021
This association is similar to that between the 💜 Purple Heart and the K-Pop band BTS, albeit likely on a much lesser scale. If you'd like to learn more about the momentous connection between BTS and the 💜 Purple Heart, check our analyses of what every heart emoji really means from earlier this year.
We'll be returning to emoji use in the wake of other pop culture events in 2022.
If you'd like to ensure you won't miss our upcoming analyses you can subscribe to 🌯 Emoji Wrap, Emojipedia's (🆓 Free) monthly newsletter covering all the latest emoji happenings across the globe.
🤓 Summary
Following an analysis of 385 million tweets collected in 2021, compared with up to 6.5 billion tweets from years prior, we made the following findings:
📖 Read More
---