Holiday Emojis Are Coming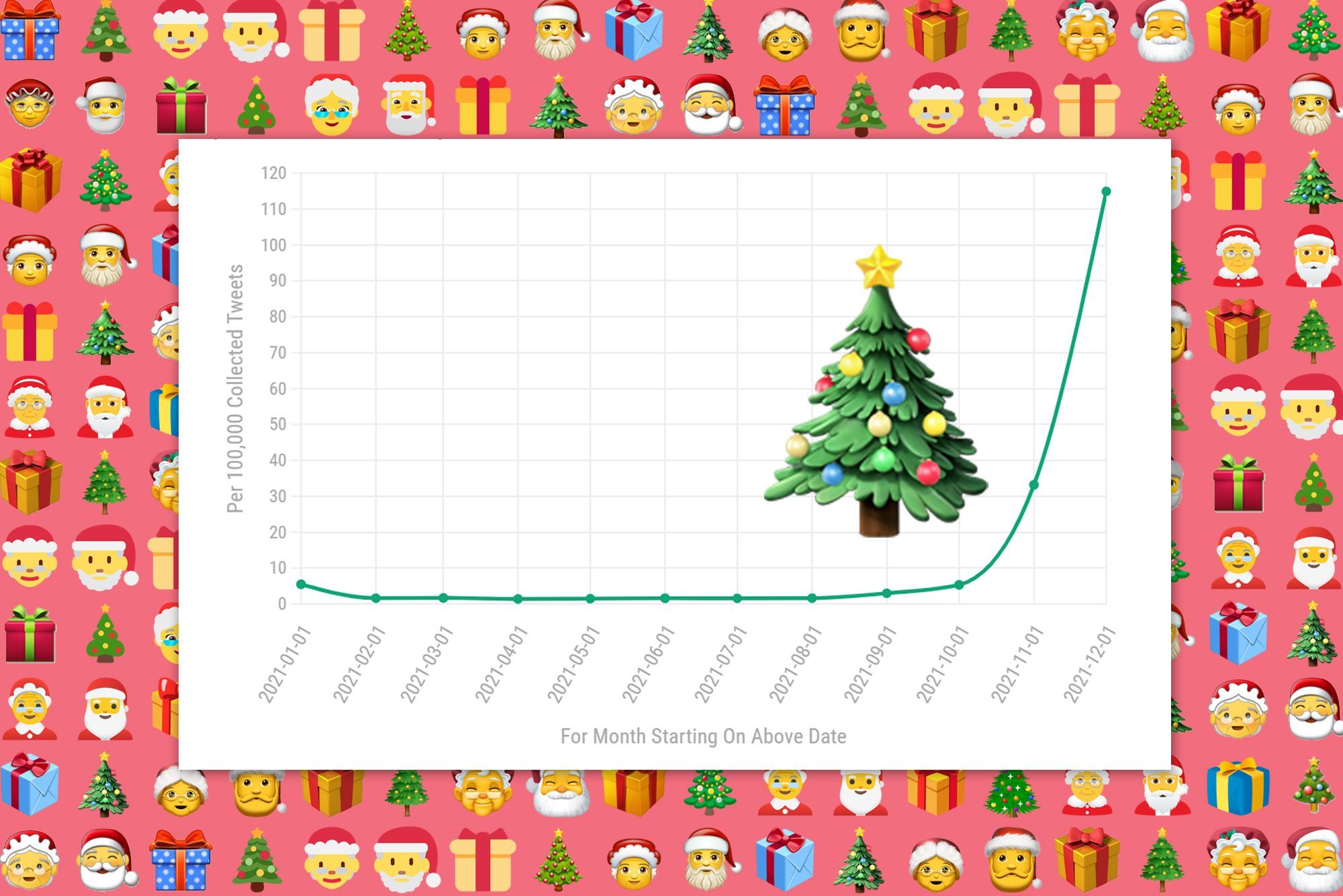 As we swiftly approach the end of the year, holiday season emojis such as 🎄 Christmas Tree and 🎅 Santa Claus are soaring in use, as they have done since the earliest days of the emoji keyboard.
The increase in usage for 🎄 Christmas Tree as 2021 comes to a close is evident within the Twitter data illustrated below.
This increased usage is not isolated to December, either.
🎄 Christmas Tree has been sitting on or near the top of Emojipedia's own most popular emoji pages since mid-November, jumping in use prior to 🦃 Thanksgiving and given an additional boost as 🛍️ Black Friday approaches.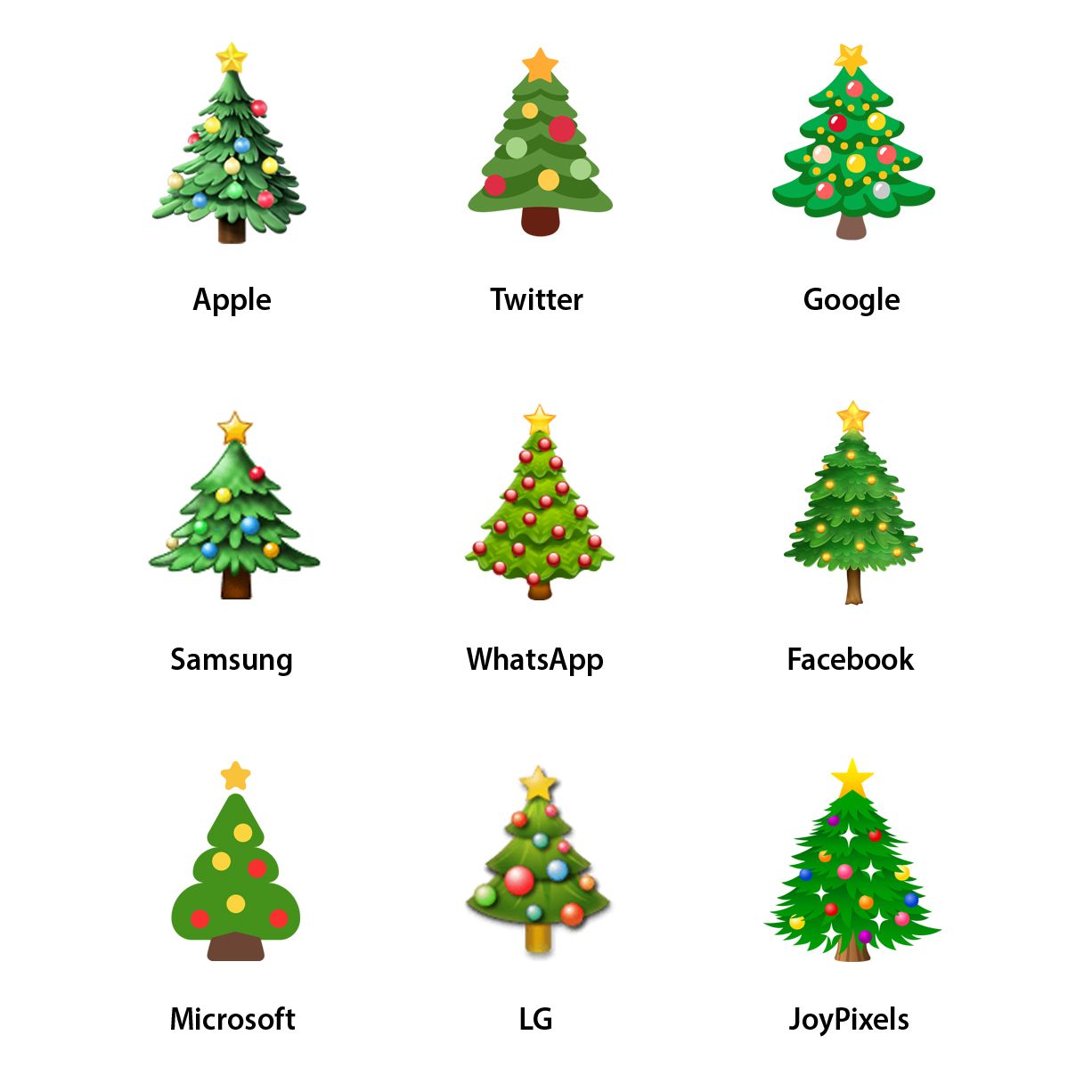 Above: various 🎄 Christmas Tree designs from different emoji vendors.
This mid-November jump isn't exclusively the providence of 2021, however. Looking back at over 6.4 billion tweets from late 2011 onwards, this initial November jump can be seen from as early as 2012.
Why not in 2011?
Well, while the 🎄 Christmas Tree has been part of the Unicode Standard since October 2010's Unicode 6.0, the first easily-accessible Unicode-compliant emoji keyboard wasn't introduced until Apple debuted iOS 5.1 in March of 2012[1].
Another long-standing Christmas emoji introduced in Unicode 6.0 is 🎅 Santa Claus, and as we'd expected, this emoji has had a similar annual cycle to 🎄 Christmas Tree.
There are several curiosities amongst histroic designs for the 🎅 Santa Claus emoji.
For example, as we discussed in another Christmas-oriented article, in 2012 a ticket was filed in Google's Android bug tracker titled "Santa Emoji is sad, when Santa should be jolly".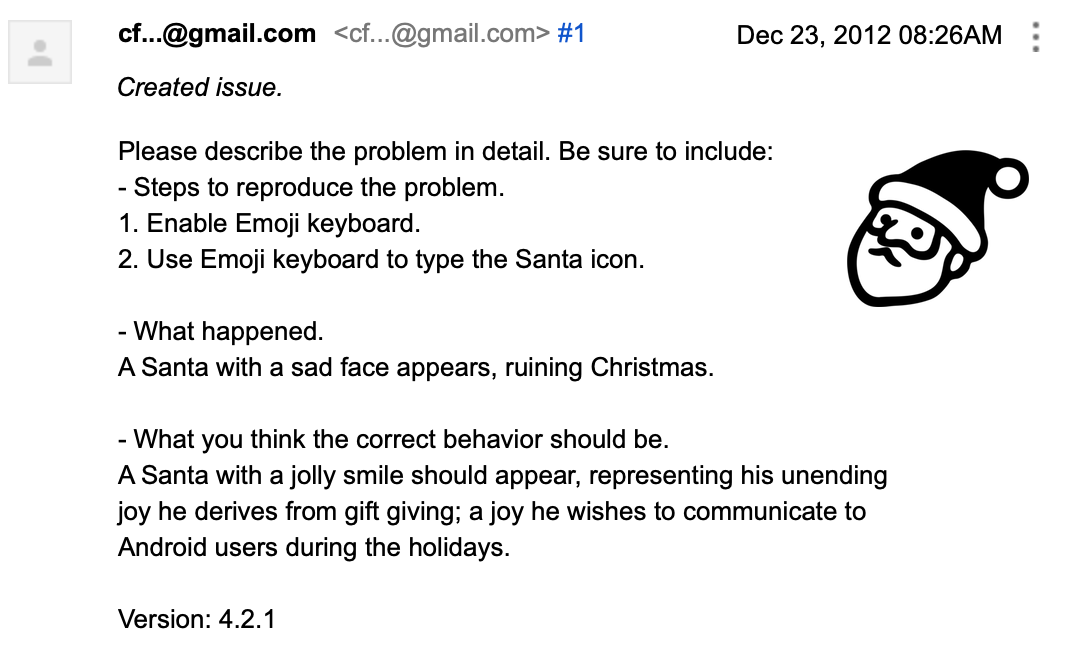 The design was revised in 2014's Android 5.0 release, at which time this ticket was quietly "marked as fixed".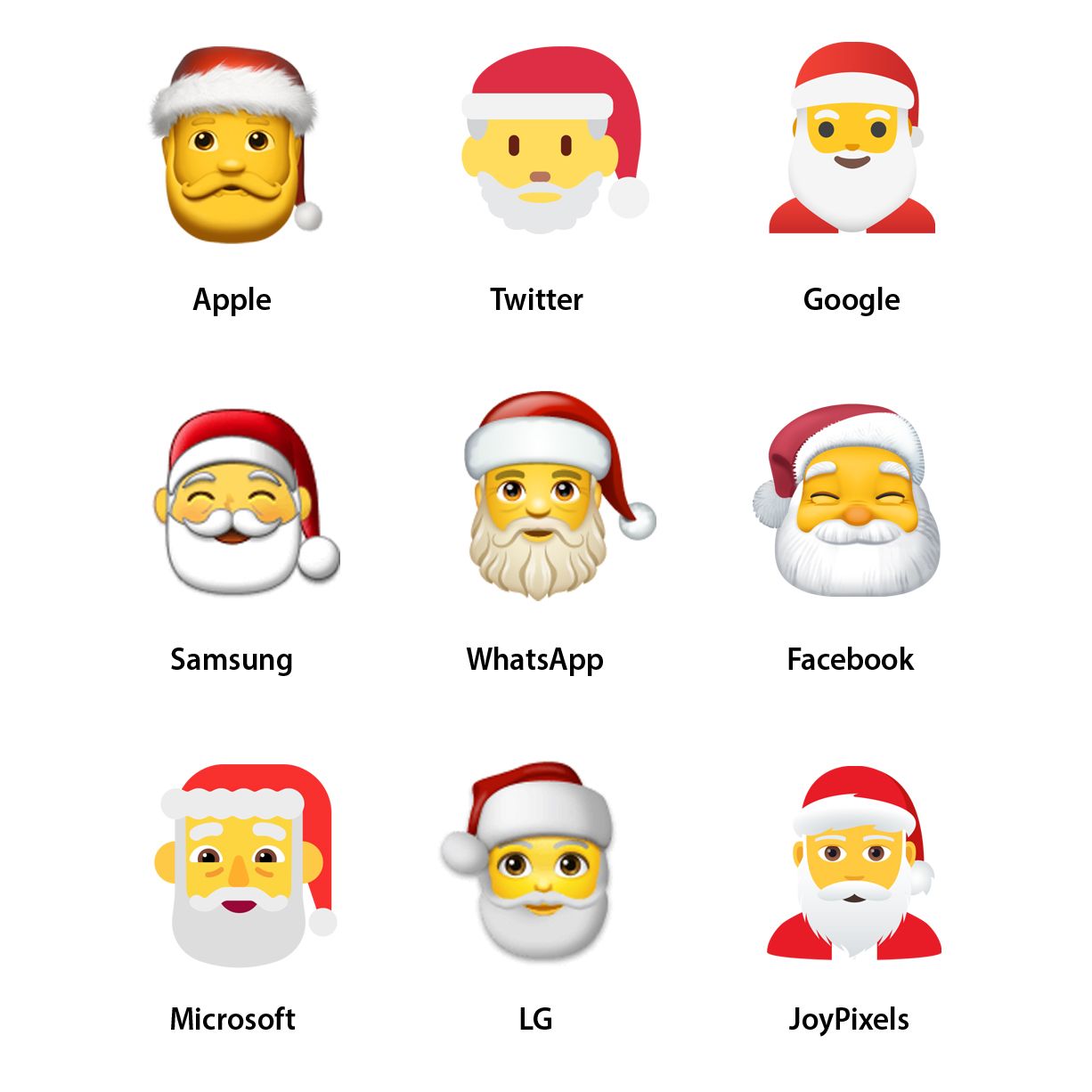 Today the designs are largely consistent and either jolly or neutral in expression, as shown above.
That being said, Apple's design does display Santa's beard as being yellow instead of white or grey: a design choice stemming from the introduction of skin tone modifier support back in 2015's iOS 8.3.
While the 🎅 Santa Claus emoji has existed since 2010, it wasn't until June 2016's Emoji 3.0 that 🤶 Mrs. Claus was added to the emoji keyboard.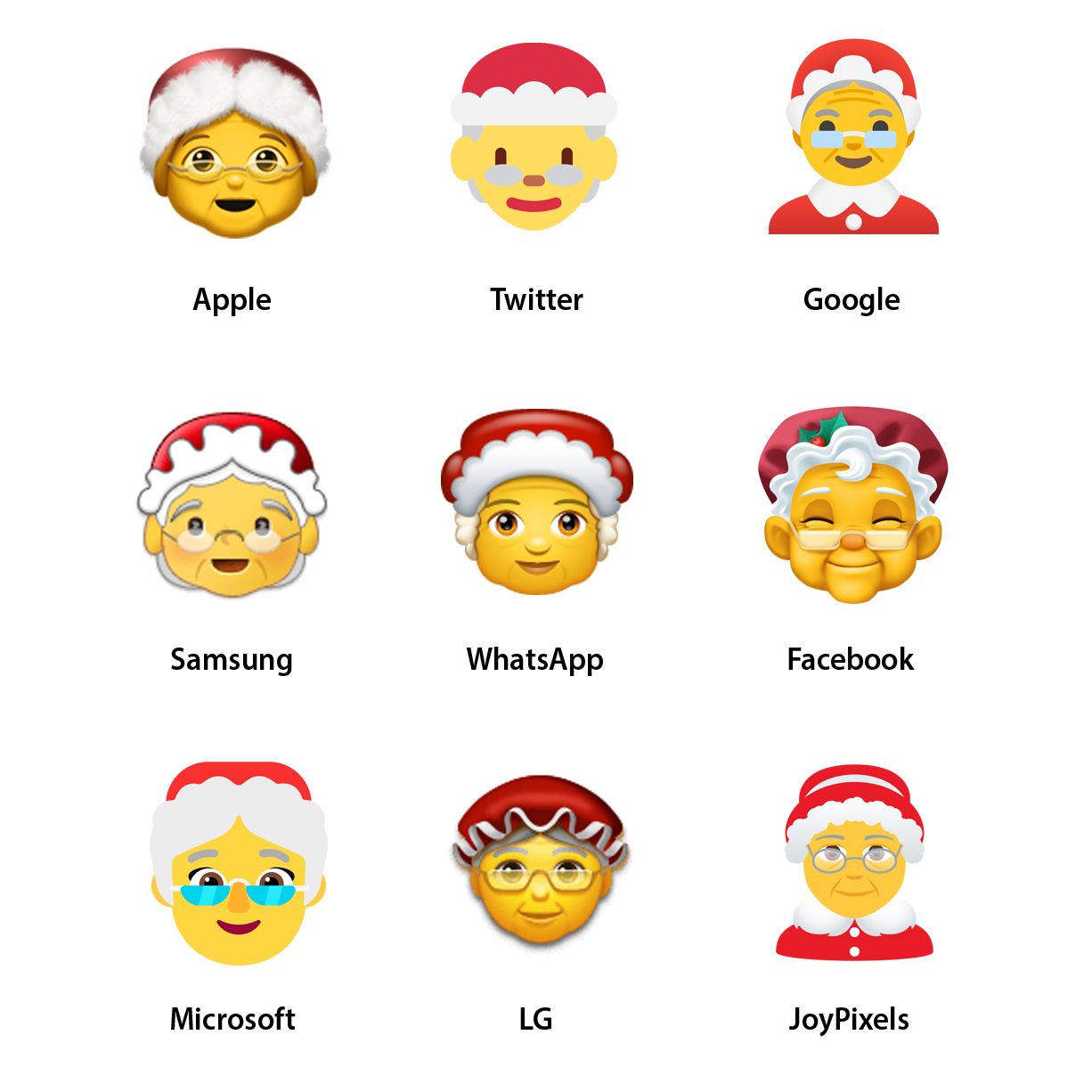 As we would expect, in recent years 🤶 Mrs. Claus has experienced the same seasonal increase in use as 🎅 Santa Claus and 🎄 Christmas Tree, albeit to an admittedly lesser degree.
As of late 2020 is also a third emoji[2] adorned in a traditional Christmas garb: 🧑‍🎄 Mx Claus.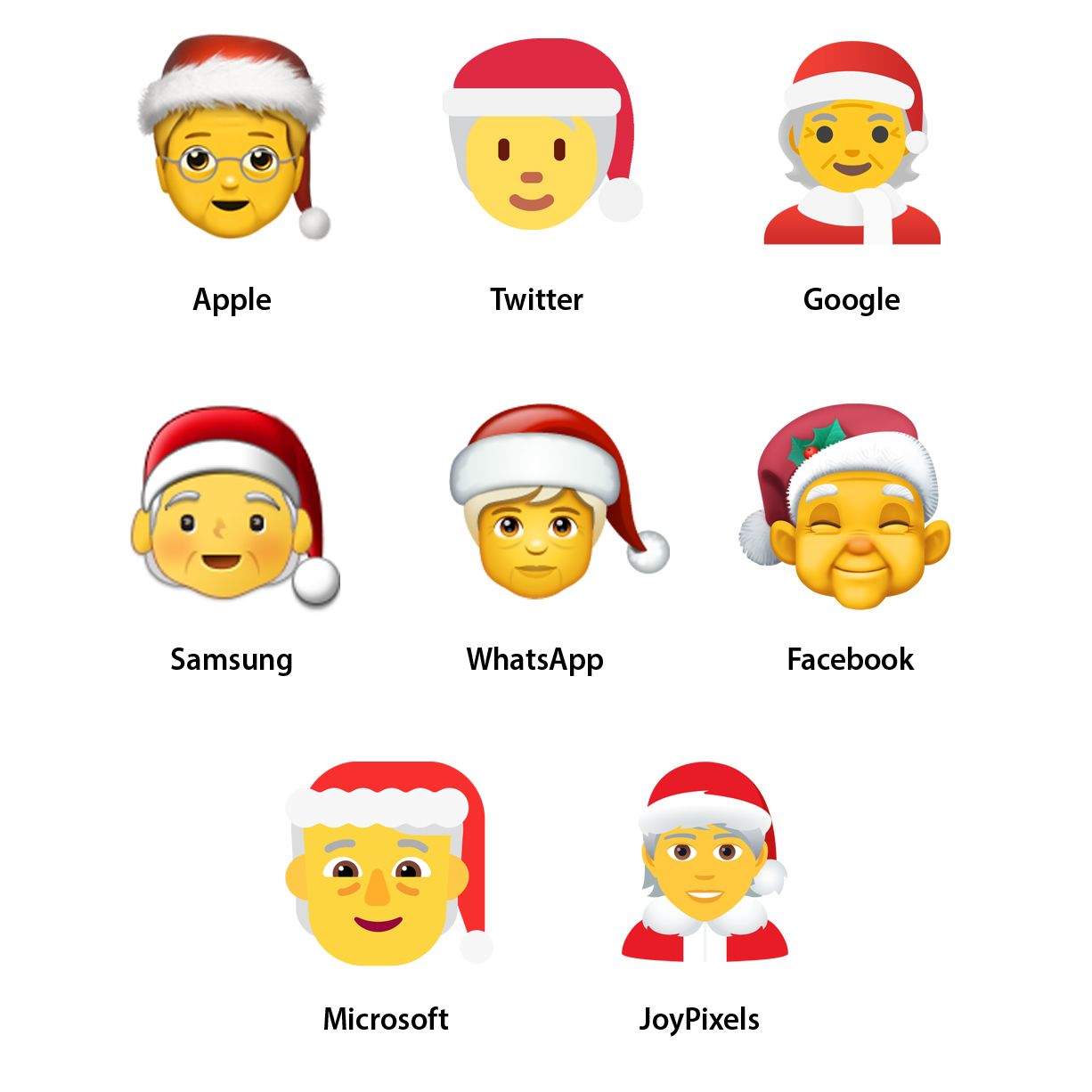 A zero width joiner (ZWJ) sequence consisting of the 🧑 Person and 🎄 Christmas Tree, this emoji depicts a non-gender-specific individual (usually shown as being an older adult) wearing a traditional 🎅 Santa hat.
Unlike 🎅 Santa Claus and 🤶 Mrs. Claus, 🧑‍🎄 Mx Claus does not represent a specific character from global folklore but instead can be used to represent a generic person celebrating Christmas, including self-representation in messaging and social media.
Given that they were only available across a limited number of platforms during the 2020 Christmas season, use of 🧑‍🎄 Mx Claus was quite minimal last year. However, like 🎅 Santa Claus and 🤶 Mrs. Claus, this year they have been experiencing a holiday surge in use given their broader accessibility.[3]
You can read more about 🧑‍🎄 Mx Claus and their non-gender-specifying honorific in this Emojipedia article from late 2020.
Another emoji that has been firmly placed amongst the most-searched-for on Emojipedia these last few weeks is the 🎁 Wrapped Gifts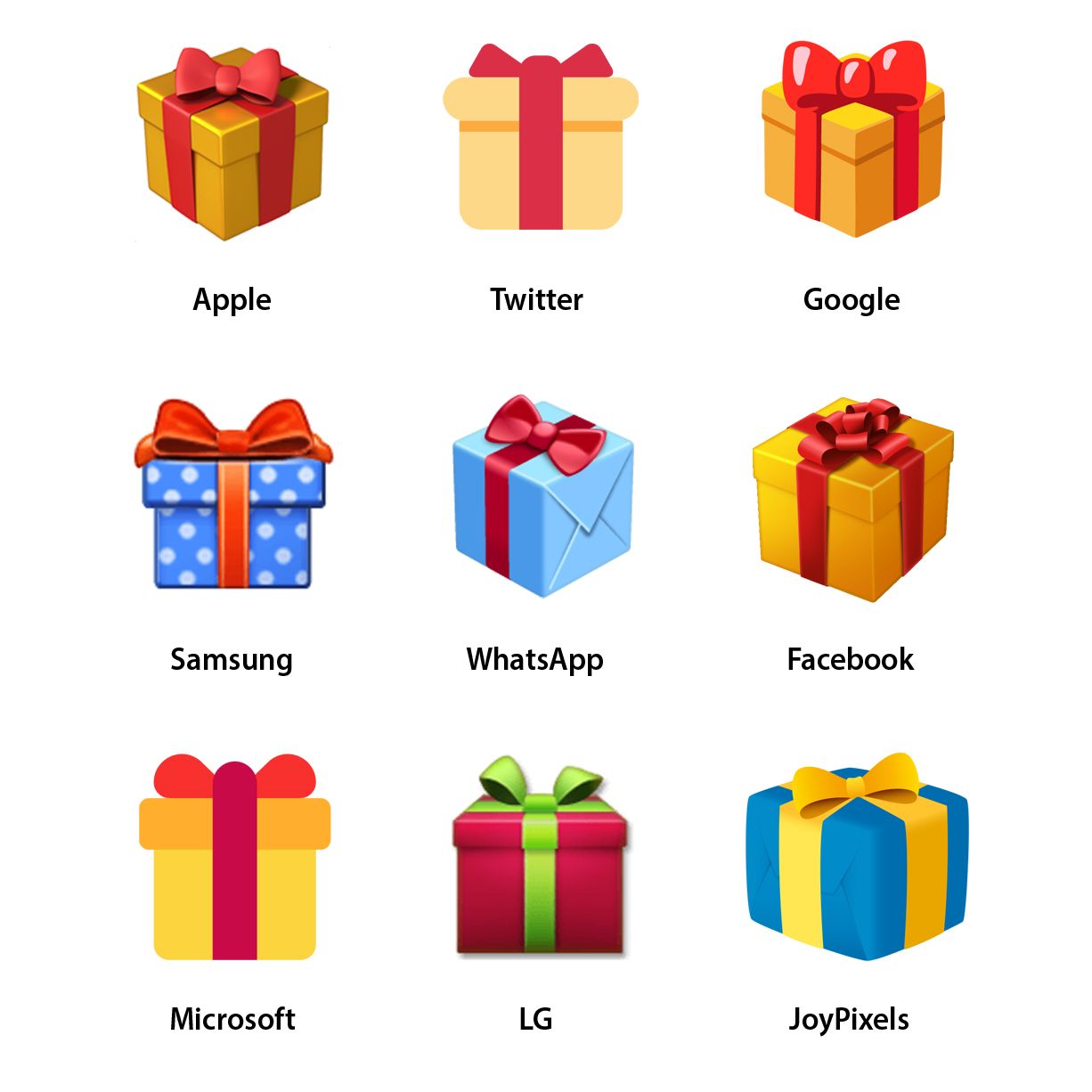 Unlike 🎄 Christmas Tree and 🎅 Santa Claus, however, the 🎁 Wrapped Gift experiences a relatively strong degree of popularity throughout the year thanks to its association with 🎂 Birthday celebrations.
That being said, the 🎁 Wrapped Gift does historically experience its peak during December.
As we've noted previously on this very blog, there are a large number of emojis that can be directedly associated with Christmas.
There's the emojis for time spent with 👪 Family, as well as many ⚽ Activity and 💡 Object options for the contents of the 🎁 Wrapped Gifts (including 🧦 Socks, of course).
There are also emojis such as ⛪ Church and ✝️ Latin Cross, representing the religious aspect of the holiday.
📖 Read More
---
While Apple iPhone devices supported emojis from 2008's OS 2.2, these emojis were created using private use area codes instead of specifically designed Unicode codepoints, with access to the emoji keyboard initially limited to iPhone users in Japan for compatibility with the Softbank emoji set. Subsequent emoji updates in iOS 4.0 and iOS 5.0 continued to use these private use area codes before iOS 5.1 swapped to using Unicode 6.0's designated emoji codepoints. ↩︎

While still Christmas-appropriate given their traditional association with 🎅 Santa Claus, the various 🧝 Elf emojis are more Legolas than Bernard in their designs. ↩︎

The most recent major emoji vendor to support 🧑‍🎄 Mx Claus was Samsung, introducing this emoji in their One UI 4.0 which has been rolling out to select devices and regions since November. ↩︎