Is the Laughing Crying Emoji Cancelled? Here's What We Know.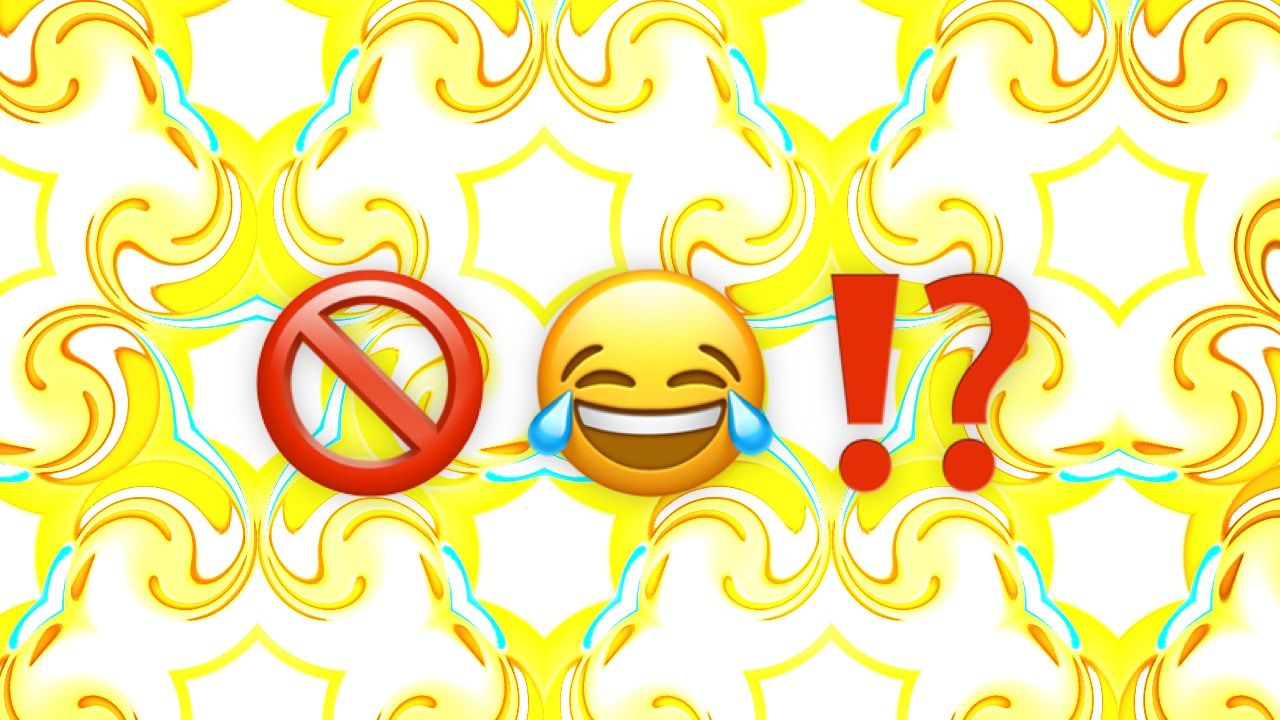 It's long been both the most popular yet most hated face on the emoji keyboard. You already know which one I'm talking about.
More colloqueally known as the laughing crying emoji, this face found something so funny, a tear is being shed from each eye. The wide grin lets you know it is happy.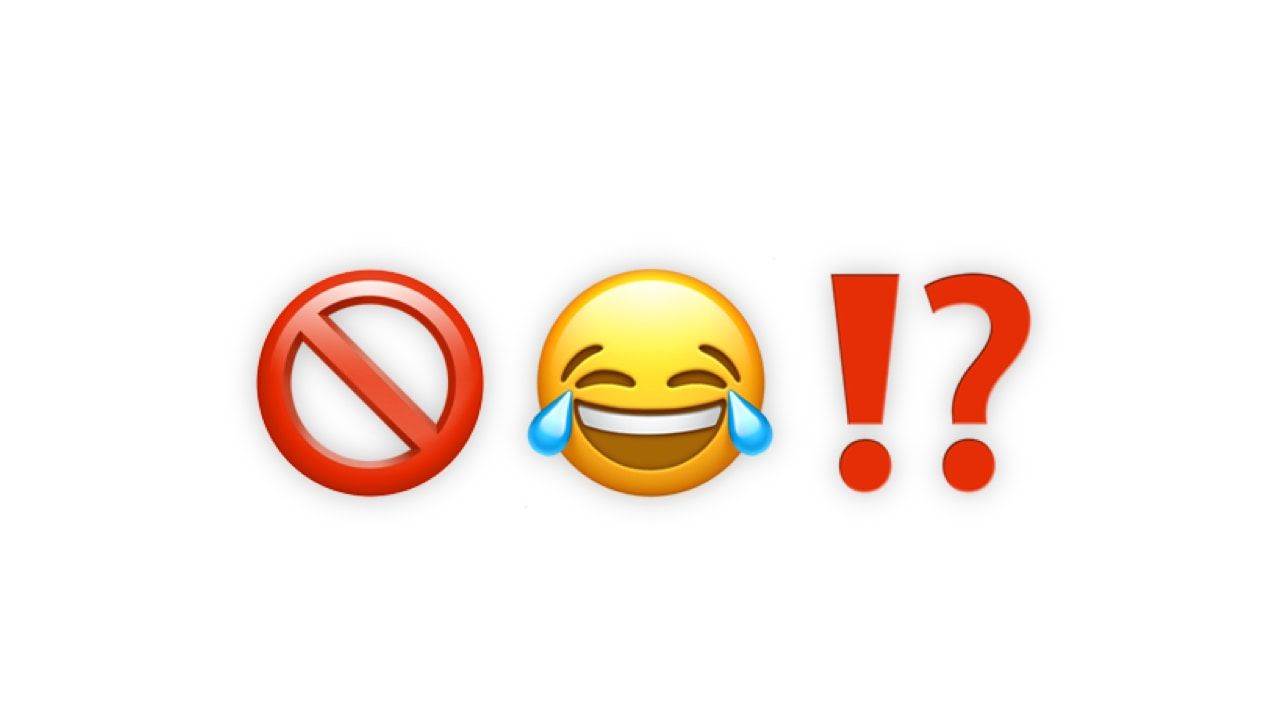 Year after year 😂 Face with Tears of Joy tops every possible emoji list, and yet it's entered 2021 as a decidedly cringey emoji to use, especially if the TikTok community has any say in it.
Does that mean you should stop using it now? Have we cancelled an emoji? And if so, what should you use? First, how we got here.
2015 Oxford "Word" of the Year
Not emoji of the year, but word of the year in 2015 was given to...😂 Face with Tears of Joy. Written at the time:
"That's right – for the first time ever, the Oxford Dictionaries Word of the Year is a pictograph: 😂, officially called the 'Face with Tears of Joy' emoji, though you may know it by other names. There were other strong contenders from a range of fields, outlined below, but 😂 was chosen as the 'word' that best reflected the ethos, mood, and preoccupations of 2015."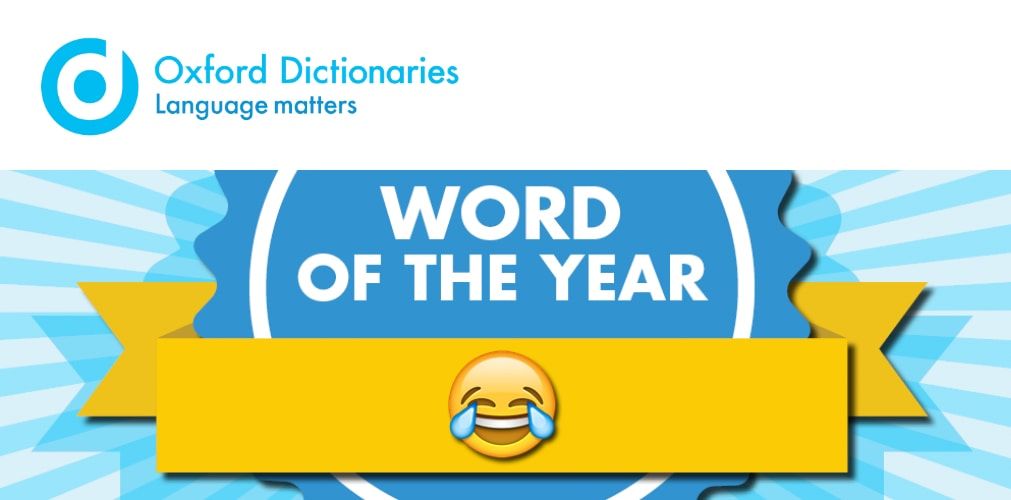 2017: Lifetime Achievement Award
Emojipedia's annual World Emoji Awards polled users for World Emoji Day in 2017 to find out the most loved emoji by user vote.
Which topped the vote? 😂 Face with Tears of Joy.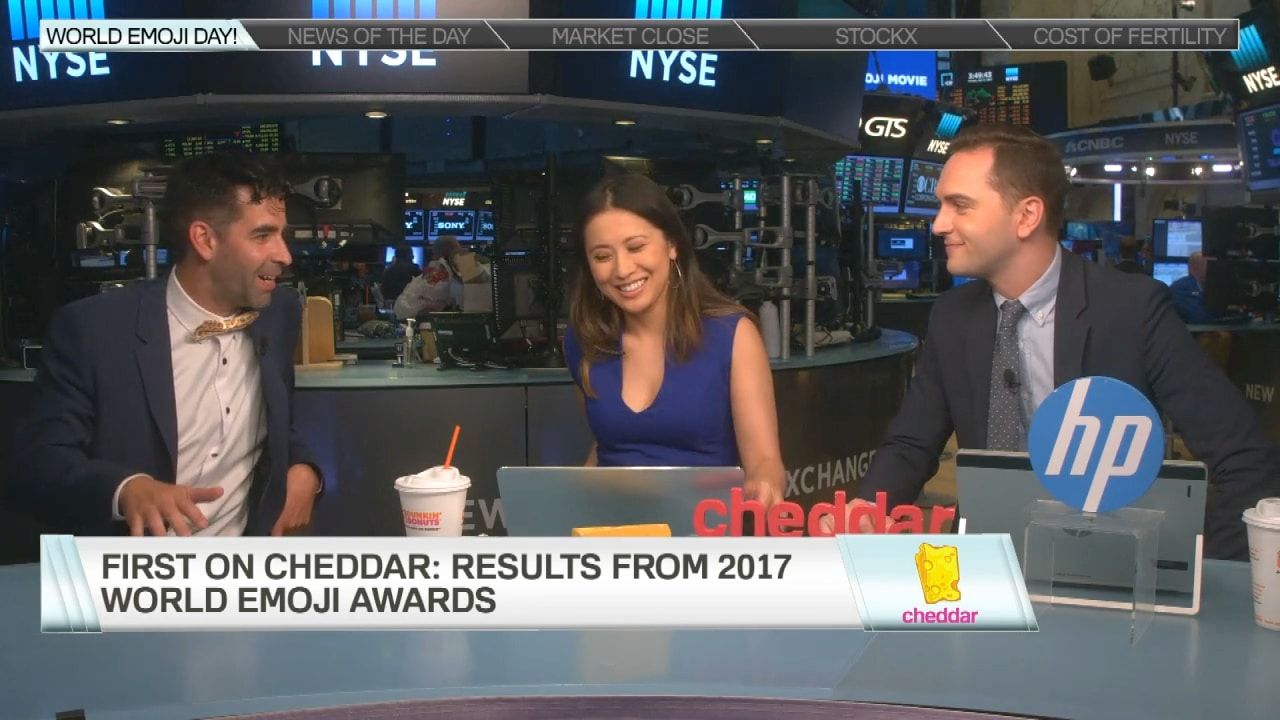 2017: Apple Report
In a rare show of public data for Apple, a report into differential privacy in 2017 highlighted the most used emojis from a subset of iOS data.
The goal of the report was to highlight how data like this could be obtained, without affecting user privacy.
Which emoji was most used by US English speakers? 😂 Face with Tears of Joy by a long shot.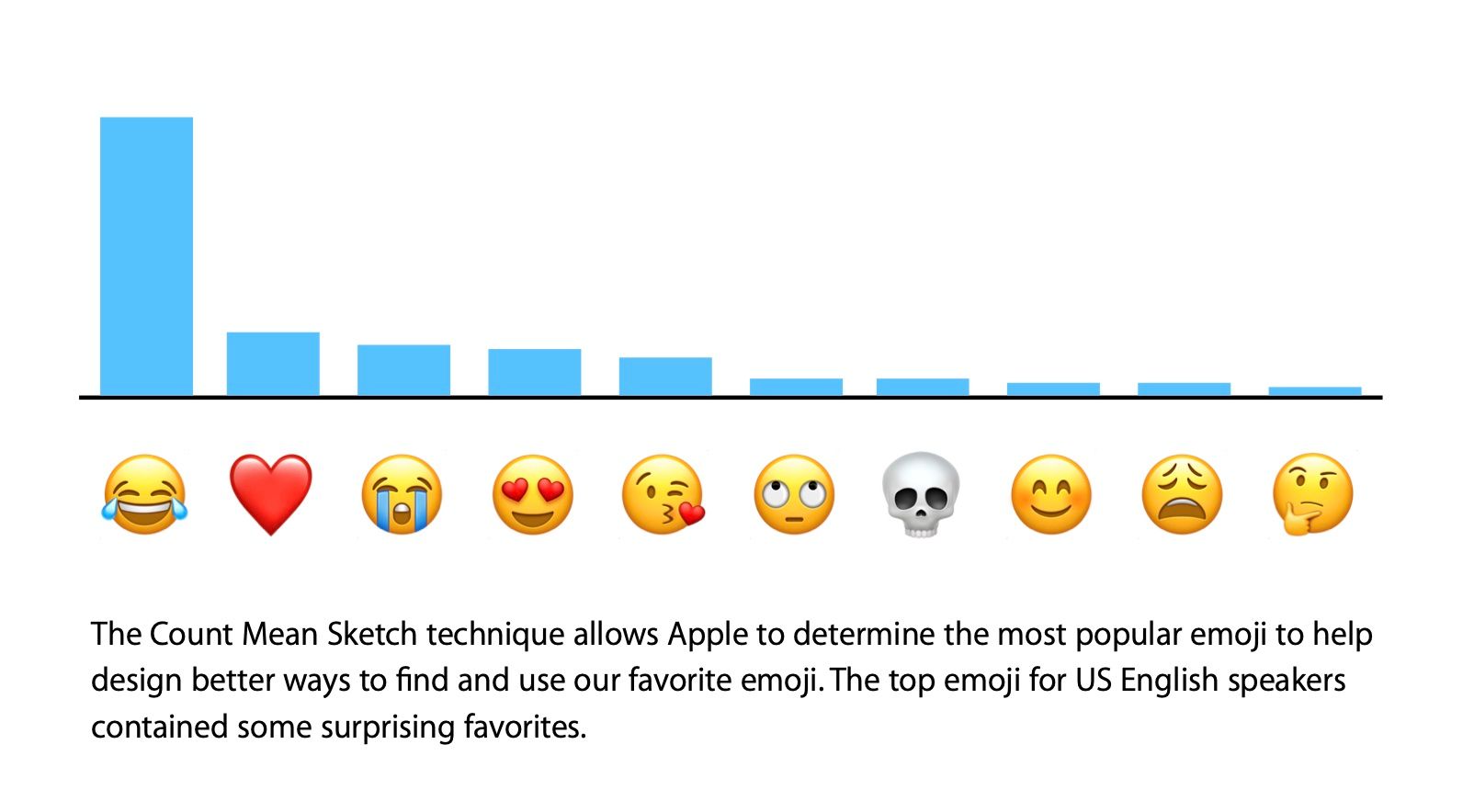 Also in 2017: Facebook revealed that 5 billion emojis are sent daily on Facebook Messenger. The top emoji? You get the idea.
2018: Peak Tears of Joy? Not so Fast.
In 2018, Emojipedia wondered...is this peak tears of joy? Charting the relative rise of the newer 🤣 Rolling on the Floor Laughing emoji using Emojipedia page view statistics, we found competition on the laughing front. Yet still in the top spot: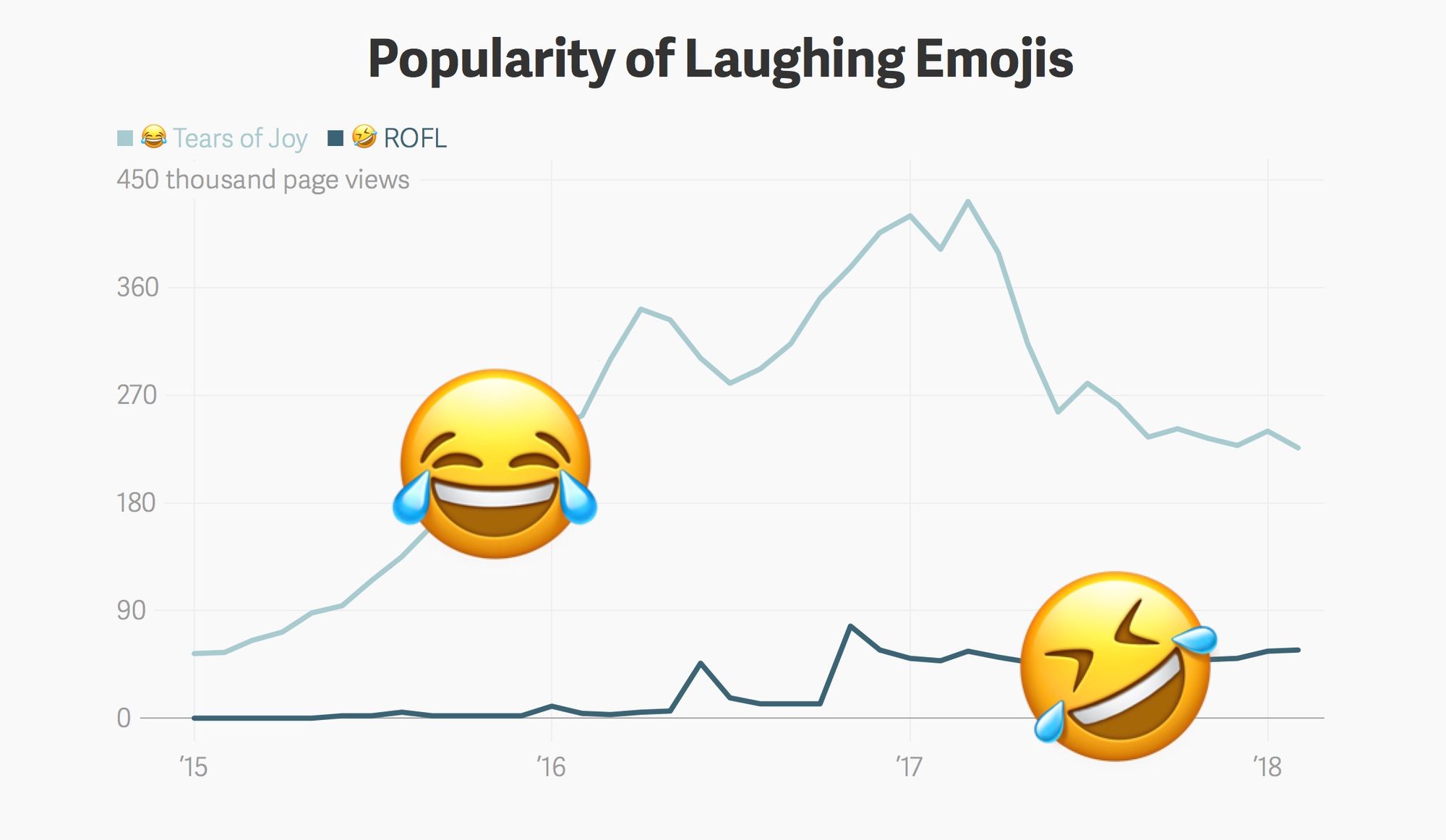 It's worth noting here that Emojipedia page view data isn't the same thing as usage data. Given these trends often reflect data seen on other platforms, it can be a useful indicator of what's happening with emerging emoji habits.
2019: Unicode Frequency Data
Showing a breakdown of data accessible to the Unicode Consortium in 2019, this showed nearly 10% of all emoji use was tied up in a single grinning face. Which face?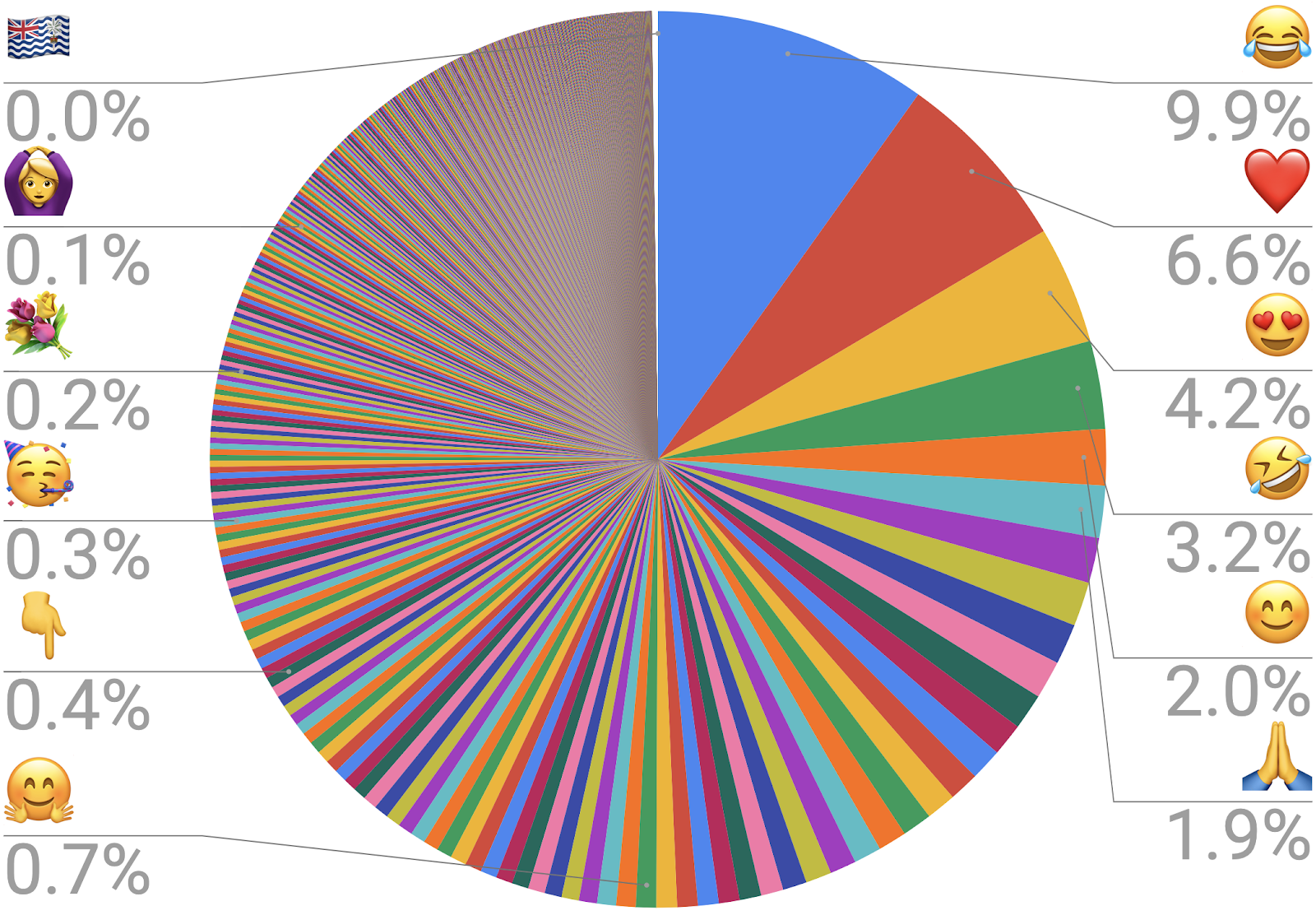 Unicode doesn't make the exact origin of this data clear, but it's safe to say that it would be based on at least some frequency data from Unicode member companies. The top emojis match quite closely with public stats we see on Twitter.
2020: The Most Used Emoji on Twitter Is
It's the end of 2020. Many of us can't tell if the COVID-19 pandemic is nearly over, or if it's barely begun.
Emojipedia's Keith Broni analyzed the most popular emojis that defined 2020 on Twitter. It had been an awful year for so many. So what topped the list this time around?
Still 😂 Face with Tears of Joy.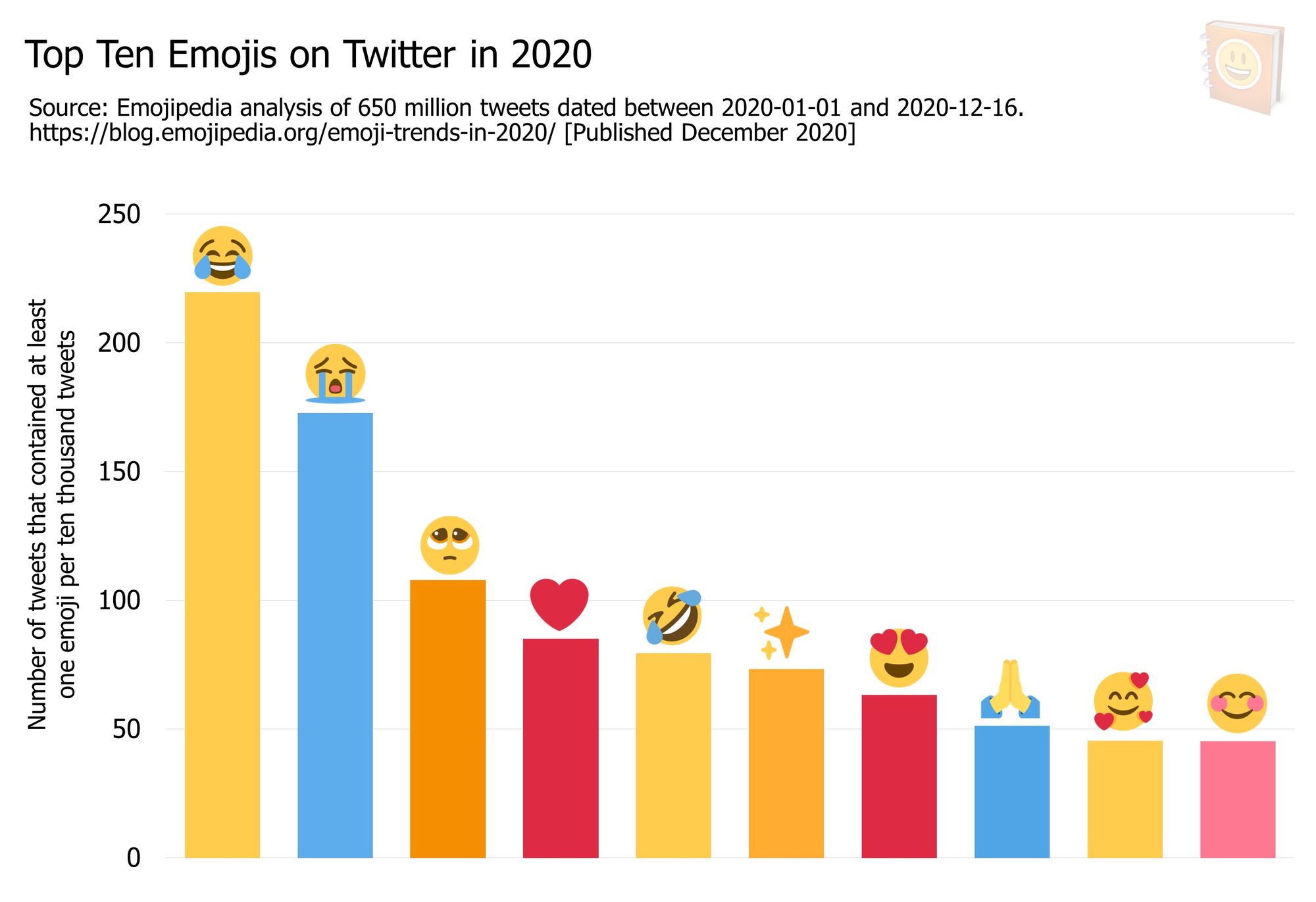 But a glimmer of hope for those who find this emoji cruel or simply overused appears. A trend showing that the top spot isn't so certain any more.
One emoji threatening the top spot is 😭 Loudly Crying Face which confusingly for some people is also used for laughter by many people, despite its intention as a sad emoji.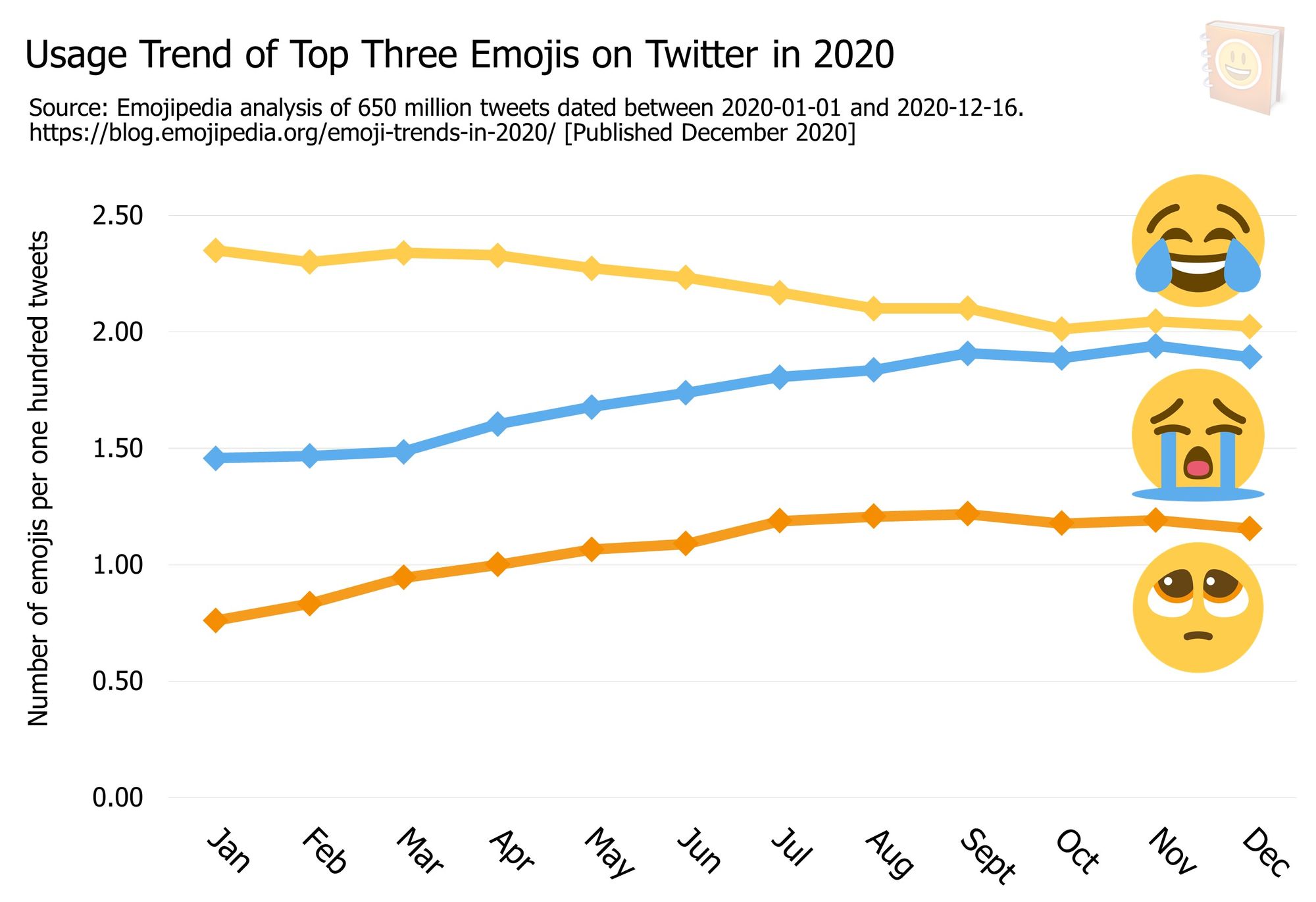 Also in contention to take the top spot by the end of 2020: the emotionally ambiguous 🥺 Pleading Face which saw a dramatic rise in early 2020. Later analysis also shows this glossy-eyed emoji is the most common to pair with the wide range of heart emojis.
2021: Enter TikTok
Finding inflection points for changes to online culture is difficult to do on a whim. People subtly change how they communicate all the time, and eventually, trends emerge and become mainstream.
Rarely is there is direct day or week that changes how any emoji is used, just like language doesn't change overnight.
Documenting the fact that some emojis are seeing alternative uses emerge on TikTok, I noted in early 2021:
"It's common wisdom on TikTok that the laughing crying emoji is for boomers. And by boomers I mean anyone over the age of 35."
The latter part of the sentence, about 'boomers' being anyone over 35 was clearly meant in jest (spoken as someone also over the age of 35), but the former is anecdotally representing a feeling that has been emerging for years now.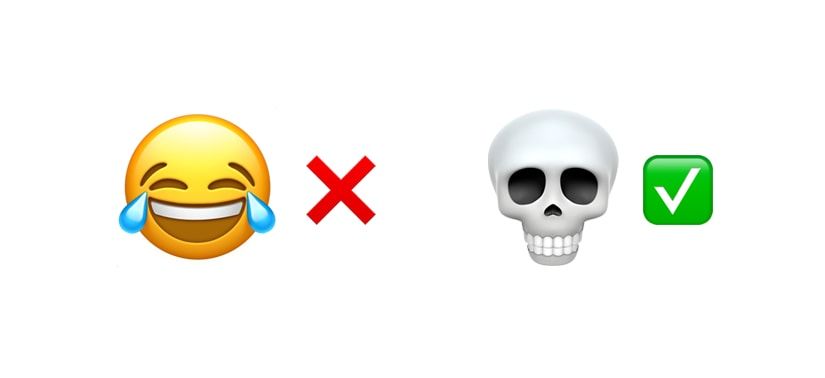 An emoji rising as a common alternative? 💀 Skull, as foreshadowed by Apple's differential privacy report from 2017 which showed the skull as the seventh most popular emoji.
Notably, no other public data in 2017 showed the skull being anywhere close to a top-10 emoji. This suggests that these trends may first emerge in private group chats, ahead of what we see in public forums like Twitter or TikTok.
Why the skull? It's effectively, "Dying with laughter" or to borrow a phrase from the youth, "I'm dead". (I have died of excessive laughter) This is commonly found on TikTok, and consistently rising in use on Twitter.
What happaned here?
Some will have woken to headlines this week stating that the laughing crying emoji is now out of fashion. It can't be used any more. Kaya Yurieff from CNN:
"Sorry, millennials. The 😂 emoji isn't cool anymore"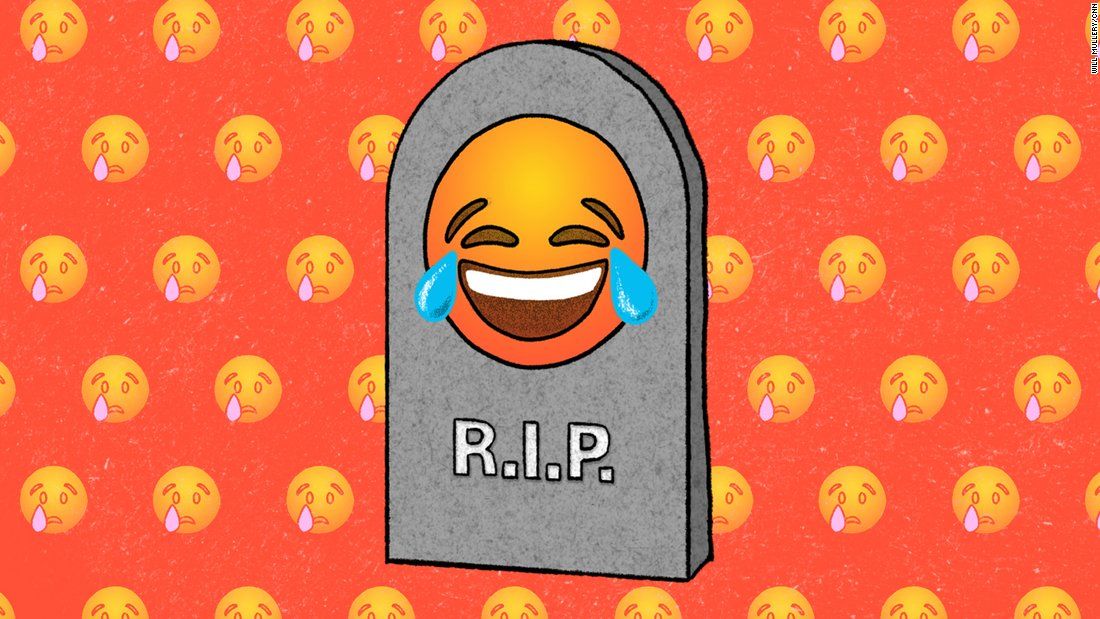 What we do know is that 😂 Face with Tears of Joy has been considered over-used for years. And yet this continues to be the most used emoji, by all statistics available on just about any platform.
The paradox remains that this emoji is so popular and yet unpopular at the same time, depending on where you look. It's quite possible it's so frequently used that it can't ever be cool again. But was it ever cool in the first place?
😂 Face with Tears of Joy certainly fills a role, alongside the various permutations of lol, rofl, hahaha, hehehe, kekeke, sksksks, or whichever textual laughing combination might come next.
The fact that 😂 has been cancelled in some quarters doesn't mean you can't use it. You can, and plenty of people still do. The versatility and variety of an emoji is a feature, not a bug. We're not here to tell you how to use emojis, but to document how how others are using them.
If you are looking to spice up how you laugh online, perhaps consider a bit of variety in to your emoji expression next time. Just to keep it interesting.
Alternative laughing emojis
Looking to mix it up next time you lol via text? Consider one of these:
If you liked this, and want to stay up to date on the latest emoji news, consider Emojipedia's (free) monthly emoji newsletter: Emoji Wrap.