Emoji Trends That Defined 2020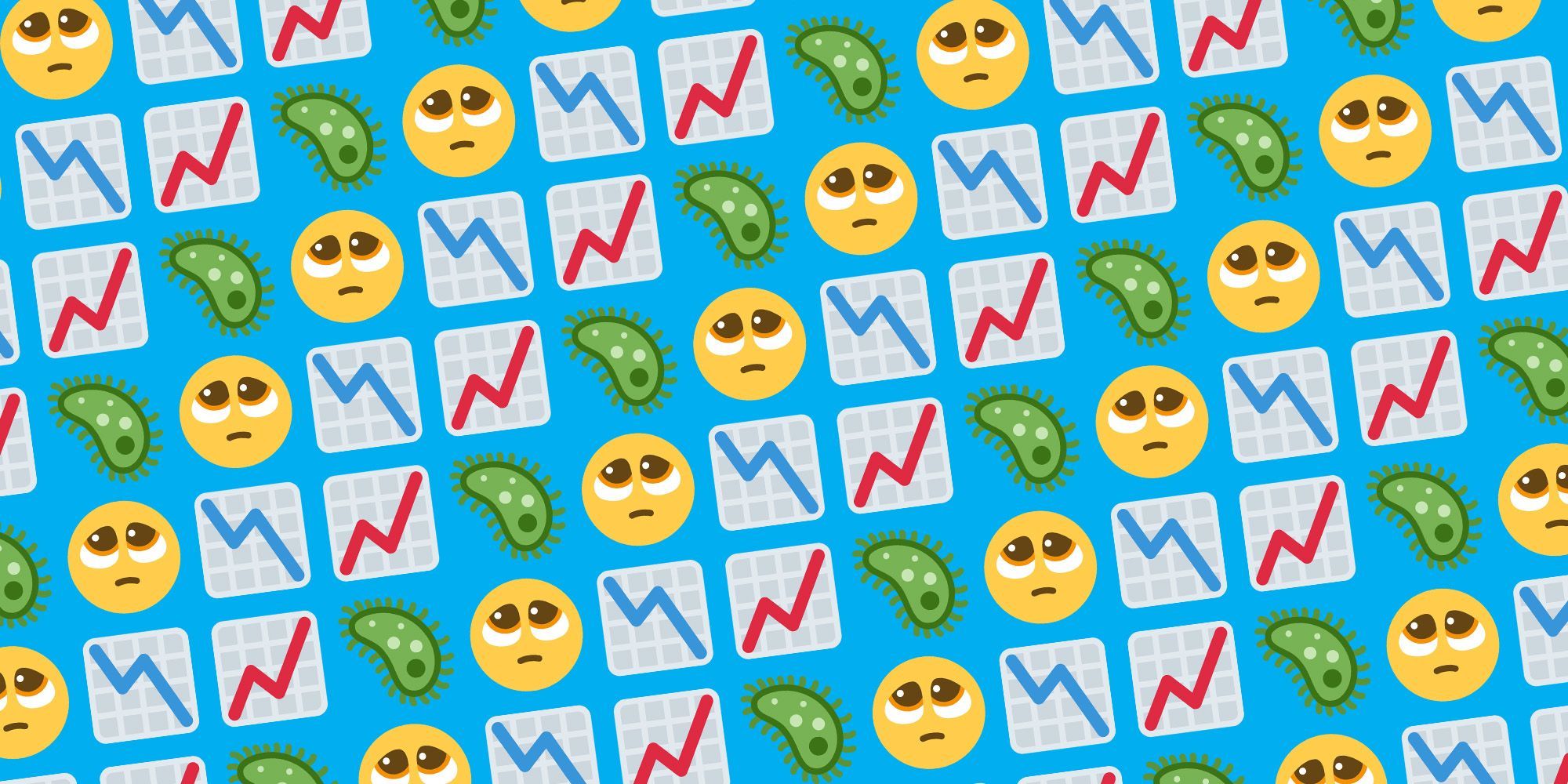 Emoji use continues to rise with over one in five tweets now containing at least one emoji. While more emojis are being used now than ever, the rate of growth has slowed in 2020.
In the middle of a year where the 🦠 Microbe emoji saw a giant increase, a certain glossy-eyed emoji became a mainstay on the emoji keyboard.
Looking ahead to 2021, the title of most popular emoji may be jeopardy, according to our most recent analysis of 650 million tweets.
Plus we have one emoji to watch in the new year, already seeing a large increase in December 2020.
📈📉📈 Total Emoji Usage
This year saw continued growth in emoji usage on Twitter, with an average of 20.5% of tweets analyzed in December 2020 containing at least one emoji.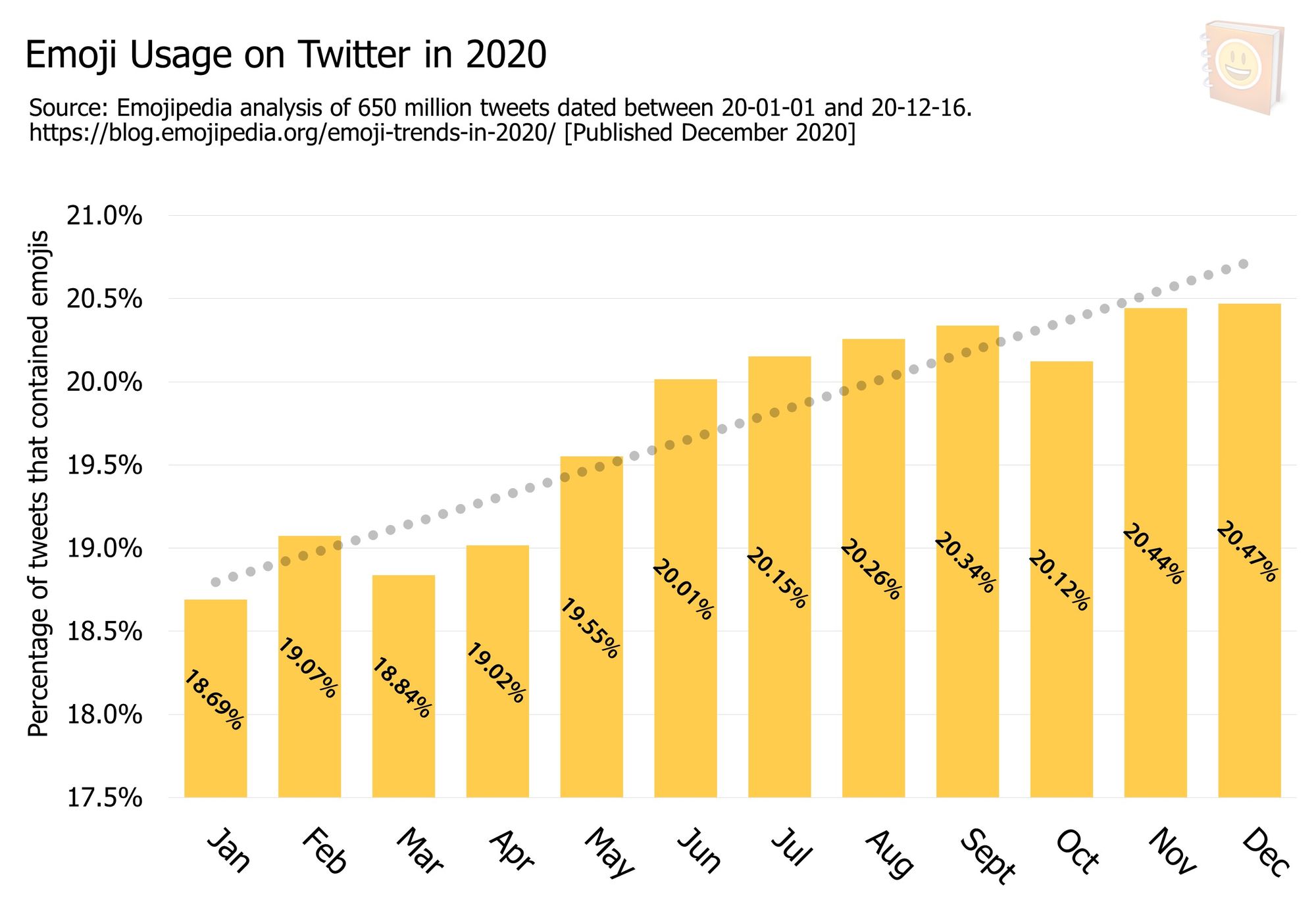 2020 began with an average of 18.69% of tweets containing at least emoji, but by June of 2020 the average would rise to and remain above 20% for the remainder of the year.
This growth continues a trend detected by Emojipedia earlier this year, where emoji use was found to have been growing steadily on Twitter over the last number of years.
Emoji use has grown from 15.82% of all tweets in December 2018 to 20.47% of all tweets analyzed in December 2020.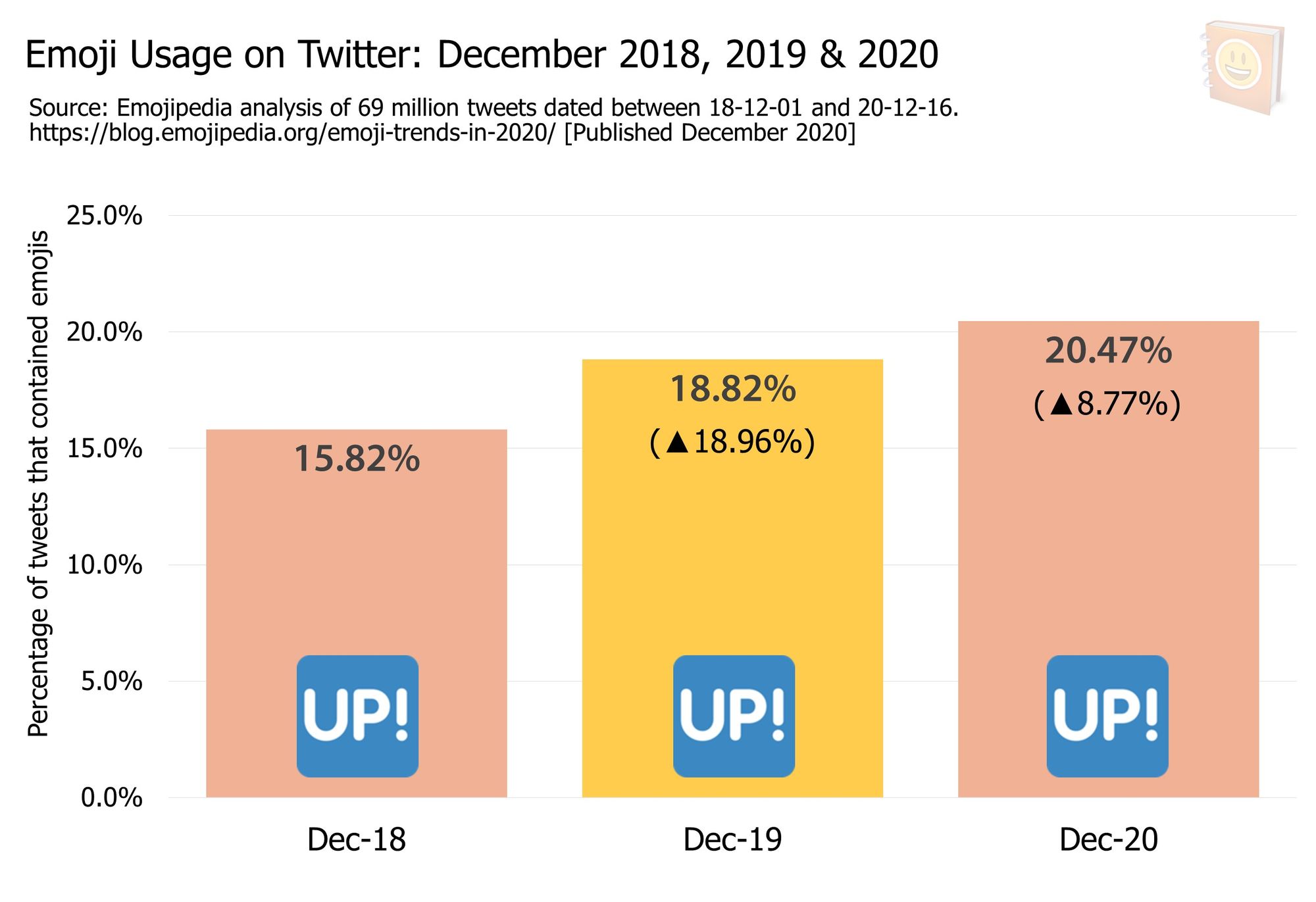 Notably, the growth rate between 2019 and 2020 is smaller than that of the growth rate seen between 2018 and 2019.
Given that the most frequently used emojis generally have positive sentiment, a possible cause of the slower rate of emoji growth in 2020 is the coronavirus pandemic.
A wider analysis of emoji growth trends across a broader number of years will be needed to make a more substantive claim about whether the coronavirus has impacted growth in emoji use.
Will emoji growth rates climb again in 2021 or 2022? Time will tell.
🔝🔟 Top Ten Emojis
According to our analysis, the top ten emojis on Twitter in 2020[1] were as follows: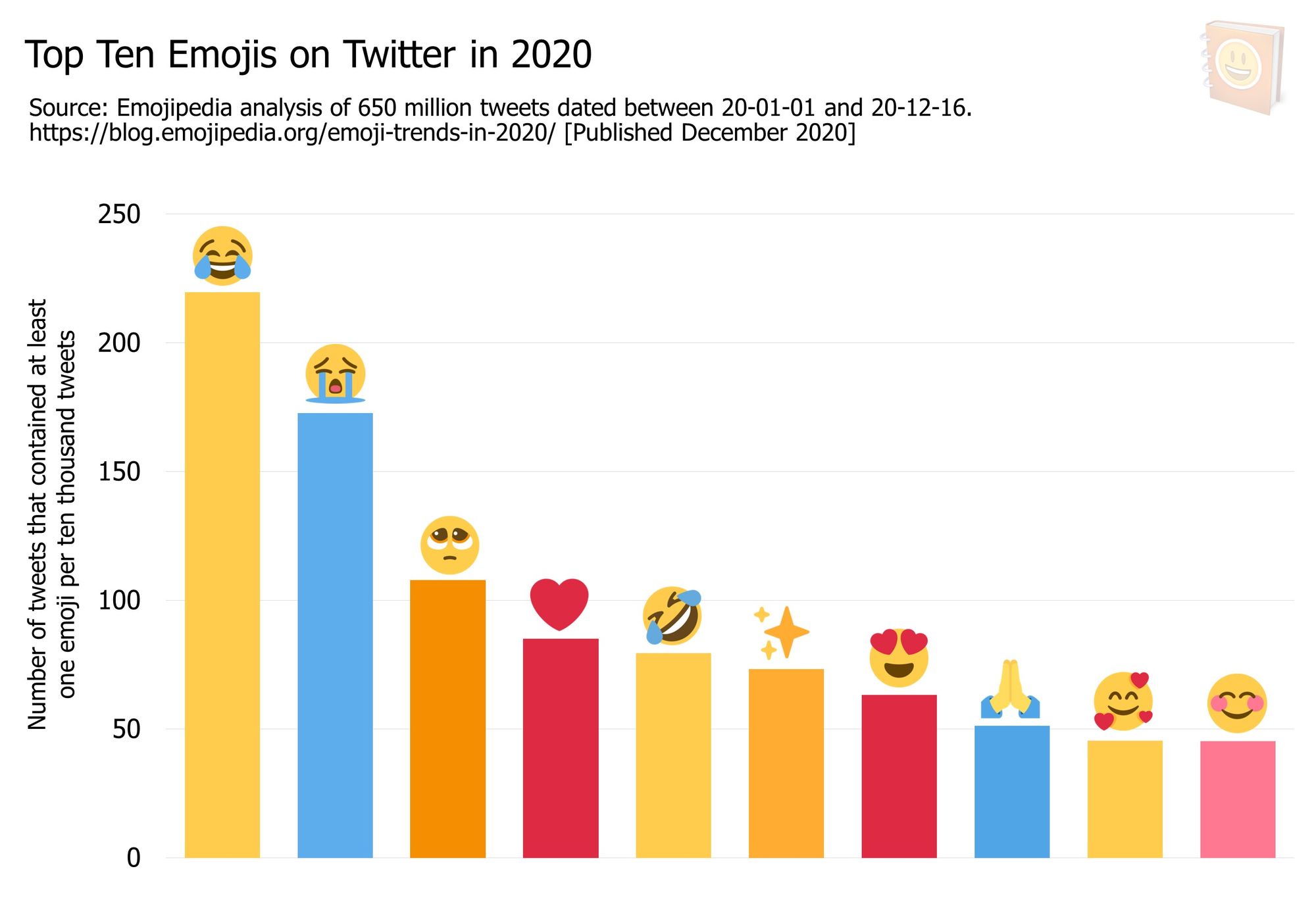 A total of 13 unique emojis appeared within the top ten rankings of emojis over each month in 2020. These largely mirror those in our analysis earlier in 2020, indicating a high level of stability within the upper echelons of the world's most popular emojis.
The three emojis that featured at in some months, but not in the overall 2020 rankings, were as follows:
With a full view of 2020, it is clear the ascendancy of 🥺 Pleading Face was not a short-lived event bolstered exclusively by a meme.
Usage of 🥺 Pleading Face has continued to grow across 2020, consistently featuring in at least 1% of all tweets sent by Twitter users since April 2020. A very impressive feat, considering that 🥺 Pleading Face was only introduced in 2018.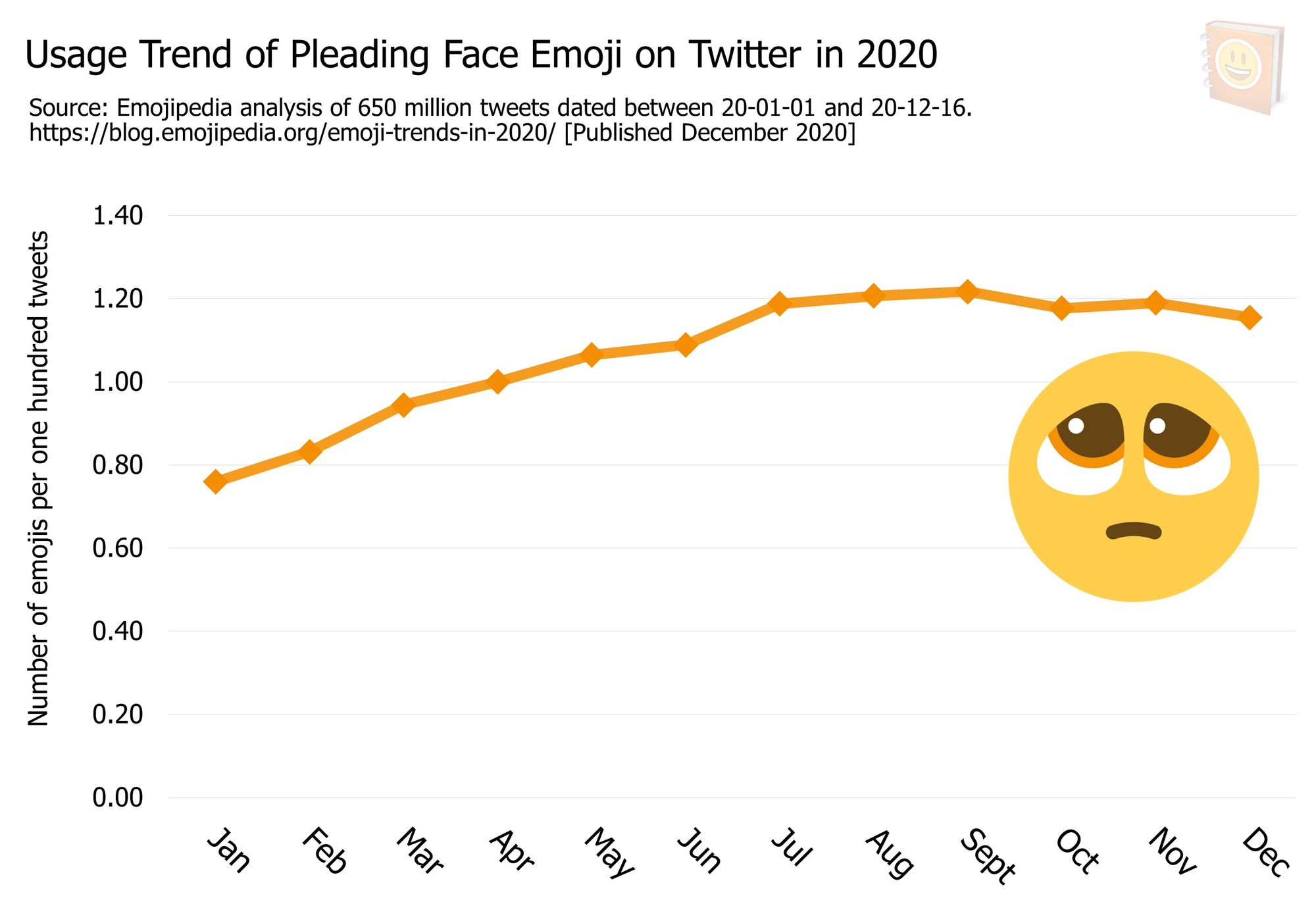 Two other noteworthy success stories at the top tier of emoji usage is the continued growth of 🙏 Folded Hands and 🥰 Smiling Face with Hearts throughout the year.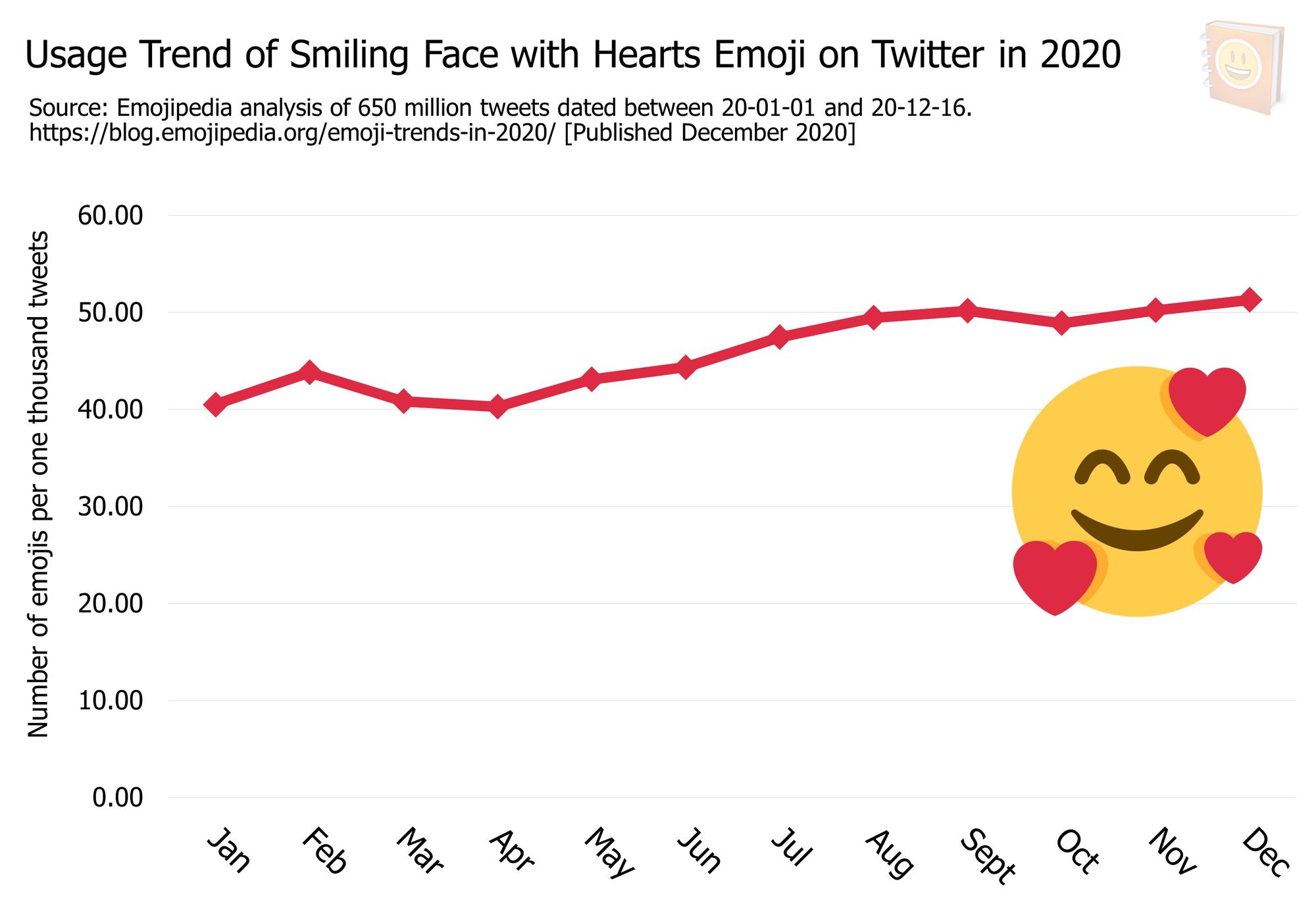 Like 🥺 Pleading Face, 🥰 Smiling Face with Hearts was was only introduced in 2018 and now consistently occupies a place in the top ten most used emojis across the world. Indeed, were it not for 🥺 Pleading Face, we could well have been referring to 🥰 Smiling Face with Hearts as our ascendant emoji of the year.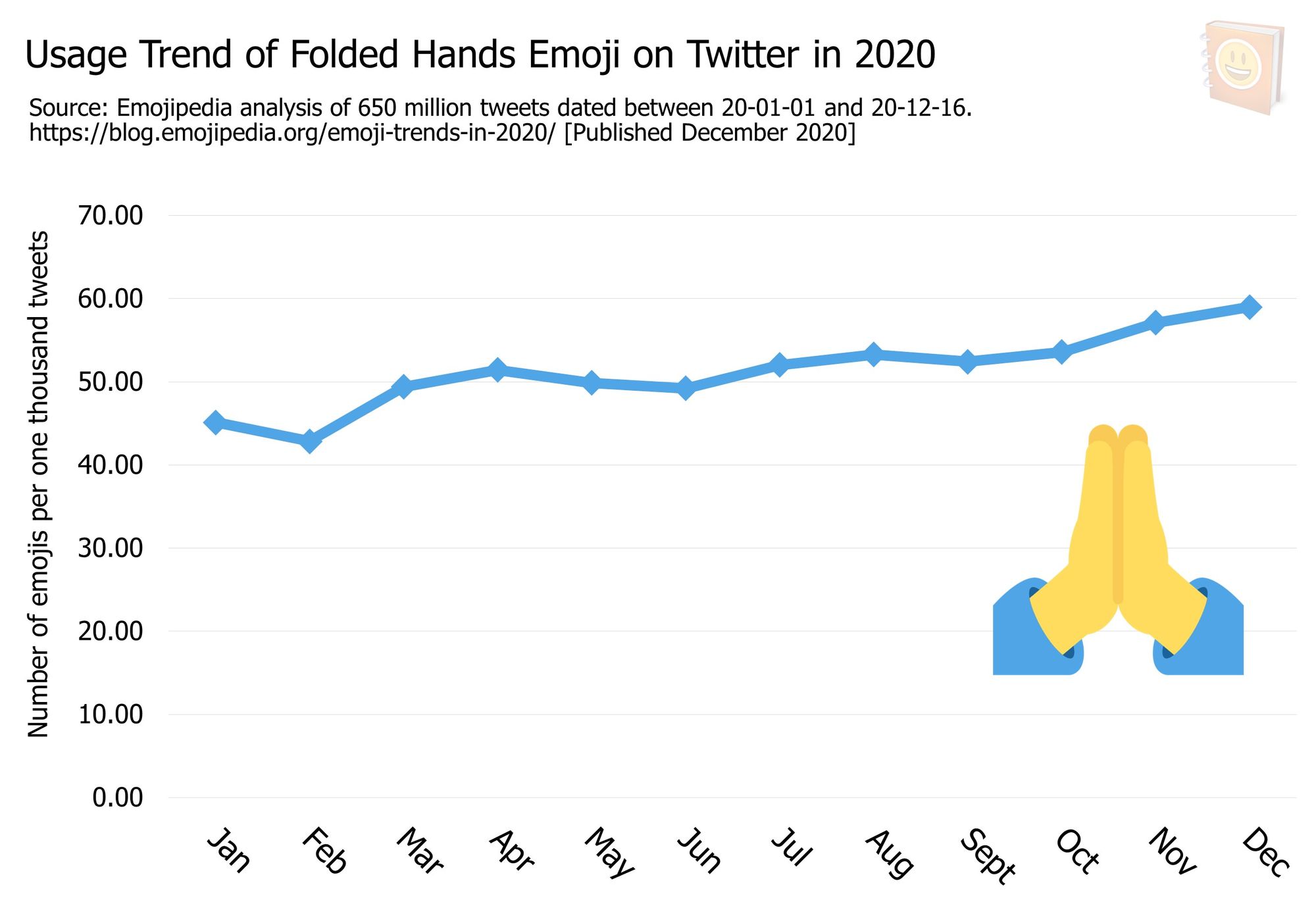 The continued growth of 🙏 Folded Hands is of particular note as, in our earliest analysis, this emoji saw a nearly 25% increase between August 2019 and April 2020.
At the time we suggested this could be related to our current circumstances with the coronavirus pandemic, which the world continues to grapple with. As always, it is worth noting that 🙏 Folded Hands is not a high five, and is rarely used as such (other than to ask the question 'is 🙏 a high five').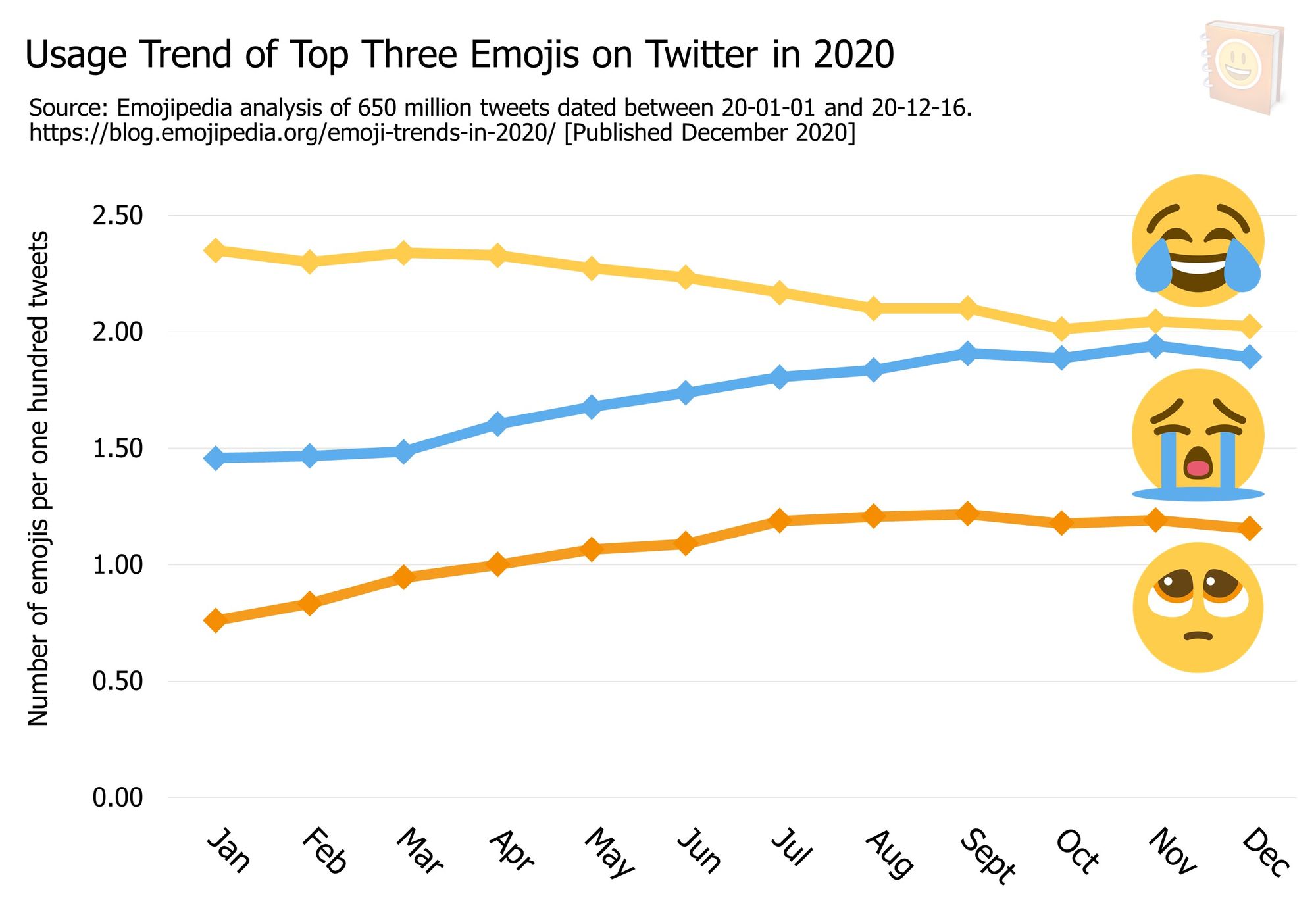 One final observation from the top 10 emoji list of 2020: while remaining the most popular emoji on Twitter, instances of 😂 Face with Tears of Joy have experienced a steady decline since March of 2020.
In November 2020 the multi-purpose 😭 Loudly Crying Face, nearly took the #1 position for the month.
Despite December 2020 so far showing a slight widening of gap between them, if this tread is to continue into 2021 we could well see the 😂 Face with Tears of Joy dethroned for the first time in recorded emoji history.
🆕📈 2020 Emoji Winners
Using previously assessed data from 2019[2] as a baseline for emoji popularity in 2019, we found the following emojis to have experienced the greatest level of overall growth between 2019 and 2020.[3]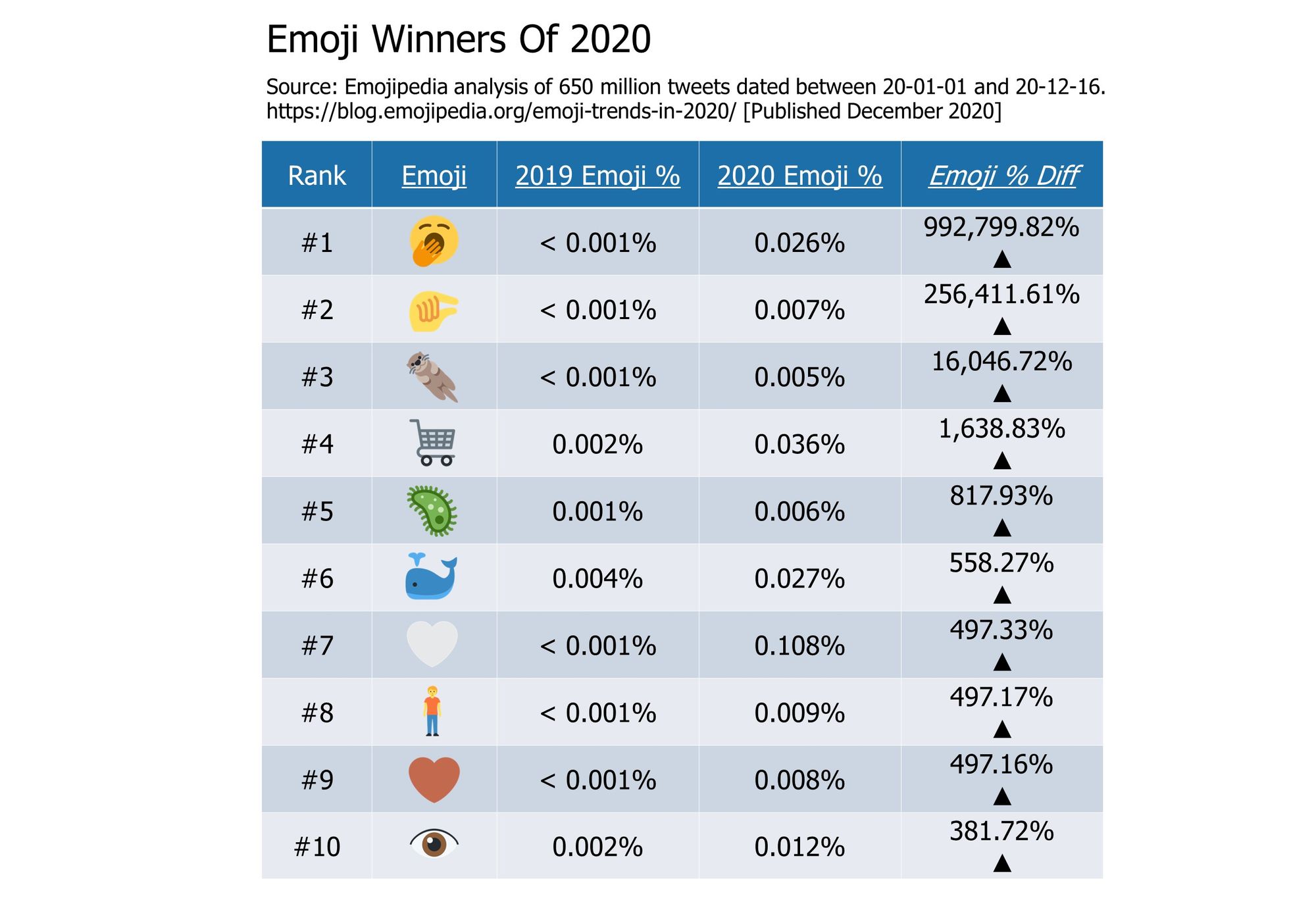 Six of the ten biggest emoji winners of 2020 have a similar origin story. 🥱 Yawning Face, 🤏 Pinching Hand, 🦦 Otter, 🤍 White Heart 🧍 Person Standing and 🤎 Brown Heart were all introduced in early 2019 via Emoji 12.0. However, it wasn't until these emojis were introduced to Samsung and Apple devices at the end of August and October respectively that these emojis began to experience significant usage.
Judging by the figures it is clear that 🥱 Yawning Face and 🤏 Pinching Hand are by the biggest winners of the Emoji 12.0 set, with gargantuan increases of 992,799.82% and 256,411.61% respectively between 2019 and 2020.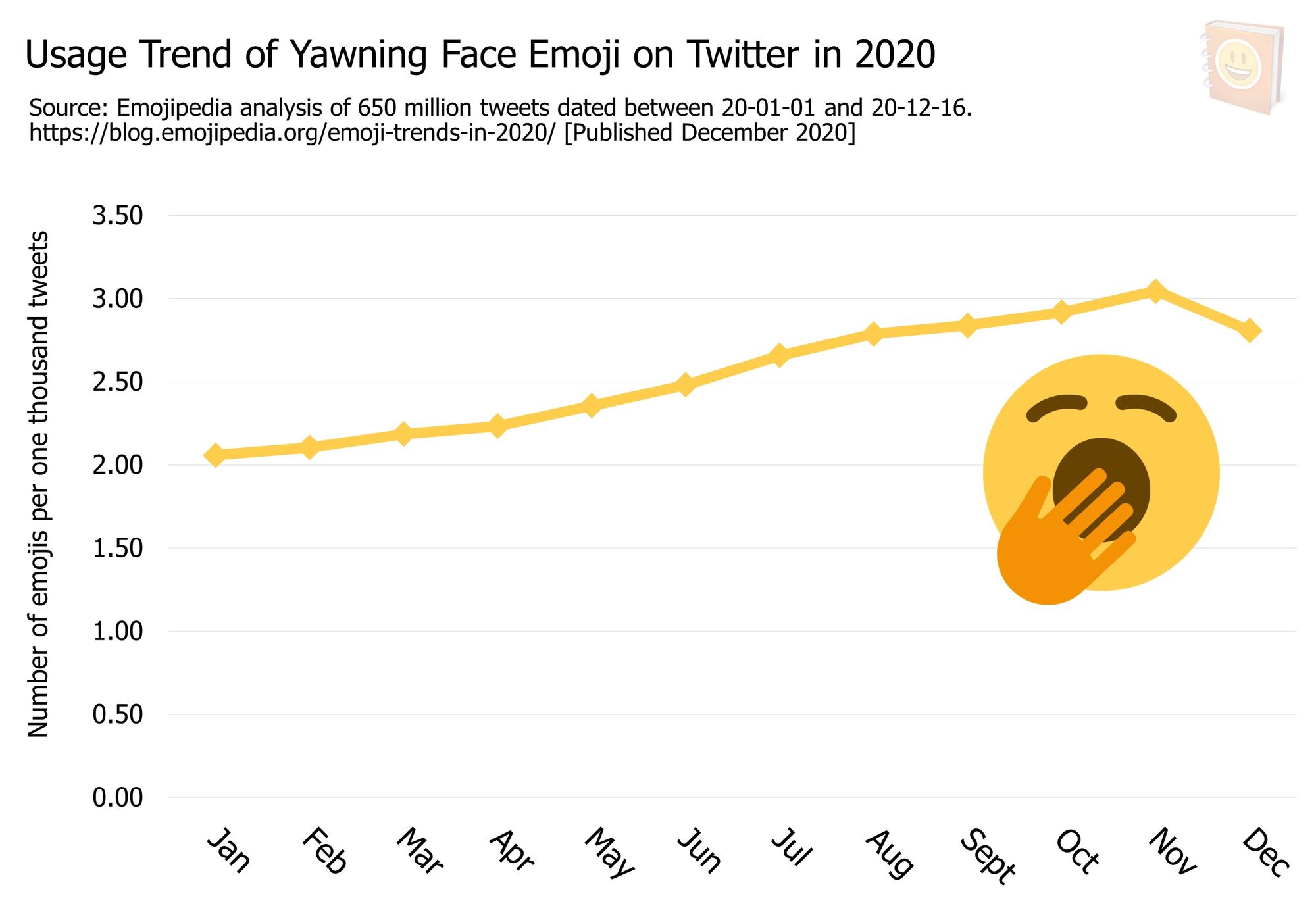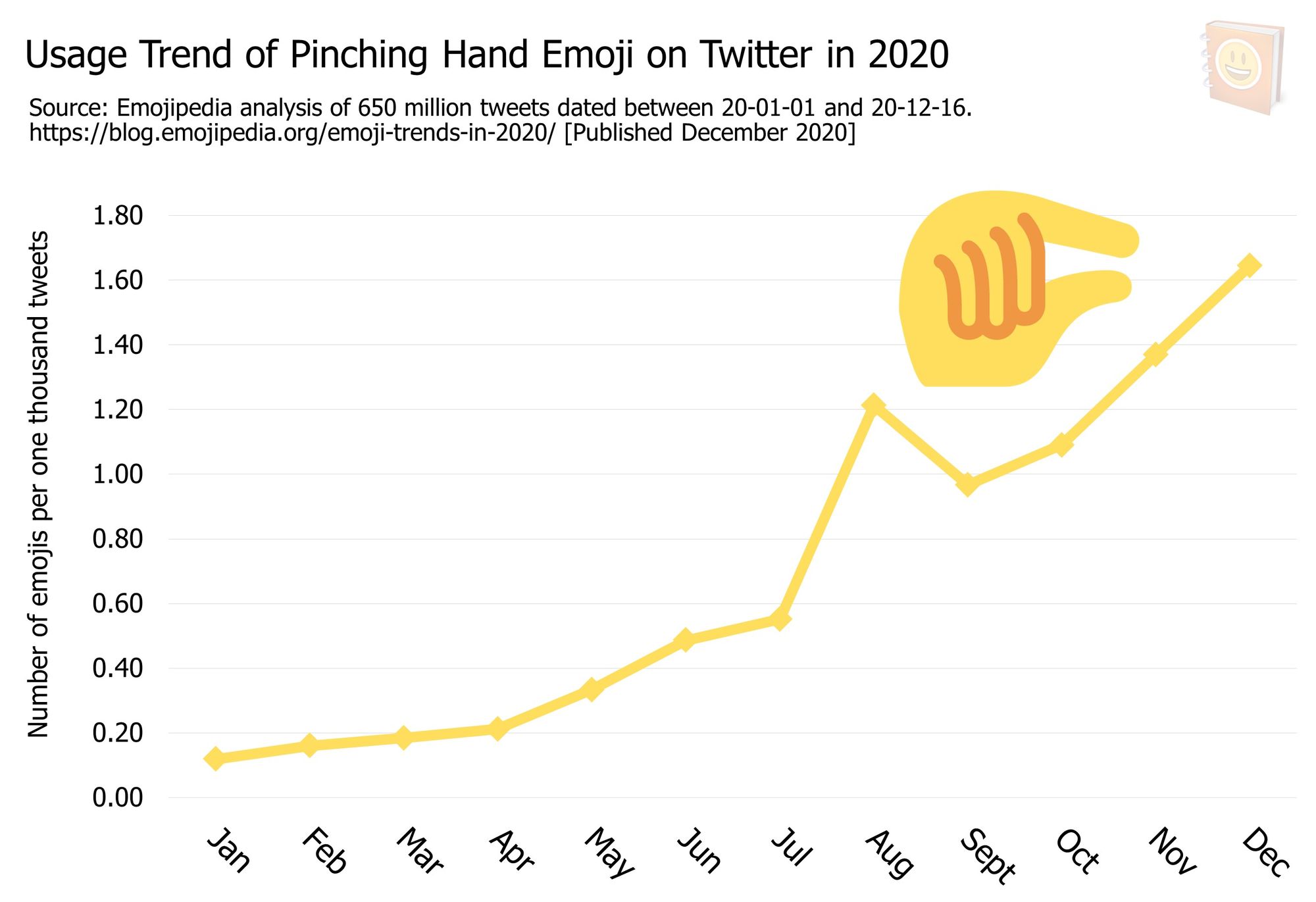 As was uncovered in our initial anylsis of emoji usage in the "new normal" back in May, the 🛒 Shopping Cart has seen significant growth between 2019 and 2020. This could be due to increased online shopping in 2020.
The growth of 🛒 Shopping Cart peaked in June before a rapid descent and plateau for the remainder of the year.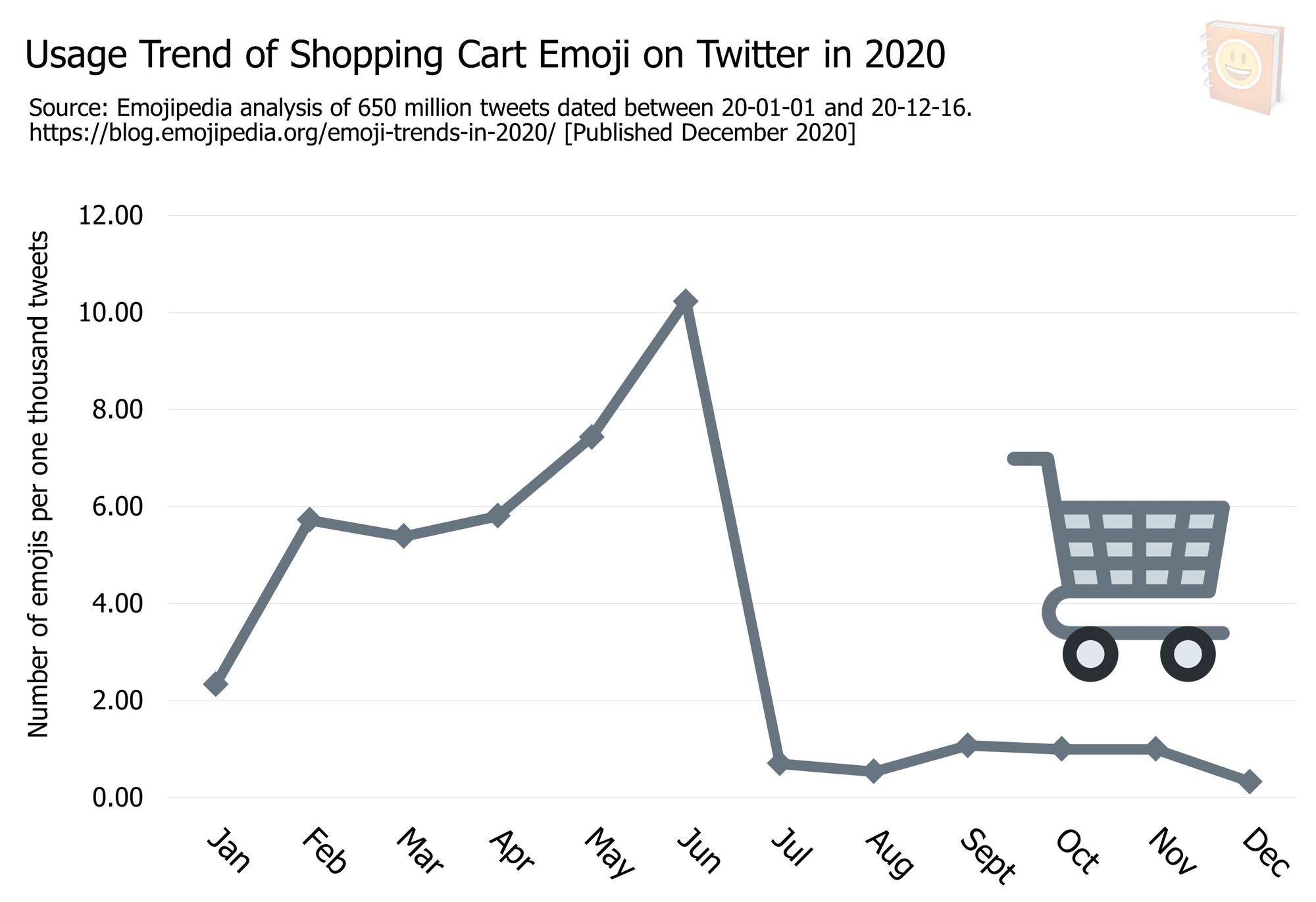 The significant increase in use for the 🐳 Spouting Whale requires further analysis. Use of the whale appears to plummet in July of this year.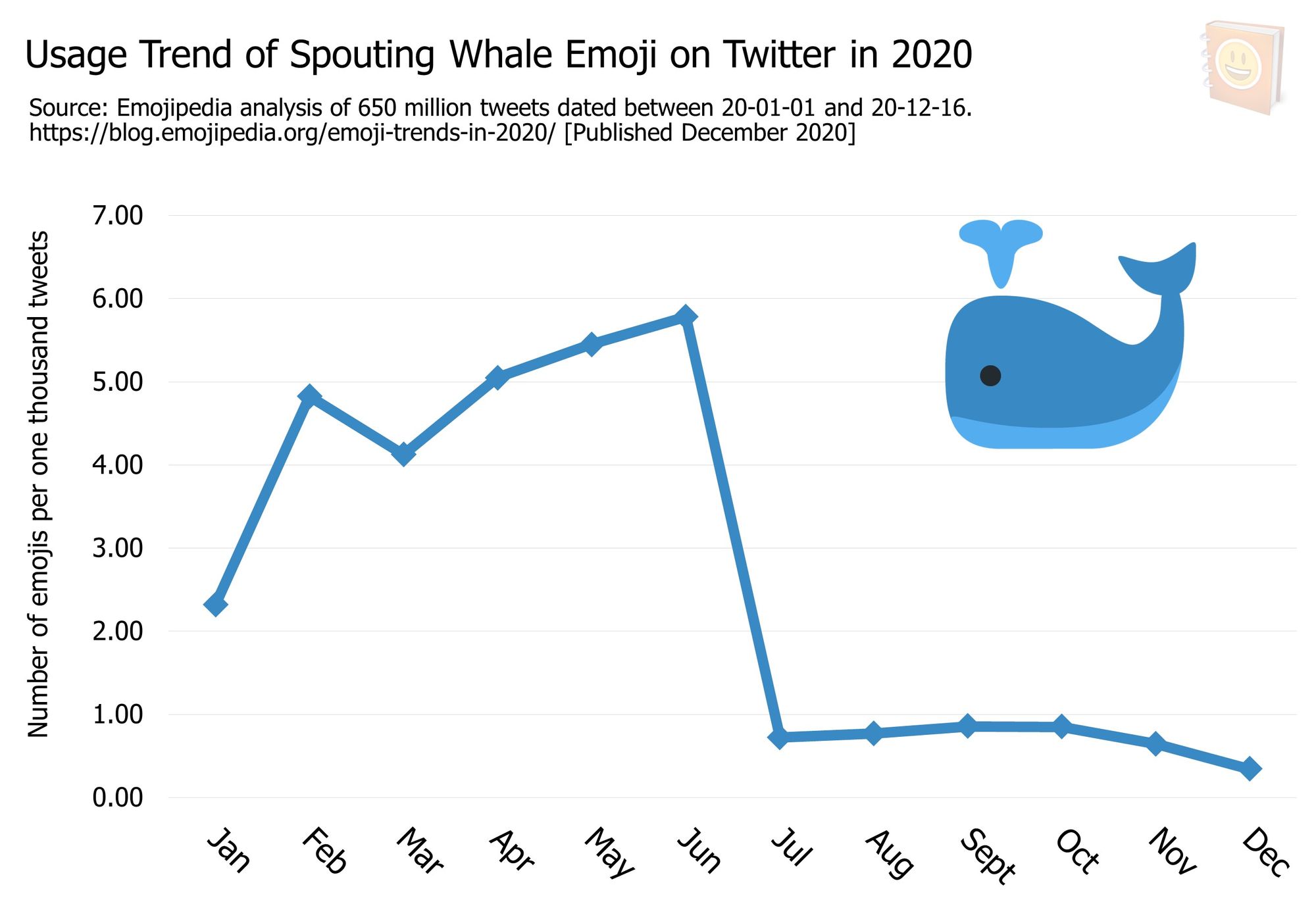 Interestingly, the trends for 🛒 Shopping Cart and 🐳 Spouting Whale appear to mirror each other. An example, most likely, of how correlation does not imply causation.
Unsurprisingly, 🦠 Microbe is a big emoji winner of 2020, with an increase in usage of over 800% between 2019 and 2020. Mapped across the year, we can see this increase is largely due to March 2020, when lockdown measures first began to be introduced across the western world in response to the coronavirus pandemic.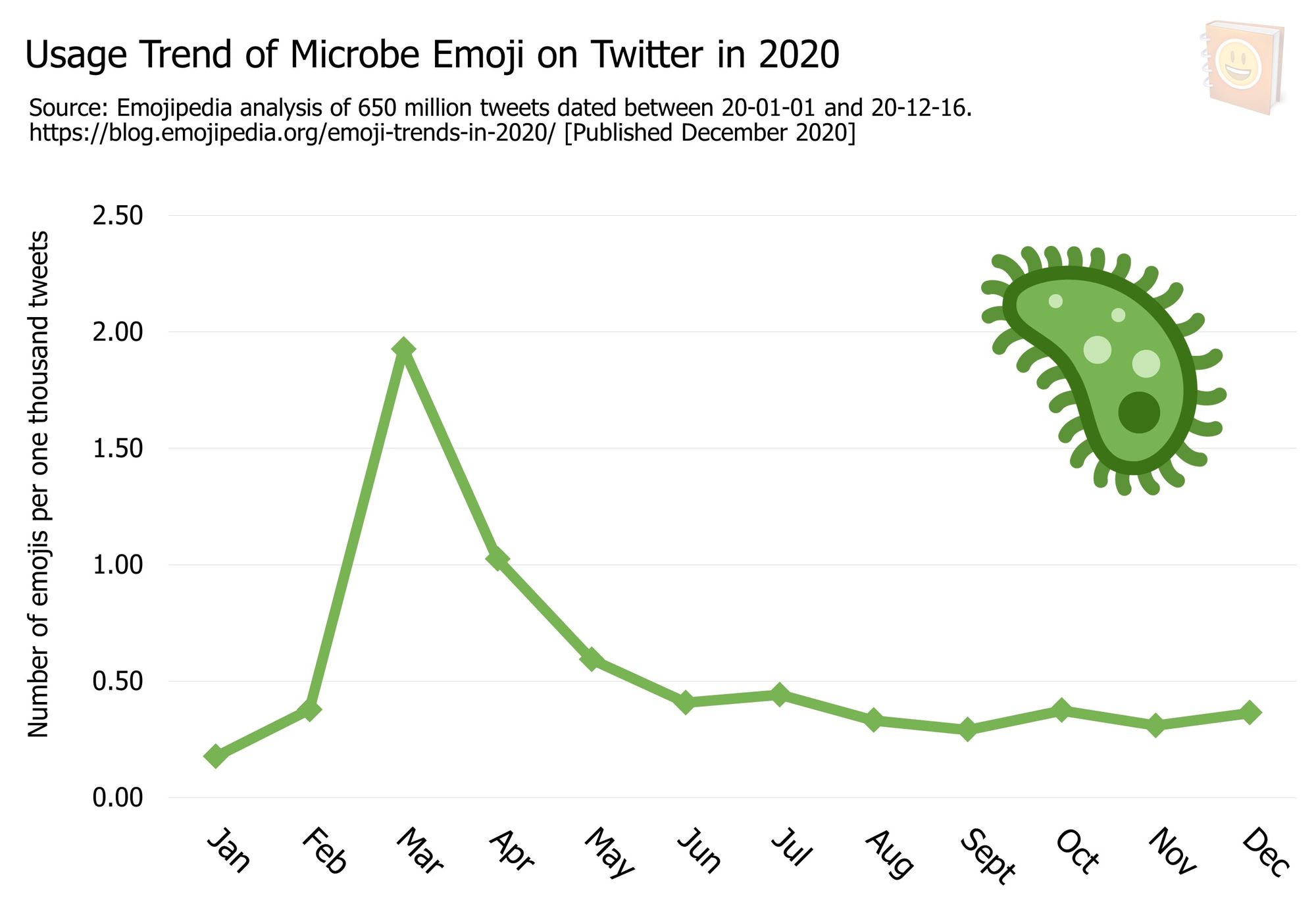 Given the significance of 🦠 Microbe in 2020, we also compared the peak of 🦠 Microbe (March 2020) with March of 2019, alongside a comparison between December 2019 and December 2020.
The jump between March 2019 and March 2020 is staggering. The drop-off in the second half of the year may indicate that discussion has moved on from the virus itself, instead looking to the societal impacts of the pandemic, and (see below) vaccination efforts.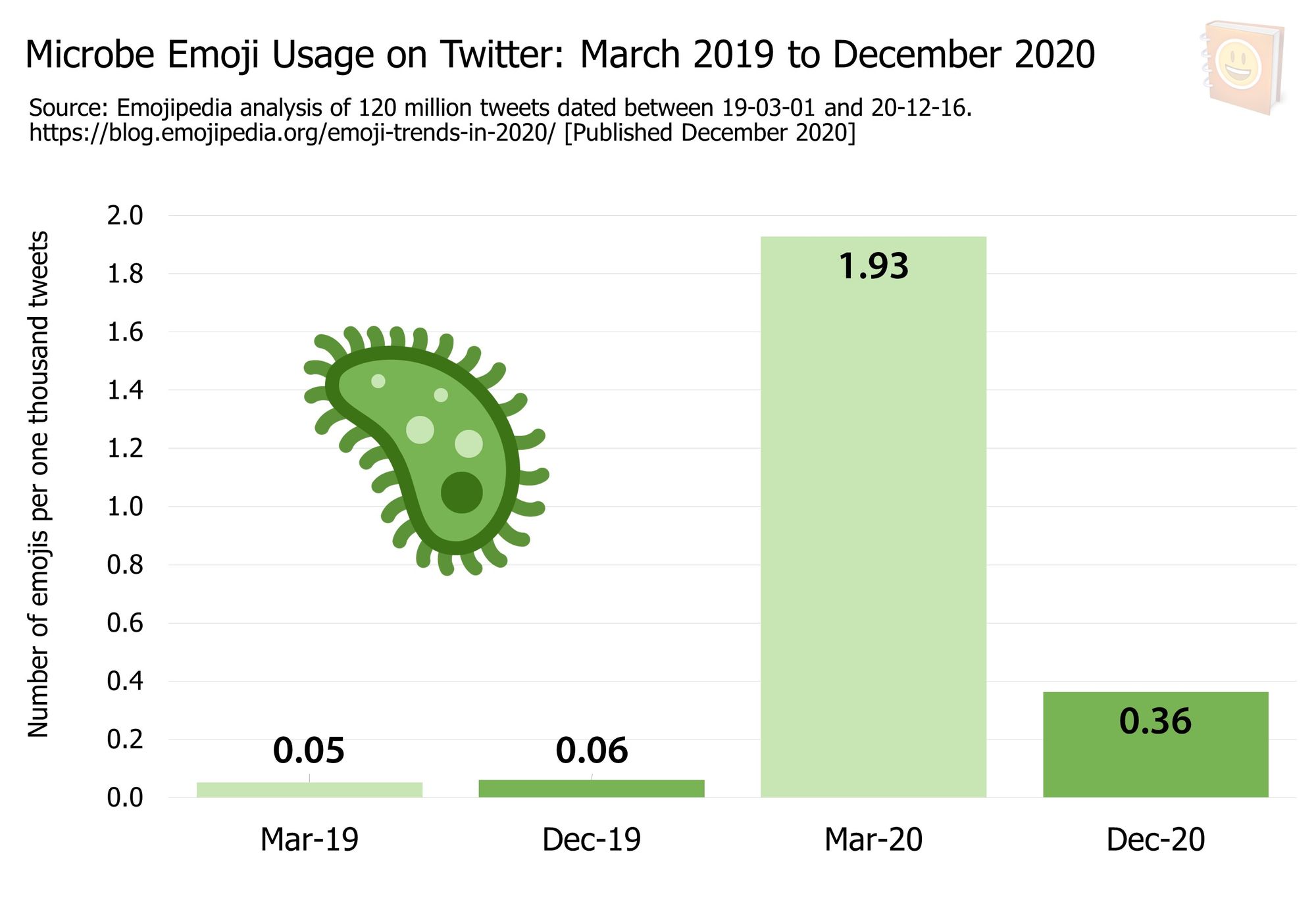 The presence of 👁️ Eye at the bottom of our top ten list is almost certainly due to the growth of the 👁👄👁 sequence which took this emoji out of obscurity into a more frequent emoji-meme.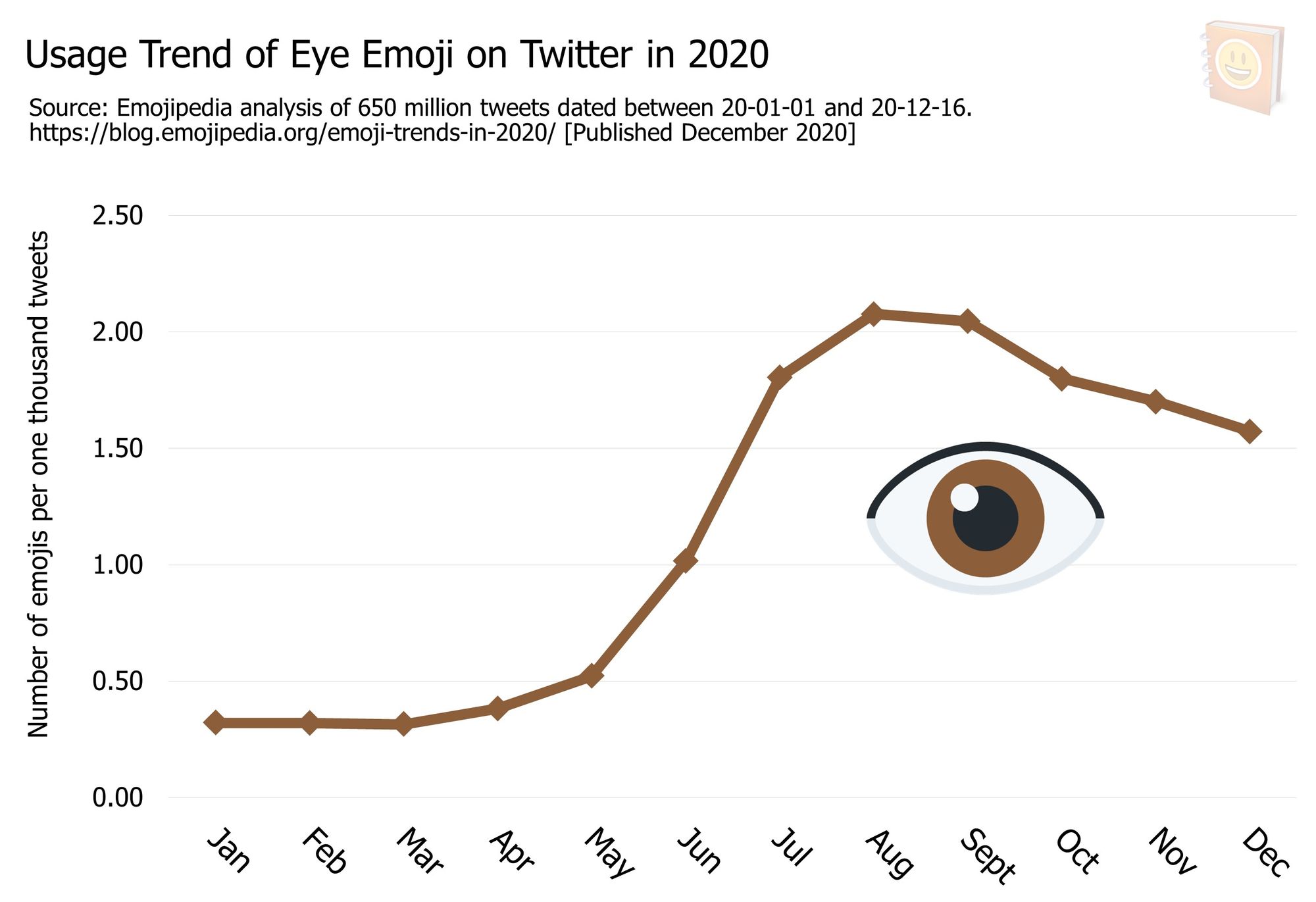 Other emojis with notable increases in usage between 2019 and 2020 include:
While 😷 Face with Medical Mask didn't make the top ten biggest winners in 2020, our analysis in April found that it was unsurprisingly a key emoji in tweets related to the coronavirus.
Like the 🦠 Microbe use of the masked emoji peaked in March of 2020.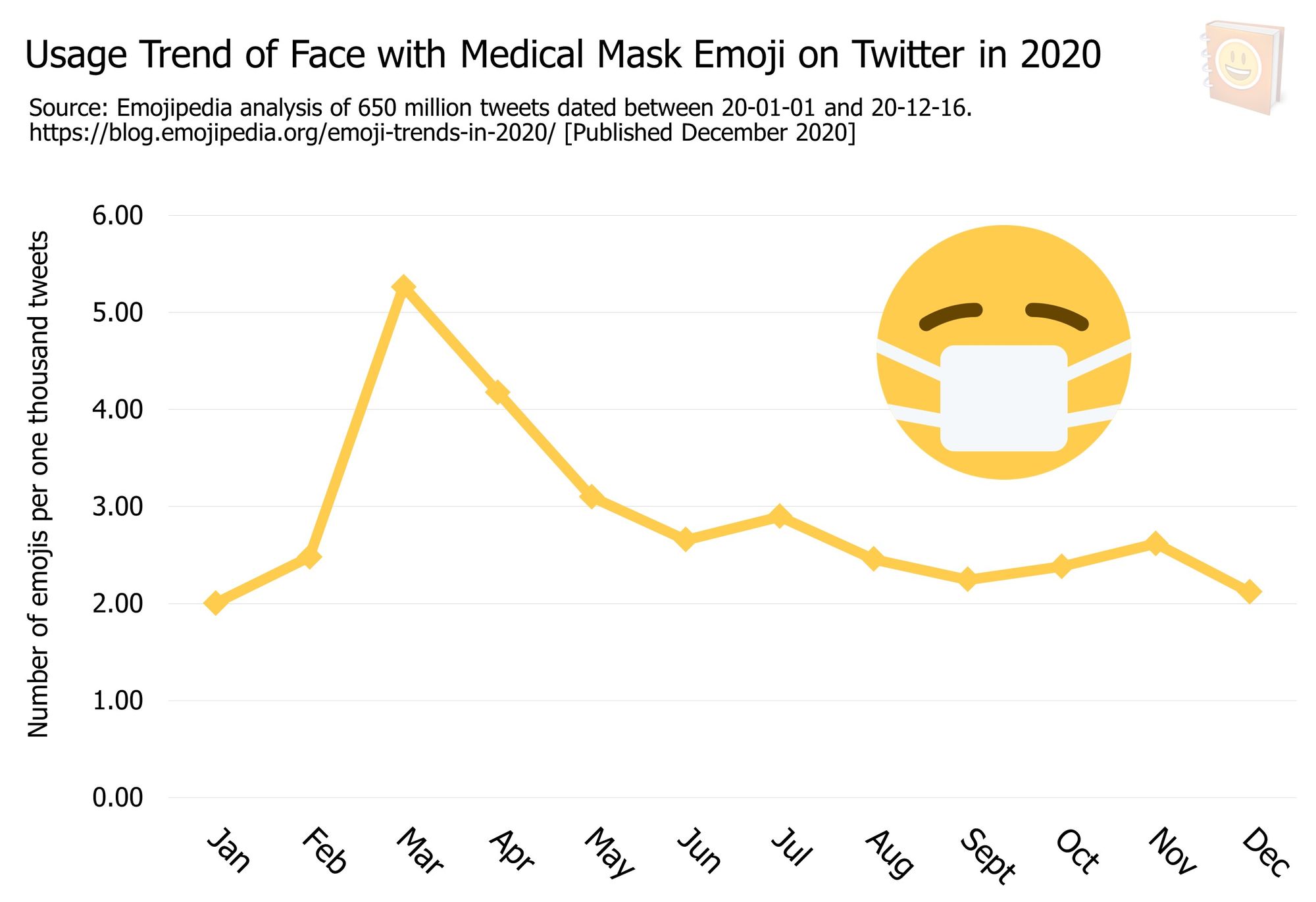 Apple's change to the mask emoji design on iOS and macOS in the last few months of the year doesn't appear to have affected total usage numbers for this emoji.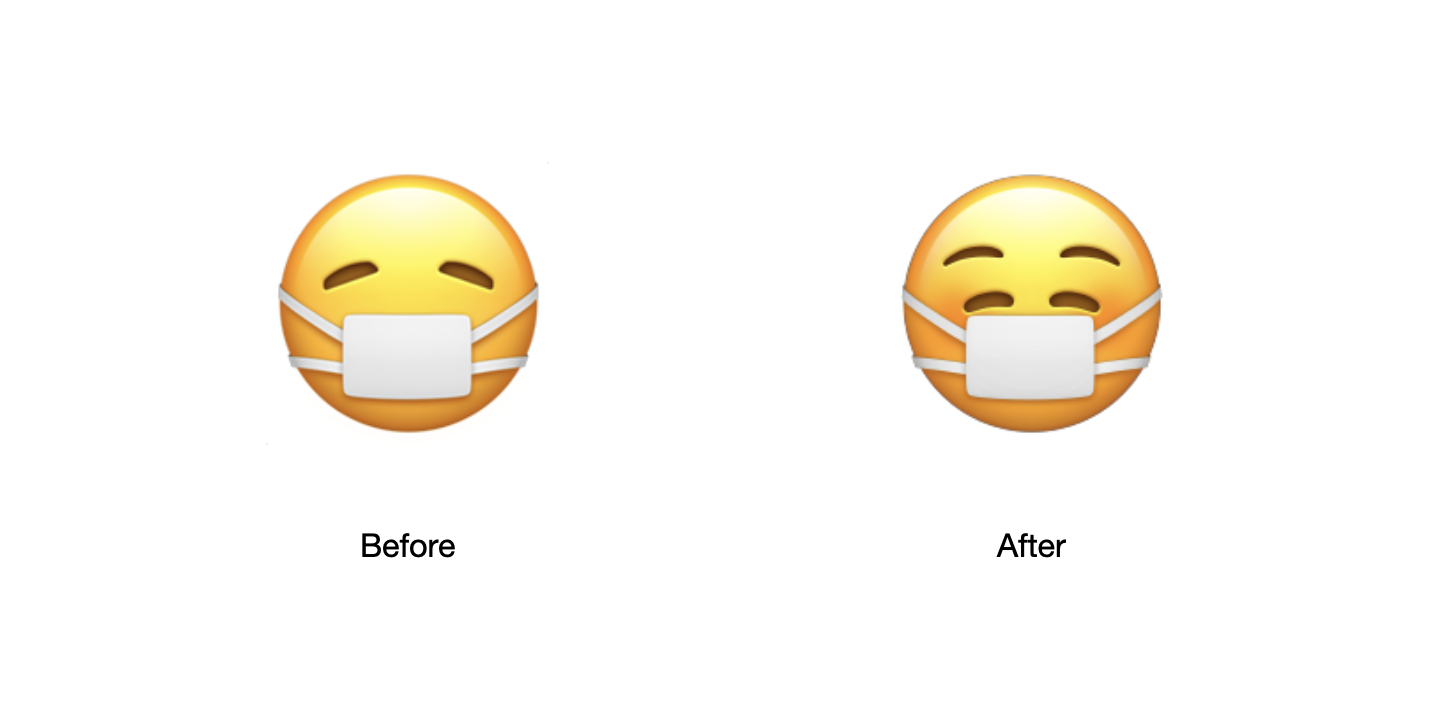 Above: Apple's updated 😷 Face with Medical Mask with a smile hasn't changed the general trend of this emoji use.
Whether the sentiments or topics associated with this emoji have changed would require a deeper analysis. Worth noting that as each emoji appearance differs by platform, the impact of a single emoji vendor changing design is seen as less significant than a design change that might be made by all major platforms.
🆕📉 2020 Emoji Losers
Next, we assessed the emojis which saw the biggest overall decrease in usage between 2019 and 2020.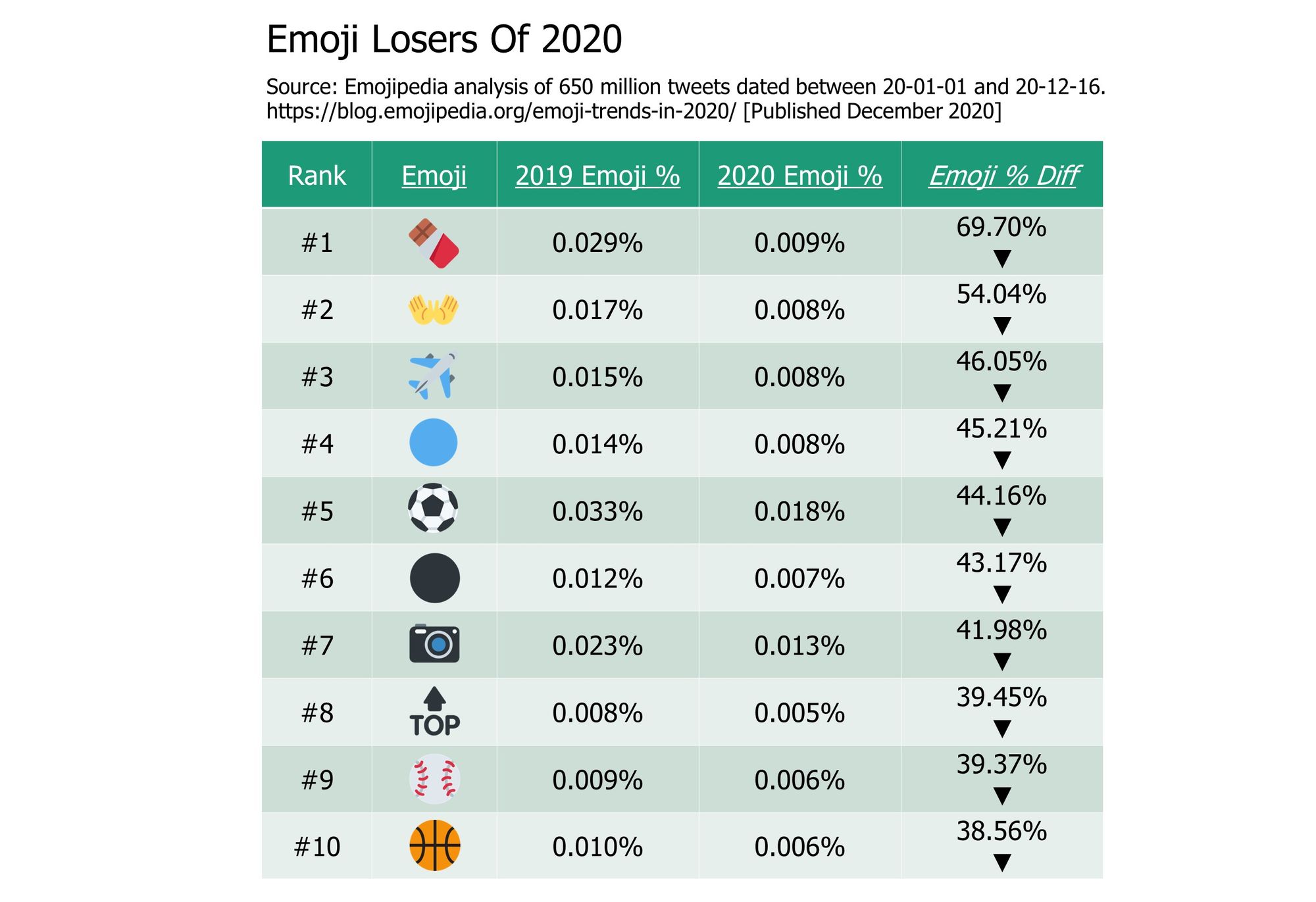 Noteably, three of the top ten biggest emoji losers of 2020 relate to organised sports: ⚽ Soccer Ball, ⚾ Baseball, and 🏀 Basketball.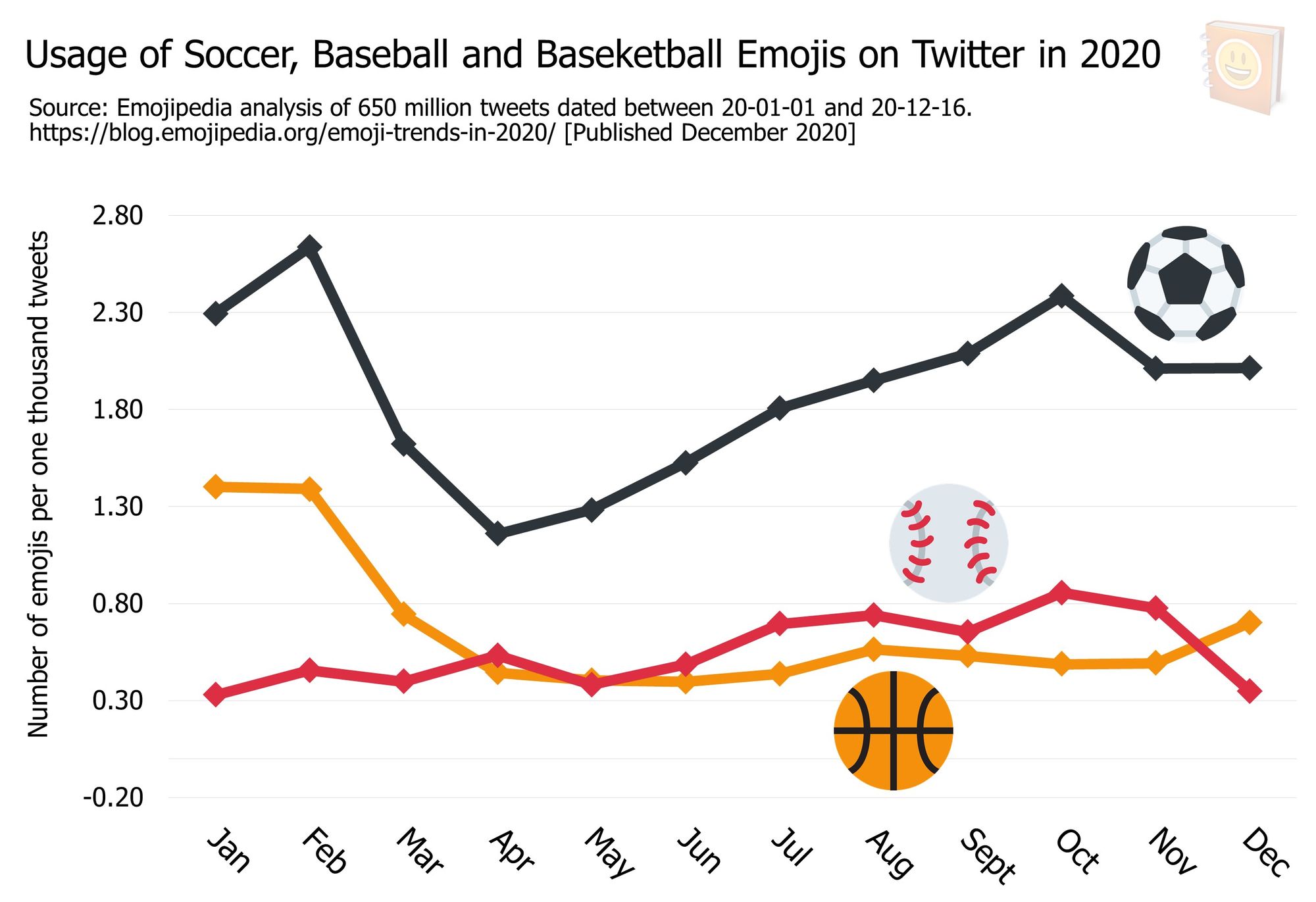 Based on these results, we further compared use of these three emojis in April 2019, December 2019, April 2020, and December 2020.
A significant decline was nearly universally experienced for these three emojis between April and December of 2020 as compared to 2019, with the most dramatic decrease being seen for ⚽ Soccer Ball between April 2019 and 2020.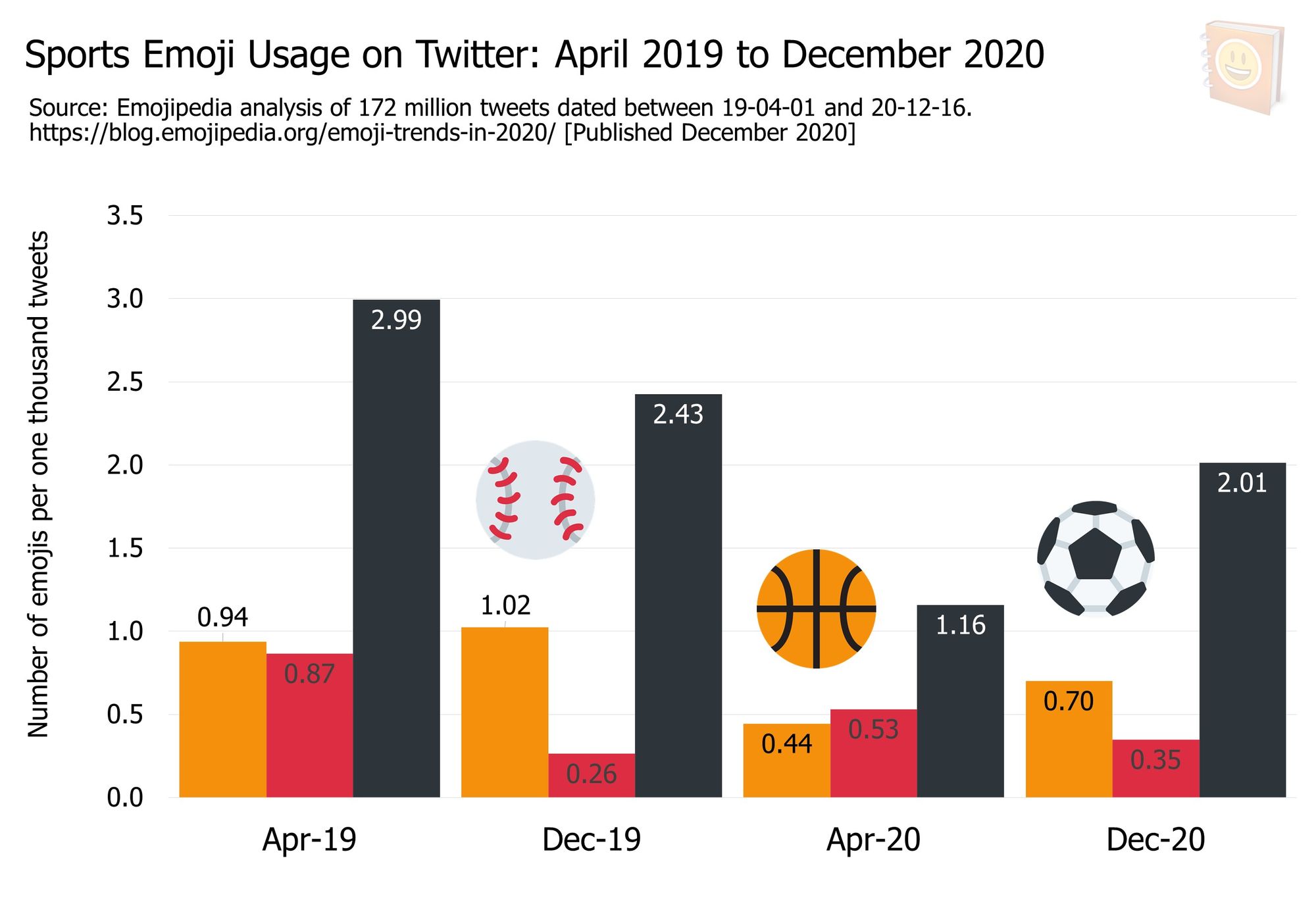 Use of the ✈️ Airplane emoji saw a large relative decrease in April of this year that hasn't yet shown any signs of returning to its 2019 levels.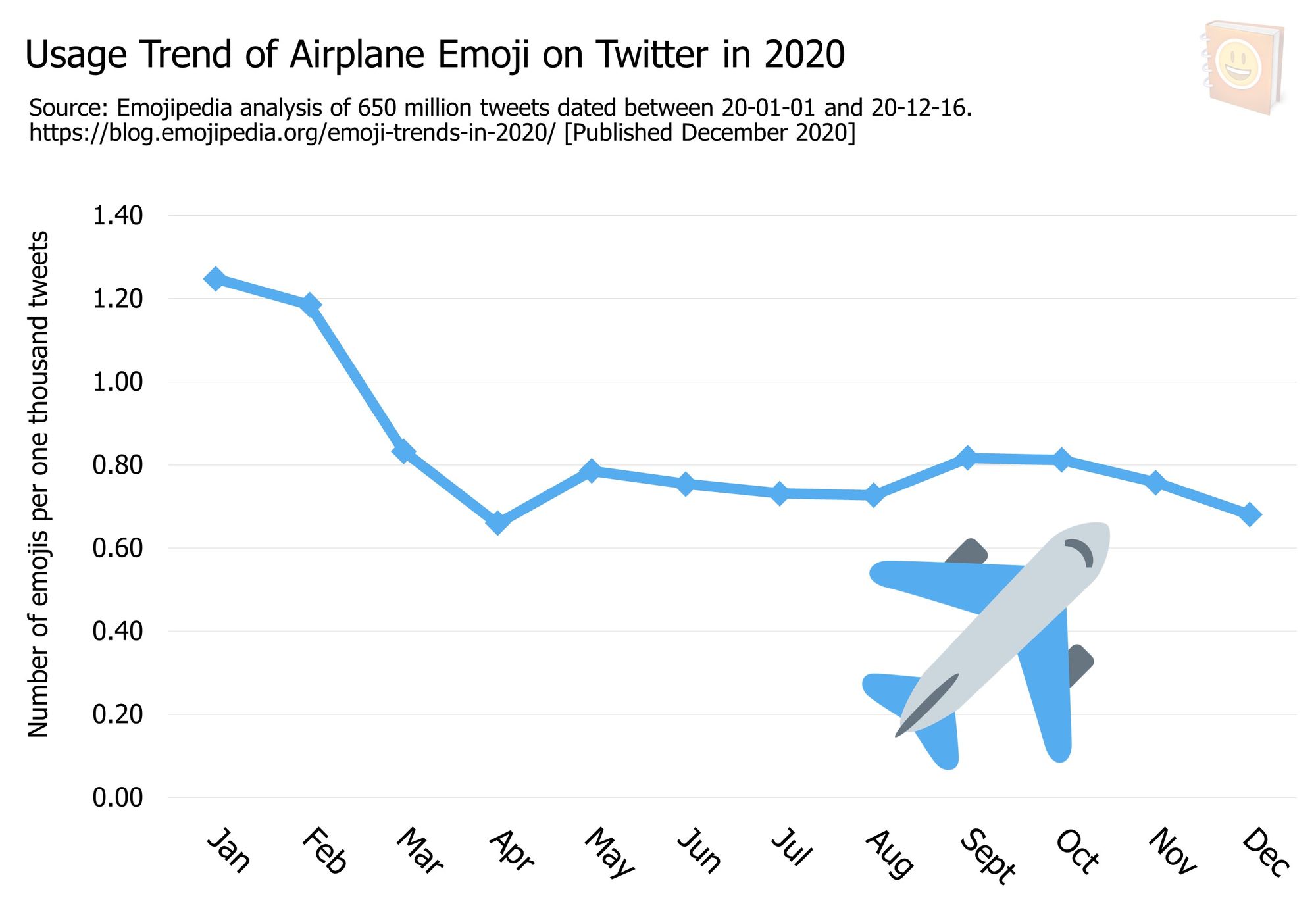 This emoji data closely matches public data from Flightradar24 for flights in 2020: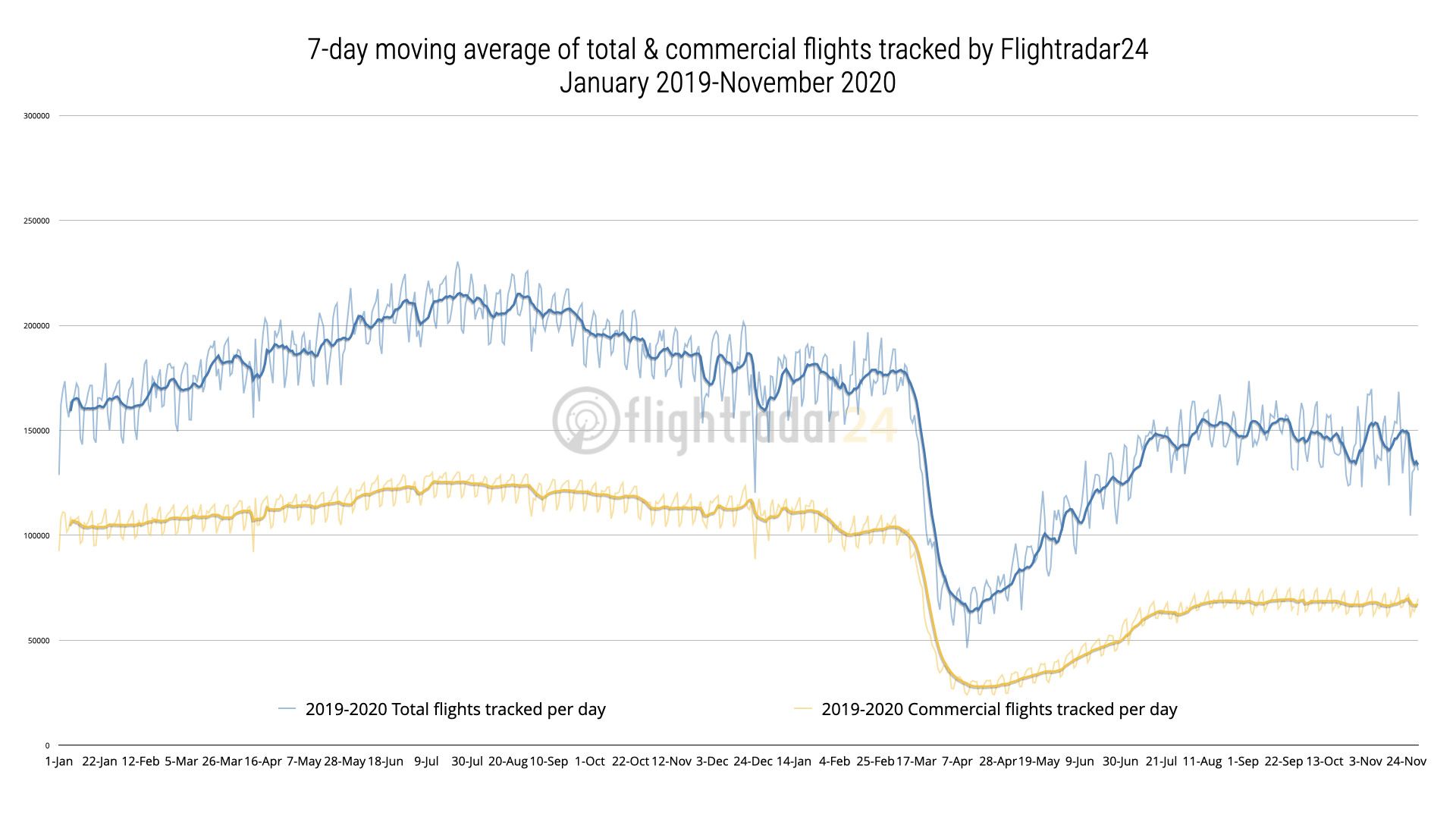 Above: United States flights in 2020. Image: Flightradar24.
Superimposed on one another, a strong correlation between use of the ✈️ Airplane emoji and total number of flights taken in any given month can be projected.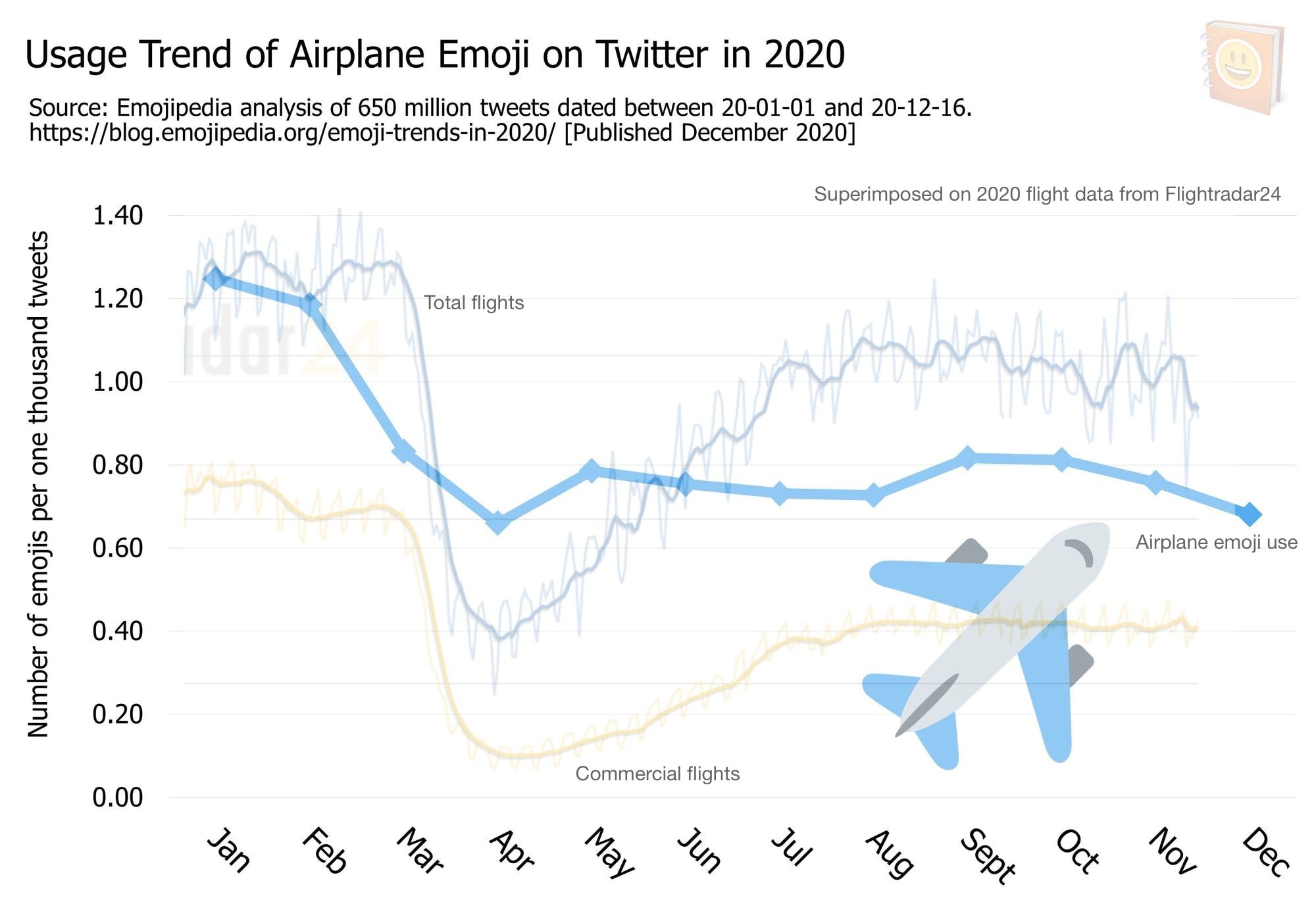 Above: United States flight data closely correlates to Twitter usage of the ✈️ Airplane emoji.
🤓 Summary
Following an analysis of 650 million tweets collected in 2020, Emojipedia made the following findings:
🐦📈 One in five tweets posted on Twitter now contains at least one emoji, continuing the growth of emoji usage on the platform seen over the last few years
📊📈 The top ten emojis used on Twitter remain relatively stable
🔝😂 Face with Tears of Joy is still the most used emoji on Twitter, but 😭 Loudly Crying Face is gaining ground and may become the most popular emoji of 2021.
🥺⏫ Pleading Face has solidified its position as the third most popular emoji on Twitter.
🥱🤏 Yawning Face and Pinched Hand are the two biggest emoji winners of 2020, having experienced huge growth since being introduced in 2019's Emoji 12.0.
⚽⚾ Emojis related to organized sports such as Soccer Ball and Baseball were amongst the biggest losers in 2020.
✈️📊 ✈️ Airplane has closely correlated with US flight data in 2020. Seeing this emoji increase in use in 2021 may suggest an increase in flights is imminent, or already taking place.
One trend we here at Emojipedia are rooting for in 2021: 💉 Syringe.
Why is this emoji notable? The syringe emoji has most commonly been used for blood donations in the past, but this is now seeing a new life with increasing use as coronavirus vaccine emoji.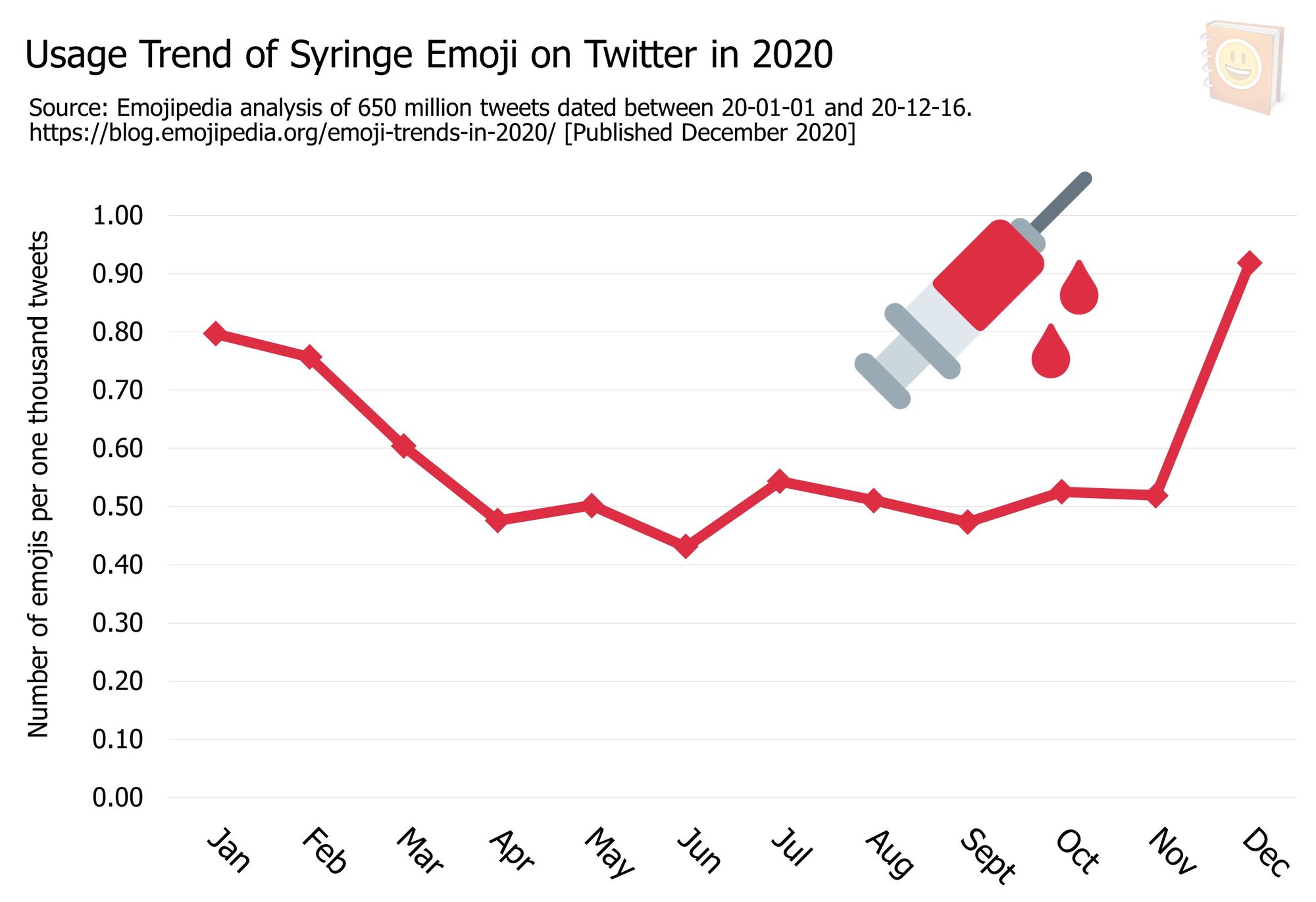 Here's hoping that the rollout of the various COVID-19 vaccines is a resounding success throughout 2021, and that we'll all have less need for the 🦠 Microbe and 😷 Face with Medical Mask emojis by this time next year. 🤞
---
It is of note here that our Top 10 Emojis list contrasts with that of Twitter itself. There are a number of possible explanations for this, but the most likely is that our method of counting emojis differs: while Emojipedia counts the number of tweets an emoji was included within at least once, Twitter quite likely counted the raw number of times each emoji was used both within and across tweets. Other possible reasons include that Emojipedia's Twitter data collection uses what is known as Twitter's Spritzer data stream, which allows access to just 1% of all tweets. Additionally, the timeframe analysed differs, as Twitter's data collection for their graphic ended in mid November 2020. ↩︎

Specifically this sample of 2019 data was drawn from February, April and August 2019. ↩︎

We peformed this analysis by assessing the difference in the percentage of tweets featuring at least one of each emoji 2019 and across 2020, excluding any emoji that did not have over 30,000 instances of use across 2020. This was done to avoid mapping relative variations in use of uncommon emojis, where an increase from 1,000 uses to 3,000 uses would be an increase of 200% despite being a small jump in actual usage throughout an entire year's worth of data. ↩︎