One Year On: Bored of the Pandemic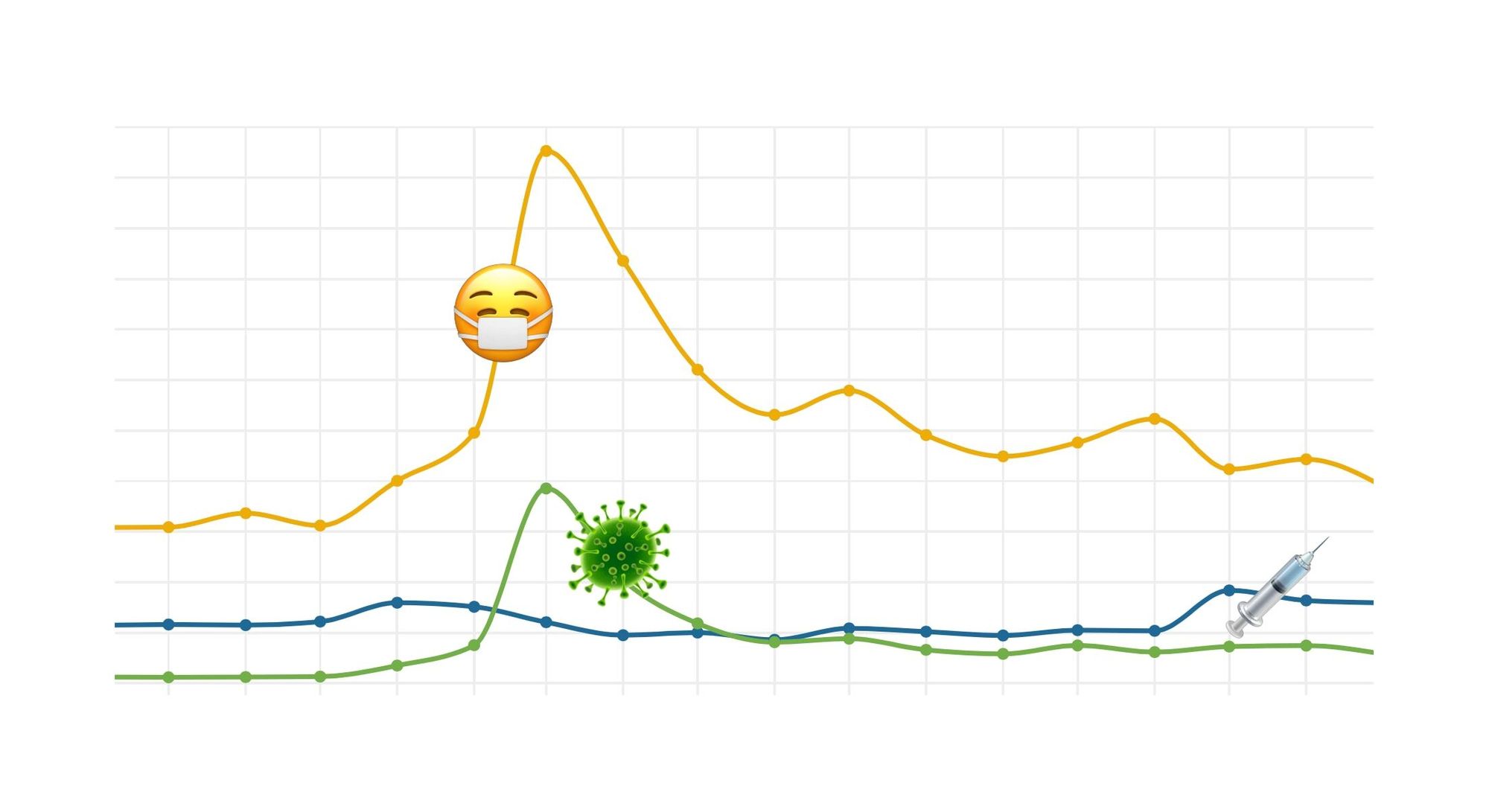 It's been one year since the World Health Organisation declared COVID-19 a global pandemic.
Strict preventative measures were introduced in many nations across the world, and usage of previously-uncommon emojis jumped exponentially as people took to Twitter to grapple with what was going on.
What we see one year on is that the novelty of the 🦠 Microbe emoji has greatly waned. 😷 Face With Medical Mask, newly smiling on iOS, is past its prime, though use remains relatively high.
Vaccines, by way of the 💉 Syringe emoji, are the new topic in town, though hardly in the numbers seen when the world went into global lockdown in March of 2020.
Above: Use of Coronavirus-related emojis on Twitter between September 2019 and February 2021.
Then 😱
As we here at Emojipedia covered this time last year, 😷 Face with Medical Mask and 🦠 Microbe were the two emojis that quickly became inseperable from coversations about COVID-19.
Both saw dramatic jumps in usage as shown in the chart above, and were amongst the top 10 emojis used within tweets referenced either "coronavirus", "COVID", "COVID19" or "COVID-19".
Above: Top emojis used in discussions related to COVID-19 on Twitter in March 2020.
Other emojis in these tweets were either highly popular emojis (e.g. 😂 Face with Tears of Joy, 🤣 Rolling on the Floor Laughing, and 😭 Loudly Crying Face) or other emojis indicative of worry or alarm (🔴 Red Circle, 🚨 Police Car Light, ⚠️ Warning and 😱 Face Screaming in Fear).
Now 🥱
Today we see that the popularity of 😷 Face with Medical Mask and 🦠 Microbe was short-lived, and after their peak in March 2020 dropped dramatically in usage and then have continued to experience a slow decline in usage.
It's not that the pandemic is over, but discussion may have broadened beyond the basics.
Above: Use of 😷 Face with Medical Mask and 🦠 Microbe on Twitter between September 2019 and February 2021.
The decline in interest in 😷 Face with Medical Mask and 🦠 Microbe is echoed in Google Trends data related to specific terms related to the pandemic.
Above: Google Trends chart of searches for the term "pandemic" since September 2019.
Hope 💉
💉 Syringe has seen an increase in usage since December of 2020.
This was seen in our review of 2020 emoji trends and the discussion surrounding the vaccine-friendly change to this emoji design.
As the widely recongnized path out of this pandemic, it's possible we'll see use of this emoji continue to rise as vaccination programs expand around the globe.
The pandemic isn't over, but for the first time, we're ready to talk more about the vaccine than the virus, if our emoji use is anything to go by.
More 🧑‍⚕️