What the 2021 Unicode Delay Means for Emoji Updates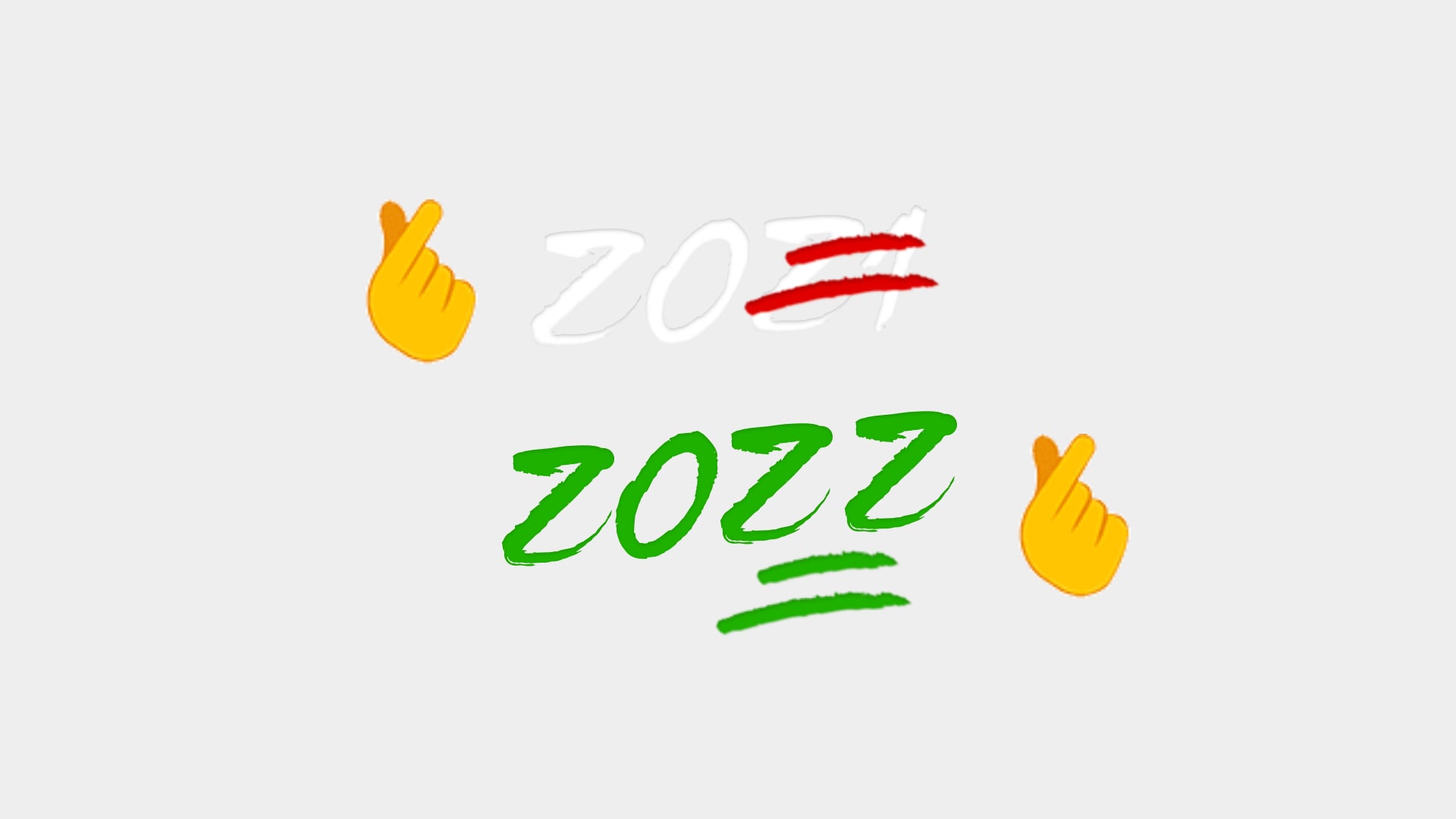 The Unicode Consortium is delaying Unicode 14.0 by six months due to COVID-19.  This means that emojis that would have arrived on phones in 2021 will instead roll out in 2022.
Does this mean 2021 will be an emoji-free year, and what does it mean for the emojis already announced? Here's a brief FAQ.
🐢 What's the delay?
Announced by Unicode on April 8, 2020, the annual release of the Unicode Standard is being delayed by six months.
🗓 What is the usual schedule?
The regular Unicode release schedule has looked like this for a number of years:
📝 Unicode release: March–June
📲 Major operating system support: August–December
Versions 9, 10 and 11 of the Unicode Standard came out in June of 2016, 2017 and 2018 respectively.
This schedule was changed to a March release as of Unicode 12.0 in March 2019, to allow major vendors such as Google and Apple time to include the new emojis in their major software updates (which fall in the second half of the year).
Unicode 13.0 was released in March 2020, with the new emojis in the update announced in late January 2020.
🆕 What is the new schedule?
Unicode 14.0 would have been released in March 2021 under normal circumstances. This would have resulted in the new emojis for that release coming to iOS, macOS, Android and Windows in the second half of 2021.
Unicode 14.0 is now planned for September 2021, meaning major operating systems wouldn't have a chance to include these updates until very late 2021, or more likely, the first half of 2022.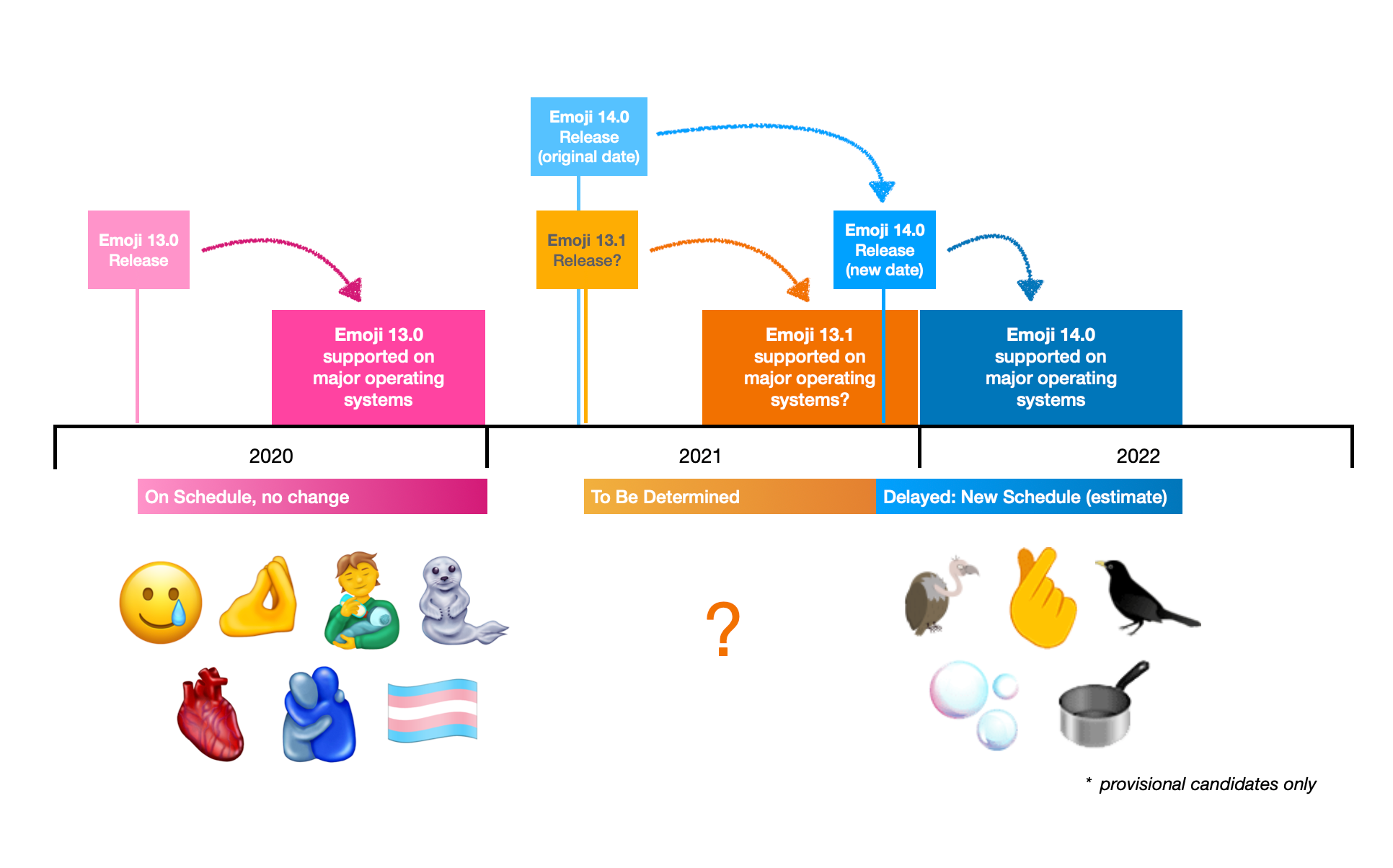 What new emojis have been bumped?
No decisions about the final emoji list for 2021 had been made at this stage. Provisional Emoji Candidates originally slated for 2021 include Vulture, Bubbles, Hand With Index Finger and Thumb Crossed (aka finger heart), and Crow.
If approved in the final release of Emoji 14.0, these will be subject to the announced delay - only coming to phones in 2022.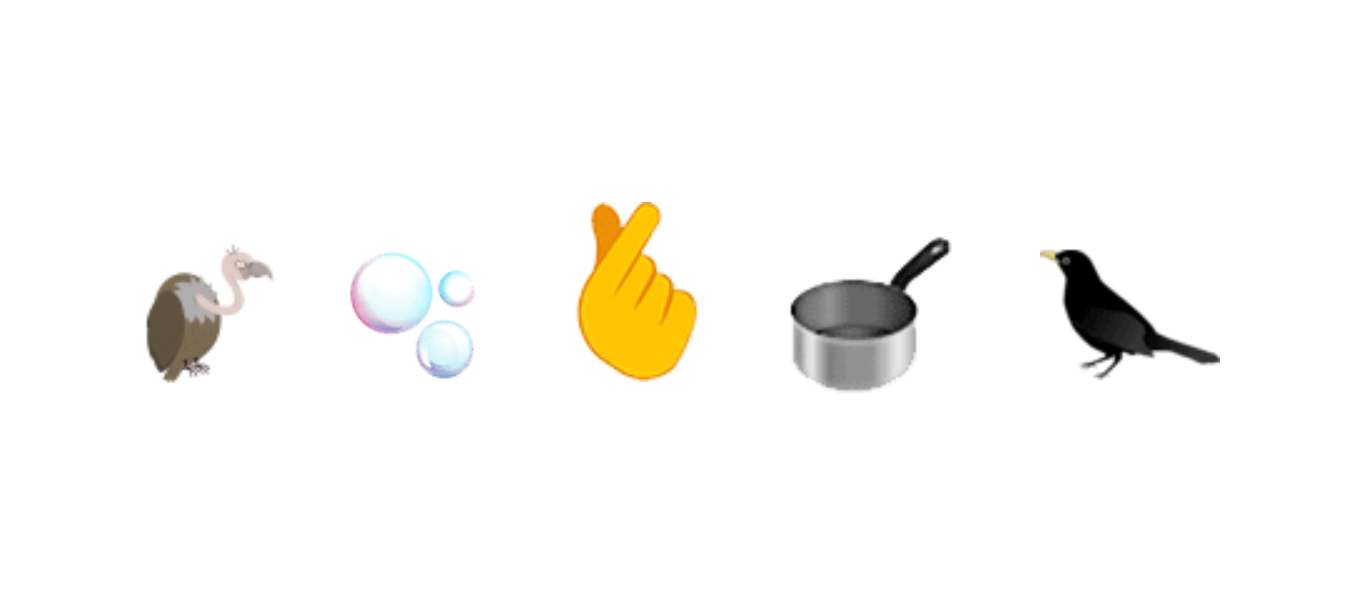 What about the 117 new emojis approved for this year?
Unicode 13.0 (and Emoji 13.0 - the adjacent release which includes new emojis, and relies on Unicode 13.0 code points) is still coming to devices this year as planned.
There is no indication that 2020 will be any different to 2019 from an emoji rollout perspective.
As an estimate, users can expect the 117 new emojis for 2020 to come to devices:
📲 Android: September 2020*
📲 iOS: October 2020
📲 Samsung: November 2020
*Some Android devices get updates slower than others, or not at all. Some Android apps support new emojis, even on old Android releases.
Does that mean no new emojis in 2021?
There is a chance there will be no new emojis on phones in 2021.
Alternatively, Unicode has suggested a Emoji 13.1 release which could fill the gap in 2021. This wouldn't be able to include new Unicode characters (which need a full Unicode release), but could include sequences.
Emojis added without requiring new code points in the past have included:
Should an Emoji 13.1 release come out in place of Emoji 14.0, this could be comprised of sequences like these, and/or gender and skin tone variations of existing emojis.
No decision has been made about a potential Emoji 13.1 release for 2021 yet, with the Unicode Emoji Subcomittee and the Unicode Technical Committee to determine this in the coming weeks or months.
Much of that decision is likely to be around whether there are sufficient emoji sequences approved to justify a new emoji update, when no new code points can be included.
(Disclaimer: I represent Emojipedia on the Unicode Technical Committee, and am a member and former vice-chair of the Unicode Emoji Subcommittee.)
TL;DR please
2020: New emojis coming to devices, as already announced. No change.
2021: Potentially a smaller set of new emojis coming to devices. Or no new emojis on devices at all.
2022: New emojis coming to devices, planning still underway. Unicode 14.0 not due until late 2021, so unlikely to see new emojis on any device until 2022.
2023: It's unclear so far how this will impact the schedule for Unicode 15.0 and Emoji 15.0.