When is Microsoft's Fluent Emoji Update Coming Out?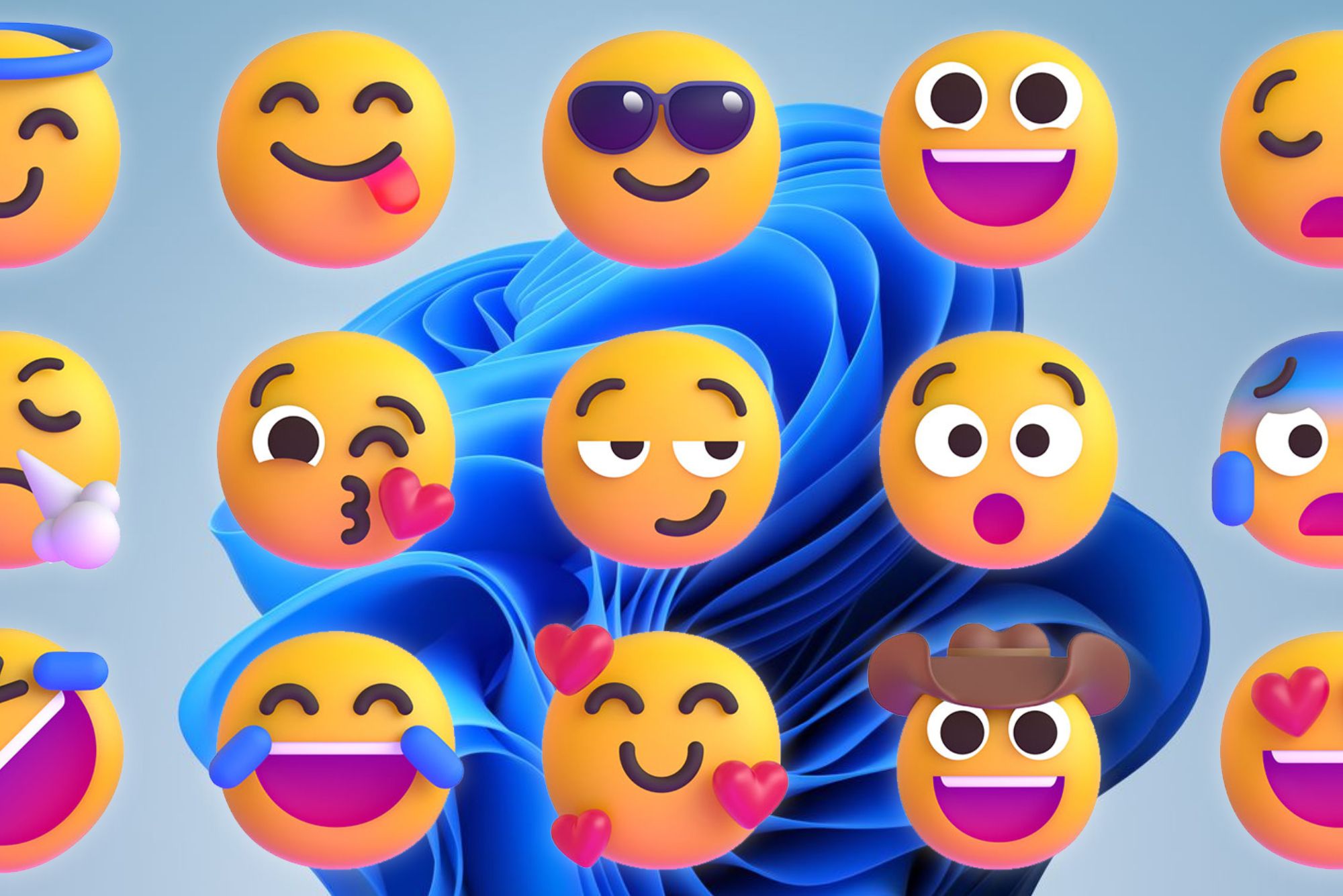 For World Emoji Day in July 2021, Microsoft announced that Windows 11 would introduce a completely new aesthetic to the platform's emoji designs. Dubbed the Fluent emoji set, these designs have been much-hyped ahead of today's Windows 11 release. Yet these are nowhere to be seen.
UPDATE: The new Fluent emoji set made its debut in the Windows 11 November 2021 update. However, as was expected following a Windows Insider Update released in October 2021, the set was released in 2D instead of 3D. Learn more here.
As of February 2022, the 3D Fluent designs appear to have begun their rollout on Microsoft Teams.
Windows 11 is here, but the new Fluent emoji overhaul is absent. When can we expect to see it? Here's what we know.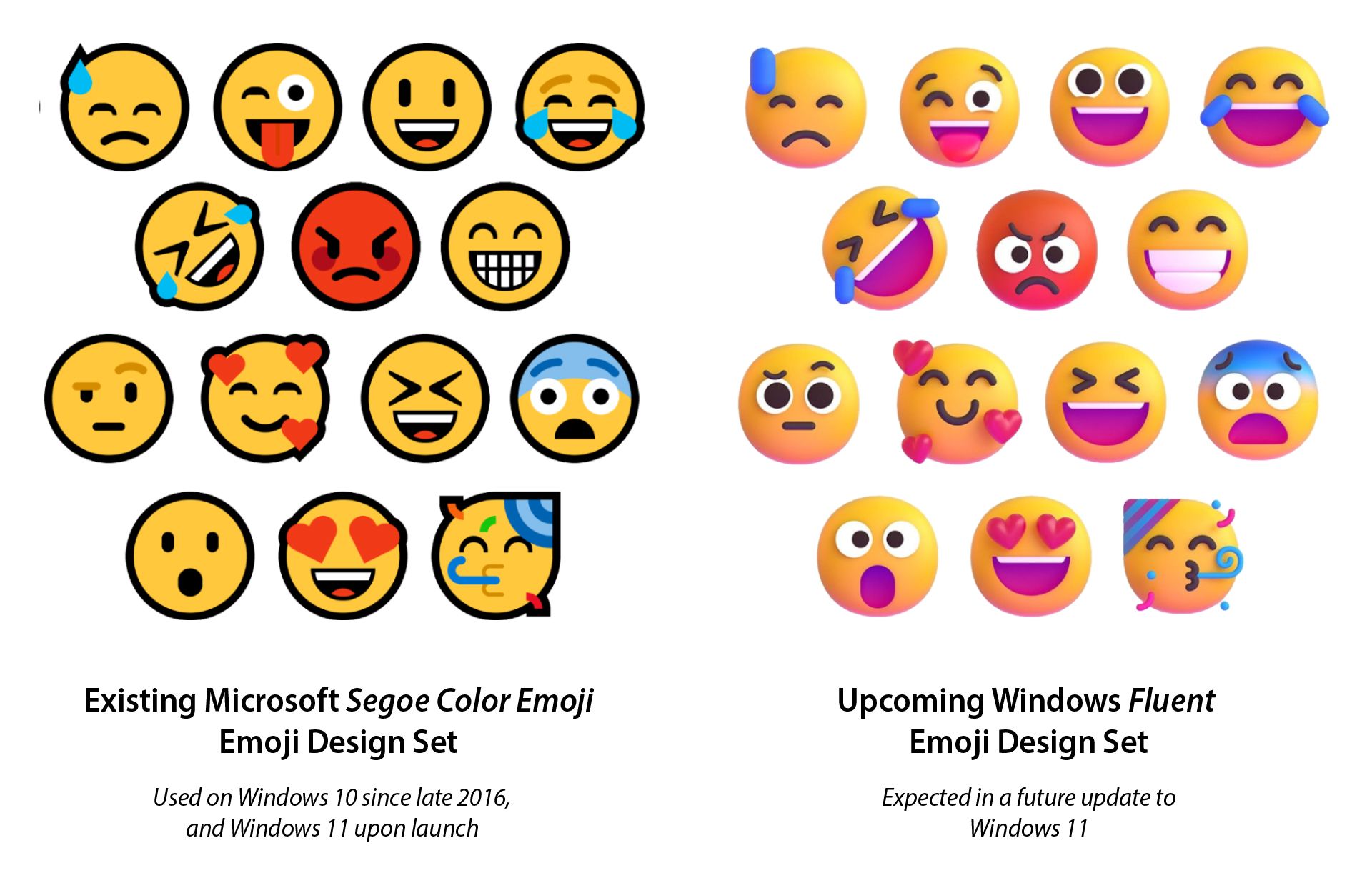 Above: a comparison between Microsoft's existing emoji design set and their upcoming Fluent redesigns.
Today's Windows 11 update introduces over 250 emojis to Microsoft's flagship OS, drawn from 2019's Emoji 12.1 and early 2020's Emoji 13.0 recommendations.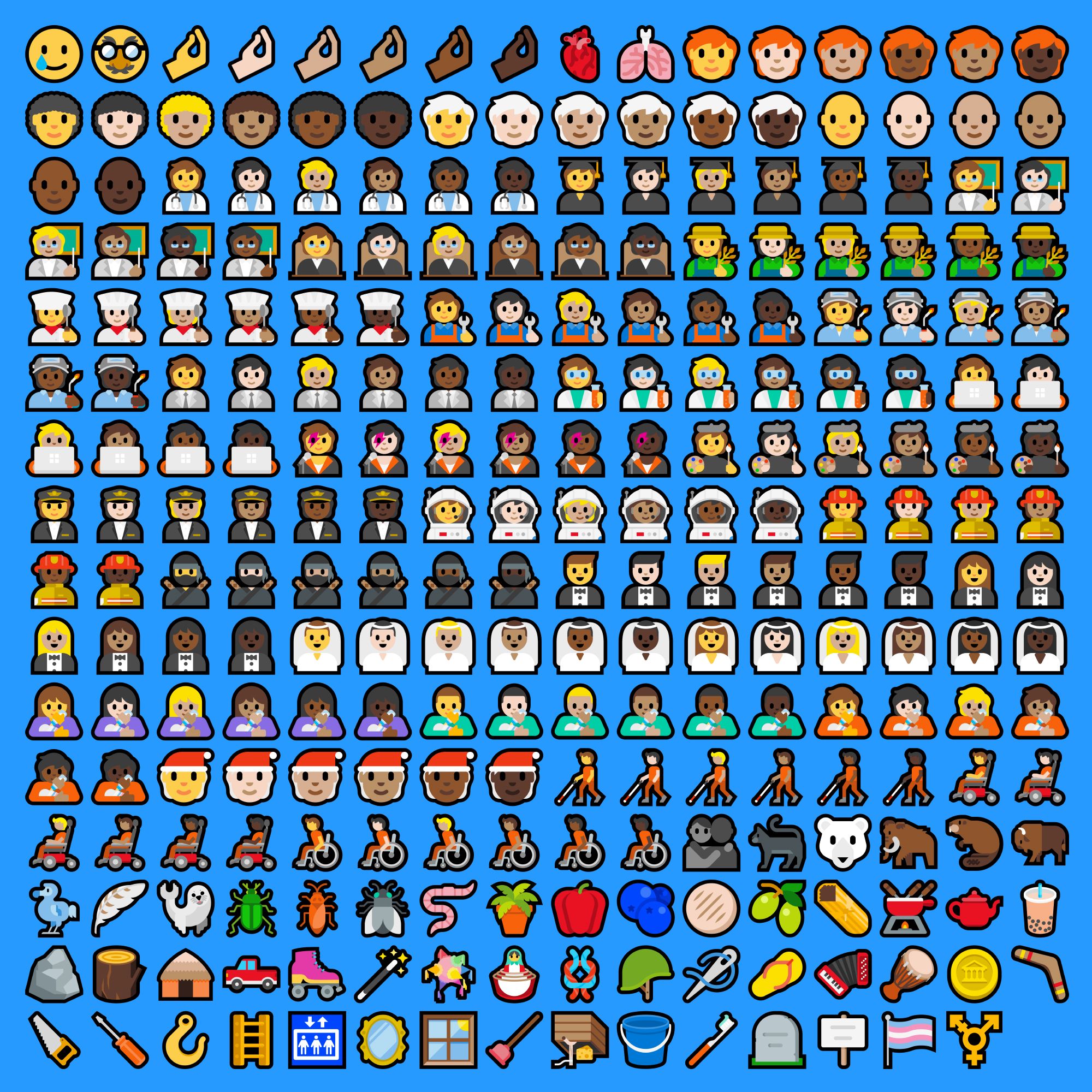 Above: the 255 new emojis now available for Windows users via today's Windows 11 OS upgrade.
The new emojis in the current version of Windows 11 are displayed with flat, thick-outlined Segoe Color Emoji style that Windows has used since 2016's Microsoft Windows 10 Anniversary Update.
You can learn more about today's new and changed emoji designs in our Windows 11 Emoji Changelog here.
😞 Why not Fluent at launch?
The absence of the new Fluent emoji design is perhaps due to the launch date of Windows 11 being brought forward over a month from the 11th of November (the well-suited 11/11):
As perfect as 11.11 *would* be, we just couldn't wait any longer to make #Windows11 available. Get it October 5th, and read all about it now.

— Windows (@Windows) August 31, 2021
A more recent tweet from the official Microsoft account, hyping the new Fluent design for the 🐢 Turtle emoji, simply states that the new set is "coming soon" when linking back to their original announcement article.
Coming soon: https://t.co/Om5Q63lbql

— Microsoft (@Microsoft) October 4, 2021
An earlier tweet, featuring the new 🤮 Face Vomiting emoji design, stated that the set would be coming to Microsoft 365, the subscription service though which Microsoft distributes software like Word, Excel, and PowerPoint.
Coming soon to Microsoft 365: https://t.co/u0jF3jgavB

— Microsoft (@Microsoft) August 13, 2021
Whether or not the Fluent emoji design set will be used in the app versions of Microsoft 365 products on iOS or Android[1] platforms is presently unknown, but this tweet could be indicating that this will be the case.
Yet despite these teases across social media, it's still unknown as to when exactly the Fluent design set will materialise in Windows 11 and other Microsoft platforms.
Going back to their original announcement, Microsoft state that:
The set will come to (Microsoft) Teams and Windows this holiday season, with Yammer, Outlook, and more lighting up throughout 2022.
So we could be in store for a pre-🦃 Thanksgiving emoji treat, or we could we waiting until 🕎 Hanukkah, 🎅 Christmas, or even right before 🎊 New Year's Eve.
🎨 Designers & Designs
The new Fluent emoji set was designed in collaboration between Microsoft and a Canadian creative studio called Tendril.
Ahead of the set's eventual release, Tendril have been sharing a large number of new Fluent designs from across various emoji categories. These are shown below, with select emojis from each category highlighted.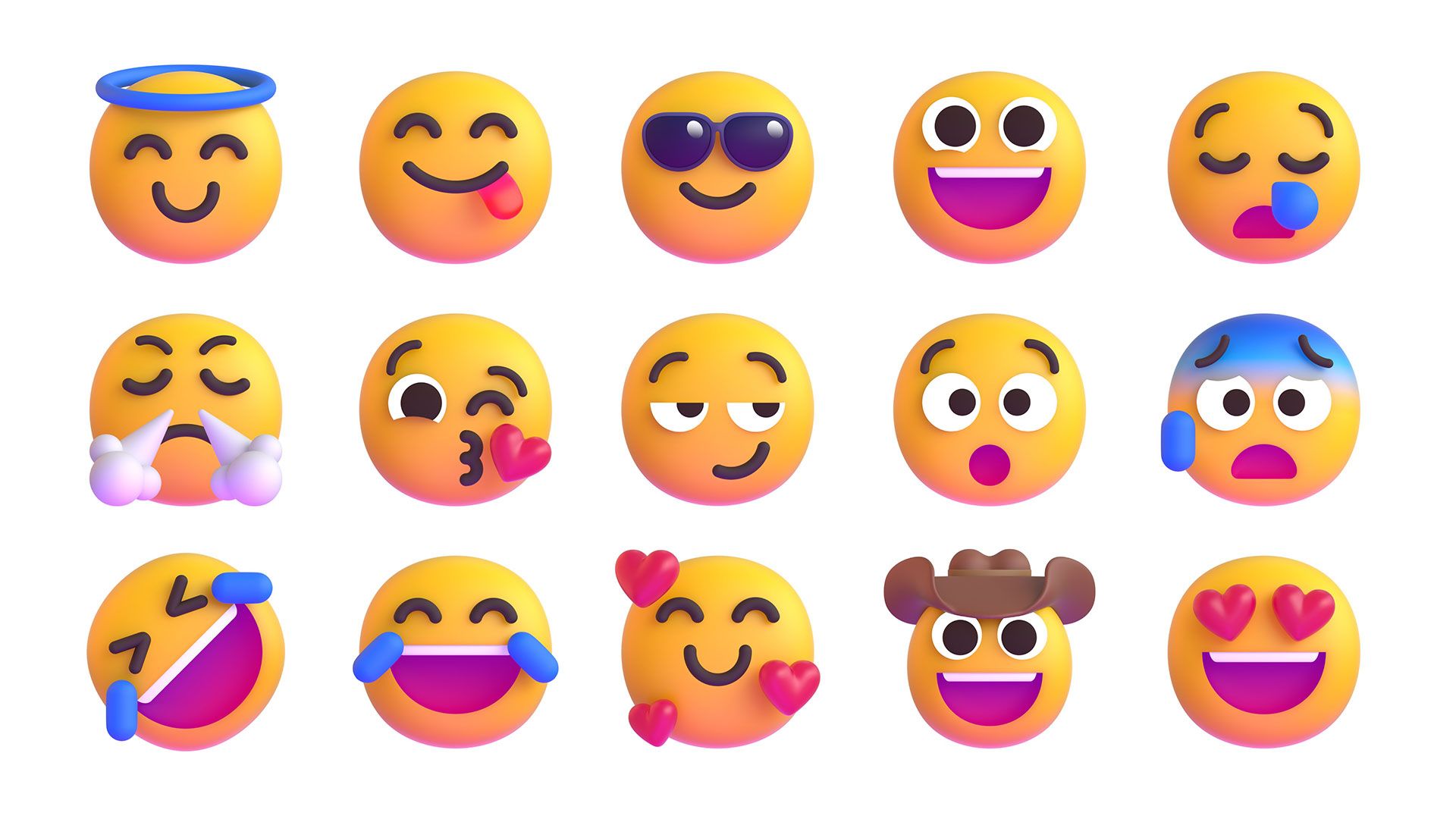 Above: a selection of 😃 Smiley emojis in the new Fluent design set. Image: Tendril.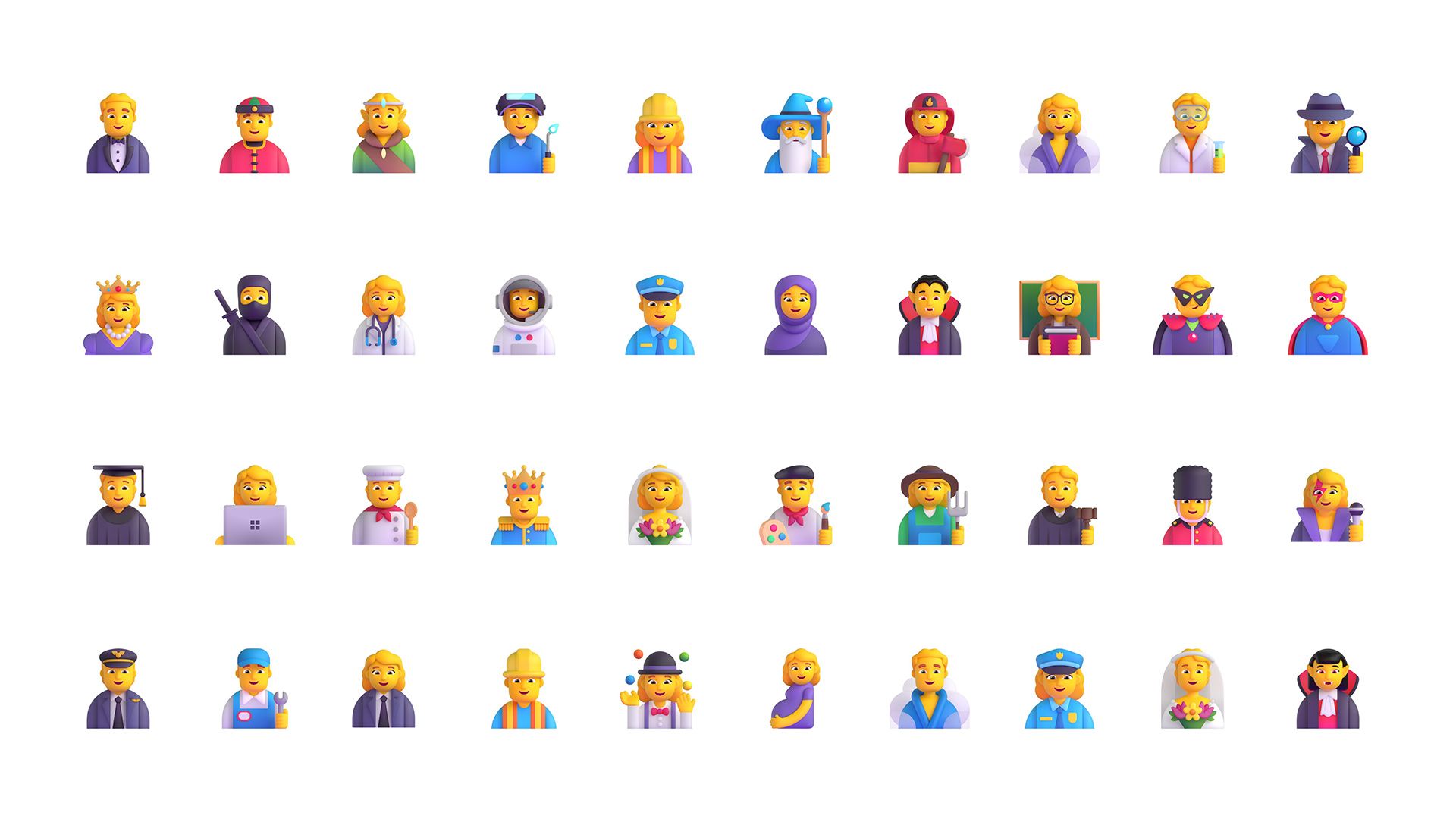 Above: various 👥 People emojis with professions and roles. Image: Tendril.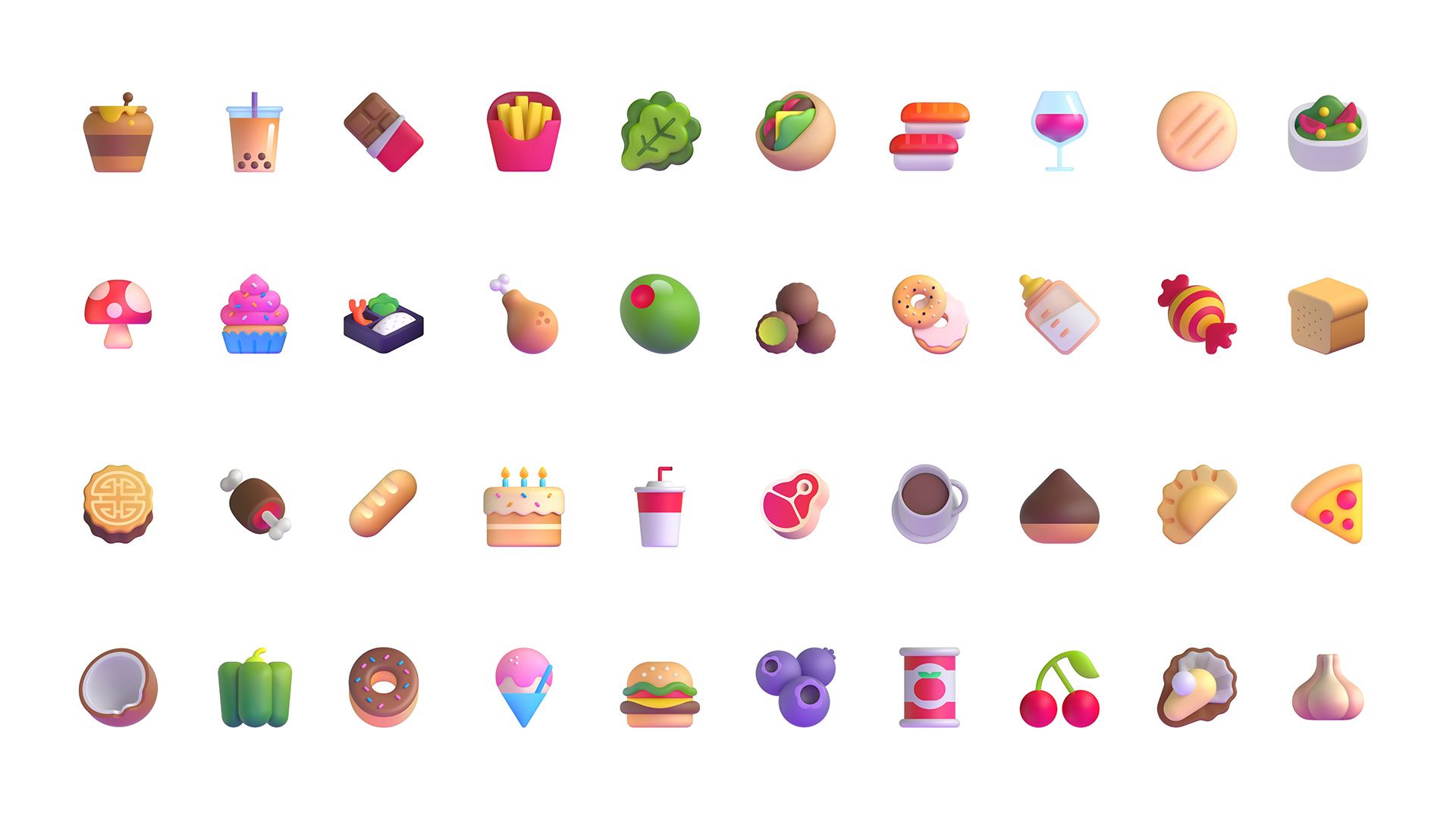 Above: various 🍔 Food & Drink emojis upcoming new designs. Image: Tendril.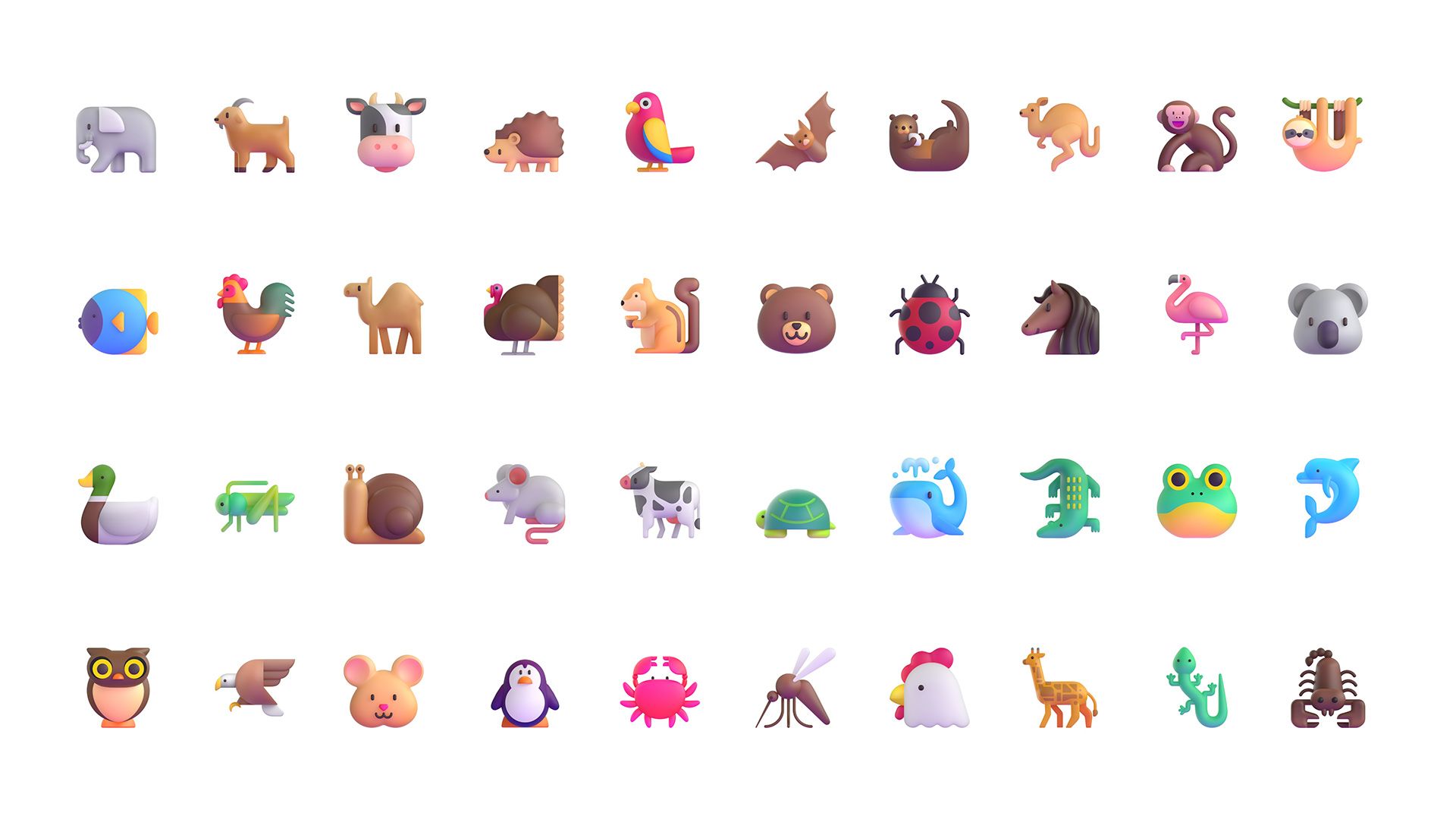 Above: various 🐻 Animal & Nature emojis in their Fluent designs. Image: Tendril.
🧮 How many?
It appears that all of Microsoft's emoji designs will be updated with the arrival of the Fluent set. Considering
In their announcement article, Microsoft states that 1,888 emojis are redesigned in the Fluent set. At first this seems a little low, but rest assured: it's looking like the entire emoji set will be completely redesigned come the Fluent set's release.
While there are currently 3,633 emojis recommended by Unicode, this number includes not only the recent Emoji 14.0 recommendations, but also the various skin tone modifier options recommended for most of the people and gesture emojis.

Above: a variety of people emojis with skin tone modifier options in the Fluent emoji set. Image: Tendril.
As of late 2020's Emoji 13.1 there were roughly 1,700 skin tone modifier variations, which share the same core design as their neutral skin tone emoji variant.[2]
This largely accounts for the discrepancy, especially when you also consider that the Fluent set will seemingly include a series of new "Work from Home" (WFH) emojis and that 🐱‍👤 Ninja Cat many well live on in the Fluent set.[3]
💻 WFH Emojis
In their original announcement for the Fluent emoji set ahead of World Emoji Day 2021, Microsoft reveiled that they would be introduced a series of emoji-esque designs inspired by the new style of working many of us experienced thanks to the COVID-19 pandemic.

Above: a selection of the WFH emojis as they will appear on Microsoft platform once the Fluent set debuts. Image: Microsoft.
As shown above, these designs cover concepts such as multitasking at your laptop, being on mute during a call, covering your webcam's lens when not in use, looking after a young family member while working, and the avoidance of pants.
One of Microsoft's designs who has worked on the Fluent set, Nando Costa, has also shared a further new WFH emoji design on Twitter, featuring a pet 🐈 Cat:
One of the best parts of working from home, is seeing my dogs more often. This little #HybridWork themed emoji we created for #FluentDesign features a cat instead and is coming soon to @MicrosoftTeams. pic.twitter.com/Dhz9beShci

— Nando Costa (@nandocosta_art) August 20, 2021
It is not presently known how these WFH emojis will be implemented, though it will almost certainly related to how widespread Windows hopes these new WFH emojis will be.
If Microsoft wishes for this designs to be usage across Windows 11 and their entire suite of Microsoft 365 products, these WFH emojis will almost certainly be constructed via zero width joiner (ZWJ) sequences.
However, in speaking to Microsoft's Claire Anderson, The Verge reported that another feature of the Fluent emoji set would be restricted to specific Microsoft products: animated emoji designs.
Around 900 of these overhauled emoji will also be animated in products like Microsoft Teams.
Considering that both Microsoft Teams and Skype currently have an extensive series of custom emoji-inspired animated emoticons, could these new WFH emojis be implimented in the same way?

Above: a selection of the emoji-inspired animated emoticons presently available on both Skype and Microsoft Teams.
If so, they would most likely be constructed via bracket-based shortcodes such as "(onmute)", "(multitaasking)", or "nopantsdance".
When recently debuting Skype's custom emoticons to Emojipedia ahead of World Emoji Day, we discussed the pros and cons of such shortcodes in implementing emojis, animated or otherwise.
🎞️ Animated Emojis
Yes, that's right: many of the Fluent emoji designs will apparently have animated versions of themselves available. Whether or not these will appear across Windows, or simply in select Microsoft products is currently unknown.
These animations were first previewed in the launch video for the Fluent set, shown below:
Further examples were also recently shared by Studio Tendril: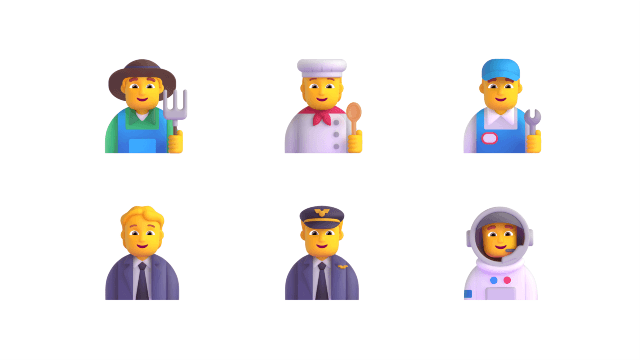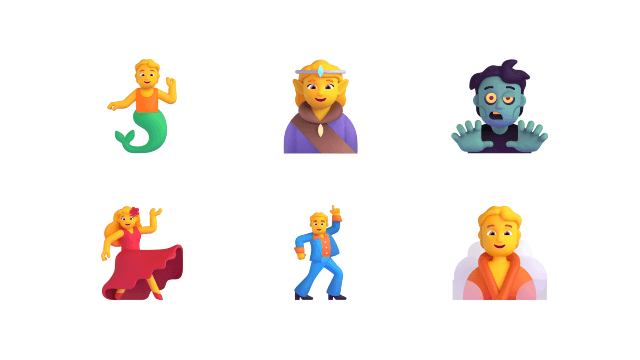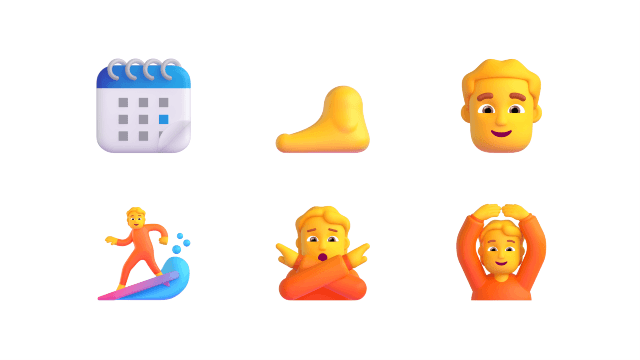 🤔 Further Known Unknowns
So, we know that we currently don't know the official release date for the Fluent emoji set, we don't know how exactly the new WFH emojis will work, and the fate of 🐱‍👤 Ninja Cat is also presently uncertain.
There are two other questions we have here at Emojipedia ahead of the Fluent sets eventual release:
📶 Release
Windows 11 is now available as a free update for Windows 10 users. It does not include the anticipated Fluent emoji design set, but given the positive reception it has seen since first preview in July 2021, we can't imagine it is too far away.
This article will be updated as we learn more.
📖 Read More
---
This is the case within Android apps such as Twitter and WhatsApp, where those platforms' own emoji sets are shown instead of the device's native emoji designs. ↩︎

There are a handful of exceptions to this, however, such as Facebook's 👨🏿 Man: Dark Skin Tone having a distinctive hair style to the other versions of the 👨 Man emoji. ↩︎

We here at Emojipedia certainly hope so anyway. ↩︎