LG Emojis Return To Say Goodbye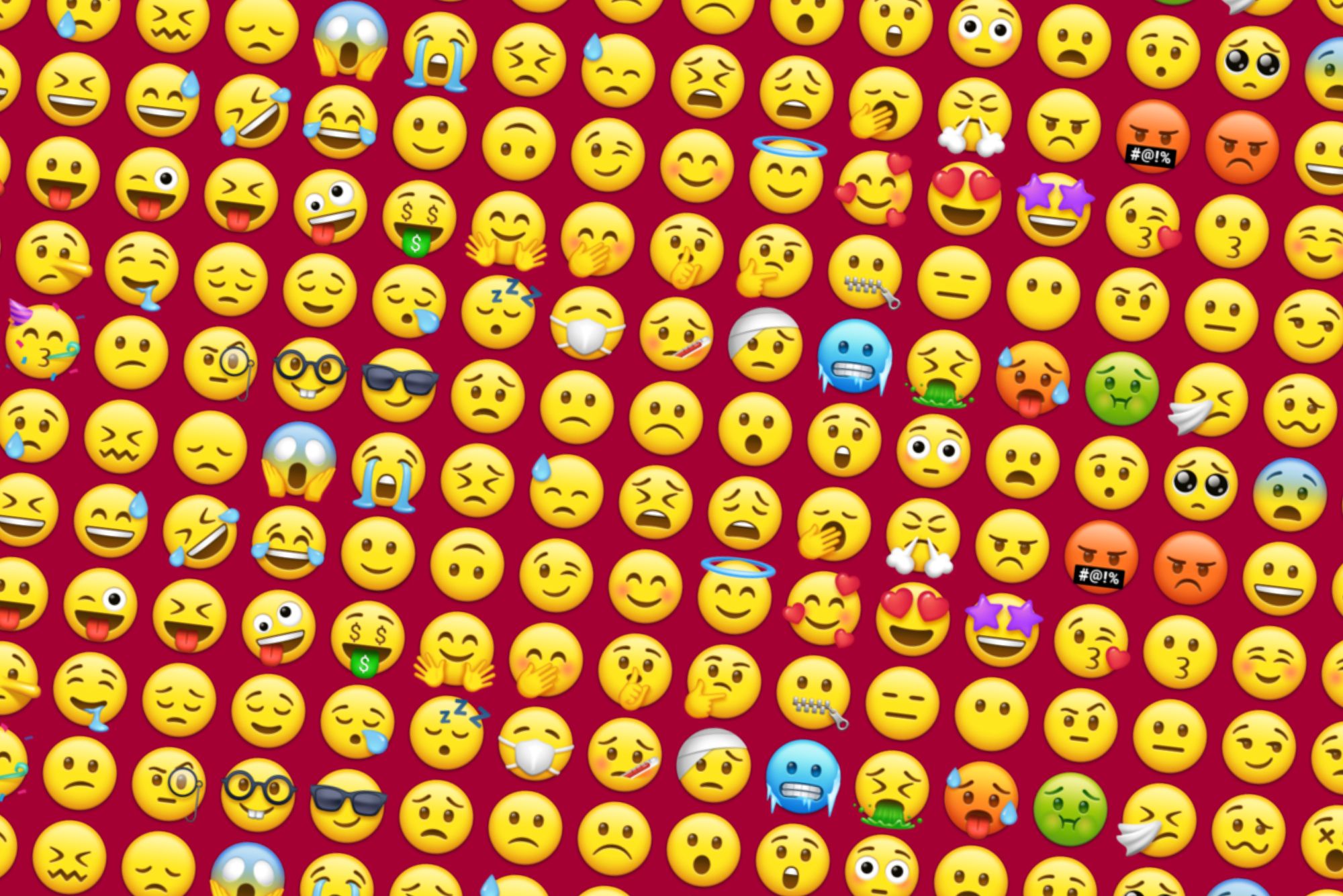 After years of their devices using Google's Android emoji designs, LG have revived and expanded their own emoji set for select mobile devices. Yet despite its unexpected return, it is unlikely that the LG emoji set will see further future updates.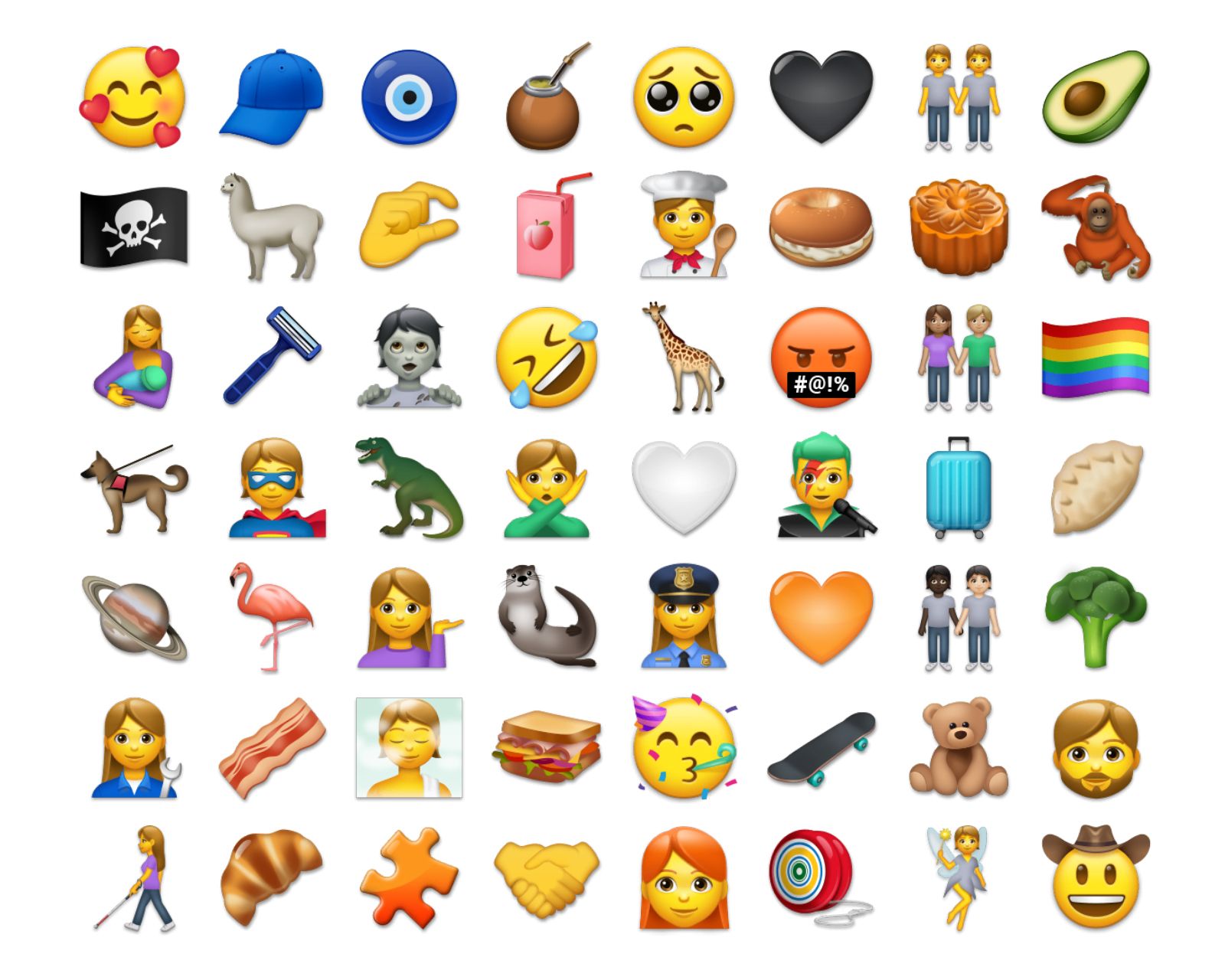 Above: a selection of the emojis that made their debut within the LG emoji set with this update.
Alongside reviving the LG emoji set last seen in 2016, this update introduces all the emoji recommendations from between 2016 and 2019 to the LG emoji set: nearly 1,500 brand new emojis for this set. Meanwhile, hundreds of earlier LG designs have also been revised.[1]
All of the emojis introduced to the LG set in this update are drawn from 2016's Emoji 3.0 and Emoji 4.0 recommendations, 2017's Emoji 5.0, 2018's Emoji 11.0[2], and 2019's Emoji 12.0.
This means that popular smiley emojis such as 🤣 Rolling on the Floor Laughing, 🤠 Cowboy Hat Face, 🥺 Pleading Face, 🥱 Yawning Face, 🥰 Smiling Face with Hearts are now available in LG's own emoji set for the very first time.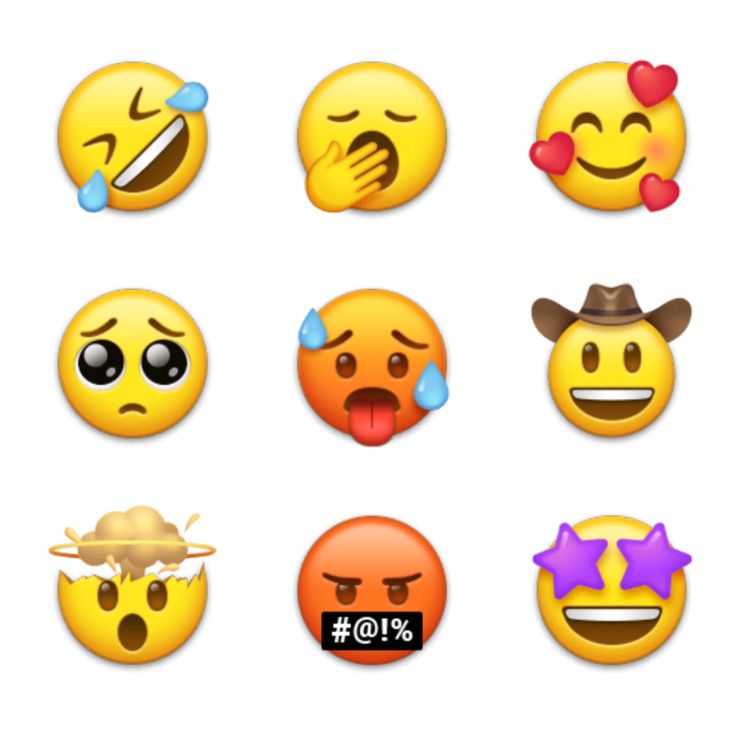 Other emojis that have made their LG emoji set debut include 🏳️‍🌈 Rainbow Flag, 🤏 Pinching Hand, 🖤 Black Heart, 🦦 Otter, 🦒 Giraffe, 🧉 Mate, and 🥯 Bagel.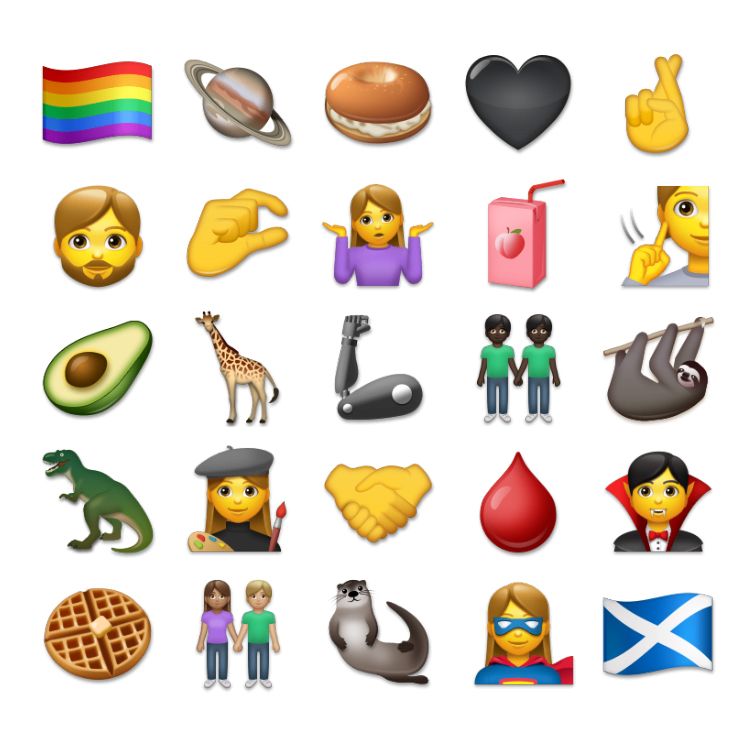 A large number of people with hairstyles, professions, and fantasy attributes have also been introduced, the majority of which support skin tone modifier options.
You can see all the emojis that made their LG emoji debut in this update here.
🆕❓ New to LG?
Despite these emoji designs being brand new to LG's own emoji set, this does not mean that all LG users were unable to use these emojis until now.
LG phones sold from 2017 onwards, starting with the LG G6, included the stock Android emoji set from Google (specifically the Android 7.0 emoji set for LG G6 devices).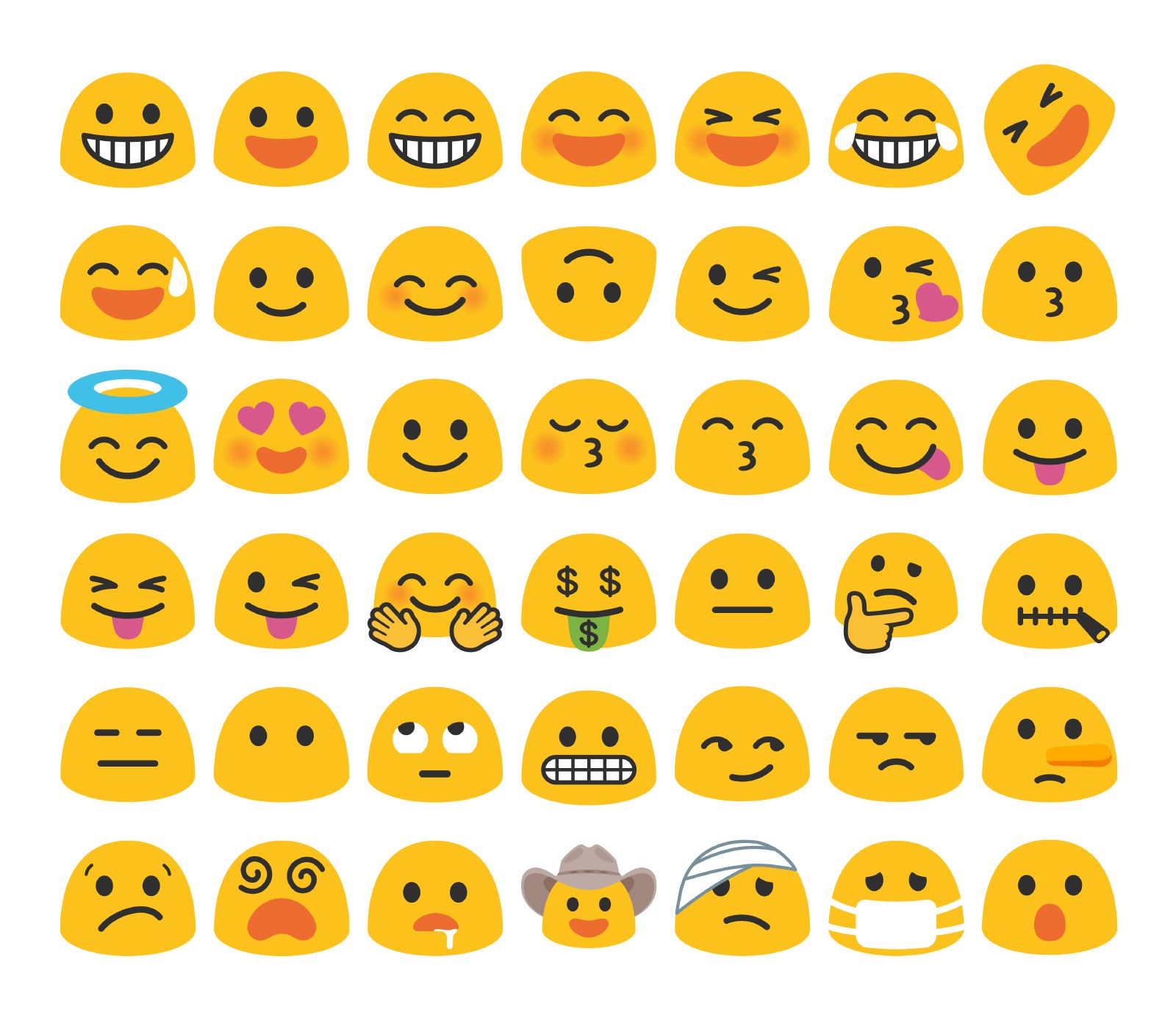 Above: a selection of emoji designs from Google's Android 7.0 emoji set, used by LG G6 devices.
LG devices during this time received Google's updated emoji designs when devices were either sold with or updated to the latest incarnation of Google's Android OS.
In fact, this emoji update came with the rollout of Android 11 to the LG Velvet 5G devices, beginning with users in South Korea but then expanding to other regions.
As this rollout continues, LG can once again be considered an active emoji vendor for the first time since 2016, once again joining Samsung in implemented their own emoji through a customized implementation of Android OS.[3]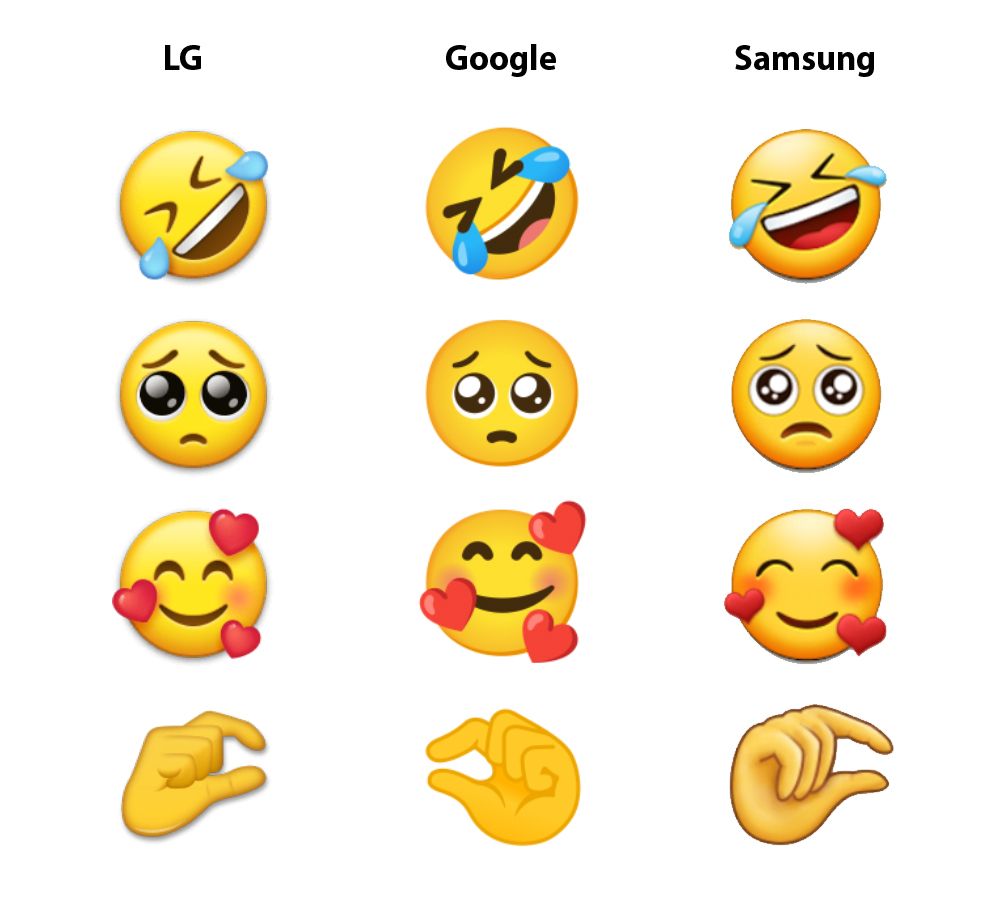 Above: a comparison of 🤣 Rolling on the Floor Laughing, 🥺 Pleading Face, 🥰 Smiling Face with Hearts, and 🤏 Pinching Hand across the current LG, Google, and Samsung emoji sets.
This return is sadly certain to be brief, however: in July 2021, LG Electronics withdrew from the phone manufacturing industry.
With this in mind, it's unlikely that there will any additional emoji updates for LG set, such as new emojis from Emoji 12.1 onwards.
This would make this Android 11-adjacent update to LG's emoji set an unexpected last hurrah before their final farewell.
🆙 Changed
As well as the large number of emojis introduced in this emoji update, the designs of the majority of LG's smileys emojis and people emojis have been revised.
These revised designs are consistent in appearance with the newly introduced emojis in the 😃 Smileys & People category.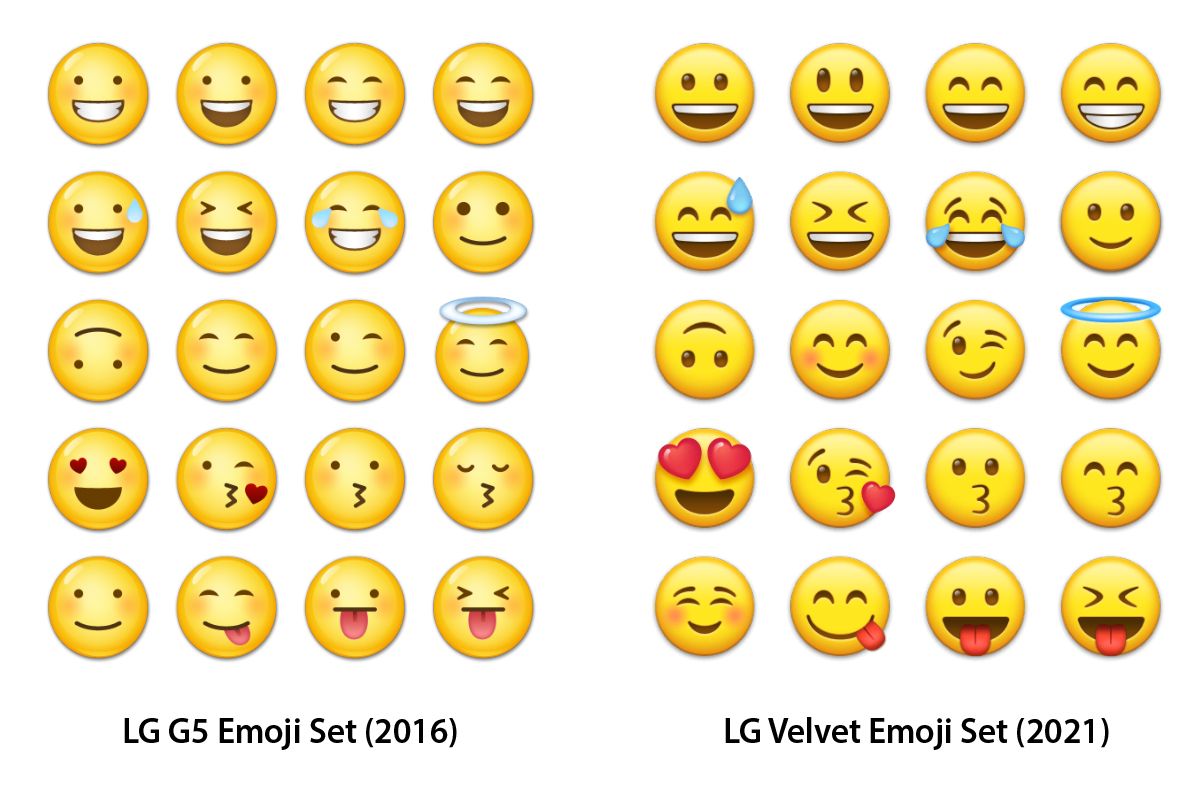 Above: a comparison of smiley emoji designs between LG's 2016 emoji set and its 2021 LG Velvet revival
⏸️ Unchanged
Beyond the revisions within 😃 Smileys & People category, all of LG's 2016 emoji designs have returned.
This creates a unique circumstance for the 🔫 Pistol, which for certain LG users will have reverted from Google's orange water pistol design to having the appearance of an actual firearm.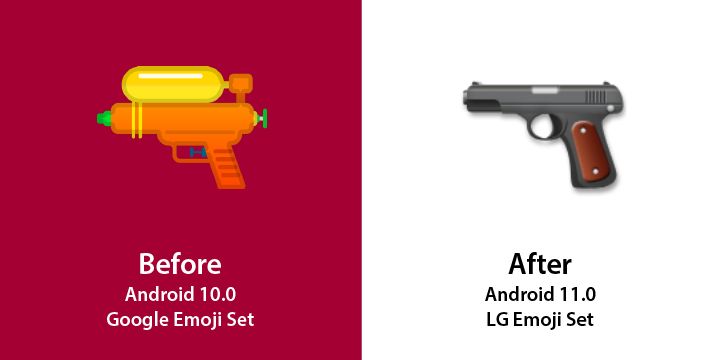 This is the same design this emoji had in LG's 2016 emoji set.
The change of the 🔫 Pistol emoji's design to depict a toy water gun across all major vendors from late 2016 onwards has been well-documented, but these particular circumstances are a first: from water pistol back to firearm, albeit due to the wholesale swapping of a device's utilised emoji set.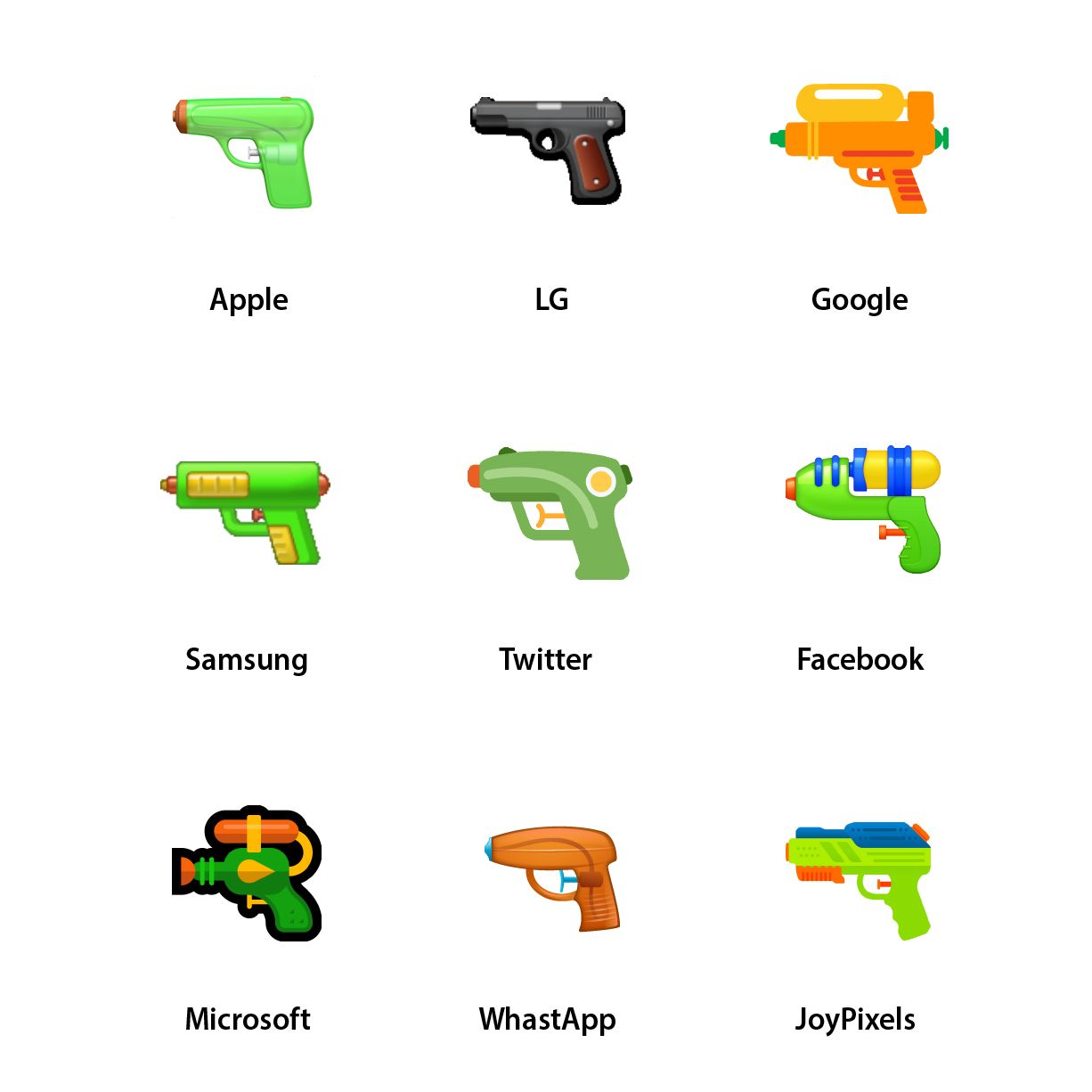 Above: the current 🔫 Pistol emoji designs of various major emoji vendors.
Another emoji design noteworthy in its lack of revision is the 💉 Syringe. This LG emoji update returns the 💉 Syringe to its 2016 LG design, which contains a non-descript orange liquid in its barrel.
This is in contrast to other vendor's recent updates to the 💉 Syringe, where the contents of the barrel have been removed in order to make the emoji more appropriate for discussions about vaccination.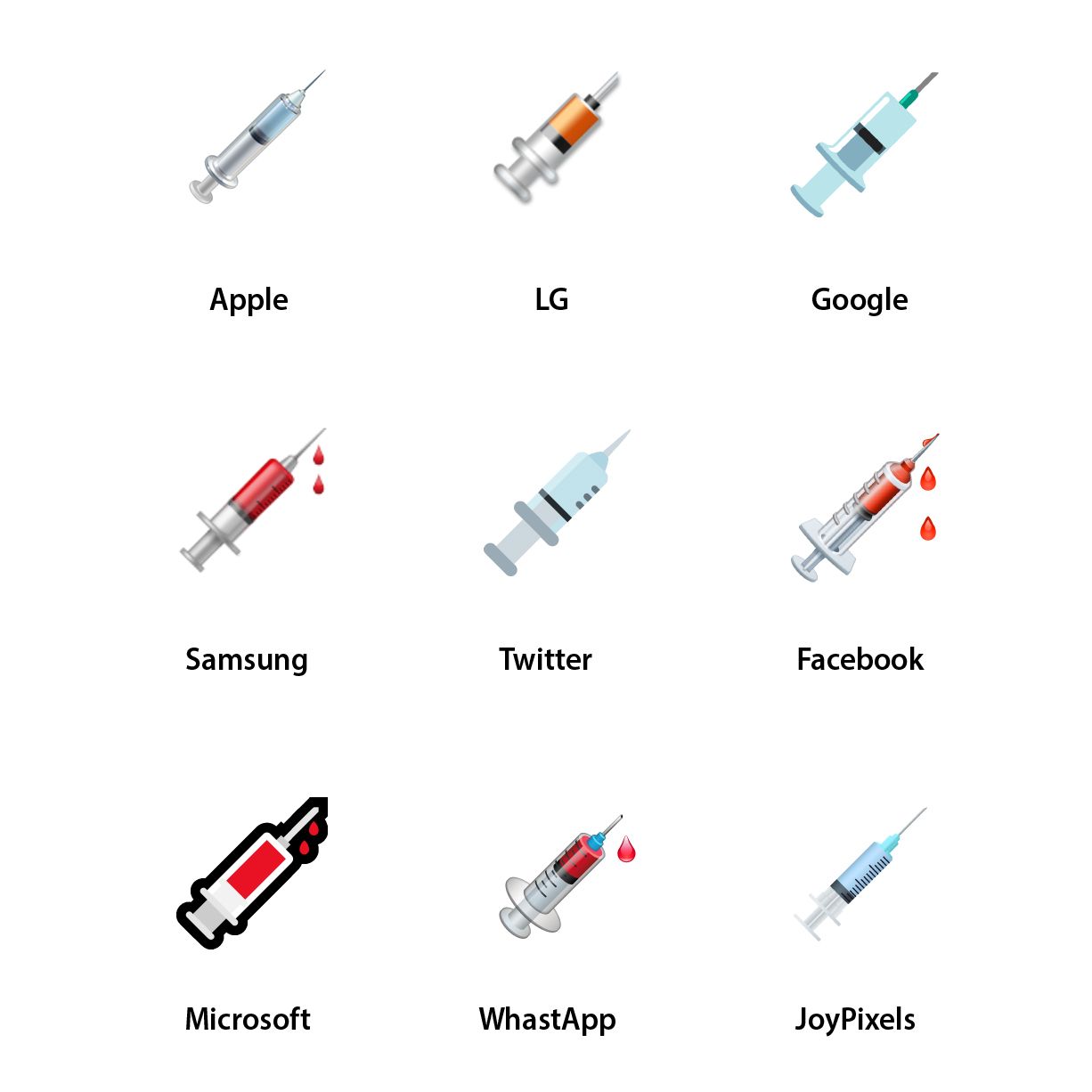 Above: major vendor's current 💉 Syringe designs as of September 2021.
This is a different set of circumstances to the 🔫 Pistol, however.
While Google has updated their 💉 Syringe in this manner, LG devices would not yet have received this update within their emoji keyboards[4], as it began its widespread rollout via the recent Android 12 design update.
LG devices were using a version of Android 10 prior to the LG Velvet updating to Android 11, meaning LG users would have been seeing Google's blood-filled 💉 Syringe before the return of LG's 2016 design.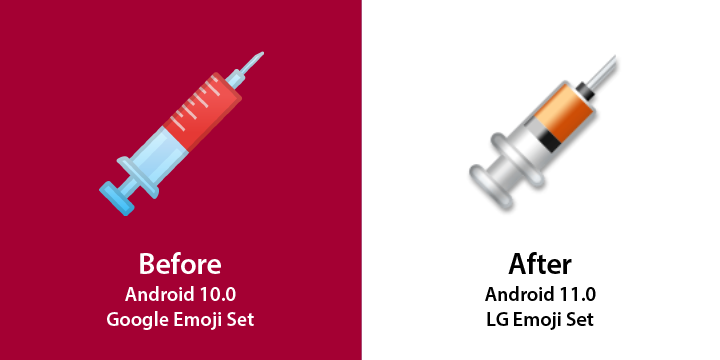 📶 Release
According to Android Authority, Android 11 and its associated emoji updated were
first released on LG's Velvet 5G device. Users in South Korea were the first to access the update, with other nations' Velvet users gaining access in the following months.
Other LG devices which have been listed to be eligible for Android 11 by the end of the year are as follows:
LG G8X
LG Velvet (LTE)
LG G8S
LG Wing
LG K52
LG K42
📖 Read More
---