All Major Vendors Commit to Gun Redesign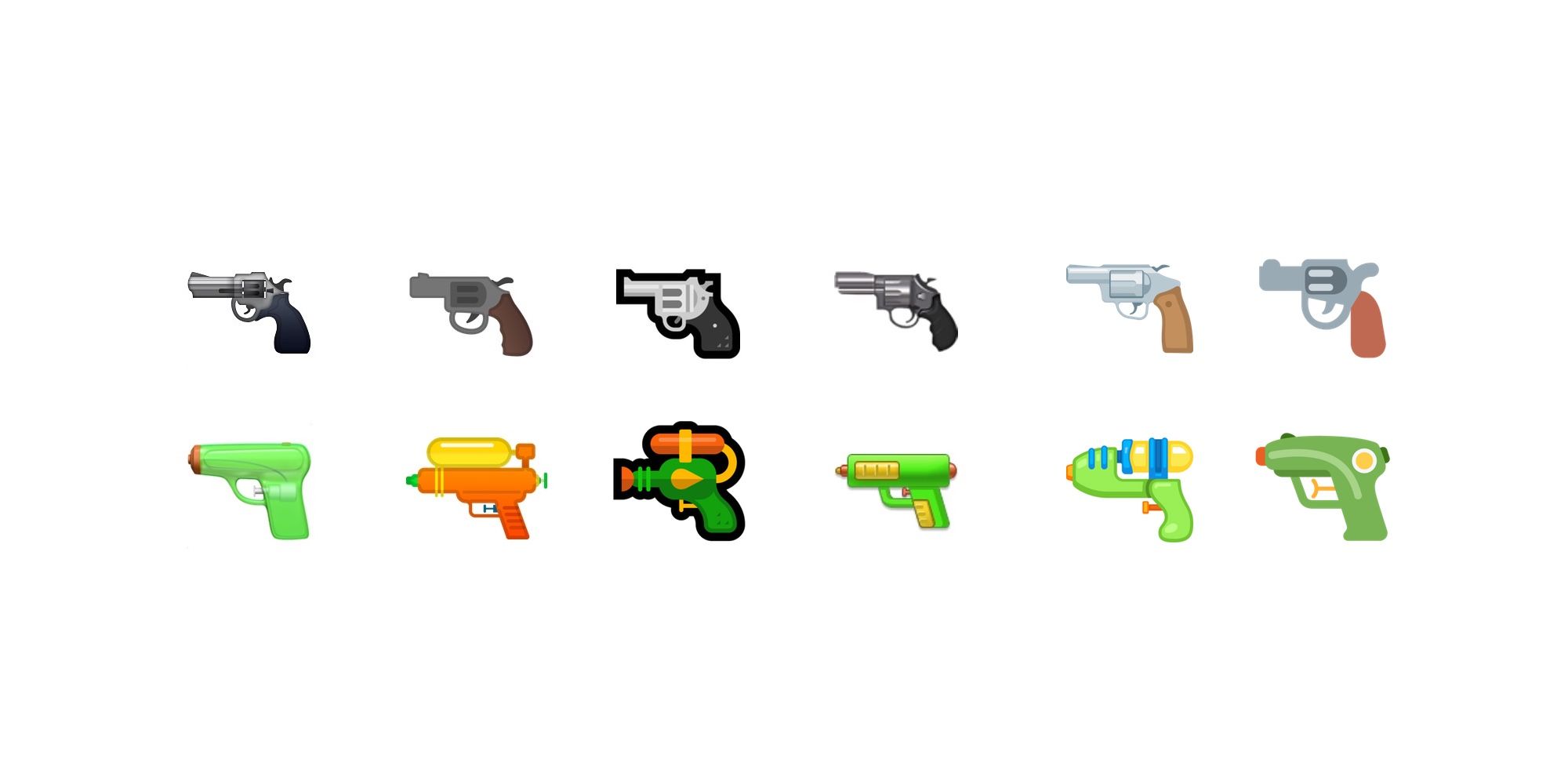 It's a flush. Every major vendor has now committed to redesign the gun emoji, replacing it with a water pistol / squirt gun design.
It took a while, and then it happened all at once.
In the days since Google started rolling out a new pistol emoji to Android users earlier this week, we've now seen redesigns from Facebook and Microsoft which join other platforms that had already made the switch including iOS, Twitter, Samsung and WhatsApp.
The result is that the code point for 🔫 U+1F52B PISTOL that once showed a weapon on all major platforms is now a water pistol across the board.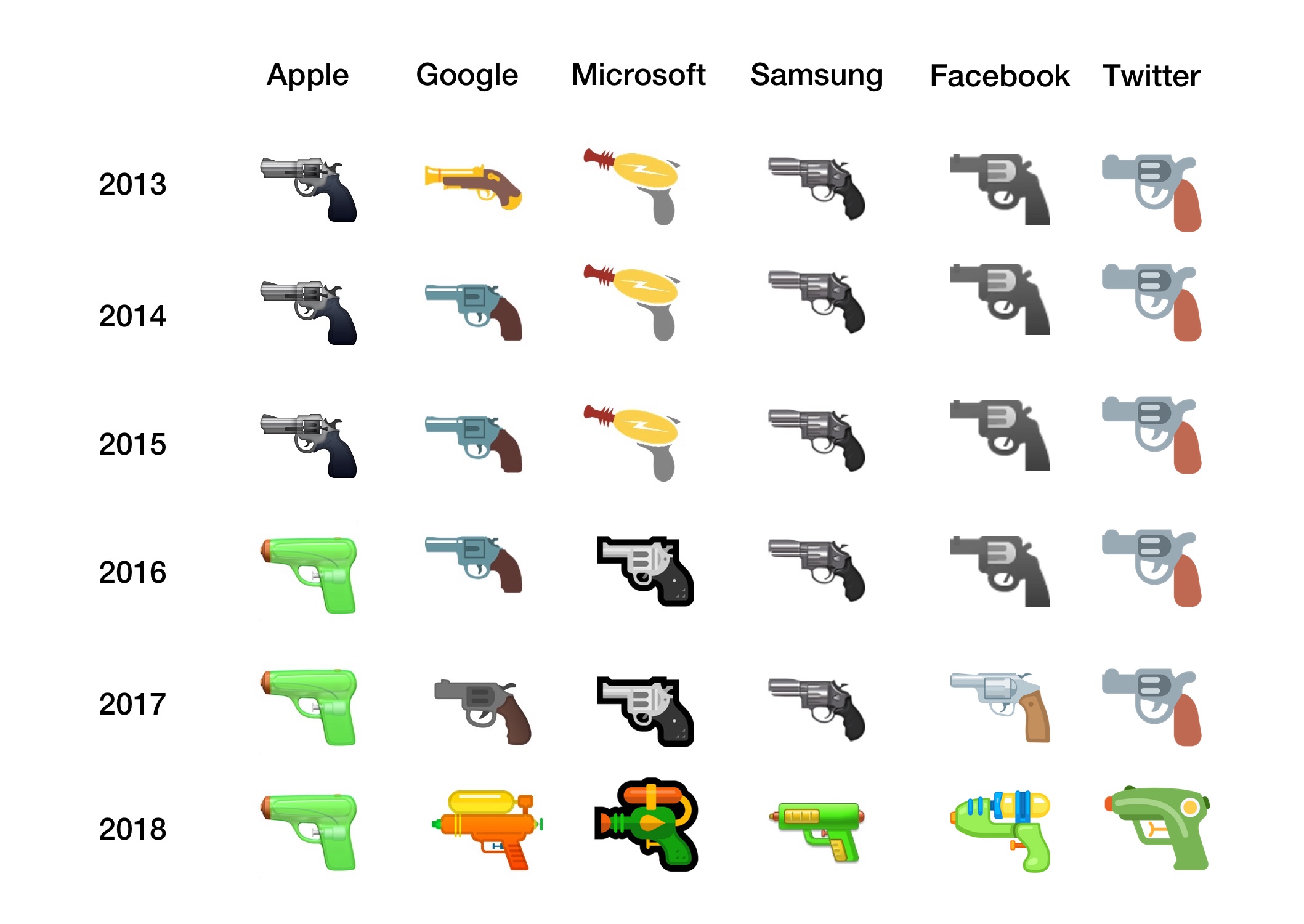 Above: A comparison of pistol emoji designs from major vendors 2013—2018.
These sorts of changes aren't uncommon, and aren't limited to this one emoji. All the emoji sets have been moving closer to one another (and most often toward - but not always - Apple) and this is one more example.
Is 2018 the year of emoji convergence? It sure looks that way.
For end-users, ensuring a consistent emoji display across platforms is a better experience than having some platforms show this as a weapon, and others show it as a toy.
While the rollouts continue, there will be a period whereby this confusion continues.
Rationale
When Apple first made this change in 2016, no reason was provided. The redesign appeared in an iOS beta, and remained until the final release of iOS 10.0.
Google also didn't comment on the reason for their recent change, but previous discussions indicated that compatibility has been a primary factor in decisions around the Android emoji set.
A Facebook spokesperson told Emojipedia that the reason for their change was to keep in line with other vendors, i.e. for better cross-platform compatibility.
Microsoft focussed on feedback from users and noted that the change is also to better "reflect our [Microsoft's] values".
Release
At the time of writing, rollouts of these redesigns are in various stages. Some are already available for users, and others are either rolling out now, soon, or to come in a future release.
🔫 📋 Pistol redesigns

👥 Most or all users: Apple, Twitter
👤 Some users: Samsung, Google
🔜 Rolling out soon: Facebook
🗓 Coming, but no ETA: Microsoft

— Emojipedia 📙 (@Emojipedia) April 28, 2018
Reception
This change has not been without controversy.
Many were not be pleased by the transformation of this emoji from a weapon into a toy when Apple first made the change in 2016 and many remain upset, angry, or dismissive of this change from other vendors in 2018.
Will this make the world a safer place? It seems unlikely. However users should be pleased to have a consistent display of this emoji between platforms for the first time, which should help keep miscommunications to a minimum in future.
What is yet to be seen is whether this emoji starts to be used as a water pistol in its own right, or if users will keep alive their memories of what this emoji used to be before its colorful redesign.
New designs: