JoyPixels 7.0 Emoji Changelog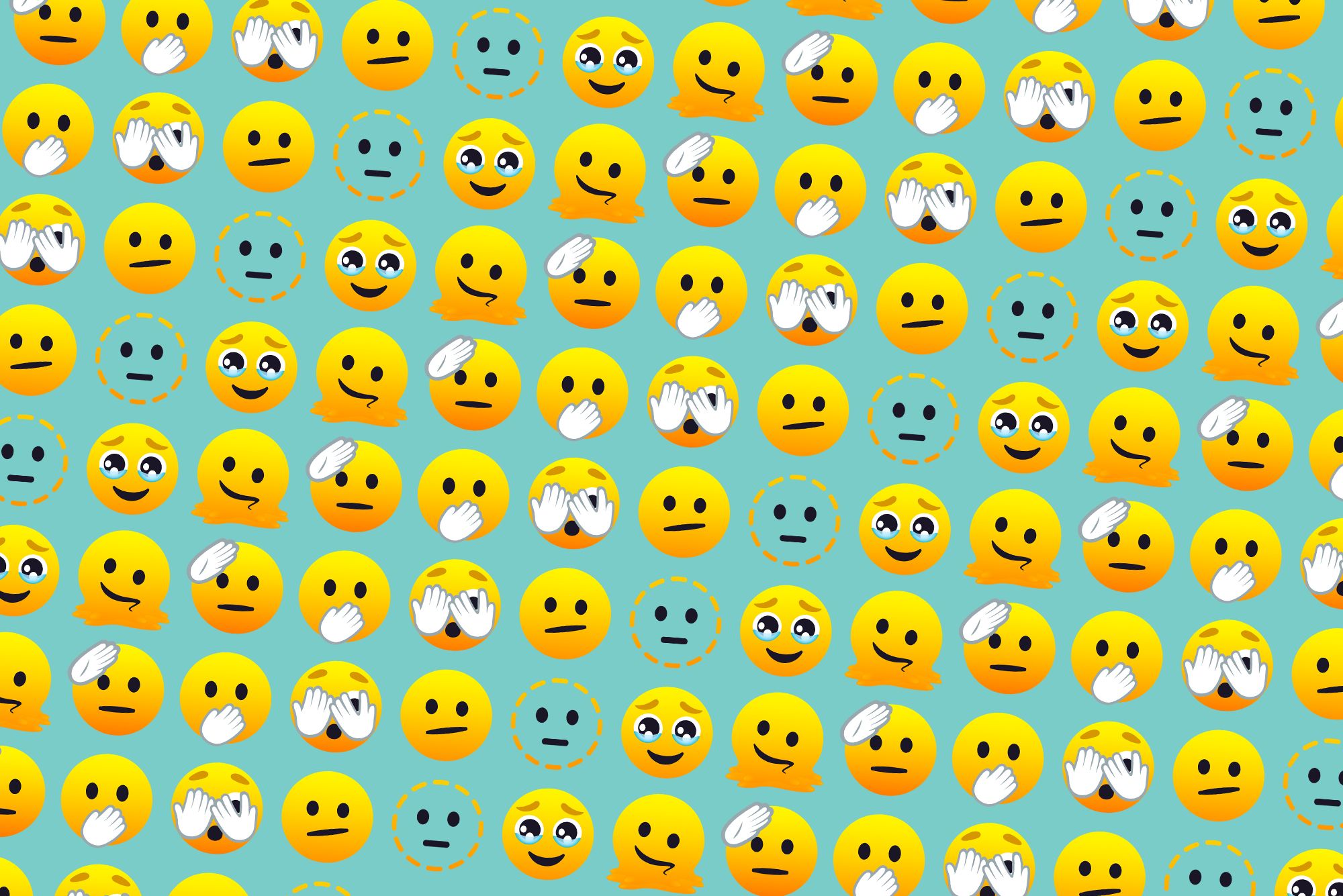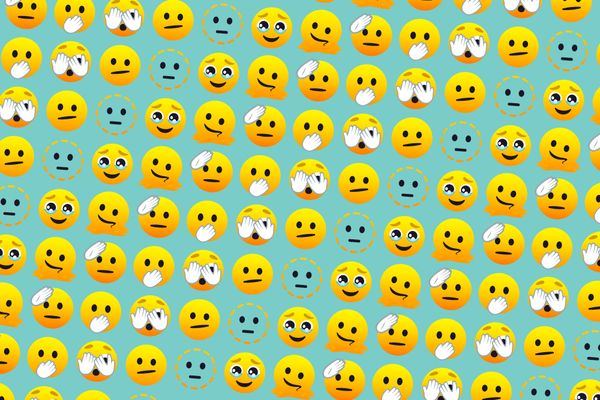 Today, on World Emoji Day 2022, JoyPixels have released version 7.0 of their freemium emoji set. The update includes emojis such as 🫠 Melting Face, 🫡 Saluting Face, and 🫶 Heart Hands, as well as the considerable number of design changes that has come be expected of major JoyPixels update.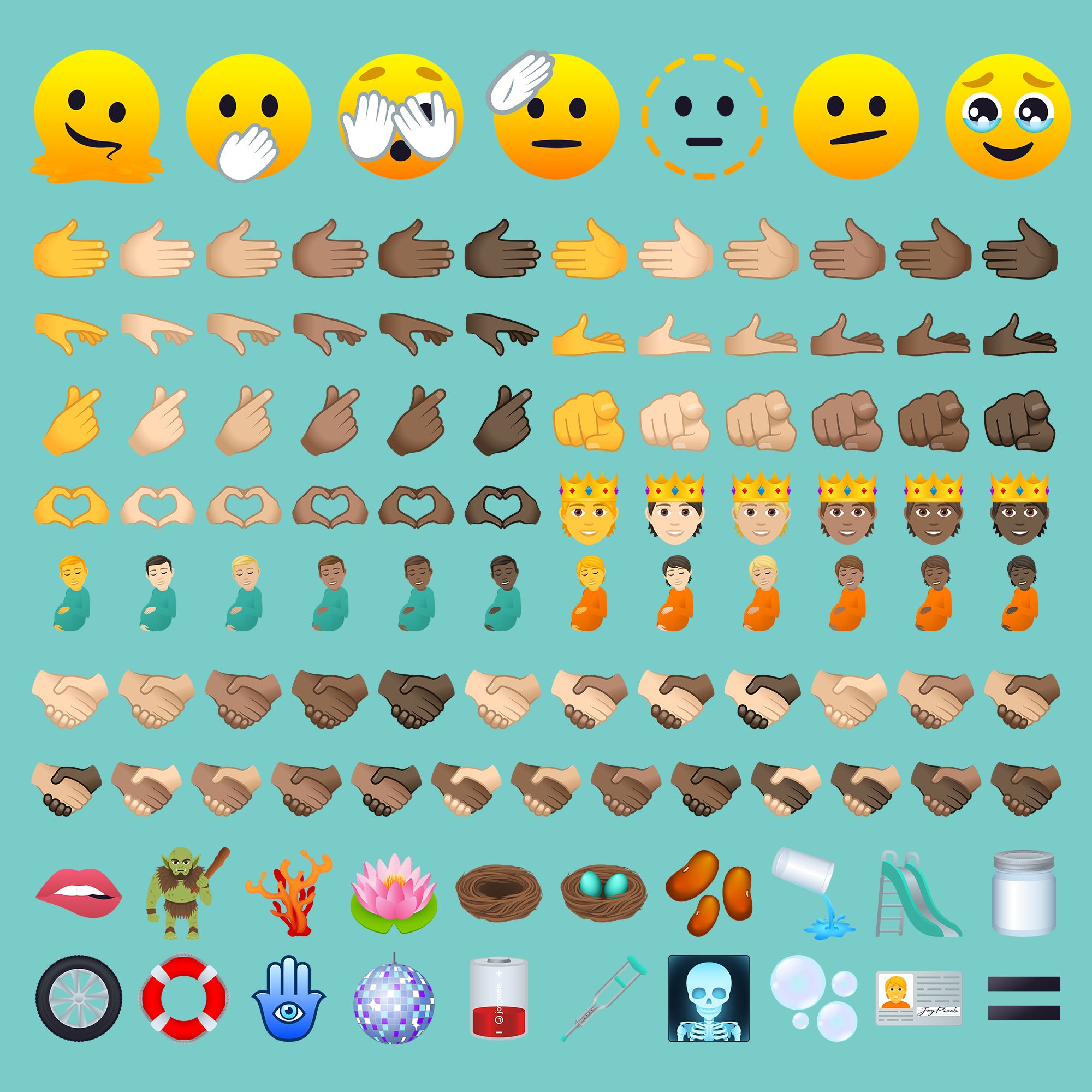 All of the 112 new emojis included in JoyPixels 7.0 are drawn from September 2021's Emoji 14.0 recommendations.
Additionally, nearly 2,000 emoji designs have been revised in this update - including 1,600 people emoji design revisions (including skin tone modifier options).
🆕 New
JoyPixels 7.0 introduces seven new smileys - the largest number since the vendor's June 2017 3.1 update, which was released under their previous "EmojiOne" brand name. These include the aforementioned 🫠 Melting Face and 🫡 Saluting Face.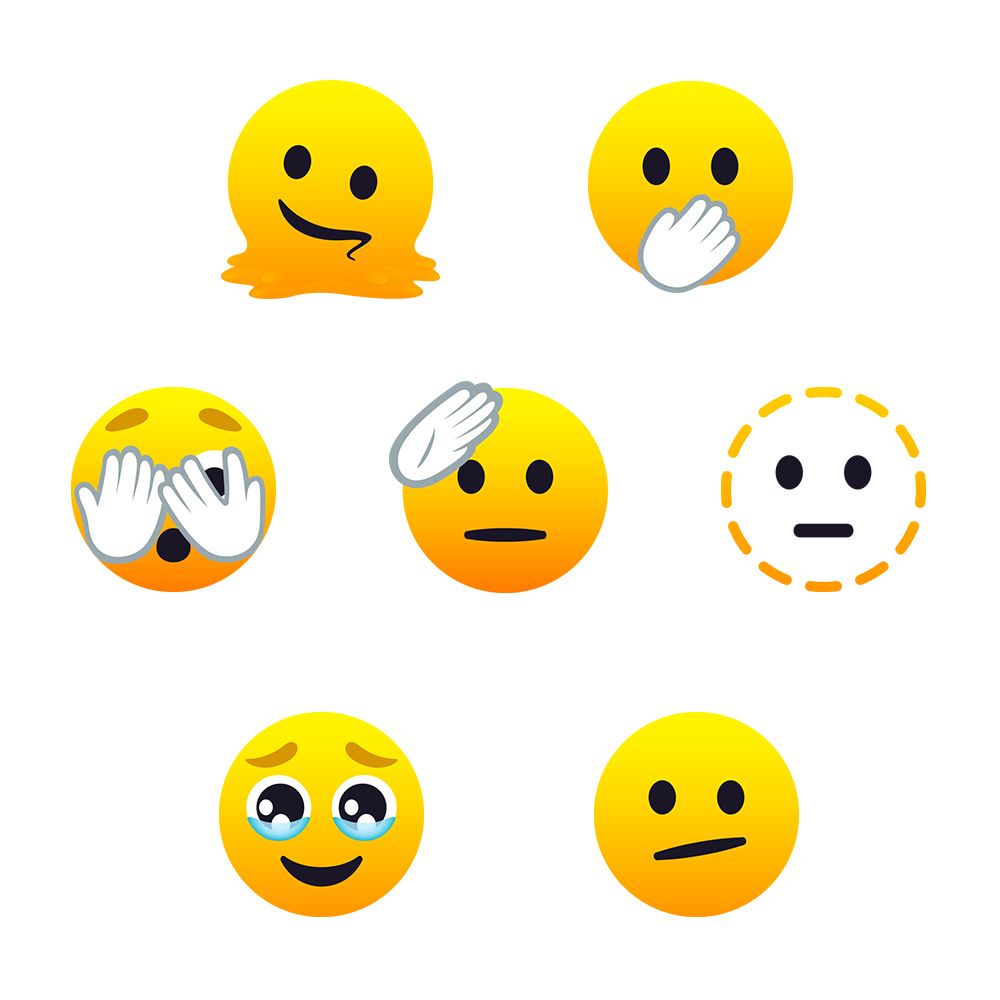 This update also debuts seven completely new hand gesture emojis, such as 🫰 Hand with Index Finger and Thumb Crossed and 🫵 Index Pointing at the Viewer, and 🫶 Heart Hands.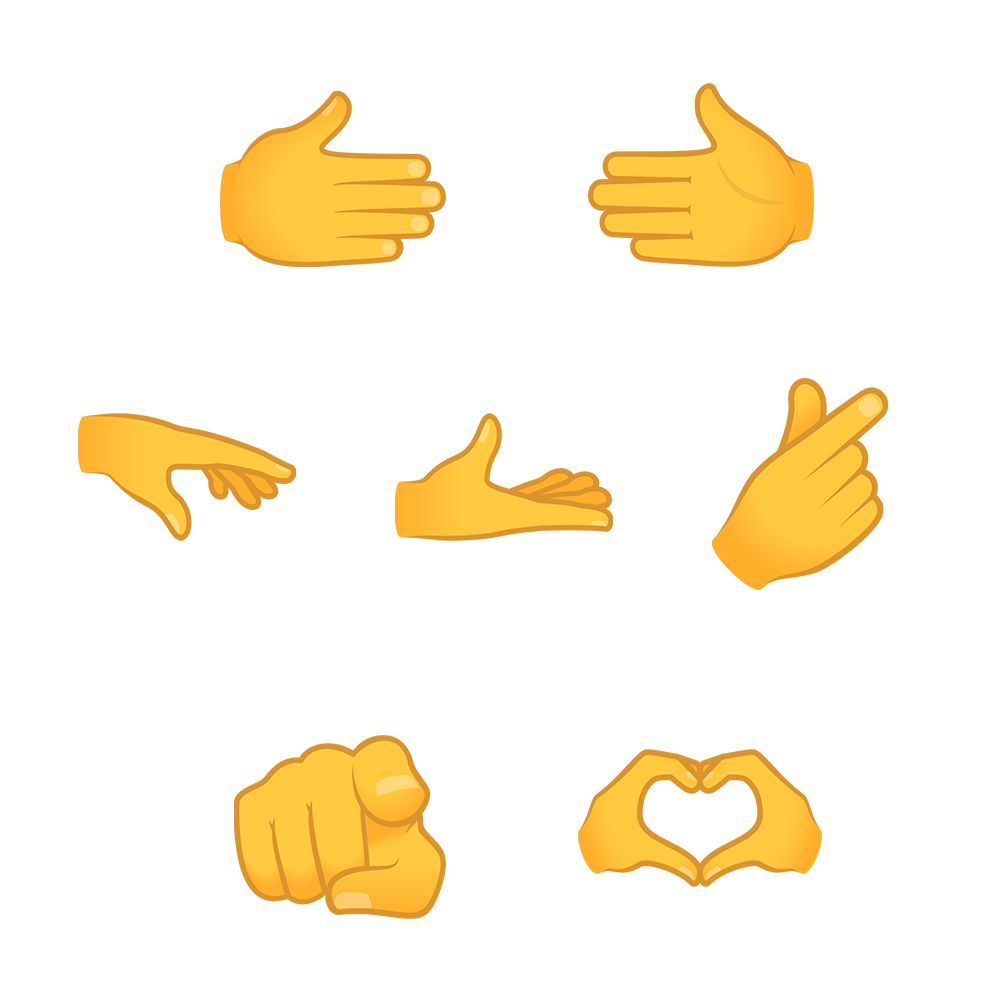 Additionally, JoyPixels 7.0 includes 25 versions of the 🤝 Handshake emoji, with 20 displaying hands with two different skin tones.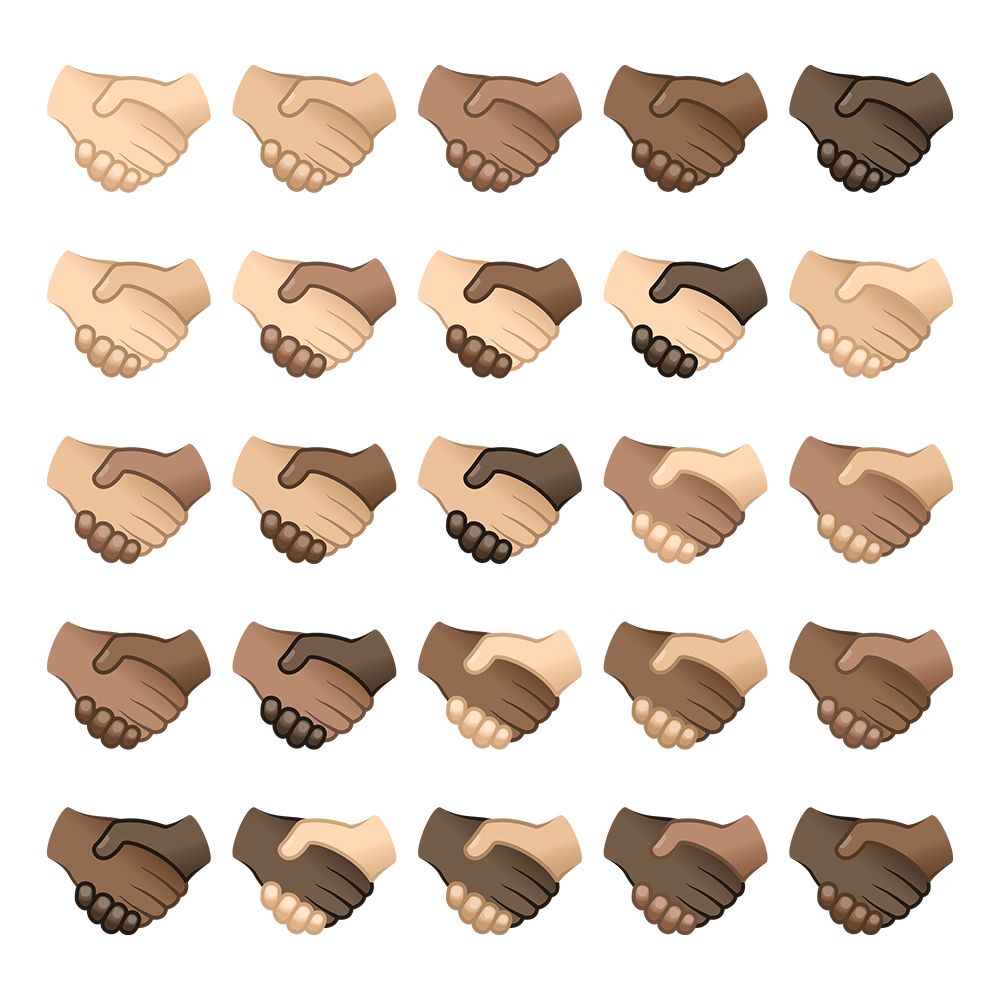 Under their previous moniker EmojiOne, JoyPixels previously supported single skin tone versions of the 🤝 Handshake emoji (e.g. 🤝🏾 Handshake: Medium-Dark Skin Tone) in their 2.2.4 and 2.2.5 updates.
These were discontinued from their 3.0 update onwards, but have returned with a brand new design in JoyPixels 7.0.
The remaining new emojis in this update include two new gender-neutral person emoji, 🫅 Person with Crown and 🫄 Pregnant Person, plus a third person emoji in the form of 🫃 Pregnant Man.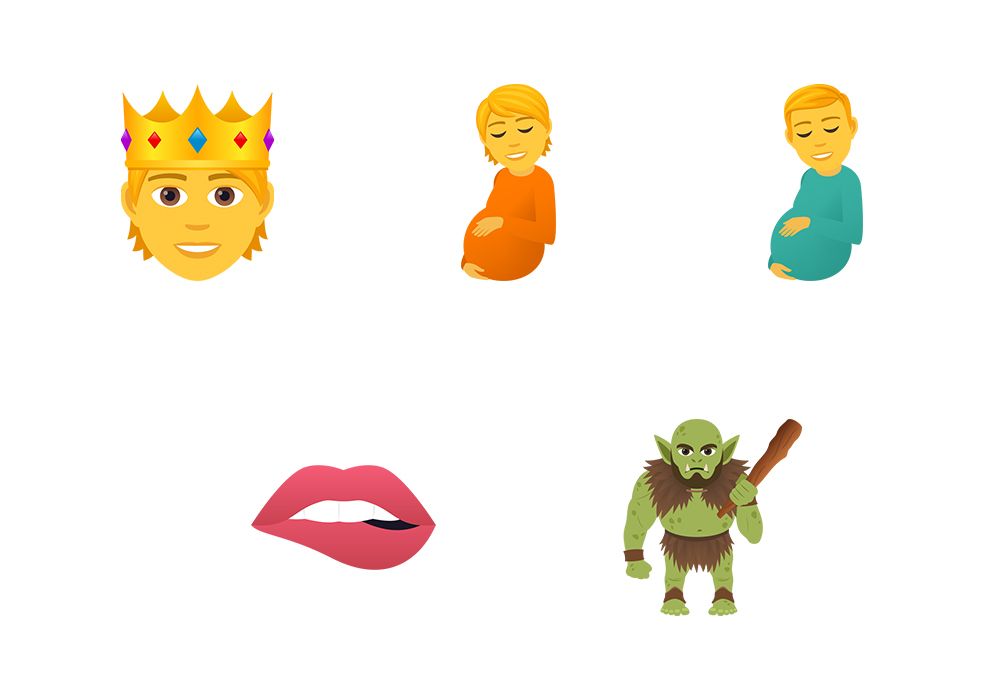 Like the new hand gestures, these three new people emojis support skin tone modifiers.
There are also a handful of new additions across the 🐻 Animals & Nature, 🍔 Food & Drink, 💡 Objects, and 🔣 Symbols emoji categories.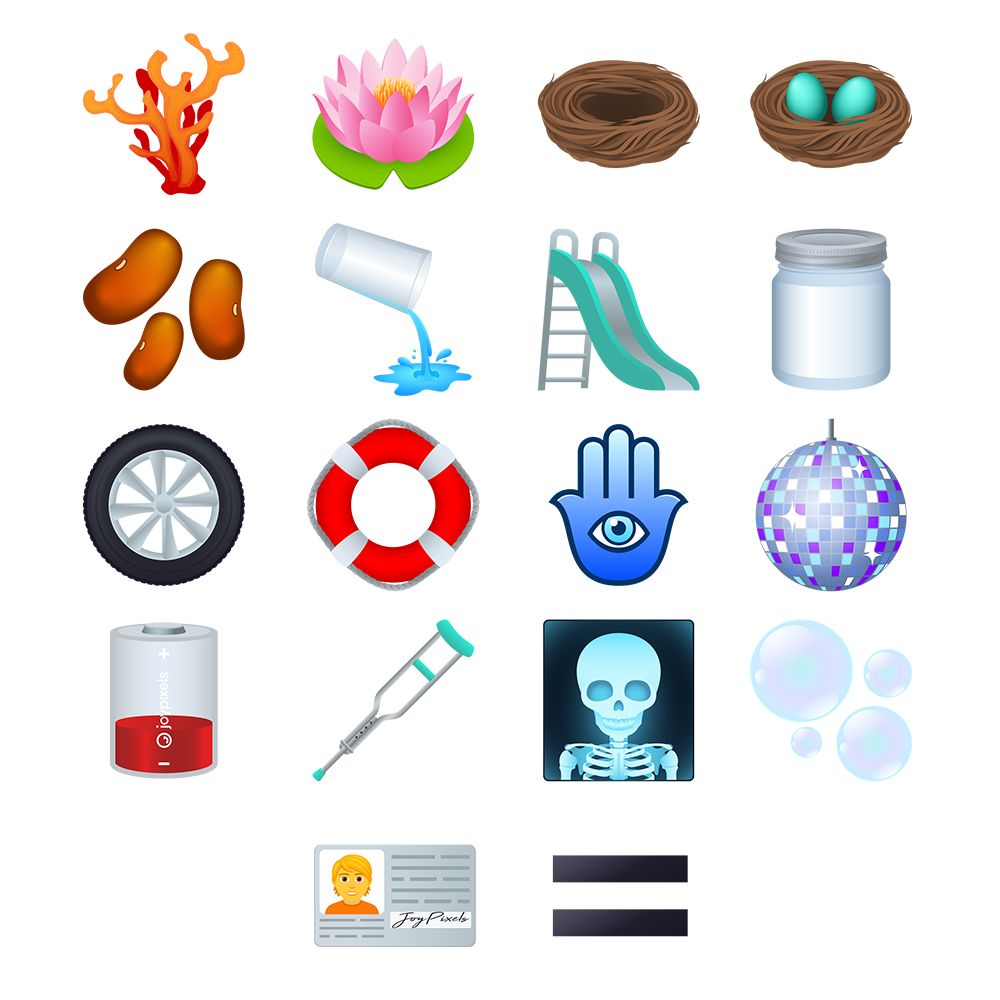 🆙 Changed
As has come to be expected in major JoyPixels emoji updates, a large number of existing emojis have had their designs revised.
As mentioned above, the majority of these changes are within the people category: almost all people emojis have had their hair designs changed at least subtly.
Notably, almost all of the people emojis without a skin tone modifier no longer have brown hair by default - instead, they now have a yellowish hair color, akin to how many other emoji vendors depict these emojis' hair. 🧑 Person is shown as an example below.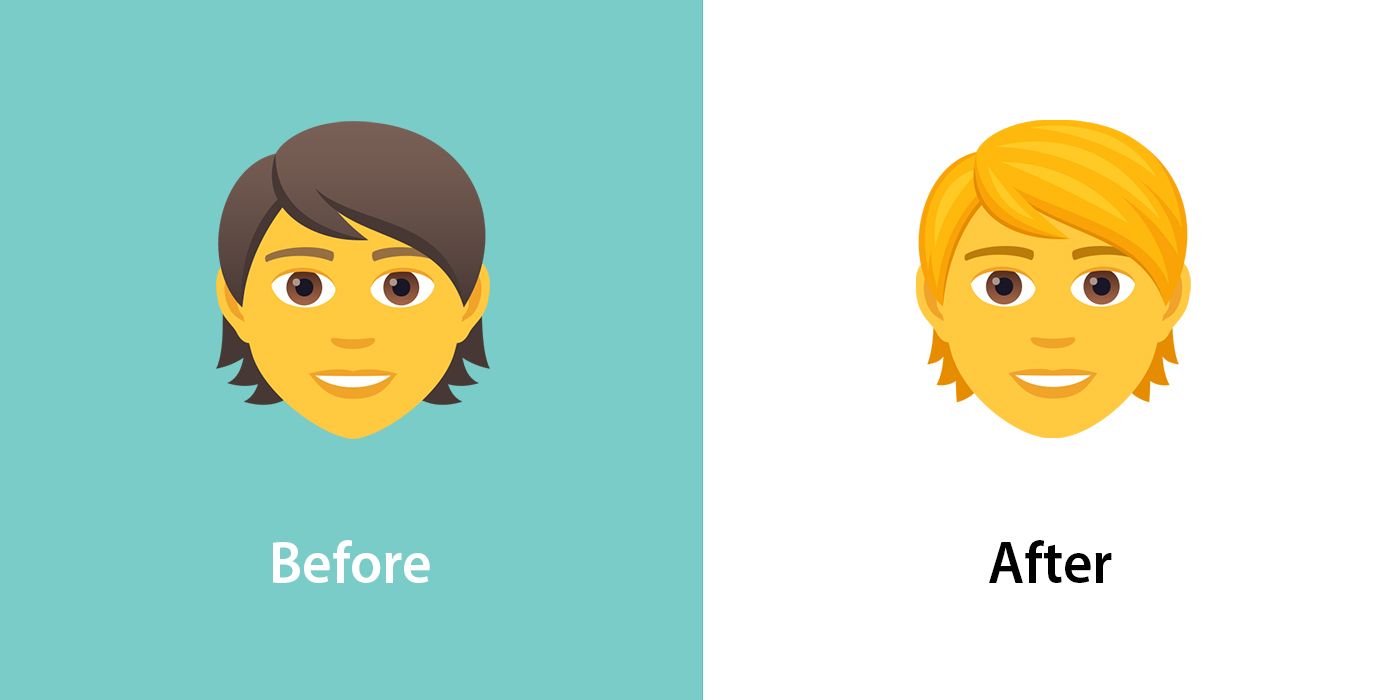 Exceptions include the likes of the color-specifying 🧑‍🦰 Person: Red Hair and 👱 Person: Blond Hair, and the 🧓 Older Person, who retains their grey hair but is now also wearing glasses.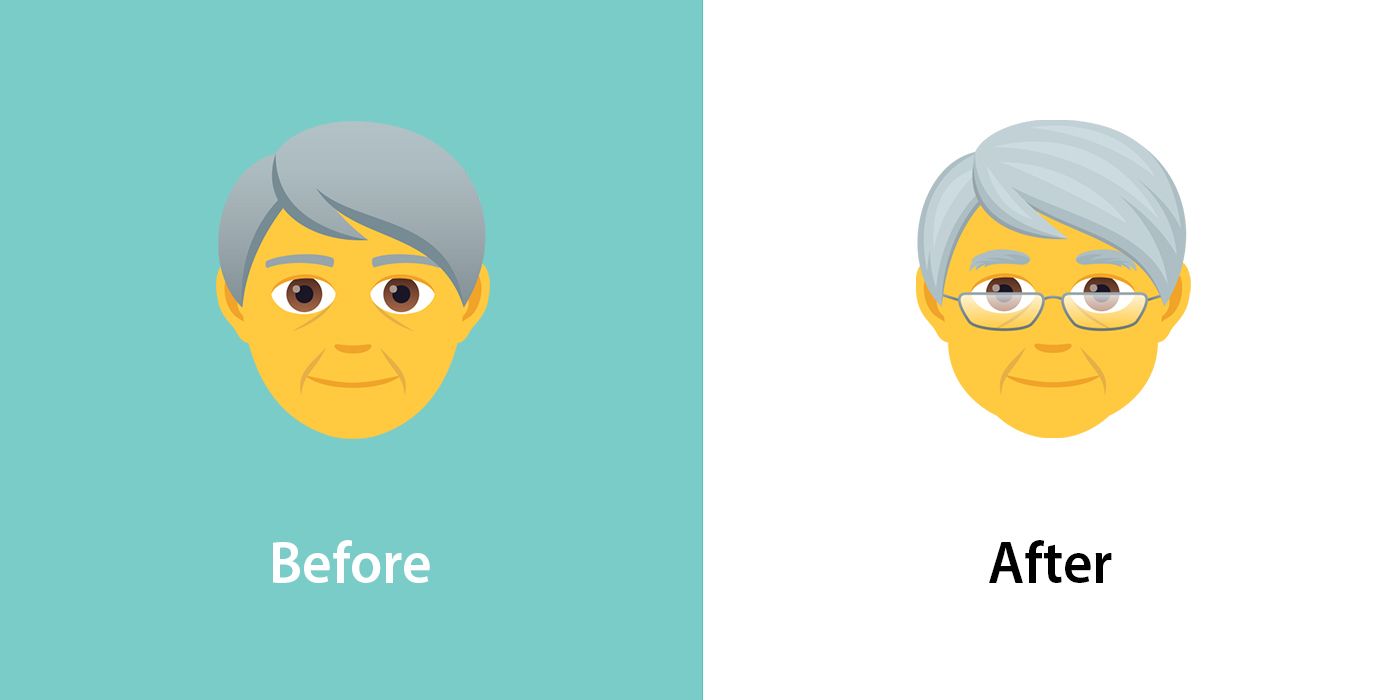 Additionally, all the different people gesturing and profession emojis now display more of the individual's torso, often with some additional pose or feature.
🧑‍🎓 Student is now giving a 👍 Thumbs Up.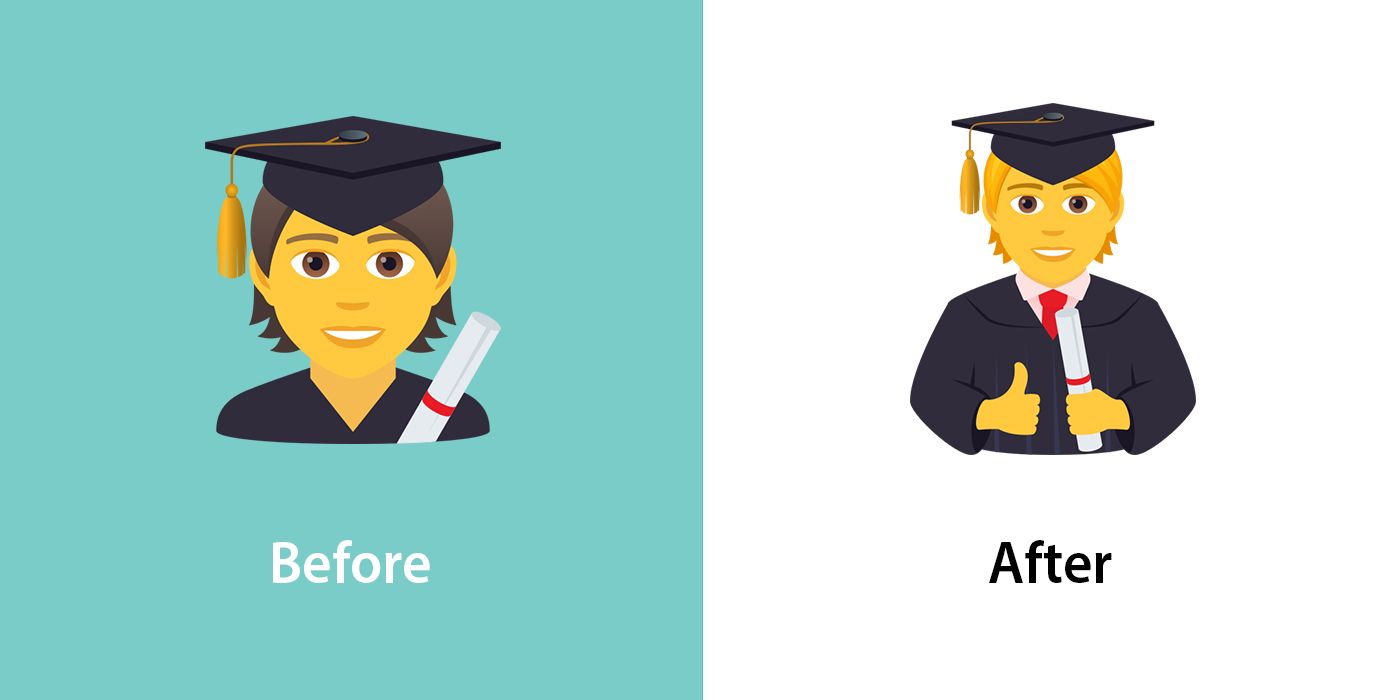 🧑‍🌾 Farmer is now holding a basket full of 🥕 Carrots and 🥔 Potatoes instead of a pitchfork.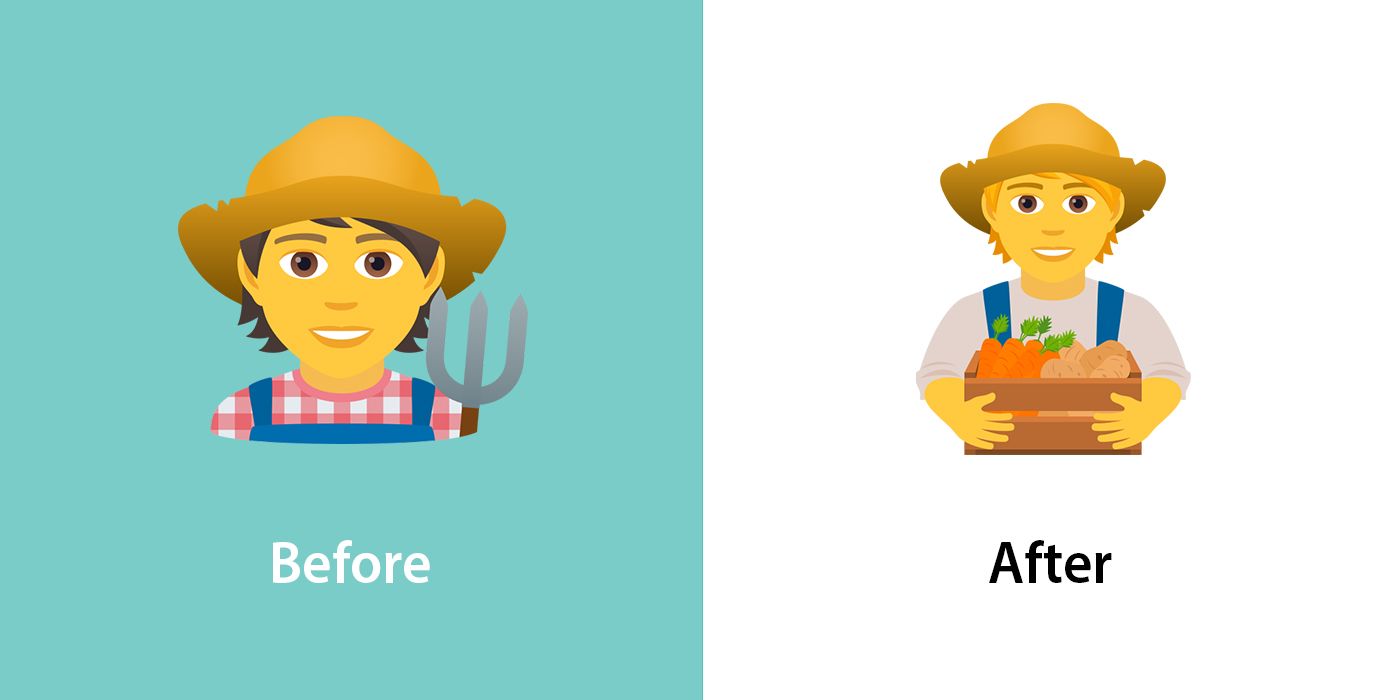 Many non-color-specific hearts such as 💕 Two Hearts are now bubblegum pink instead of red.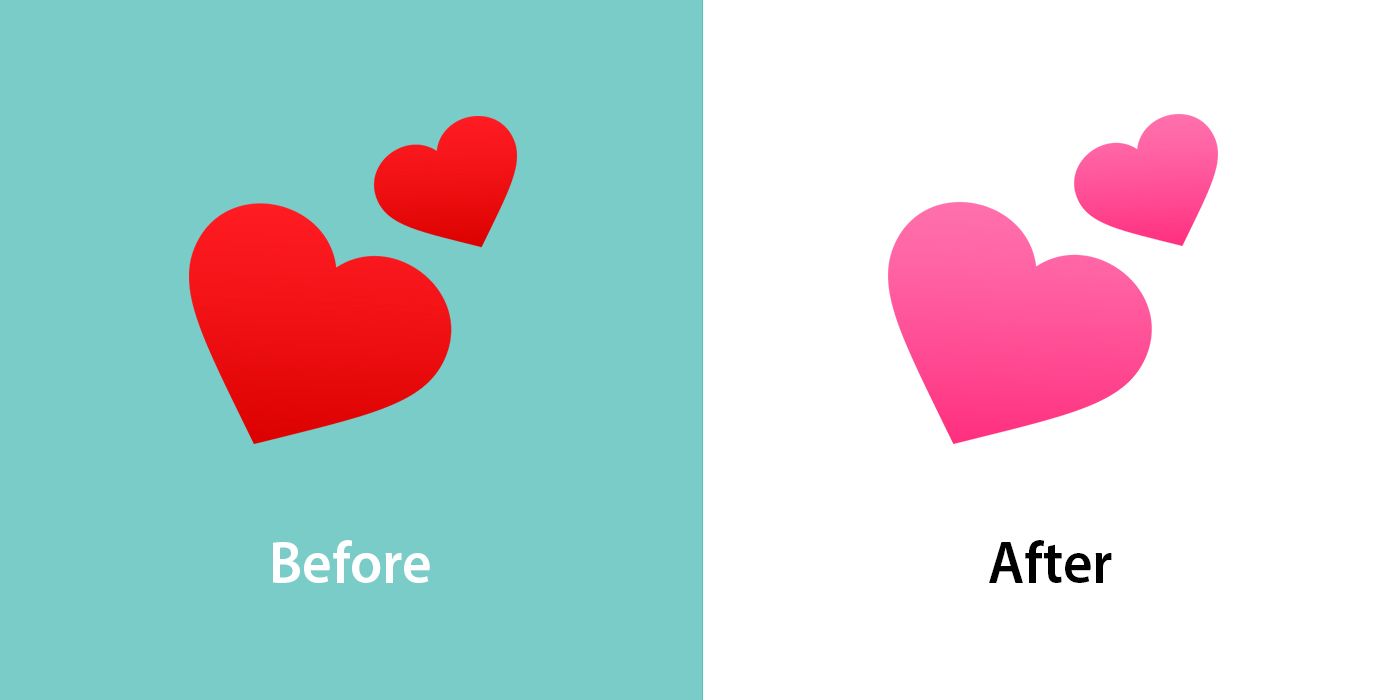 This is also the case for 💘 Heart with Arrow, 💗 Growing Heart, 💖 Sparkling Heart, 💓 Beating Heart, and 💞 Revolving Hearts.
The 💟 Heart Decoration now has a block purple background color, as per most other vendors.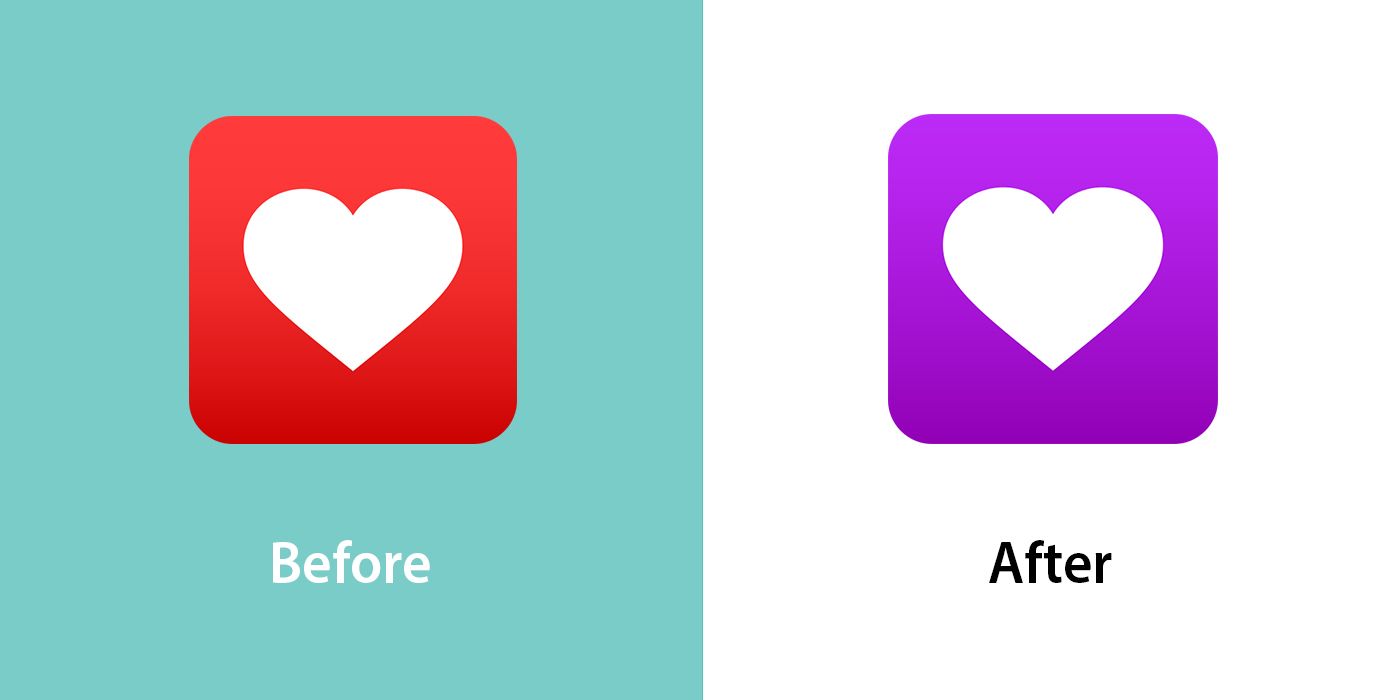 🏋️ Person Lifting Weights now has their eyes closed.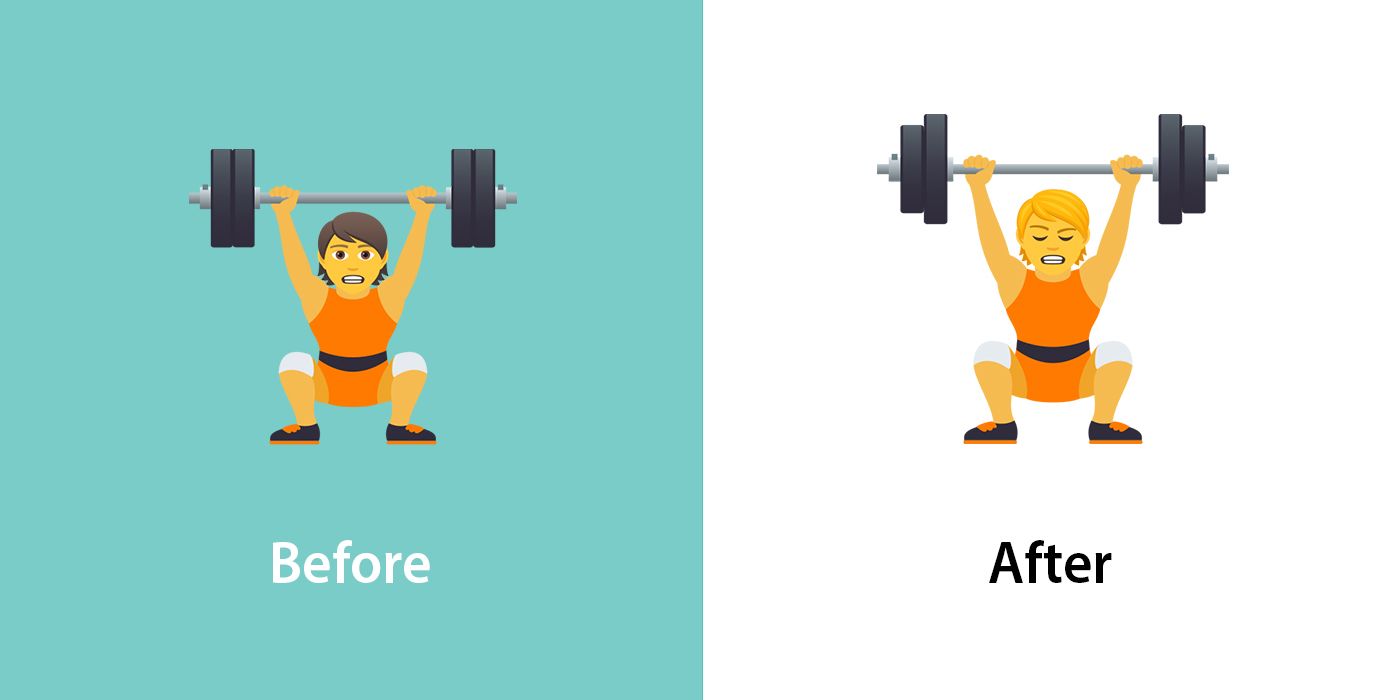 🚣 Person Rowing Boat is now within a body of water.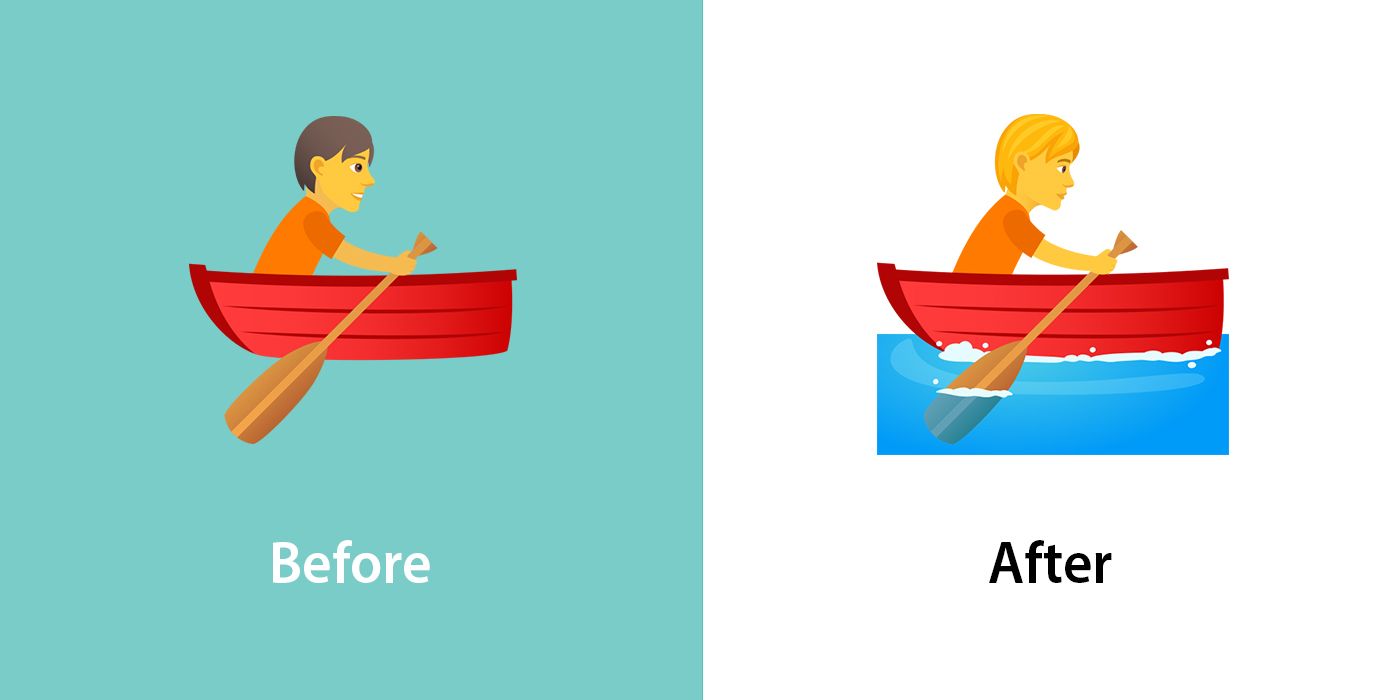 🧟 Zombie now has some 🧠 Brains on display.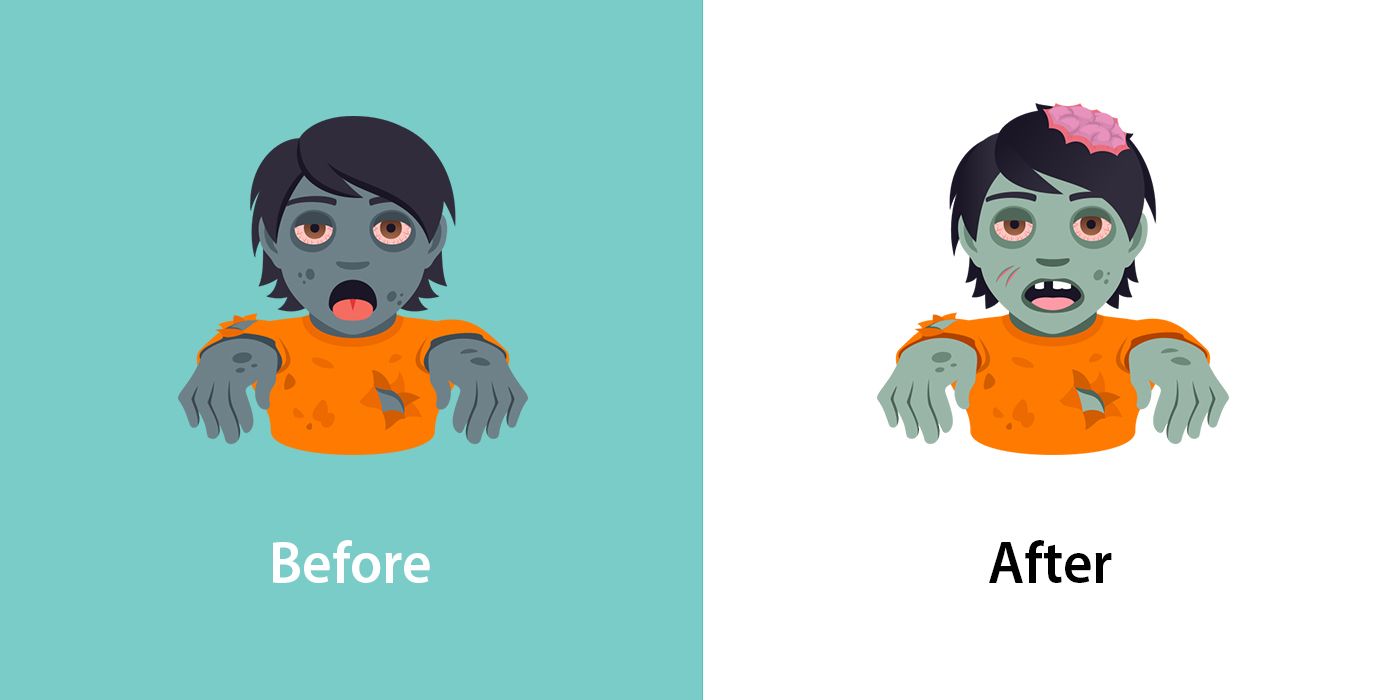 📈 Chart Increasing now shows its upward-trending line in red, as per other vendors. Learn why this line is red.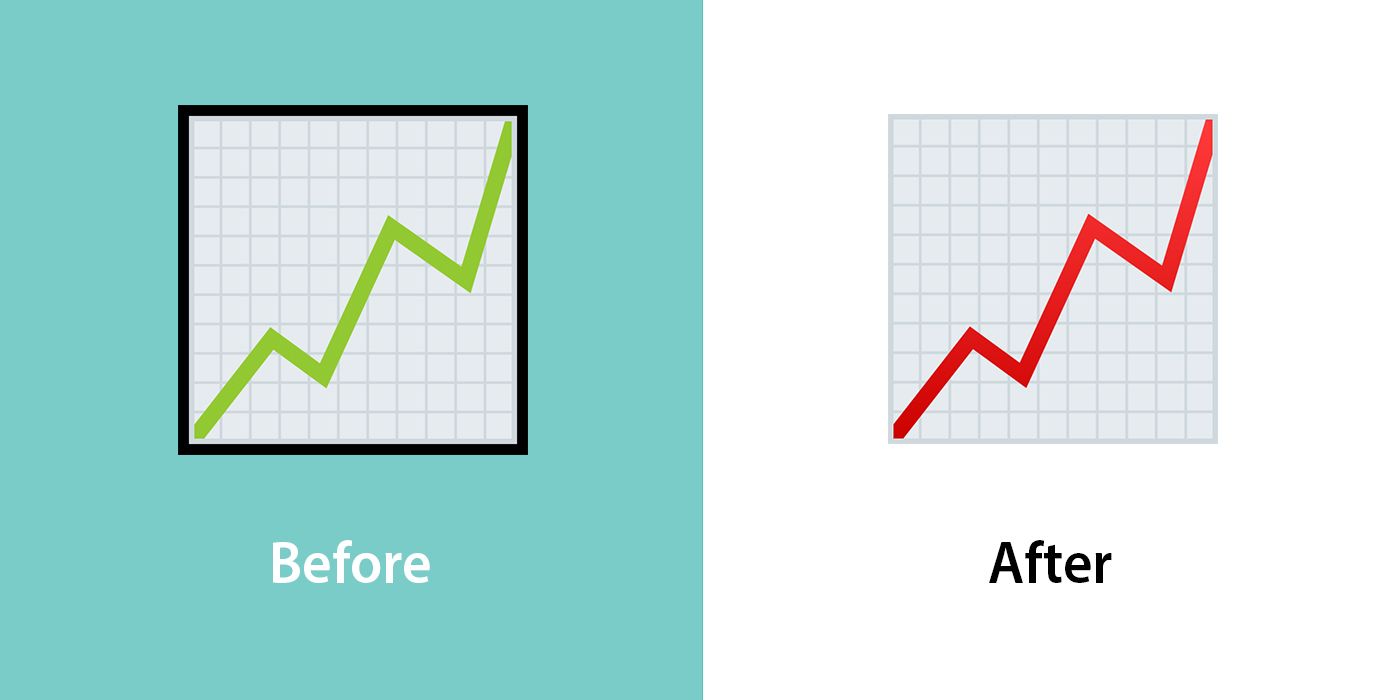 📇 Card Index now shows a 🧑‍💼 Office Worker instead of a 👩‍⚕️ Woman Health Worker.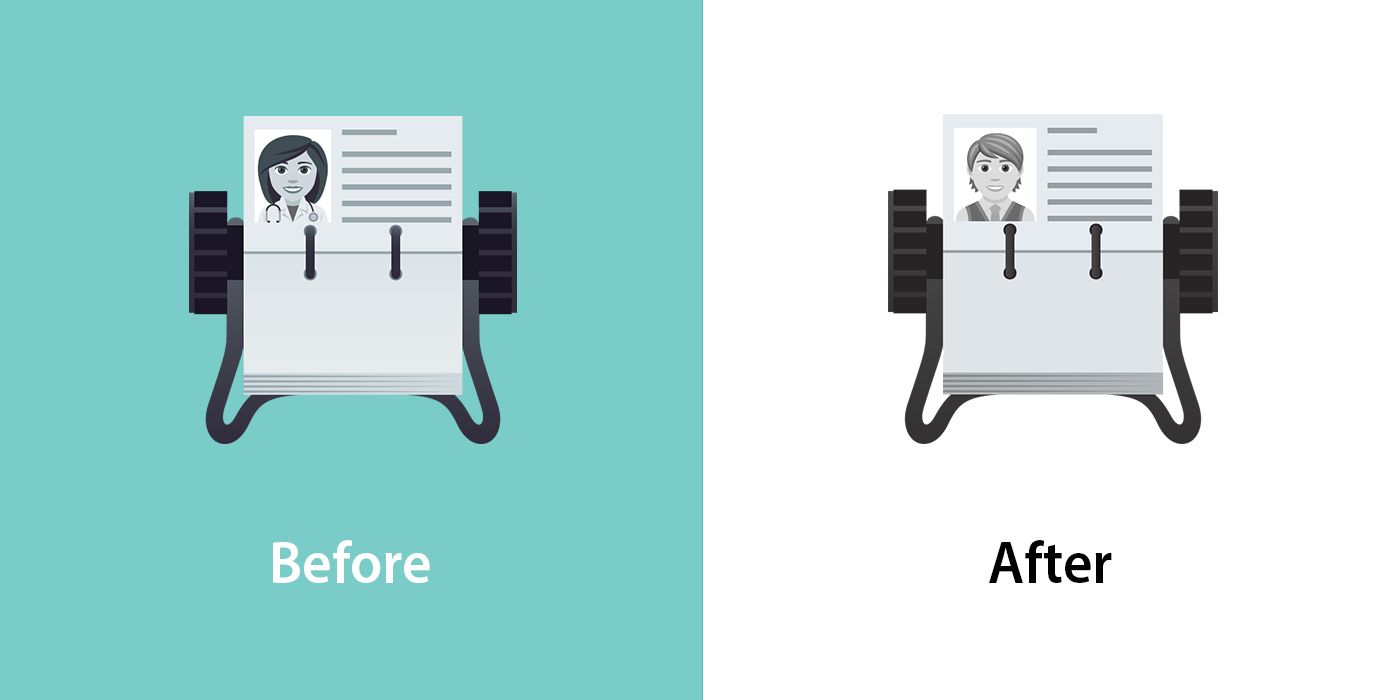 ♾️ Infinity now has a block purple background, akin to Google's current design.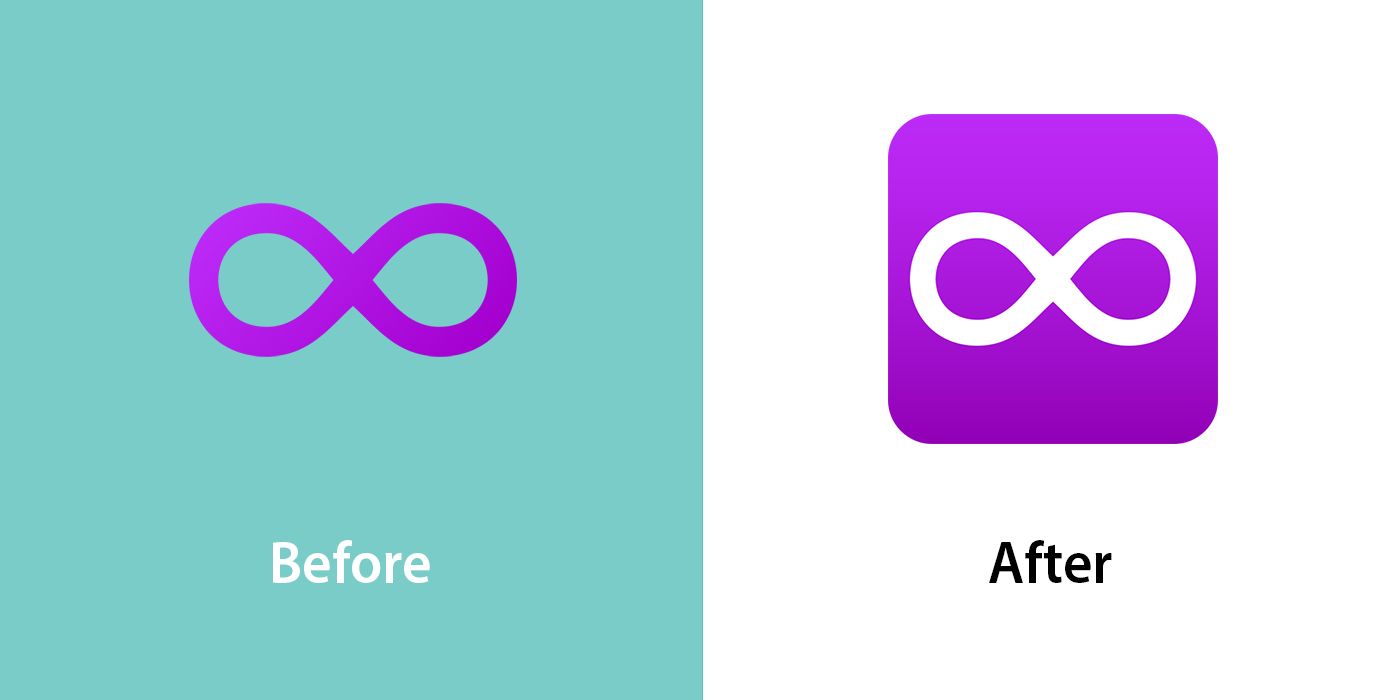 See all the other changes within JoyPixels 7.0.
📶 Release
JoyPixels 7.0 is available now. Like previous JoyPixels updates, it is available on a freemium basis, with licensing required for some but not all usage types.
Read more about the 7.0 release announcement and related licensing details on the JoyPixels website.
📖 Read More