Google Emoji 14.0 Changelog
Google has finalized the designs for its latest emoji update, meaning that brand new 2021 emojis such as Melting Face and Heart Hands will soon be coming to its various platforms.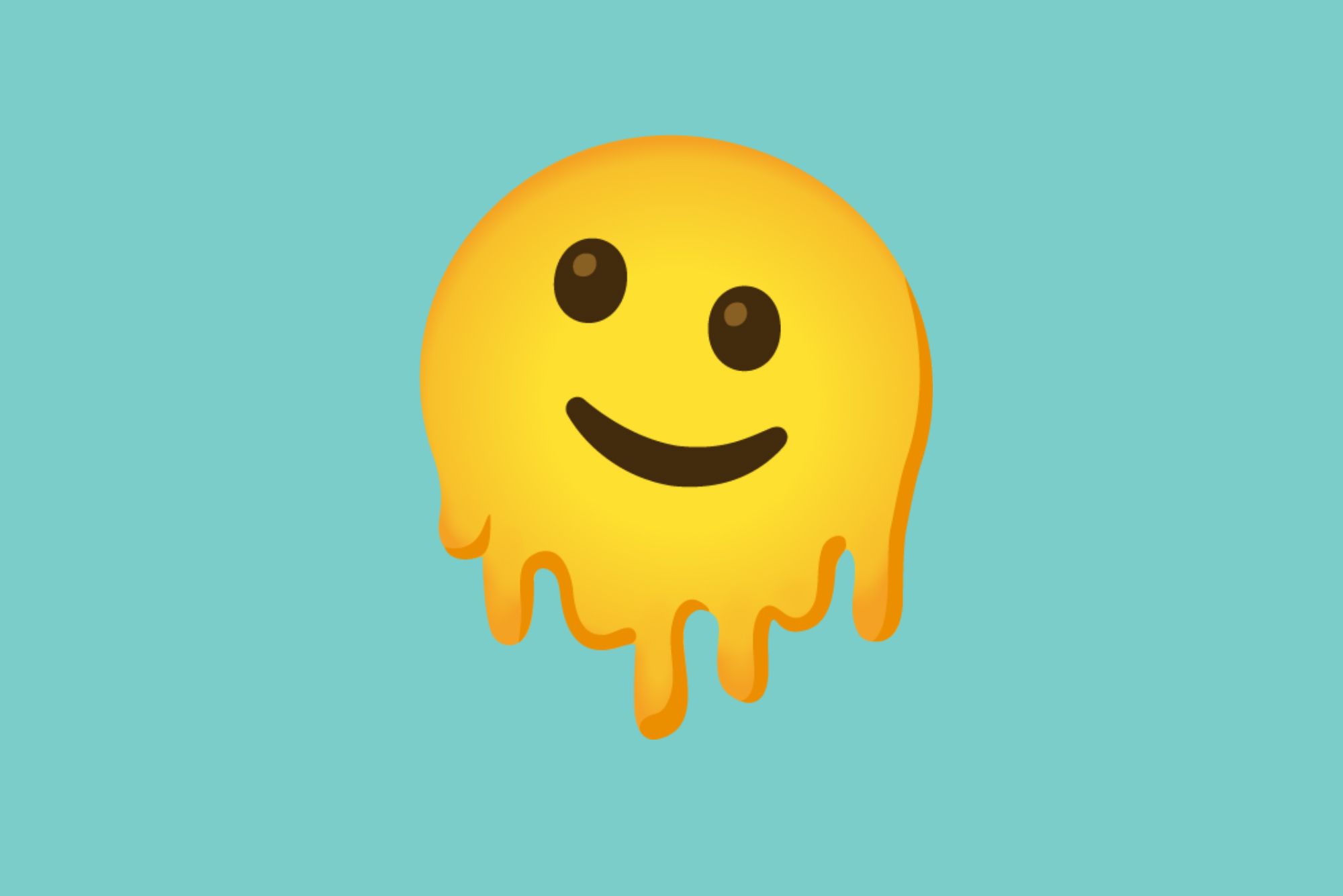 Google has finalised the designs for its latest emoji update, meaning that brand new 2021 emojis such as Melting Face and Heart Hands will soon be coming to its various platforms.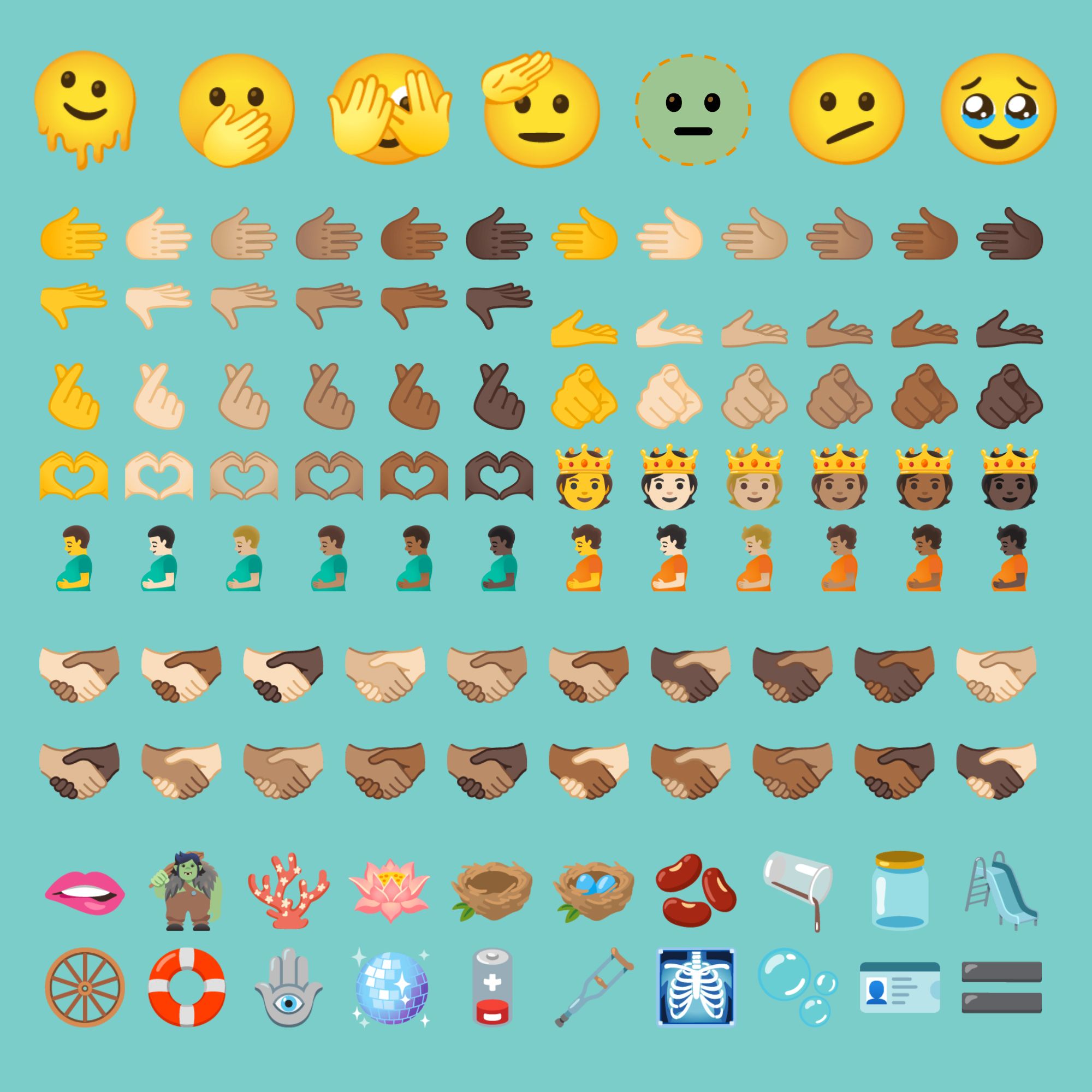 Above: the 107 new emojis included in Google's Emoji 14.0 update for Android 12L.
This update will come alongside the release of Android 12L - a version of Android 12 for large-screened devices, which is currently available as a Developer Preview.
As Google has today updated their Noto Emoji Github page, these emoji designs can be considered final.
This update comes only weeks after the official release of Android 12, which updated over 1,000 previously available emoji designs.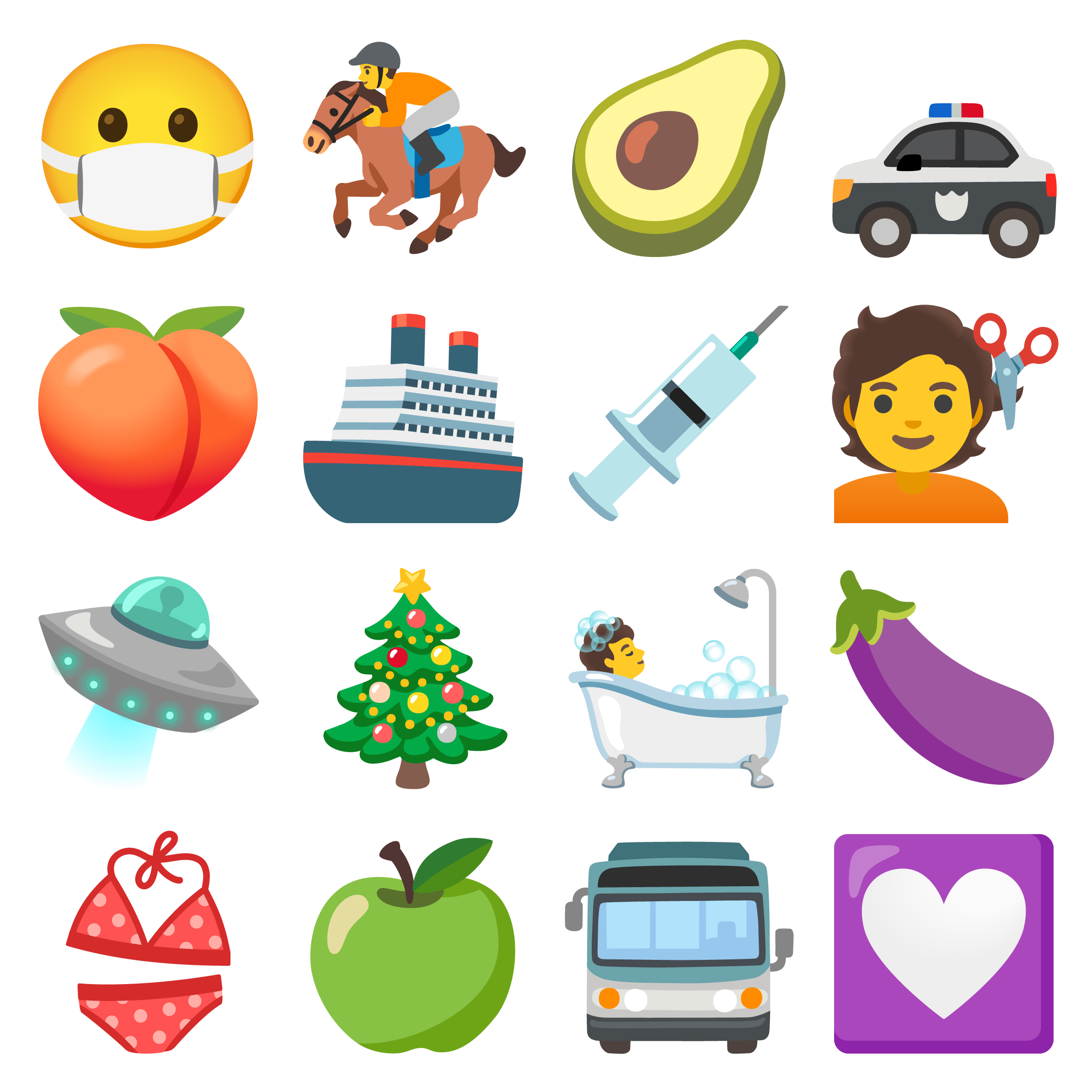 Above: a selection of the revised emoji designs included in Google's Android 12 update previously made available on other Google platforms.
These revised designs included in Android 12 had previously debuted across other Google platforms such as Gmail, Chrome OS, and YouTube Live in late July 2021.
It is therefore expected that the new Emoji 14.0 designs will follow a similar pattern and debut across these platforms in the coming days and weeks.
Alongside the updated emoji designs previously available across Google's platforms, this emoji update reshapes select smiley faces' hands (such as those of 🤗 Hugging Face and 🤔 Thinking Face) and implements design consistency with certain new Emoji 14.0 additions.
🆕😃 New Smileys & Gestures
Google's Emoji 14.0 update includes seven brand new smiley face emojis - the largest number since Android 8.0 in 2017.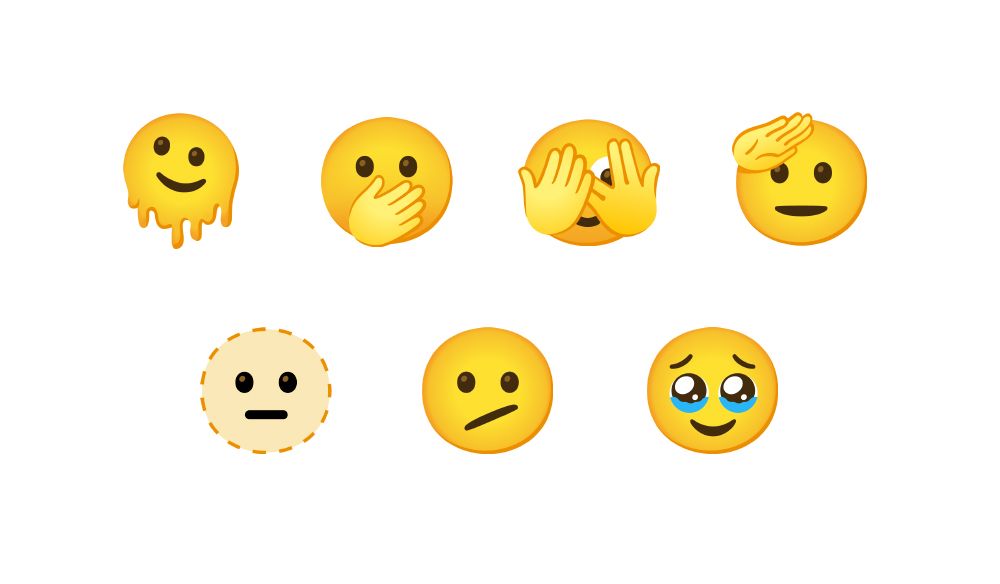 The new Melting Face was deemed the Most Anticipated Emoji during the 2021 World Emoji Awards, with Google's design recently gracing the front page of the New York Times and grabbing the attention of late night talk show host Stephen Colbert.
There are times when words feel inadequate — when one's dread, shame, exhaustion or discomfort seems too immense to be captured in written language.

That's where the melting face emoji comes in. https://t.co/wWijtvFqgT

— The New York Times (@nytimes) September 29, 2021
Additionally, both the Face Holding Back Tears and Saluting Face have been popular emoji requests for a number of years now.
Face with Open Eyes and Hand Over Mouth may look familiar to eagle-eyed emoji fans. This new smiley is actually the second emoji to have a hand placed over its mouth, coming after 2017's 🤭 Face with Hand Over Mouth.
However, the current version of 🤭 Face with Hand Over Mouth displays with smiling amusement on most platforms, but serious within the Apple and Facebook emoji design sets.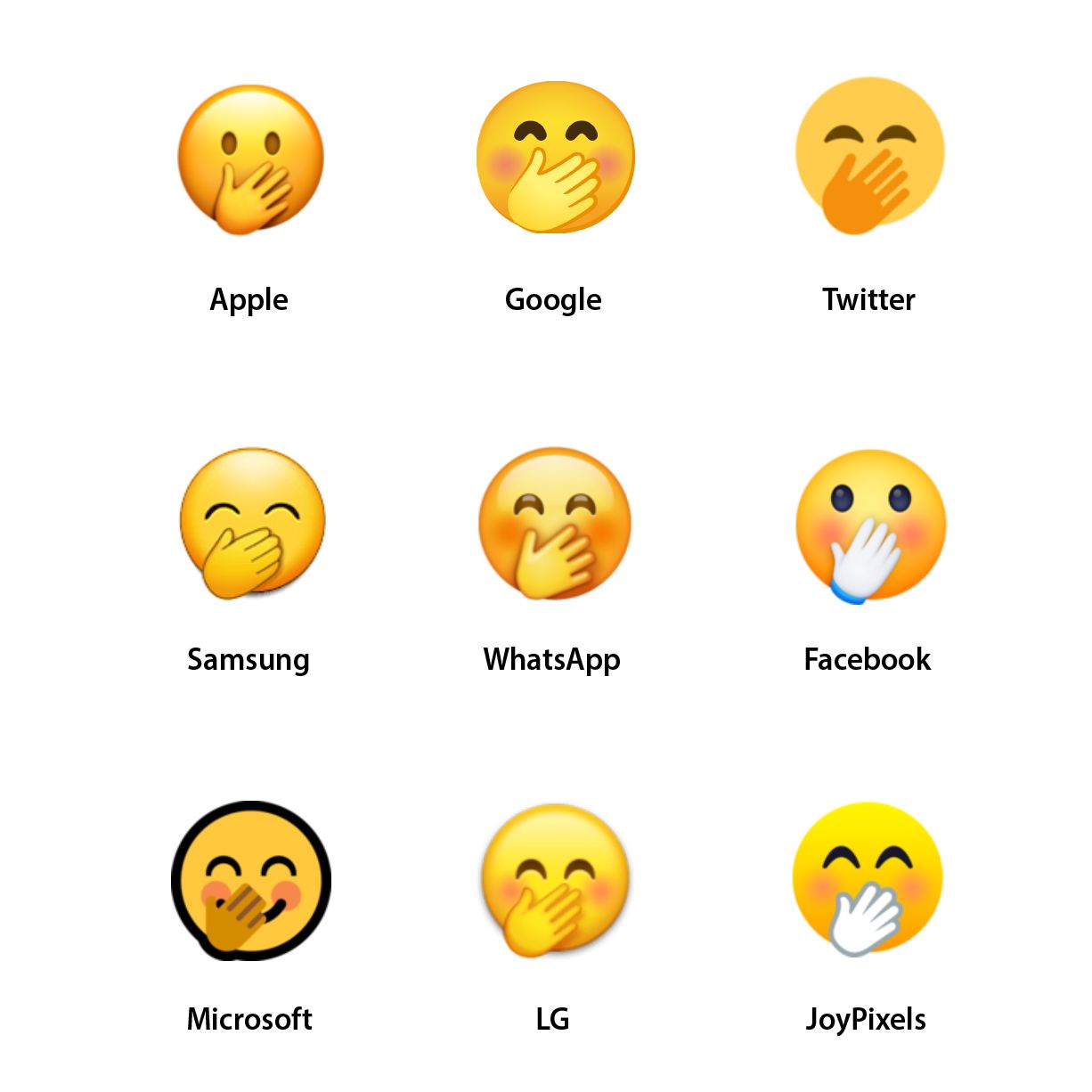 Above: while currently fragmented, it is expected that 2017's 🤭 Face with Hand Over Mouth will appear smiling on all platforms in future. Image: Vendor designs / Emojipedia composite.
This design fragmentation has lead to confusion regarding the intent of tweets like this: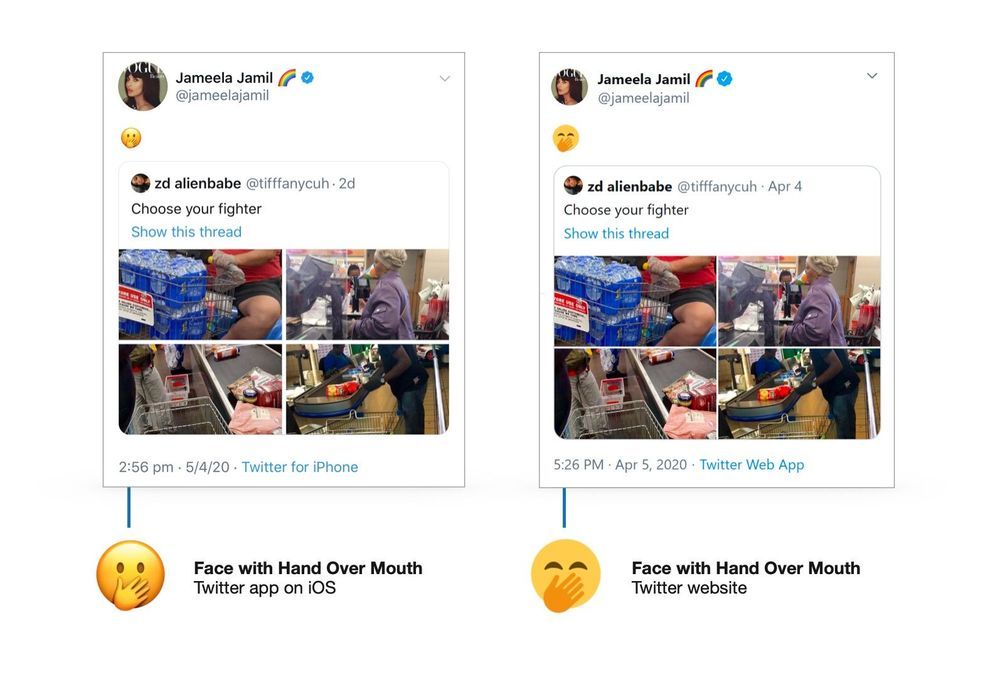 The new Face with Open Eyes and Hand Over Mouth will take on the serious 'open eyes' appearance on all platforms in future, as it has done in this newly-released design from Google.
Apple and Facebook will likely update their existing 🤭 emoji to indicate amusement instead of shock in a coming update.
As well these new smiley emojis being available across select Google platforms, they are also expected introduced to Gboard's Emoji Kitchen in the feature's next update.
This is something that Google's Jennifer Daniel - the current Chairperson of Unicode's Emoji Subcommittee and co-creator of the Emoji Kitchen feature - is excited for, given the abstract concepts that several of these new smileys encapsulate.
One of my fav parts of the next Unicode release is how we'll see the addition of some new emoji that use "effects" to convey emotion, not just facial expressions

Melting Face 🫥
Dotted Line Face 🫥 https://t.co/VO3xTSbrhW

— Jennifer Daniel (@jenniferdaniel) September 9, 2021
This update also debuts seven completely new hand gesture emojis, including Index Pointing at the Viewer and Heart Hands.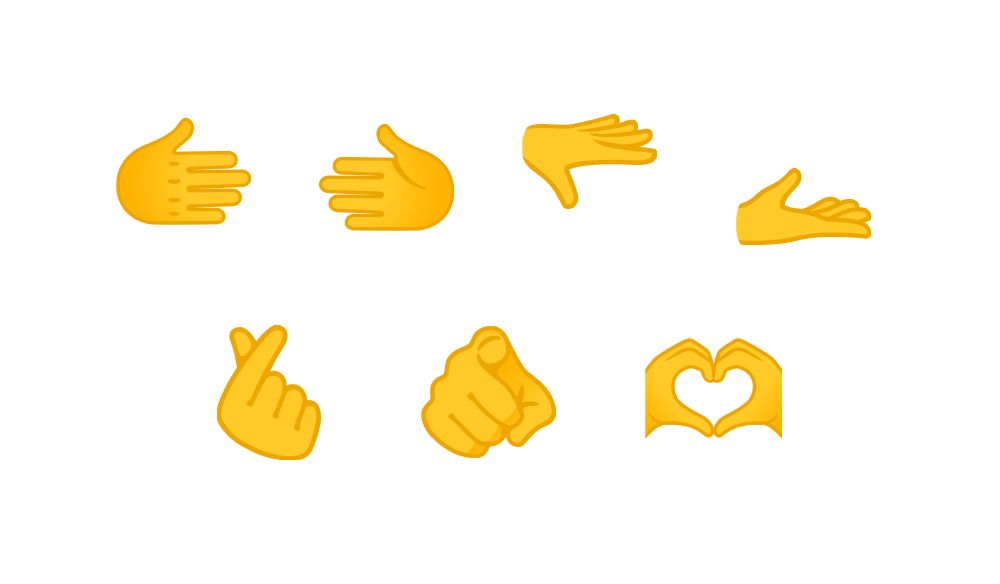 All of these new hand gestures include support for skin tone modifier sequences.
Additionally, two of these new hand gestures - Rightwards Hand and Leftwards Hand - have also brought with them a selection of brand new 🤝 Handshake emoji designs with multiple different skin tone options[1].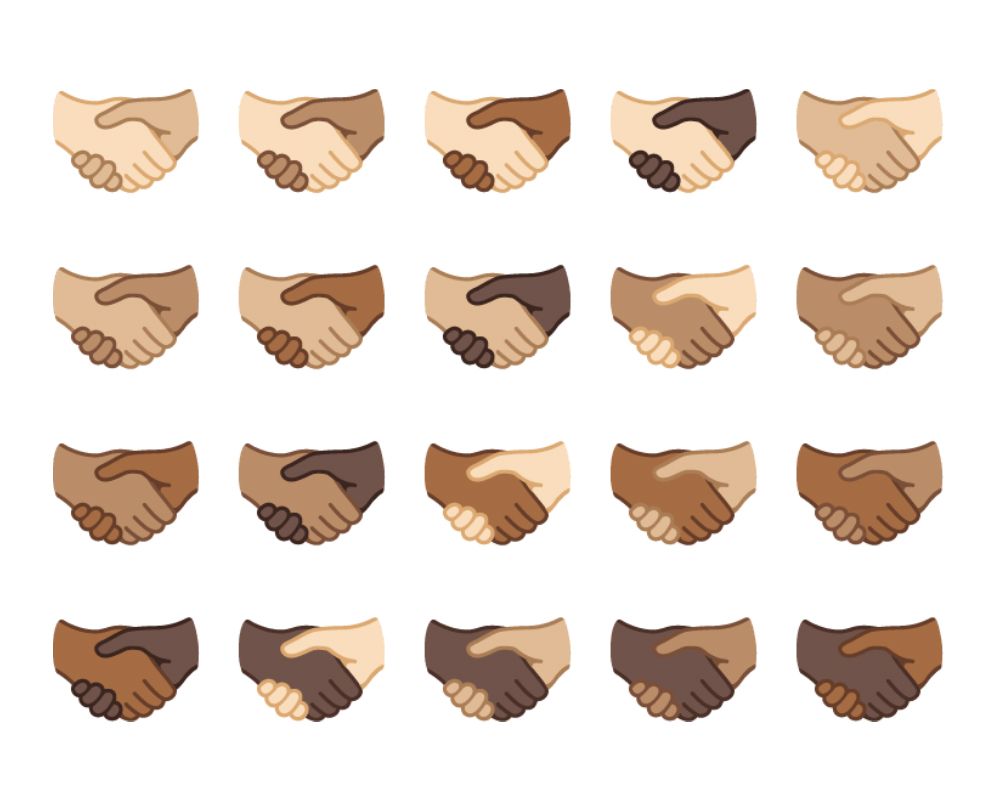 Above: the new 🤝 Handshake variations with two skin tone modifier options.
In utilising Rightwards Hand and Leftwards Hand to create new 🤝 Handshake skin tone sequences, Google's Emoji 14.0 update is implementing a similar solution to that seen for the 🧑‍🤝‍🧑 People Holding Hands skin tone and gender variations in Emoji 12.0 and Emoji 12.1, as well as the 💏 Kiss and 💑 Couple with Heart variations introduced in Emoji 13.1.
🆕👥 New People & Other Emojis
Google's Emoji 14.0 support includes two new gender-neutral person emojis: Person with Crown and Pregnant Person.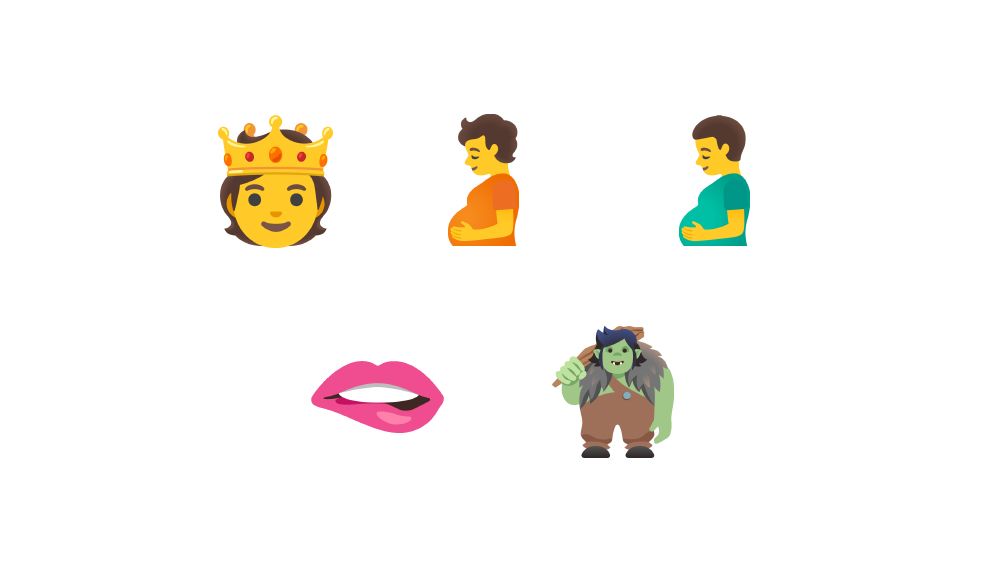 The update also includes a Pregnant Man and disembodied Biting Lip, as well as a Troll fantasy creature.
The remaining 18 emojis in this update add a small number of new additions to the 🐻 Animals & Nature, 🍔 Food & Drink, 💡 Objects, and 🔣 Symbols emoji categories.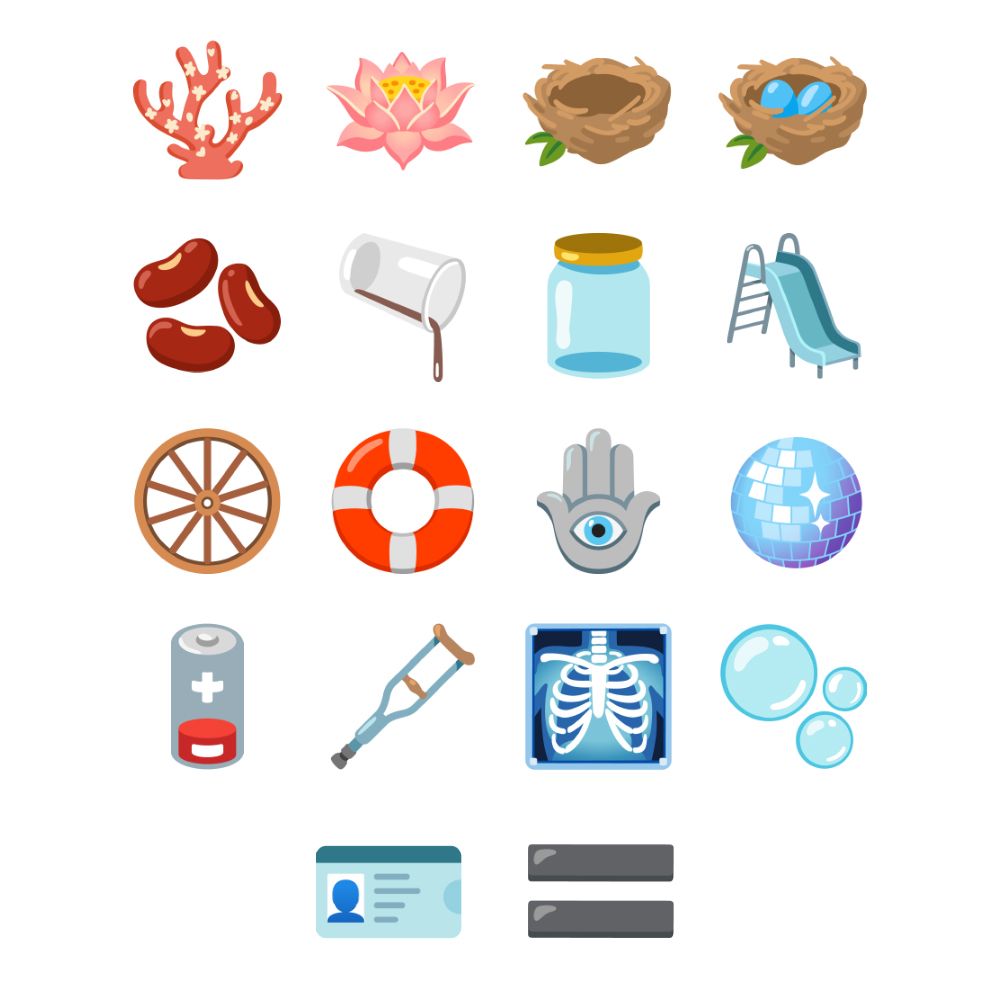 🆙Changed
This Google emoji update revises a small number of existing emojis' designs. Several of these are highlighted below.
🤗 Hugging Face has had its hands reshaped.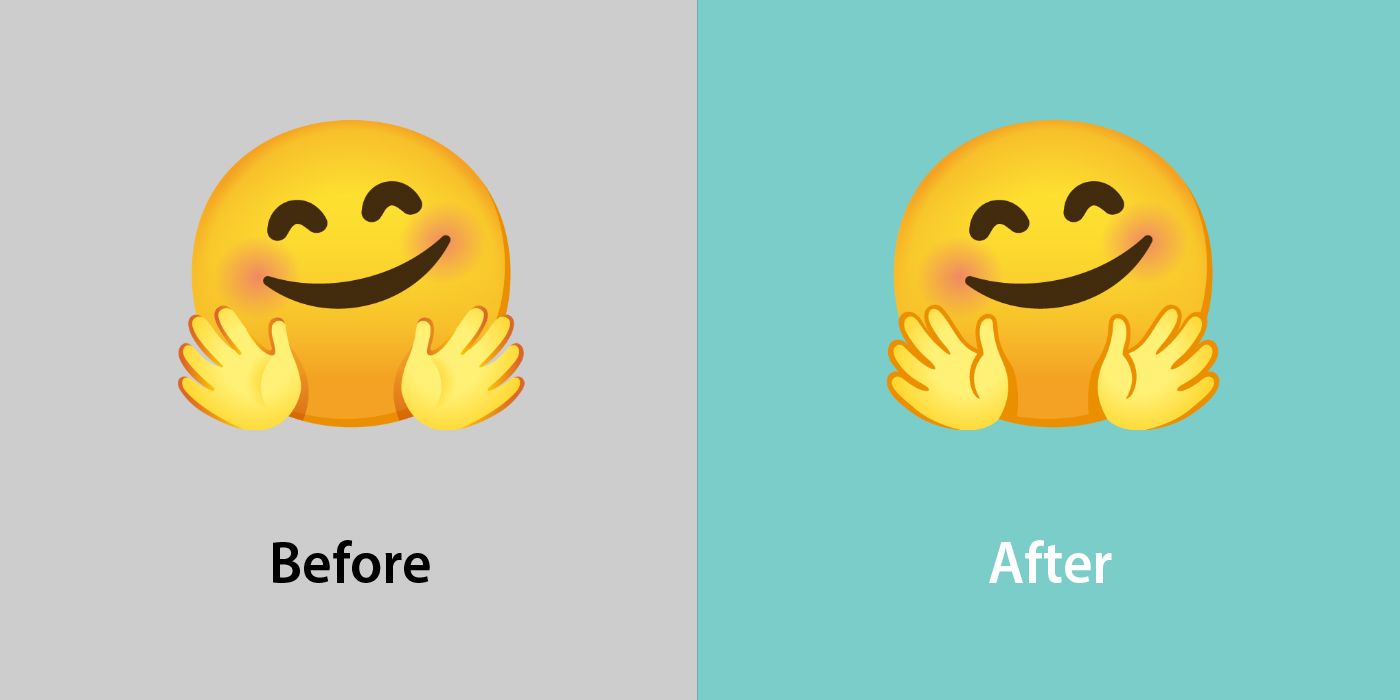 🤭 Face with Hand Over Mouth has had its hand reshaped to match that of the new Face with Open Eyes and Hand Over Mouth emoji.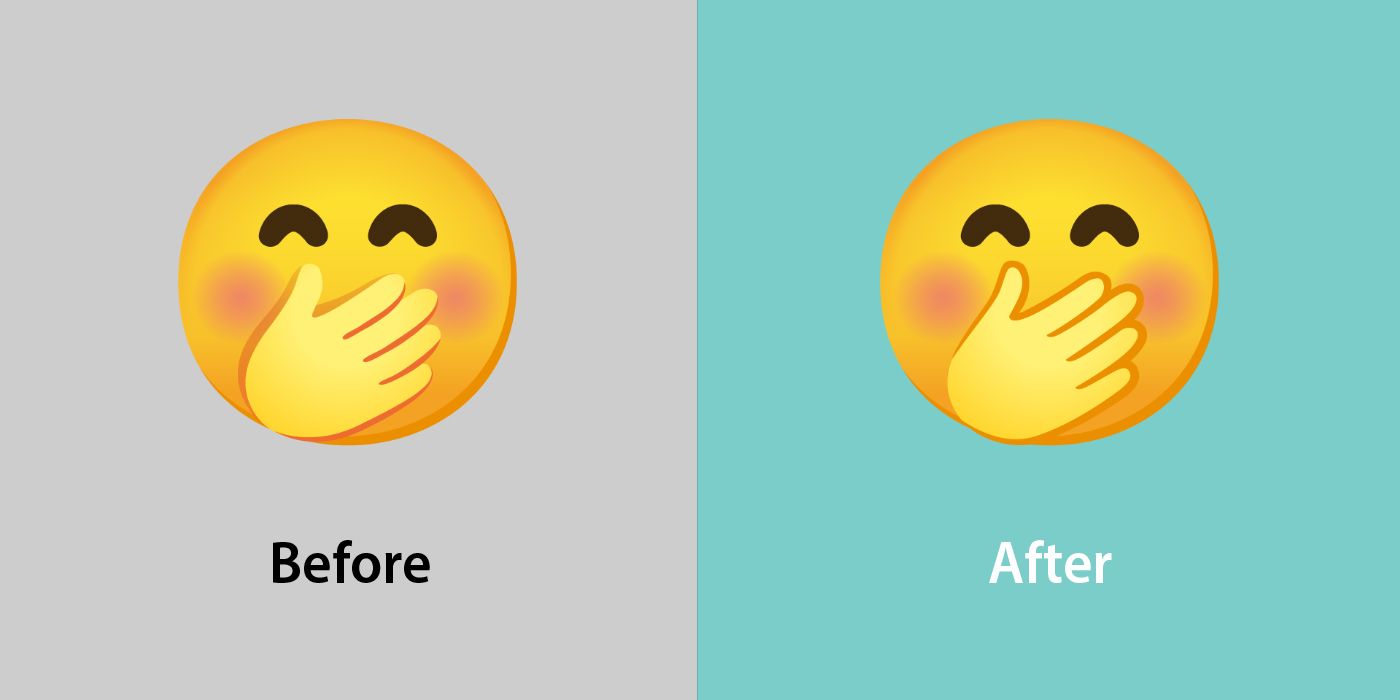 🤝 Handshake no longer features a gradient or an outline across each wrist. The new multiracial variations share this new design.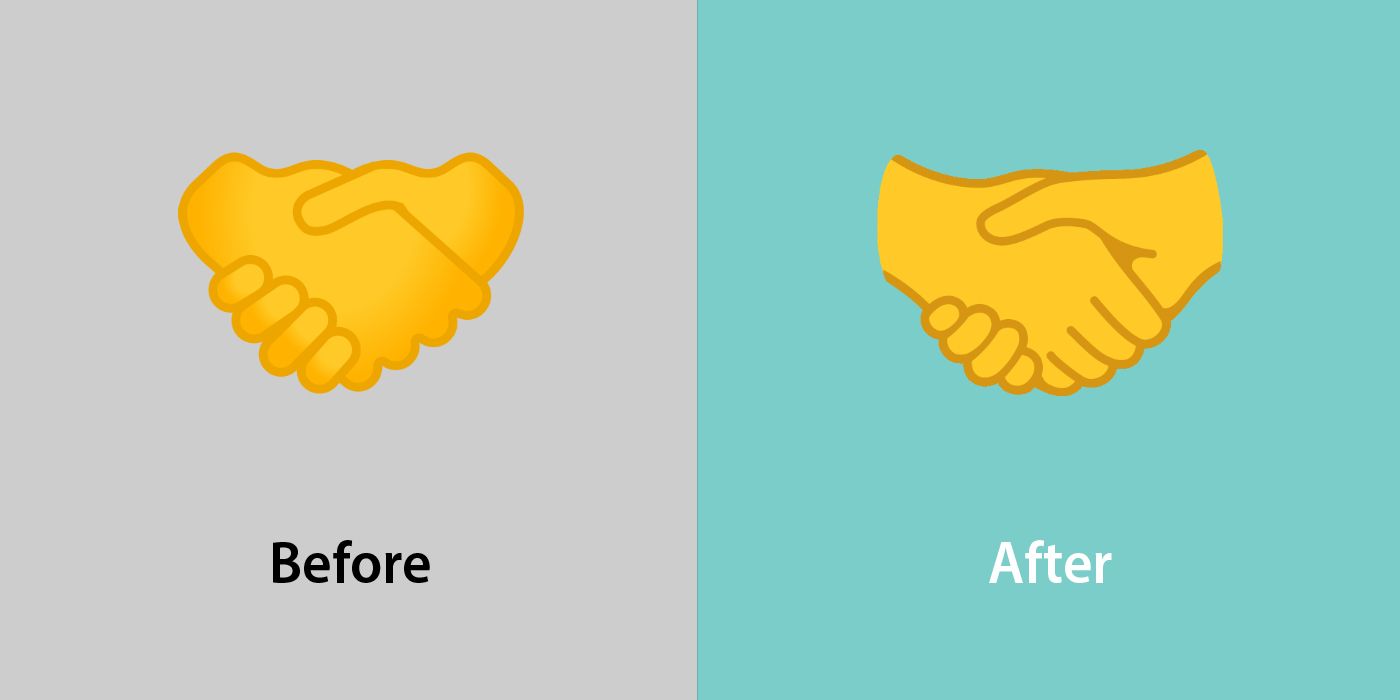 👸 Princess and 🤴 Prince now only display their face and head, matching the new Person with Crown emoji design.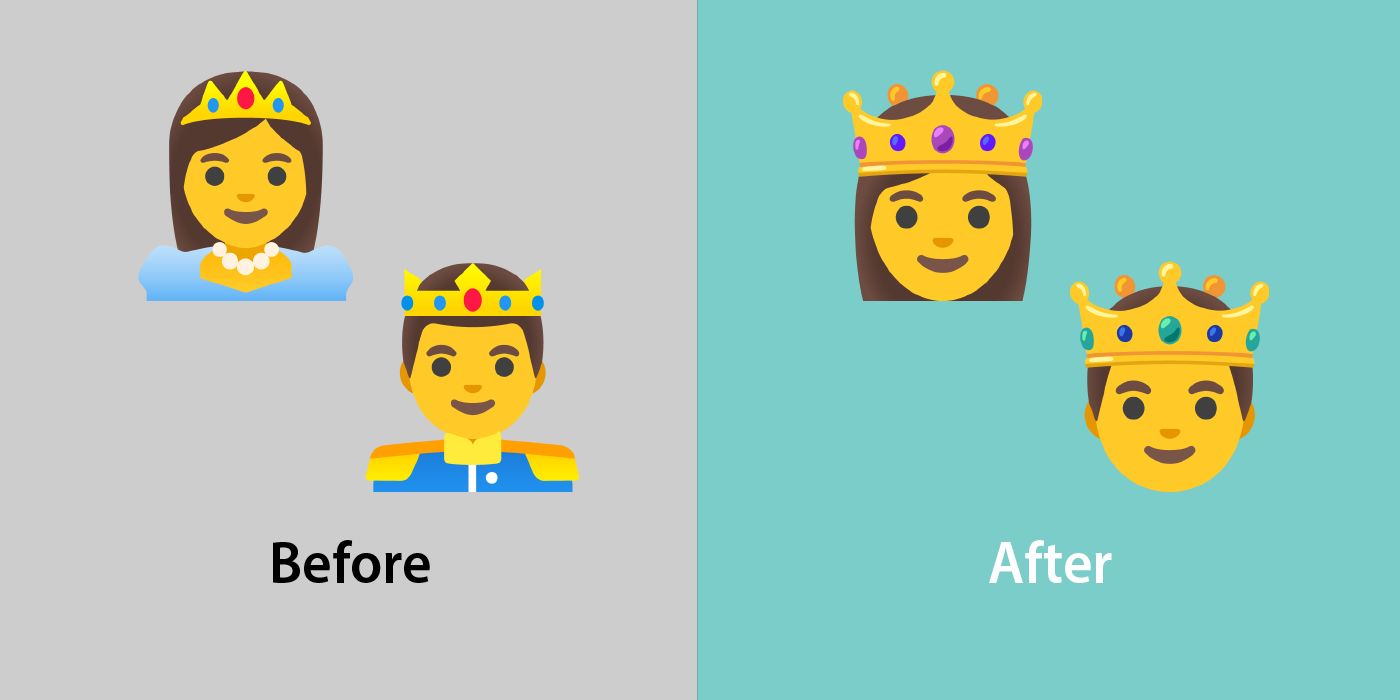 🤰 Pregnant Woman now has contented closed-eyed expression and a more detailed left hand on their protruding belly. This matches the new Pregnant Person and Pregnant Man emojis.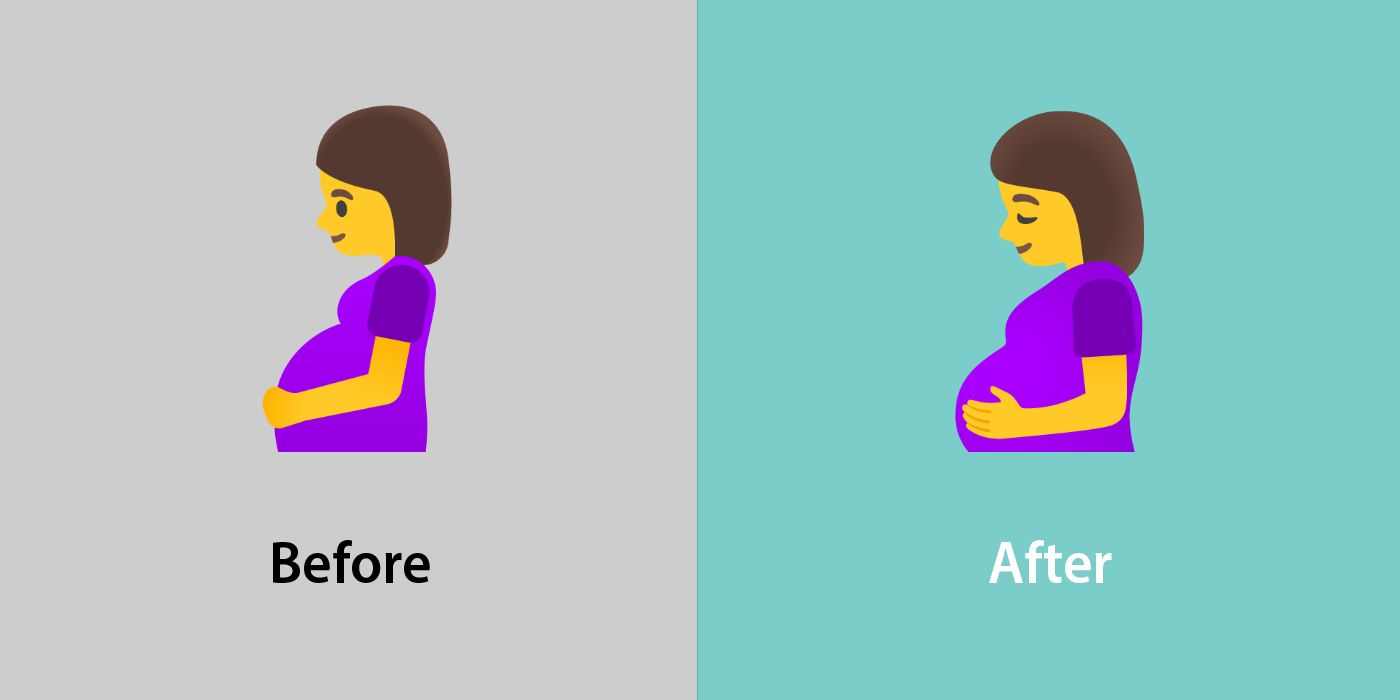 📉 Chart Decreasing now has a blue line instead of green, akin to most other major vendors.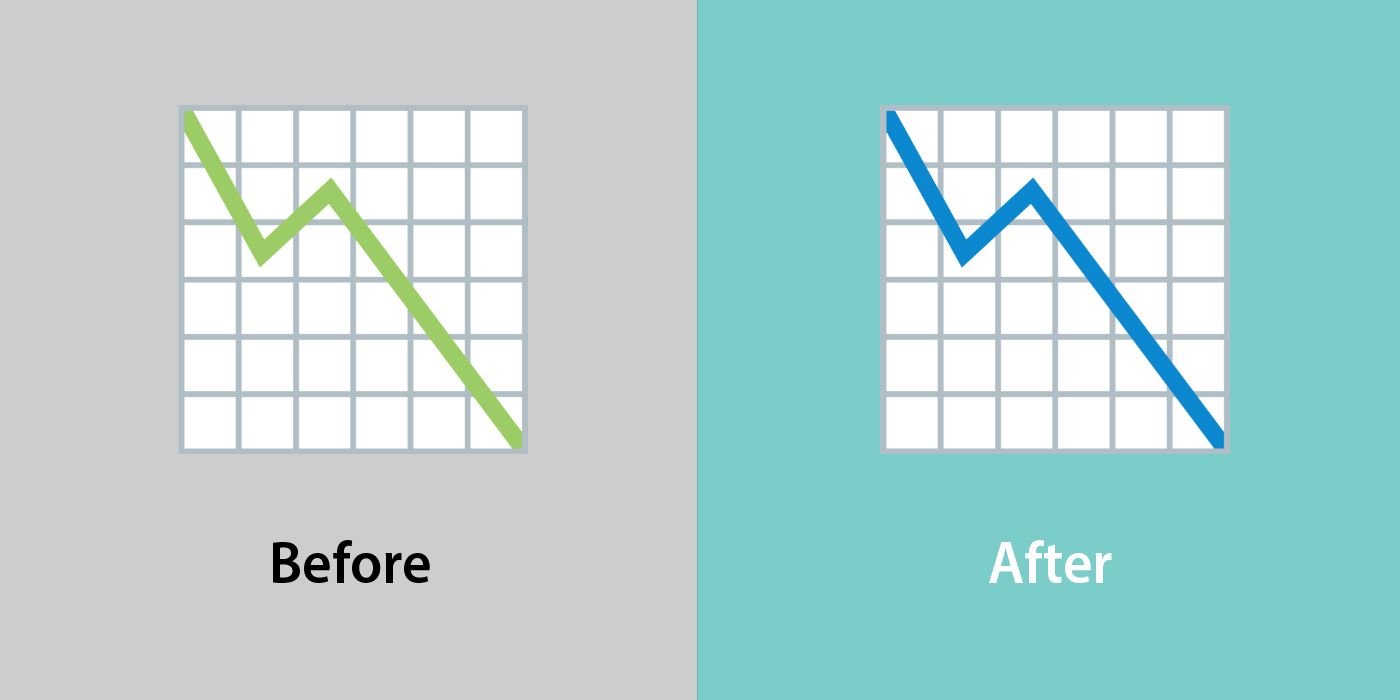 🌐 Google's Extended Emoji Support
Ahead of World Emoji Day this year, Google announced the incorporation of their EmojiCompat library into the more-widely-used AppCompat library upon the release of Android 12.
What this means for Android users is that many popular apps will be able to support the new Emoji 14.0 emojis within them without your device having to undergo a new OS update. This will become the case once Google begins the rollout of these emojis to their various platforms and to devices via Android 12L and similar updates.
This support is not just for Android devices that use Google's emoji set natively: it is also expected that Google's Emoji 14.0 designs will appear for Samsung and LG device users when using AppCompat-enabled applications.
At the time of writing, neither Samsung nor LG devices have access to late 2020's Emoji 13.1 recommendations or this year's [Emoji 14.0] recommendations within their device's native emoji keyboards.
However, when using applications such as Instagram and Snapchat, users of these devices have been presented with Google's designs for Emoji 13.1 emojis such as 😶‍🌫️ Face in Clouds, ❤️‍🔥 Heart on Fire, and 🧔‍♀️ Woman: Beard since Google introduced support for these emojis back in December 2020.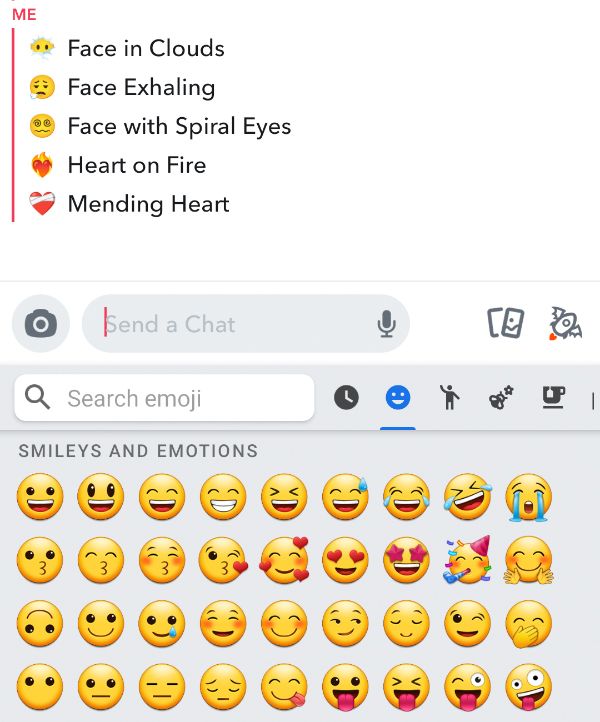 Above: Google's Emoji 13.1 designs currently appear when a fully-updated Samsung device uses applications such as Snapchat.
This is due to the fact that these apps have the EmojiCompat library enabled, either on its own right or through the newest version of AppCompat. Once Google has begun its rollout for Emoji 14.0, Samsung and LG users now also have access to Google's versions of 🫠 Melting Face, 🫡 Saluting Face, 🫶 Heart Hands, and all other new emojis introduced in this update.
While it is not expected that LG will introduce any additional emoji support following the release of their LG Velvet device, Samsung is expected to introduce Emoji 13.1 emojis to their custom emoji design set in their upcoming One UI 4.0 OS update. Support for Emoji 14.0 is also expected via a future One UI OS update at some point in 2022.
Given that Samsung's Emoji 13.1 support is still not yet released, however, it is likely that Emoji 14.0 support in Samsung own emoji design set may be over a year away.
📶 Release
These new and updated emoji designs have been released via Google's Noto Emoji Github page, meaning they are considered final and will not undergo further revisions.
While not yet directly available to users, these emojis are expected to be available on eligible devices come the official release of Android 12L to larger-screened devices and a complimentary feature update on devices will smaller screens.
Eligible mobile devices will receive this emoji update as part of an update to Android 12 later in the year. This usually means Google Pixel devices at first, with other Android devices getting updates in the subsequent weeks or months.
📖 Read More
---
Alongside these variants with two distinct skin tones, Unicode's Emoji 14.0 recommendations also included five single skin tone variations of 🤝 Handshake. However, Google platforms have supported these single skin tone 🤝 Handshake versions since Android 8.0. ↩︎