What's New in Unicode 14.0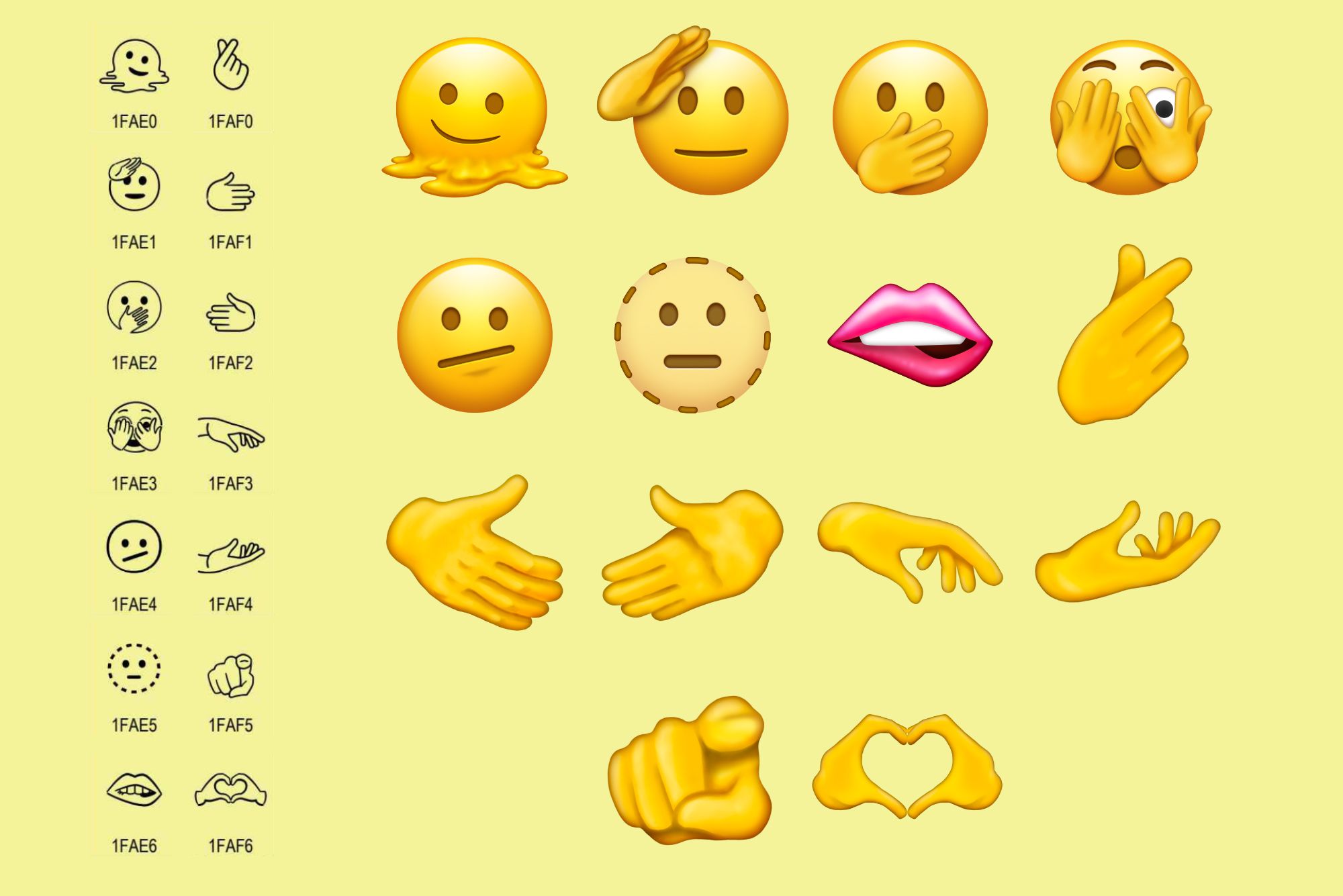 Today the latest emoji list will be released by the Unicode Consortium, with additions including Biting Lip, Troll, Saluting Face, as well as two heart-related gestures: Heart Hands and Hand with Index Finger and Thumb Crossed (aka finger heart, popular in K-Pop circles).
The release date for version 14.0 of the Unicode Standard was aptly set for the 14th day of September, and formalizes what has until now been only a draft release.
Browse Unicode 14.0 on Emojipedia or see the Unicode 14.0.0 release notes provided by the Unicode Consortium.
Among the 838 new characters in #Unicode14 are 37 new #emoji, along with new emoji sequences, that are expected to show up on 📱s, 💻s, and other platforms sometime next year → https://t.co/deSr1g6m8k #絵文字 pic.twitter.com/xuTf8Os02K

— The Unicode Consortium (@unicode) September 7, 2021
🧮 How Many?
Unicode 14.0 includes 838 new characters, of which 37 are brand new emoji code points.
Additionally, 75 skin tone variations do not require new code points, and are included as part of Emoji 14.0 making for a total of 112 new emojis on their way to devices in the coming months.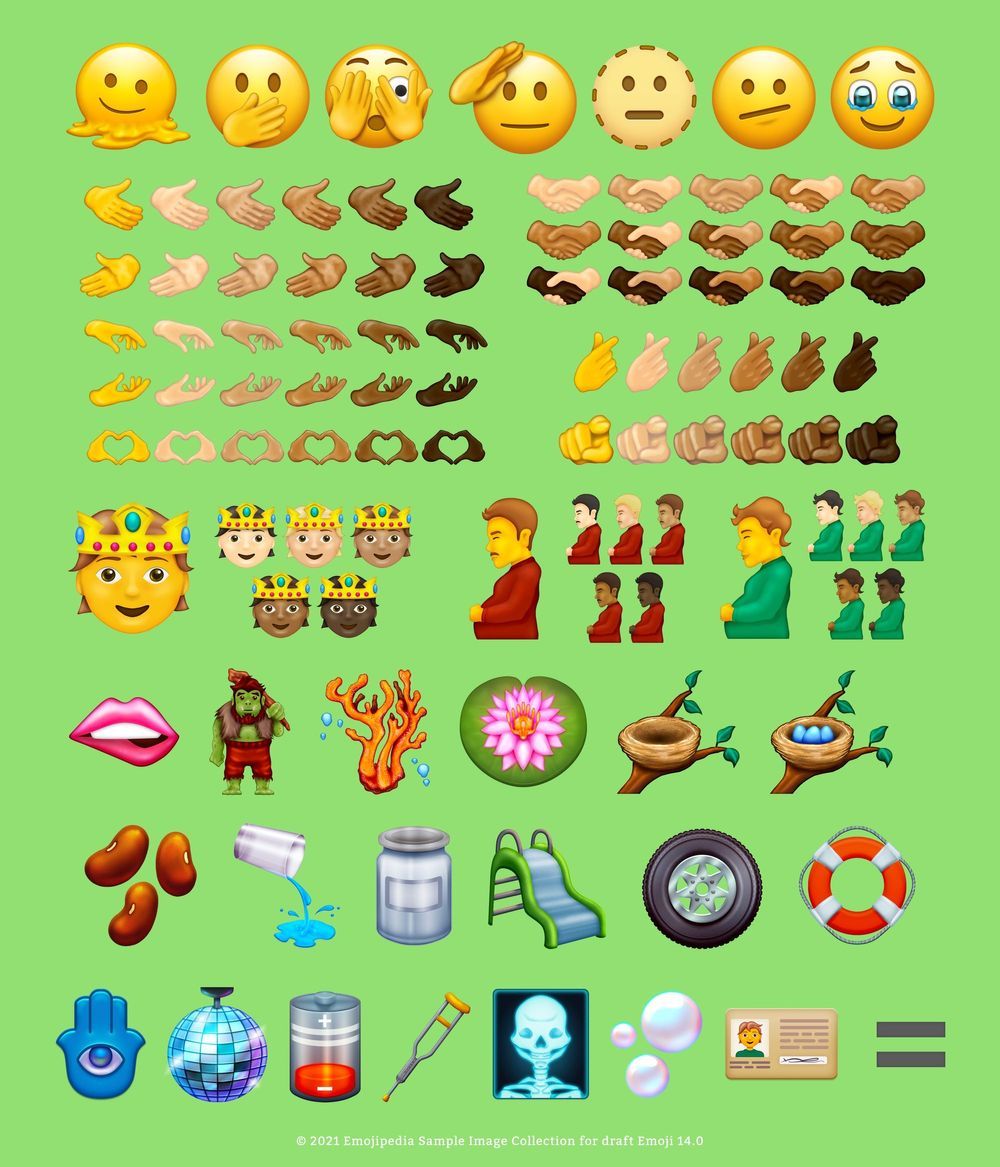 Above: Emojipedia Sample Images for Emoji 14.0. Image: Emojipedia.
No changes have been made to the draft emoji list since we last took a look on July 17, aka World Emoji Day.
As of Emoji 14.0, there are now a total of 3,633 emojis.
The distinction between Unicode 14.0 and Emoji 14.0 is that the latter includes sequences where two or more code points can be combined to display a single emoji. By way of example, Emoji 13.1 only included emoji sequences, and came out at a separate time to any full Unicode release.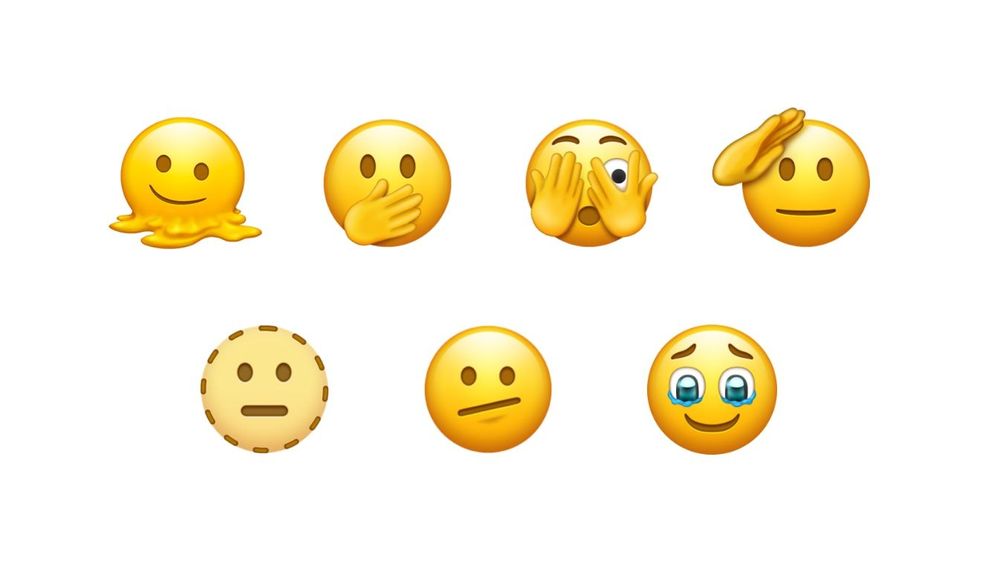 Above: Seven new smileys in Unicode 14.0. Image: Emojipedia Sample Image Collection.
🆕 Emoji Updates
Amongst the new emoji characters in this release are Coral (partly to represent the effects of climate change), Mirror Ball
Gender options for pregnancy have been added using new code points in this release. A change to the usual format where emoji sequences are used for gender variations. Pregnant Person and Pregnant Man are both new code points, part of Unicode's ongoing effort to make gender options consistent for all emojis.
All new code points can be seen in the relevant Unicode documentation.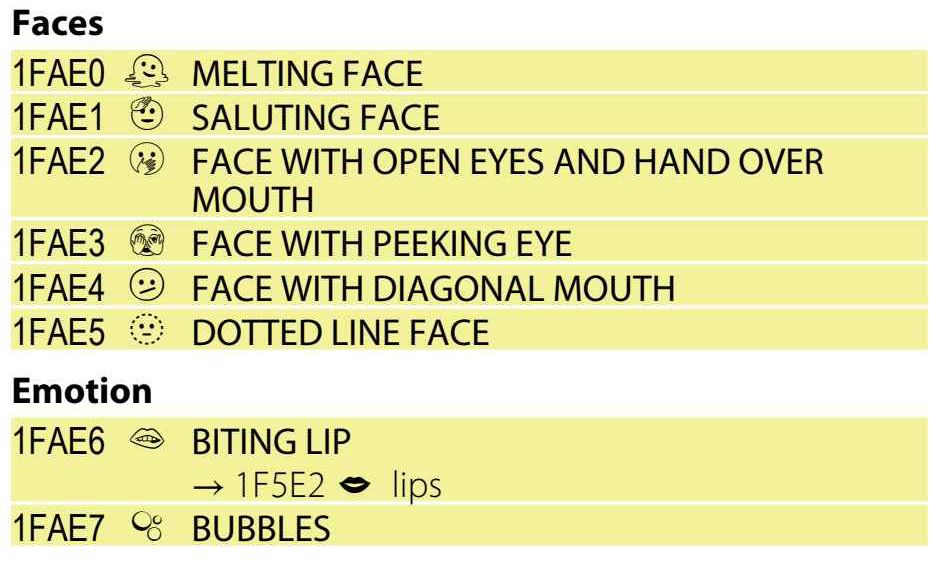 While formal documentation for the Unicode Standard only provides glyphs in black and white, color emoji implementations can and do vary from these designs.
New entries are shown in yellow and other additions include Nest with Eggs as well as Empty Nest, Jar, Identification Card, and Low Battery.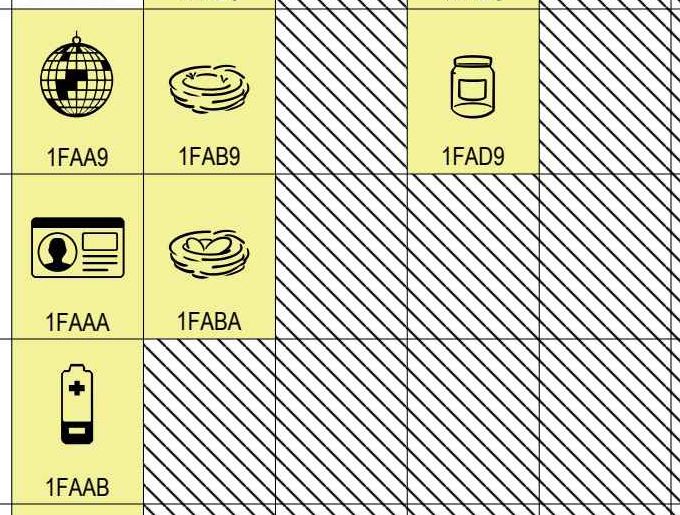 Proposals for new emojis can come from a variety of sources, including members of the public. Example color images are commonly shown on pages of new emoji information by Unicode and come from various sources. These are intended to convey the preferred design choices for vendors when implementing emojis.
In recent years new updates have been more closely aligned to these color images than in the past. While the designs shown on these emoji information pages aren't formally part of the Unicode Standard, they do provide useful direction for implementors.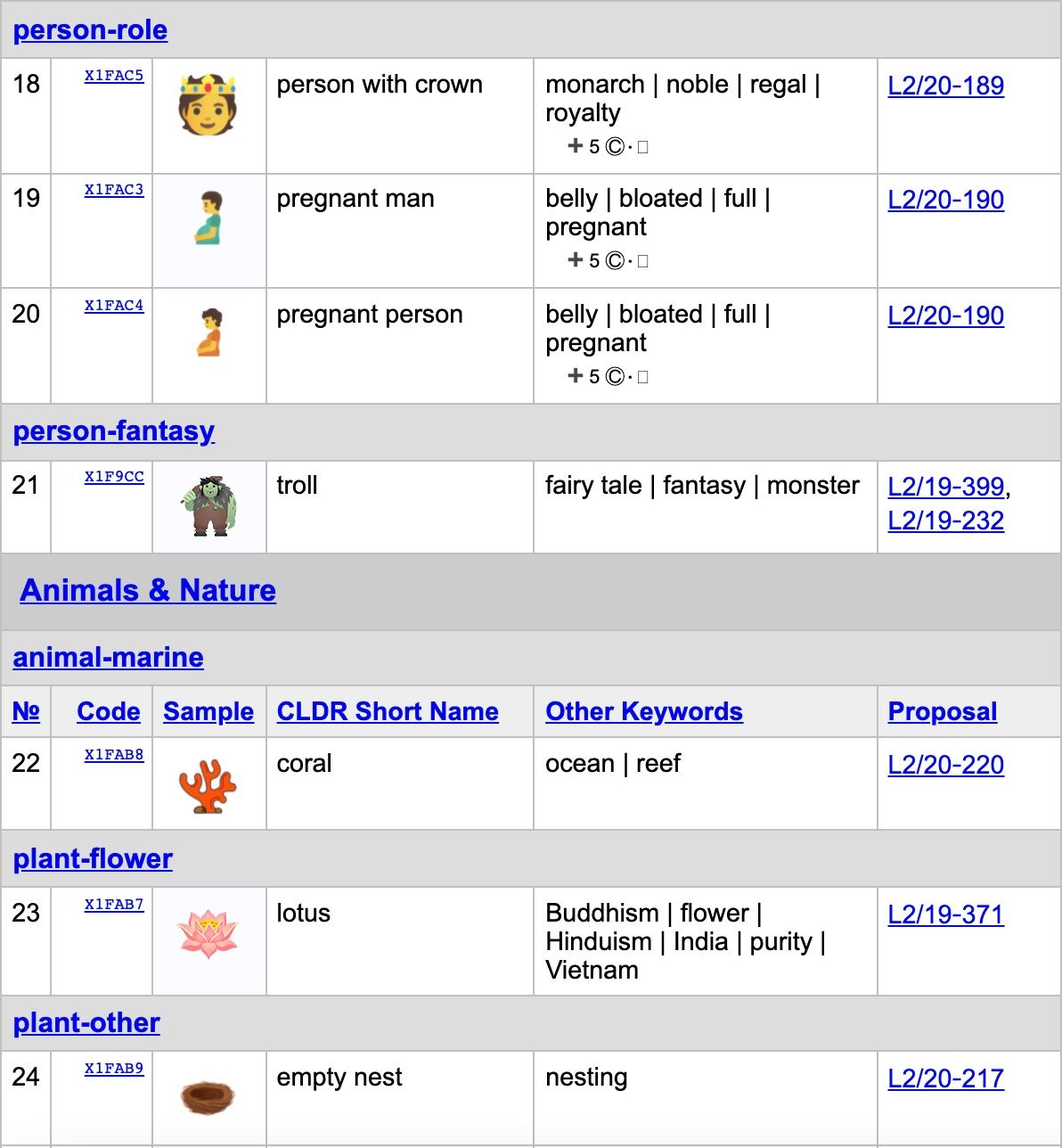 All new people in the emoji set support the five standard skin tones commonly found for existing emojis, as do the six new hand gestures.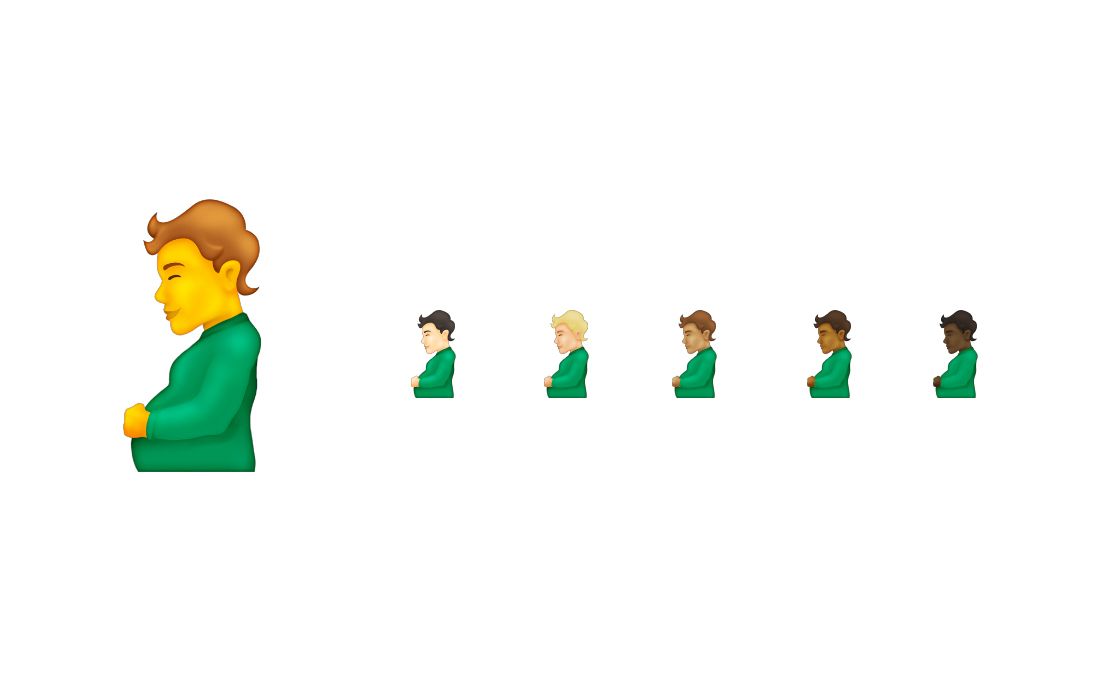 Above: Pregnant Person is new in Unicode 14.0, with skin tones supported in Emoji 14.0.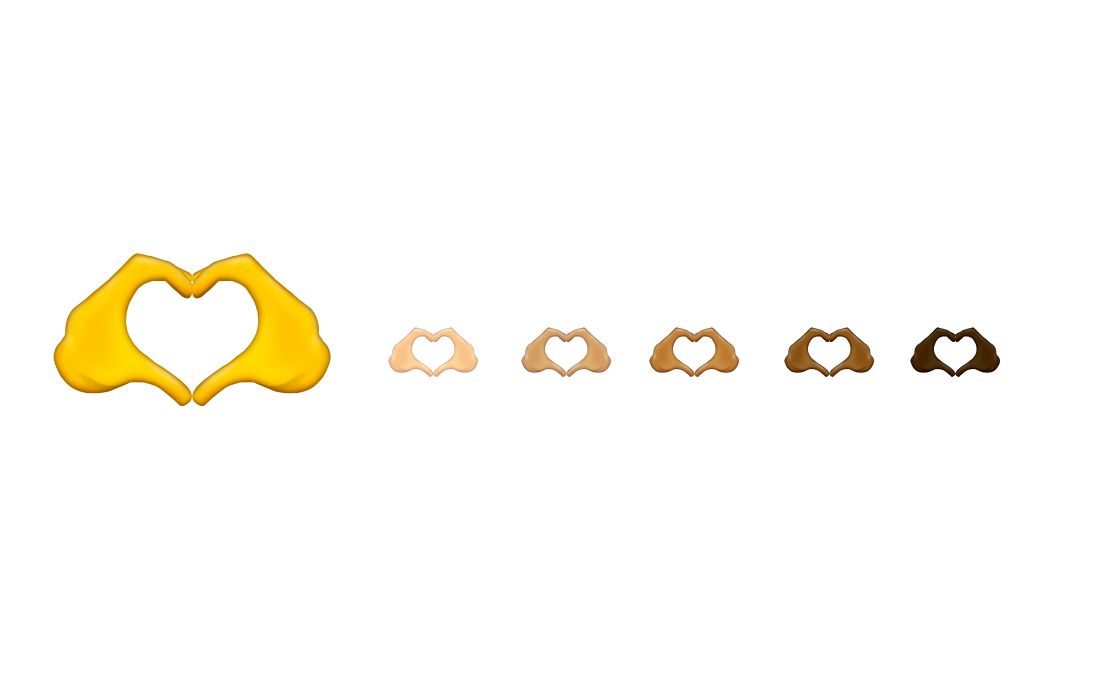 Above: Emojipedia's sample image for Heart Hands alongside its skin tone modifier variants.
The new Pregnant Man and Pregnant Person emojis has received a notable amount of attention. Addressing these emojis in on the blog Emojipedia blog, our Senior Emoji Lexicographer Jane Solomon has stated:
The new pregnancy options may be used for representation by trans men, non-binary people, or women with short hair... People of any gender can be pregnant too. Now there are emojis to represent this.
With the release of Emoji 14.0, major platforms will for the first time support 🤝 Handshake with a combination of skin tones in the coming year. This is due to two new individual hand characters in Unicode 14.0 being given 25 handshake sequences in Emoji 14.0. Why 25? Five skin tones choices per hand means 5 x 5 = 25.
Previous versions of the Unicode Standard only listed the default-yellow handshake as RGI (Recommended for General Interchange - aka likely to work on all platforms).
Most vendors except Apple extended this support to allow a shared skin tone (eg a black handshake, brown handshake, or white handshake) ahead of formal recommendation from Unicode.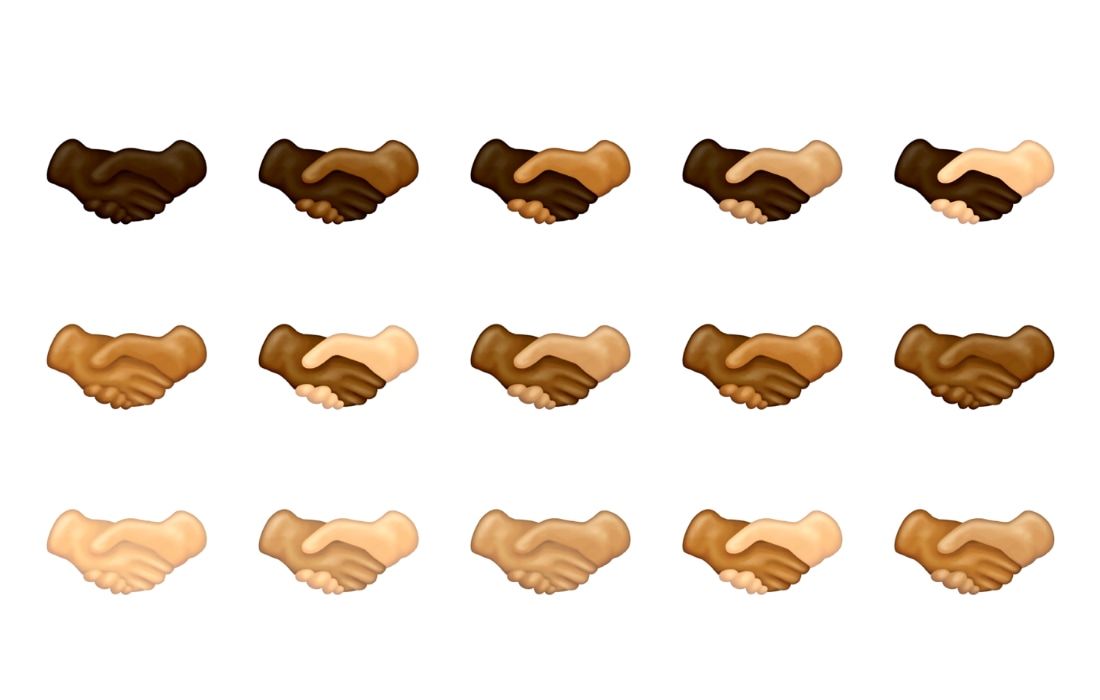 When this emoji update comes to each platform, all of the shared and mixed skin tone handshakes will become available for cross-platform use.
🤭 Disambiguation
One new emoji approved in Unicode 14.0 is in place to fix a cross-platform display issue with 🤭 Face with Hand Over Mouth. The current version of this emoji displays with smiling laughter on most platforms, but serious on iOS and Facebook.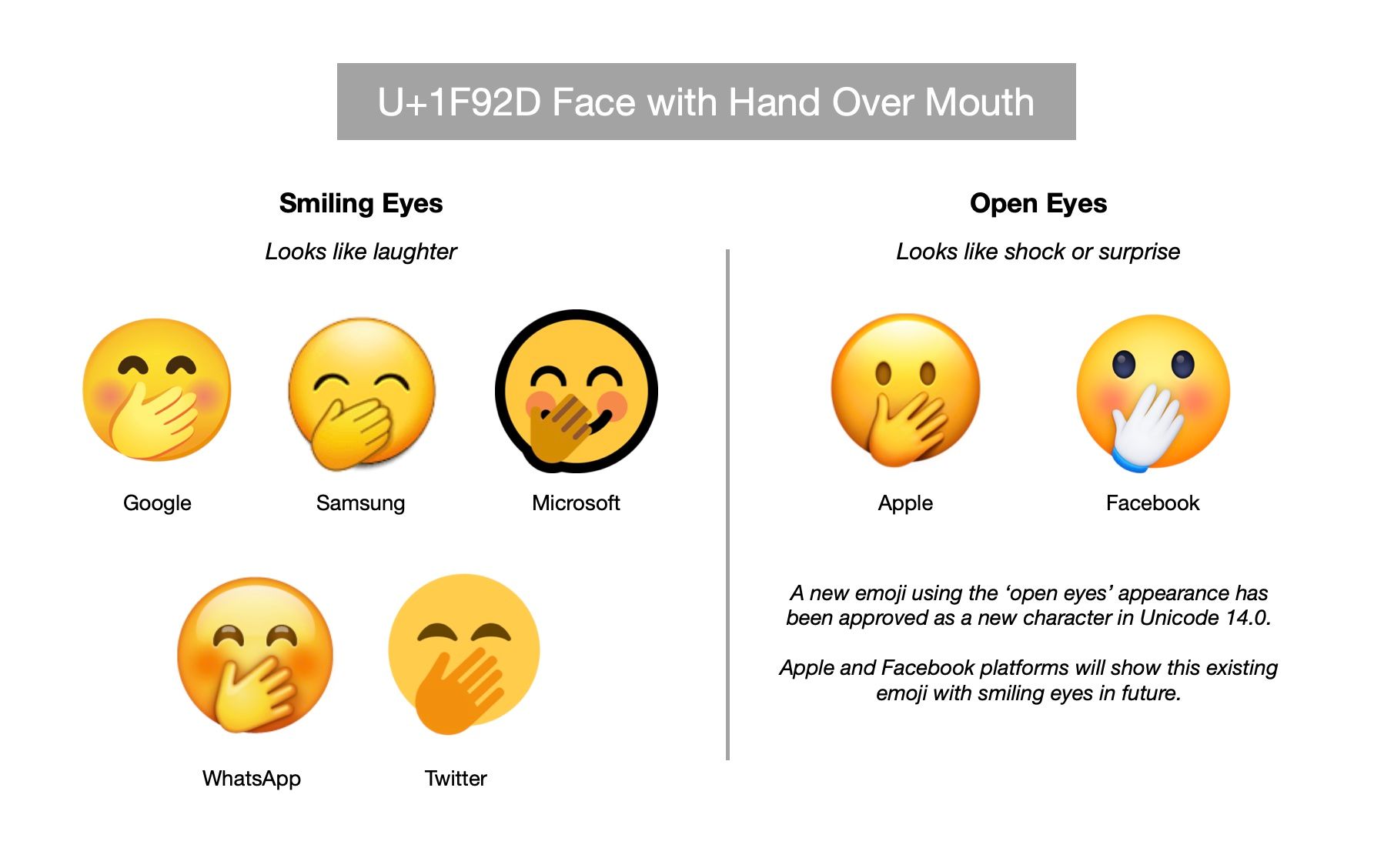 Above: 🤭 Face with Hand Over Mouth will appear smiling on all platforms in future. Image: Vendor designs / Emojipedia composite.
A new character Face with Open Eyes and Hand Over Mouth will take on the serious 'open eyes' appearance on all platforms in future. This will likely result in Apple and Facebook updating their existing 🤭 emoji to show laughter.
Win for cross-platform compatibility, though people who have used this emoji on Apple platforms to mean shock or surprise in the past should be aware it will have a different emotion in future.
🔡 Non-Emoji Updates
The majority of characters in the Unicode Standard are not emojis. Emoji updates are given priority here at Emojipedia, but its worth taking a moment to look at some of the other new characters approved in this release.
The Unicode Consortium is the non-profit standards body responsible for the Unicode Standard. Voting members include Apple, Google, Microsoft, and Emojipedia.
Regarding version this update, Unicode notes:
Unicode 14.0 adds 838 characters, for a total of 144,697 characters. These additions include 5 new scripts, for a total of 159 scripts, as well as 37 new emoji characters.
To put it in perspective, the total number of RGI emoji characters and sequences totals 3,633 in Unicode 14, compared to the 144,697 characters in the entire Unicode Standard.
Symbols added in this release (which aren't implemented as emojis) include the som currency sign used in the 🇰🇬 Kyrgyz Republic and 185 Znamenny musical notation symbols used to write Znamenny Chant.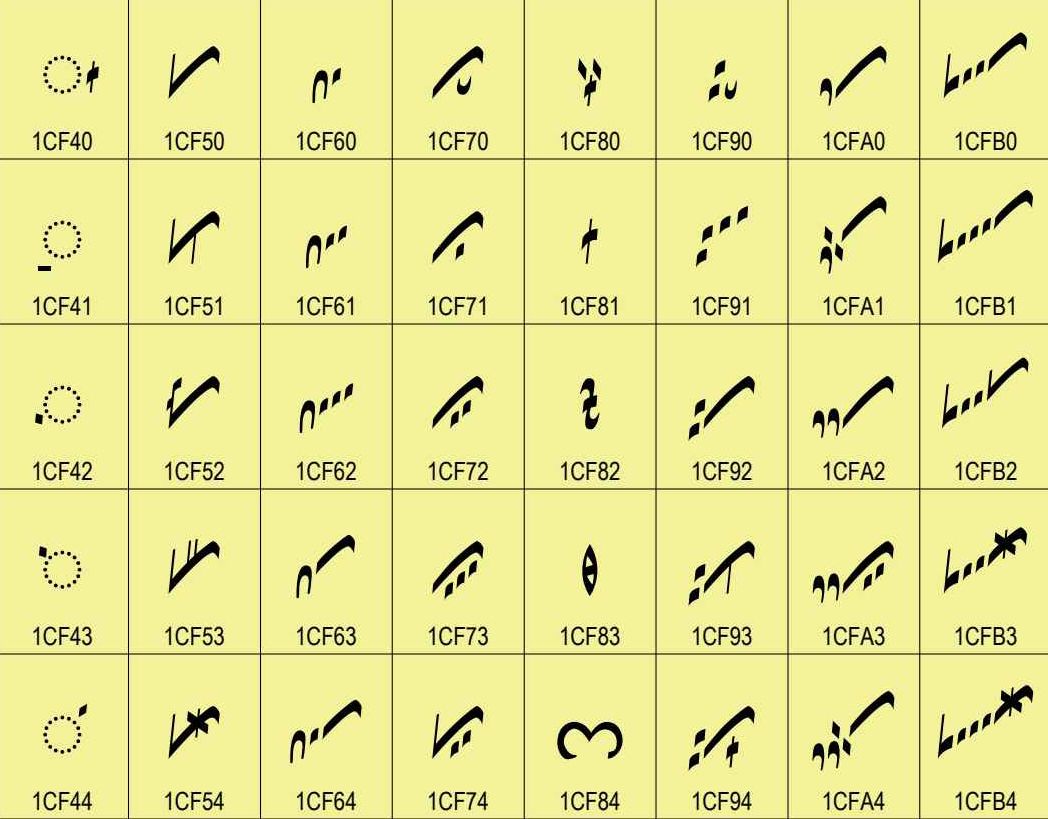 Above: New Znamenny musical notation symbols in Unicode 14.
Among the updates now approved, the Unicode Consortium highlighted the following script and characters additions in this update:
Toto, used to write the Toto language in northeast India
Cypro-Minoan, an undeciphered historical script primarily used on the island of Cyprus
Vithkuqi, an historic script used to write Albanian, and undergoing a modern revival
Old Uyghur, an historic script used in Central Asia and elsewhere to write Turkic, Chinese, Mongolian, Tibetan, and Arabic languages
Arabic script additions used to write languages across Africa and in Iran, Pakistan, Malaysia, Indonesia, Java, and Bosnia, and to write honorifics, and additions for Quranic use
See all release notes from Unicode for version 14.0.0 of the Unicode Standard.
🙅 Not Included
No emojis were removed between the final draft of Emoji 14.0 nor during the Unicode 14.0 alpha beta period.
A popular request every time there is a new emoji list approved is a pink heart. That's not included in version 14.0, but it could be coming in future.
In the past year, the Unicode Emoji Subcommittee has published a document looking at improving coverage of the heart emoji.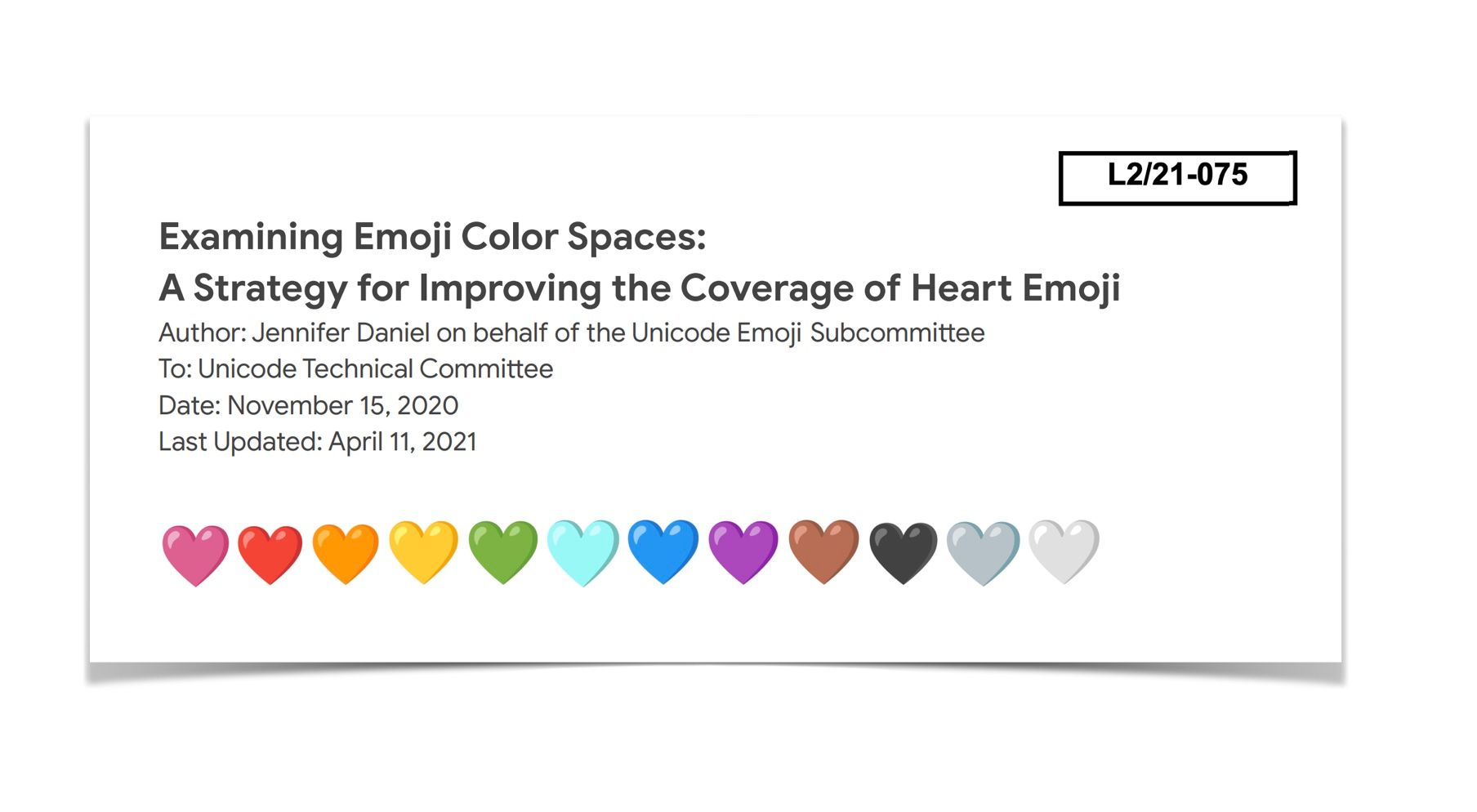 While the report stresses that this is not a formal proposal, it goes on to note the intention to:
"draft proposals for a small set of colored hearts: PINK HEART, GRAY HEART, and LIGHT BLUE HEART"
Will a pink heart make the cut for Emoji 15.0? We'll know more in 2022.
🗓️ Emoji Release Schedule
The release of Unicode 14.0 does not mean users can immediately access or use any new emoji from this list.
What today's release from the Unicode Consortium does indicate is when major vendors such as Apple, Google, or Samsung can implement these new emojis in their software.
Expect to see some companies come out with early emoji support in late 2021, and the majority of updates to take place in the first half of 2022.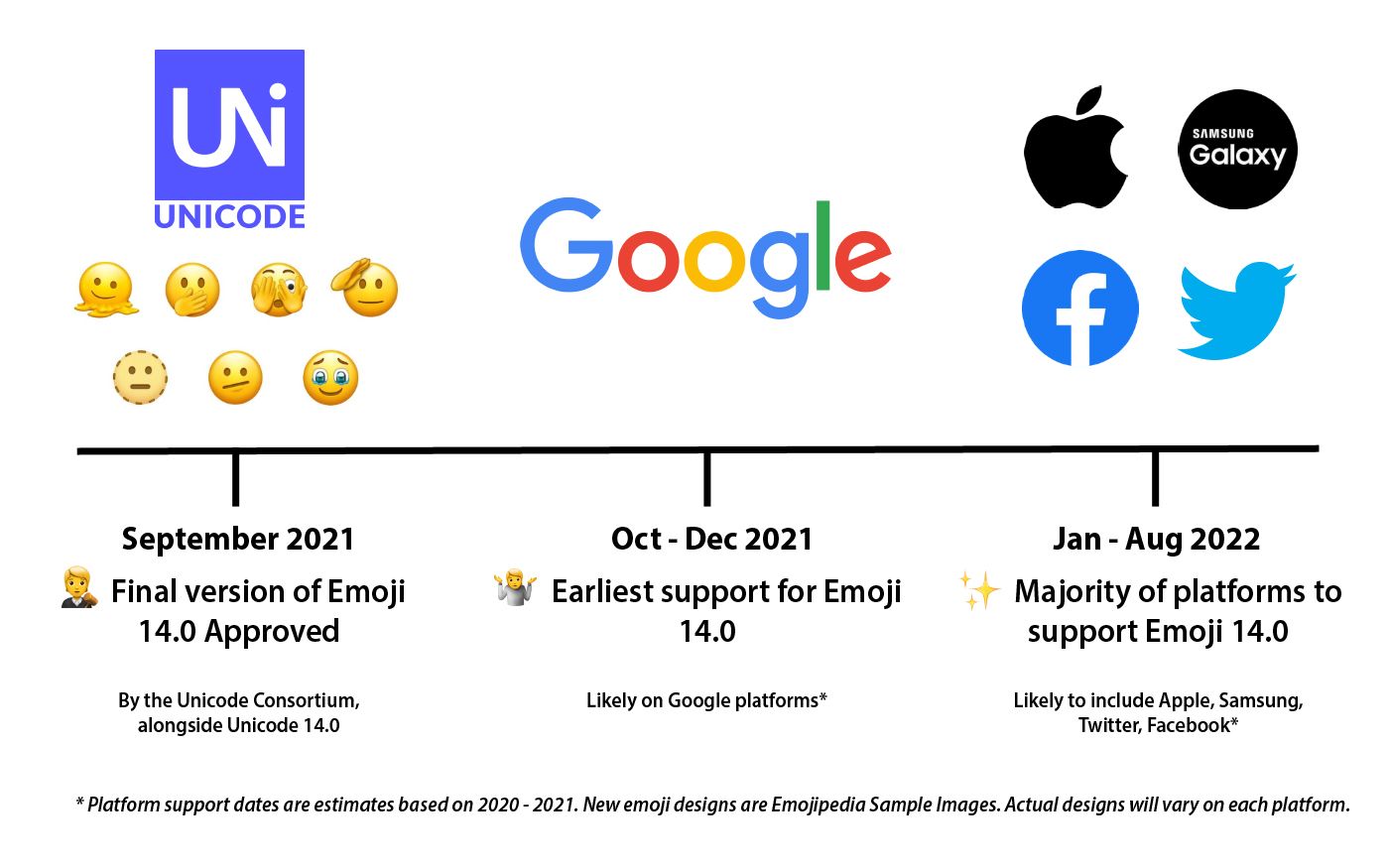 Notably, Google has announced its plans to decouple emoji updates from operating system updates in 2021, meaning faster emoji updates for more Android users in future. This makes Emoji 14.0 support on Android devices quite likely to take place in the latter months of 2021.
Apple's last major emoji update was in iOS 14.5, released in April 2021 after a longer than usual beta period. This added support for Emoji 13.1, approved in September 2020.
If Apple sticks to this release schedule, expect to see Emoji 14.0 support come to iOS 15.5 in March or April 2022. No new emojis are expected in the forthcoming release iOS 15.0 for iPhone 13.
Now that the code points for Unicode 14.0 are stable, these remain in place forever.
Sending a 🪩 won't show as a mirror ball (aka disco ball) on any platforms today, but once your app or operating system supports the latest new emoji additions, that missing character above will be replaced by a colorful emoji.
📚 Resources