Final 2017 Emoji List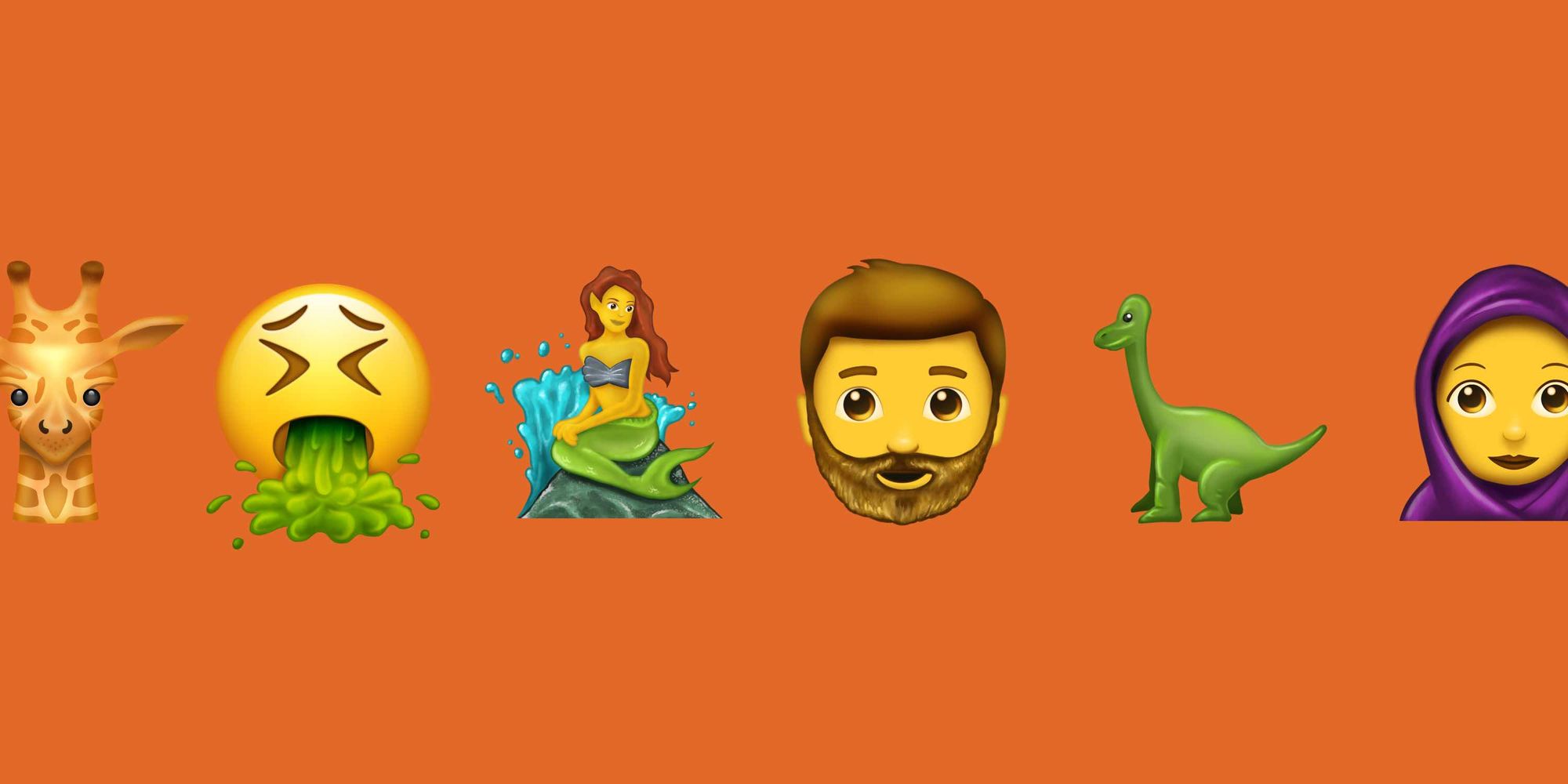 After months of work aligning Unicode 10.0 code points with new features in Emoji 5.0, the 2017 emoji list is now final.[1]
These include smileys, people, food, drink, flags, and for the first time: new fantasy characters such as a mermaid, genie, and vampire.
We are today releasing the final version of our sample images for this update. These have been designed in the "Apple style" to picture how these emojis may look when hitting phones later in the year.
Changes from past drafts include the flags of England, Scotland, and Wales. These join previously approved candidates such as vomit face, orange heart, and T-Rex.
Our sample image collection displays all 69 emojis that we expect vendors to support (minus the skin tone variations, of which we only designed a few).
Scheduled for release in June 2017, there are 239 emojis in total when gender and skin tone recommendations are taken into account.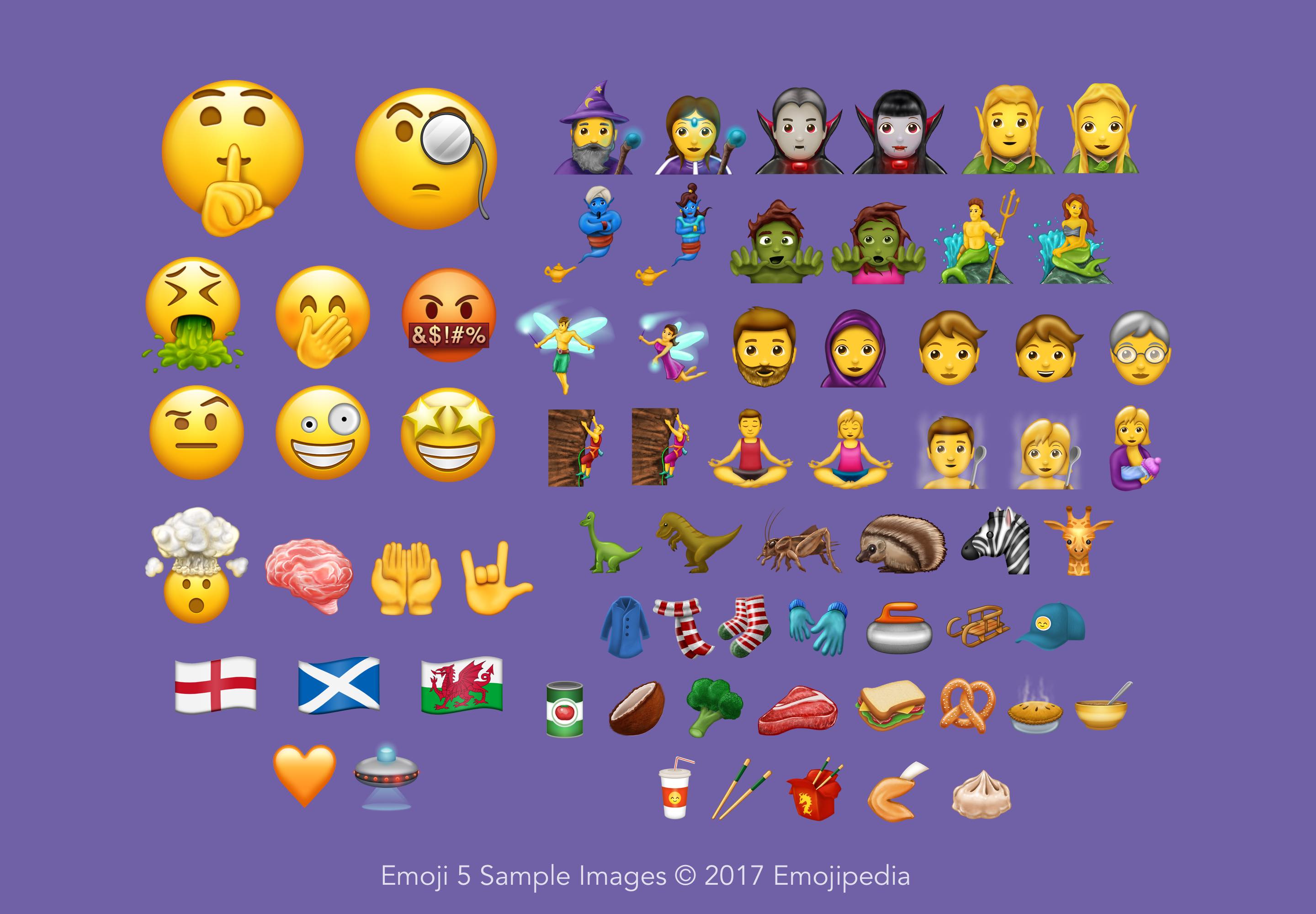 Unicode continues to work on functionality and documentation relating to Emoji 5.0 and Unicode 10.0[2]; however the emoji list is now frozen. Here it is; every emoji in the next release from Unicode: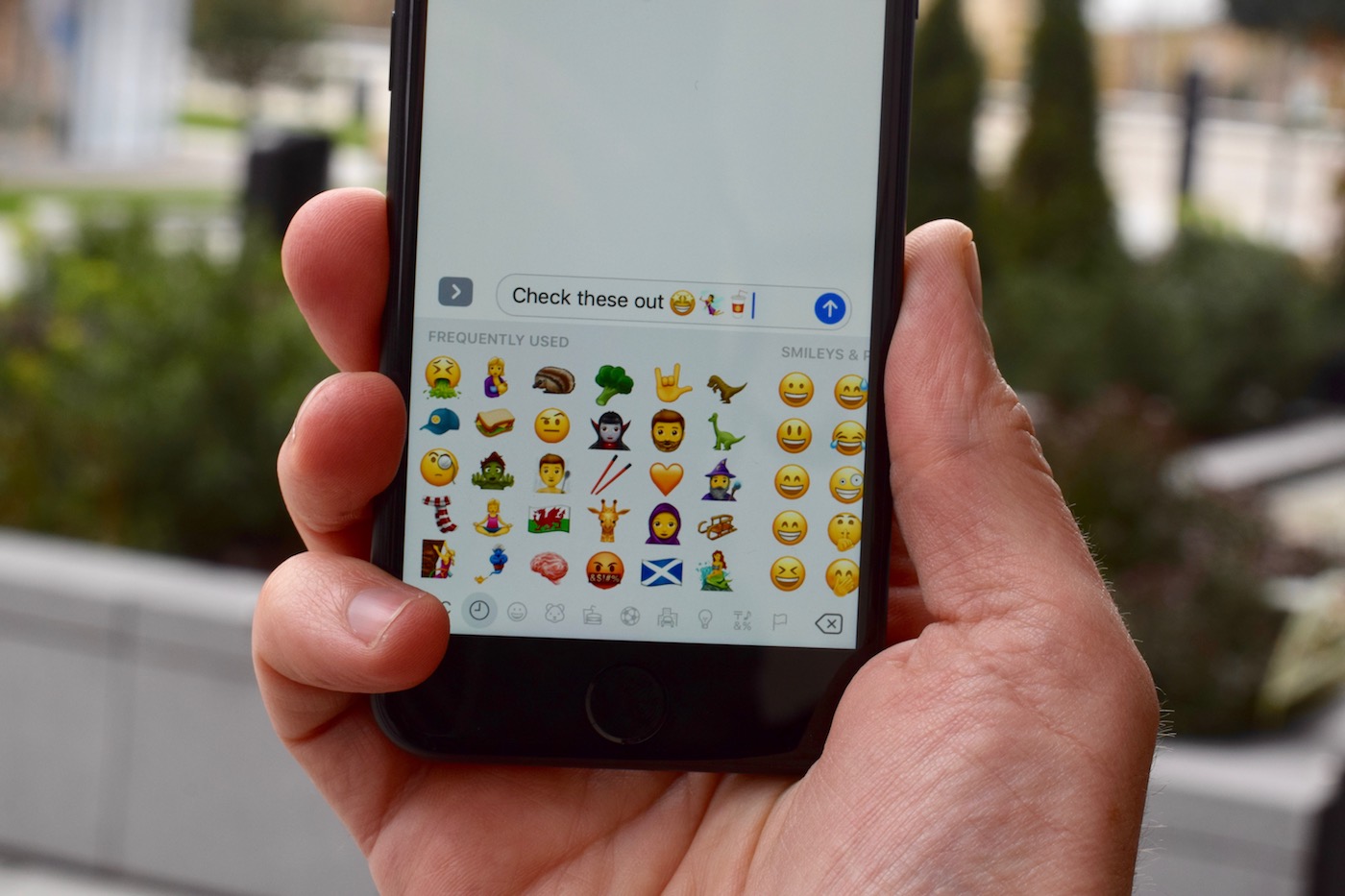 Above: How these emojis may look when Apple releases an iOS update later in 2017. Photo: Emojipedia.
Skin Tones
Documented in this final emoji list is the recommendations for which emojis will include support for skin tone modification. As a general rule, human emojis get skin tones, and yellow smileys do not.
Of the new fantasy set, support is mixed. For example, Mages have been deemed human, so they get skin tone support. Genies are not considered human, and so do not have support for skin tones.[3]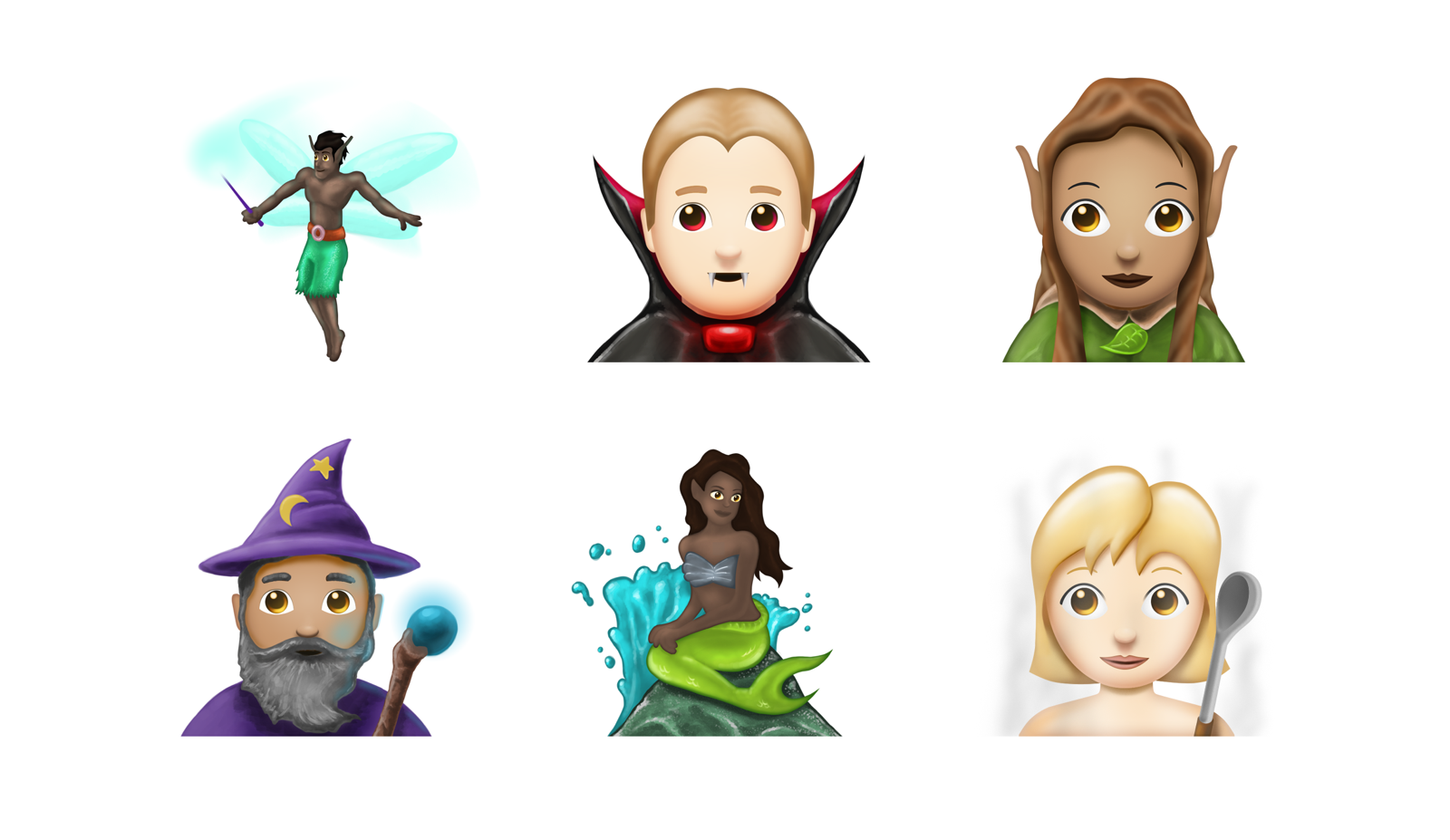 Above: These emojis feature support for skin tones.
Genders
Many of the new additions feature a base emoji, such as Person In Steamy Room or Genie, in addition to gendered versions of each.
Based on past releases, it's likely the base emoji will use one of the gendered appearances when released by major vendors.
However it is possible that a gender-ambiguous / gender-inclusive version could be shown for each of these instead.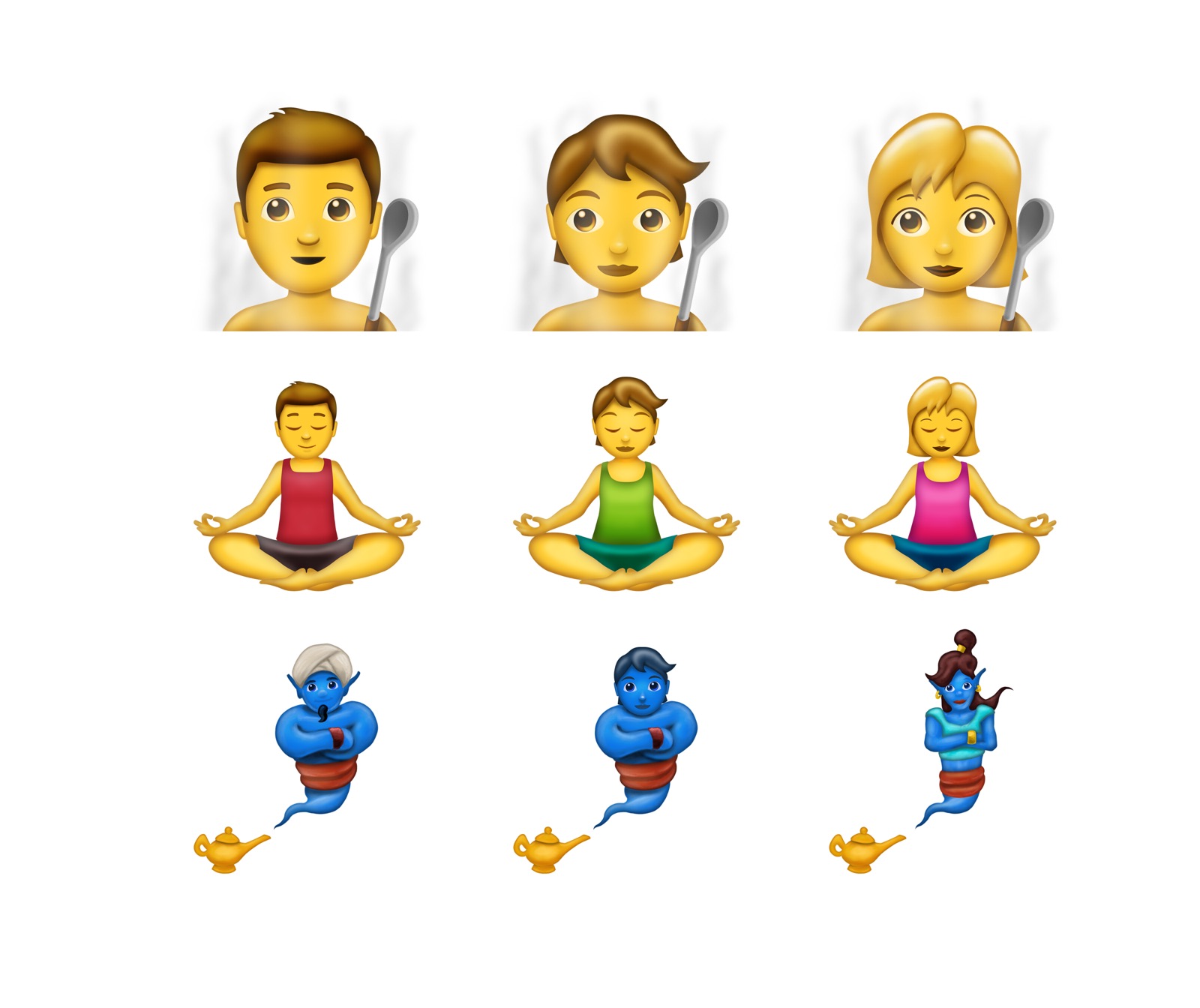 Above: How gender-inclusive variants of Person in Steamy Room, Person in Lotus Position, and Genie could look.
It's not expected that the base emoji will be used for inclusive characters in this release, but it is one option available for any vendors who wish to do this.[4]
2017 Emoji List
Note: feel free to use any of these original Emojipedia sample images in articles or videos about this emoji update. Please link to this page or our Sample Image Collection for attribution.
Smileys
Smileys in this update include a monocle wearing face, a cheeky hand-over-mouth, swearing, "mind blown", vomit, shhhh, eyebrow-raise, wild eyes, and star eyes.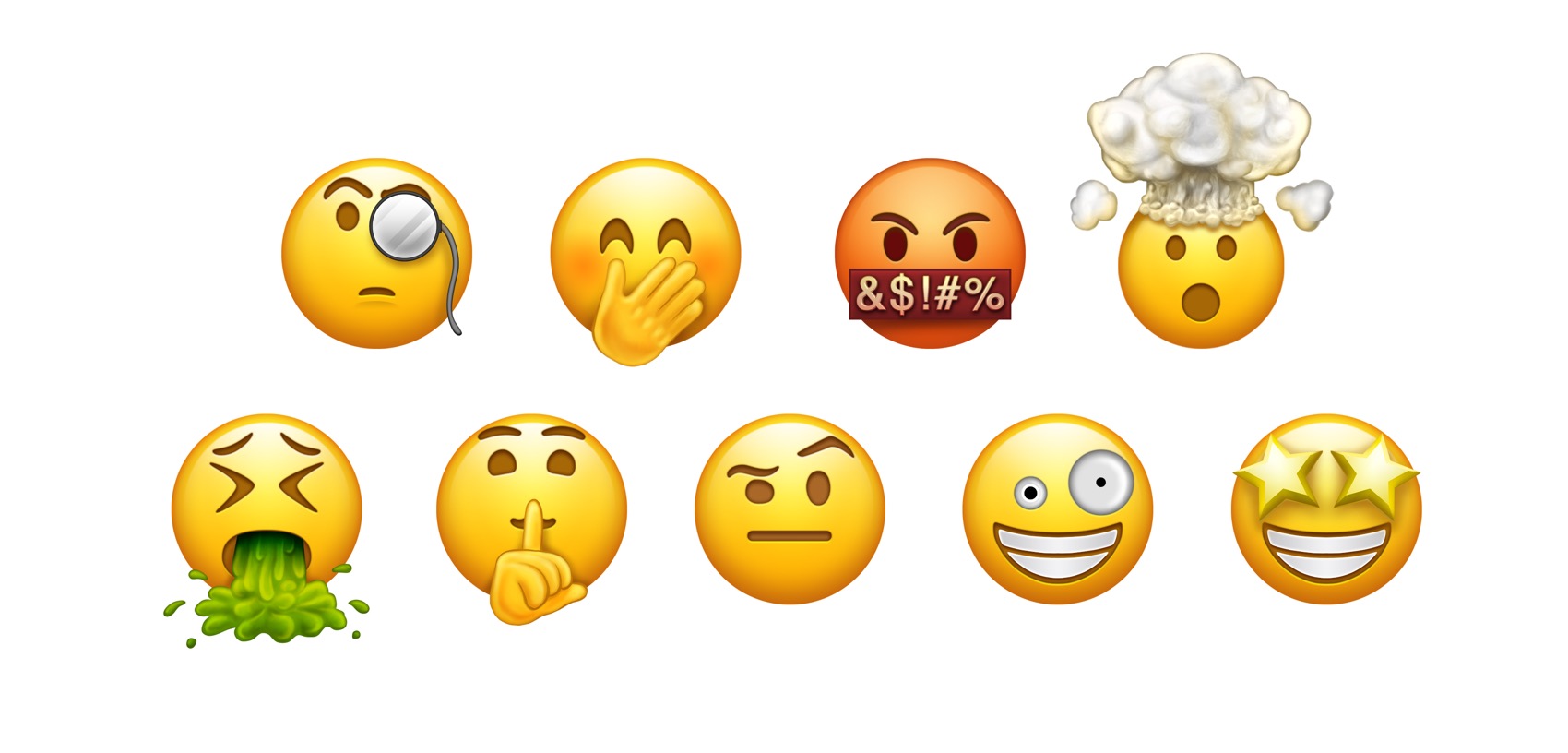 People
All of the new people in this update support skin tone modification. By definition there are no male or female versions of child, adult, and older-adult as these are intended to be gender-inclusive versions of boy/girl, man/woman, and older man/older woman.
Additionally, no gendered versions of Breast-Feeding, Bearded Person, or Person With Headscarf are in this release.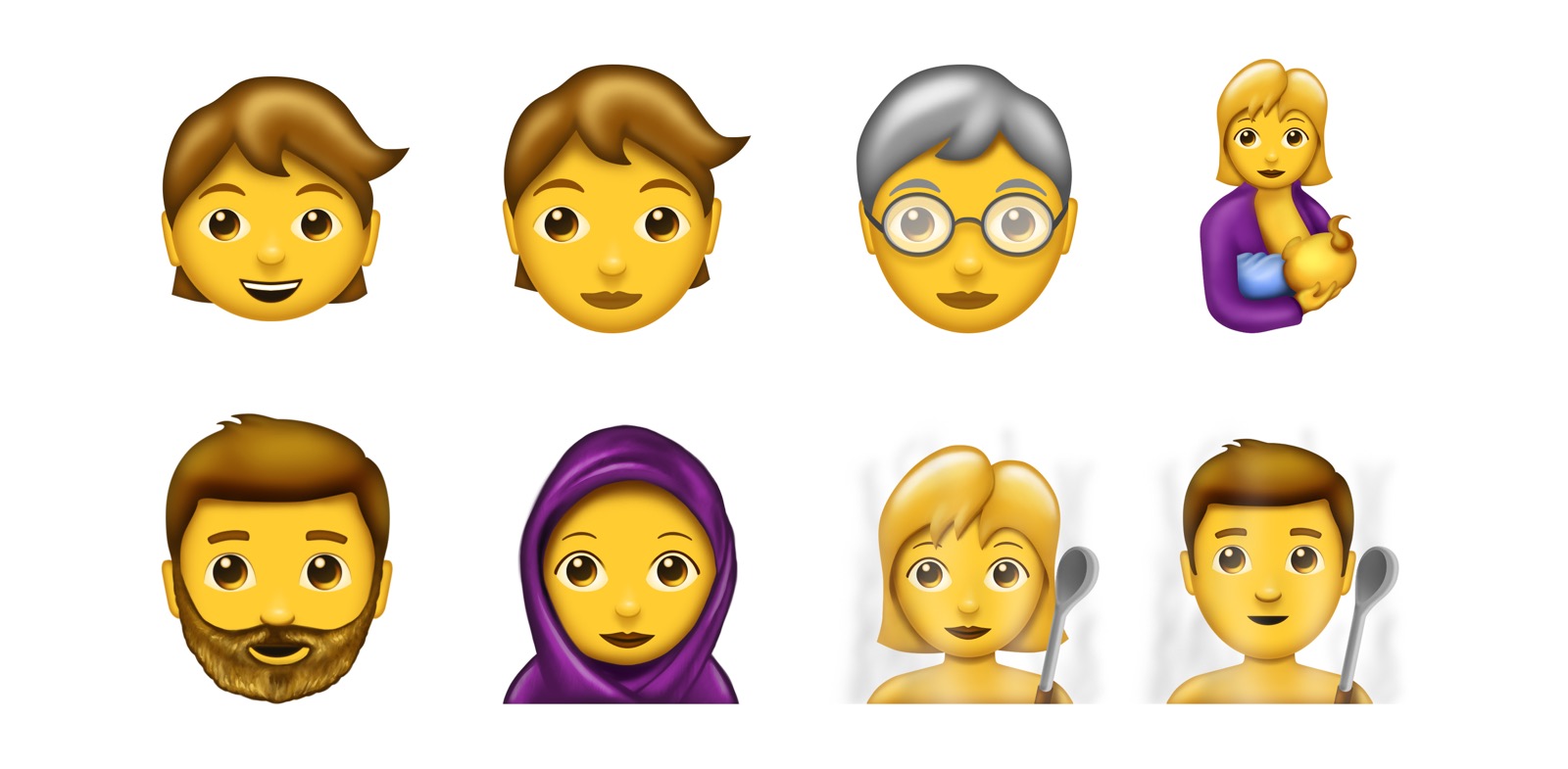 Person in Steamy Room is shown here with a female and male variation. It's yet to be seen if a gender-inclusive version of these will be supported on major platforms.
Fantasy
Al fantasy characters in this update support skin tones and genders — except the genies which are not listed as having skin, and thus no skin tone.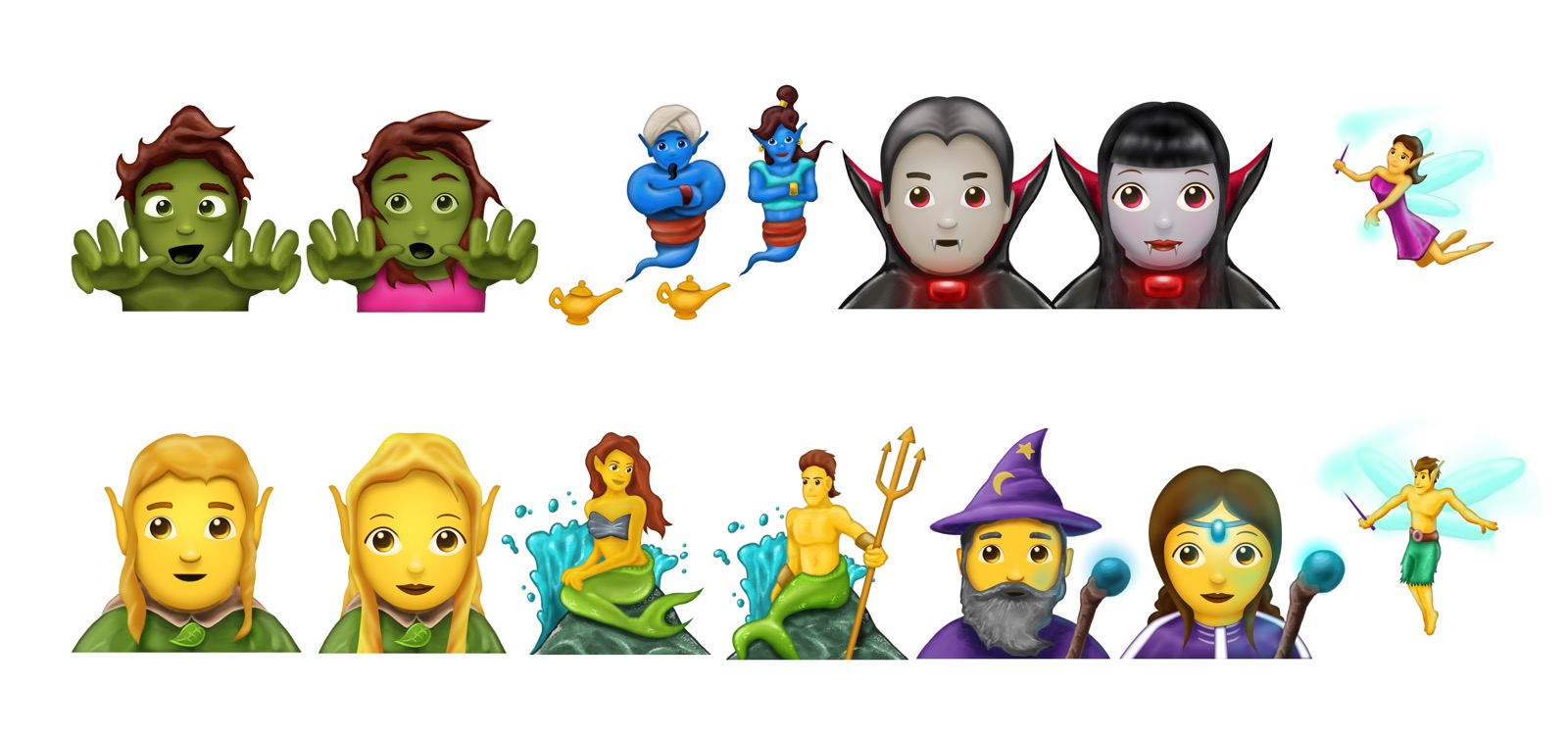 Activities
The Person in Lotus Position is intended to cover distinct activities such as meditation, or yoga. Male and female rock climbers are included, as well as the sled and curling stone to provide additional coverage for winter sports.

Clothing
The current emoji clothing collection lacks many warmer items. This update provides various winter clothes such as a coat, scarf, and gloves.
Would any vendor brand the cap with their own logo? We will have to wait and see.

Animals
Of the many animals that don't have emoji representation, six have been added in this release. Multiple proposals were made for dinosaur emojis, and the final result is one specific dinosaur (the T-Rex) and one category of dinosaurs (Sauropod).
Emojipedia have overwhelmingly shown support for a giraffe emoji over all others in the past.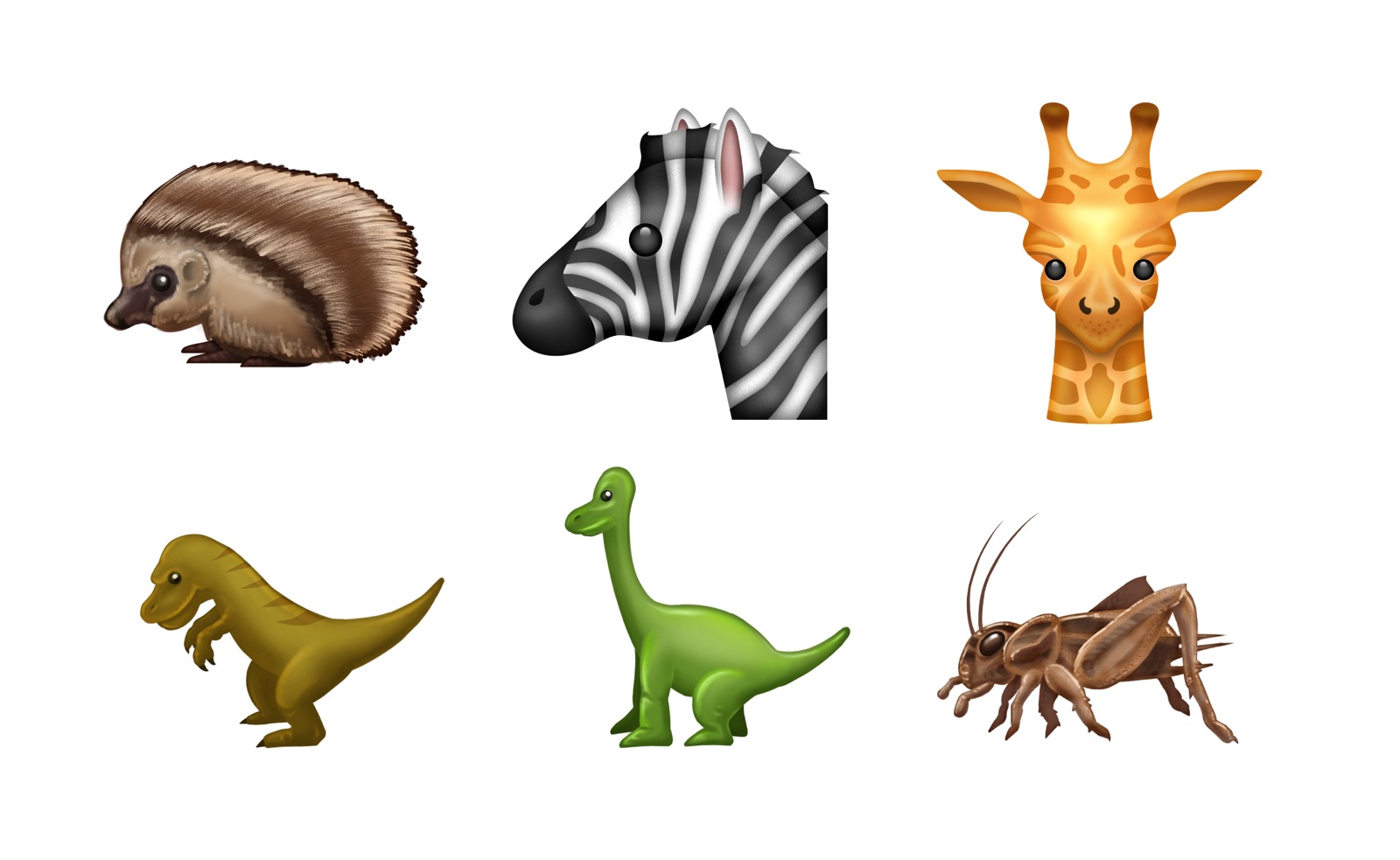 Food & Drink
A large range of new food items appears in this release, with a sandwich, soda cup, pie, dumpling and pretzel being some of the more popular.
Vegetables aren't well addressed at present, and the broccoli goes some way to restoring balance.
Chopsticks are also available separately from the take-out container, which will compliment last year's release of the spoon emoji.


Above: New food and drink emojis include a sandwich, coconut, and pie.
Flags
Emoji 5.0 includes wide support for new flag types, and three are recommended for vendor support in this release.
These are the flags of England, Scotland, and Wales. More on flag support below.

What Else?
A brain, flying saucer, Orange Heart (to complete the rainbow of colored hearts), and two new hand gestures round out this release.
Proposed but not approved were many other hand gestures including shaka and west coast hand.

More Flags
Part of Emoji 5.0 is a new feature called Emoji Flag Sequences, which allows for additional flags to be supported.[5]
This update now allows ISO subdivisions to be supported as emoji flags too, which dramatically increases the potential number of flags which could gain support.
In Emoji 5.0, three new flags have been recommended for support by vendors: England, Scotland, and Wales.
Vendors are now able to support additional flags such as Catalan, Texas, Northern Ireland, or any of the Liberian County Flags if they wish.


Above: Liberian County flags are valid Emoji Flag Sequences sequences in Emoji 5.0. Vendors can support these, even though they are not on the recommended list. Image: Emojipedia.
The primary restriction on new flag support is the subdivision must be available in this list.
Release
The emojis included in Emoji 5.0 are now final as of 2017-03-27.
Unicode 10.0 is expected to be released in June 2017, and is required for many of the new emojis listed in Emoji 5.0.
Regarding the selection, Unicode President Mark Davis told Emojipedia:
"This 5.0 update of new Unicode emoji is designed to cover a range of popular requests that we received during 2016. It covers the 56 emoji characters that will be in Unicode 10.0, plus 183 emoji sequences used for gender and skin-tone variants, and the 3 new flags for England, Scotland, and Wales.
It has been finalized and released before the Unicode 10.0 release in June, so that vendors can prepare their image designs and code in advance."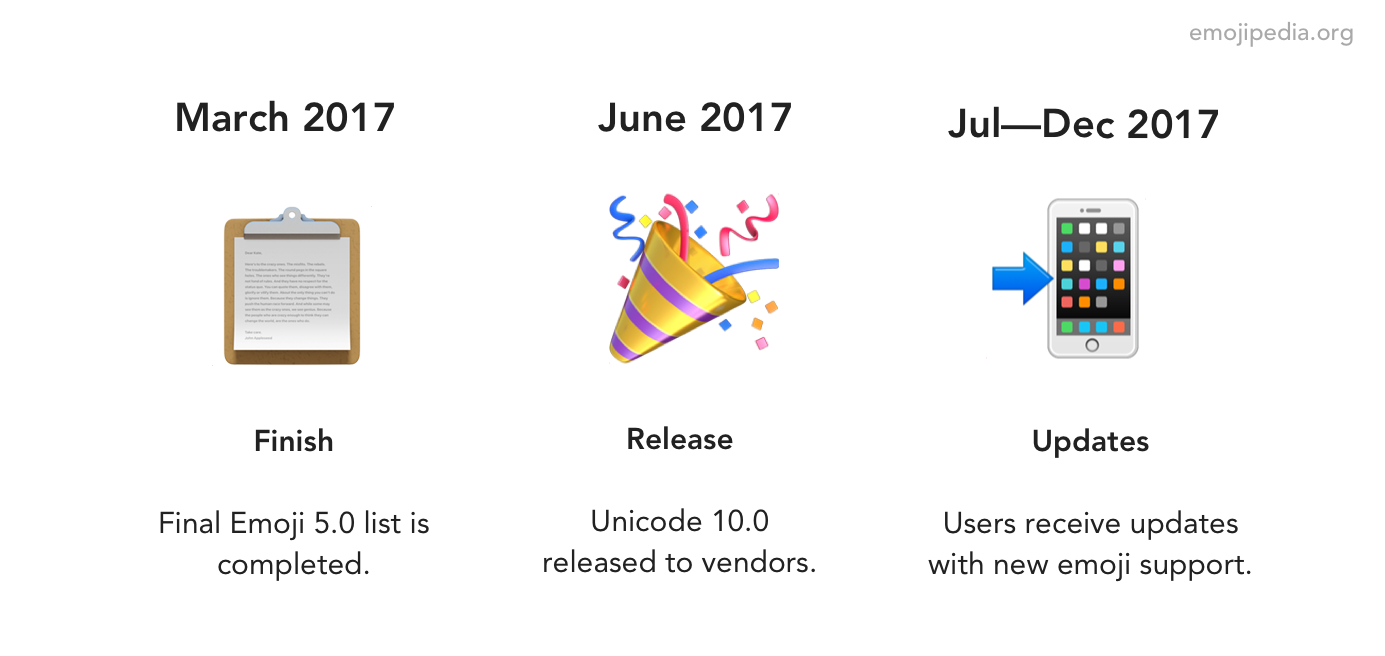 Above: Expected timeline of Emoji 5.0 in 2017.
Expect to see these on most major operating systems in the second half of 2017.[6]
What's Next
There are two possibilities for the next emoji list after this:
A new Emoji 6.0 release could be created and released between now and mid-2018. This would be able to include new flag sequences, or ZWJ sequences. Additionally, an emoji update can grant an existing Unicode character emoji presentation.

Alternatively, if the next emoji release requires new code points, the soonest that could be released is mid-2018 when Unicode 11.0 comes out.
It's premature to know which approach would be taken at this stage, and more may become clear after the release of Emoji 5.0 in June 2017.
Be First 🥇
Sign up for our free, monthly email so you're first to know the latest emoji news. Emoji Wrap is published monthly, and we won't use your email for anything else.
👇 Your email address 👇
---
---