230 New Emojis in Final List for 2019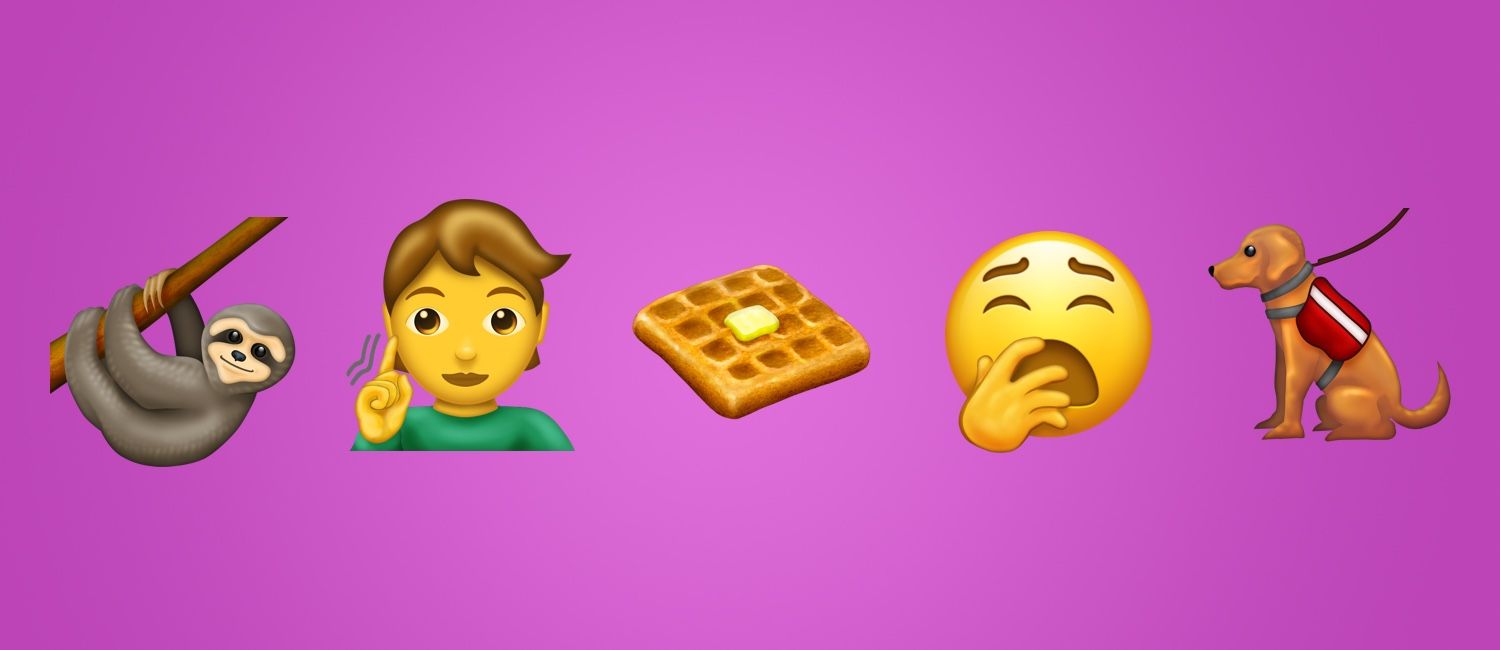 The final emoji list for 2019 has now been approved by the Unicode Consortium and includes a total of 230 new emojis coming to major platforms this year.
Additions include previously drafted candidates such as a Flamingo, Otter, and Guide Dog, as well as a Waffle, Hindu Temple, Sari, Sloth, and Mate.
Circles and squares gain new colors in this release and a much requested white heart emoji is now available for the first time.
Above: Every new emoji approved in 2019. Video: Emojipedia.
In the sixth major emoji update since 2014, much of the low hanging fruit has been addressed prior to this release. Skin tone support was added to the Unicode Standard in 2015, increased representation of women in 2016, gender inclusive people in 2017 and hair color additions in 2018.[1]
2019 expands the scope of people that can be represented, including people with various disabilities (proposed by Apple last year), a gender inclusive couple, as well emojis which permit a mix of skin tones for people holding hands.


Above: Evolution of the emoji set 2014—2019. Images: Apple (2014—2018), Emojipedia (2019). Emojipedia composite.
Emoji 12.0 is comprised of 59 distinct new emojis; 75 when gender variations are taken into account; and 230 new emojis when all skin tone options are also included.
Unicode's announcement today indicates that all the documentation required for vendors implement the new emoji set is now complete. Links to relevant data files, technical documentation and updated charts are all linked within Unicode's post, and will be used by developers to add emoji support to operating systems, apps, and web platforms throughout 2019.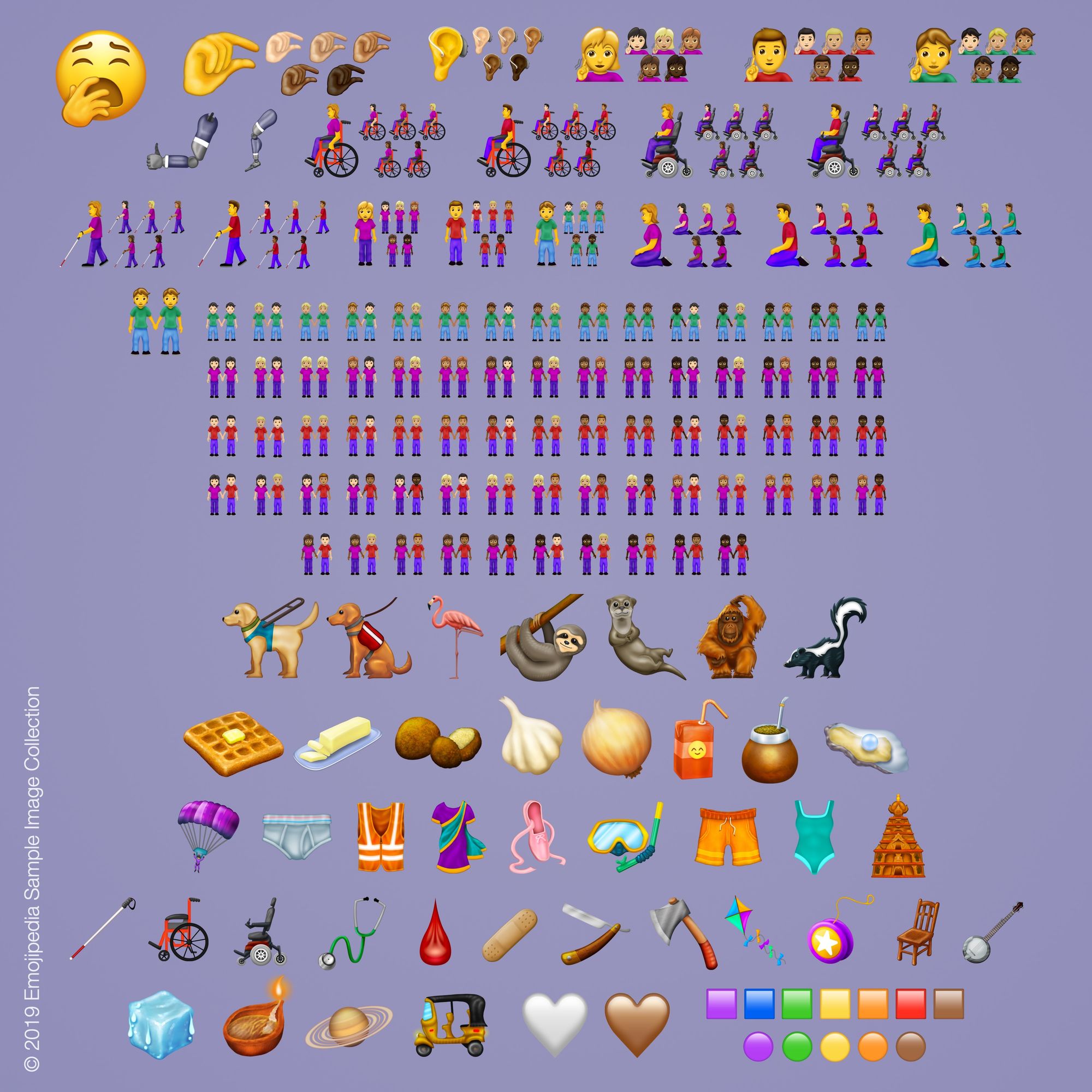 Above: All 230 emojis approved for release in 2019. Image: Emojipedia Sample Image Collection.
Emojipedia has today updated its sample images as a demonstration of how these 230 new emojis might look when coming to various systems throughout 2019.
These original designs have been created in a glossy "Apple-like" style and show the range of new emojis on offer.[2]
Please feel welcome to use these images in press coverage with attribution to Emojipedia. A link back is appreciated! For enquiries about these designs, please get in touch.
Resources
📋 2019 Emoji List
Shown below are are each of the new emojis approved in Emoji 12.0, minus any skin tone variations.
Gender Inclusive Couple
For the first time, Unicode is adding an emoji for two gender neutral / gender inclusive people holding hands in 2019, with support for different skin tones for each of the people.
This can represent either those who don't identify with the existing gender options, or merely those feel their appearance or style is closer to these designs than the options for Women or Men.[3]

People Holding Hands complements existing hand-holders that have been in the Unicode Standard since 2012:
Technically none of these are necessarily in a romantic relationship, as the official designation is merely "people holding hands". As with any emoji, the meaning comes down to context.
Mixed Skin Tones
One of the most frequent requests sent to Emojipedia is about the lack of an emoji or emojis to represent black families. Emoji 12.0 doesn't deliver any changes to the set of family emojis, but does for the first time, list options for all variations of people holding hands.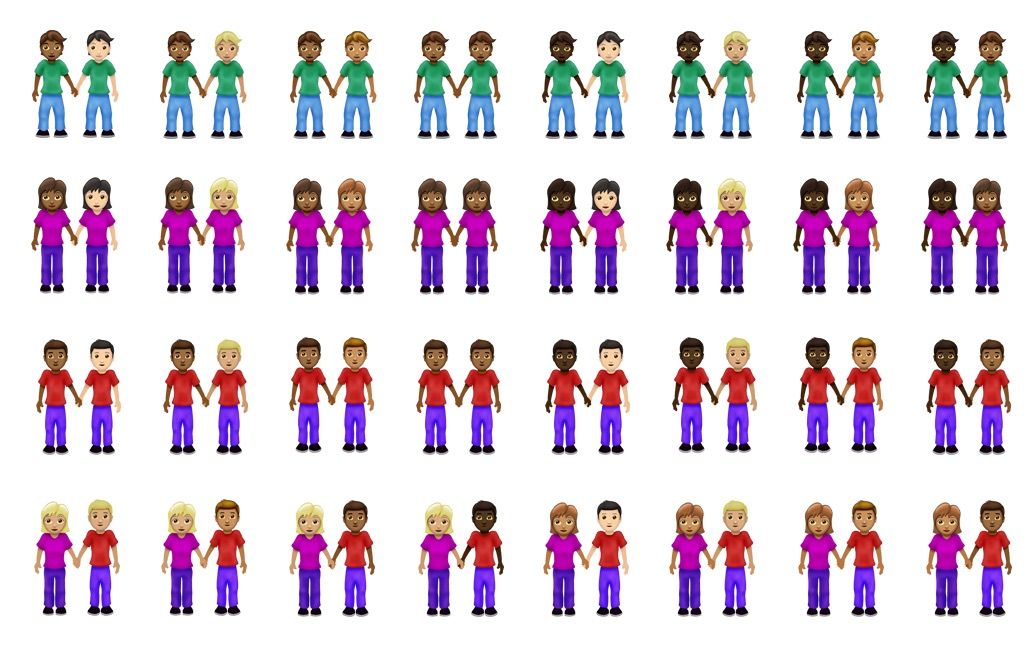 Unicode doesn't preclude vendors from supporting skin tones on families, but the list of RGI (Recommended for General Interchange) emojis in Emoji 12.0 focuses on the 70 additions required to allow these couples to have a mix of skin tones.
Facebook users already have access to families with a shared skin tone (125 combinations), and Windows users have a selection which allows a mix of any skin tone for any family member (52,000 combinations).
Colors
Until now, the mix of colors available for squares, circles and hearts has varied for historical reasons.
Most of the original shapes were added to the Unicode Standard for compatibility reasons; and a number of hearts have since been added (🖤 Black Heart in 2016 and 🧡 Orange Heart in 2017 (to complete the rainbow of hearts).
With Emoji 12.0, every shape (squares, circles and hearts) will have the choice of the following colors:
🔴 Red
🧡 Orange
💛 Yellow
💚 Green
🔵 Blue
💜 Purple
⬜️ White
⬛️ Black
📦 Brown
Hearts already cover most of these colors leaving only White Heart and Brown Heart to be added. White Heart remains one of Emojipedia's most popular requests, with many people using the non-emoji character ♡ White Heart Suit in its place.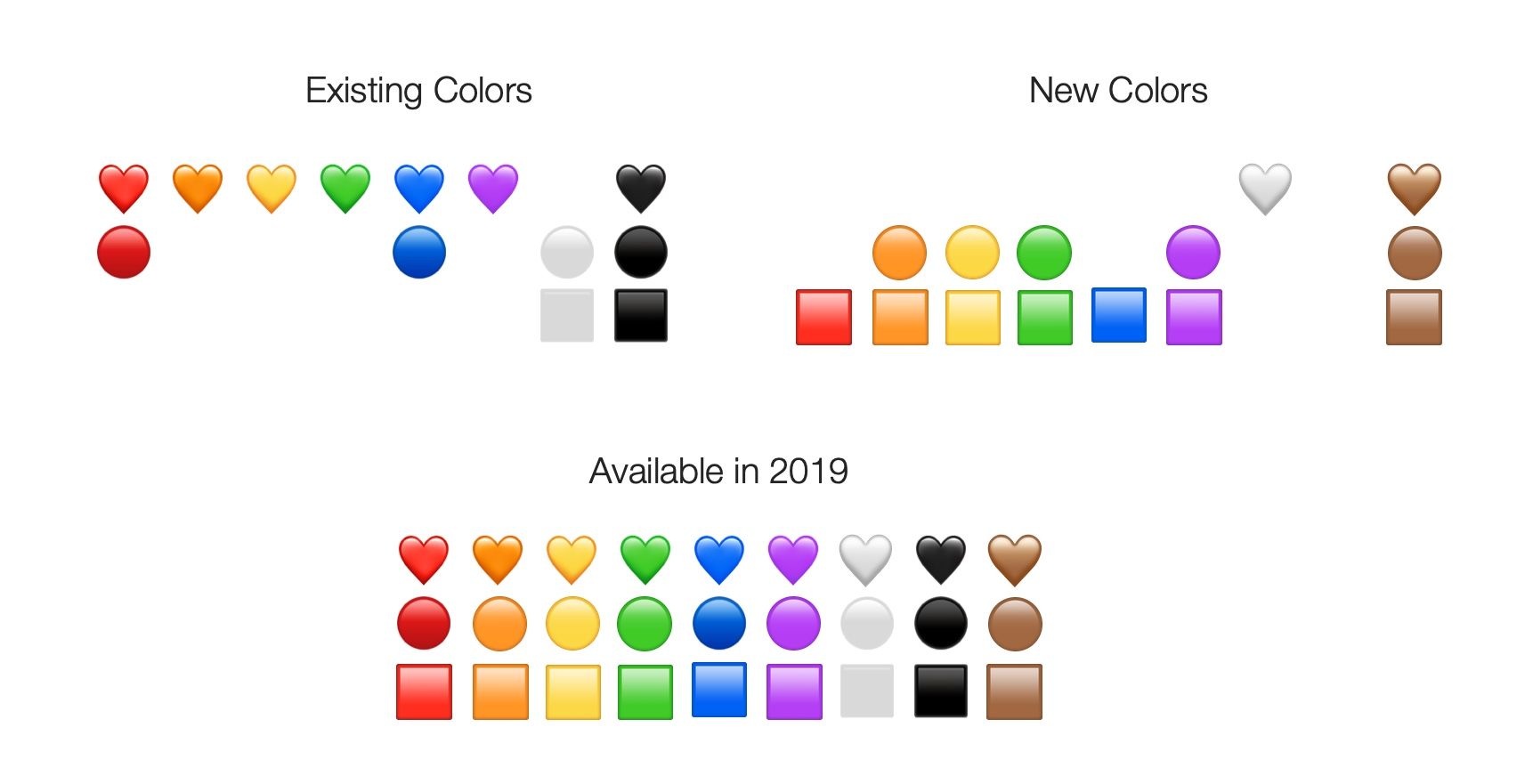 Above: New colored shapes in Emoji 12.0. Image: Apple and Emojipedia / Emojipedia composite.
These new colors open the door for ASCII art on steroids. They could also pave the way for custom emoji colors, if used within ZWJ Sequences.
Vendor Preview
For most users, these new emojis will come to devices in software updates throughout 2019.
Those subscribing to the Windows 10 Insider "fast ring" builds gained access to a number of new emojis last year, while Emoji 12 remained in beta.
A number of other designs from Google and Apple are also shown below. All are subject to change prior to final releases, but give a reasonable indication of how these might look on Android and iOS.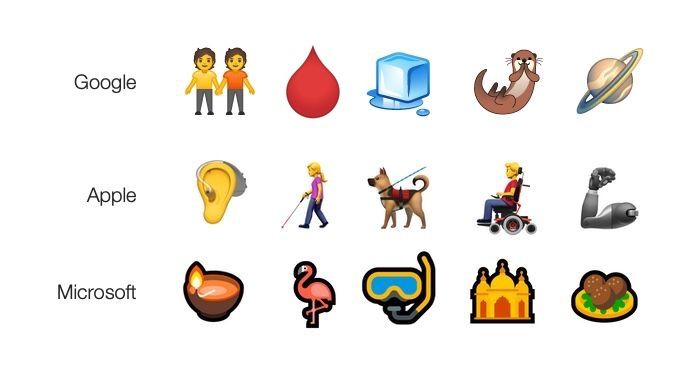 Above: A look at how the new emojis from major vendors, coming in 2019. Images: Vendors / Emojipedia composite.
Release
The Unicode Consortium will release Unicode 12.0[4] on March 5, 2019.
Changes to Emoji 12.0 since the last draft in October 2018 include some emoji names (One-Piece has been renamed One-Piece Swimsuit), removal of some emoji skin tone support (the last draft showed one family supporting a shared skin tone - but not the other 19 families), and the addition of the gender inclusive pair holding hands (previous versions only included women and men).


Above: New in 2019: Flamingo, Sloth, Otter, Orangutan. Images: Emojipedia Sample Image Collection.
Unicode announced the publishing of Emoji 12.0 data files on 2019-02-05 (California / US Pacific Time), and noted that the announcement is ahead of the Unicode 12.0 release to give vendors time to work on their color emoji designs.
Expect to see these on most major operating systems in the second half of 2019. Generally speaking, these tend to come to Android in beta around August, and to iOS in October or November.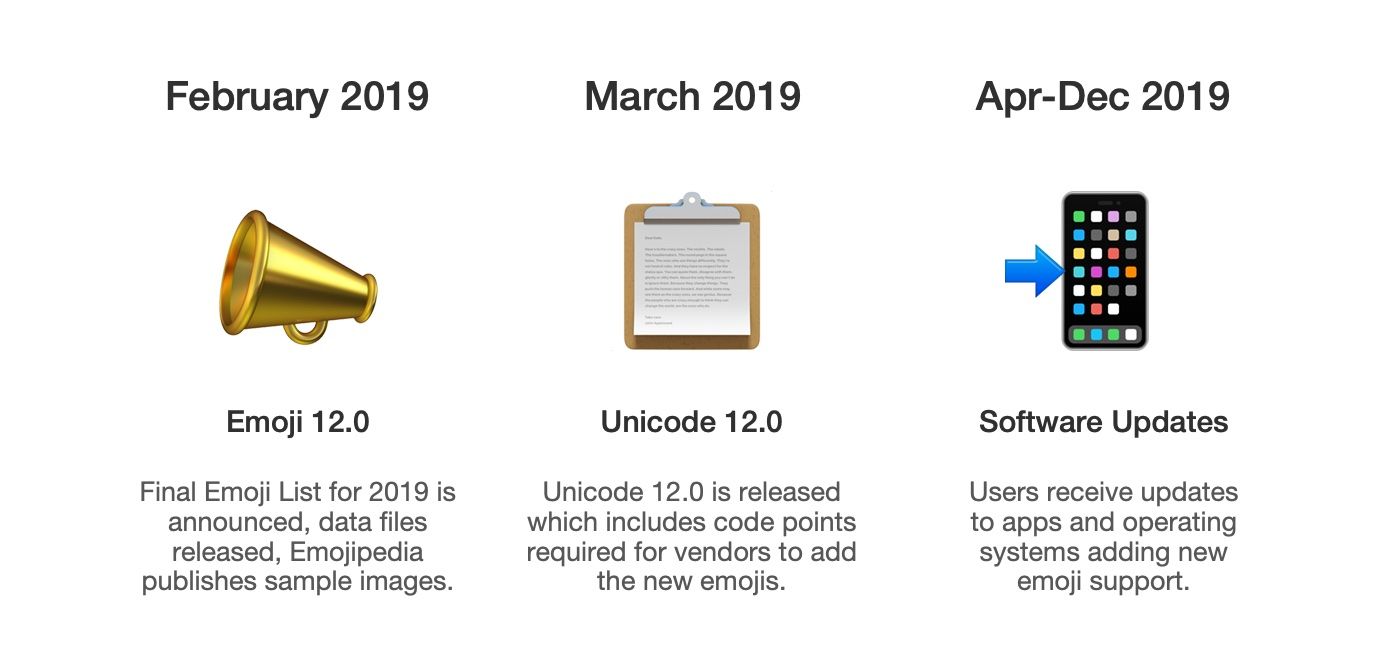 Resources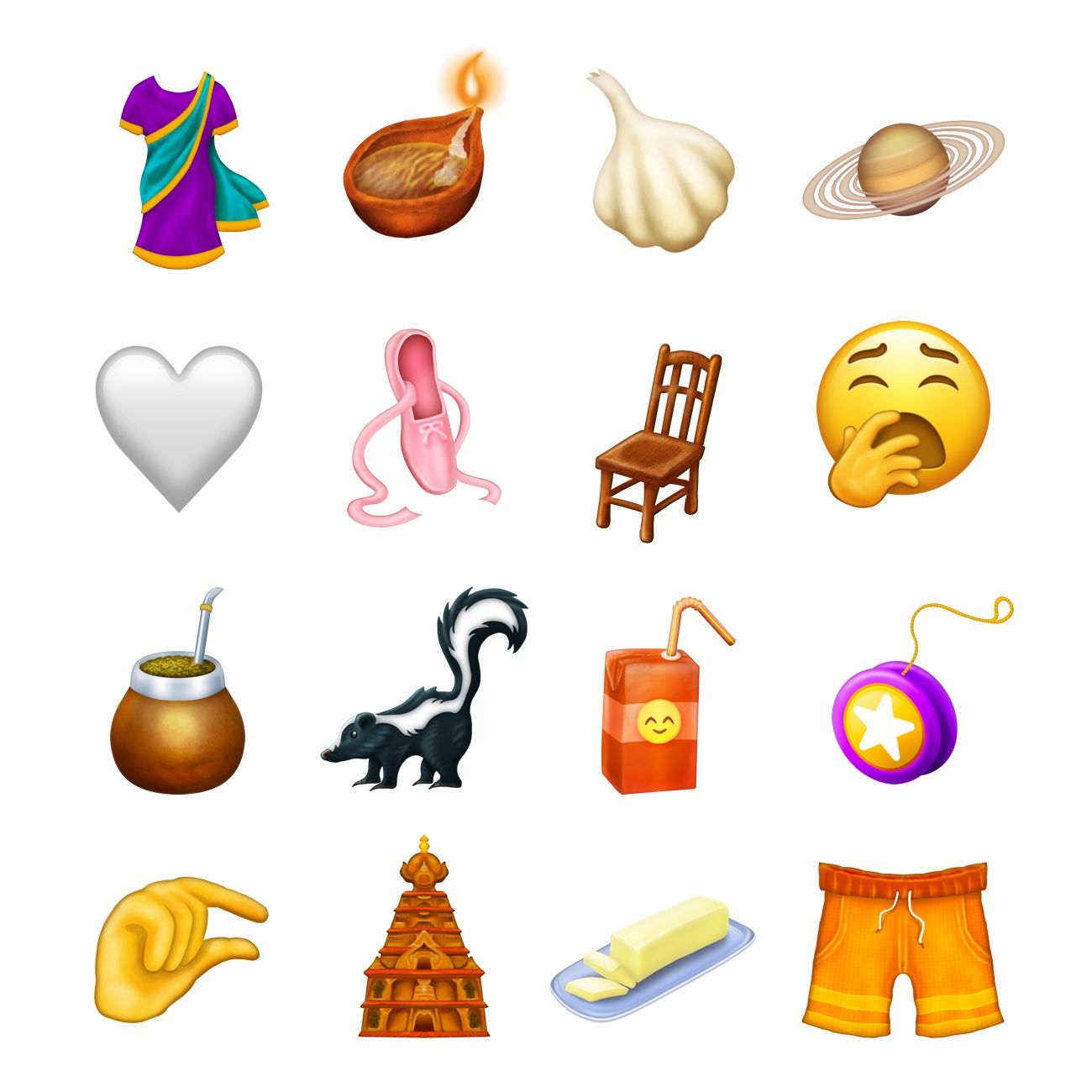 Above: A selection of new emojis coming in 2019. Image: Emojipedia Sample Image Collection.
Be First 🥇
Sign up for our free, monthly email so you're first to know the latest emoji news. Emoji Wrap is published monthly, and we won't use your email for anything else.
👇 Your email address 👇
---
---