10 Years of Celebrity-Emoji Associations
In the 10 years since Emojipedia first began documenting global emoji use back in 2013, we've seen many of the world's most well-known personalities become strongly associated with specific emojis, both fleetingly or substantially.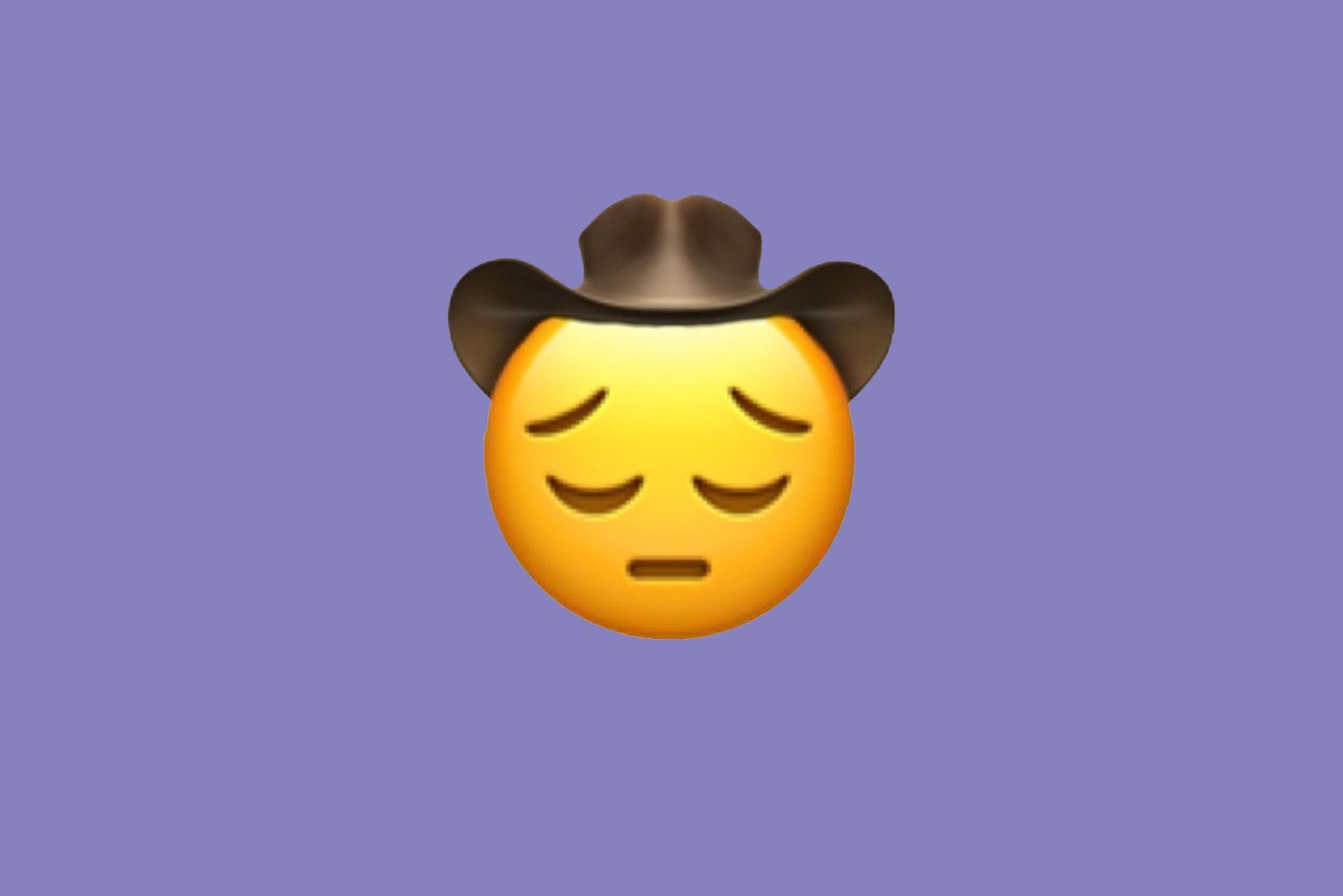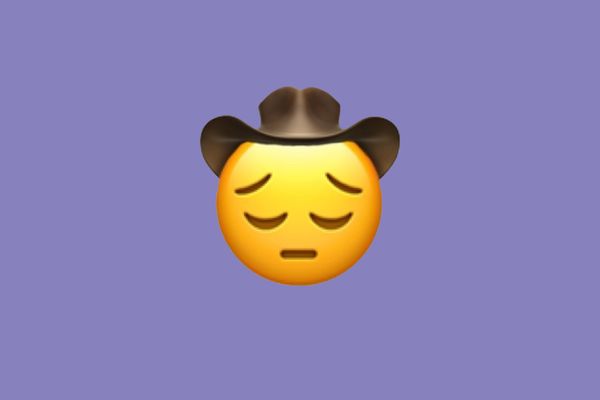 In the 10 years since Emojipedia first began documenting global emoji use back in 2013, we've seen many of the world's most well-known personalities become strongly associated with specific emojis, both fleetingly or substantially.
As part of celebrations of both our 10th anniversary and our 10th annual World Emoji Day, we've listed what we believe to be some of the ten most memorable associations between celebrities and our emoji keyboards that have occurred since Emojipedia's founding in July 2013.
Gunna: 🅿️ P Button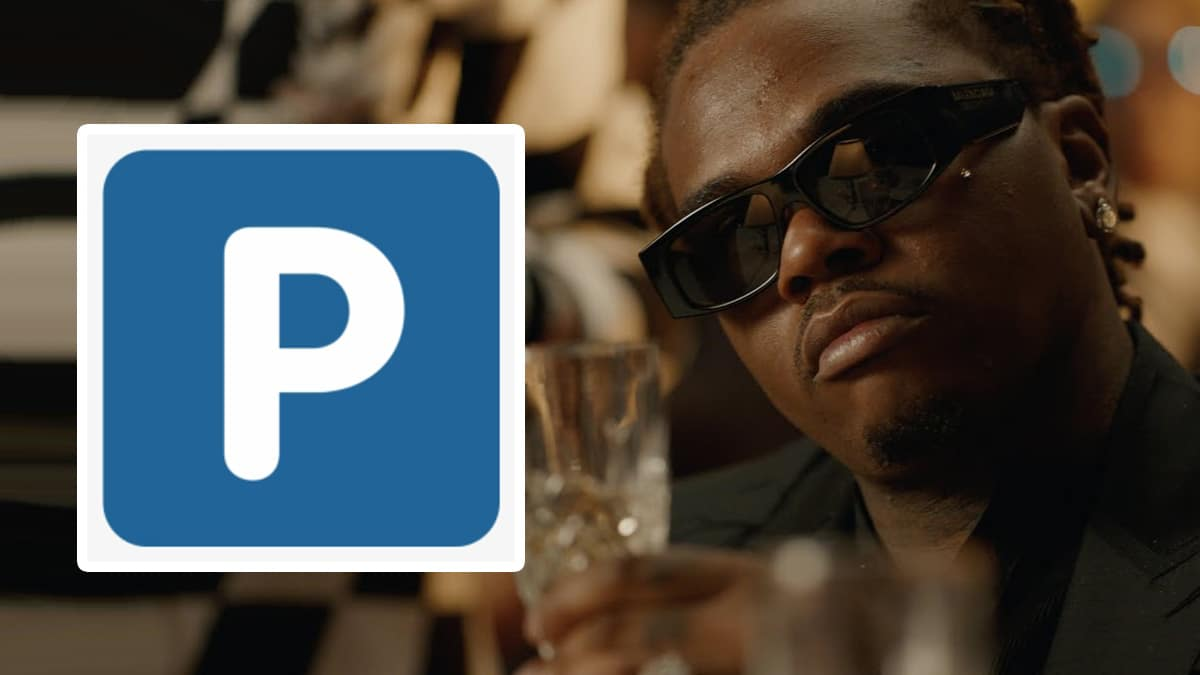 We start our list with a recent example of a major celebrity-emoji association, and one that also featured within our breakdown of favorite viral emoji moments of the last 10 years.
In January 2022, American rapper Gunna released a track entitled pushing P on from his third album, DS4Ever.
The track, which also featured fellow rappers Future and Young Thug, became a viral sensation across social media, with a whole host of posts about the nebulous concept of "pushing P" featuring the 🅿️ P Button emoji, including both brands and celebrities (you can read more about this here).
The viral success of pushing P and its association with the 🅿️ P Button emoji actually led to Gunna getting Apple's 🅿️ P Button design tattooed on his left arm, as shared on his Instagram story back in February 2022.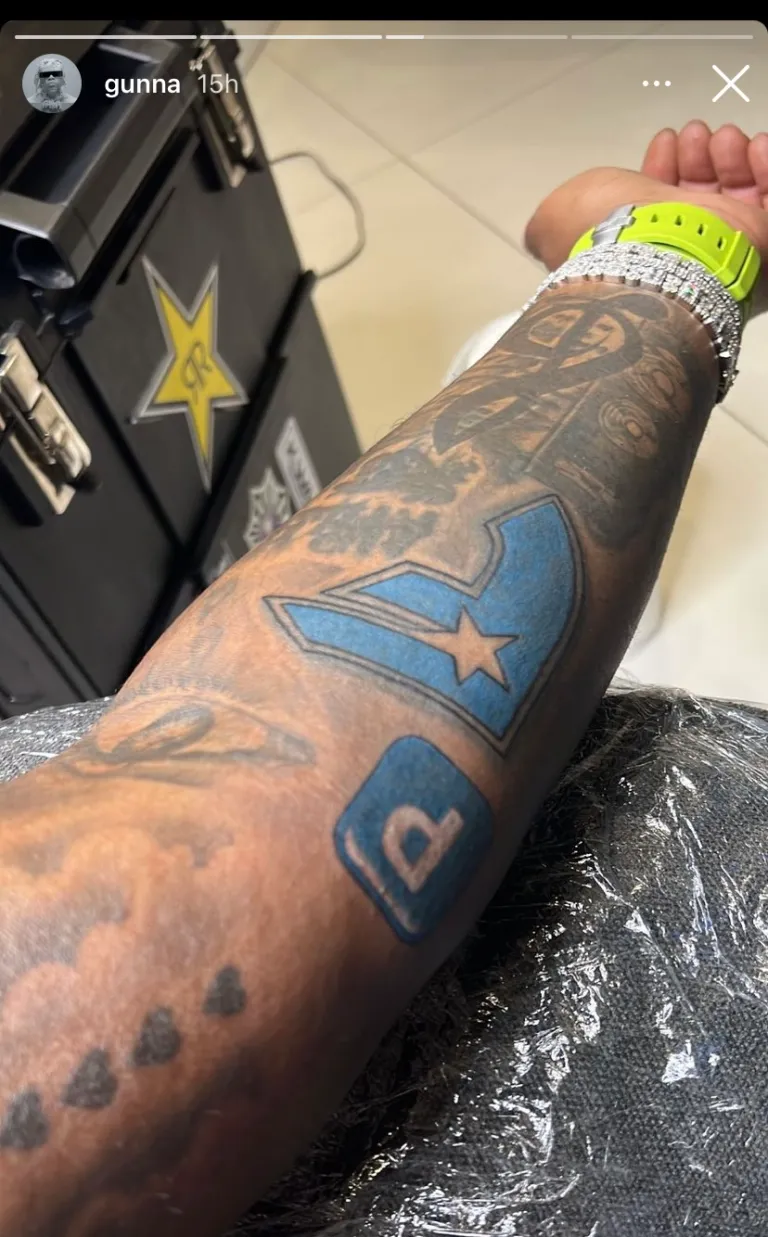 Drake: 🦉 Owl
Canadian rapper Drake has a long-standing love of owls. Since its launch in 2011, his "October's Very Own" clothing brand (usually abbreviated to "OVO") features an owl as its logo, and as of late 2018 the performer also an owl-based tattoo across his chest
Given this long-standing association, Drake fans have been using the 🦉 Owl emoji to discuss Drake and his music as early as 2014.
This association has continued, with the 🦉 Owl being used to represent Drake as part of the promotional campaign of his late 2022 collaboration album with 21 Savage.
There is, however, an additional emoji that Drake became more fleetingly associated with the year prior to the release of Her Loss.
The album cover for his 2021 effort Certified Lover Boy featured twelve instances of the🤰 Pregnant Woman emoji - specifically, modified versions of Apple's 🤰 Pregnant Woman emoji designs across different skin tones.
This choice of album cover was largely poorly received, even amongst fans who had embraced Drake's use of the 🦉 Owl emoji.
The album cover was also made fun of in a promotional post by known emoji enthusiast Lil Nas X (who we'll be speaking about more later on this list), with the 🤰 Pregnant Woman emojis replaced with 🫃 Pregnant Man emojis.
"MONTERO" THE ALBUM
OUT SEPTEMBER 17, 2021 pic.twitter.com/M7qVwV1uOu

— pussy (@LilNasX) August 30, 2021
North West: 💩 Pile Of Poo
The youngest individual on our list by a considerable distance, the eldest child of Kim Kardashian and Kanye West is already cultivating a strong emoji association for herself.
For North West's 8th birthday in June 2021, her mother Kim orchestrated an all-out 💩 Pile Of Poo emoji themed event, featuring the 💩 Pile Of Poo design in the form of bags, balloons, and full-body costumes.
Images of various 💩 Pile Of Poo emoji paraphrenia can be seen in this video by E! News on YouTube.
Stephen Colbert: 🤨 Face with Raised Eyebrow
It's fair to say that American late-night talk show host Stephen Colbert is an emoji fan.
During his tenure hosting The Late Show, he has covered a variety of emoji-based news stories, with recent examples including recent humorous discussions of the 🫠 Melting Face emoji, the 🤏 Pinching Hand emoji, and the release of non-gender-specific people emojis.
This is unsurprising, given the fact that while it was a draft candidate for Unicode 10.0 the 🤨 Face with Raised Eyebrow emoji was being dubbed "the Colbert Emoji" by then Unicode President Mark Davis.
New emoji candidates >2016: DUMPLING, FORTUNE COOKIE, TAKEOUT BOX, CHOPSTICKS, & FACE WITH ONE EYEBROW RAISED (IMO, the Colbert emoji)

— Mark Davis ☕ (@mark_e_davis) January 28, 2016
Amusingly, the original proposal for the 🤨 Face with Raised Eyebrow emoji made no reference to Colbert - instead, the expression was directly inspired by Maggie Smith's character in Downton Abbey, as discussed here by Time Magazine.
Nevertheless, the term "Colbert Emoji" caught on, likely in part thanks to this Time Magazine article. News of it reached Colbert himself, leading to an entire dedicated segment on the emoji candidate in early 2016.
When the emoji was finally approved in 2017 and released on Apple devices via iOS 11.1, he celebrated its release with an additional segment (while also commenting on the abundance of travel emoji options).
While Colbert has the 🤨 Face with Raised Eyebrow emoji, other late-night talk show hosts have yet to be so lucky.
Since Jimmy Kimmel has been campaigning for a meatball emoji, this far without success.
Back in late 2016, Kimmel made a direct plea to Jenny 8. Lee, a member of the Unicode Emoji Subcommittee and founder of Emojination, going so far as to have his colleague Guillermo Rodriguez appear in a meatball emoji costume.
Following the release of the 🧆 Falafel emoji, Kimmel and Guillermo further decried the lack of a meatball emoji, this time involving the people of New York and Emojipedia's own sample design for 🧆 Falafel.
DJ Khalid: 🔑 Key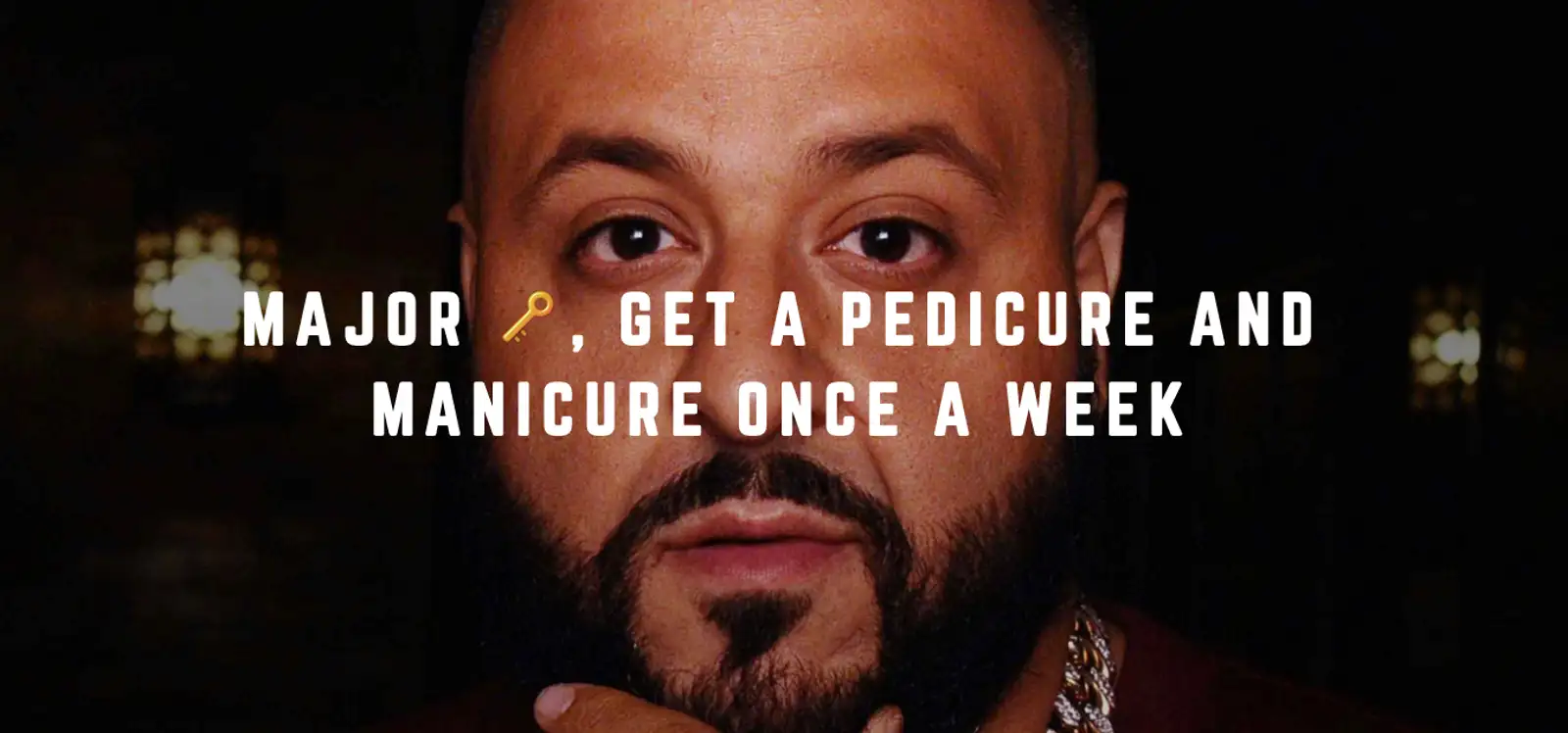 During the height of his popularity back in 2015, DJ Khalid began using his Snapchat profile to share nuggets of wisdom and life advice with his followers.
Throughout this advice, Khalid detailed what we perceived to be "major keys to success" in life, frequently using the 🔑 Key emoji to emphasize a "major 🔑" or a new "🔑 to success".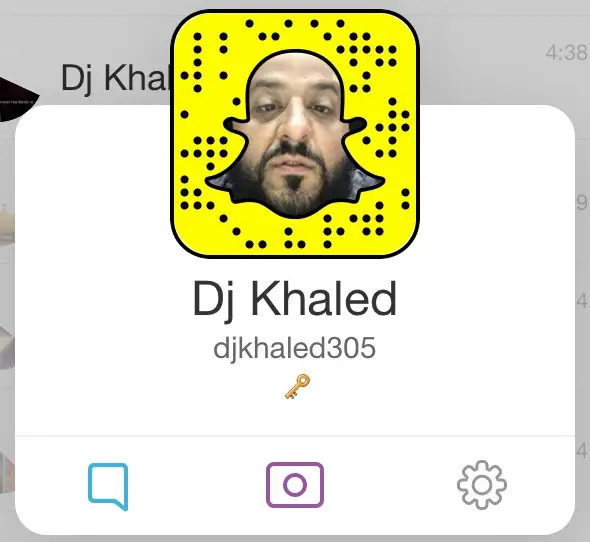 This led to others using the 🔑 Key emoji in this fashion, including several brands.
Major 🔑 alert: Invest where your competition isn't and you'll have a better chance to differentiate.

— SJK (@StartupJKhaled) January 13, 2016
Uber when it's raining—major 🔑

— Uber (@Uber) January 6, 2016
Major 🔑 Alert: If you need ID Theft alerts, we've got you covered. 💳 #blessup

— Mastercard (@Mastercard) January 11, 2016
In fact, Khlaid's use of the 🔑 Key emoji in this fashion led to our own Emojipedia page for this emoji to receive an 800% increase in global traffic in December 2015.
This association and the new-found virality of the 🔑 Key emoji was prominently reported on by media outlets such as the New York Times, Time Magazine, Business Insider, and Quartz.
Taylor Swift: 🐍 Snake
This is a less-than-savory emoji association from back in 2016, but one that Taylor Swift ultimately used to her advantage as part of her promotional campaign for her 2017 Reputation album.
In June 2016, Swift was subject to much 🐍 Snake-based harassment on Instagram. The comments on all of her posts were completely spammed with multiple instances of the 🐍 Snake emoji, as shown below.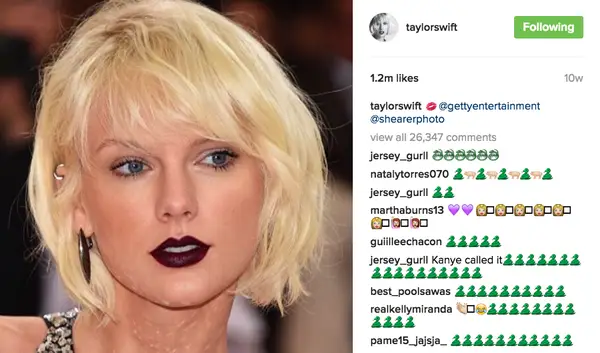 This first occurred following a dispute between Swift and former romantic partner Calvin Harris aired on Twitter, but gained additional traction when Kim Kardashian weighed in on the spamming to reignite an ongoing dispute between Swift and Kardashian's then-husband Kanye West.
Wait it's legit National Snake Day?!?!?They have holidays for everybody, I mean everything these days! 🐍🐍🐍🐍🐍🐍🐍🐍🐍🐍🐍🐍🐍🐍🐍🐍🐍🐍🐍🐍🐍🐍🐍🐍🐍🐍🐍🐍🐍🐍🐍🐍🐍🐍🐍🐍🐍

— Kim Kardashian (@KimKardashian) July 17, 2016
Such was the level of 🐍 Snake emoji spam on Swift's profile that Instagram quickly began to limit the ability of users to post this emoji on her profile.
The same 🐍 Snake emoji spam limitation was later applied to Kim Kardashian's own Instagram profile in August 2017, when Swift's fanbase wished to return the favor following Swift's leaning in to snake-based imagery on the platform.
This very public dispute is now thankfully long since past, and Swift is more likely to be associated with emojis that can be used to make reference to her songs and their lyrics - take, for example, how the 🧣 Scarf spiked in use following the release of the 10-minute-long version of 'All Too Well' back in November 2021.
Various Sports Stars: 🐐 Goat
Across various domains, but in particular sports, many individuals have been referred to as being "the greatest of all time". This phase has famously been shortened to the acronym "G.O.A.T" over the years, and become in the digital age has become synonymous with the 🐐 Goat emoji.
This has been especially true on Twitter, thanks in part to certain sports stars' own self-promotion on the platform.
Take, for example, Michael Jordan - widely considered one of the greatest basketball players of all time - staking his claim to the title with the  🐐 Goat emoji on the platform back in 2015.
🐐

— Jordan (@Jumpman23) July 8, 2015
While the platform's NBA fans may not agree with Jordan's claim to being the greatest NBA player of all time (this 2021 study found the phrase more likely to be associated with Bill Russell or LeBron James), Jordan's social team has continued to leverage the 🐐 Goat for promotional purposes.
For example, a hashflag design based on the 🐐 Goat emoji was added to the #TheLastDance hashtag on Twitter as part of the marketing campaign for the 2020 documentary series' The Last Dance, which focused on Jordan and Chicago Bulls during the 1990s.
This design featured the number 23 - the number of Jordan's jersey with the Chicago Bulls between May 1995 and June 1998.

Additionally, at the time of writing the profile image of the @TwitterSports account features the silhouette of a 🐐 Goat emoji and the profile's header image features Jordan.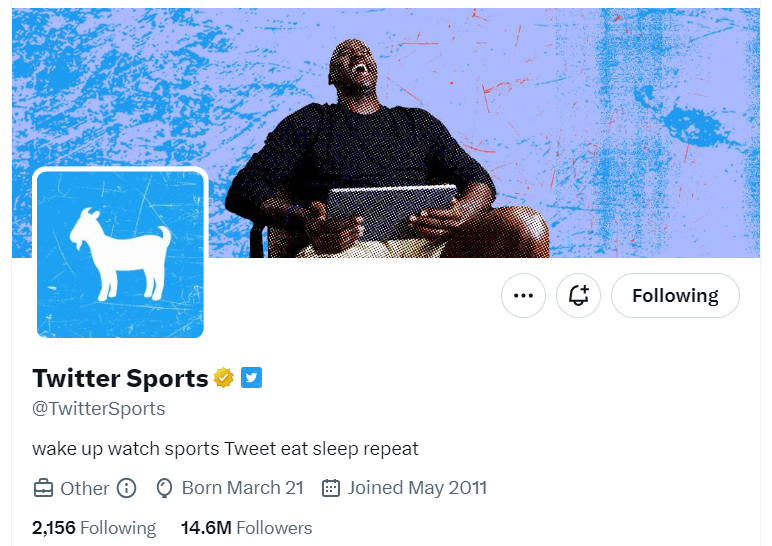 A similar hash flag was also used for American artistic gymnast Simone Biles, also often called the GOAT in her discipline, during the Tokyo Olympics hosted in 2021. It appeared alongside both #SimoneBiles and #Simone.
Witness greatness
Tweet with greatness#SimoneBiles#Simone pic.twitter.com/M6RKzP3KB6

— Twitter Sports (@TwitterSports) July 21, 2021
In terms of American football, during Super Bowl LV back in February 2021, Twitter also launched a hash flag featuring two 🐐 Goat emojis - one for Tampa Bay Buccaneers veteran quarterback Tom Brady, and one for Kansas City Chiefs quarterback Patrick Mahomes.
#Brady #Mahomes

GOATs only. pic.twitter.com/dlmgo2EPst

— Twitter Sports (@TwitterSports) February 5, 2021
Despite Mahomes inclusion in this hash flag, Brady's association with the 🐐 Goat emoji had been permanently solidified two years prior.
In 2019, research conducted by The Wall Street Journal found that, despite Micahel Jordan's embrace of the emoji, Brady was the real GOAT across all sports when it came to the use of the 🐐 Goat emoji.
The most tweets with a 🐐 came after the Patriots came back against the Falcons in the Super Bowl. The second most: when the Patriots beat the Chiefs in the AFC Championship.

Tom Brady is the GOAT of 🐐. https://t.co/UqglnyMUNT pic.twitter.com/wfwospkFpg

— Andrew Beaton (@andrewlbeaton) January 29, 2019
Most recently, Twitter has also honored tennis star Serena Williams with her own 🐐 Goat emoji hash flag during her participation in her final U.S. Open before retirement.
23 grand slams. 4 gold medals. 27 years of dominance

There's only 1 #SerenaWilliams#ThankYouSerena #Serena pic.twitter.com/OeyqSNrFGJ

— Twitter Sports (@TwitterSports) August 29, 2022
Lil Nas X: 🤠 Cowboy Hat Face
In late 2018, the aspiring rapper Montero Lamar Hill (better known as Lil Nas X) released the first version of what would soon become the most successful song in the history of the Billboard Top 100: Old Town Road.
The song quickly gained popularity on Tiktok as part of the "Yeehaw Challenge", often being posted with a 🤠 Cowboy Hat Face emoji as part of the video or caption.
An association was born - one that Lil Nas X himself would lean into in a big way over the coming year by embracing a meme that first began in 2017: the sad cowboy emoji.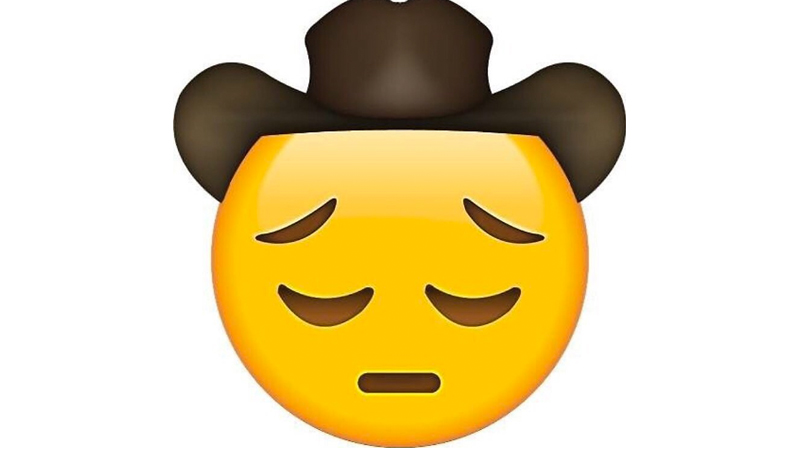 Soon after the release of the remix of Old Town Road featuring Billy Ray Cyrus was released in April 2019, Lil Nas X began to share a mashed-up emoji design across his social media: a combination of Apple's 🤠 Cowboy Hat Face and 😔Pensive Face emoji designs.
According to Know Your Meme, this Apple emoji mash-up image was first documented in July 2017 on Facebook (which also featured mash-ups of the 🤠 Cowboy Hat Face with the 😡 Pouting Face, 🤔 Thinking Face and 😏 Smirking Face emojis).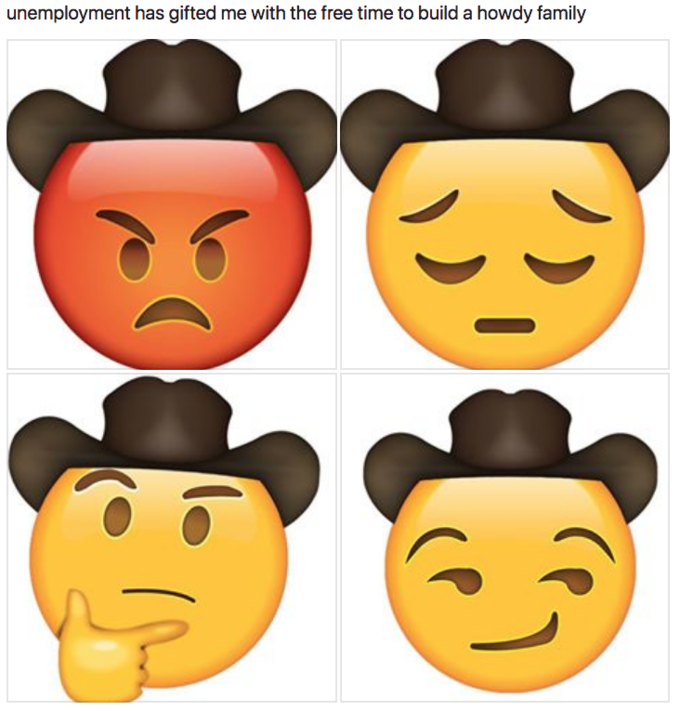 The following month the specific mash-up of the 🤠 Cowboy Hat Face and 😔Pensive Face emojis was popularized on Twitter and continued to be the subject of several viral tweets throughout early 2018, such as the ones below (note: the Mason Ramsey tweet is a copy of the original viral quote tweet).
hurt by nin vs hurt by johnny cash pic.twitter.com/6HSIsG1X2o

— Ex-bisexual, engineer (@misandrism) March 27, 2018
They always say yee haw, they never ask haw yee pic.twitter.com/d7s9cuvQFo

— Mason Ramsey (@masonramsey) June 4, 2018
While it's unclear as to when Lil Nas X became familiar with the sad cowboy emoji meme, it's undeniable that he swiftly became its biggest champion throughout 2019 as Old Town Road began its record-breaking chart dominance.
As well as championing a sad version of the 🤠 Cowboy Hat Face emoji, Lil Nas X would also release an official Animoji-based music video Old Town Road.
The video opens with the 👌🏾 OK Hand: Medium-Dark Skin Tone, 🤠 Cowboy Hat Face, and ❌ Cross Mark emojis placed alongside one another, and goes on to prominently feature a litany of other emojis such as the 🐐 Goat, ☀️ Sun, and 🛣️ Motorway, as well as animated versions of the 🐎 Horse and 🏇 Horse Racing and emojis.
Additionally, in August 2019 he would celebrate the generation of a 🤠 Cowboy Hat Face and 😔Pensive Face in the Twitter Twemoji design style by the automated @EmojiMashUpBot.
the prophecy has been fulfilled https://t.co/P59cXzCbbO

— pussy (@LilNasX) August 4, 2019
He would also later take the time to follow @Emojipedia on Twitter, and subsequently roast our tweet about the then-upcoming 🧊 Ice Cube emoji.
omg this is gonna be perfect for when we talk about ice cubes https://t.co/3nOGOPtEHU

— pussy (@LilNasX) October 29, 2019
As well as celebrate the arrival of the Emoji Kitchen on Gboard in February 2020, despite it being an Android-exclusive feature he wouldn't be able to access on his Apple device.
my time has arrived https://t.co/TSCX1JA5Nz

— pussy (@LilNasX) February 12, 2020
Finally, in July 2020 the sad 🤠 Cowboy Hat Face emoji design would be prominently featured in official Lil Nas X merchandise produced by international clothing retailerH&M/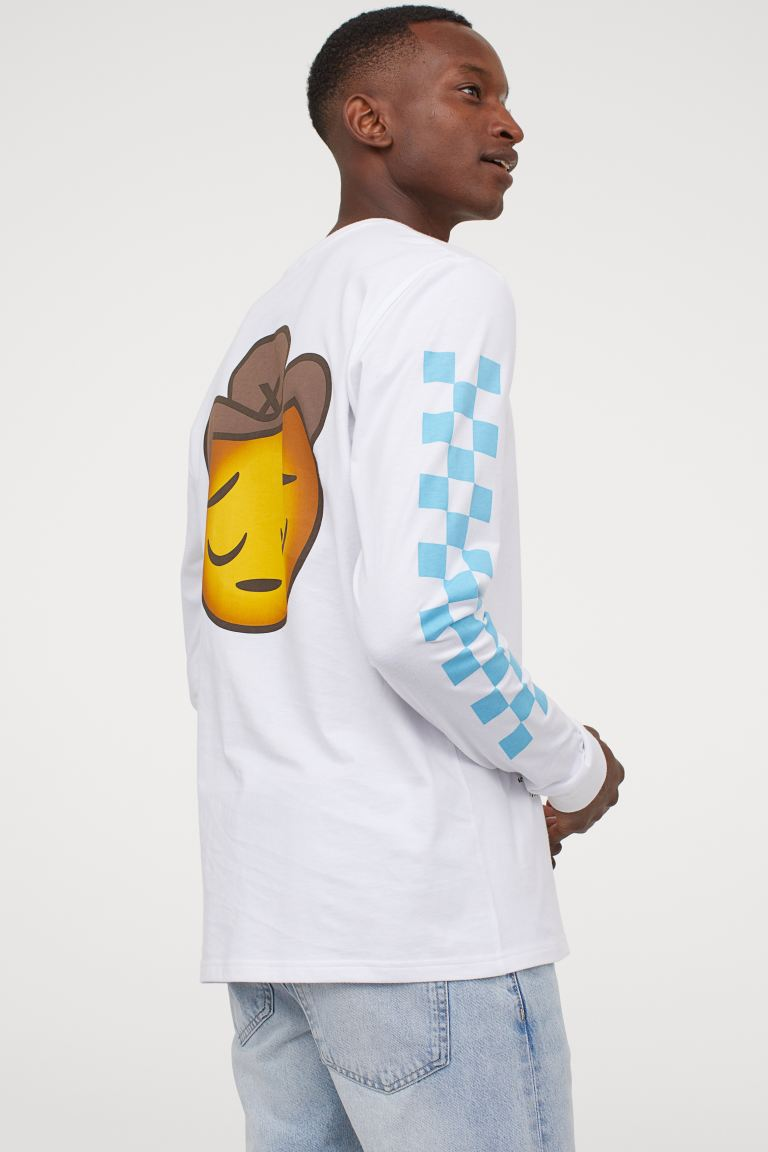 🐝 Honeybee: Beyonce
The penultimate entry on our list is another long-standing emoji association: "Queen Bey" Beyonce and the 🐝 Honeybee emoji used by the "beyhive" (or sometimes just "the Hive").
The term "beyhive" was initially popularized by Beyonce fans in 2011 as an alternative to the term "Beyontourage", which had previously been used by Beyonce herself.
"Beyhive" was quickly embraced by the singer - she swiftly dubbed herself "The Queen Bey". Additionally, a dedicated Beyhive section of her website was launched in 2012, describing different personalities in the fandom such as "the honeybeys" and the "bumble beys".
At some point between 2012 and 2014 the Beyonce fandom adopted the 🐝 Honeybee emoji as their own, as in early 2015 born witness to the first documented instance of the Beyhive deploying 🐝 Honeybee emoji spam on social platforms.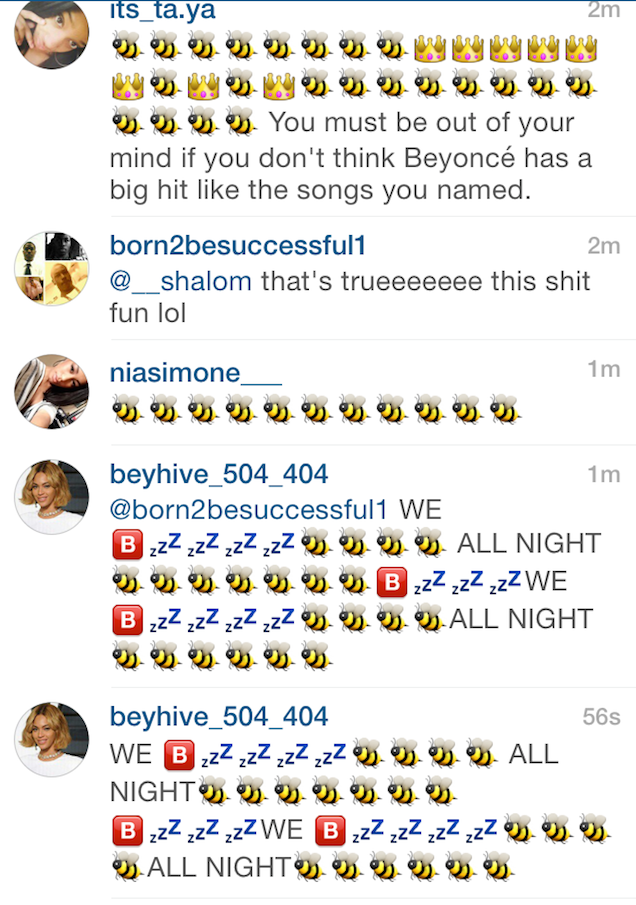 This type of use of the  🐝 Honeybee emoji by the Beyhive has been documented several times since, including in 2017 against Emma Waston.
Perhaps the biggest surge in global 🐝 Honeybee emoji usage came in 2016, following the release of Beyonce's six studio album Lemonade.  Such was the enthusiasm amongst the beyhive that both the 🐝 Honeybee and 🍋 Lemon Emoji surged in popularity on Twitter.
The @Beyonce effect: We're seeing notable spikes in use of the 🍋 and 🐝 emojis on Twitter. #LEMONADE pic.twitter.com/RwnQtJDFuj

— Twitter Data (@TwitterData) April 28, 2016
Additionally, late last year the association between Beyonce and the 🐝 Honeybee emoji was reaffirmed via a Twitter hash flag, which featured a 🐝 Honeybee and a 👑 Crown.
💜 Purple Heart: BTS
Finally, we end with a celebrity-emoji association that got us here at Emojipedia into some mild controversy with a fandom back in February of 2021.
In advance of Valentine's Day, we published a data-driven research article investigating how Twitter used each of the various heart emojis.
The 💜 Purple Heart was found to be amongst the most popular on the platform throughout 2020, largely fuelled by one particular demographic: fans of the k-pop group Bangtan Sonyeondan, more commonly known as BTS.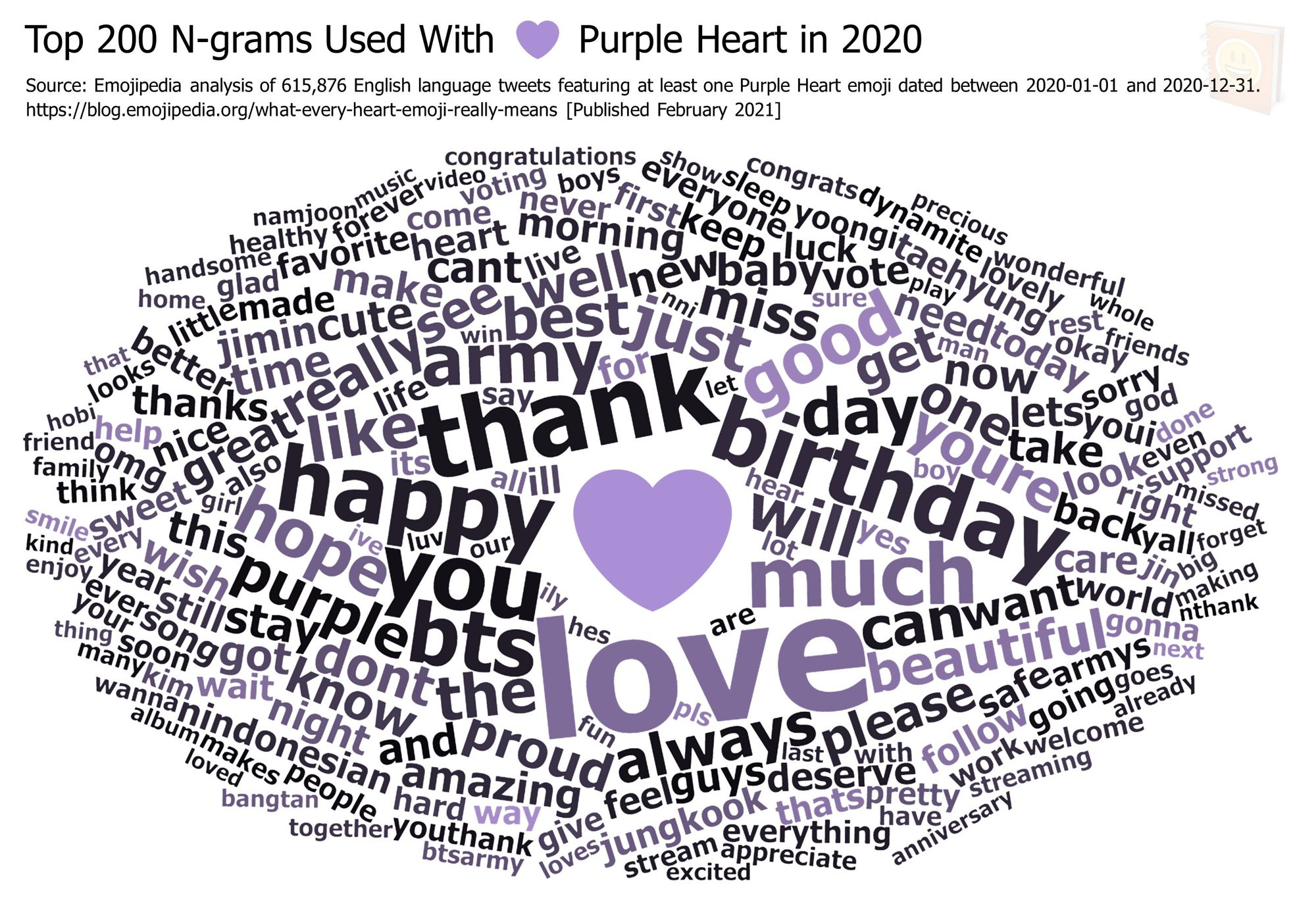 When we looked at the top 200 terms most commonly used alongside the 💜 Purple Heart, we found that:
I ended up learning ✨a lot✨ about @bts_bighit while working on this latest piece for @Emojipedia 💜 You never know what rabbit holes emoji data analysis will take you down 🐰🕳️ https://t.co/8JiH5F7pp0

— Keith Broni (@KeithBroni) February 11, 2021
So, how did this association between the 💜 Purple Heart emoji and BTS begin?
Most sources trace it back to November 2016, when band member V (real name Kim Taehyung) first said "I purple you" while purple light covered the audience at the third annual official fan meeting (called "the muster"). He followed this up with "Purple is the last color of the rainbow colors, so it means I will trust and love you for a long time."
'Purple is the last color of the rainbow colors so it means i will trust and love u for a long time' - Taehyung 🐯💜 pic.twitter.com/5A22zMKflm

— taehyung pics⚡️ (@taehyungpic) April 27, 2017
Despite V immediately admitting that they had made up that statement on the spot, a connection between the affection and the color purple was permanently forged for BTS fans, making the 💜 Purple Heart emoji the perfect symbol to encapsulate the statement "I purple you."
That concludes the respective list of our most memorable celebrity-emoji associations of the last ten years. For all your support, we certainly purple you 💜
Read More