Hands On With Google's New Emoji Mashups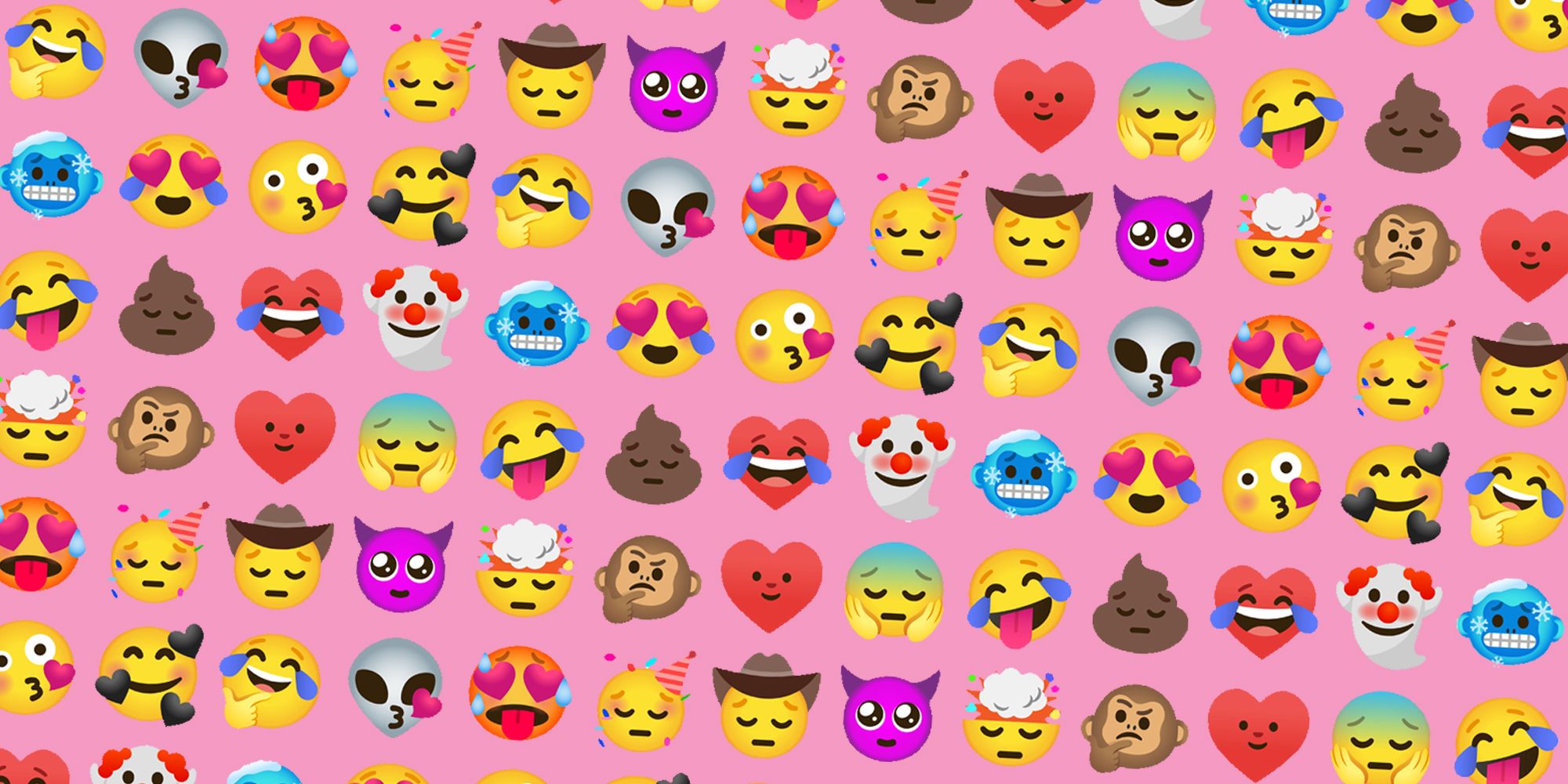 This week Google released an update to its emoji keyboard allowing emoji mashups within Gboard for the first time. The new functionality allows users to mix and match certain emoji expressions, with the results suggested in the keyboard for input as a sticker.
Named Emoji Kitchen by Google, this emoji mashup feature is available in the latest beta release of Gboard for Android.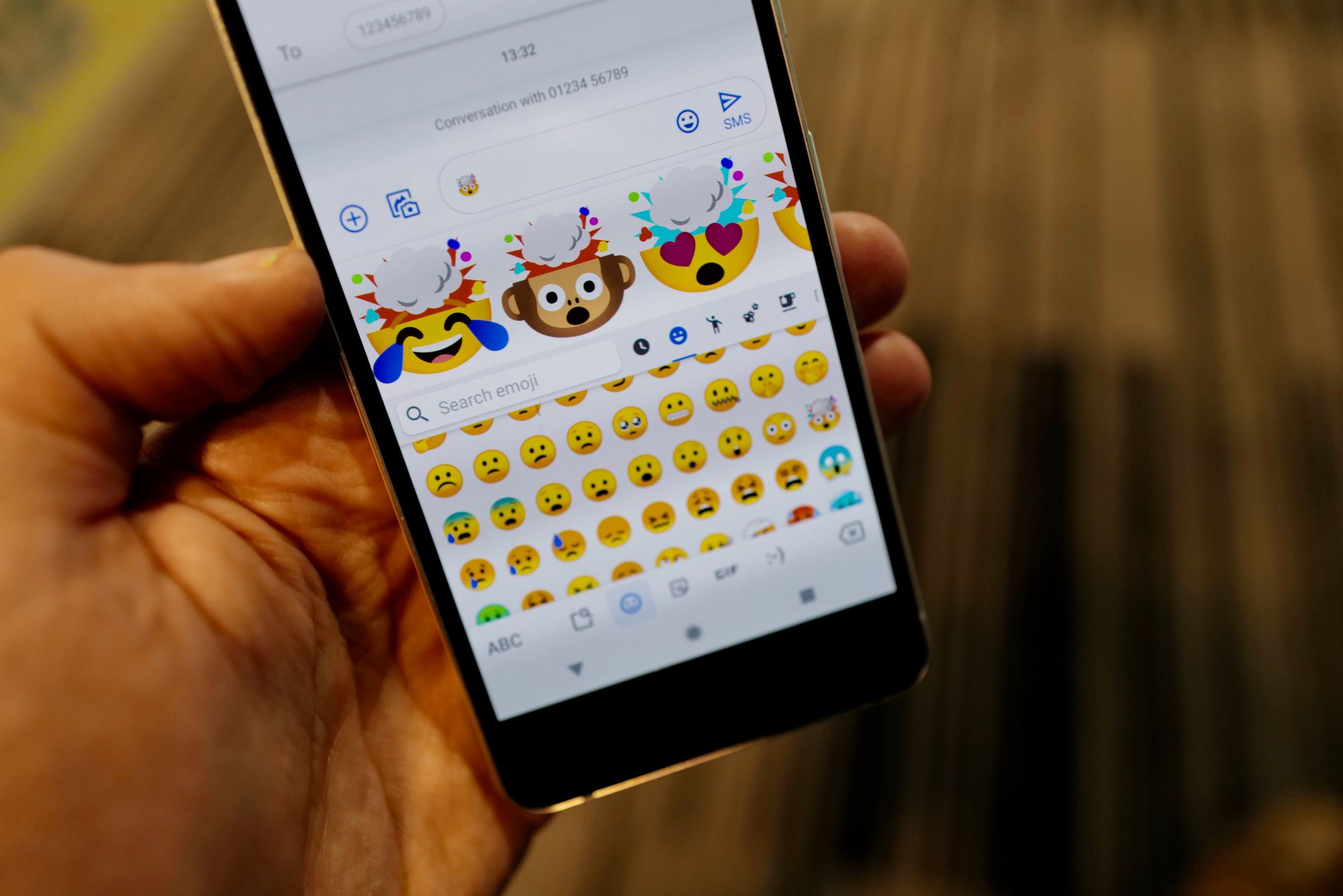 Above: The Emoji Kitchen feature shown on a Google Pixel device, displaying "mash up stickers" based around the 🤯 Exploding Head emoji.
In naming this new feature the "Emoji Kitchen", Google seem to be channeling a sense of creative cookery (and maybe a little of the phrase "everything but the kitchen sink").
When a user opens the Gboard emoji area from the keyboard (where emojis, gifs and stickers access is stored), the tab featuring the emojis from the Unicode Standard now featured an additional area embedded above the search featured and the various emoji categories: this area is effectively the "serving plate" of the so-called Emoji Kitchen, and is where Gboard's suggested emoji mash-ups will be displayed.
Above: the Emoji Kitchen "loading" display before an emoji is selected by a user.
When an user then enters an emoji via the Gboard keyboard, this area is then populated with different sticker options using "mashed up" versions of Google's own emoji design set.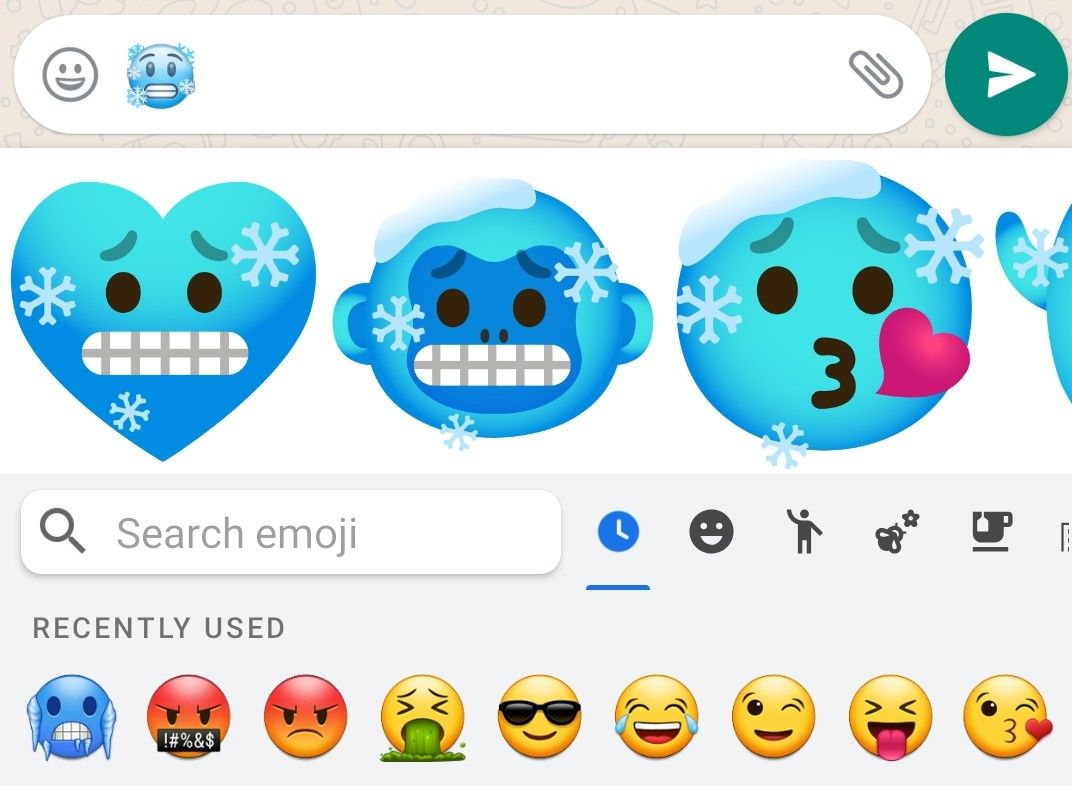 Above: the Emoji Kitchen offering mash up options of the 🥶 Cold Face emoji on WhatsApp for Android. Note that the stickers utilise Google's emoji designs despite Gboard being used on a Samsung device.
The initial mash ups offered for an eligible emoji generally appear to feature one of the following other emojis as the design's coalition partner, as it were:
Not all emojis are supported via the Emoji Kitchen, however. It appears to be focused around emoji designs with a single face, or some select designs in which a face can be easily supplanted. Examples we have located include 🐷 Pig Face and 🐼 Panda (though not all animal face designs are supported), 🌵 Cactus, 💀 Skull, and 🎃 Jack-O-Lantern.
There are also different color combinations of the 💯 Hundred Points and a variety of heart emojis (which themselves can have 👀 Eyes added).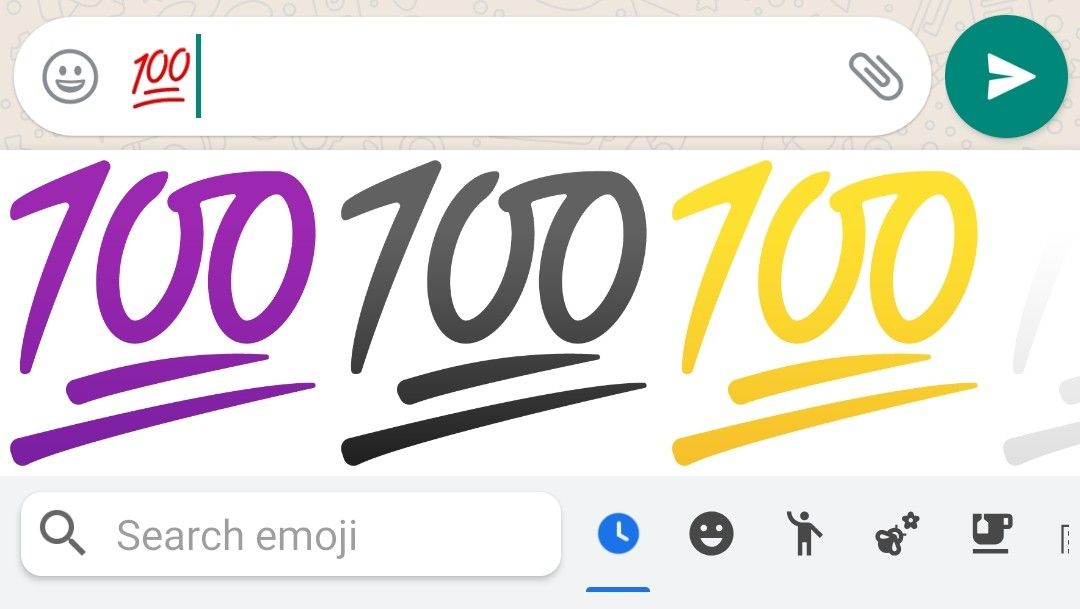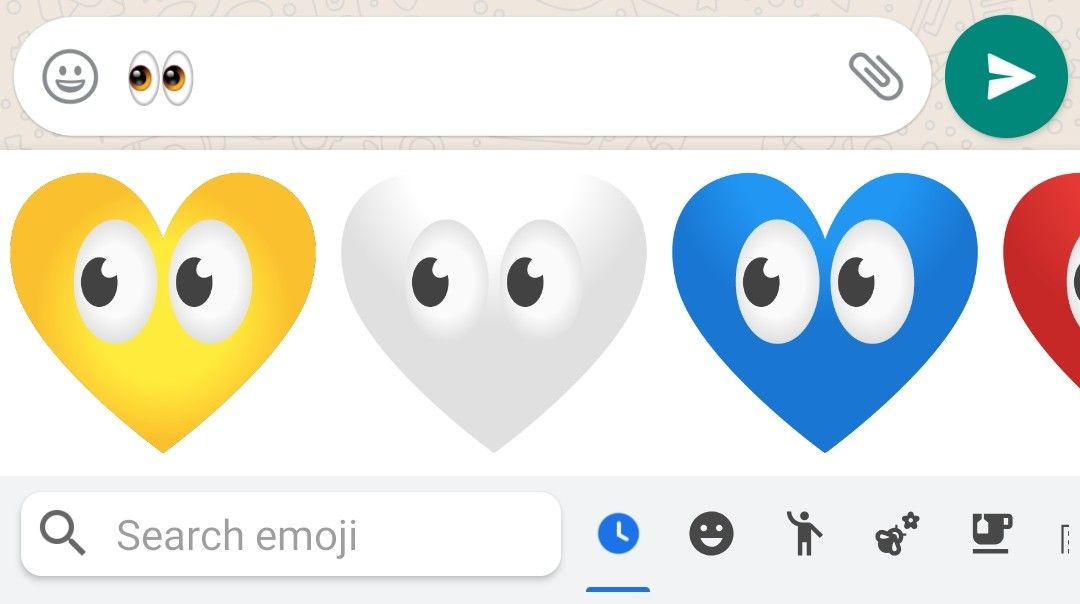 When sent, the emoji mash ups are sent are received as sticker images akin to the Bitmoji, Google's "Mini" stickers, and the Memoji Apple features directly in its emoji keyboard. That is to say that they will be sent as an isolated picture to the recepiant, instead of being placed inline with a string of text or Unicode emojis.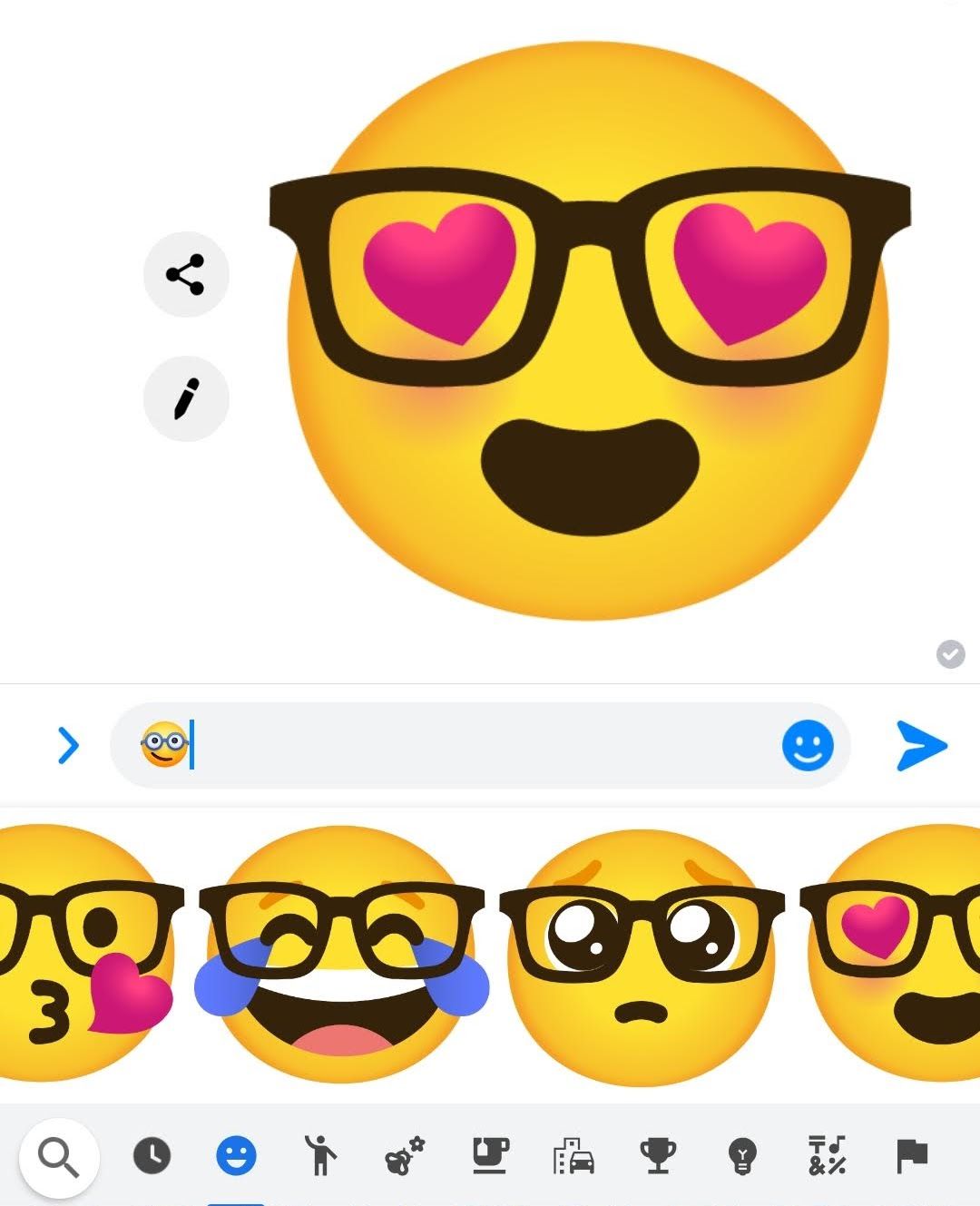 Above: a sent 🤓 Nerd Face emoji sticker from the Emoji Kitchen in Facebook's Messenger app.
The Kitchen will also only display mash up options for the last eligible emoji in a string of emojis.
⌨️ Which Apps?
Google has itself cited the following platforms as being compatible with the following messaging platforms:
WhatsApp
Messenger
Snapchat
Telegram
Messages by Google
Gmail
Emoji Kitchen is not available for more traditional social networking platforms like Facebook, Instagram, and Twitter (including direct messaging on these latter two platforms).
It's not yet clear if support for more apps will be the responsibility of app developers, or if Gboard can enable this in future releases.
🤖 Emoji Mash Up Bots
While this is a new feature for Google's Gboard, many emoji aficionados will be familiar with these kinds of design mash up.
Last year a Twitter account titled The Emoji Mash Up Bot was created by Louan Bengmah of Nantes in western France. The account began posting combinations of two different emojis from the smileys category every 60 minutes, with these mash ups using Twitter's Twemoji design set.[1]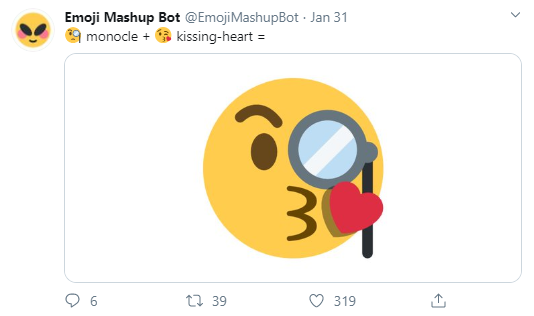 Above: a sample tweet from the The Emoji Mash Up Bot.
The bot account rapidly gained followers due to retweets from the likes of Lil Nas X[2], who yesterday also shared his support for Google's new feature.
the prophecy has been fulfilled https://t.co/P59cXzCbbO

— nope (@LilNasX) August 4, 2019
my time has arrived https://t.co/TSCX1JA5Nz

— nope (@LilNasX) February 12, 2020
In fact, due to the popularity of the account, Bengmah released his own free sticker pack of 29 of the most popular posts from the Emoji Mash Up Bot account in August of last year.[3]
For his part, Bengmah appears pretty pleased with the release of the Emoji Kitchen:
Even thought I'm not part of it, I absolutely love the idea. Like it's said on this article, the emojis here are way more interesting than @EmojiMashupBot's because they're smartly designed and aren't randomly generated. https://t.co/u0sEGN8EYw

— Emoji Mashup Boi 👦🏽 (@louanben) February 12, 2020
Speaking to Emojipedia, Bengmah stated:
"I love the idea of merging emojis together to expand our 'emoji collection'. And I'm happy to see that the idea is becoming more popular, whether I had something to do with it or not... I have to say, I'm not sure Google got it's inspiration from my bot. I honestly have no idea."
Google's Jennifer Daniel has been openly experimenting with such emoji mash ups herself since 2014 in her previous role at the New York Times. A later set from Daniel is shown in a collection of tweets in 2017 referring to them as emoji ligatures:
Made a few emoji ligatures I wish were supported cross platforms.

A challenge: how many distinct emoji expressions can you make in a hour? pic.twitter.com/k3O6lH6Kpn

— Jennifer Daniel (@jenniferdaniel) July 10, 2017
Tag yourself (i'm all of them). pic.twitter.com/6ZXyyIstZO

— Jennifer Daniel (@jenniferdaniel) July 15, 2017
Even Emojipedia itself has played with emoji mashups over the years, with Emojipedia's Jeremy Burge demonstrating in 2016 how ZWJ Sequences could be used by vendors to create new emoji expressions: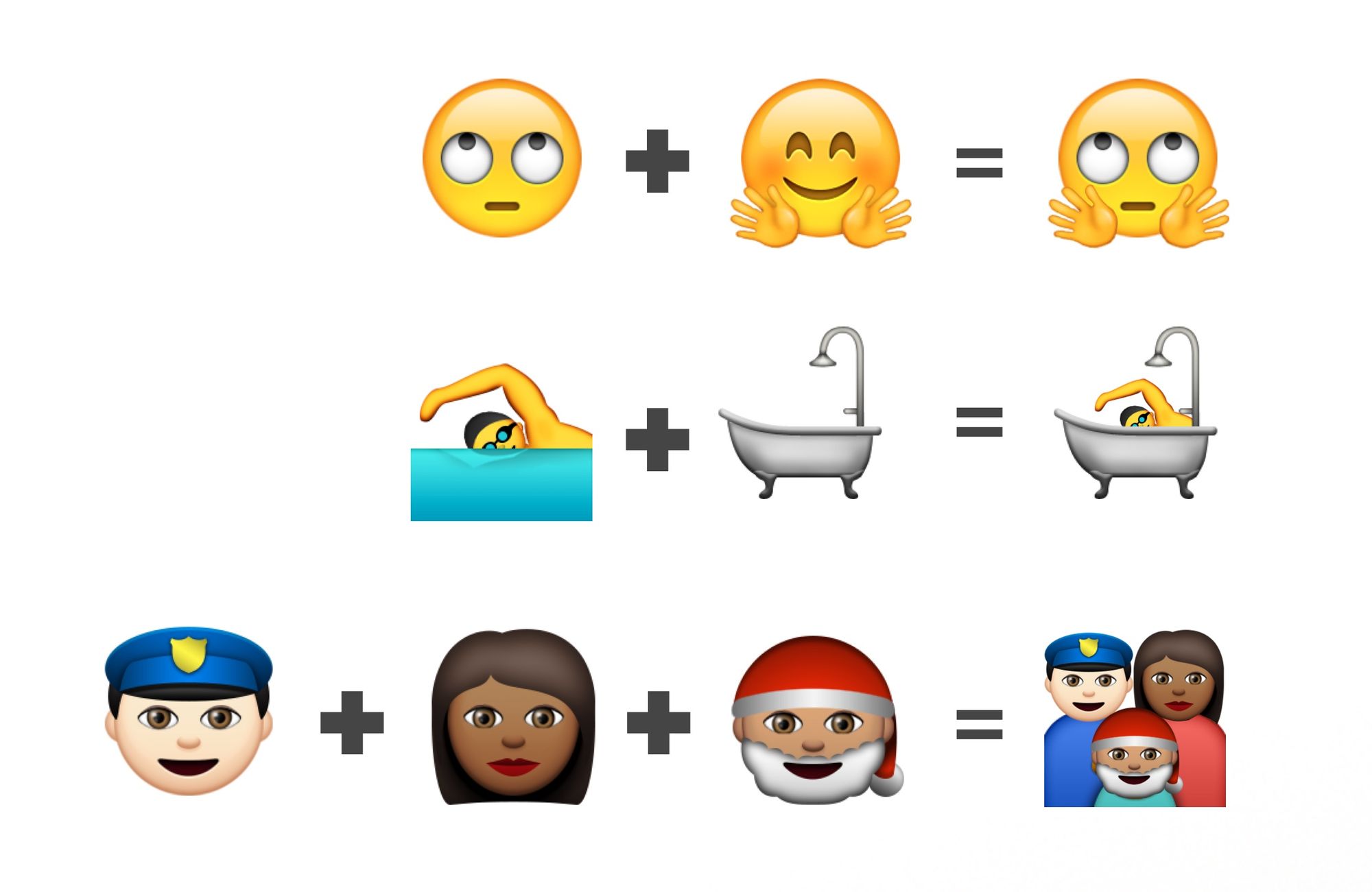 Above: Emoji mashup examples from Emojipedia in 2016, based on Apple designs.
📶 Release
If Gboard users would like to cook up their own emoji mash-up stickers now, the Gboard Beta programme is still accepting members at this time of writing. A rollout for regular Gboard users is likely to take place after a reasonable beta testing period.
At the time of writing, no announcement has been made about whether this will be made available on Gboard for iOS.
---