😂 Tears of Joy (Just About) Returns as Twitter's Top Emoji
Less than a year since the 😭 Loudly Crying Face took the top spot on Twitter, the oft-maligned but ever-present 😂 Face with Tears of Joy is once again the platform's number one emoji by the slimmest of margins. 🤏 📈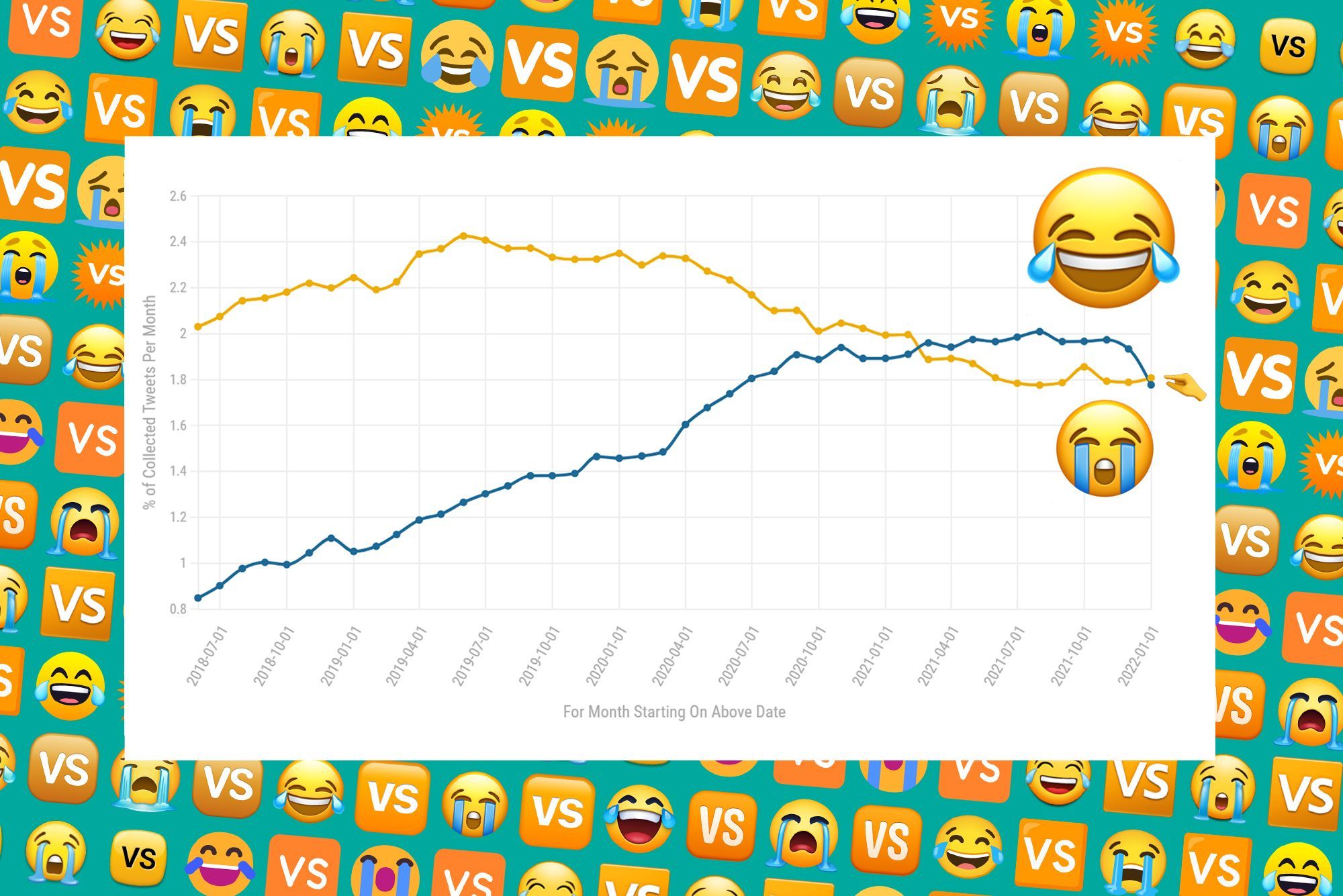 Less than a year since the 😭 Loudly Crying Face took the top spot on Twitter, the oft-maligned but ever-present 😂 Face with Tears of Joy is once again the platform's number one emoji by the slimmest of margins. 🤏 📈
However, as we can see above, this is more due to the 😭 Loudly Crying Face experiencing a huge drop in popularity this month, instead of the 😂 Face with Tears of Joy experiencing a 2022 surge.
Does this mean that 😭 Loudly Crying Face's time in the sun is over, in a similar fashion to how 🥺 Pleading Face saw a significant drop in use late last year?
😂🆚😭: A History
It was at the start of April last year that we here at Emojipedia first reported that the 😂 Face with Tears of Joy had been usurped by the 😭 Loudly Crying Face. At the time we stated that:
Recent usage of 😭 Loudly Crying Face shows that it has tears that are truly versatile. This one emoji can be seen as happy or sad depending on the context. Proud, or embarassed. Love or grief. No wonder 😭 is popular.
How did we turn " 😭" into a laughing emoji...

— Skai (@skaijackson) March 31, 2021
Prior to April 2021, 😭 Loudly Crying Face had been the #2 emoji on the popular microblogging platform since June 2018 when it overtook the ♻️ Recycling Symbol (yes, you read that correctly), though it had held the #2 for several years prior to this also.
You can read more about the ♻️ Recycling Symbol's brief time as Twitter's #2 emoji in this 2017 Medium post by Emojitracker.com founder Matthew Rothenberg.
While taking the top spot in March 2021 was a huge coup for 😭 Loudly Crying Face, it was an even greater loss for 😂 Face with Tears of Joy.
According to our Emojipedia database of over 7 billion tweets dating back to September 2011, 😂 Face with Tears of Joy had held the top position on Twitter since March 2012 when Apple first began using the Unicode Standard's recommended emoji codepoints within iOS 5.1.
This effectively means that for as long as 😂 Face with Tears of Joy had been widely available, it had been Twitter's top emoji.
This equates to a run of nine years on top, during which it was the Oxford Dictionary Word of the Year and given a Lifetime Achievement Award as part of the 2017 World Emoji Awards.
However, despite this 10 month period in the #2 spot and trailing 😭 Loudly Crying Face overall on Twitter during 2021, 😂 Face with Tears of Joy did still top the Unicode's Most Frequently Used Emoji of 2021, which drew from additional data sources provided by its membership.
Therefore reports of 😂 Face with Tears of Joy being canceled by Gen Z emoji users are, as we've previously discussed on this very blog, greatly exaggerated.
This is despite that generation's growing tendency for 😭 Loudly Crying Face, 💀 Skull, and ☠️ Skull and Crossbones (and briefly the 🪑 Chair on Tiktok) to be used as emoji-based forms of laughter.
Even still, despite taking the top spot on Twitter and within wider Unicode data, the use of 😂 Face with Tears of Joy is still far below its June 2019 peak.
In fact, thus far into February 2022, 😂 Face with Tears of Joy and 😭 Loudly Crying Face are within a whisker of each other (🐱), with 😭 Loudly Crying Face even overtaking 😂 Face with Tears of Joy a handful of times during the last few days.
So it's really really close - closer than the curled fingers of the 🤏 Pinching Hand emoji - and we might well have a tussle on our hands for the foreseeable future. 🤼 🥊
🧮📈 Overall Emoji Use
The remainder of the top ten emojis on Twitter across January 2022 were as follows:
In terms of overall over, this is the exact same as in December 2021, bar the reordering of the top two emojis that we've discussed.
Meanwhile, overall emoji use has declined slightly on the platform, following the now-expected surge in emoji use during the holiday season,
That being said, emoji use on Twitter remains higher than when we first reported a record-breaking level of usage ahead of World Emoji Day in July of last year.
So it's still fair to say that in 2022, emojis are as popular as ever.
📖 Read More