iOS 13.2 Emoji Changelog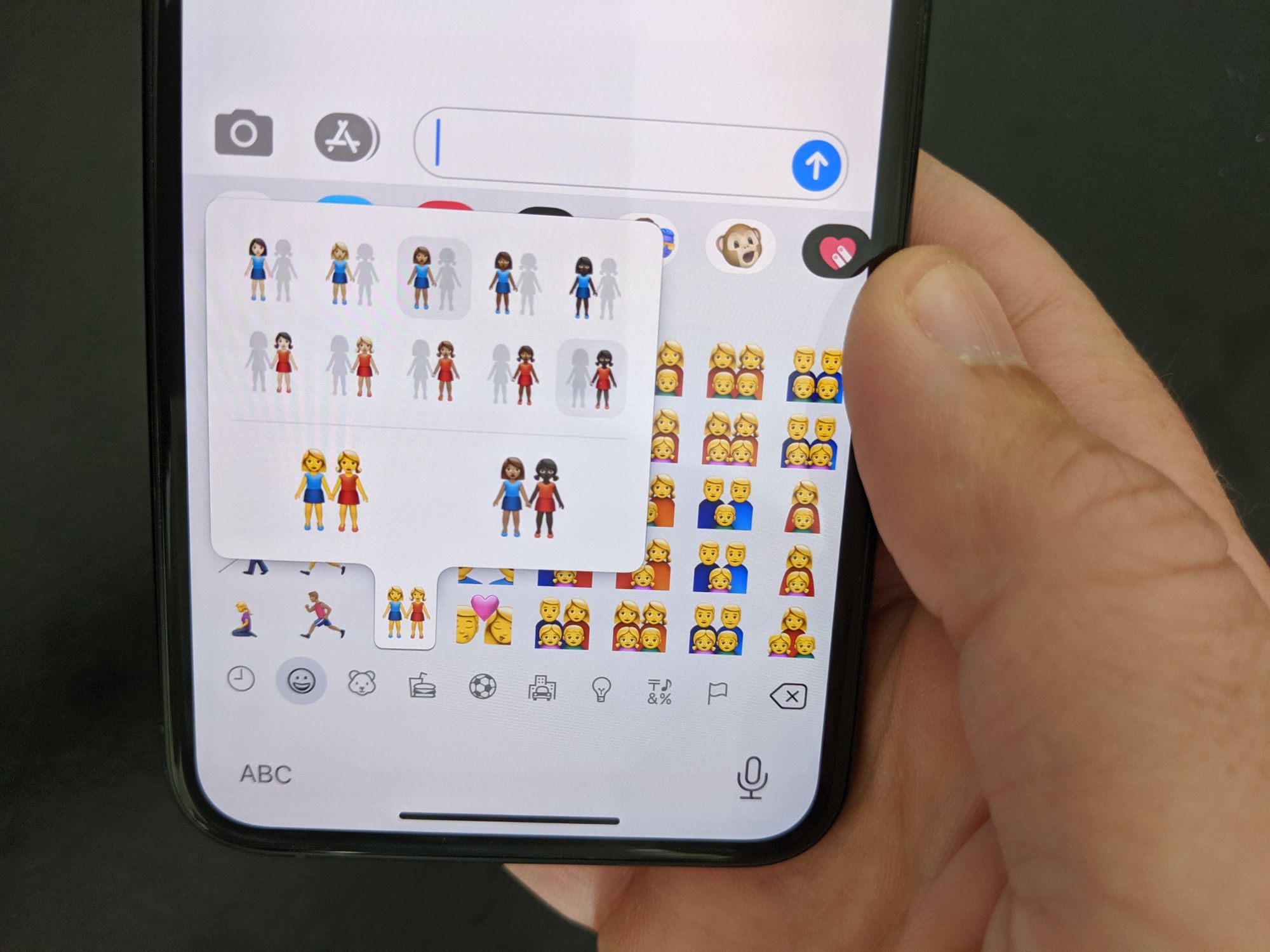 Today Apple has released iOS 13.2, introducing the likes of a white heart, yawning face and flamingo to the emoji keyboard.
A more diverse keyboard adds options such as people holding hands with a mix of skin tones, people in wheelchairs, with a hearing aid or cane.
Many of these designs were first previewed earlier this year in celebration of World Emoji Day, and were made available to iOS beta testers earlier this month.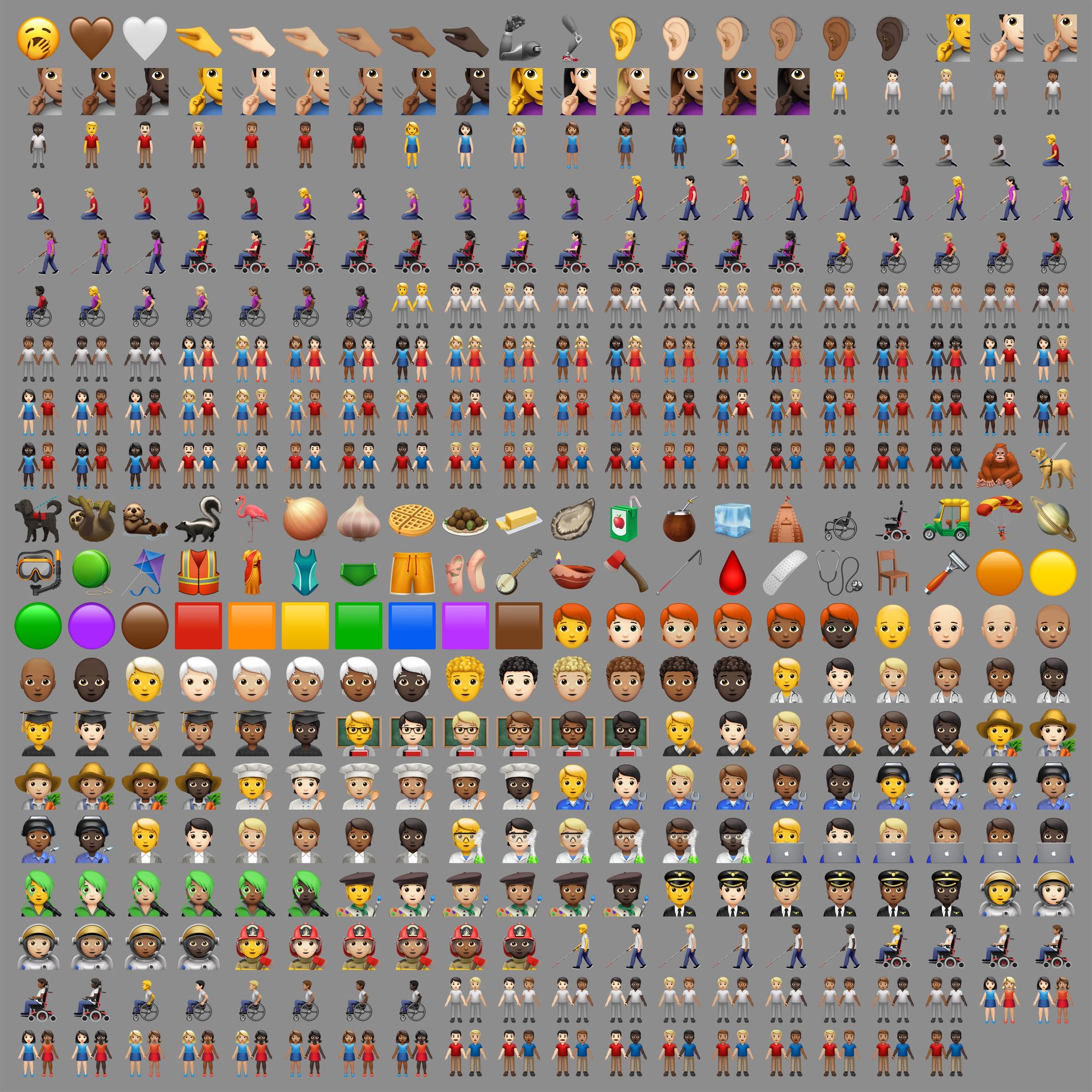 Above: All 398 new emojis in iOS 13.2. Image: Apple designs / Emojipedia composite.[1]
iOS 13.2 introduces a total of 398 new emoji designs to Apple devices: 230 from Emoji 12.0 and 168 from Emoji 12.1. This makes Apple the first emoji vendor to implement the recommendations of Emoji 12.1 - less than a month since it was first announced.
Of the 398 new emoji designs, 61 are for newly designated codepoints that were added to Unicode 12 back in March. The remaining 337 are new zero-width-joiner (ZWJ) sequences.
In addition to the large number of new emojis, iOS 13.2 also updates a considerable number of previously-available designs.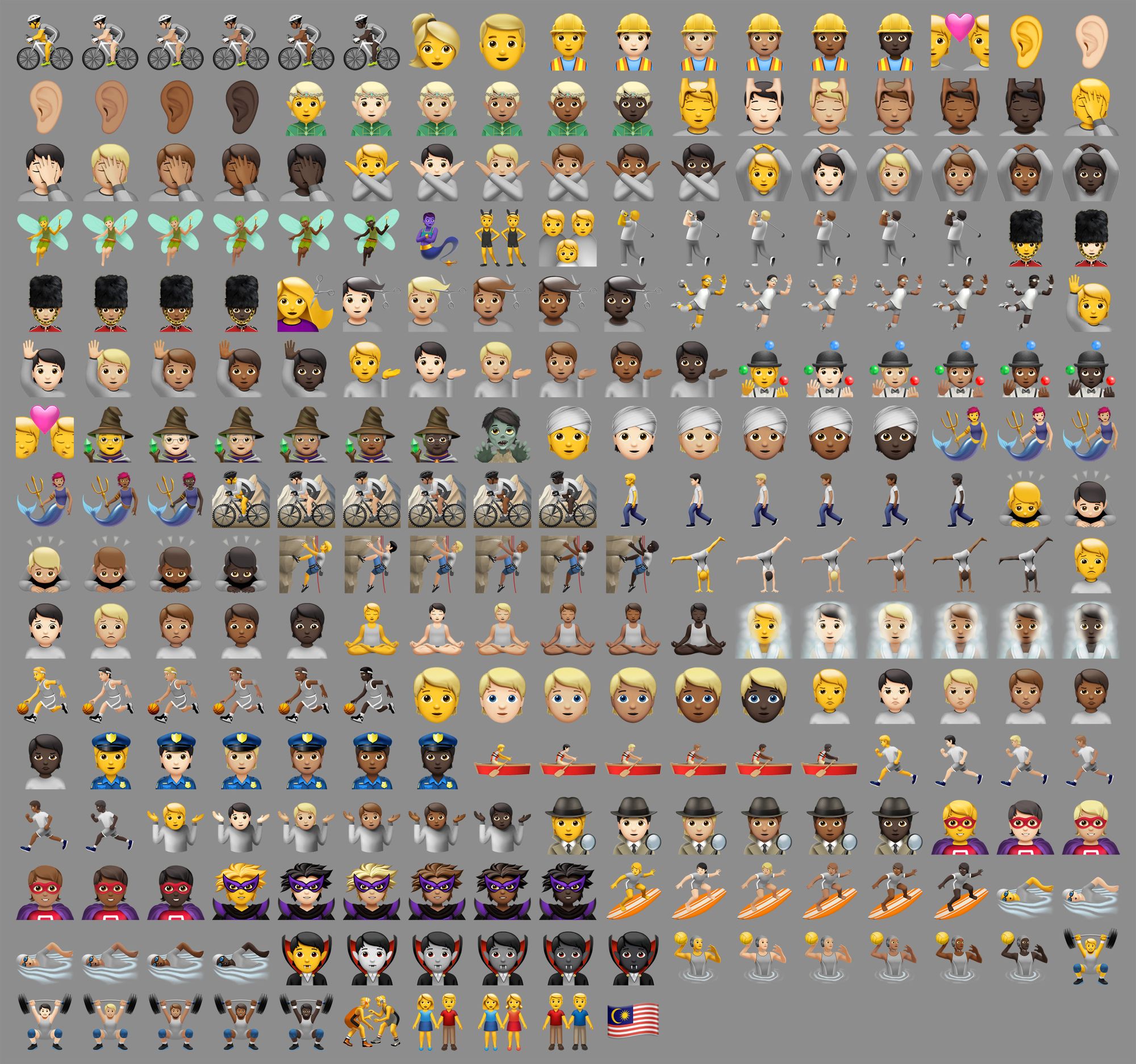 Above: all of the emojis redesigned in iOS 13.2.
A total of 265 designs have been modified, with 255 of these changes being made in the name of presenting people in a more gender neutral fashion. These changes make Apple's designs more consistent with how the Unicode Consortium defines person-focused emojis that do not specifically cite a gender, and come after similar updates by Google and JoyPixels in recent months.
Combined with the gender neutral designs introduced in Emoji 12.0 and Emoji 12.1, iOS 13.2 features a grand total of 457 new gender neutral emoji designs.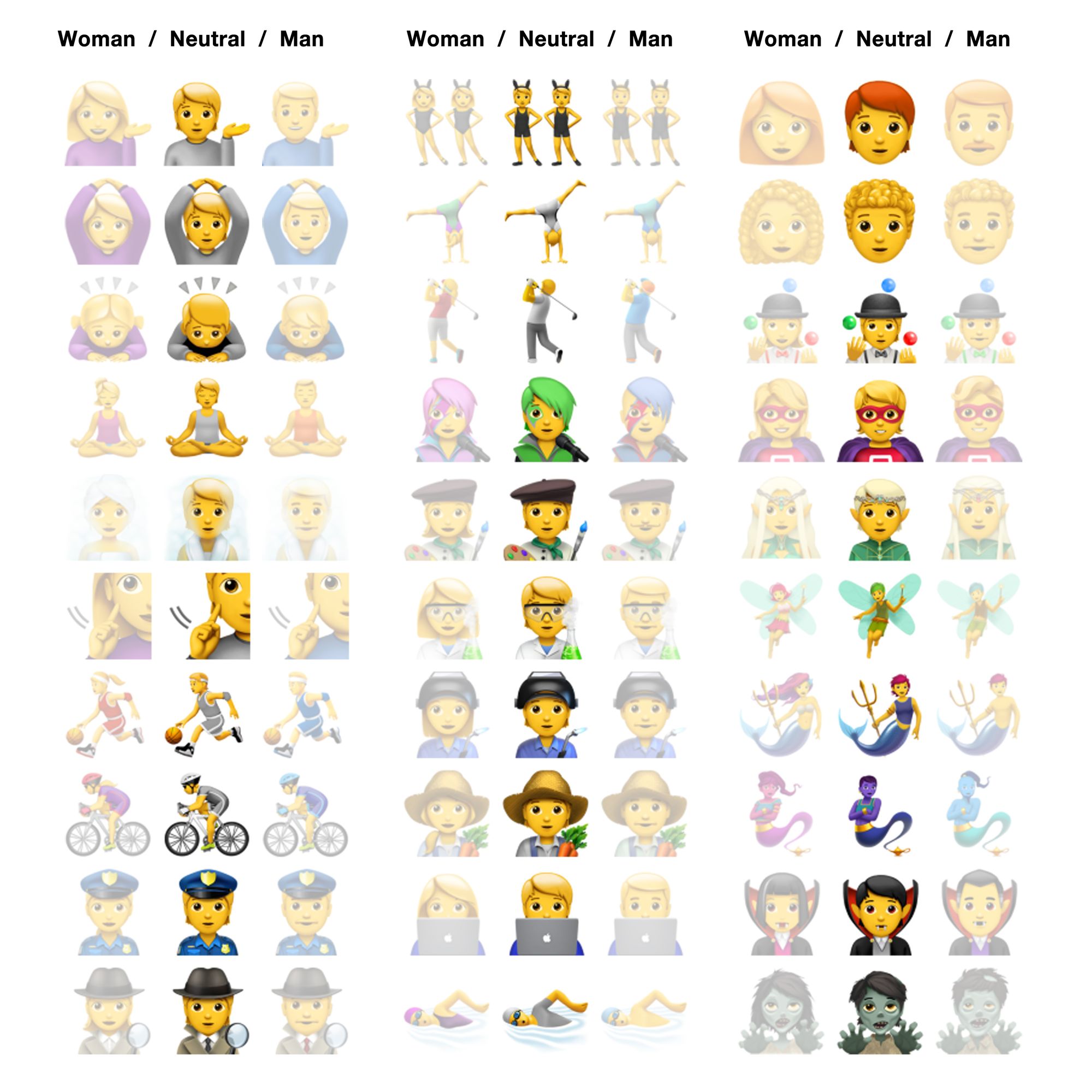 Above: a selection of new gender neutral designs introduced in iOS 13.2 for both new and previously-released emojis. Woman and Man variants are displayed at 33% opacity for ease of comparison.
📲 iOS 13.2 is out now with these 398 new emojis https://t.co/mYK0uXJ8t1 pic.twitter.com/eGwIH7g8ip

— Emojipedia 📙 (@Emojipedia) October 28, 2019
🆕 New
iOS 13.2 features a large selection of new emojis featuring people holding hands. These are constructed via different ZWJ sequence combinations of 👩 Woman, 👨 Man and 🤝 Handshake alongside any desired skin tone modifer combination.[2]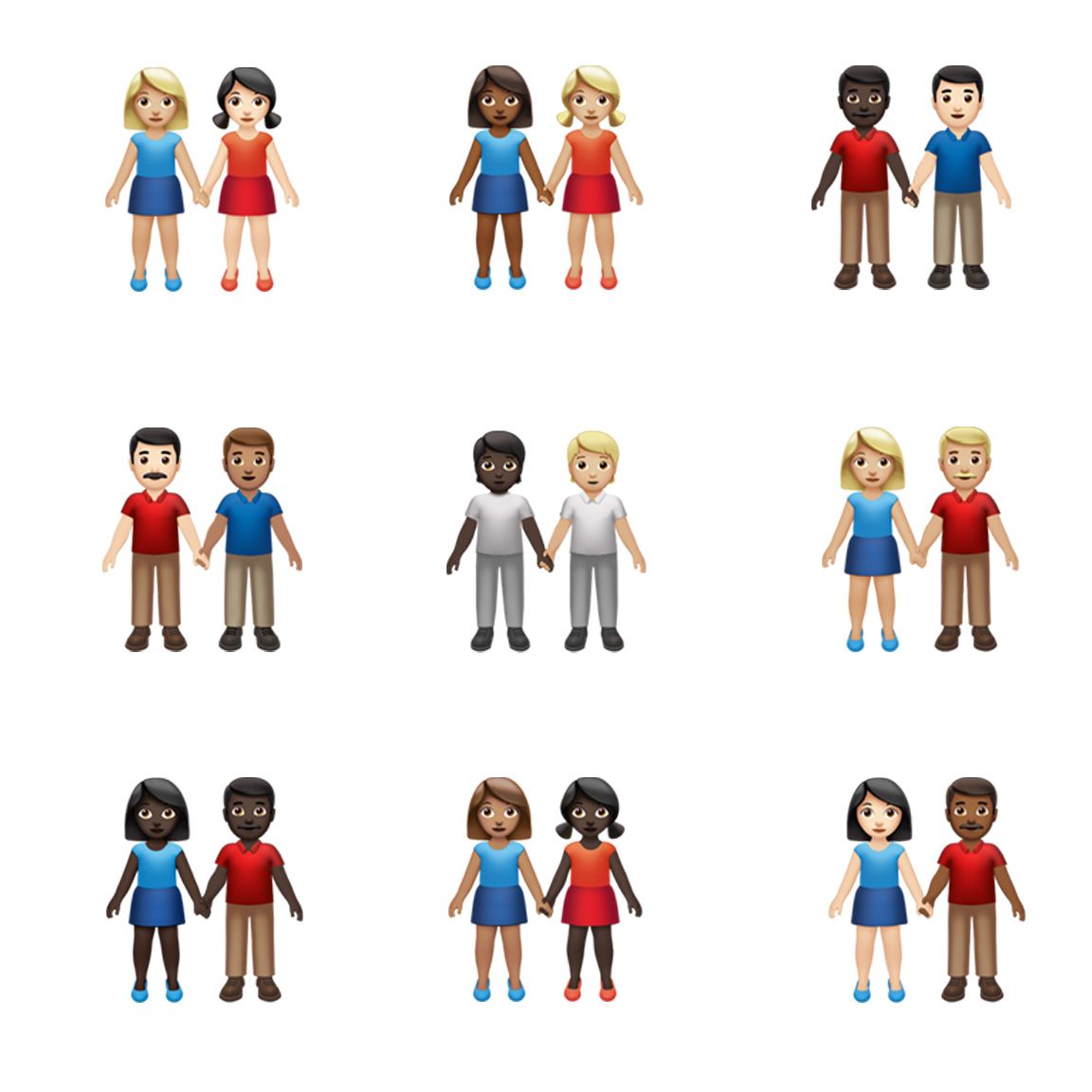 Above: A selection of the new people holding hands emojis in iOS 13.2.
As noted in our discussion of the iOS 13.2 beta earlier this month, the selection process for these new emojis utilises a brand new type of interface where the skin tones are selected for the left and right people one at a time.
📱👆New emoji picker in iOS 13.2 for selecting multiple skin tones in a single emoji. A clean implementation which will scale well to 🤝👩‍❤️‍👨👩‍❤️‍👩👨‍❤️‍👨👩‍❤️‍💋‍👨👩‍❤️‍💋‍👩👨‍❤️‍💋‍👨👨‍👩‍👦👨‍👩‍👧👨‍👩‍👧‍👦👨‍👩‍👦‍👦👨‍👩‍👧‍👧👩‍👩‍👦👩‍👩‍👧👩‍👩‍👧‍👦👩‍👩‍👦‍👦👩‍👩‍👧‍👧👨‍👨‍👧👨‍👨‍👧👨‍👨‍👧‍👦👨‍👨‍👦‍👦👨‍👨‍👧‍👧👩‍👦👩‍👧👩‍👧‍👦👩‍👦‍👦👩‍👧‍👧👨‍👦👨‍👧👨‍👧‍👦👨‍👦‍👦 in future pic.twitter.com/KqJZGFuZFH

— Jeremy Burge (@jeremyburge) October 10, 2019
Options to mix and match two women, two men, or a woman and man are available, each which can have any skin tones.[1:1]
A new combination which shows people holding hands without a specific gender is supported, but not shown on the emoji keyboard in this release, for some reason.
The gender inclusive emoji is created by combining two of the 🧑 Person emojis (with both people clad in light grey). It's also not possible to combine 🧑 Person with either 👩 Woman or 👨 Man, which is consistent with the Emoji 12.0 and Emoji 12.1 lists from Unicode.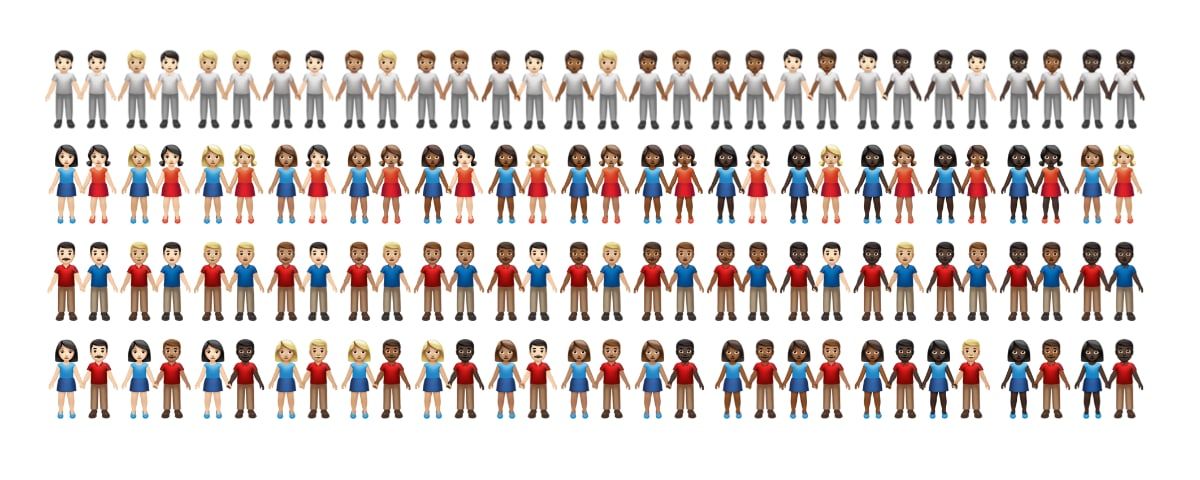 Above: All combinations of people holding hands in iOS 13.2. Image: Apple / Emojipedia composite.
iOS 13.2 also expands gender neutral representation across the board, with Emoij 12.1 expanding the recommended list of emojis to include gender neutral sequences for hair types (such as redheads or curly hair) as well as professions like the judge or office worker.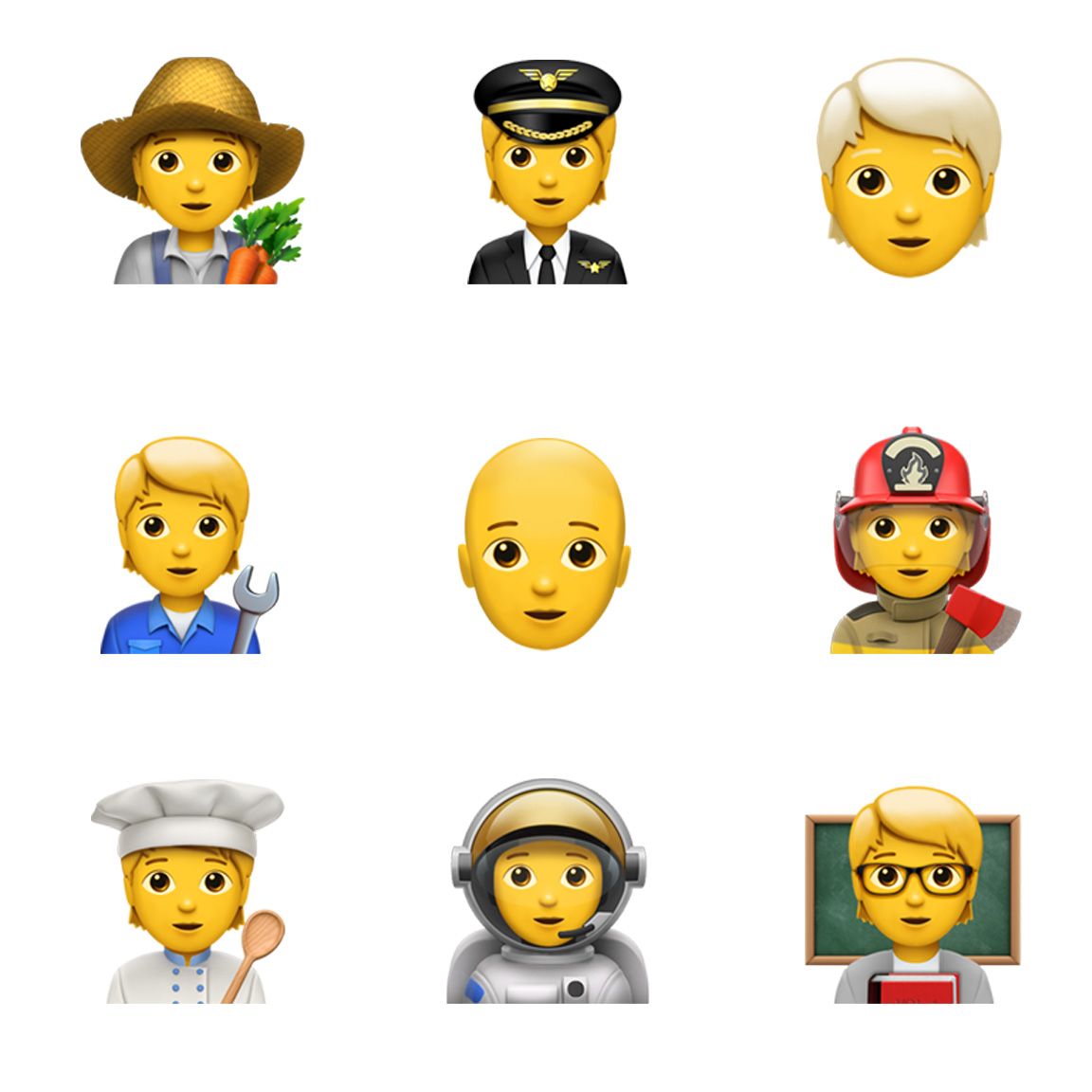 Above: a selection of the new gender neutral profession-focused emojis as they appear in iOS 13.2.
Most of these new gender neutral emojis are created by combining the 🧑 Person emoji with a relevant other emoji via a ZWJ sequence.[3]
There are also 67 new accessibility-focused emojis in iOS 13.2, based on a proposal originally made by Apple in March of 2018.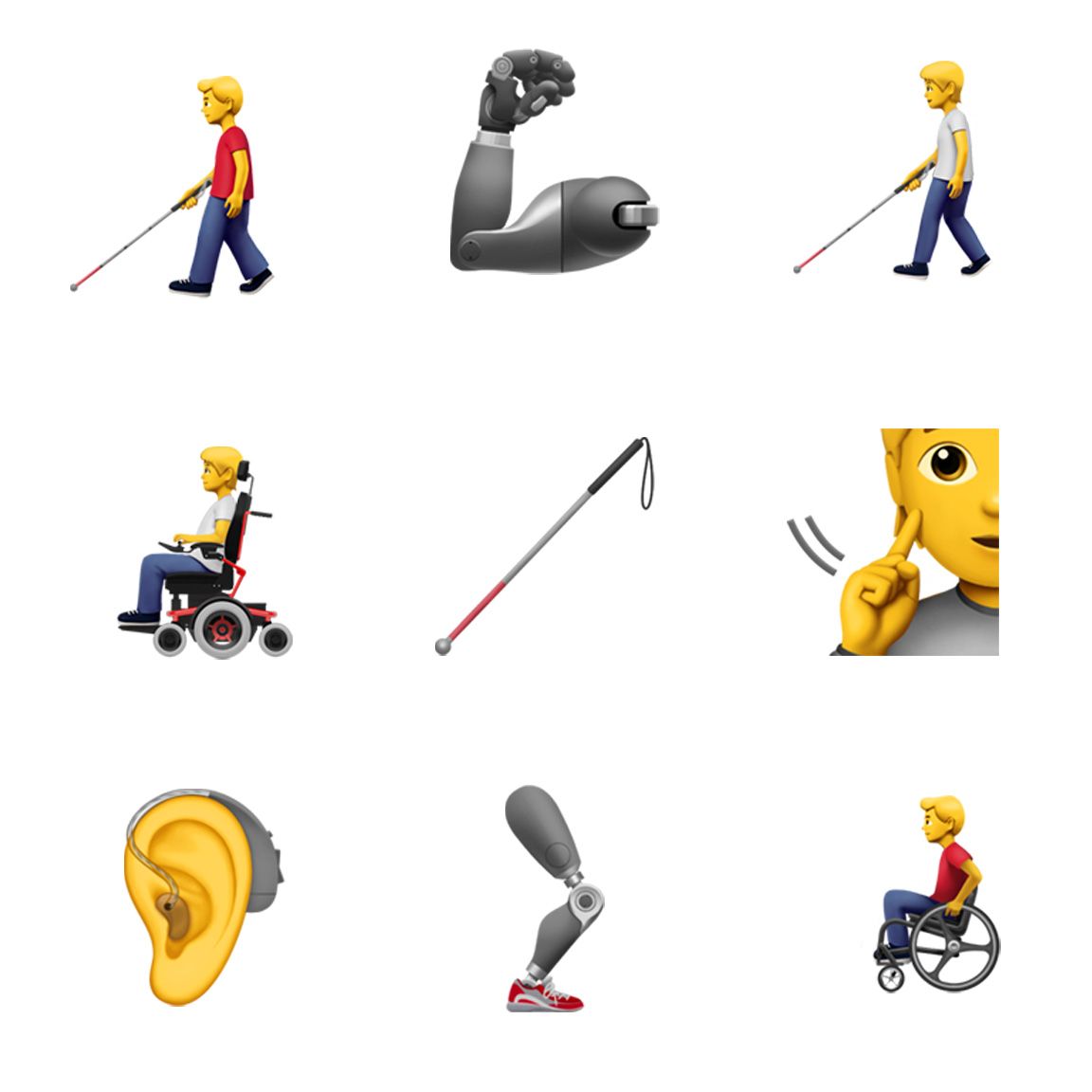 Above: A selection of the new accessibility-focused emojis available in iOS 13.2.
The options amongst the colored hearts, squares and circles have also been expanded, meaning that each of these shapes now have consistent options for a red, orange, yellow, green, blue, purple, white, black and brown variant.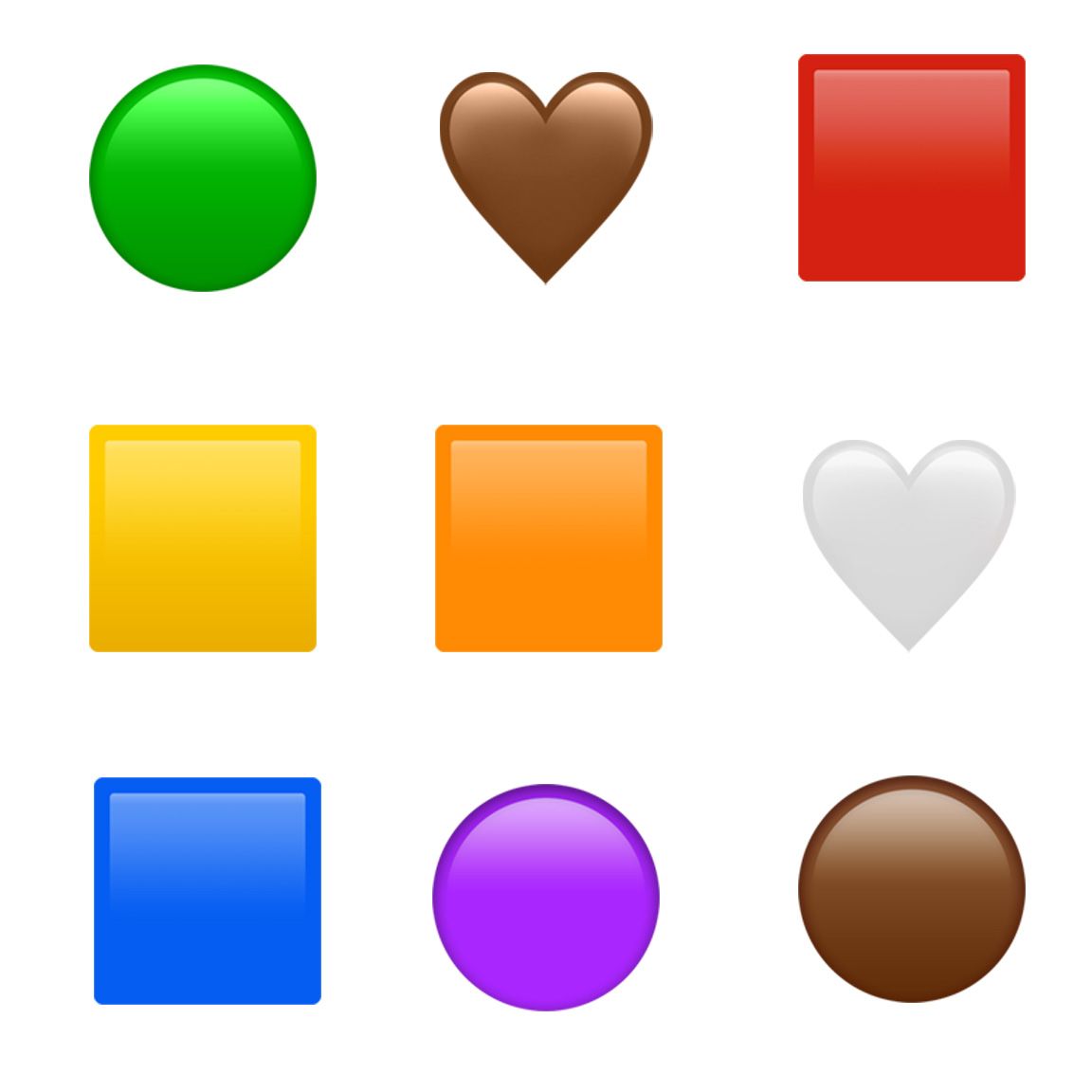 Above: A selection of the new shape options as they appear in iOS 13.2.
There have been eight[4] new food emojis added in iOS 13.2, including 🧆 Falafel and 🧉 Maté.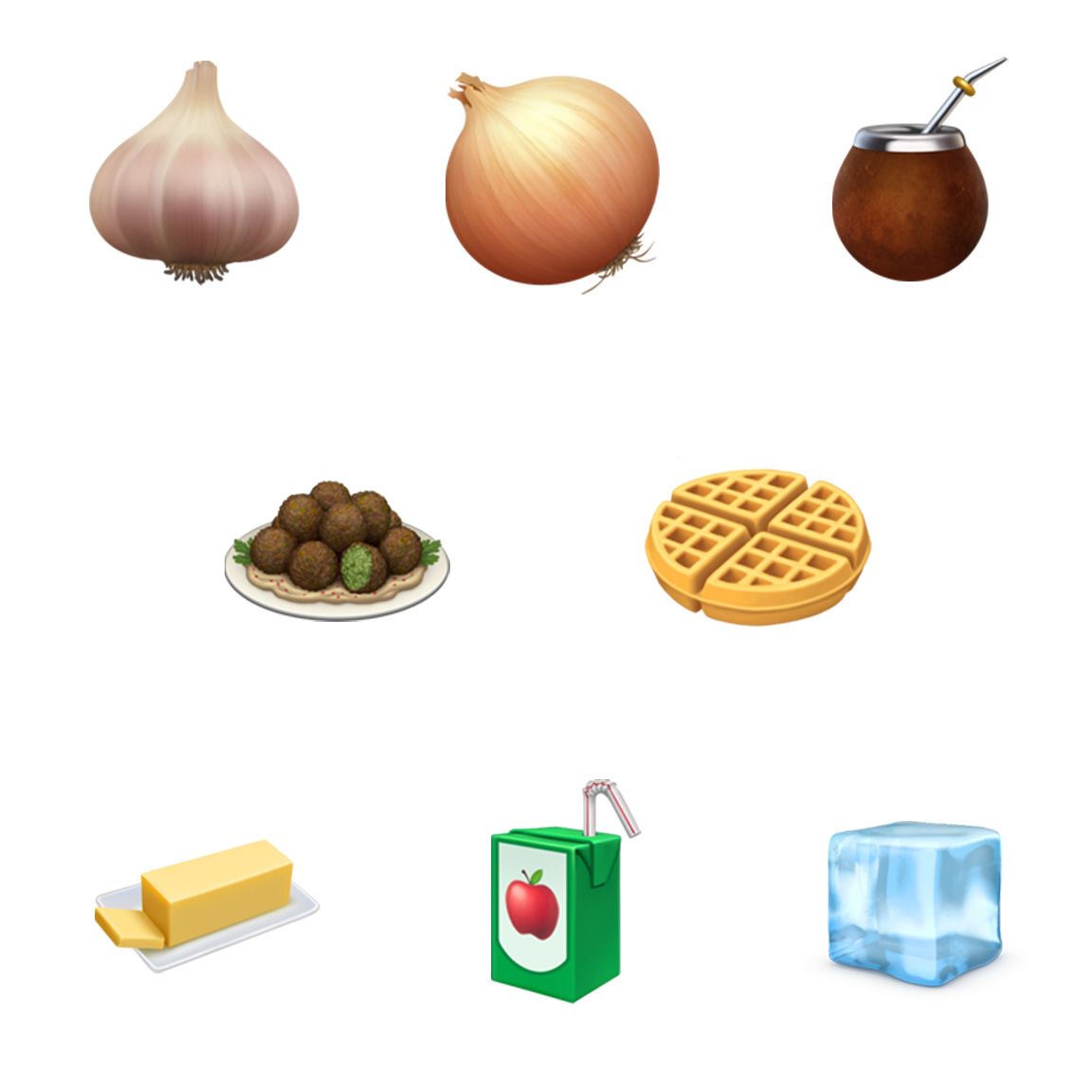 There are also eight[4:1] new animal emojis, including a meme-echoing 🦧 Orangutan.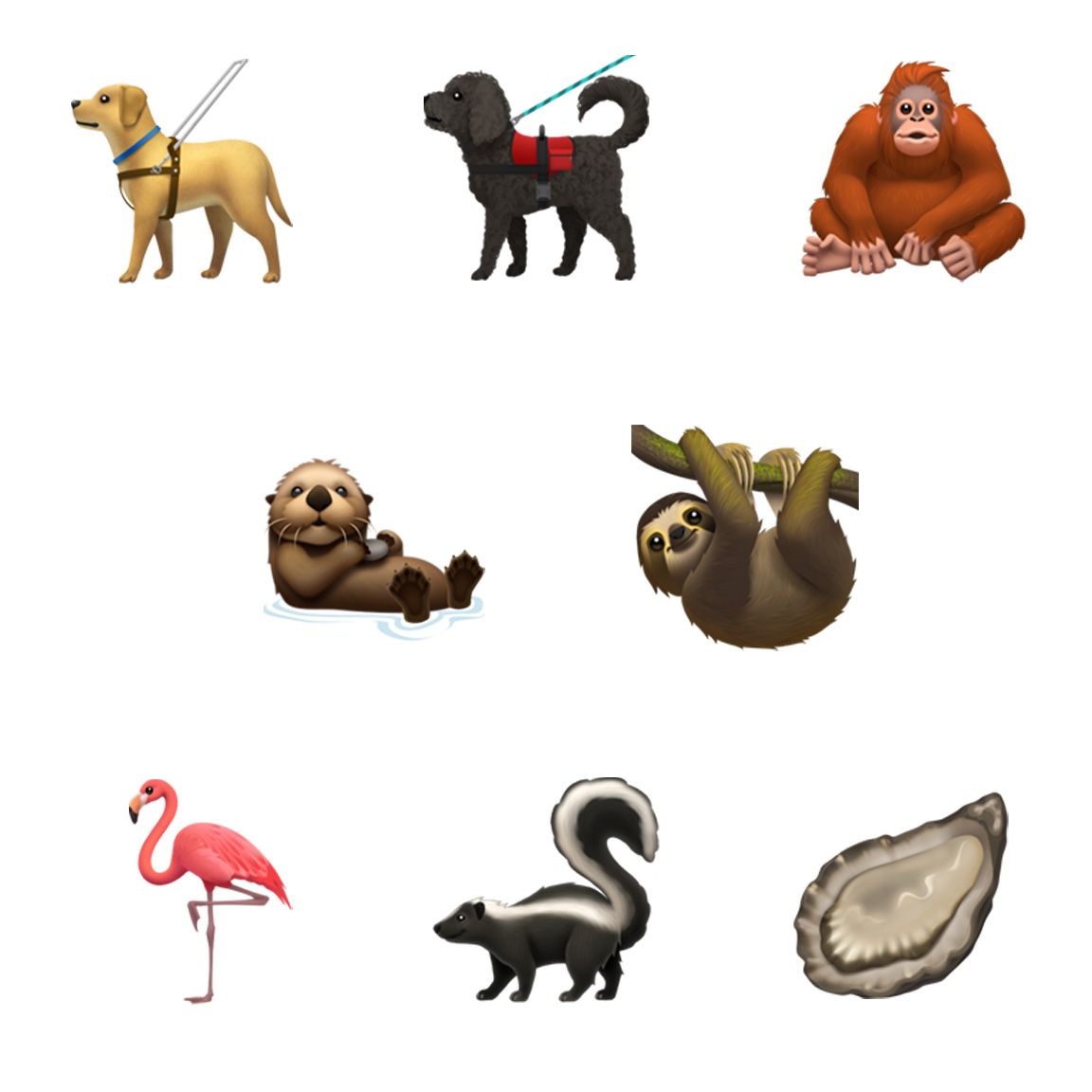 Above: the eight[4:2] new animal emoji designs in iOS 13.2.
Notably, the Apple 🦪 Oyster does not feature a pearl. This is similar to Facebook's recently released design, but differs from that of all other major vendors.
An additional 64 new emojis have been introduced in iOS 13.2 across all other emoji categories. These include 🥱 Yawning Face, a 🪔 Diya Lamp, a 🩸 Drop of Blood originally proposed to enable discussion of menstruation, and the controversial 🤏 Pinching Hand. The full list of new designs can be viewed here.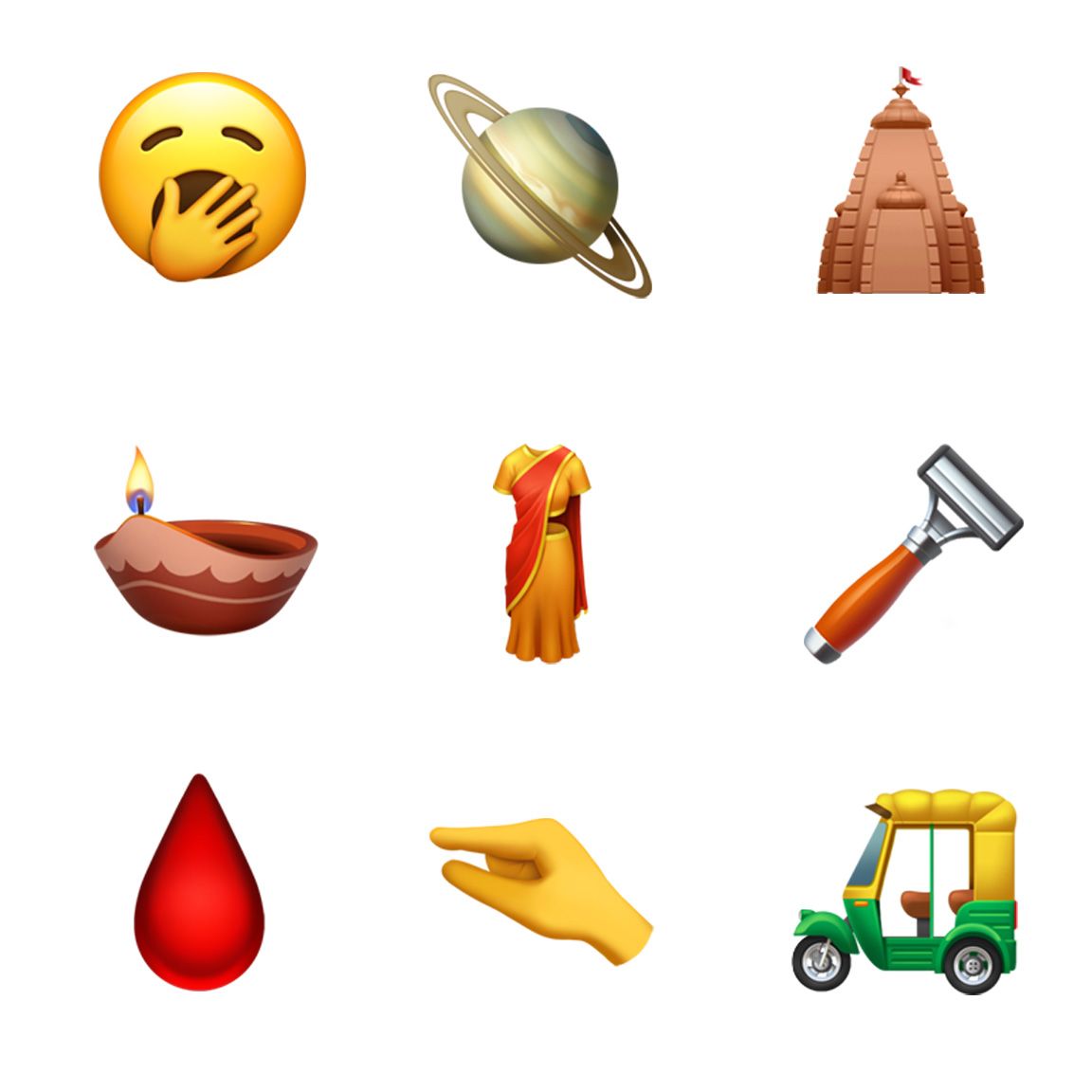 🆙 Changes
265 previously-released emojis have updated designs in iOS 13.2.
Many of the redesigns in iOS 13.2 involve updated the 'base' emoji for any given option (such as vampire or police officer) to have a distinct gender-ambiguous appearance. Previously these tended to simply display with a duplicate of the women or man variation.
As well as having a new gender neutral facial structure, 👱 Person: Blond Hair now has realistic blond hair, as opposed to a skin-tone-matching yellow.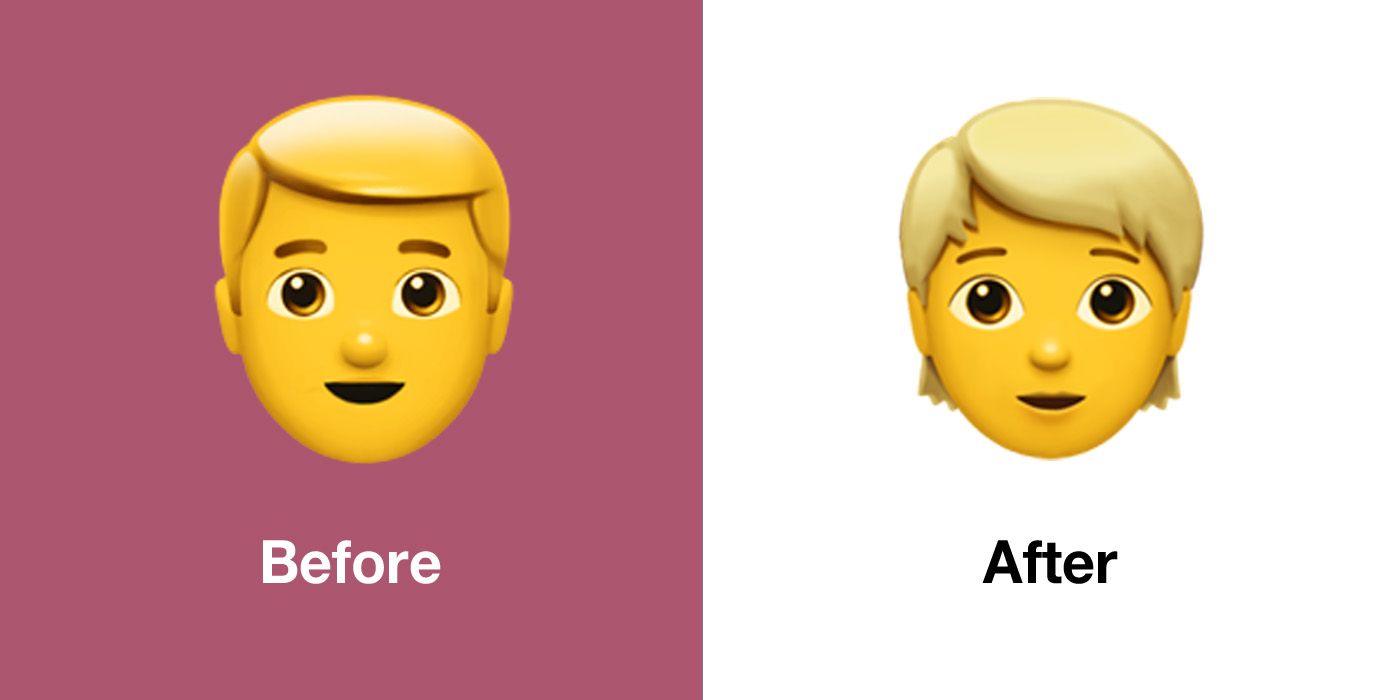 💇 Person Getting Haircut is no longer shown a 💇‍♀️ Woman Getting Haircut, and has had their scissors repositioned.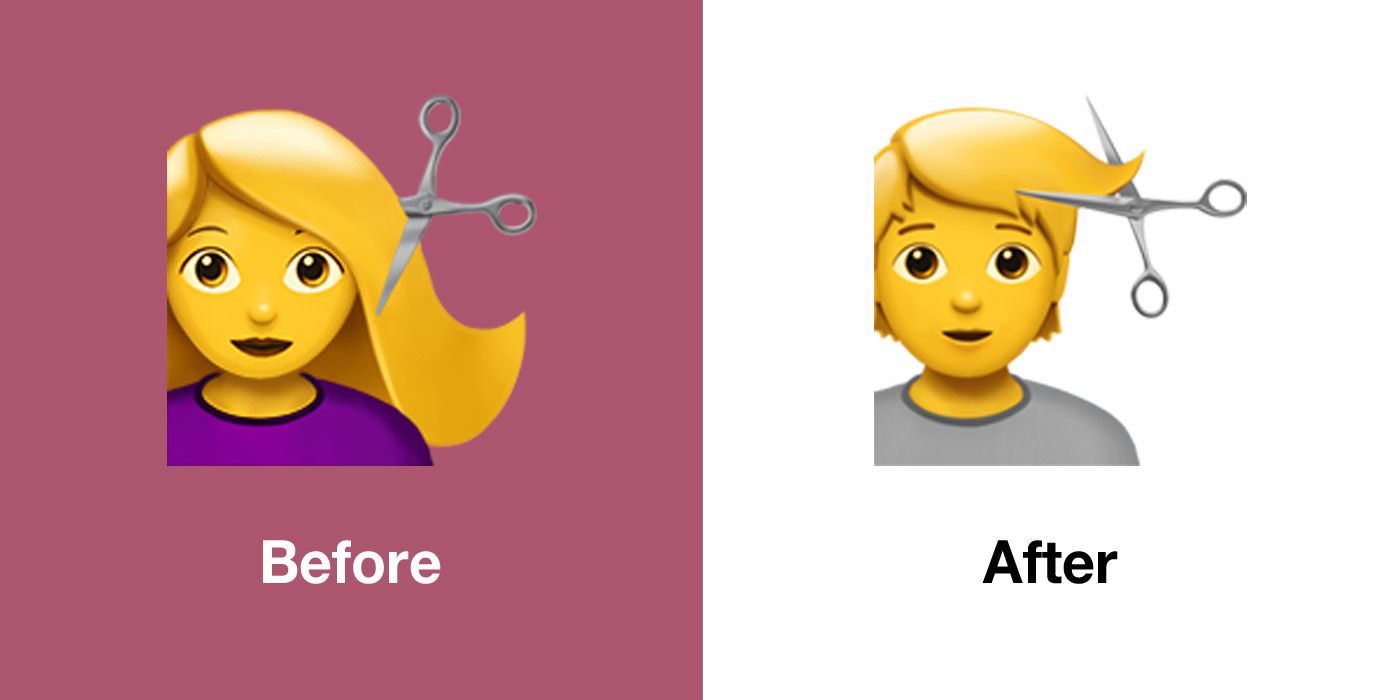 💆 Person Getting Massage now appears distinct from 💆‍♀️ Woman Getting Massage.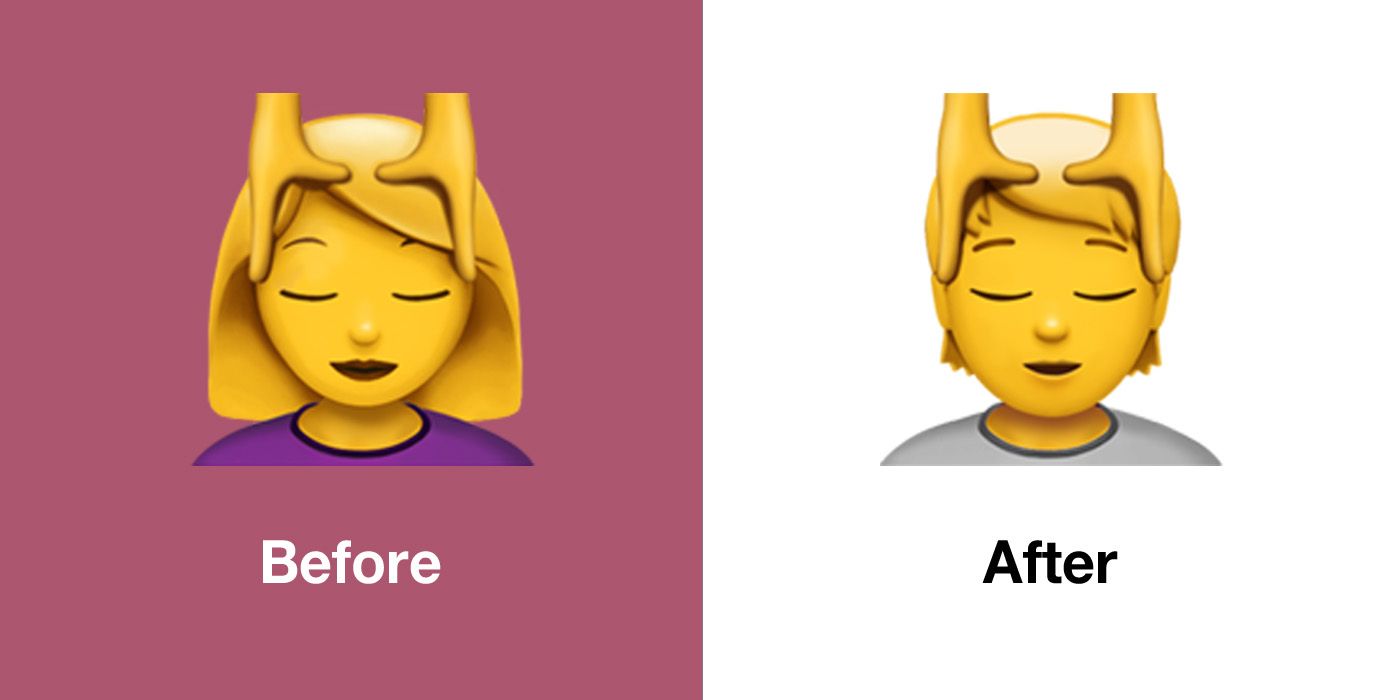 👳 Person Wearing Turban has a new facial structure, different eyebrow shape and no longer features the yellow beard of 👳‍♂️ Man Wearing Turban.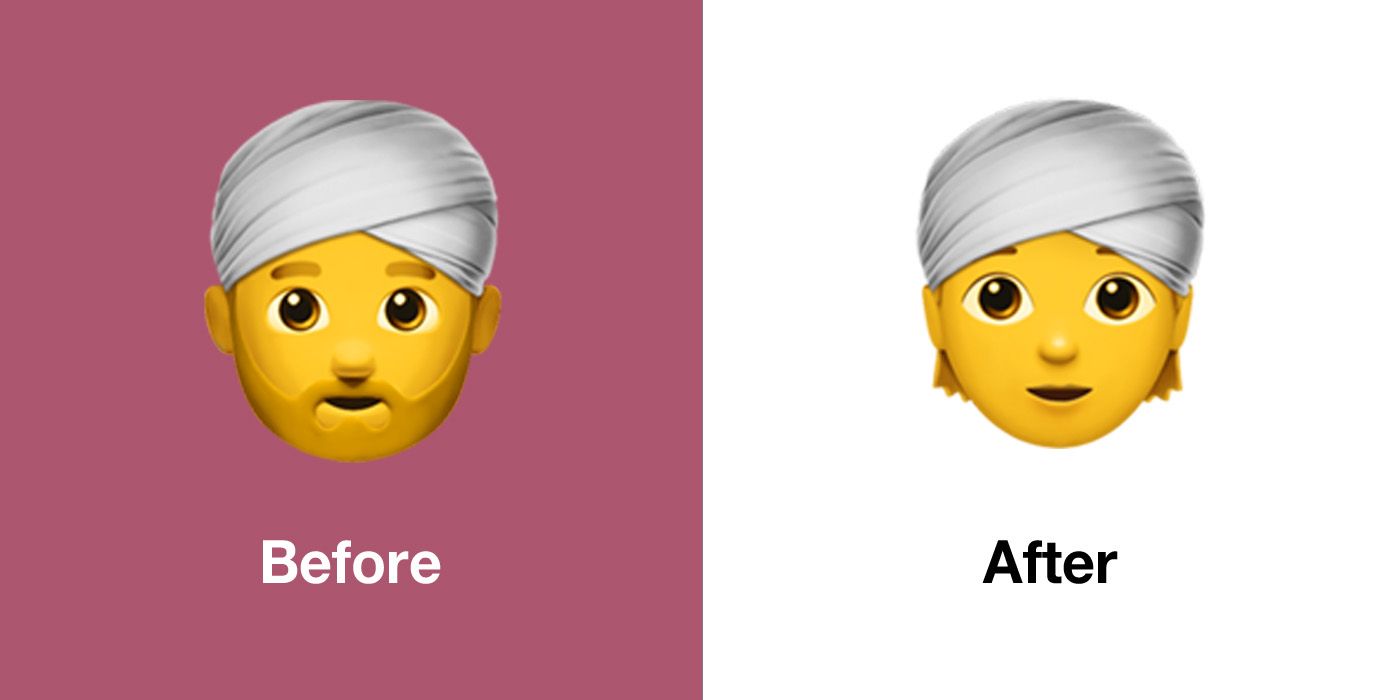 🏃 Person Running is now wearing a short-sleeved grey t-shirt and grey shorts, as per the gender neutral color palette selecting by Apple.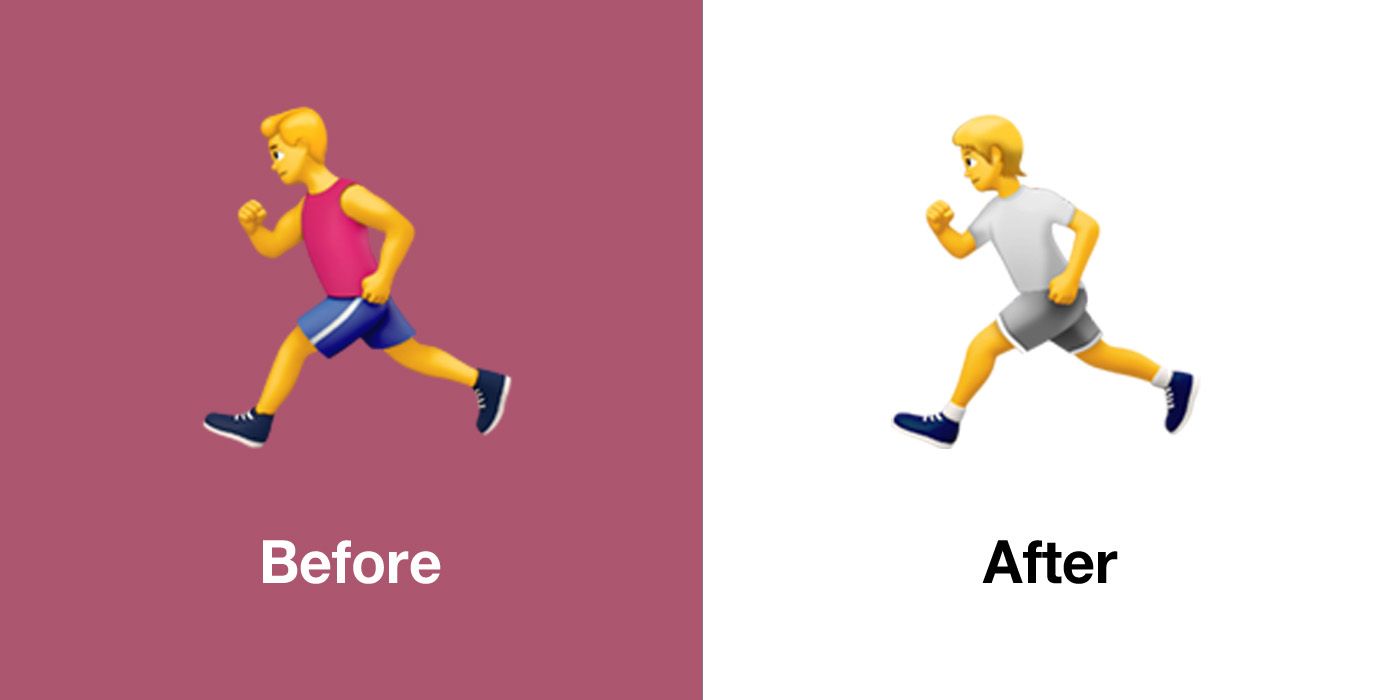 👮 Police Officer has a more neutral facial structure and hair, including the removal of 👮‍♂️ Man Police Officer's moustache.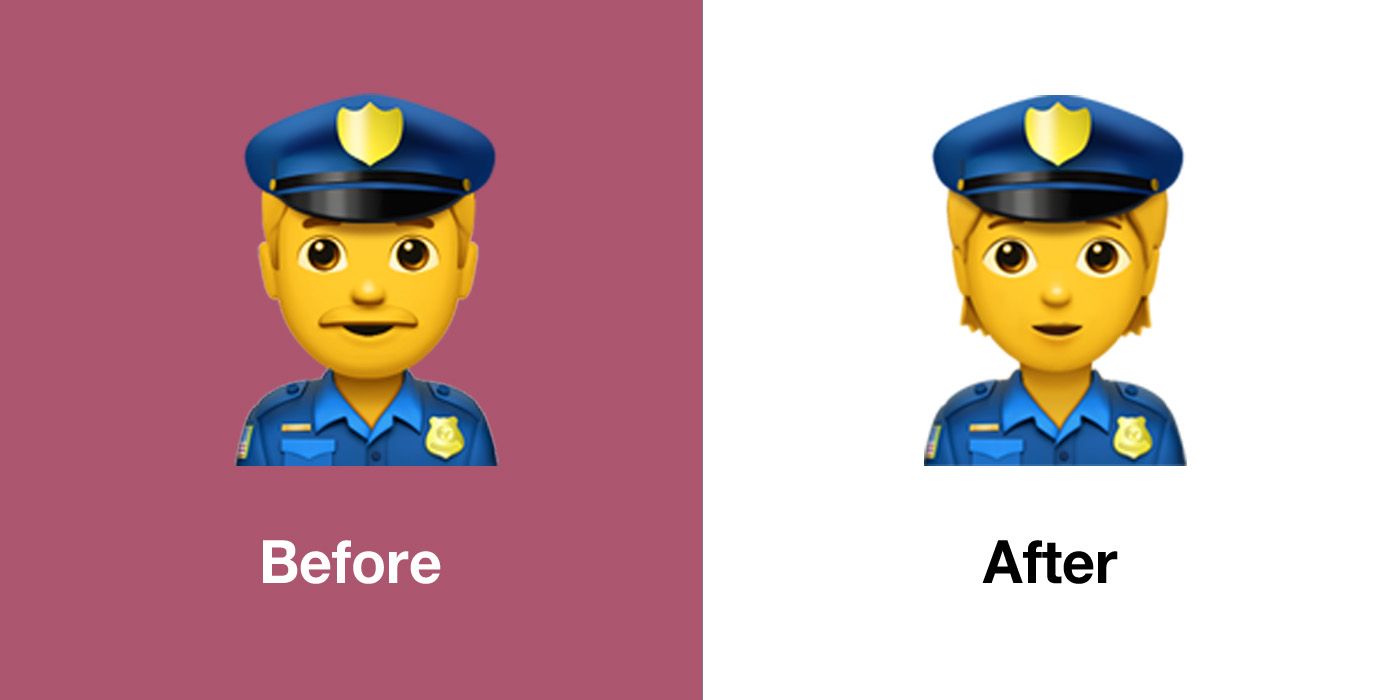 🕵️ Detective no longer has a moustache and has swapped their red tie for black. You can also see their jacket's collar and shoulder through their magnifying glass.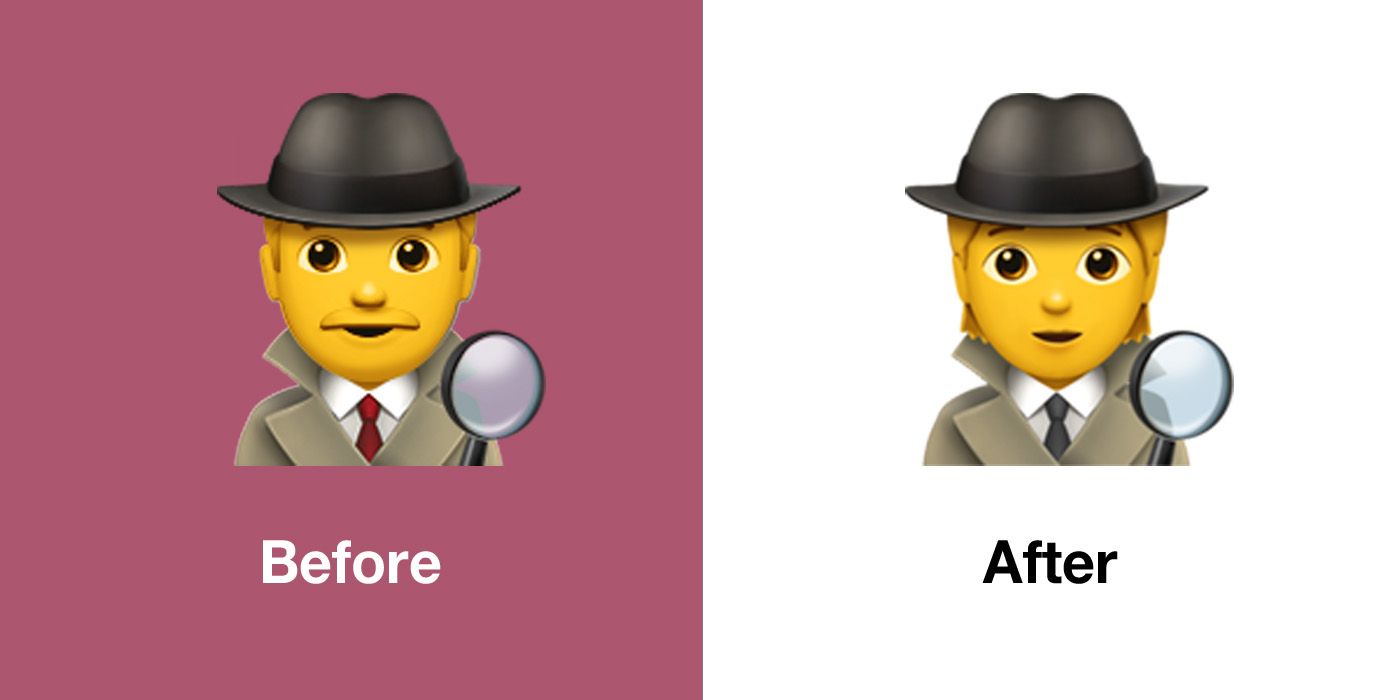 The 👯 People With Bunny Ears now have a more neutral body type, thinner straps on their vests, and different shoes.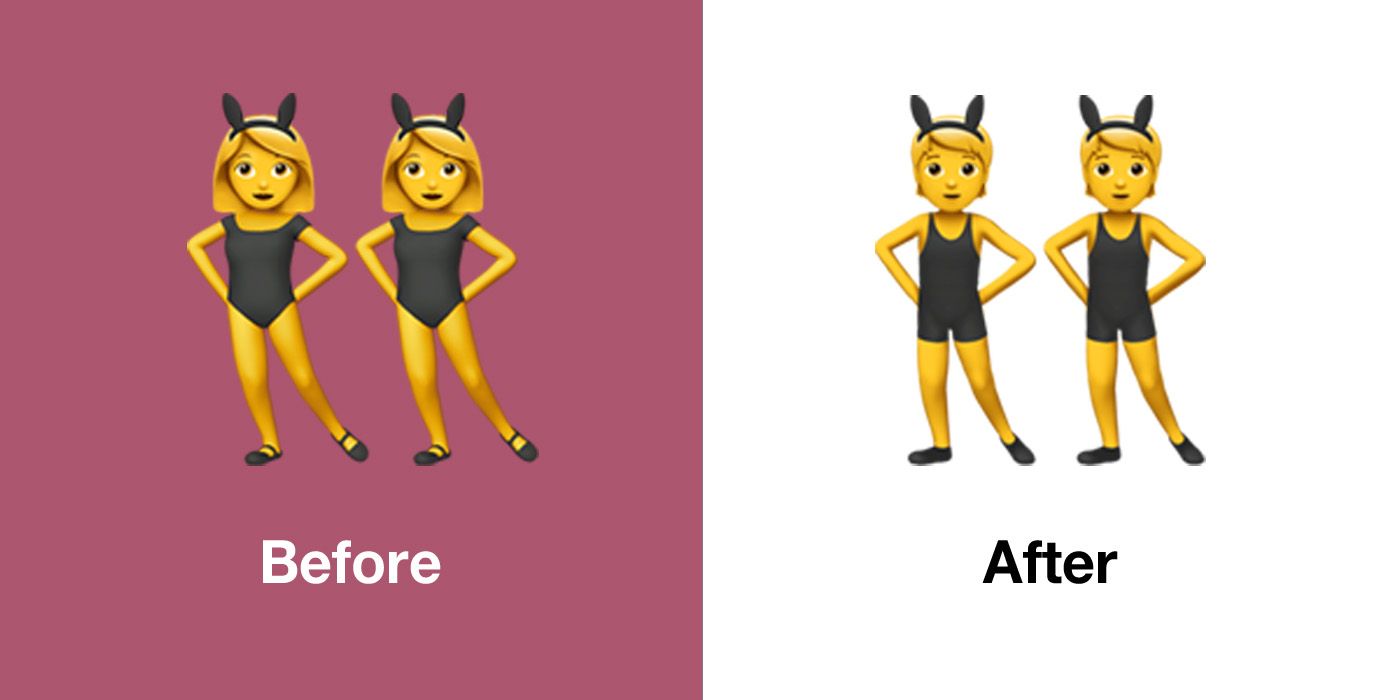 🧝 Elf has much shorter hair, as well as a distinct tunic and ornate headband.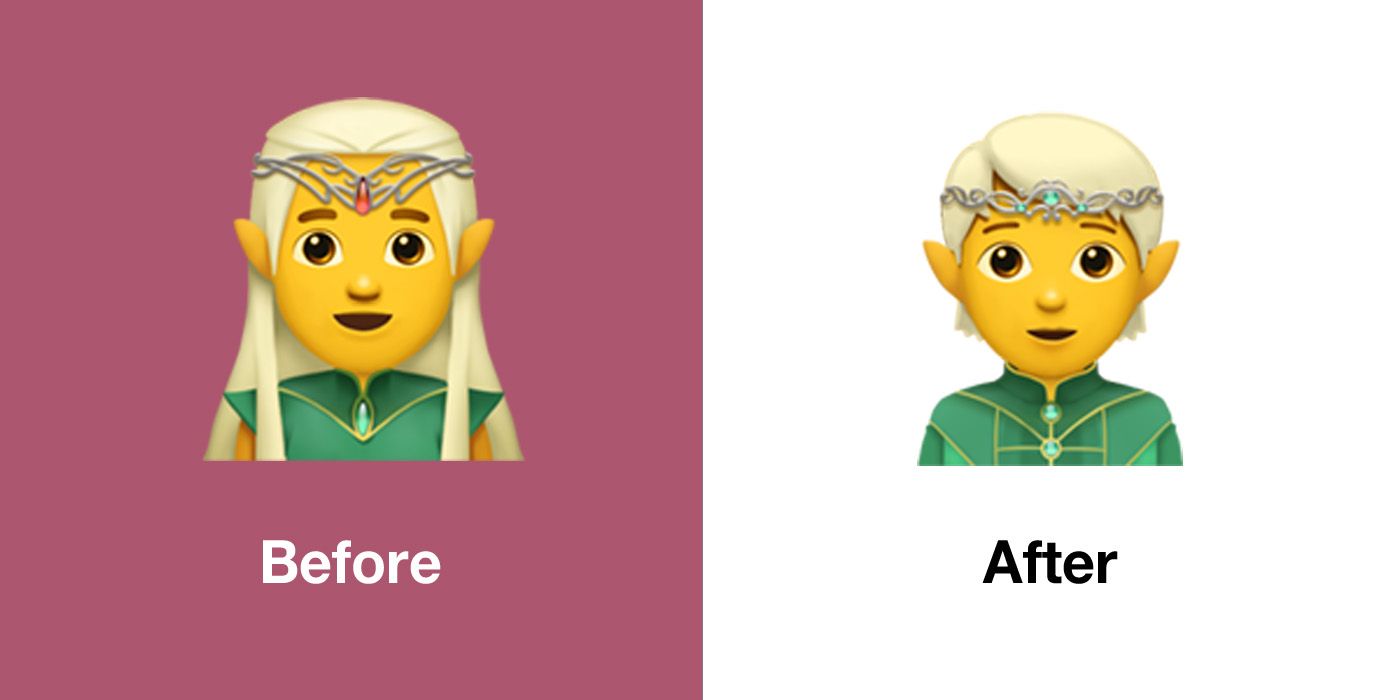 🧚 Fairy now has green hair, a vest, and a less billowing skirt.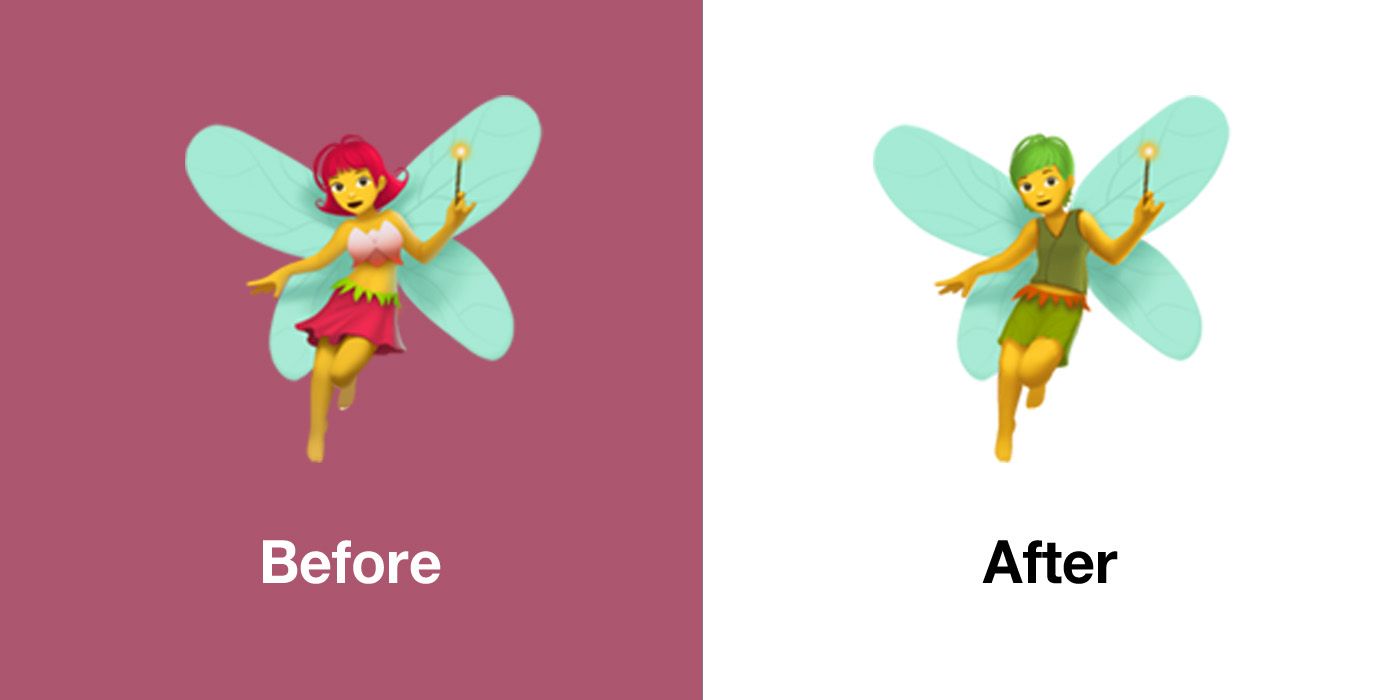 🧞 Genie is now purple instead of blue, is wearing a vest, and does not have either a ponytail or beard.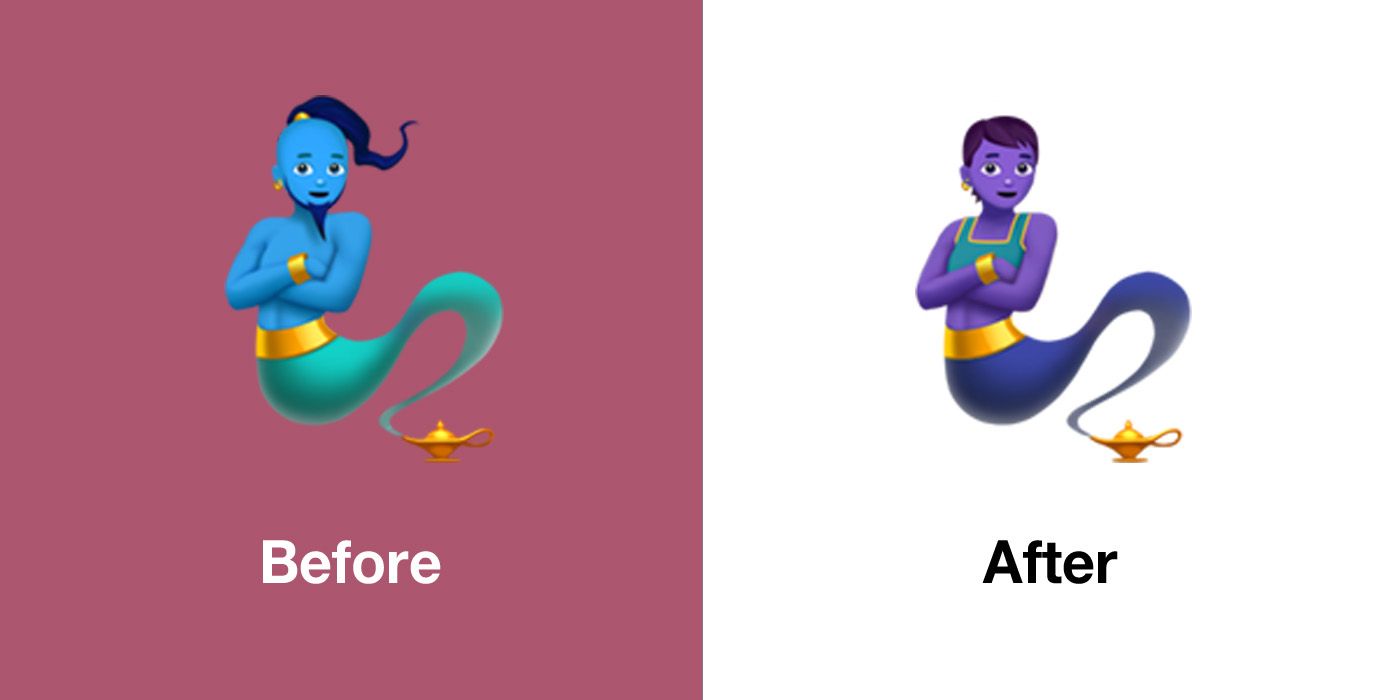 🧜 Merperson has longer hair and now has their torso covered.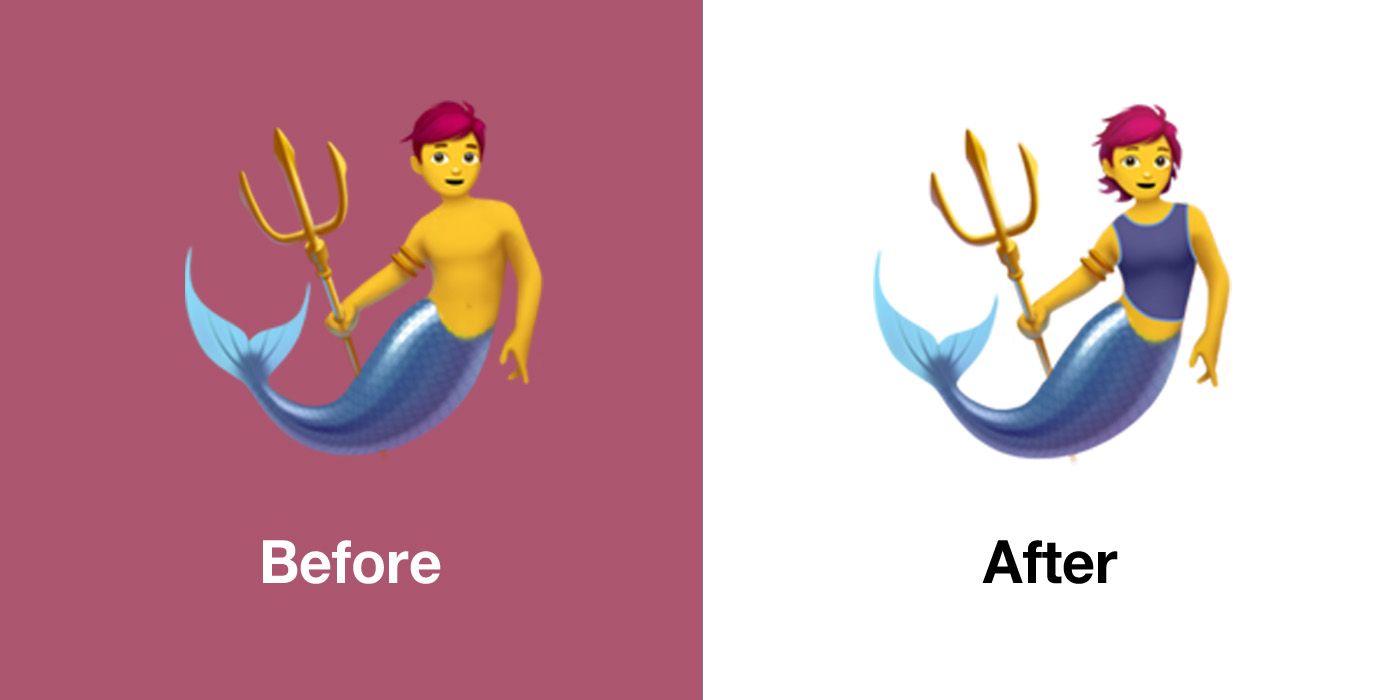 🧛 Vampire has lost their bangs and has slightly slimmer fangs as well no longer wearing lipstick and wearing a grey top under their jacket instead of fuchsia.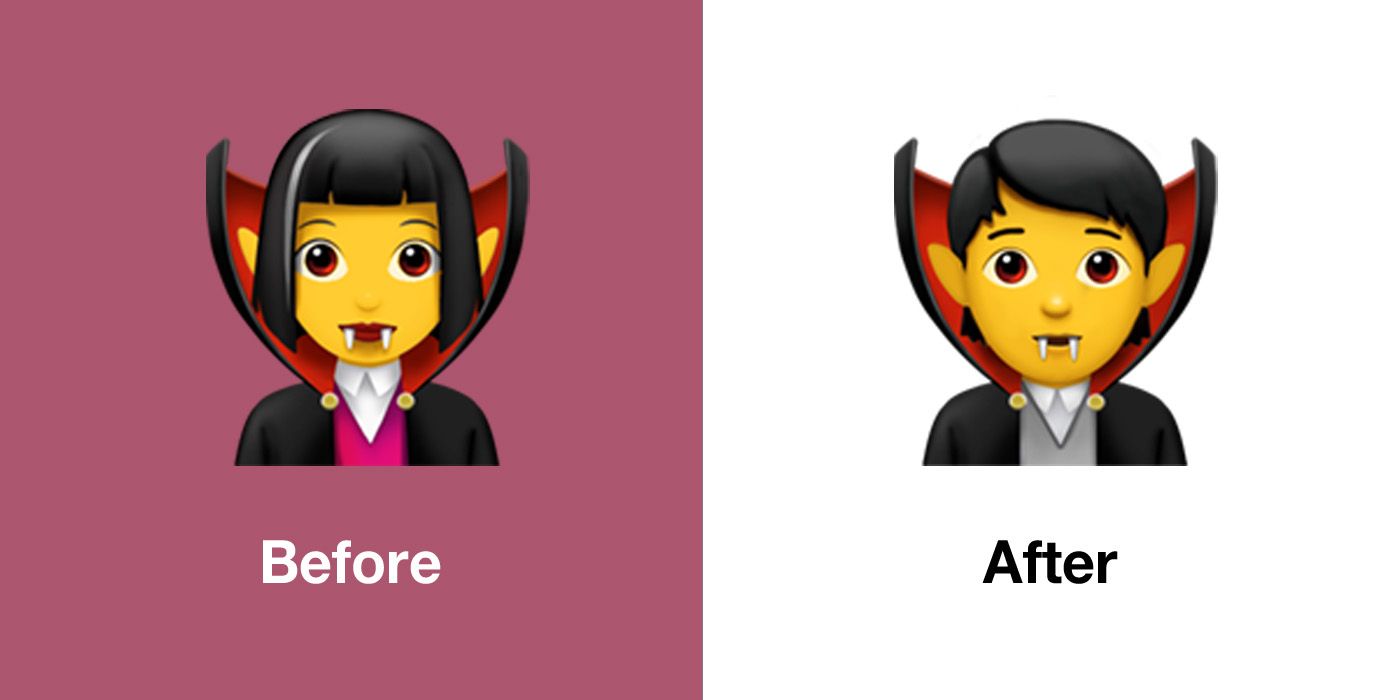 🧟 Zombie has a fuller head of hair, larger eyes and a slightly smaller mouth than the previous 🧟‍♂️ Man Zombie design.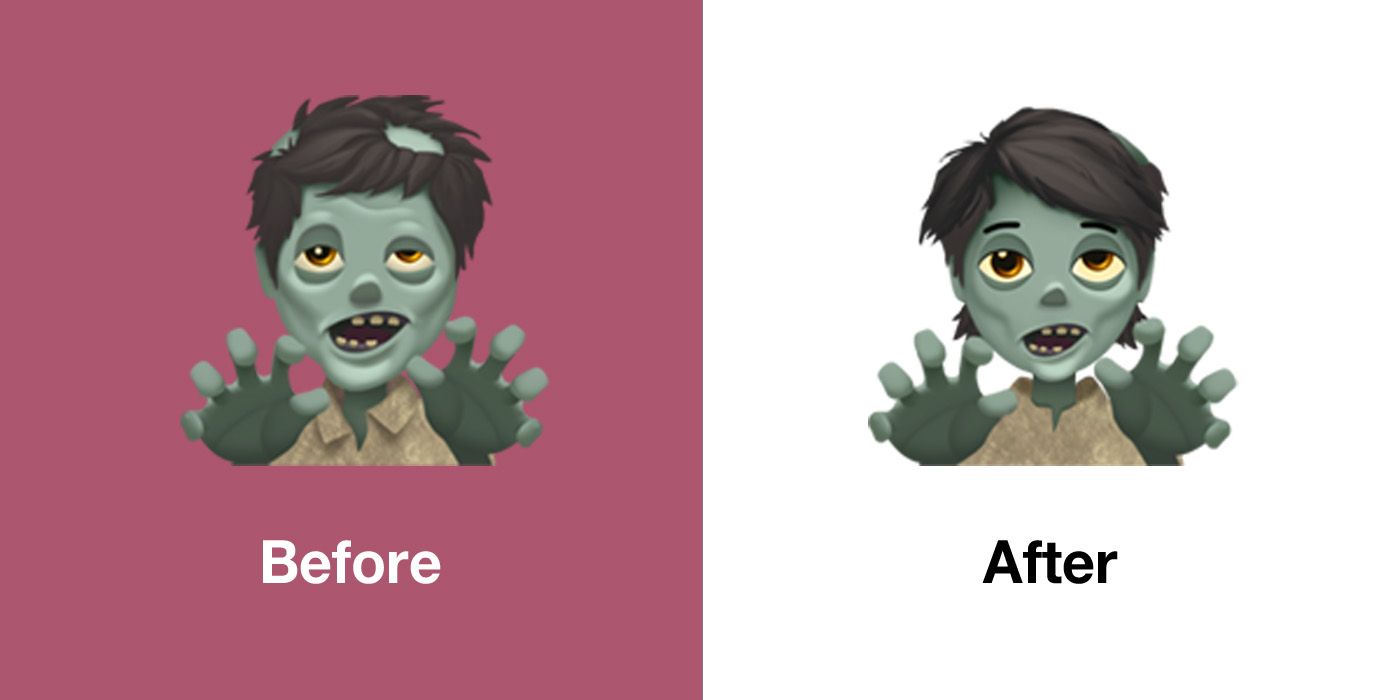 🦸 Superhero has shorter hair, slightly broader shoulders and is no longer wearing lipstick.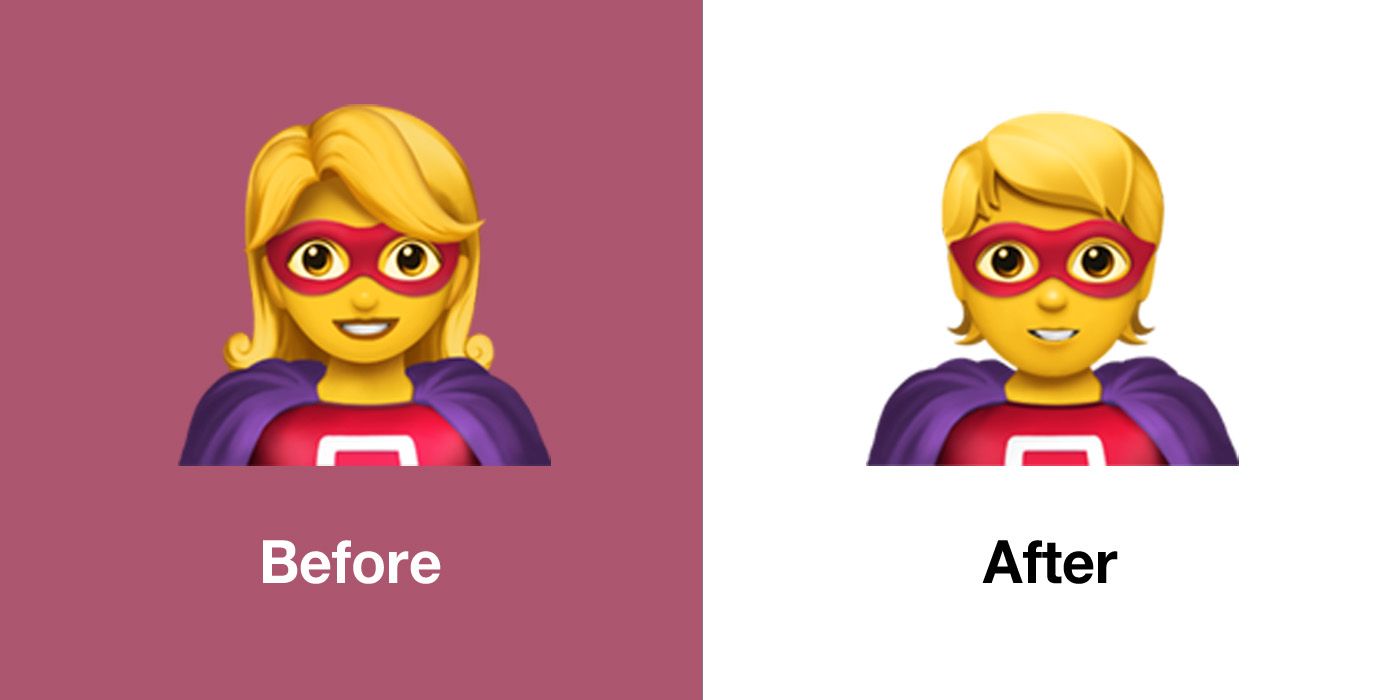 The 💏 Kiss emoji now features two gender neutral people instead of a man and a woman.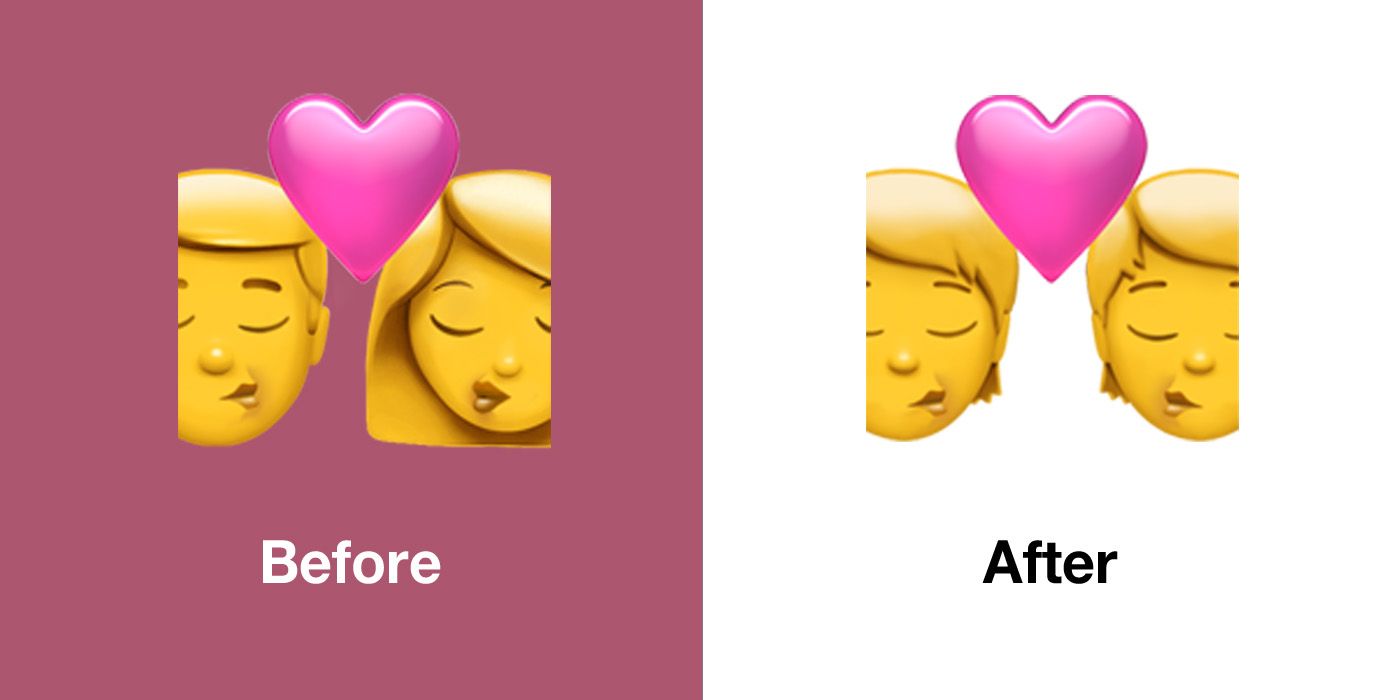 The 💑 Couple With Heart now displays two gender neutral people wearing grey instead of a woman in purple and a man in blue.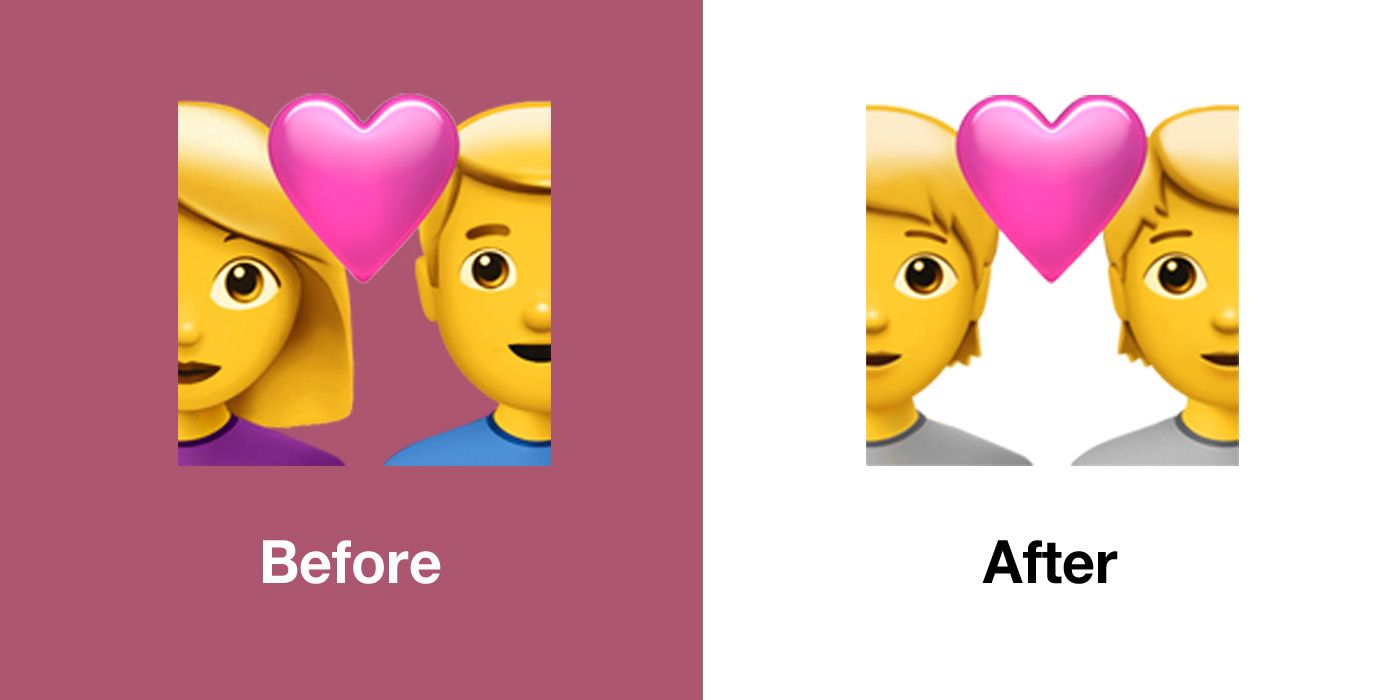 The two adults and one child of the 👪 Family emoji are now all wearing grey and share a gender-neutral facial design with 🧑 Person and 🧒 Child respectively.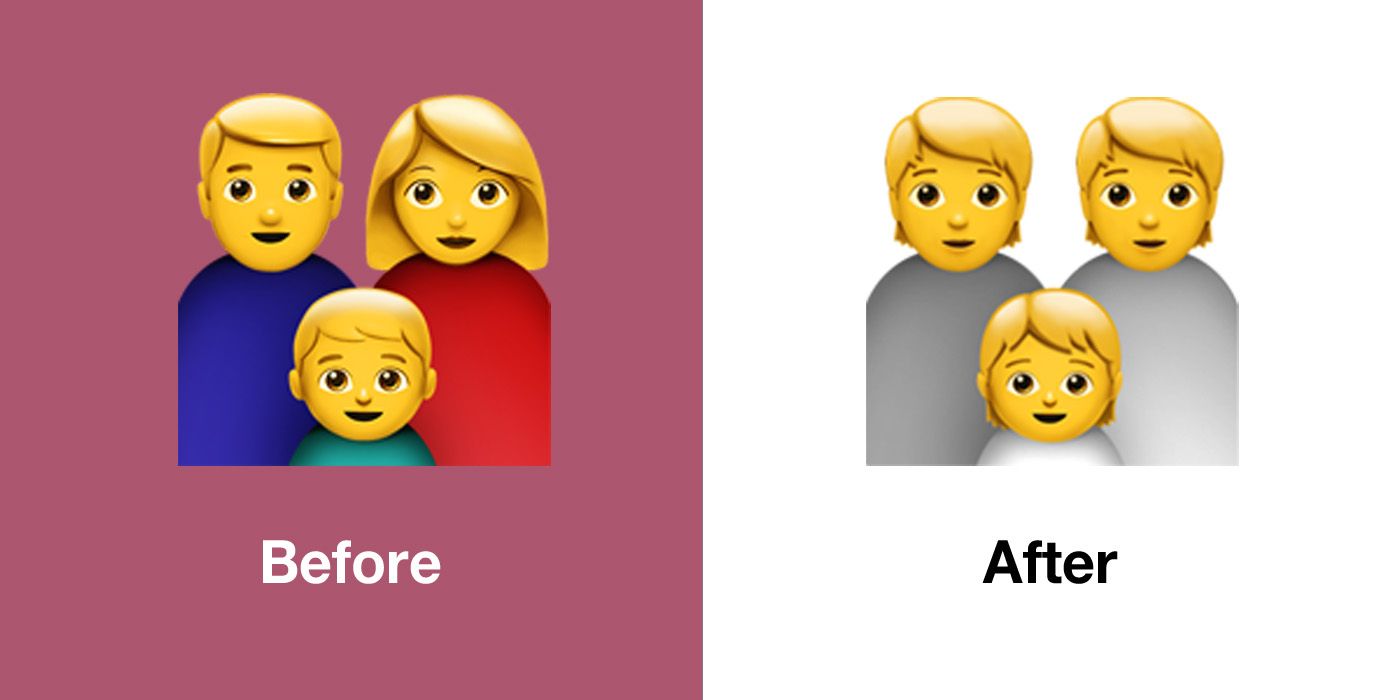 👂 Ear has been designed to appear more like the ear shown in the new 🦻 Ear With Hearing Aid emoji.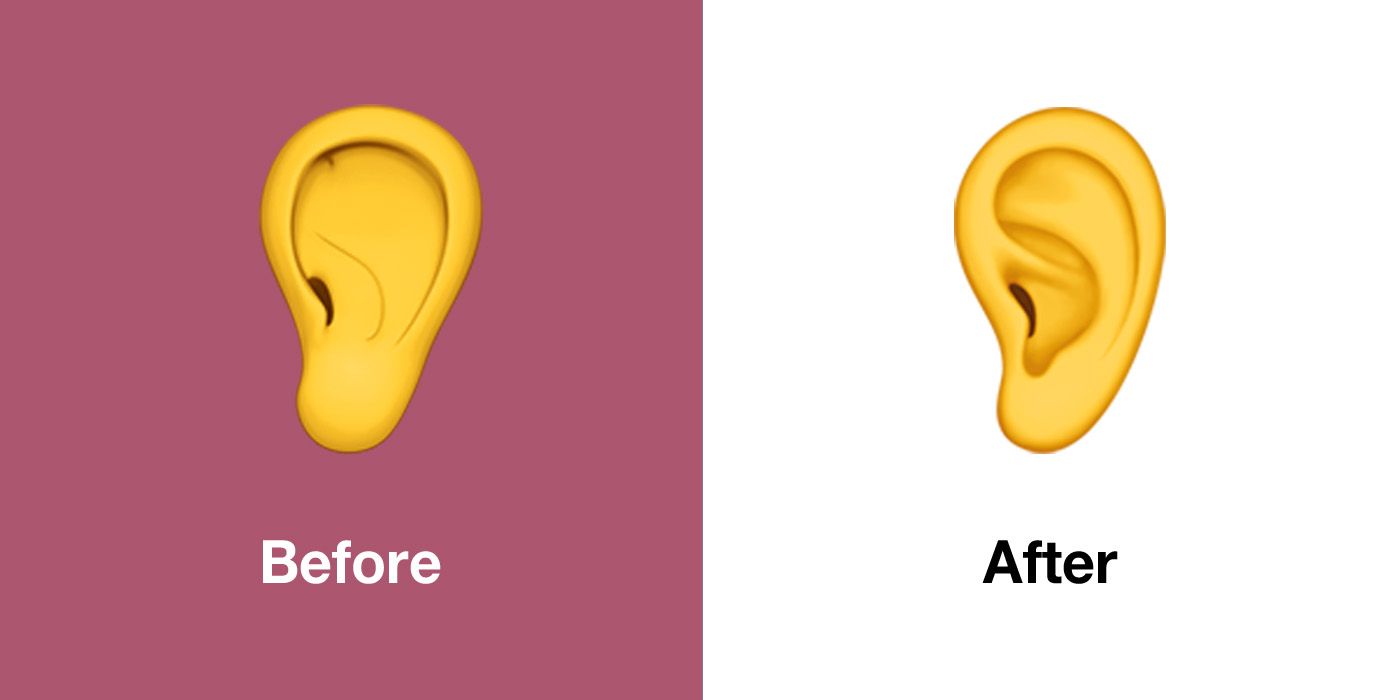 The 🇲🇾 Flag of Malaysia now correctly displays a red stripe underneath the blue canton bearing the crescent and 14-point star.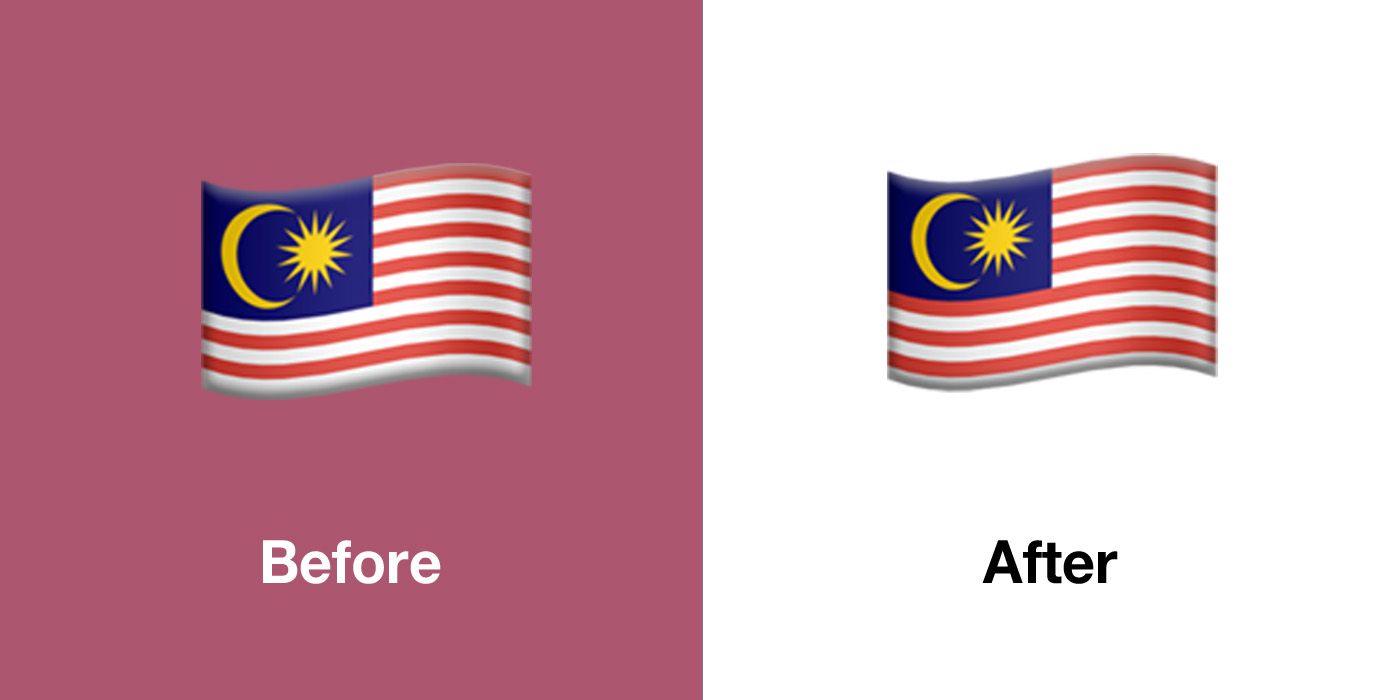 📶 Release
These emoji updates are included as part of iOS 13.2 which is available now for iOS users as a free software update.
The same emoji support is available in iPad OS 13.2, macOS Catalina 10.15.1, watchOS 6.1, and tvOS 13.2.
---