Android 10.0 Emoji Changelog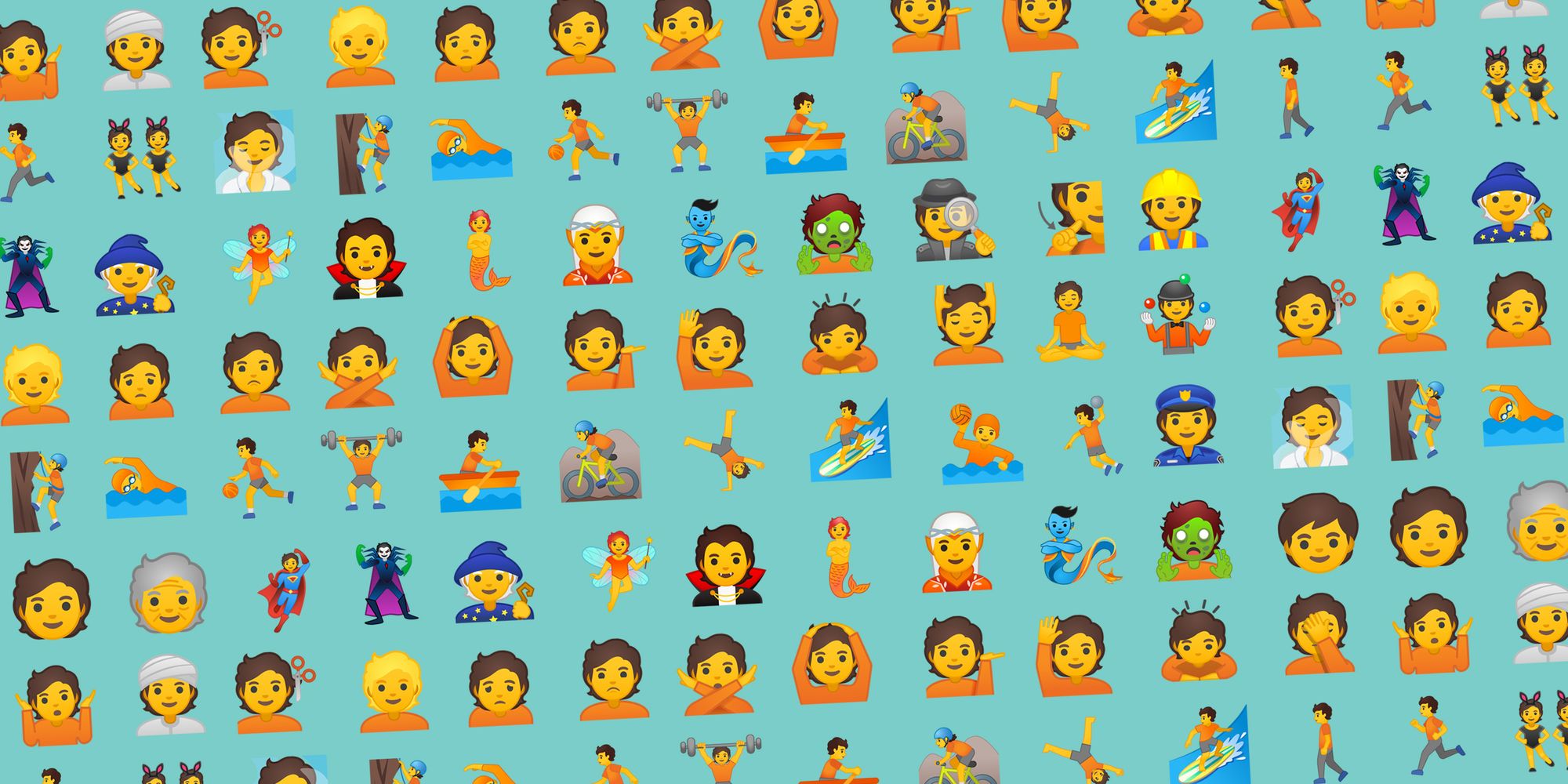 Today Google has begun the rollout of its latest OS update, Android 10. This latest version of Android introduces the latest emojis such as flamingo and deaf person, while also implementing a considerable number of long-previewed gender neutral designs.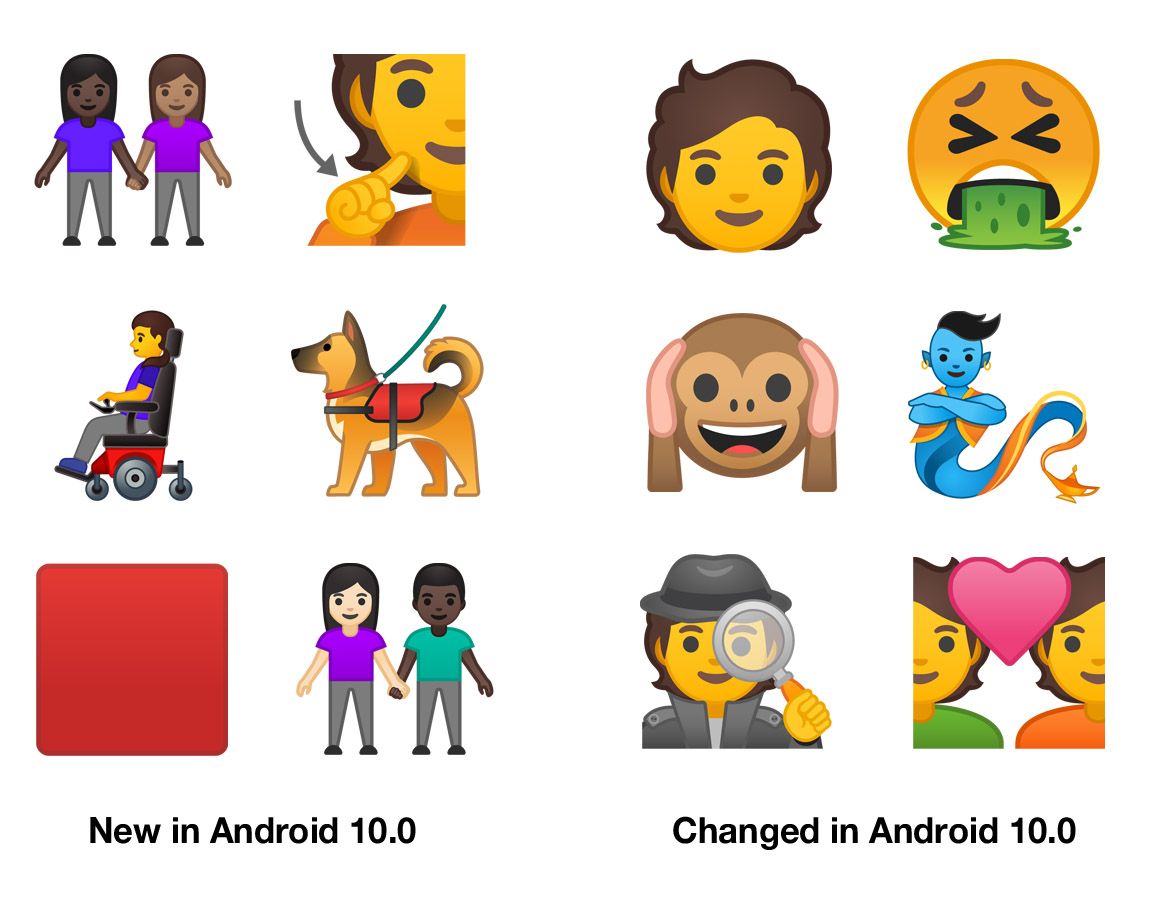 Above: Emoji updates included as part of Android 10. Image: Google designs / Emojipedia composite.
This update features 236 emojis new to Android: 230 from the 2019 emoji list plus six minor flags from Emoji 1.0 appearing for the first time.
Additionally, nearly 800 existing emoji designs have been modified in Android 10, with over 300 of these changes being made in the name of a more gender-neutral presentation.
Not only is the gender inclusive appearance of these emojis more consistent with how the Unicode Consortium defines many emojis (without gender specified), these changes also remove the need to choose a specific gender when sending an emoji such as a police officer, runner, or surfer.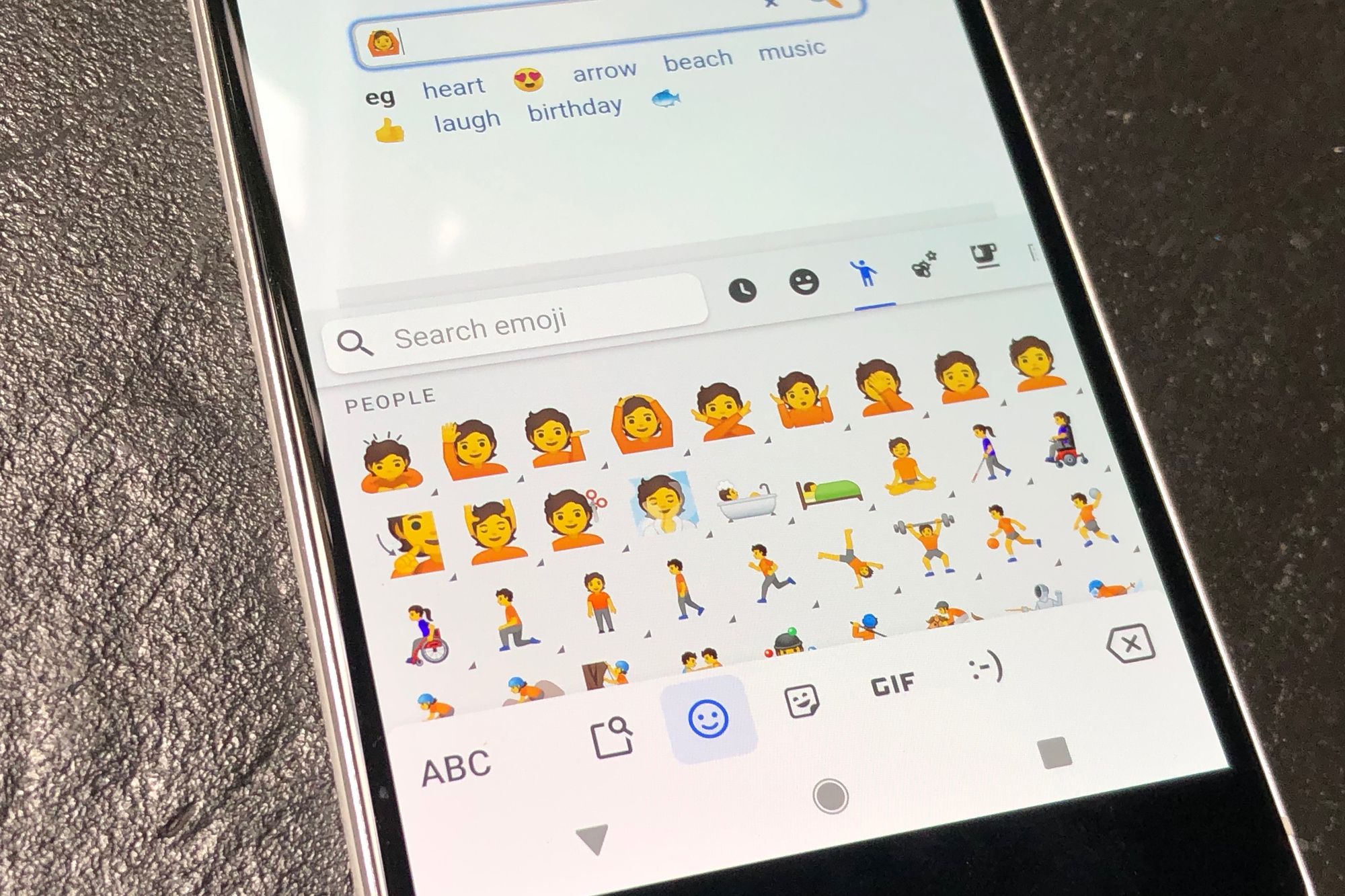 Above: Gboard in Android 10 showing gender-neutral emojis by default. Photo: Emojipedia / Jeremy Burge.
🆕 Gender Neutral
Android 10's new gender neutral designs are not technically new emojis, however the new designs in this release give the existing 'ungendered' emojis a distinct appearance for the first time since gender variations have been supported.
Prior to this update, many emojis which didn't specify a gender[1] would be displayed as either their equivalent 👩 Woman or 👨 Man emoji.
For example, the 👮 Police Officer emoji was shown with the same design as the 👮‍♂️ Man Police Officer on Google platforms, while 💇 Person Getting Haircut displayed the same design as 💇‍♀️ Woman Getting Haircut).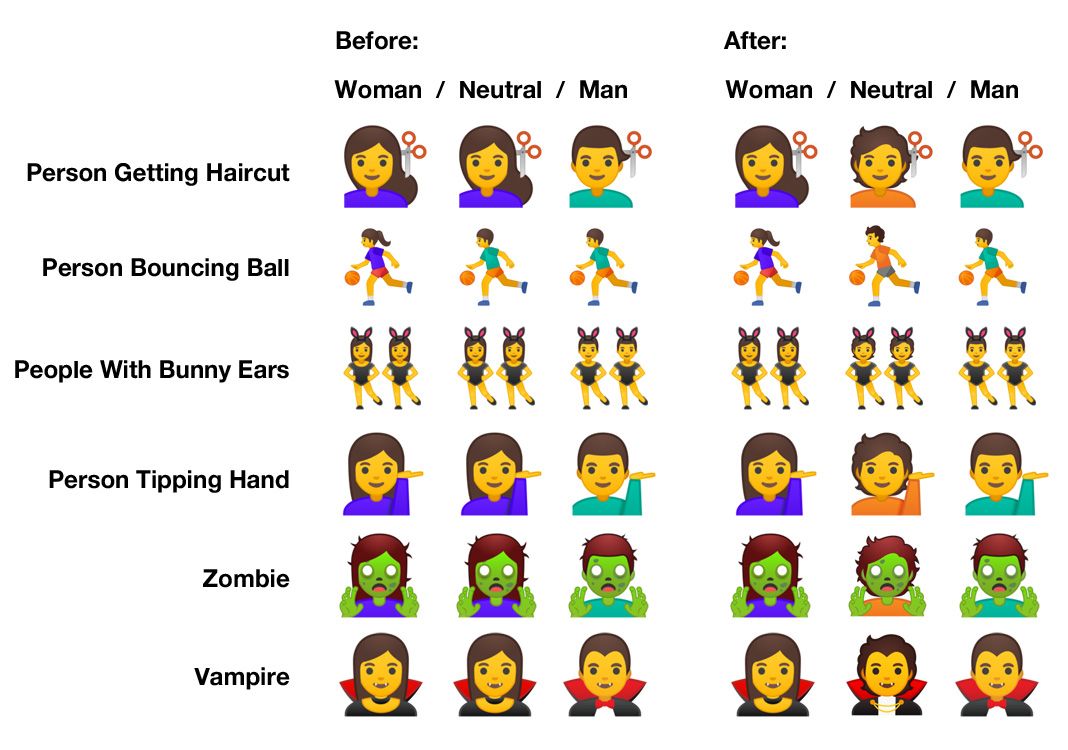 Above: A comparison of several 👩 Woman, 👨 Man and non-gender-specifying emoji designs between Android 9.0 (before) and Android 10 (after).
Gender neutral emojis are now mostly shown to wear orange in designs where clothes are visible and not a core element of the design (e.g. 👮 Police Officer's uniform remains the traditional navy blue for all variants). Under this scheme, 👩 Women wear purple and 👨 Men are dressed in teal.
In making this change, Google becomes the only major[2] vendor to follow Unicode guidelines which state:
"human-form emoji should normally be depicted in a gender-neutral way unless gender appearance is explicitly specified"
Google once displayed the majority of human emojis without a clear gender, with many of the infamous blobs having no gender in 2014.
These neutral designs on Android lasted until specific options for women and men were added to the Unicode Standard in 2016.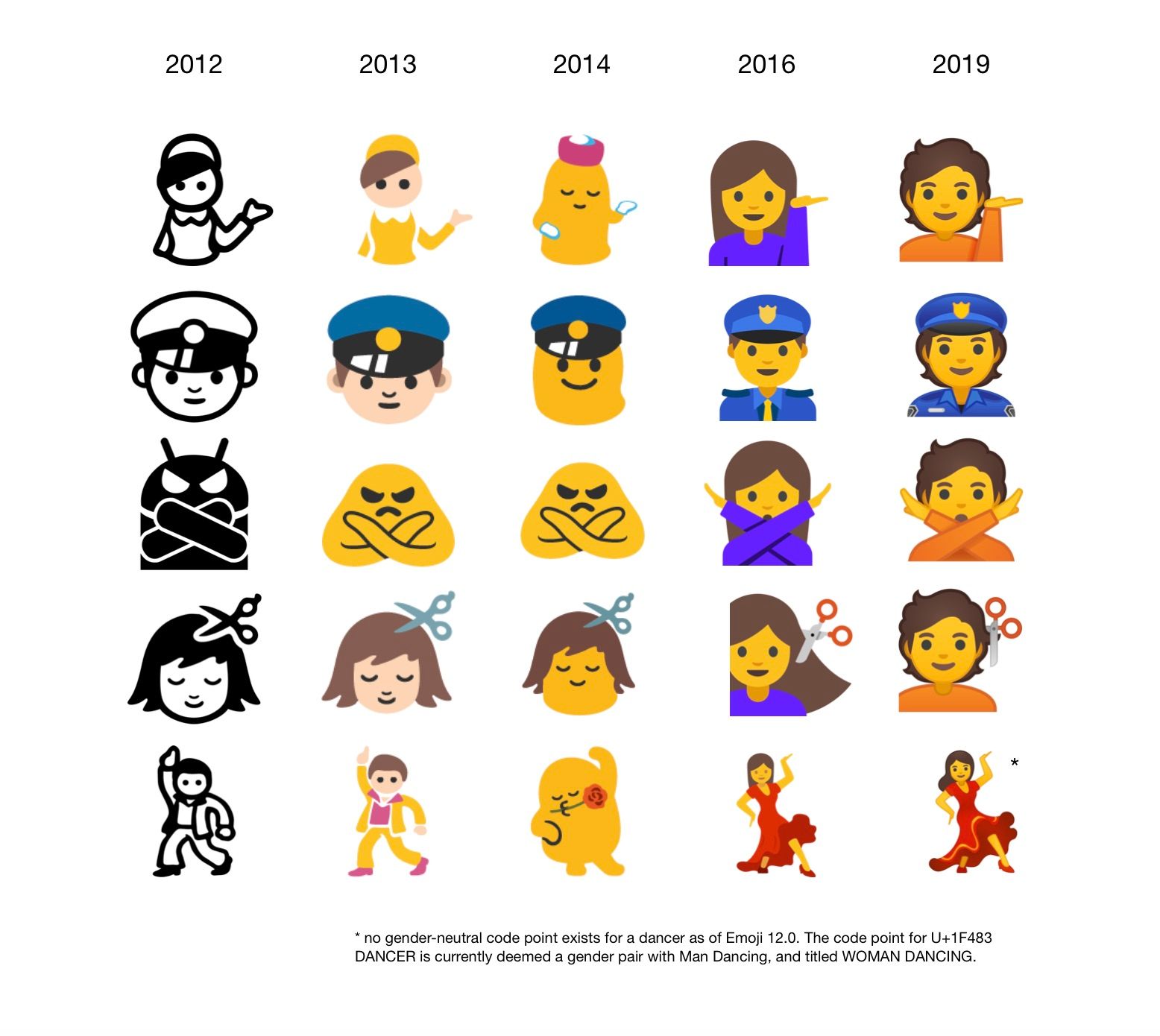 In 2019 many of these emojis come back with a human appearance which sits logically alongside the other gender options for women and men, which didn't exist in 2014.
It is currently unknown if other major vendors will make similar gender-neutral designs revisions in their future emoji updates. Google leads the way on this front.
🆕 New in Emoji 12.0
All 230 new Emoji 12.0 additions are avilable in Android 10: 61 new emoji codepoints and 169 new recommended ZWJ sequences.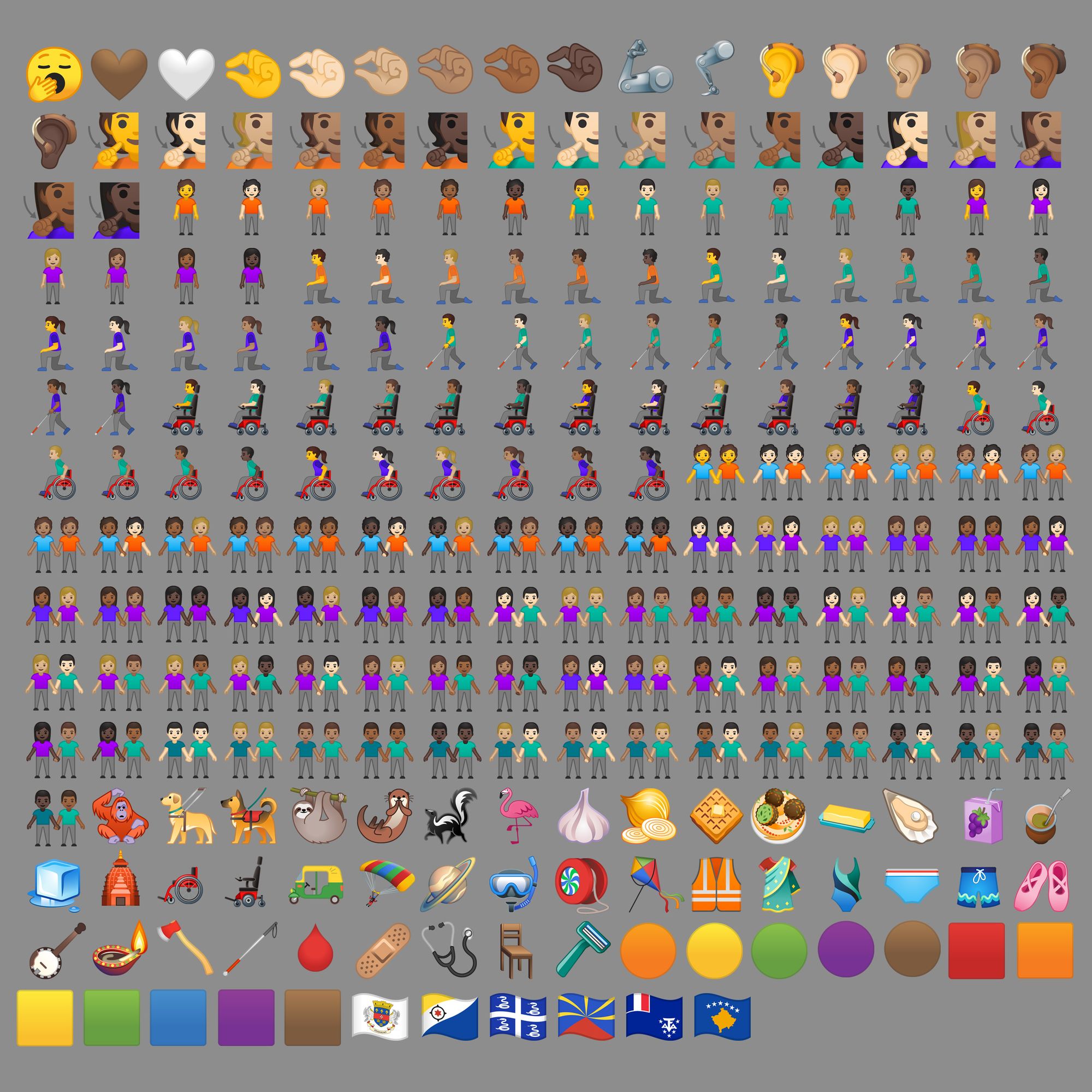 Above: All 236 new emojis in Android 10. Image: Google designs / Emojipedia composite.
While each emoji category has seen at least one new addition[3], there are three major themes evident within Emoji 12.0: pairs of people holding hands[4], greater representation of the differently-abled, and an increased selection of colors for heart and other shape emojis.
People Holding Hands
A total of 71 new hand-holding emoji designs have been introduced in Android 10. These are constructed via different ZWJ sequence combinations of 👩 Woman, 👨 Man and 🤝 Handshake[4:1]. All of the existing skin tone modifiers are available for all possible combinations of the people holding hands, allowing for the representation of interracial couples on Android for the first time.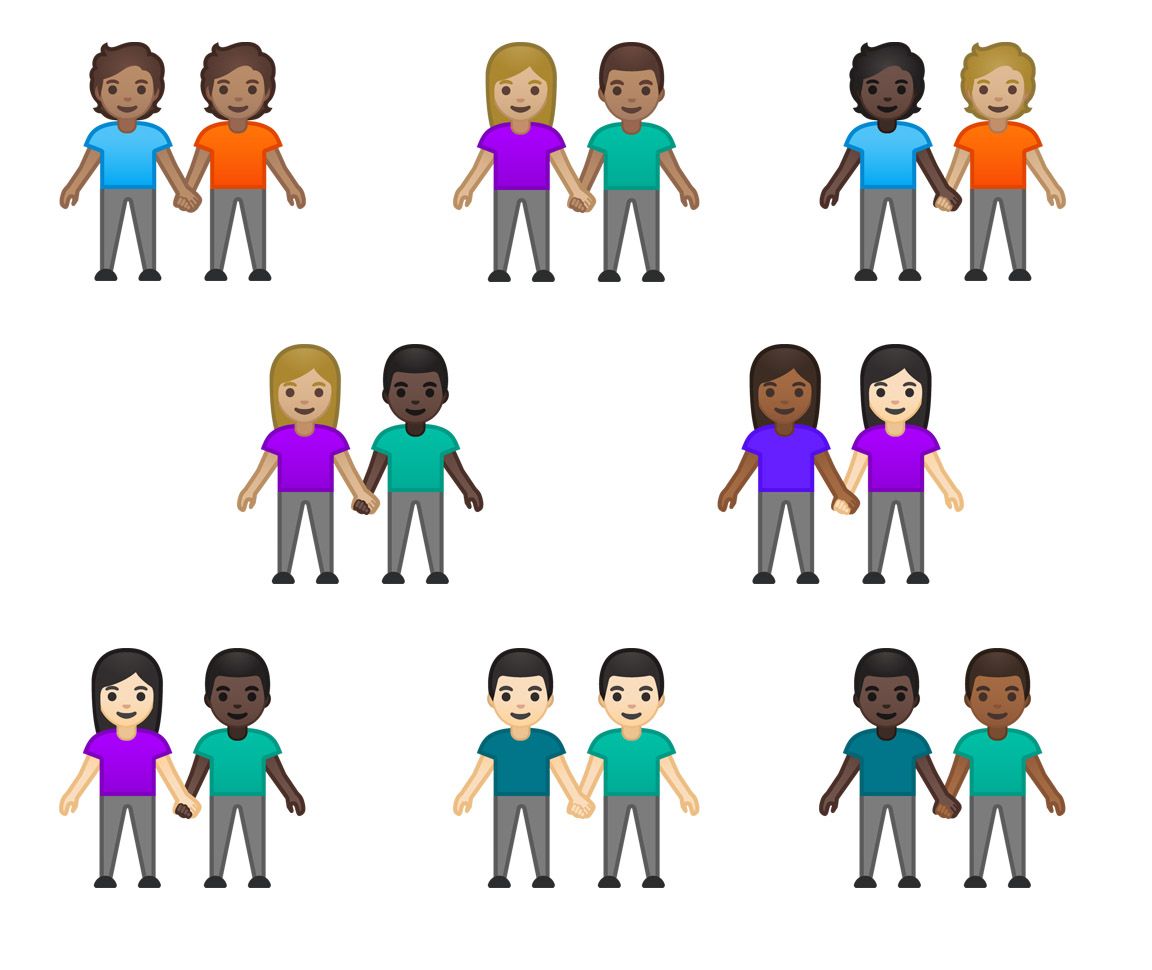 Above: A selection of the new people holding hands emojis in Android 10
Colored Shapes
Emoji 12.0 features 14 new hearts, circles and square designs, with each of these shapes now being available in red, orange, yellow, green, blue, purple, white, black and brown.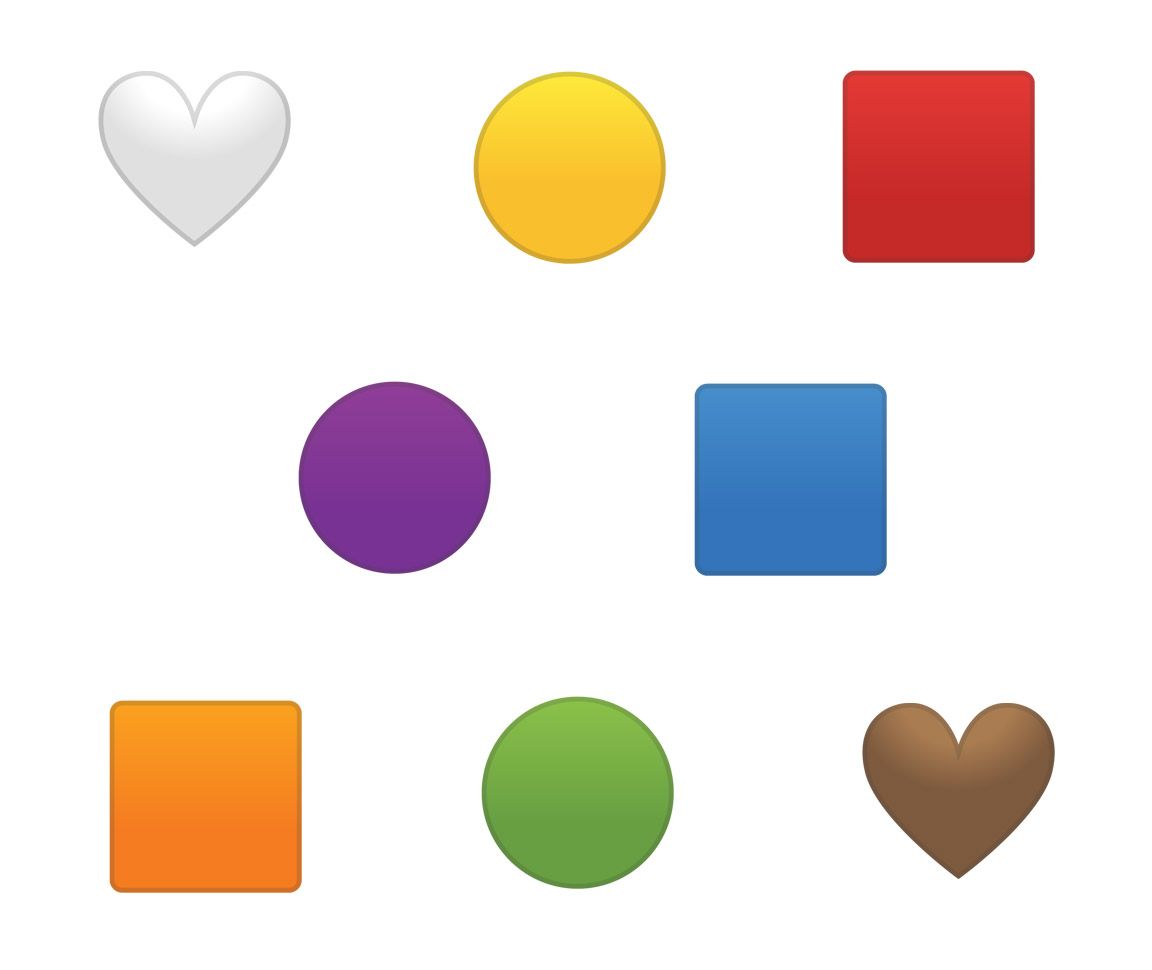 Above: A selection of the new shape options as they appear in Android 10.
Accessibility
Finally, Emoji 12.0 also features a selection of new accessibility-orientated emoji designs. Those that display either a person (e.g. 👩‍🦯 Woman With Probing Cane) or non-mechanical body part (🦻 Ear With Hearing Aid) also support skin tone modifiers.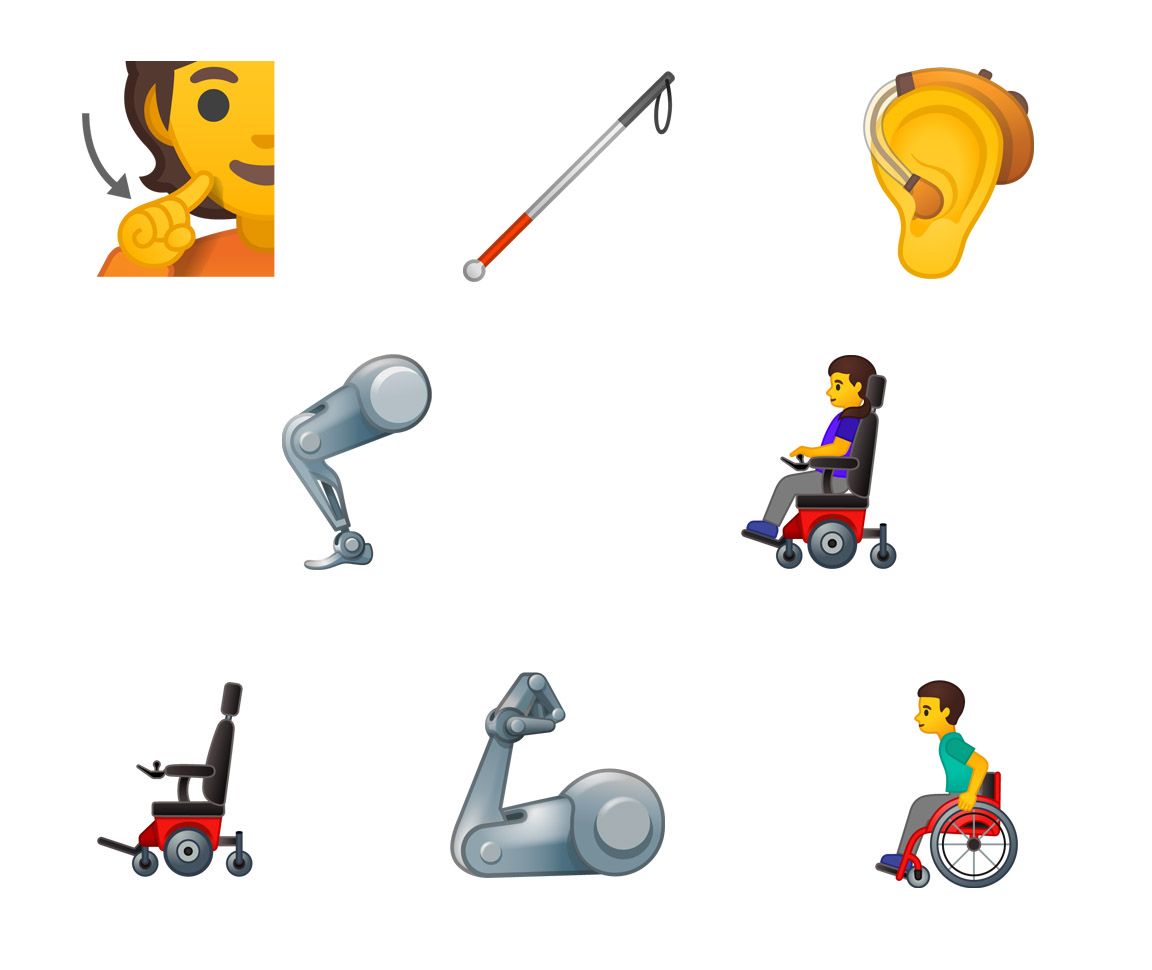 Above: A selection of the new accessibility emojis in Android 10.0.
There are also two accessibility-focused designs amongst the eight new animal emojis, namely 🦮 Guide Dog and 🐕‍🦺 Service Dog.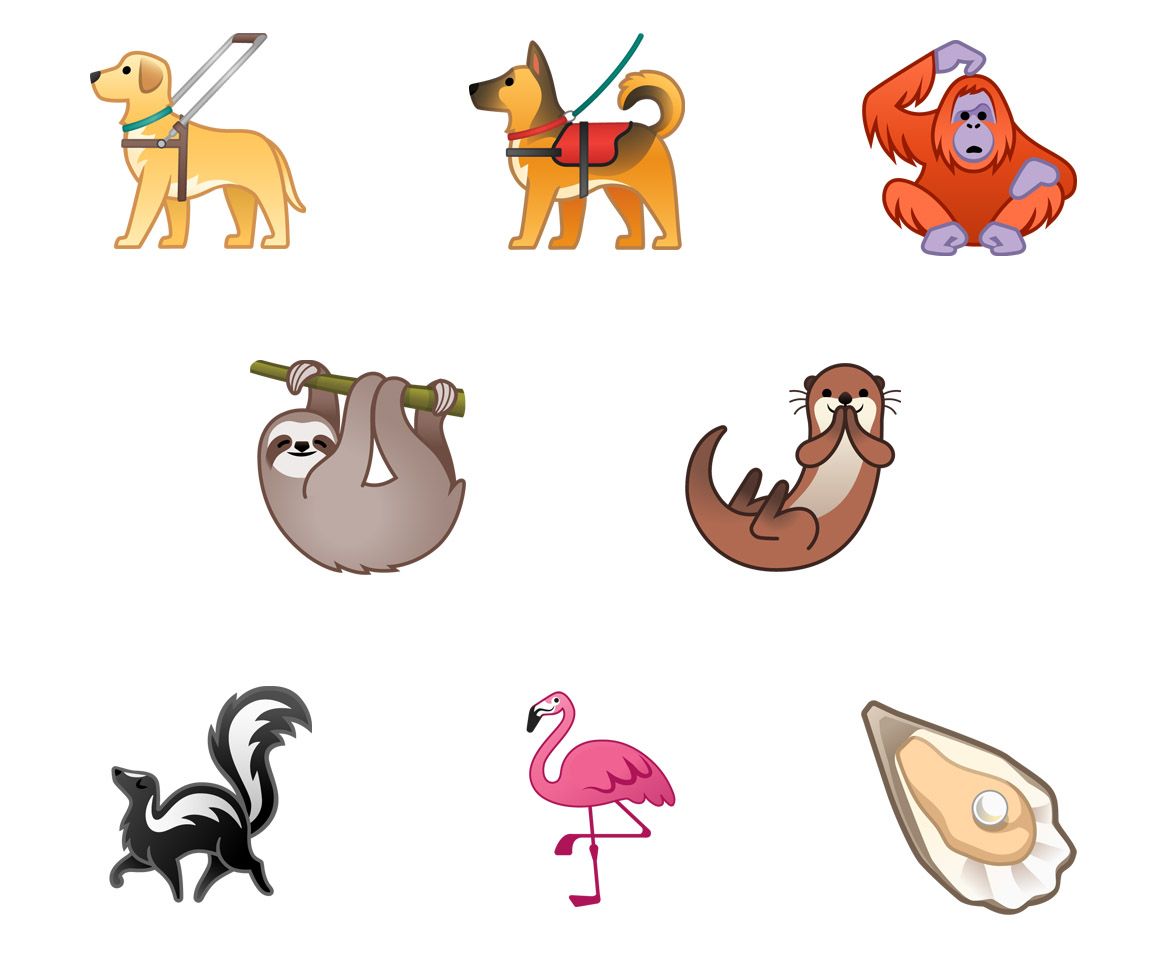 Above: the eight new animal emojis in Android 10.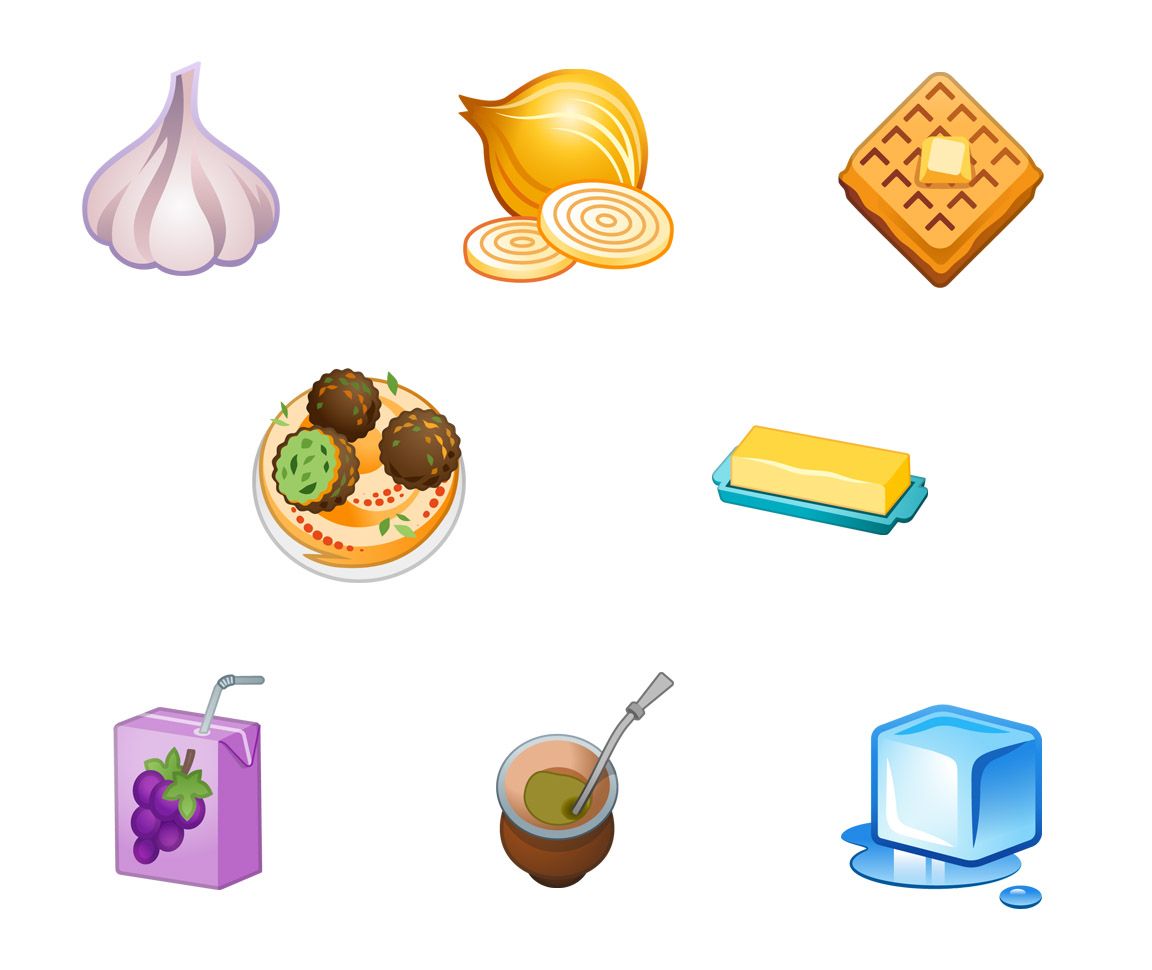 Above: the Emoji 12.0 food designs as they appear in Android 10.
Other noteworthy emojis featured in Emoji 12.0 include a 🤏 Pinching Hand, a 🛕 Hindu Temple, and a 🩸 Drop of Blood intended to represent menstruation.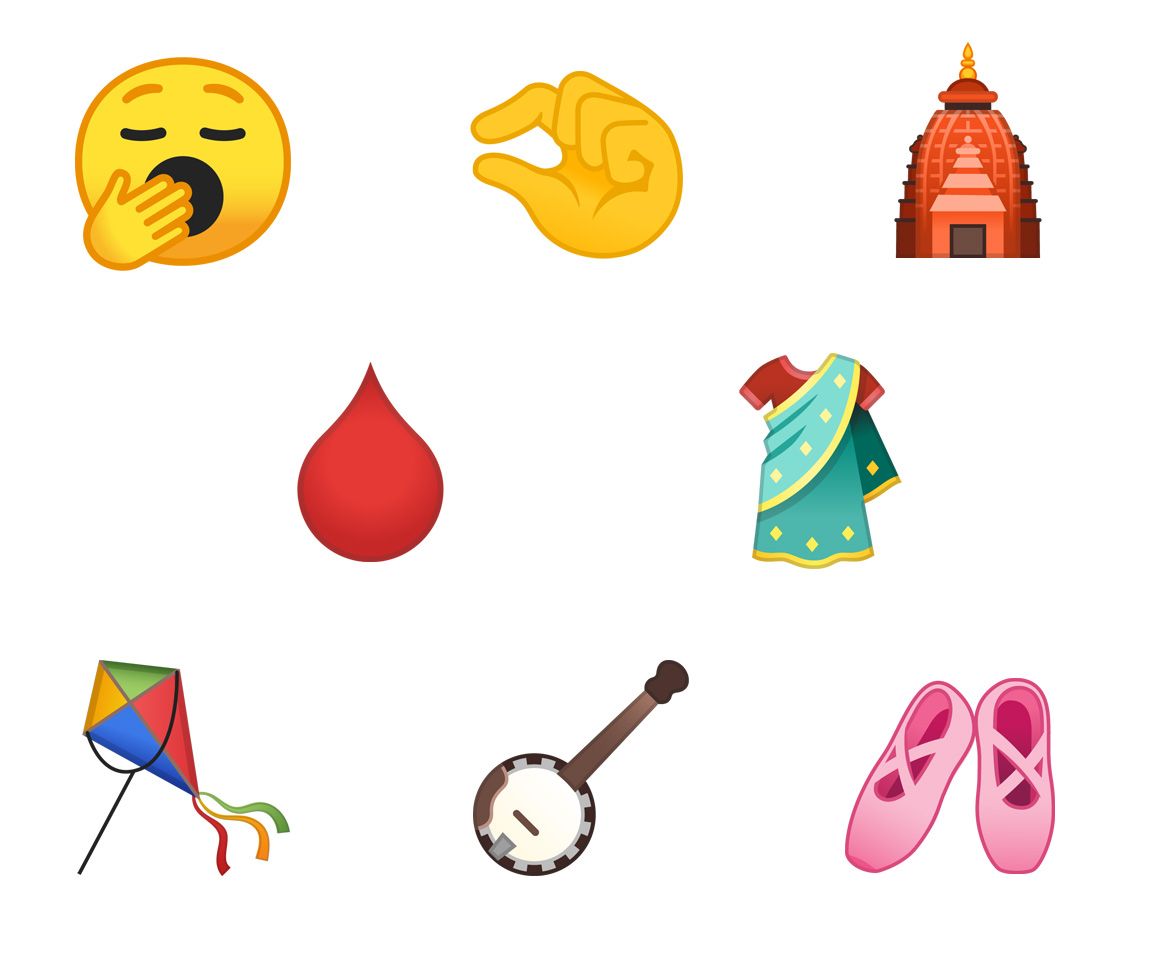 Above: A selection of other Emoji 12.0 designs as they appear in Android 10.
However, the Emoji 12.0 designs are not the only emoji designs to newly appear in Android 10. Six flag emojis previously recommended for general interchange (RGI) have also been newly added to Google's emoji design set.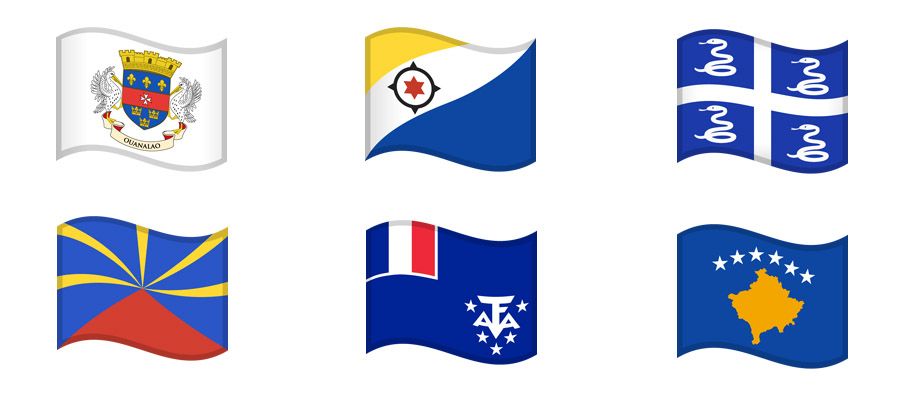 Above: the Android 10 design for six flag emojis previously RGI but not supported by Google.
🆙 Changed in Android 10
🤤 Drooling Face now has its eyes closed and mouth smiling, as per the design of other major emoji vendors.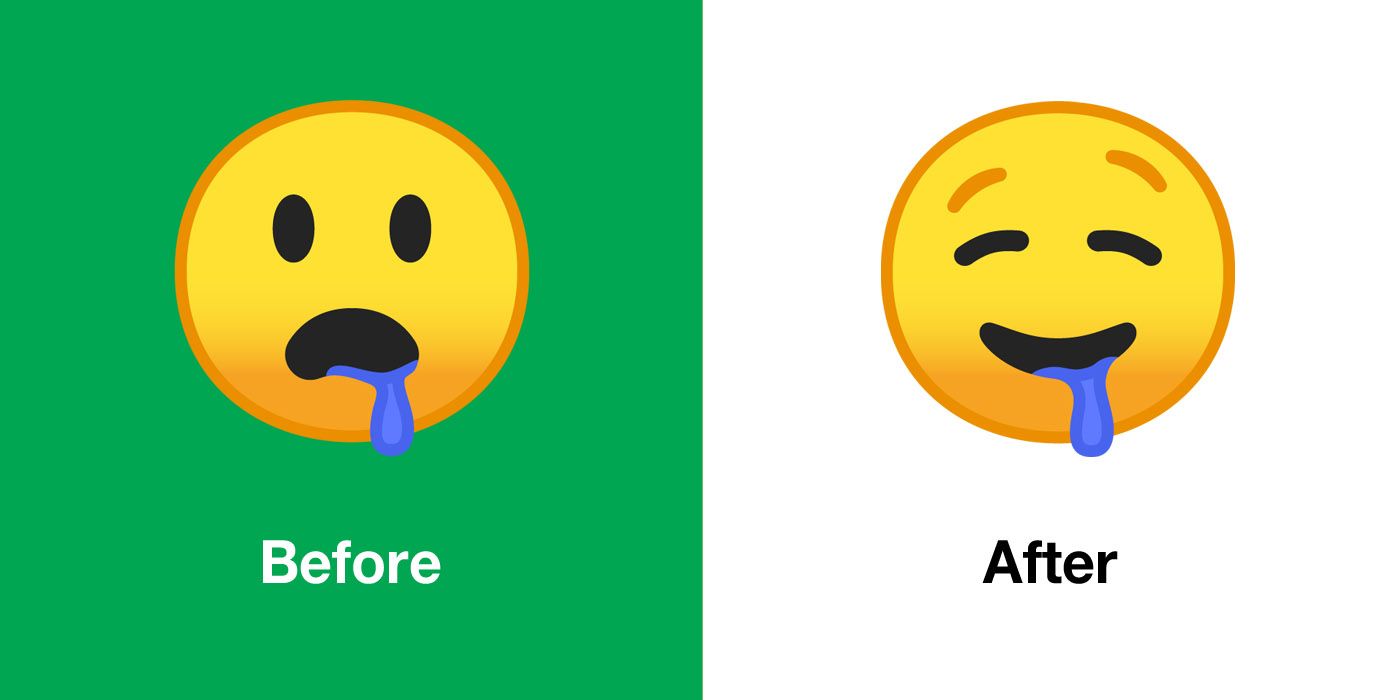 😥 Sad but Relieved Face has had its bead of sweat moved down from its temple to alongside its cheek, as per other vendors.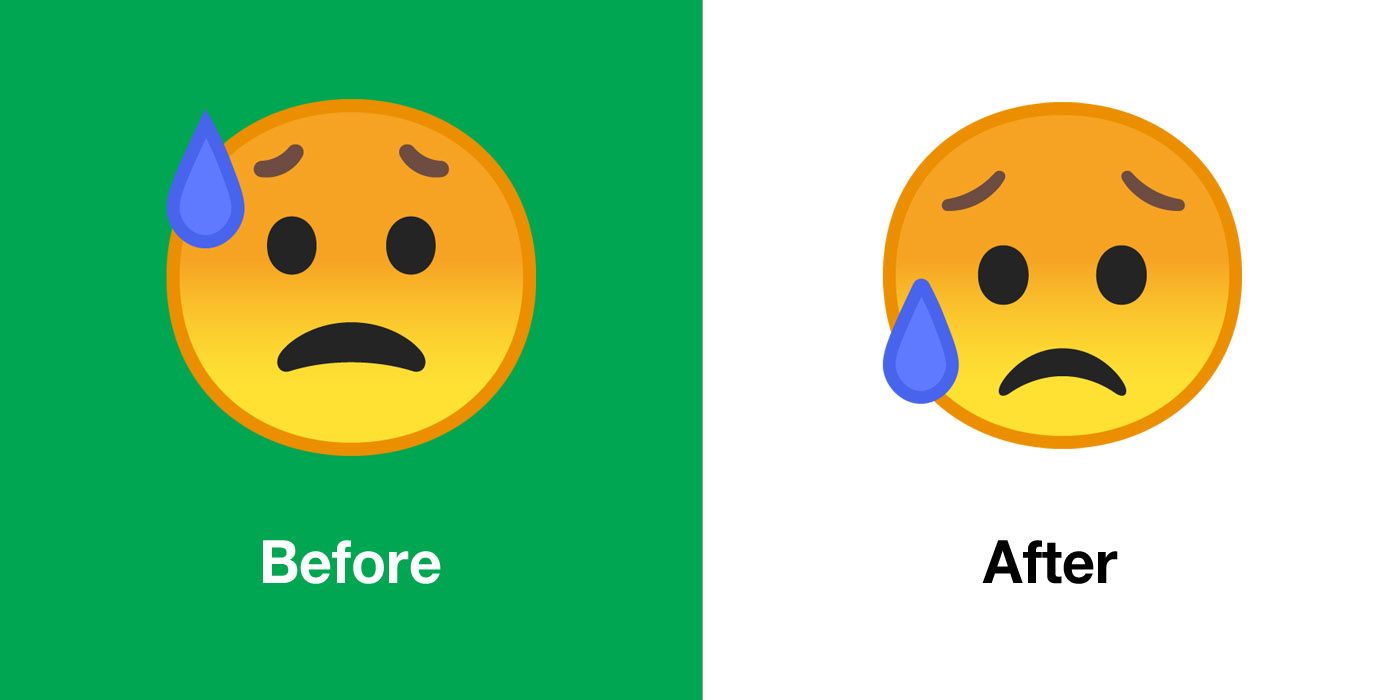 🙌 Raising Hands now features wrists, akin to most other major vendors.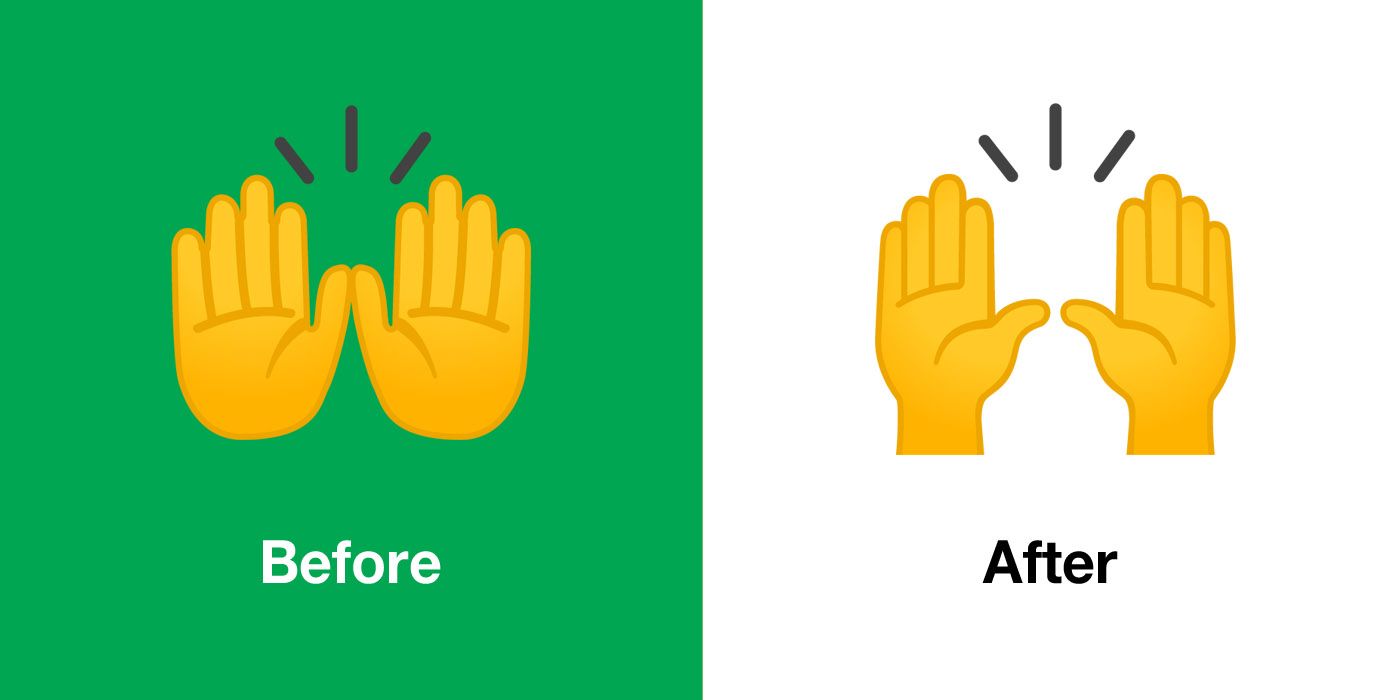 The 🦸 Superhero emojis are now more muscular and feature a larger cape. 🦸‍♀️ Woman Superhero is shown as an example below.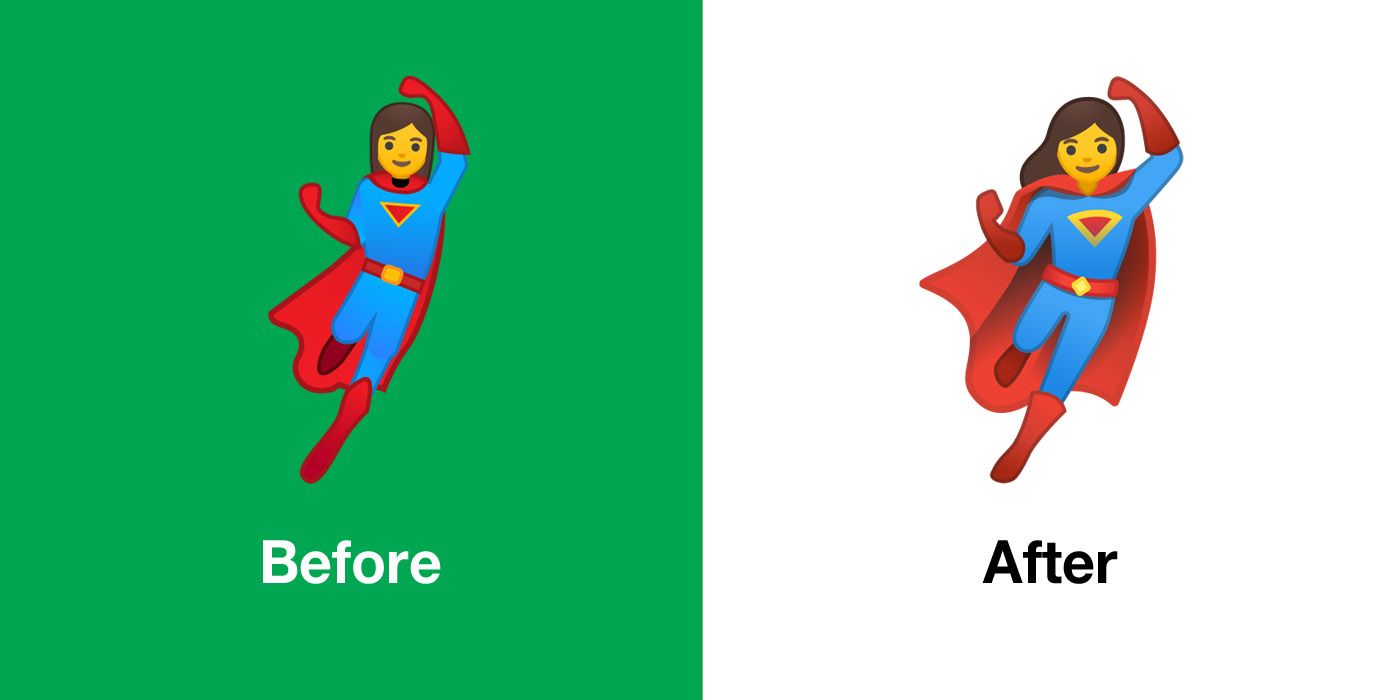 🧜 Merperson now features folded arms obscuring their chest, as well as an orange tail and hair style in-keeping with Google's new gender neutral design conventions. Previously the same design as 🧜‍♀️ Mermaid was displayed for this emoji.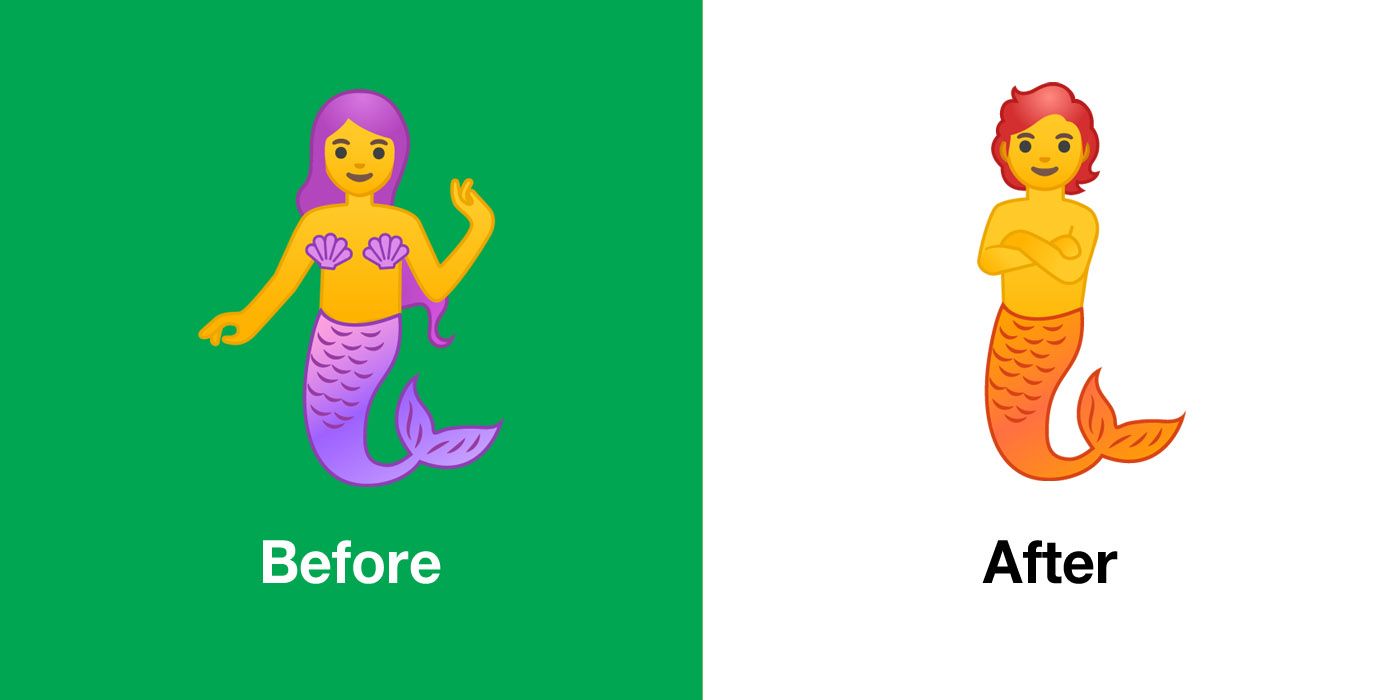 🧞 Genie is now displayed as full-bodied supernatural being emerging from a lamp, as opposed to a shoulders-up design. Previously the design for 🧞‍♀️ Woman Genie was displayed for the non-gender-specifying 🧞 Genie.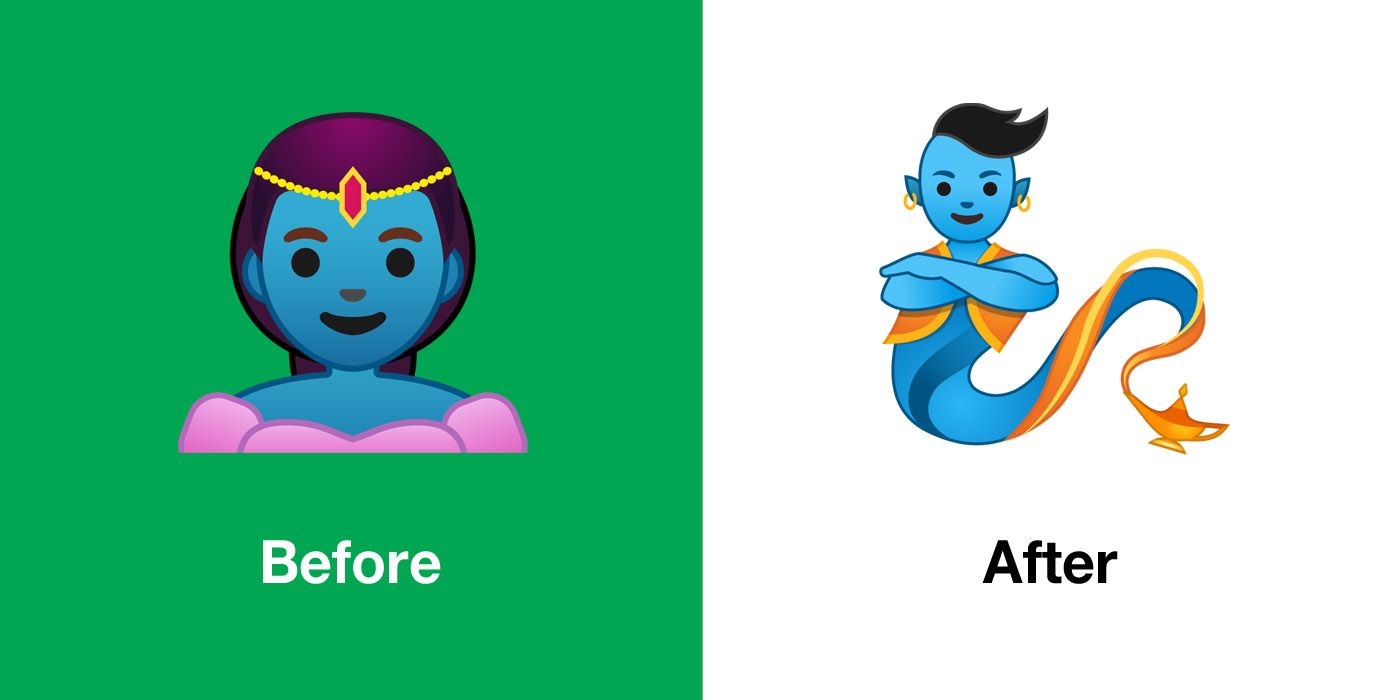 As well as featuring a more gender neutral design, the 👷 Construction Worker emojis are no longer wielding a claw hammer. Previously the design for 👷‍♂️ Man Construction Worker was displayed for the non-gender-specifying 👷 Construction Worker.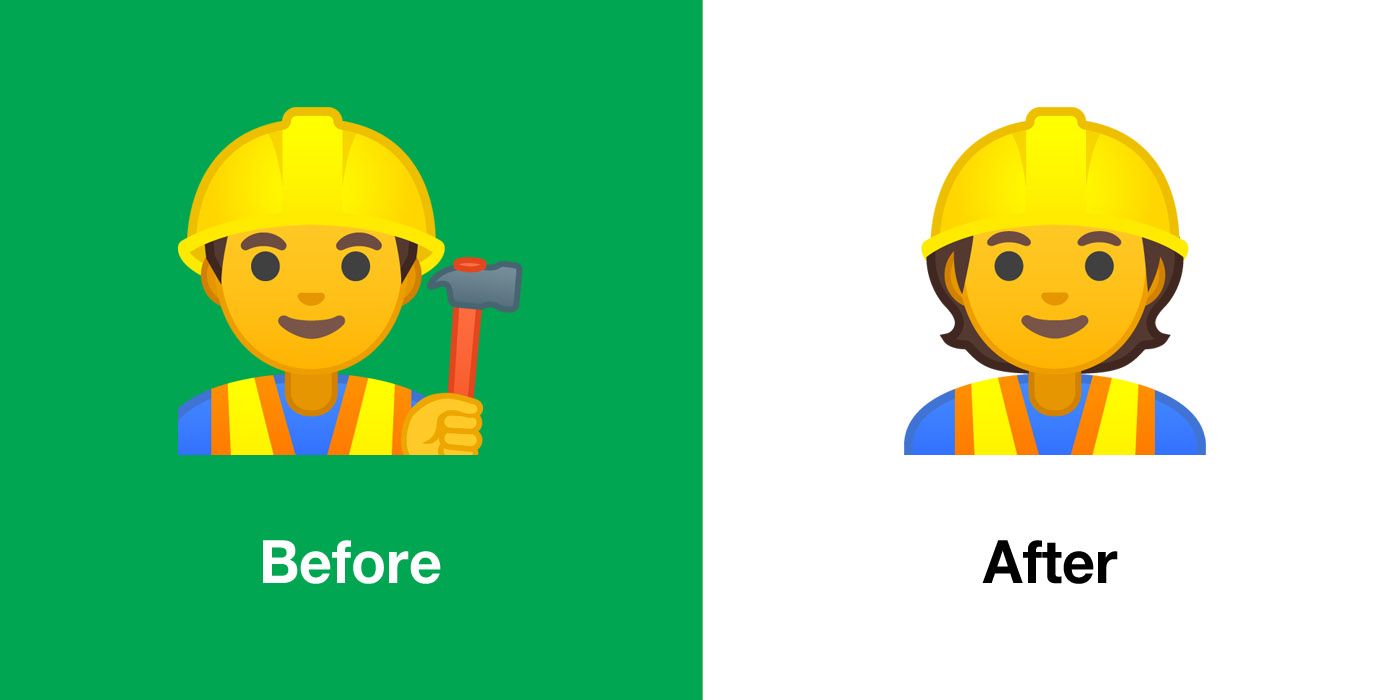 🍷 Wine Glass now has a smaller base and shorter stem, balanced out by a much larger bowl.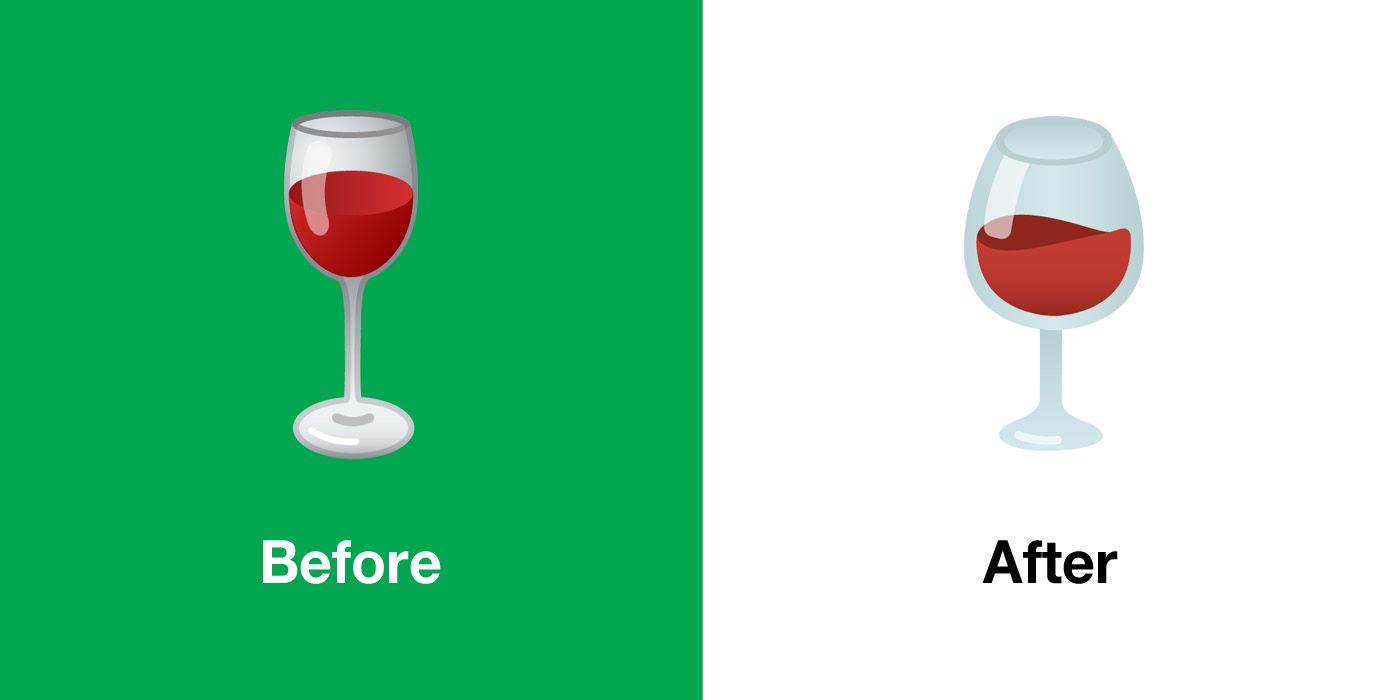 🥙 Stuffed Flatbread now features larger, more detailed savory contents, including red onion.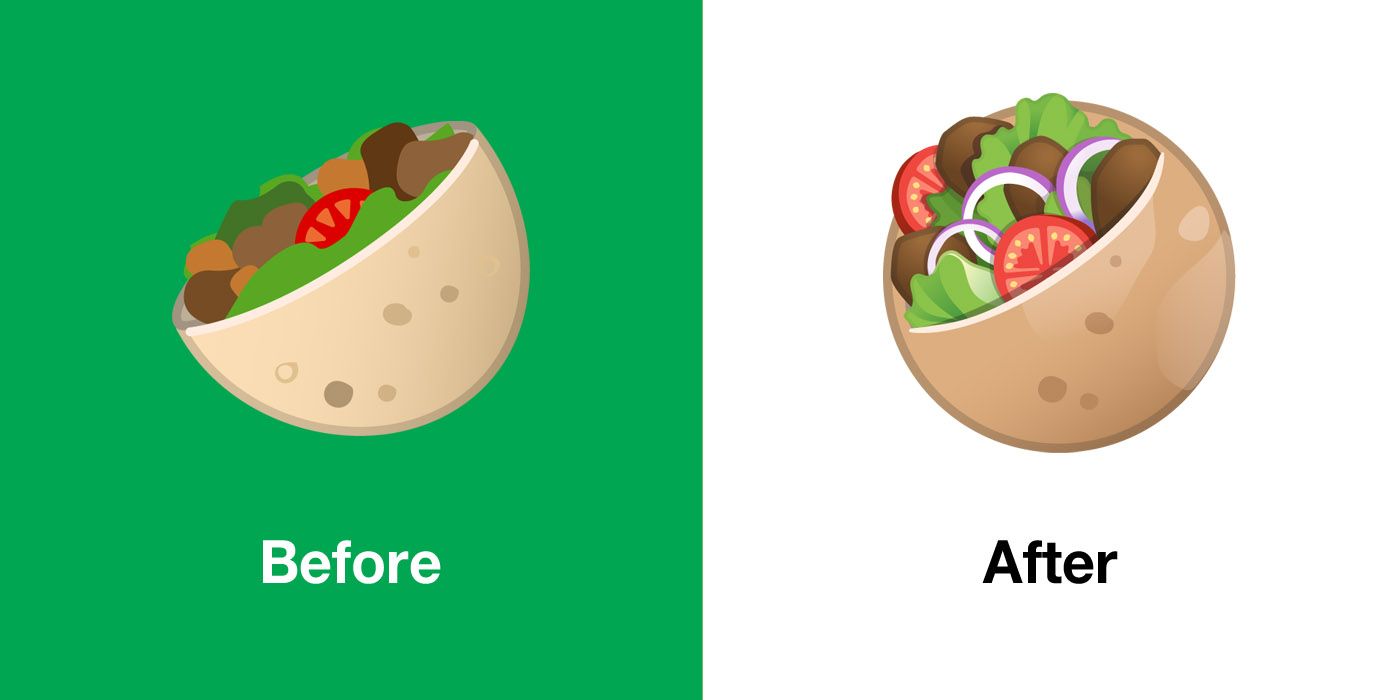 🥣 Bowl With Spoon has been emptied of its milk and breakfast cereal.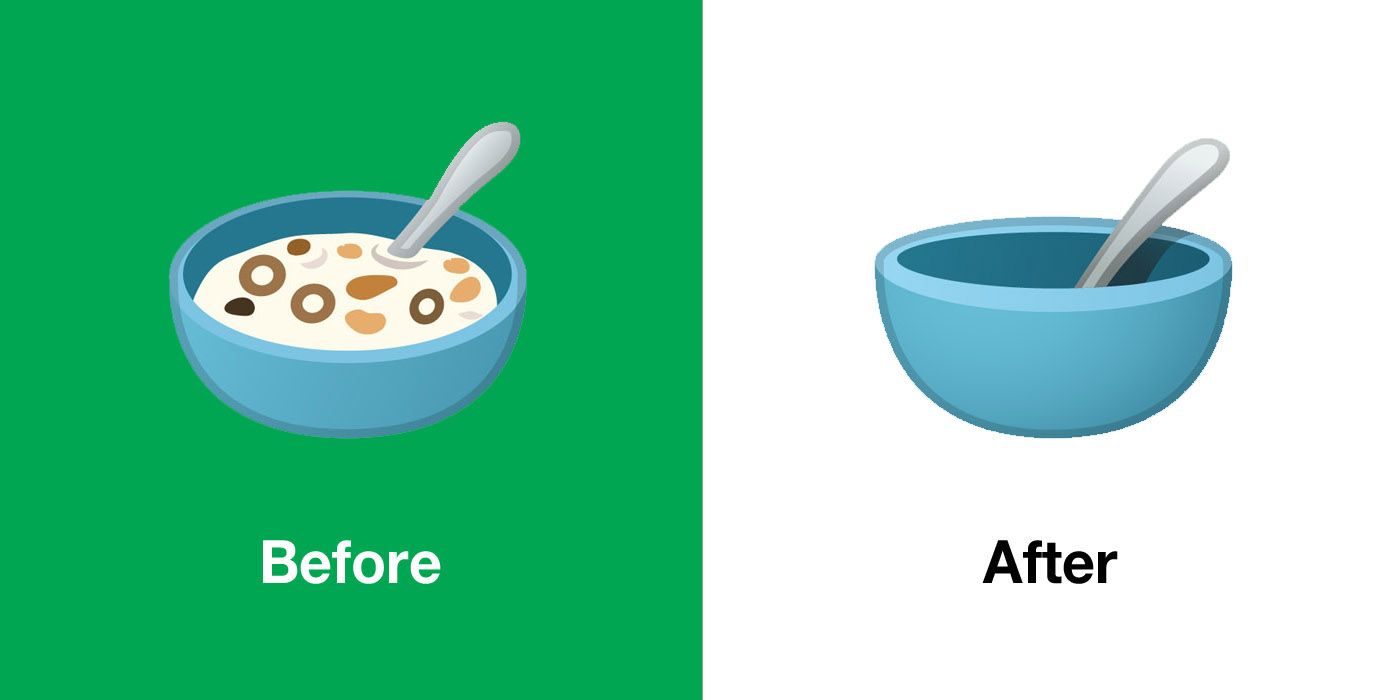 💘 Heart With Arrow is now pink instead of red.[5]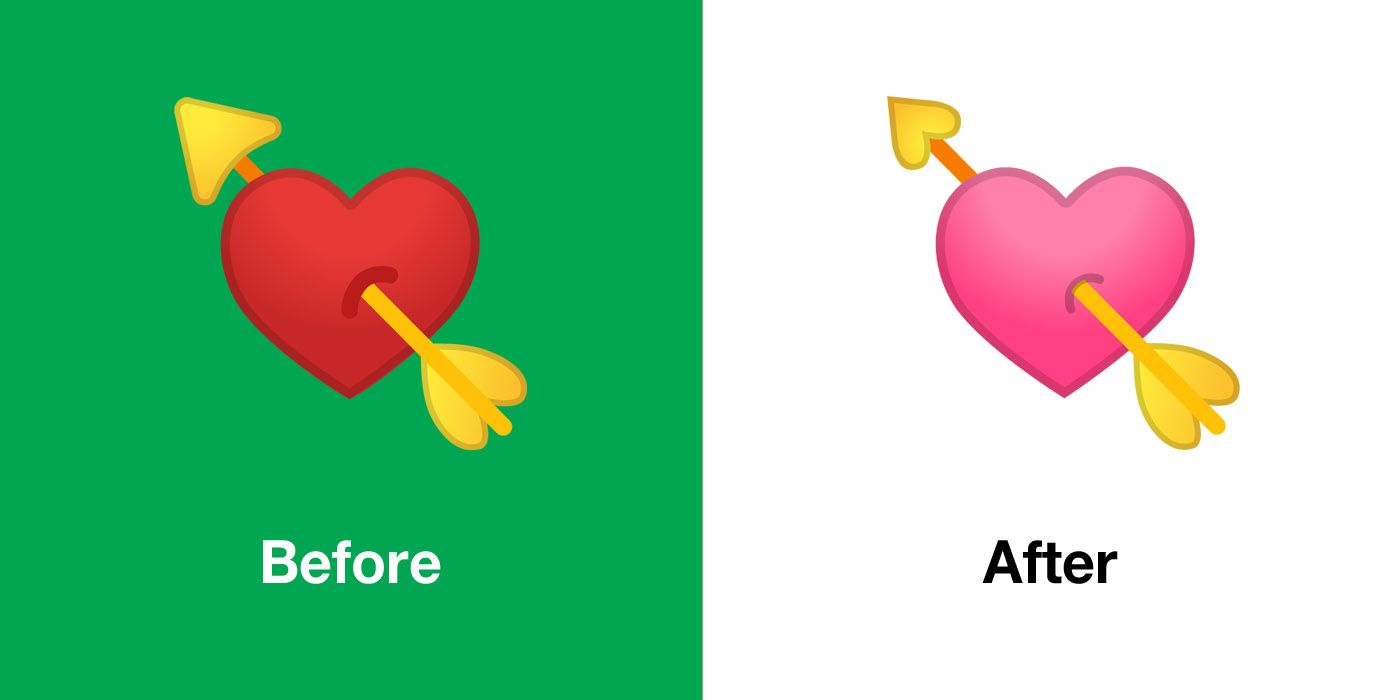 ♿ Wheelchair Symbol has been updated to display the Accessible Icon Project style symbol.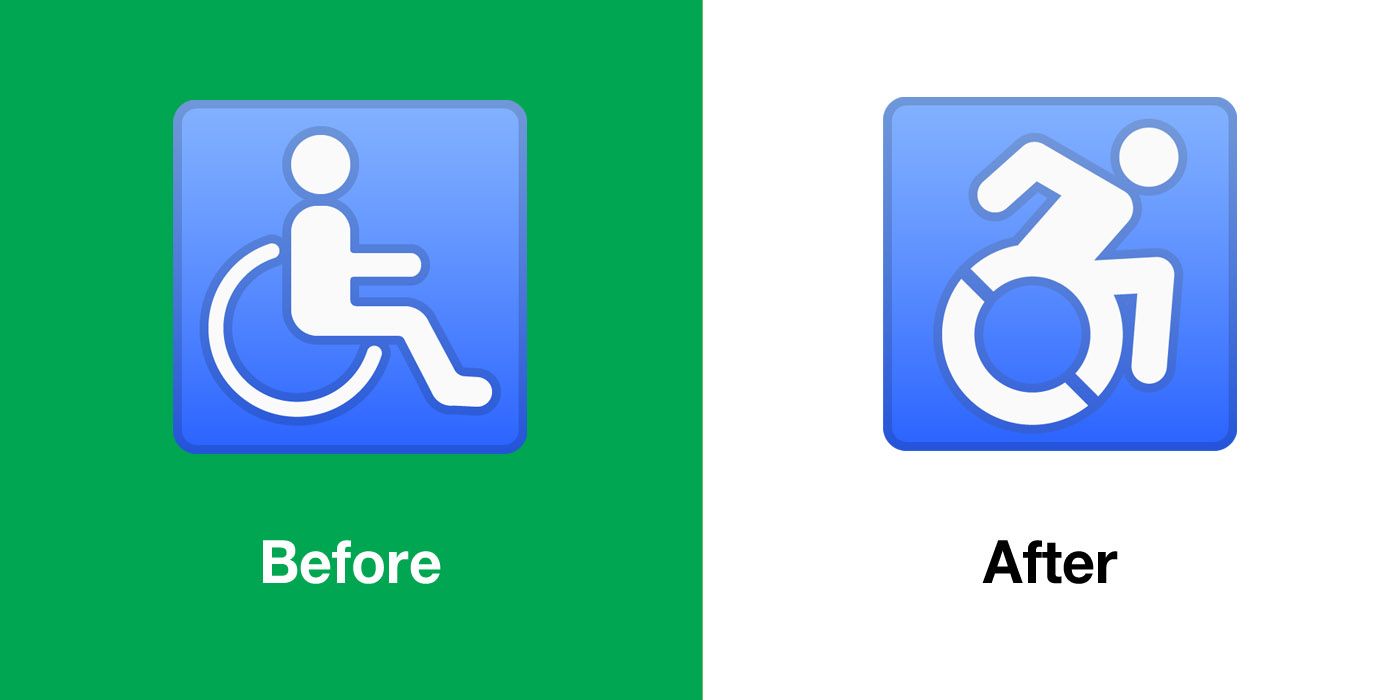 👆 Input
To insert any new emoji on Android 10, users will need to ensure their release of Gboard is up to date.
For emojis that support a gender neutral option, this shows by default on the keyboard. Pressing-and-holding the emoji will show three rows of options in this scenario.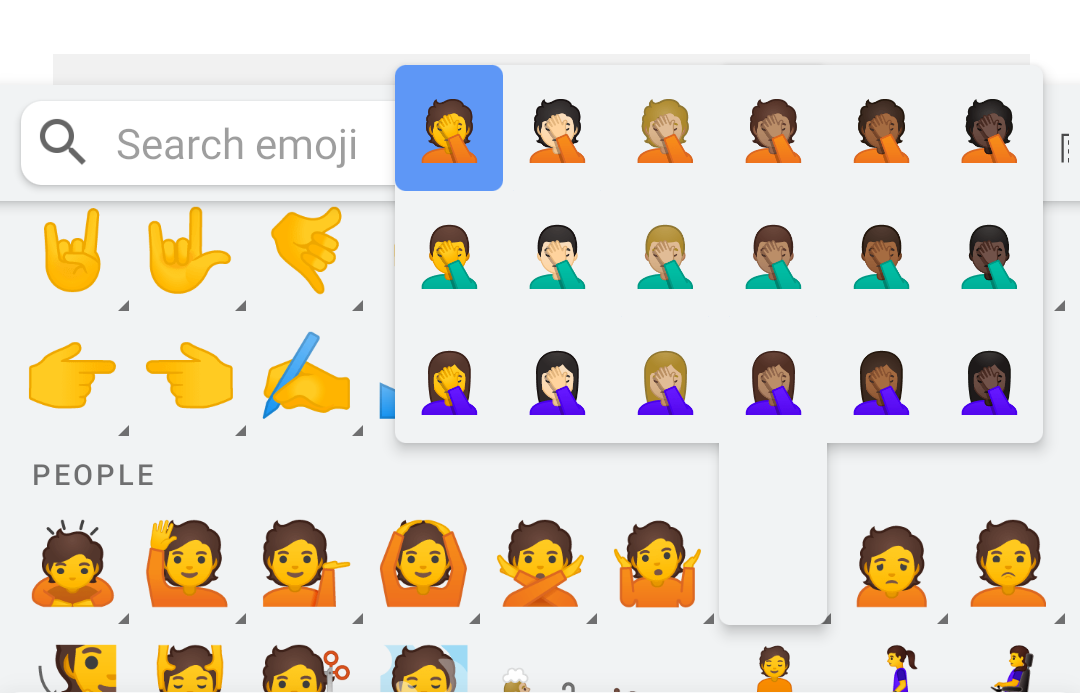 Above: No need to choose a gender to send a 🤦 Face Palm in Android 10.
Emojis which only have one or two gender options will continue to function the same way as before. For the new options of people holding hands, these appear in an expanded panel which lists all the 15 or 25 skin tone variations.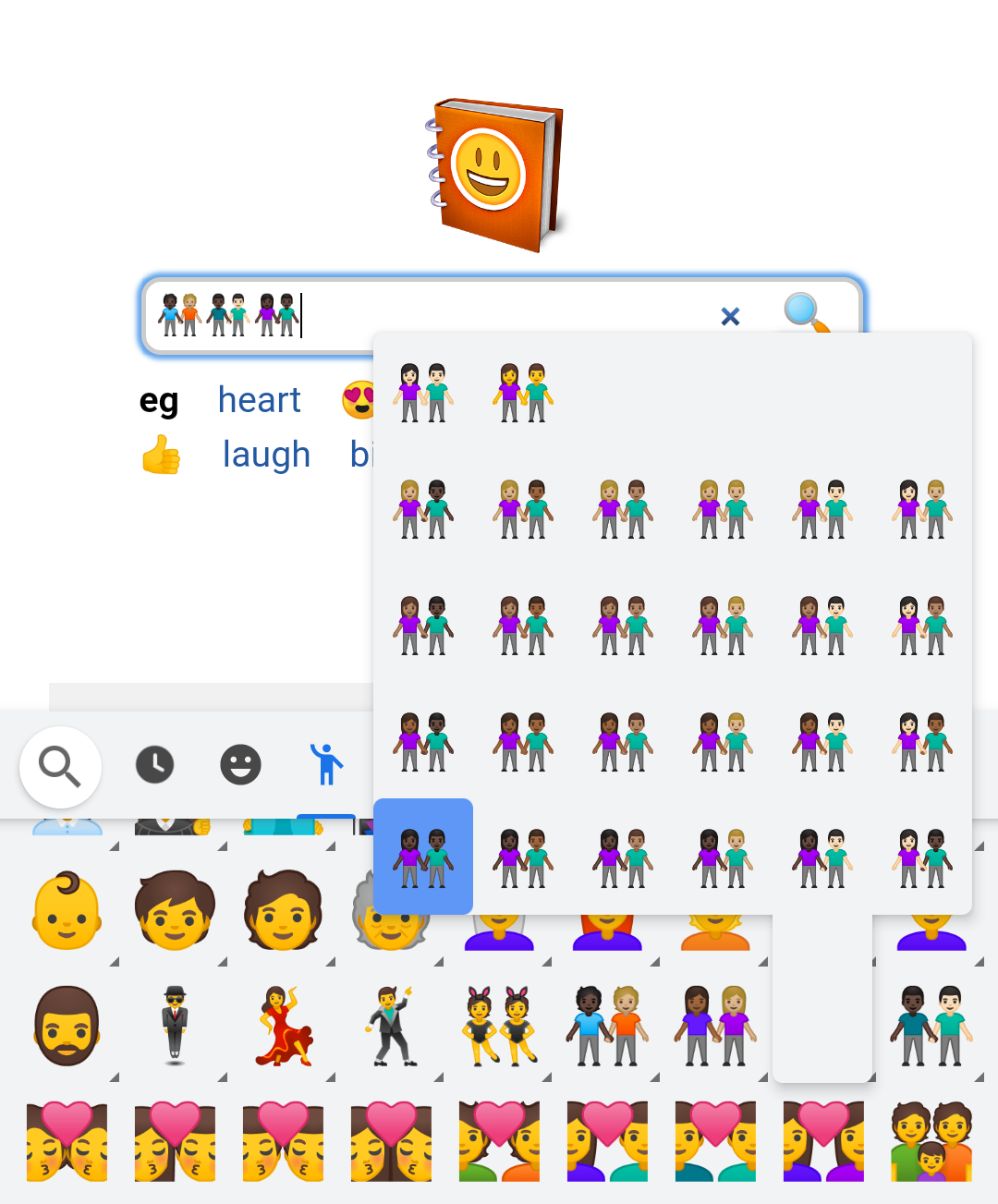 Above: Expanded skin tone palette for emojis with mixed skin tone support.
📶 Release
Android 10.0 is out now for those with eligible devices, with rollout continuing over the coming months. The first batch of phones to get this update will be Google's own Pixel devices.
As with all Android releases, this will only reach the subset of devices whose carriers and/or device-makers support the latest software updates. Some apps will support new emojis, even on older Android versions, if the app supports Google's EmojiCompat library.
A reminder: these updates do not apply to those with Samsung devices. Samsung has its own emoji set which is updated on a separate schedule to Google's Android emoji updates. Apps on Android such as WhatsApp, Twitter, and Facebook also use their own custom emoji implementations.
---