Facebook 4.0 Emoji Changelog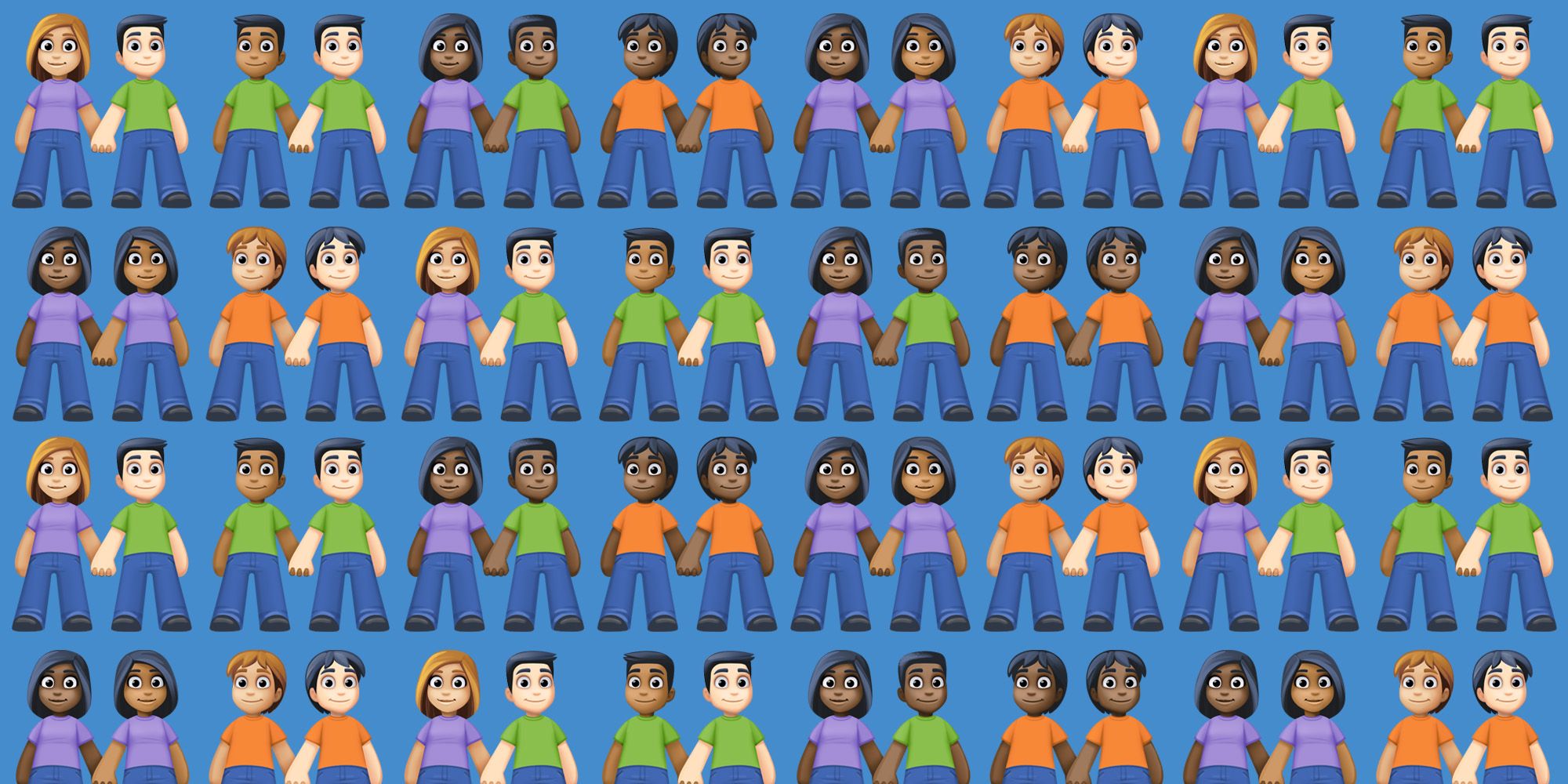 After several months of quiet rollout, Facebook have confirmed that their latest emoji release is now accessible to the majority Facebook users.
This update includes support for Emoji 12.0, as well as a number of design changes to family, gesture and facial expression emojis.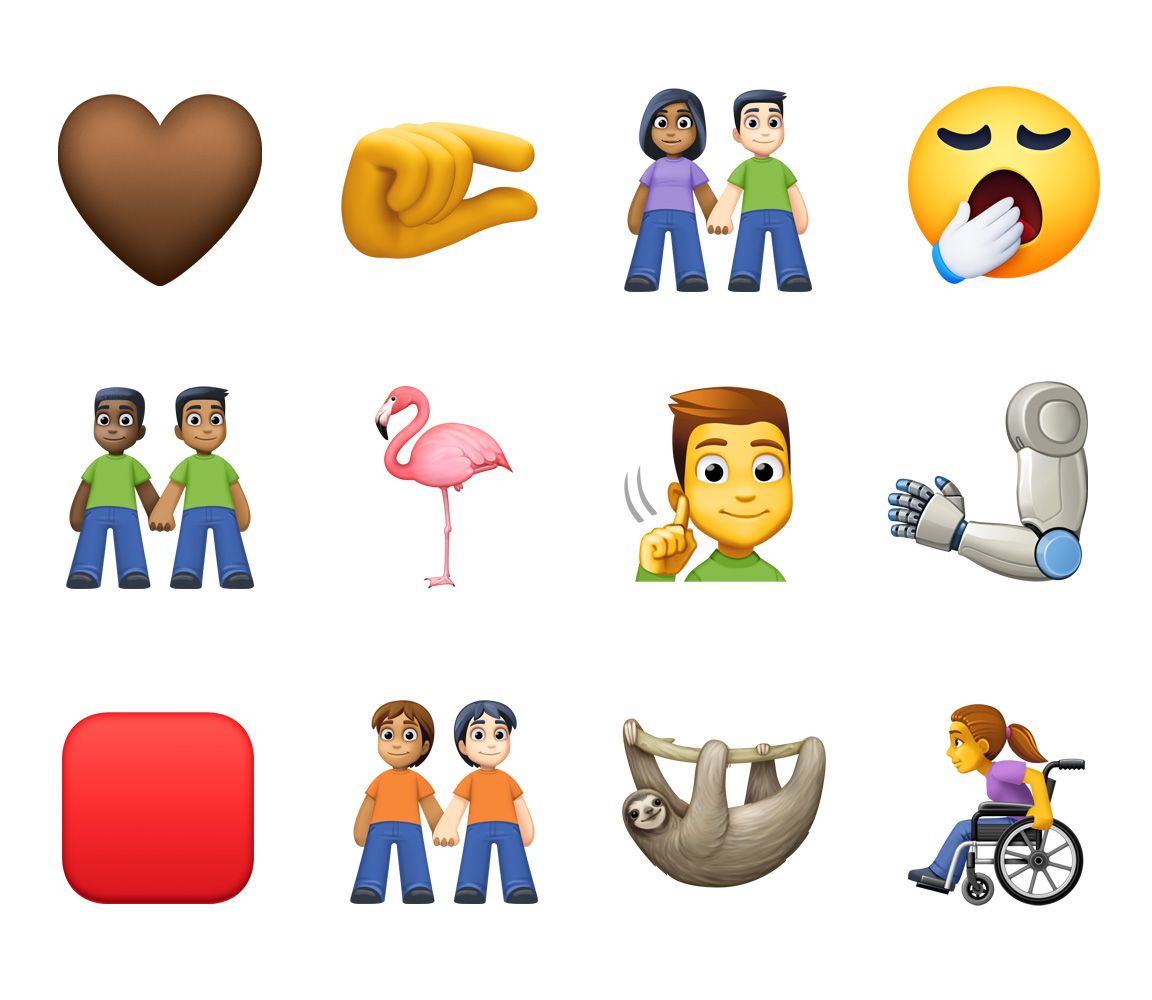 Above: New emojis added to the latest version of Facebook's emoji set.
Facebook 4.0 includes all 230 new emojis approved in 2019, including 🥱 Yawning Face and 🦩 Flamingo as well as selection of emojis representing accessibility (e.g. 🦻 Ear With Hearing Aid), new color options for shapes (e.g. 🤎 Brown Heart), and various different combinations of people holding hands (e.g. 👩🏾‍🤝‍👩🏻 Women Holding Hands: Medium-Dark Skin Tone, Light Skin Tone).
61 of these new emojis are unique codepoints, while the remaining 169 are new recommended ZWJ sequences for the likes of skin tone and gender variation support.
Additionally, 474 emojis have updated designs as part of this release. All hand gestures have been given a glossier appearance, a notable number of facial expressions have been tweaked and all of the non-RGI family ZWJ sequences have been given an update to match the new family design released last year.
🆕 New
The first major set of additions amongst the 230 new emojis are 71 new emojis featuring people holding hands.
Constructed via different ZWJ sequence, these combine 👩 Woman, 👨 Man and 🤝 Handshake to permit each person to have a different skin tone.
In the past, Facebook has already permitted shared skin tones for any of these hand-holders, but this is the first time mixed skin tones are included.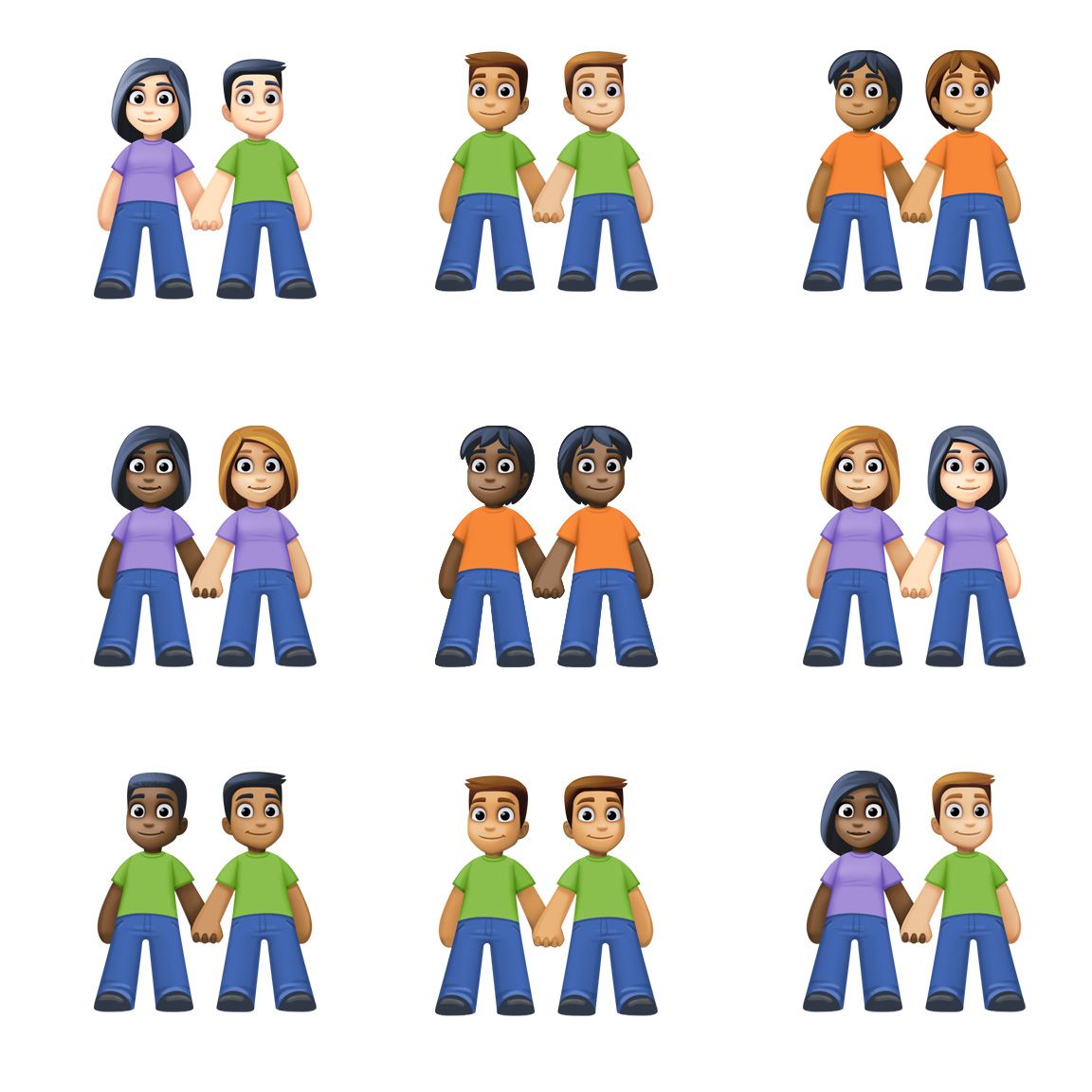 Above: A selection of the new people holding hands emojis in Facebook 4.0.
Accessibility and representation of differently-abled people is the second of the major themes evident in Emoji 12.0. Additions in this category include objects such as 🦽 Manual Wheelchair and people emojis such as 👩‍🦯 Woman With Probing Cane and 🧏‍♀️ Deaf Woman.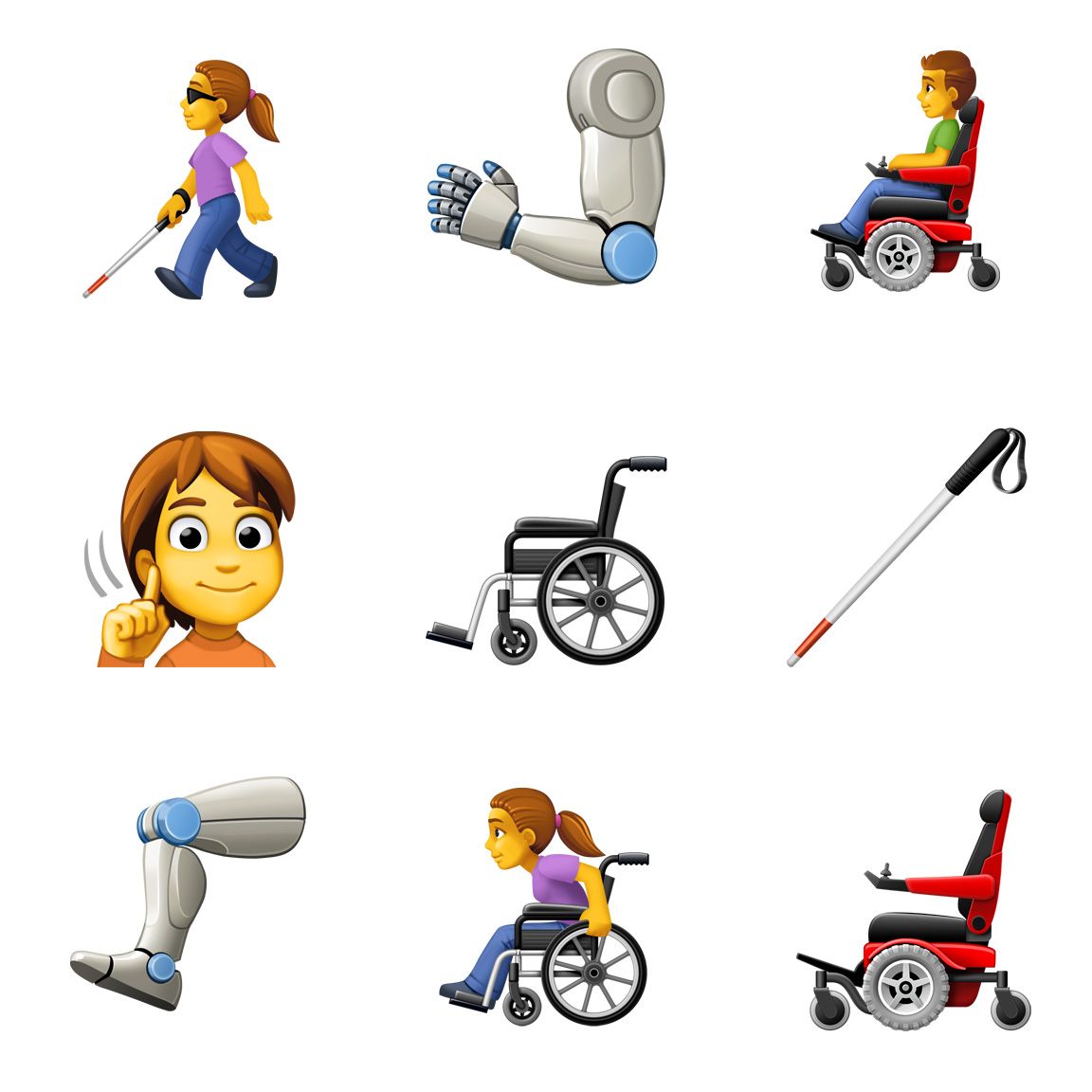 Above: A selection of the new accessibility emojis in Facebook 4.0.
The last major theme within Emoji 12.0 is the addition of new colored shapes and hearts. A total of 14 new designs have been added to these categories, including 🤍 White Heart and 🟥 Red Square.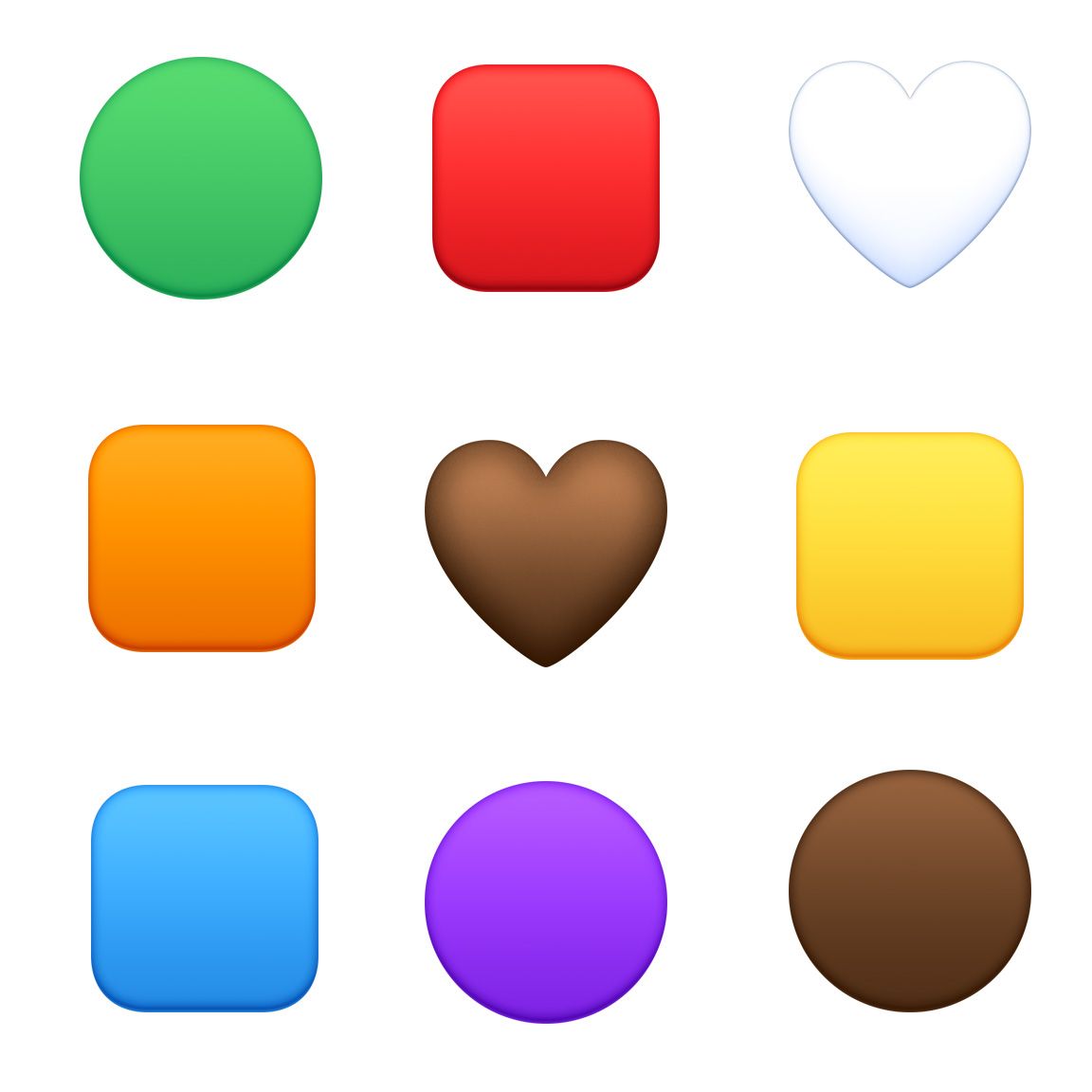 Above: A selection of the new shape options as they appear in Facebook 4.0.
All eight new animals[1] are now available for Facebook users, including the accessibility-oriented 🦮 Guide Dog and 🐕‍🦺 Service Dog, as well as the much-requested 🦩 Flamingo.
Unlike most other vendors, Facebook's oyster emoji does not include a pearl.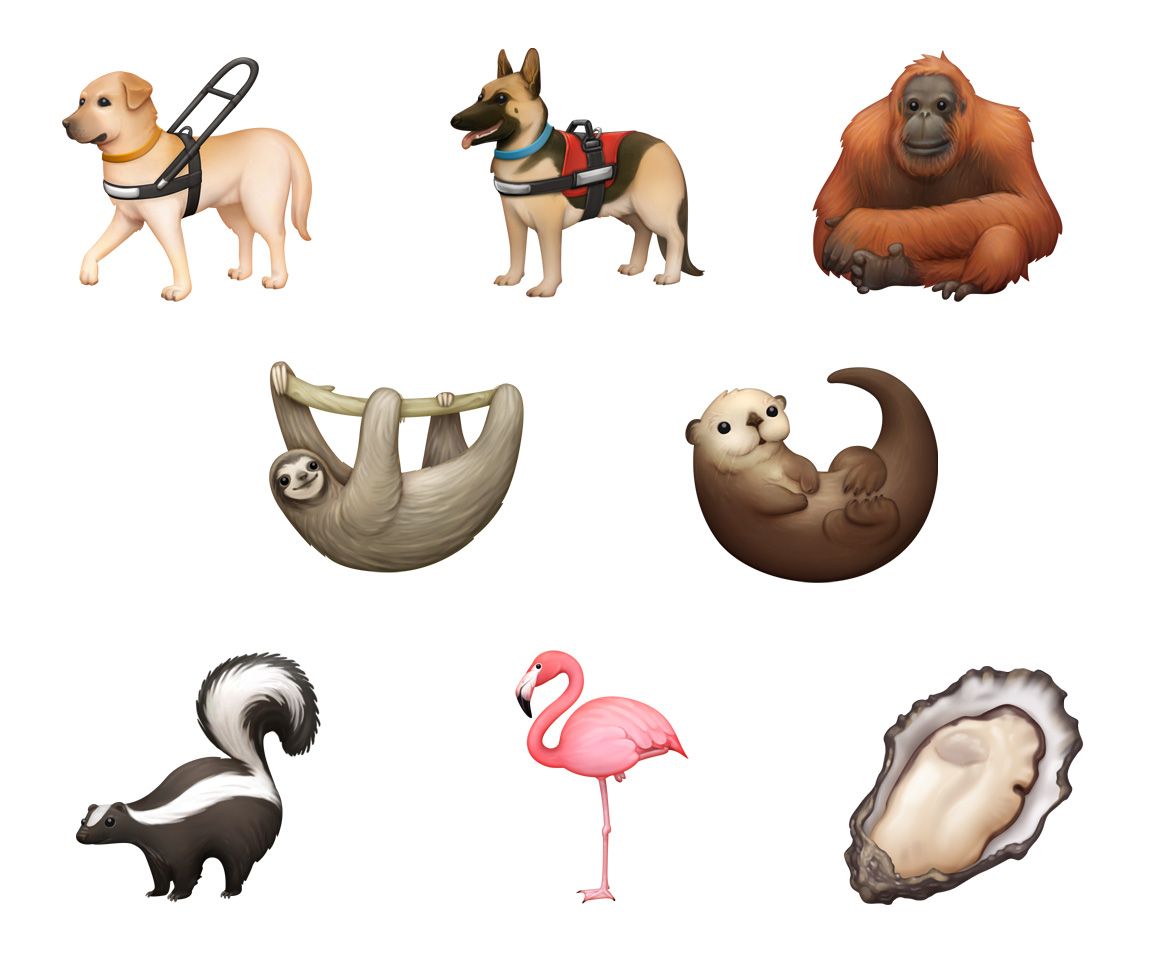 Above: Eight new animal emojis in Facebook 4.0.
🧆 Falafel and 🧉 Maté are amongst the eight new food and drink emojis in this update. The 🧃 Beverage Box includes the 💯 Hundred Points symbol in its artwork for 100% Juice.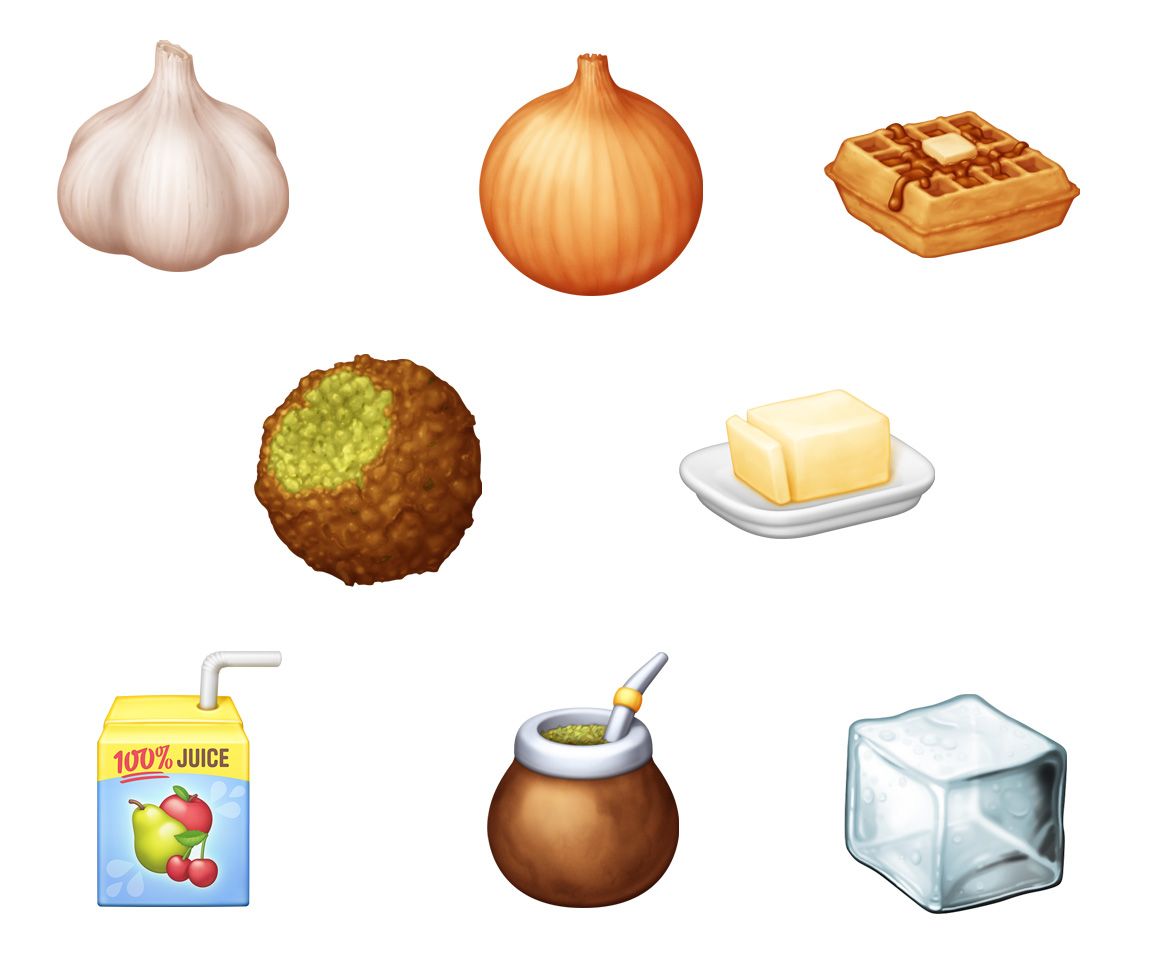 Above: New food and drink options in Facebook 4.0.
Other additions in Facebook 4.0 include 🤏 Pinching Hand, 🥻 Sari and 🩸 Drop of Blood.
Browse all new emojis in Facebook 4.0.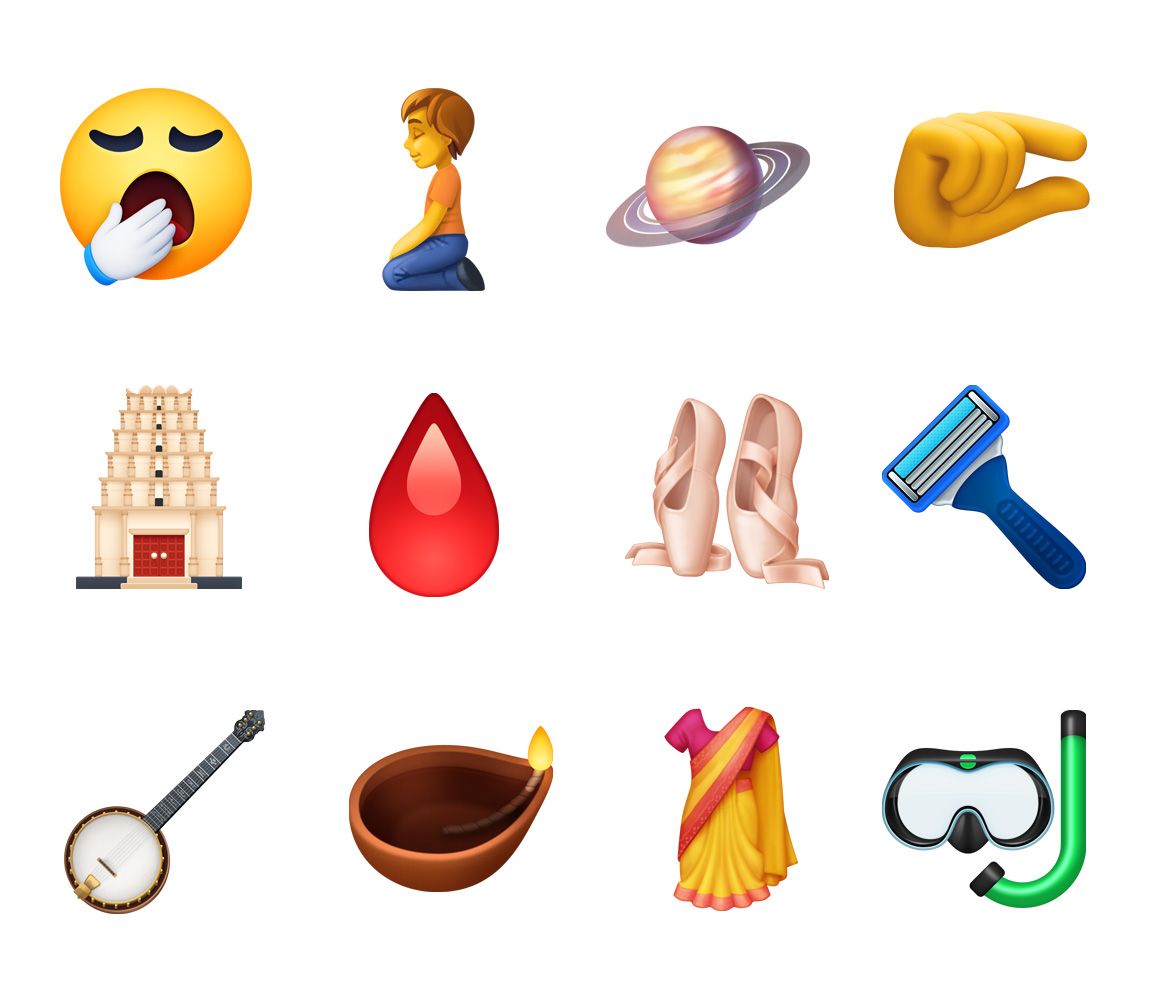 Above: A selection of other Emoji 12.0 designs as they appear in Facebook 4.0.
🆙 Changed
😀 Grinning Face has lost its clenched-teeth grin for an open-mouth smile, as per the design of other major emoji vendors.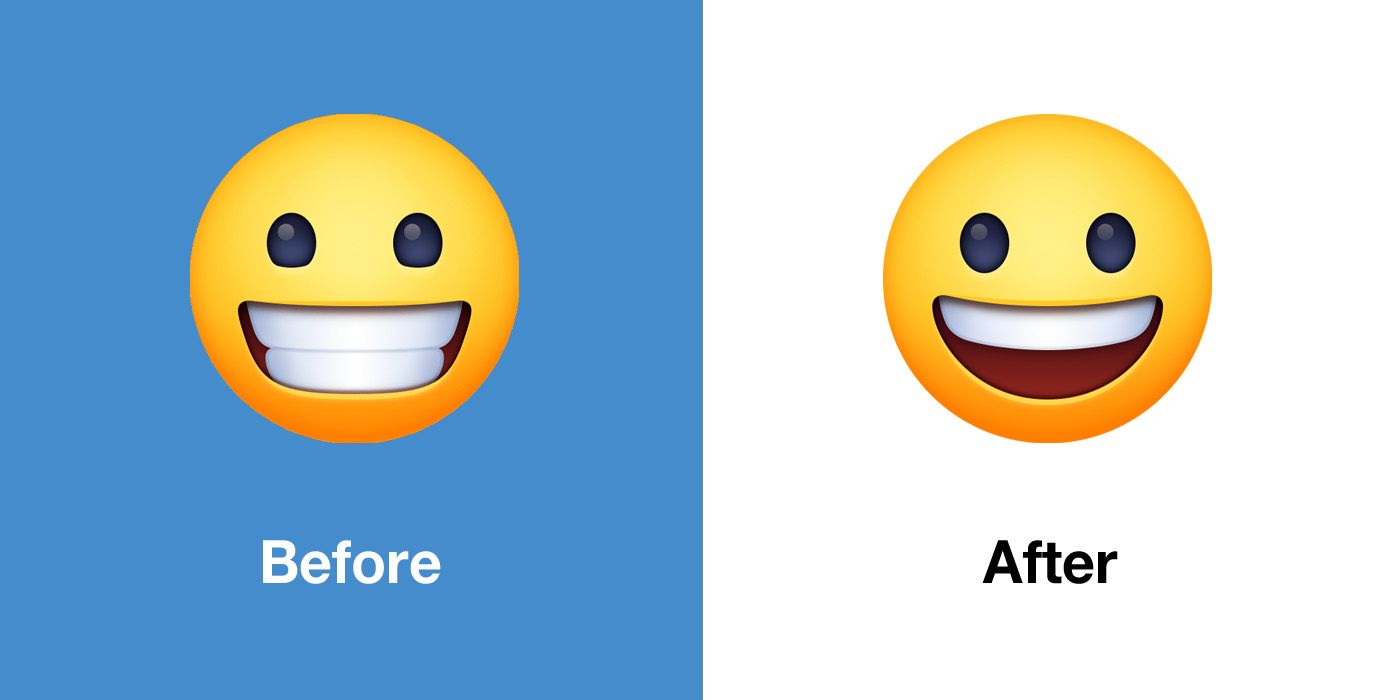 😭 Loudly Crying Face has had its eyes inverted, perhaps in attempt to channel a greater sense of sadness.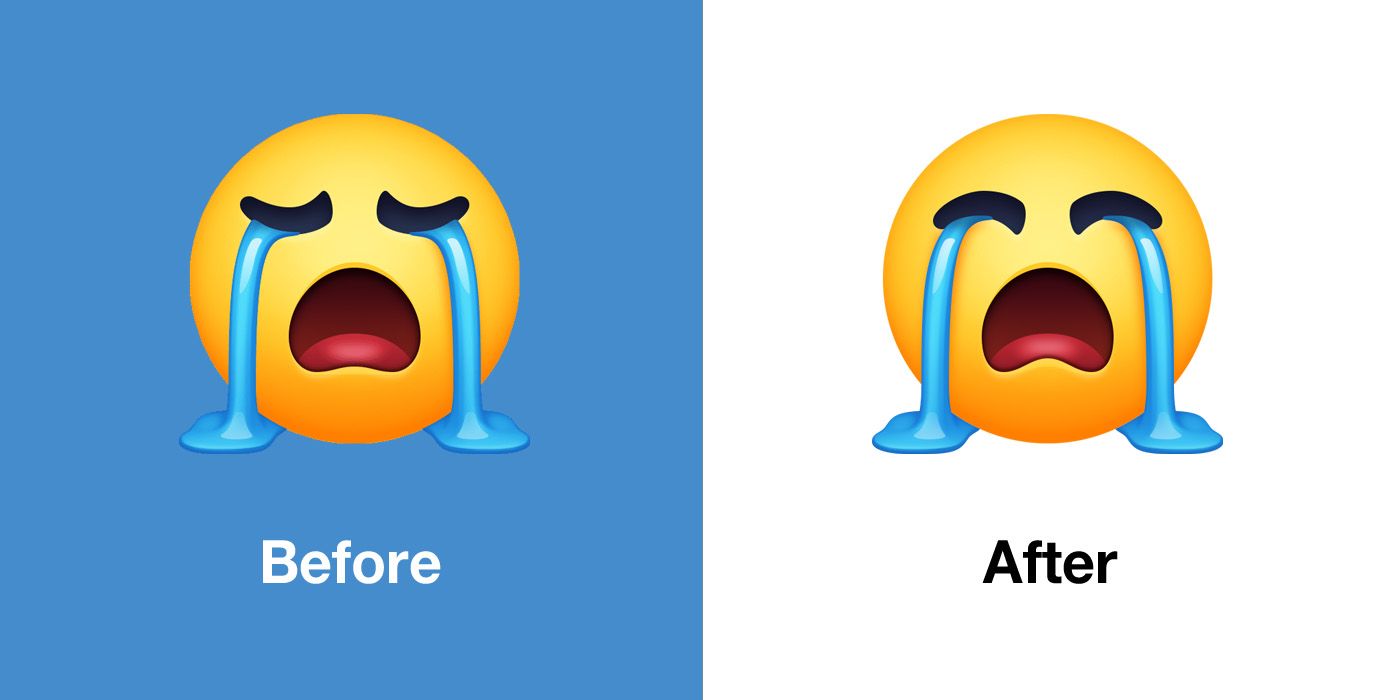 😵 Dizzy Face now features 'X'-shaped eyes instead of spiral-shaped eyes. This emoji continues to be fragmented between the two design styles (X or spiral eyes) across major platforms.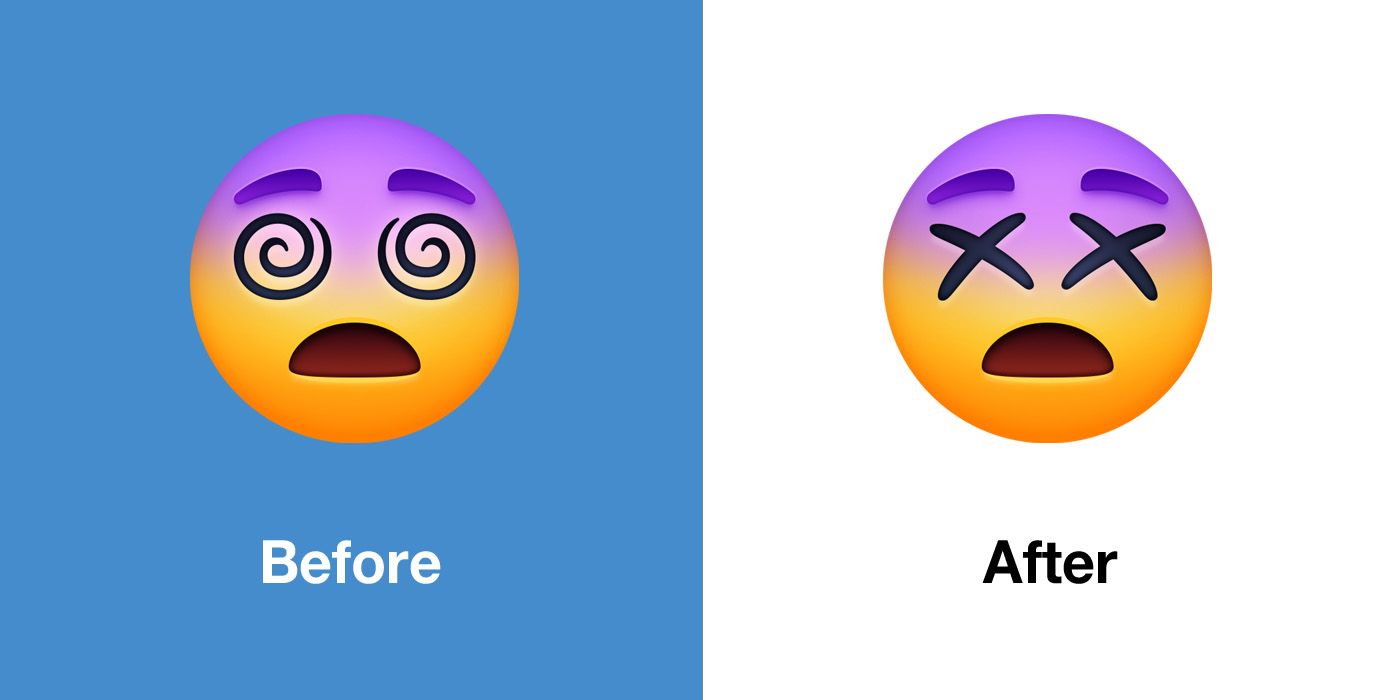 🤮 Face Vomiting now has its eyes shut in discomfort instead of featuring an intense wide-eyed stare.[2]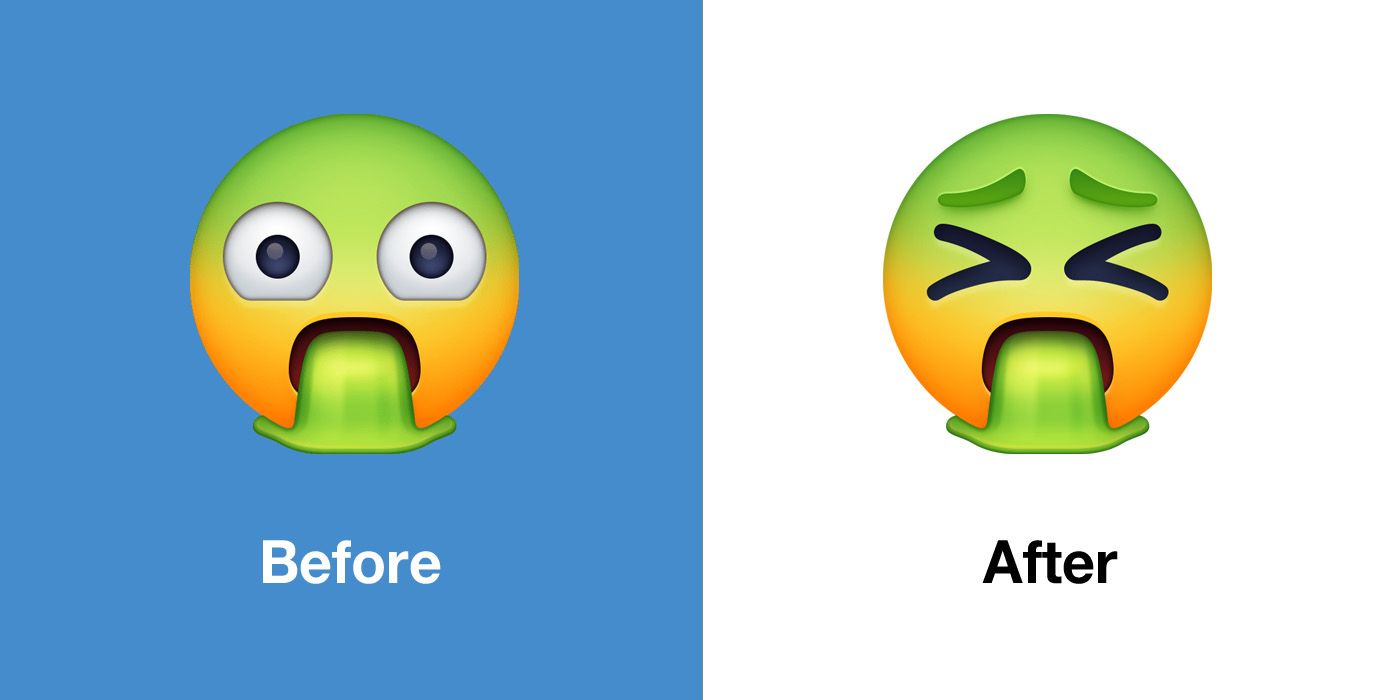 😠 Angry Face and 😡 Pouting Face now both display the same design - one in-keeping with other vendors' 😠 Angry Face design. However, in losing its red gradient 😡 Pouting Face is now notably inconsistent with the design of other vendors.[3]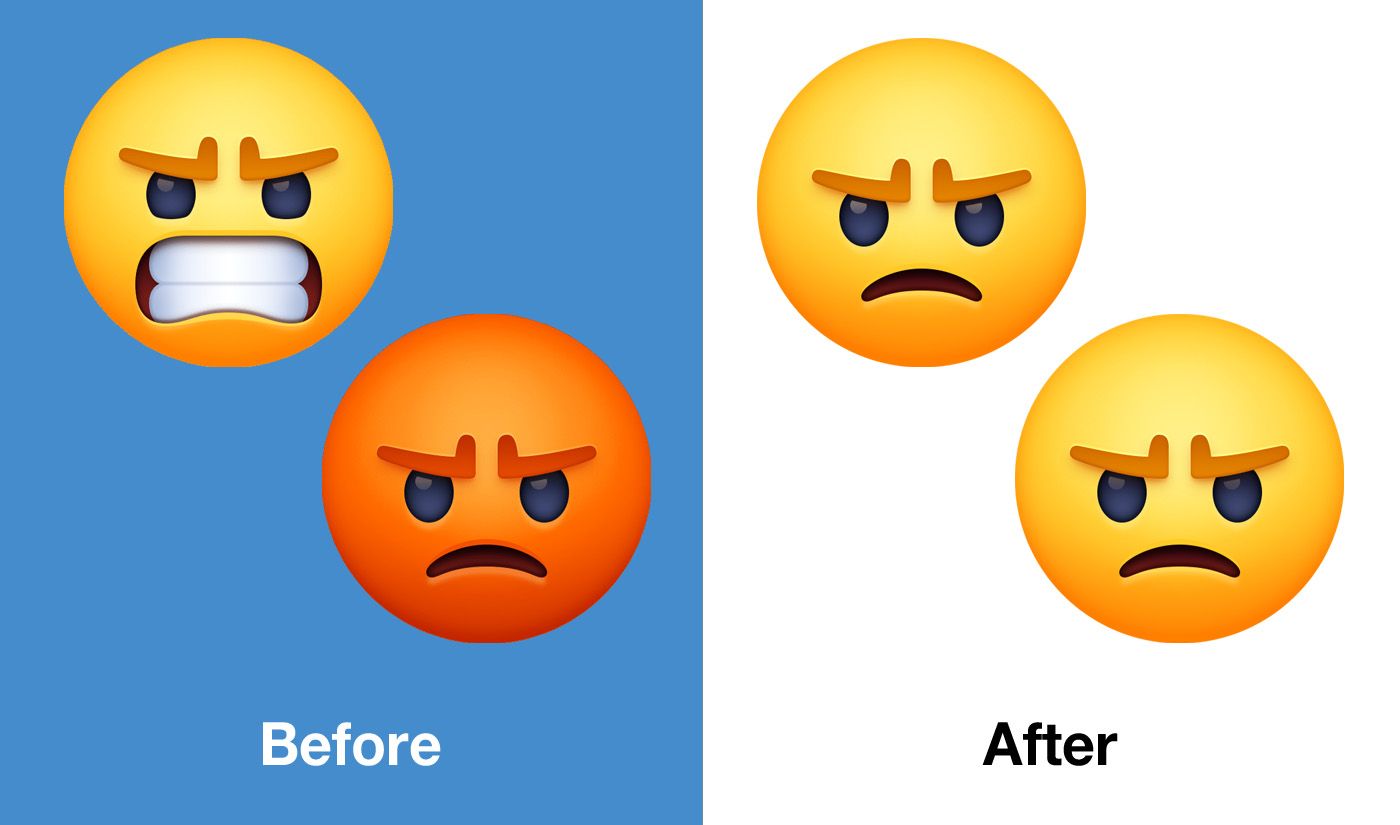 All hand and gesture emojis have been revised in Facebook 4.0. These have been given a glossier appearance more similar to the vendor's other human designs (👩 Woman, 🤹‍♂️ Man Juggling and 🤷 Person Shrugging, for example).
🤞 Crossed Fingers has been revised with a more glossy apperance and slightly modified finger placement.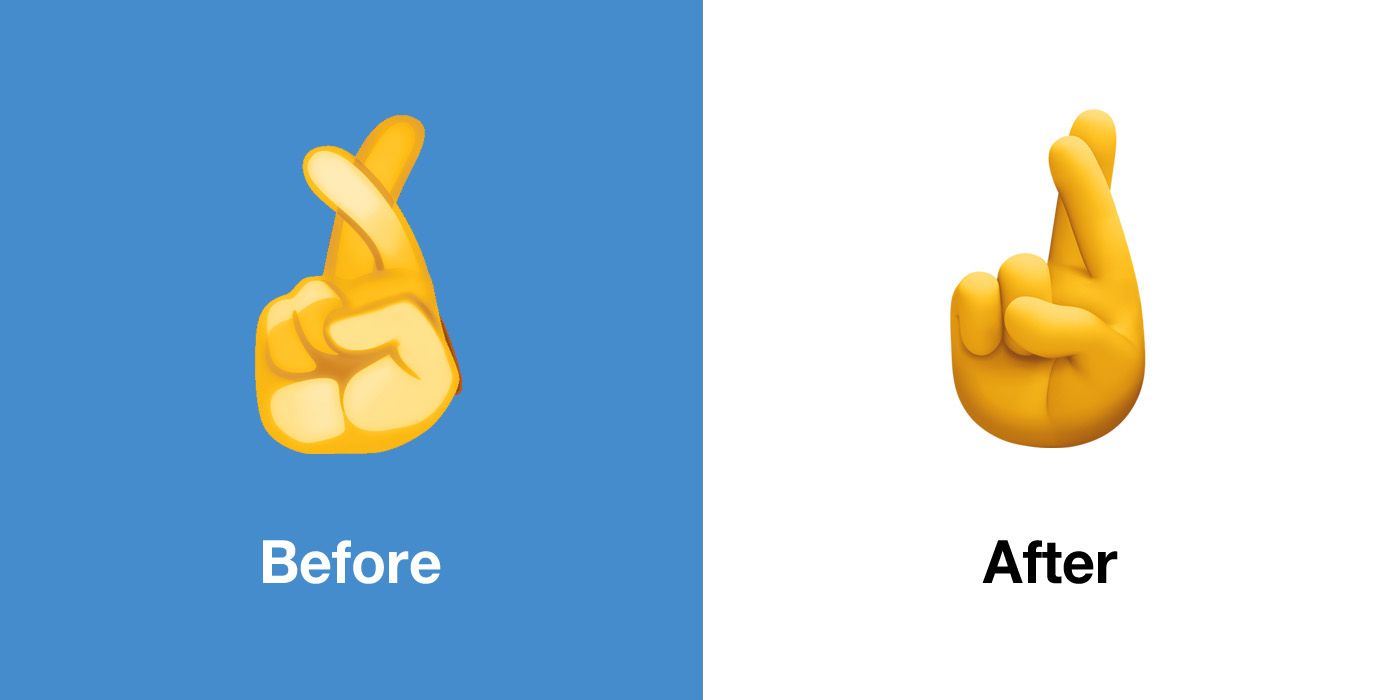 🤙 Call Me Hand is now glossier and has had its protruding little finger slightly reduced in size.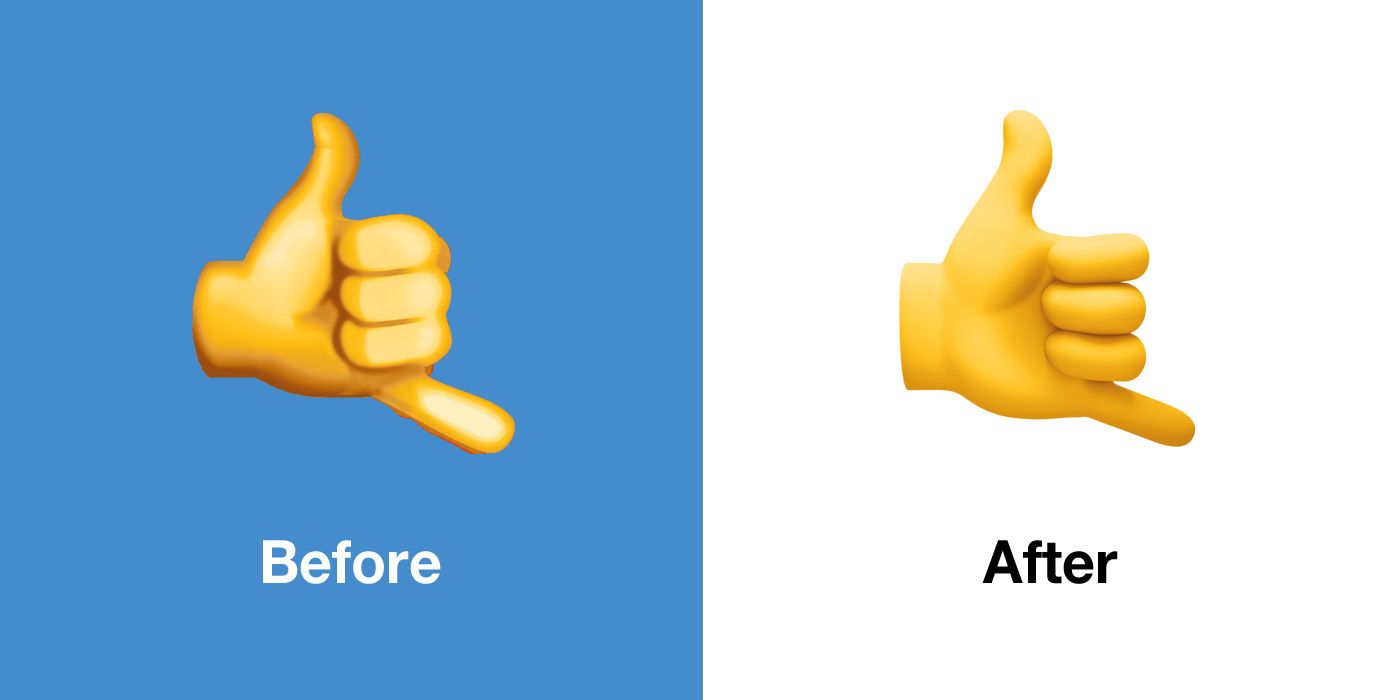 ✊ Raised Fist no longer displays a wrist below its the clenched palm and digits.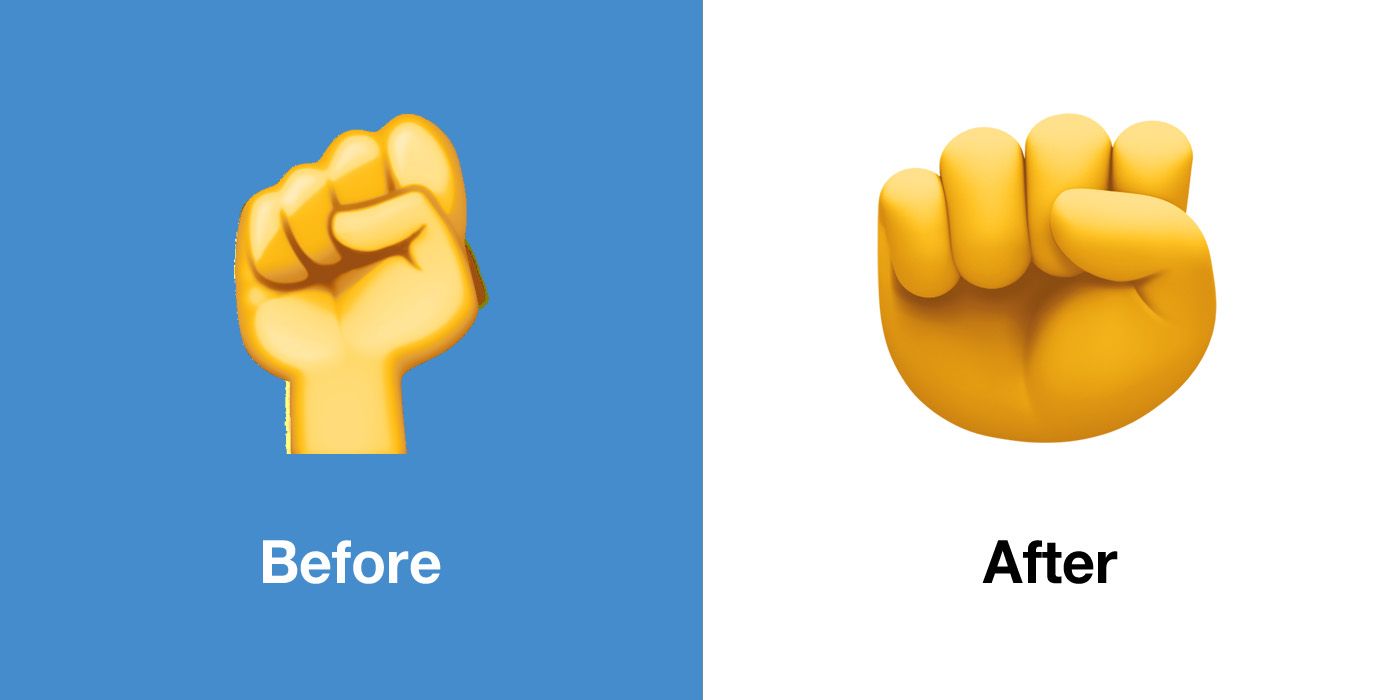 👑 Crown is now angled differently and features encrusted sapphires instead of purple gemstones.[4]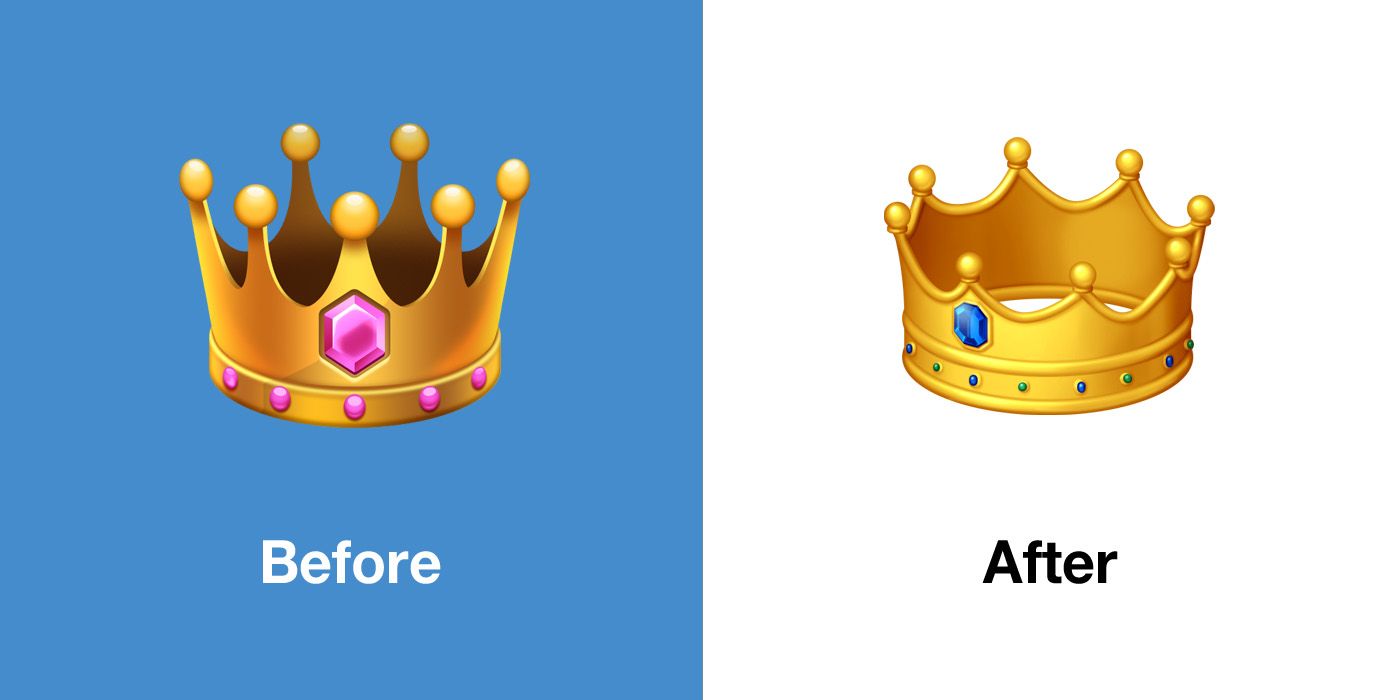 🚱 Non-Potable Water has been corrected to display the standard cross-through-tap design, as opposed to indicating a ban on binning litter. This mix-up was first introduced in December of last year.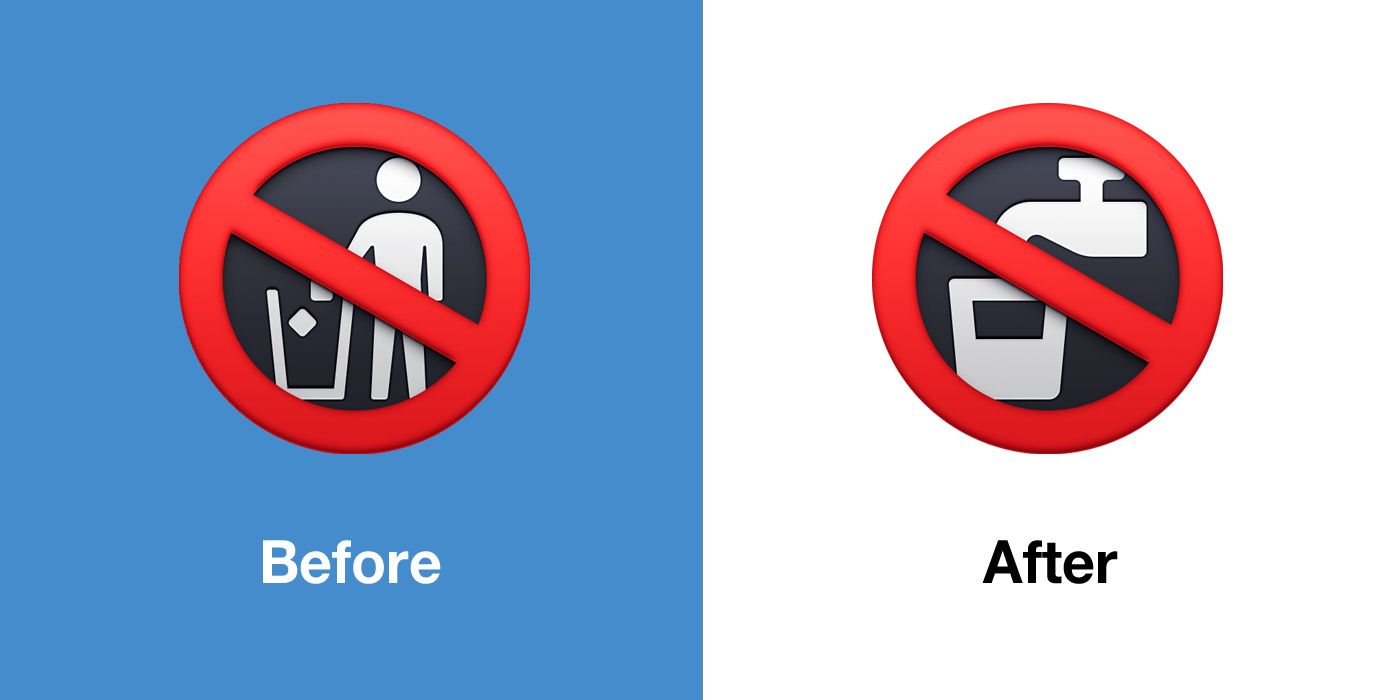 In version 2.2 of Facebook's emoji set, a series of 125 family emoji designs with skin tone modifier support were added.[5]
These designs remained unchanged in previous updates but in version 4.0 these have been updated to feature greater detail in their clothes, hair and facial features. This family with a dark skin tone applied 👨🏿‍👩🏿‍👧🏿‍👧🏿 is shown here as an example.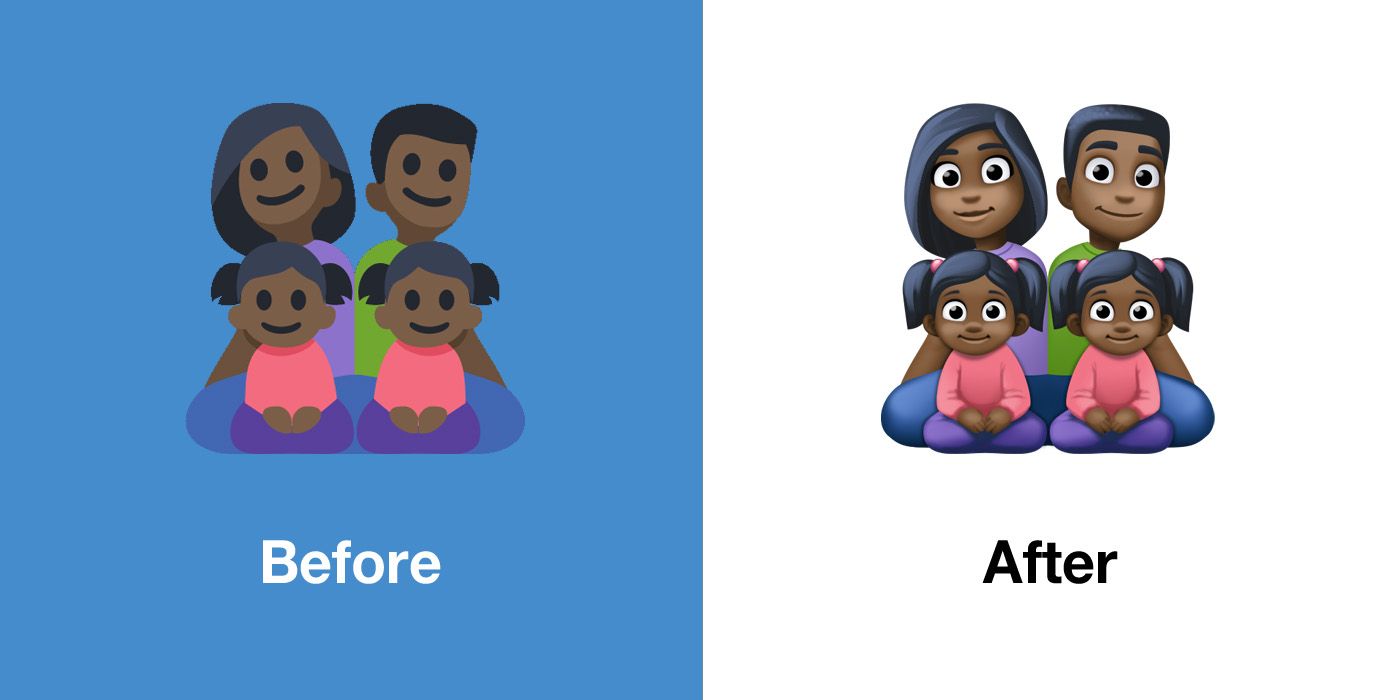 📶 Release
Facebook 4.0 was released on August 14, 2019 and continues to roll out for users across the globe.
In the past year, Facebook expanded the reach of its emoji designs by also displaying these in the native iOS Facebook app. Previously, Facebook's own emoji designs only showed on Facebook for web and Android.
While these new emojis are now supported by Facebook, input is a different matter. Android users will require Android 10.0 or above to see the new choices on the emoji keyboard.
The Facebook website emoji picker hasn't yet been updated to include these new additions so desktop users will need an Emoji 12.0-compatible OS such as Microsoft Windows 10 May 2019 Update or the forthcoming macOS Catalia update expected from Apple later this year.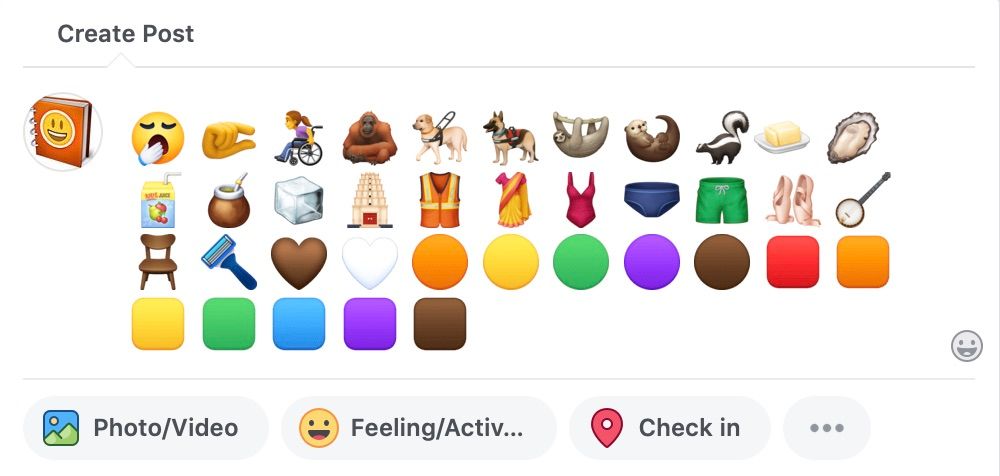 Above: Facebook supports the new 2019 emojis, but these aren't yet available in the website emoji picker interface.
An alternative for accessing these new emojis is to copy and paste from a browser, eg 🤍 White Heart.
Last month's update from Facebook now shows for a majority of users, with rollout continuing for all remaining users in the coming weeks and months.
---