Who is Mx Claus?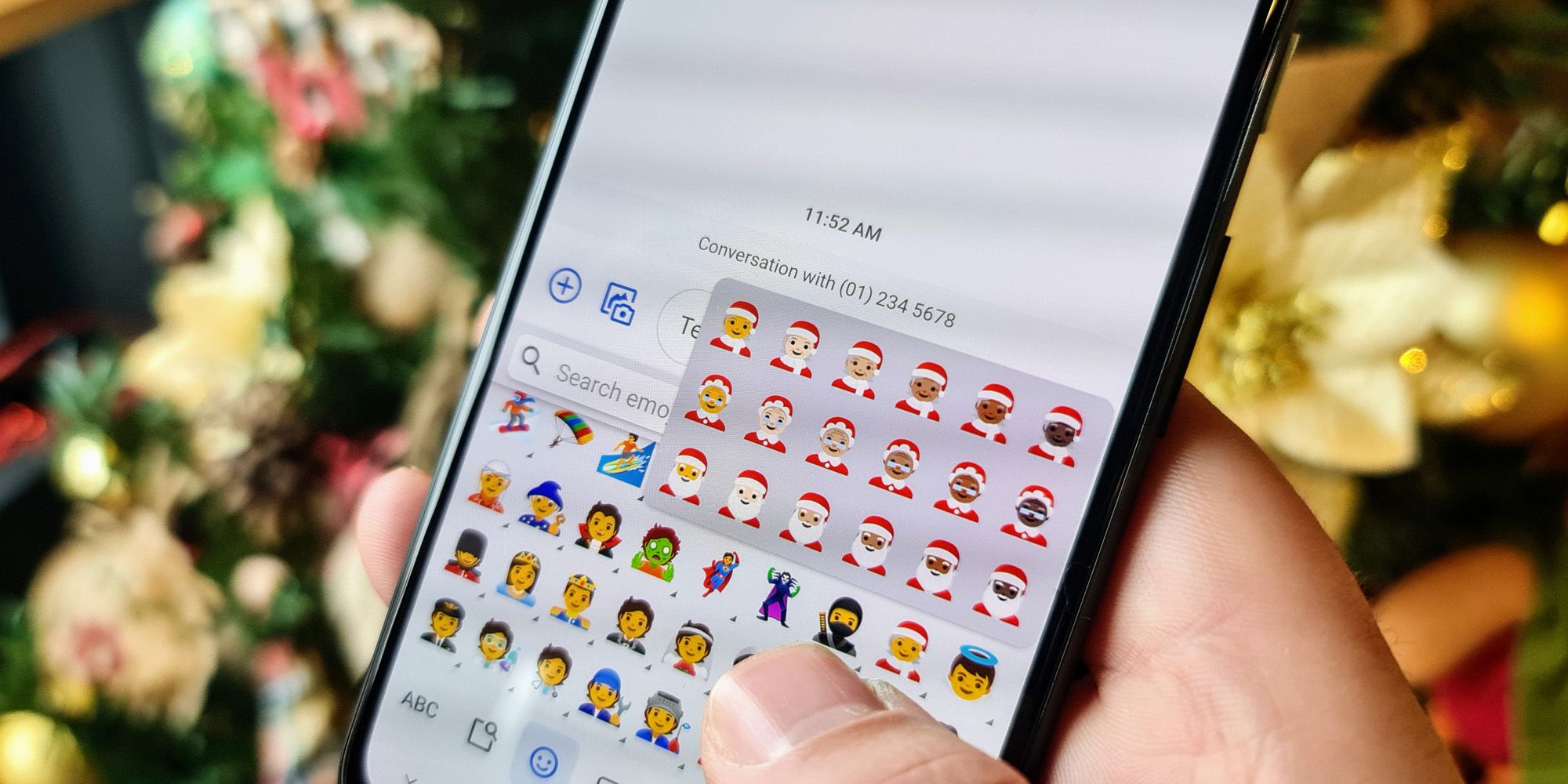 You've heard of 🎅 Santa Claus and perhaps 🤶 Mrs. Claus, but how about 🧑‍🎄 Mx. Claus?
As we approach the end of 2020, most major emoji vendors now support Emoji 13.0: the emoji update that included additions such as pinched fingers, smiling face with tear, people hugging, and bubble tea.
Keen-eyed emoji aficionados may have noticed a uniquely festive inclusion in the mix: 🧑‍🎄 Mx. Claus. So, who is this Santa hat-adorned newcomer, and how did they end up on the emoji keyboard?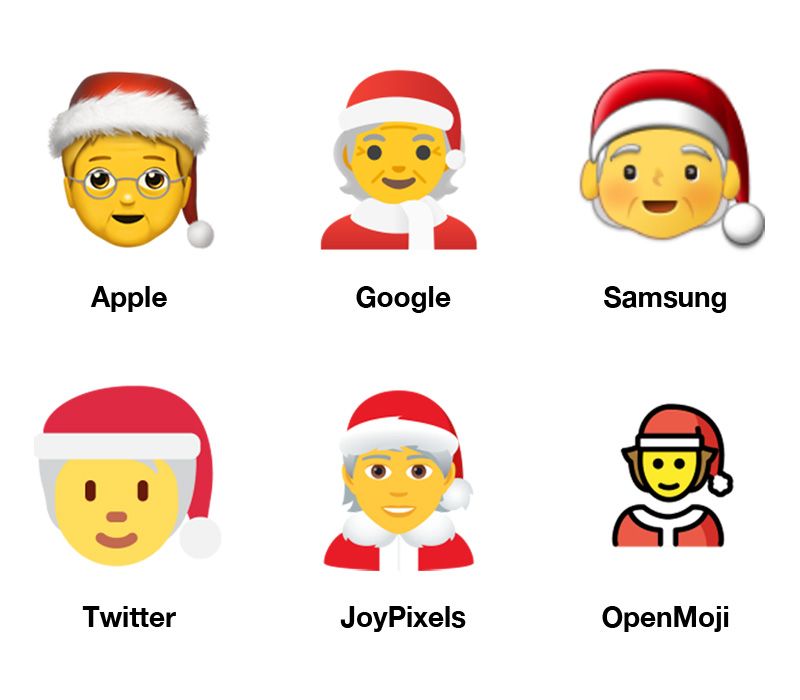 Above: How the 🧑‍🎄 Mx Claus emoji cross-platform comparison. Image: Vendors / Emojipedia composite.
🔤 Meaning
Depicting anolder person wearing a red Christmas hat, 🧑‍🎄 Mx Claus, is intended to be a gender inclusive alternative to the 🎅 Santa Claus and 🤶 Mrs. Claus emojis.
🧑‍🎄 Mx Claus is not intended to directly represent a specific individual from folklore.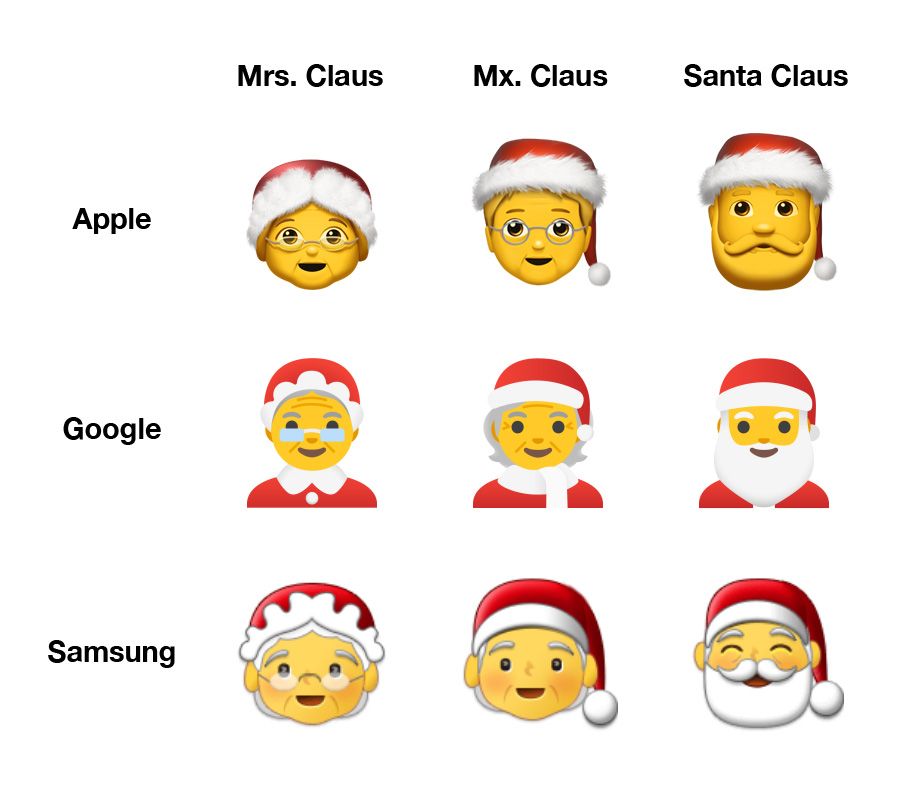 .
Above: the different designs for 🤶 Mrs. Claus, 🧑‍🎄 Mx Claus and 🎅 Santa Claus across the most recent Apple, Google and Samsung emoji updates.
While it is by no means the first gender neutral emoji to be introduced to the emoji keyboard, 🧑‍🎄 Mx Claus is the first emoji to have an honorific that does not indicate gender in its official Unicode name.
According to a post by Practical Androgyny, cited by the MacMillan Dictionary blog, the honorific Mx has been in use since at least 1977[1]. According to Jonathan Dent, the assistant editor of the Oxford English Dictionary:
"The early proponents of the term seem to have had gender politics as their central concern [and] saw the title as one which could sidestep the perceived sexism of the traditional 'Mr', 'Mrs' and 'Miss'."
While originally intended to be a title that could be used by anyone who did not wish to reveal their gender or martial status, in the 21st century it has grown in use people by who do not identify themselves as either male or female.
🧑‍🎄 Mx Claus also supports all skin tone modifiers, as is recommended for all emojis depicting an individual person.
🗣️ Pronunciation
The Mx honorific is generally pronounced akin to the English language term "mix", through it can also be pronounced like "mux".
There are a number of short pronunciation guidance videos available online, such as this one from the 'How To Pronounce' YouTube channel, though these all appear to favour the "mix"-like pronunciation.[2]
Thus, Mx Claus would be pronounced by most people as "Mix Claus".
💭 Development
🎅 Santa Claus has been on the emoji keyboard since day one;being added to the Unicode Standard in version 6.0 in 2010 under the name of Father Christmas.[3]
This particular emoji was added for compatibility with Japanese phone carriers, which had been supporting a Santa emoji since at least 1999 or 2000.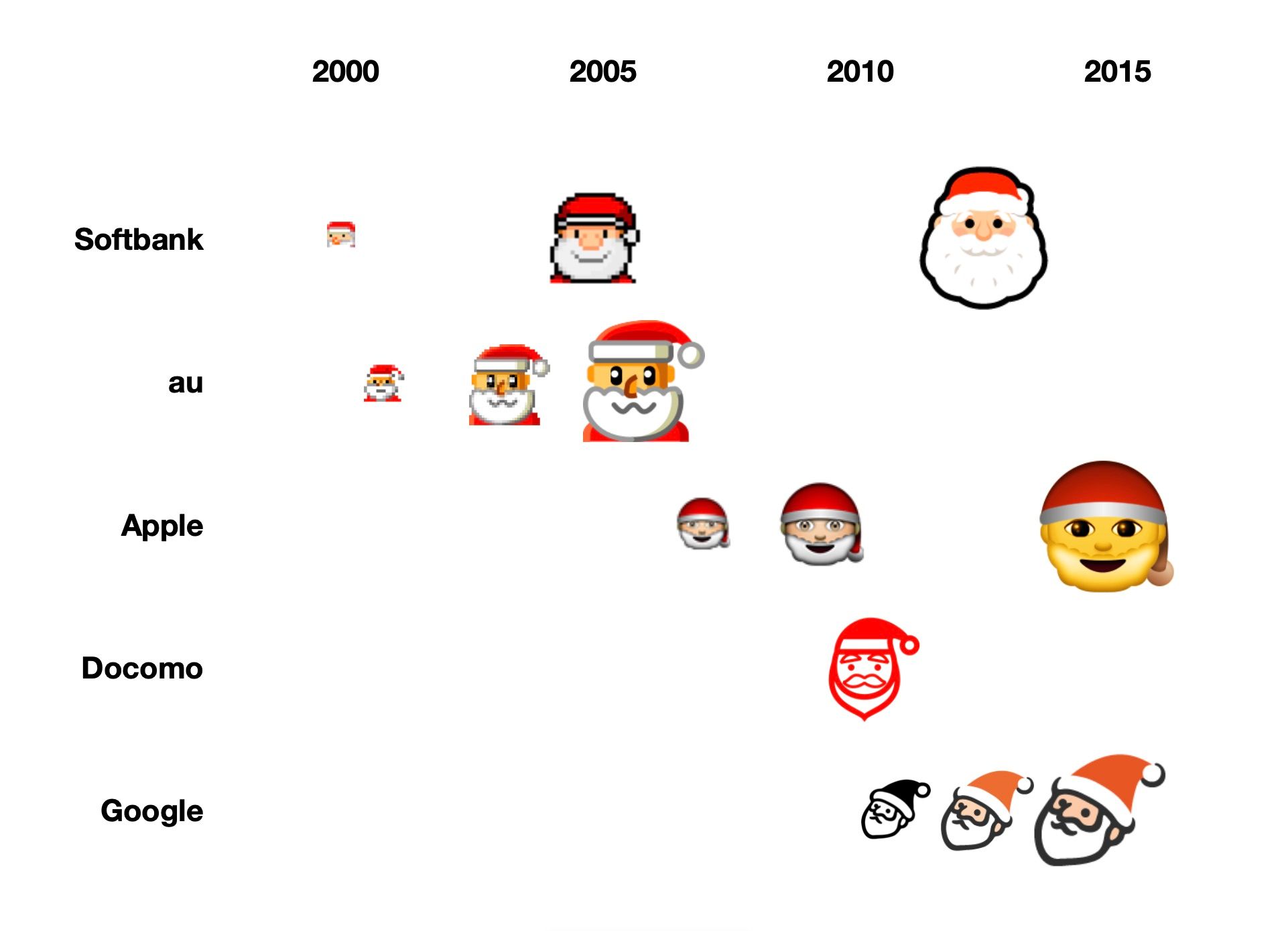 Above: The 🎅 Santa Claus emoji originated on Japanese mobile phones two decades ago. It became standardized in Unicode in 2010. Image: Vendors / Emojipedia composite.
🤶 Mrs. Claus was added to the Unicode Standard in 2016 as part of an effort to add so-called gender-pairs to existing gendered-emojis. The same release added 🕺 Man Dancing to accompany the existing dancer, and 🤴 Prince to pair with the existing princess.
The inclusion of 🧑‍🎄 Mx Claus in 2020 came after a series of recommendations by the Unicode Consortium related to increasing the gender inclusivity of emoji vendors' designs. While earlier updates appeared to standardize a gender binary, more recent efforts have been focused on gender neutral additions.
For many years, most emojis had no instric gender specified, and genders were ambiguous by default on a 12-pixel grid in 2000.
As vendors such as Softbank in Japan made more detailed designs over the years, a number of emojis took on gendered appearances. For instance by 2008 the surfer emoji was seen as a man and the person getting a haircut seen as a woman. Apple took on these same gendered interpretations when designing new emojis for the iPhone to be compatible with Softbank's emoji set the same year.
The projecting of genders onto specific emojis had been going on for at least a decade as noted by Google's Jennifer Daniel in a submission to Unicode in 2019.[4]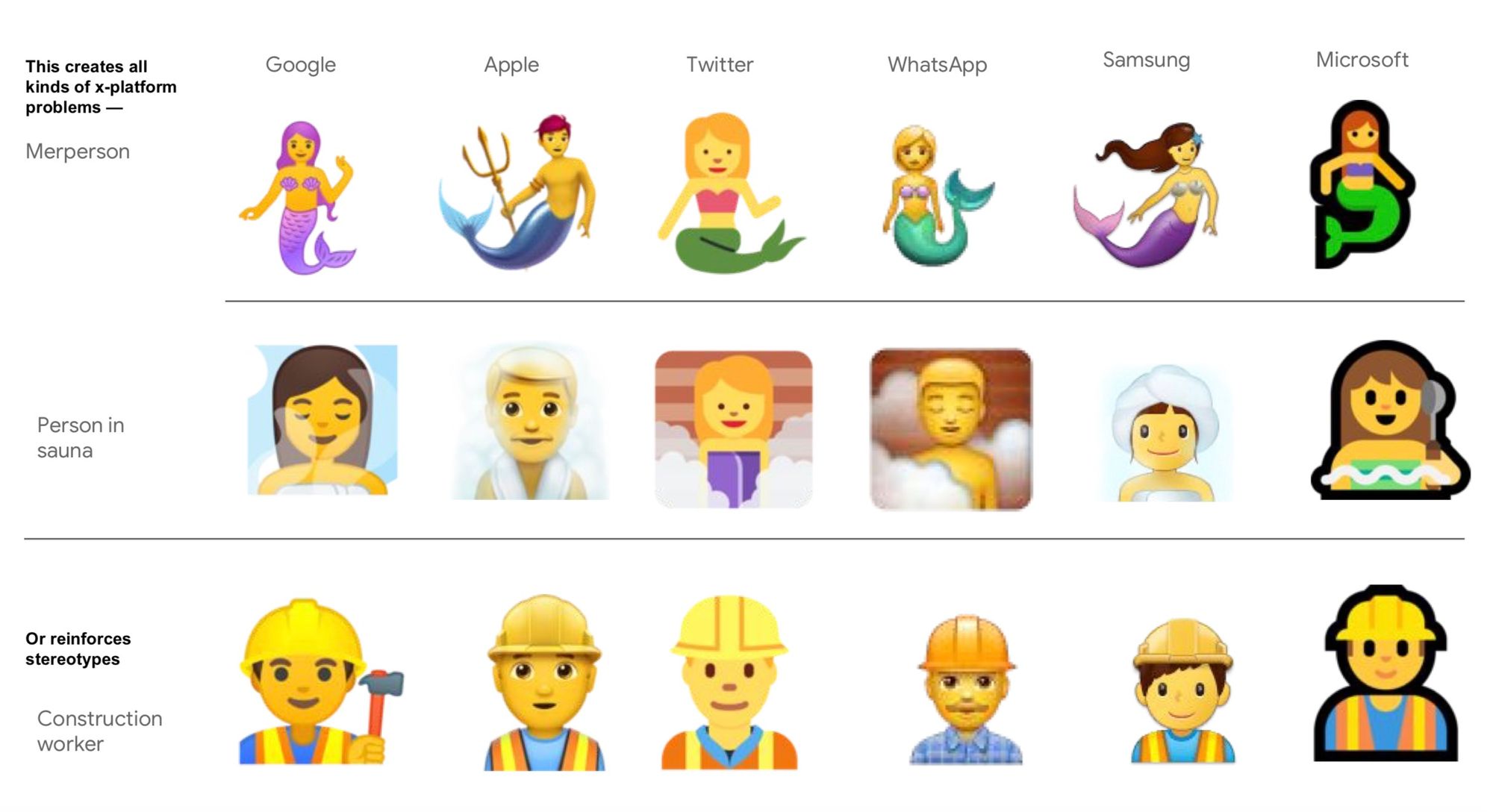 Above: As shown in Google's 2019 submission, emojis that did not explicitly state a gender had an inconsistent gendered appearance between platforms. Image: Jennifer Daniel / Google.
One challenge was that the application of gender to emojis with no gender specified was largely inconsistent between major platforms until 2019, when consolidation around a gender-neutral option began.
A few new gender neutral emojis were approved in 2017 (e.g. 🧑 Person and 🧓 Older Person), but the emoji keyboard was still predominantly structured as a gender binary.
In 2019, Google redesigned any emoji which didn't specify a gender, to display as a gender neutral. Later the same year, Emoji 12.1 recommended new gender-neutral variants for the majority of emojis which had only one or two gender options.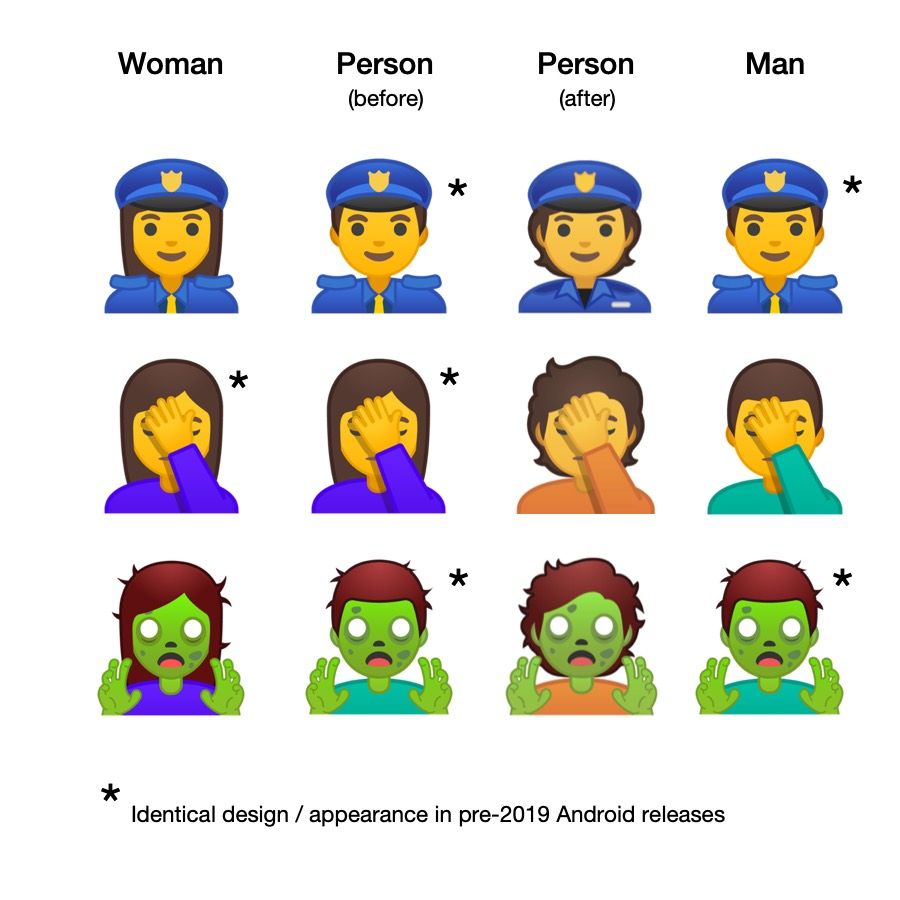 Above: Google introduced a distinct appearance for emojis which don't specify any gender in 2019. Image: Google designs / Emojipedia composite.
A few emojis remained without a gender-neutral equivalent in 2019, with the Claus family being one.
A new sequence combining 🧑 Person and 🎄 Christmas Tree in a ZWJ sequence was recommended by the Unicode Emoji Subcommittee, and approved in early 2020.
Support for the Mx Claus emoji came to most platforms in the second half of 2020, including iOS, Android, and Samsung One UI (Samsung's own emoji designs used on the Galaxy line of Android devices).
New in Android 11.0: 🧑‍🎄 Mx Claus https://t.co/XtydKCbb7A pic.twitter.com/1dC6bQU3CV

— Emojipedia (@Emojipedia) September 8, 2020
🗒️ Usage Notes
As 🧑‍🎄 Mx Claus is quite new, usage trends have yet to be firmed established. However, it is quite possible that it will have additional applications beyond those of 🎅 Santa Claus and 🤶 Mrs. Claus.
As 🎅 Santa Claus and 🤶 Mrs. Claus depict specific characters from folklore, they are rarely used for self-representation in emoji messaging. Instead, they are used to imbue a message with a sense of excitement related to Christmas.
However, as 🧑‍🎄 Mx Claus does not represent a specific character, it is more open to being used to represent the sender or recipient of a message, regardless of their gender identity.
New in iOS 14.2: 🧑‍🎄 Mx Claus https://t.co/XtydKCbb7A pic.twitter.com/k04M5iIokh

— Emojipedia (@Emojipedia) November 5, 2020
While proposed in order to provide a consistent set of gender options for the human emoji set, 🧑‍🎄 Mx Claus might end up primarily being used by individuals to represent themselves or their peers.
Their name is Mx Claus, because every emoji needs a name. What you use them for, is up to you.
---