Christmas Emojis: The Comprehensive Guide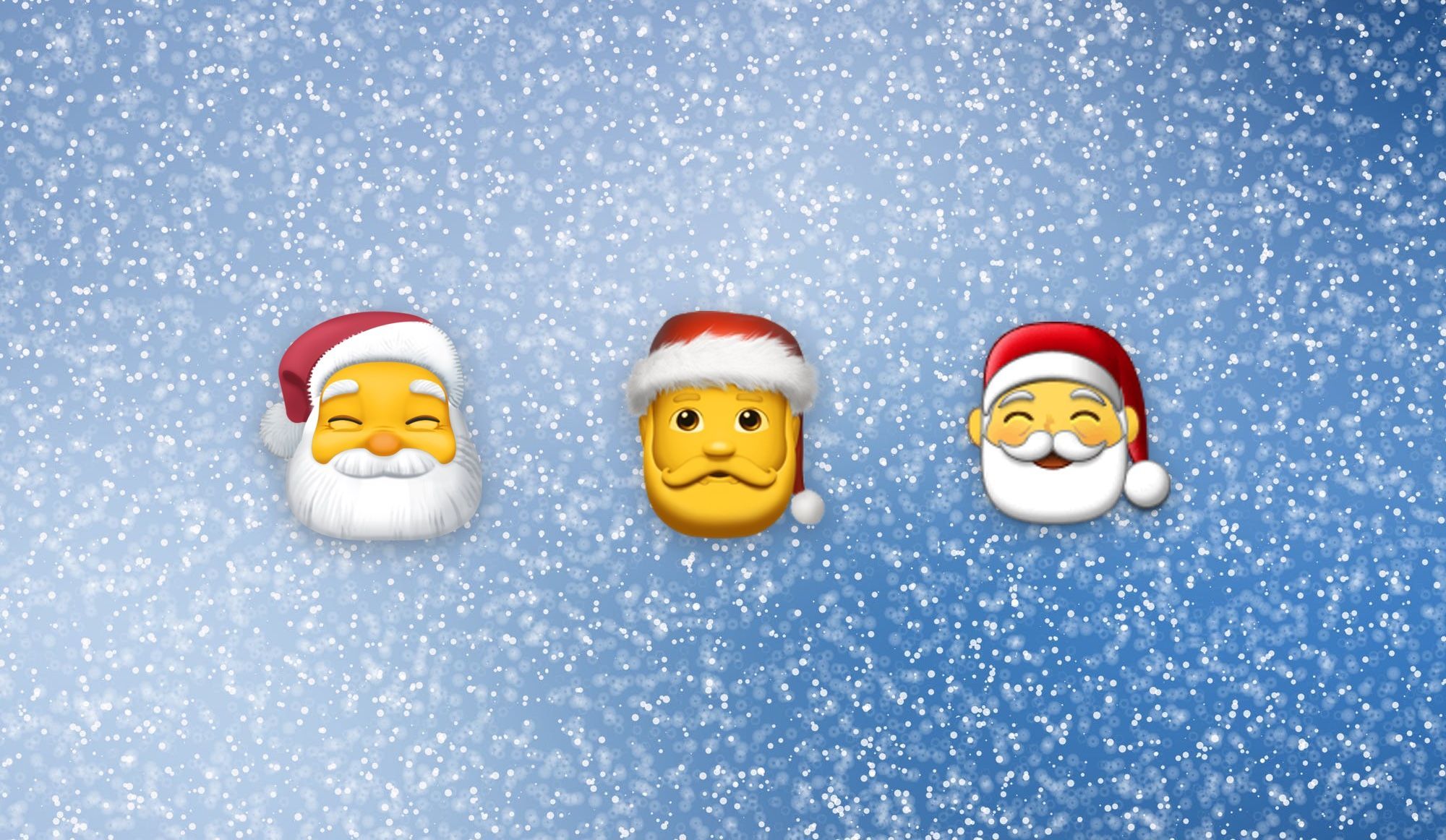 A comprehensive list of emojis used at Christmas time, where they come from, and most importantly: how much cheer they spread on each platform.
Both ⛄ Winter and 🎅 Christmas are well represented on the emoji keyboard. But have you taken a closer look at some of these emojis? I have. Covered in this article are the following:
🎅 🤶 🎄 🦌 🎁 ⛄ 👼
Of course there are many more emojis used around Christmas time than just these (see the full Christmas emoji list here), but we have presents to buy or out-of-office auto-responses to write. So let's get on with it.
🎅 Santa Claus
🎅 Santa Claus has a varied appearance between platforms: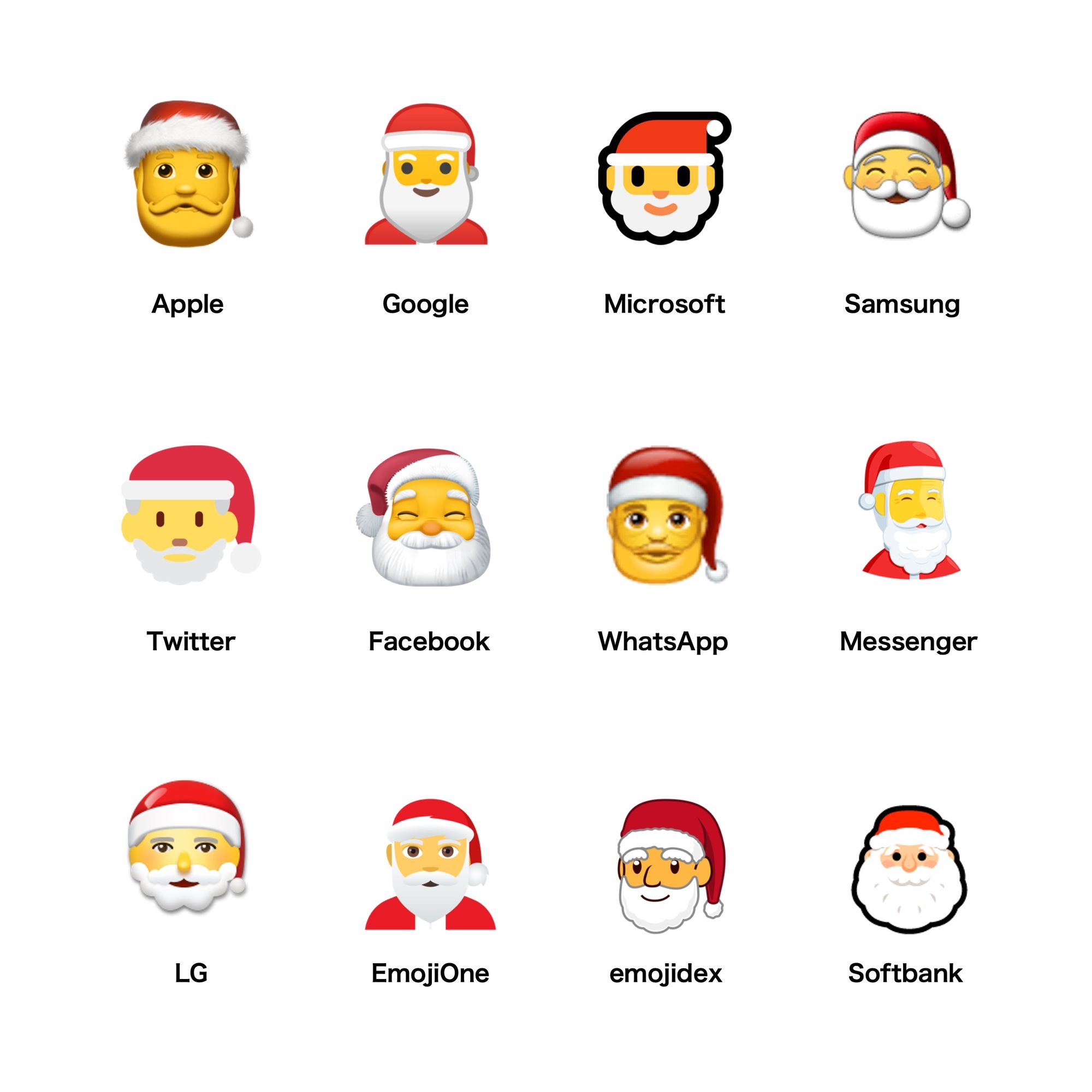 Some points to note on the 🎅 Santa Claus Emoji:
Santa's appearance has evolved on various platforms over the years, but all have kept to the modern look of a large man with a white beard and red hat.
In 2012 a ticket was filed in Google's Android bug tracker titled "Santa Emoji is sad, when Santa should be jolly", referring to the slight frown that adorned Santa's face at the time.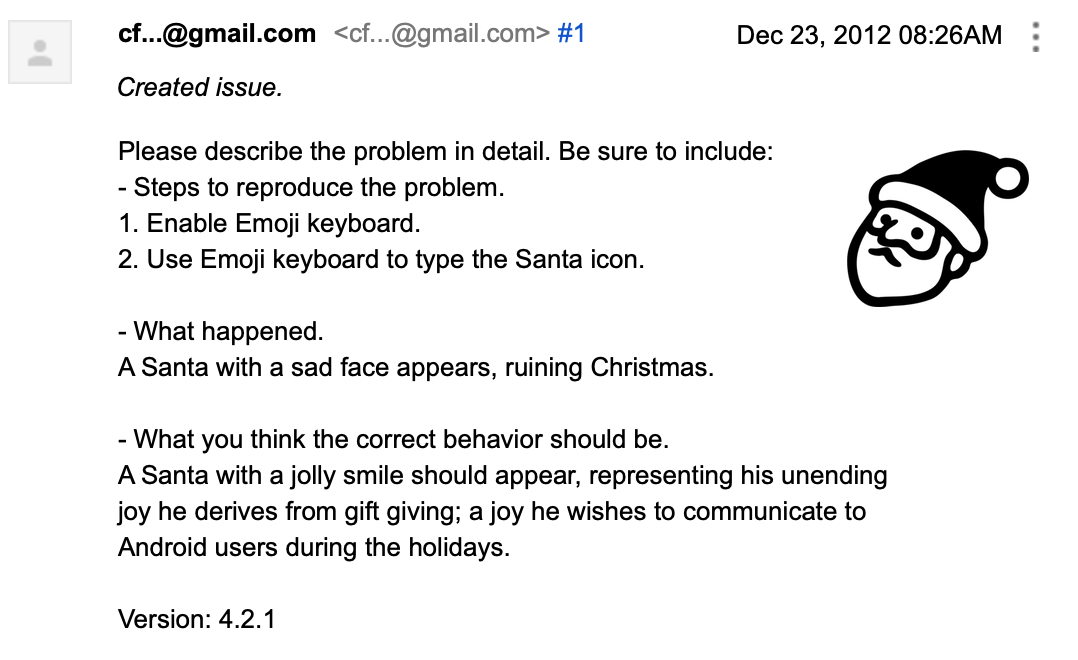 The frowning Santa "ruining Christmas" remained in the color version to be released on Android the next year, and gained a small smile the year after when an entry in the ticket tracker October 2014 quietly noted:
Marked as fixed.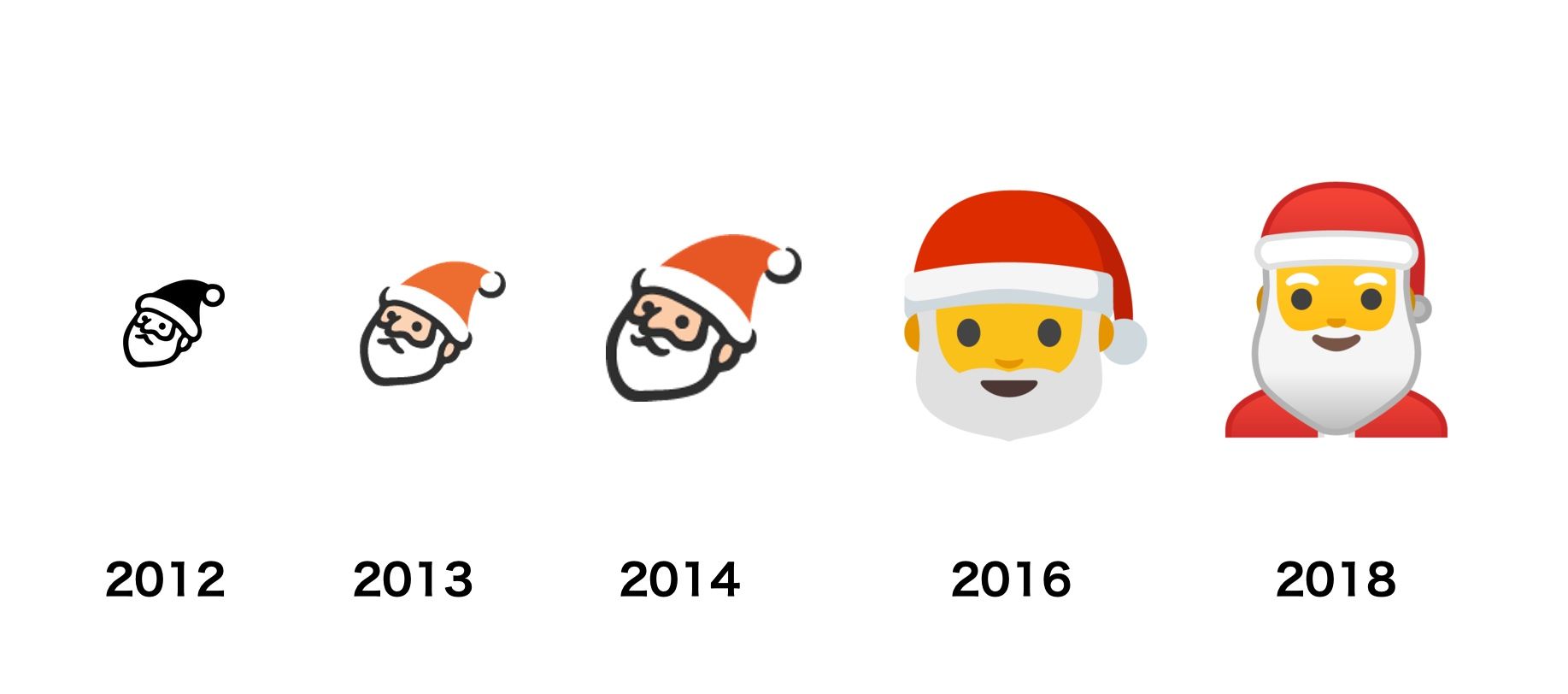 Less obvious in this picture is that in 2013, Android's brand color palette didn't permit the color red to be used in any emoji. As such, Santa has an orange hat, which became red in 2014.
Other emojis that weren't allowed to be red on Android in 2013 were the ❤️ Red Heart (pink), 🌹 Rose (orange), 🍓 Strawberry (orange), 🍎 Red Apple (orange),  🚒 Fire Engine (orange), and 🔴 Red Circle (also orange).
Elsewhere, Apple's version of this emoji gained a 3D-rendered redesign in 2016 as part of a complete overhaul of Apple's emoji set in detailed high resolution.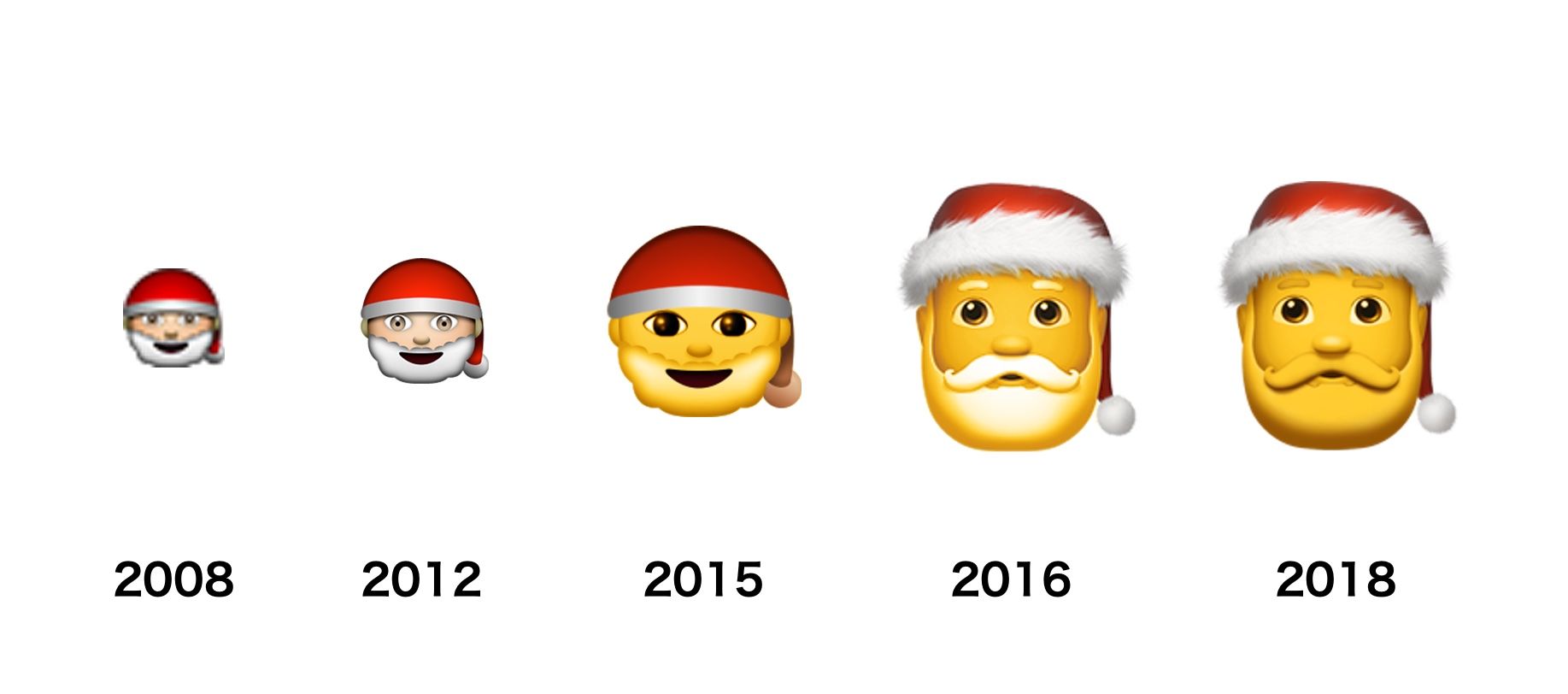 And no, Santa didn't get jaundice in 2015 - this is the year skin tones were added to the Unicode Standard, resulting in most vendors making the default option—when no skin tone is chosen—yellow, similar to the other non-human smileys.
Apple is the only vendor to also give Santa a yellow beard when no skin tone is chosen. Originally hedged as a lighter-yellow, hinting at white, the current version has a distinctly yellow shade, including Santa's eyebrows.
While the yellow looks pretty odd out of context, this does better differentiate the default skin tone compared to any of the pale skin tones which look a realistic human shade.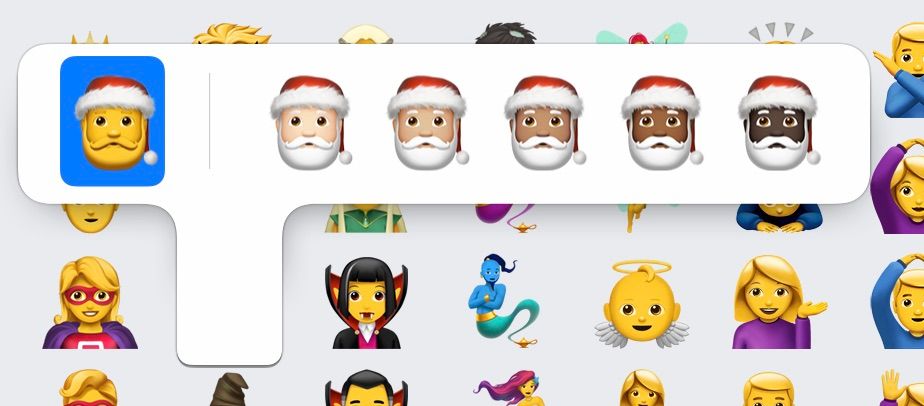 Throughout 2018 Facebook has been revising and adding detail to its emoji set, resulting in possibly the most welcoming Santa of the bunch.
Efforts in 2016 to brand Messenger separately from Facebook, with even its own emoji set, have fallen by the wayside and the similarly jolly Messenger Santa is no longer in public use.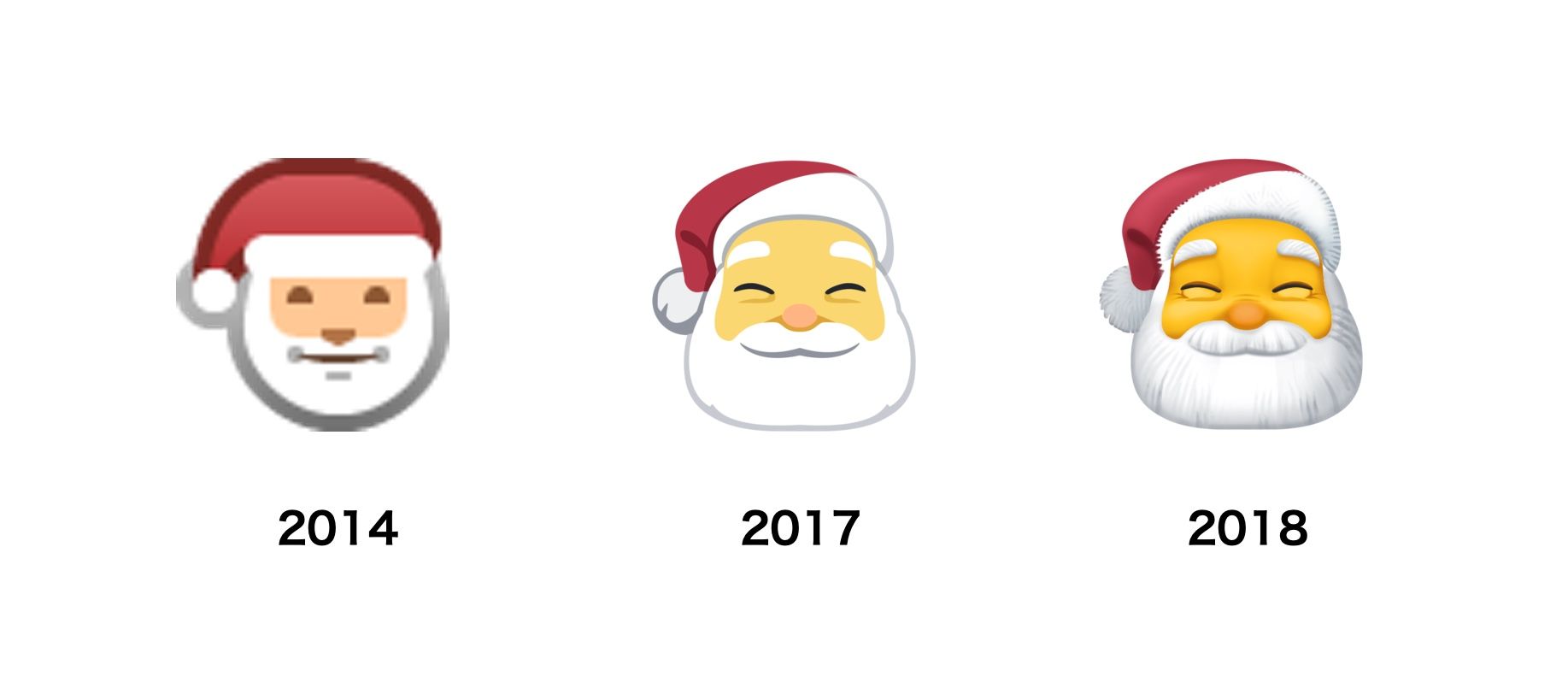 Microsoft has two fonts which include emojis — Segoe UI Symbol (a black and white font) and Segoe UI Emoji (a color emoji font).
Over time the color emoji font diverged from the original font, though both come included on Windows today. As of the Windows 10 "Anniversary Update" in 2016, all emojis have a thick stroke outline, in keeping with the look of modern Windows. Santa is no exception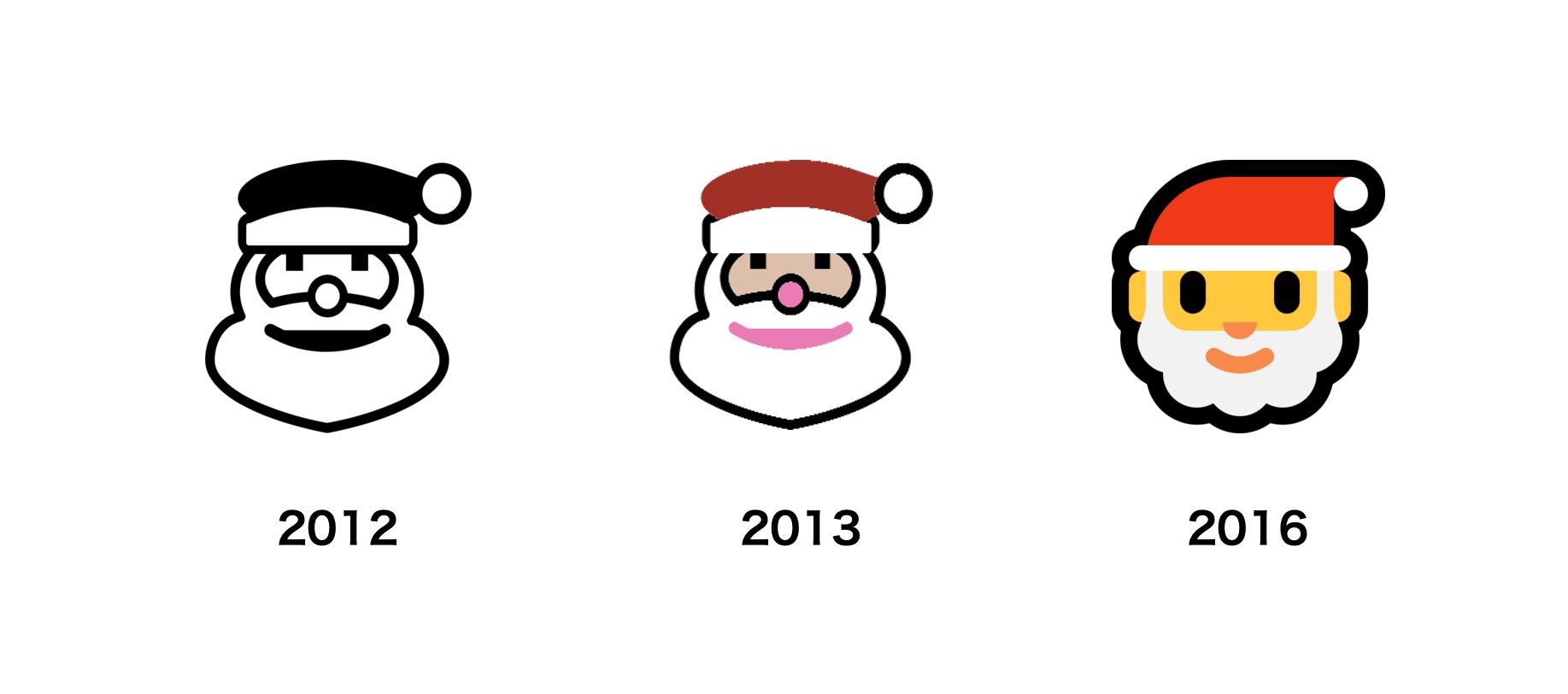 🤶 Mrs. Claus
No one wants a lonely Santa, and as such, we should be pleased that he found a life partner in 🤶 Mrs. Claus.
Shown on most platforms as an older woman with white or gray hair, glasses, and a red Christmas bonnet, Mrs. Claus sees less frequent use on social media than her spotlight-stealing husband.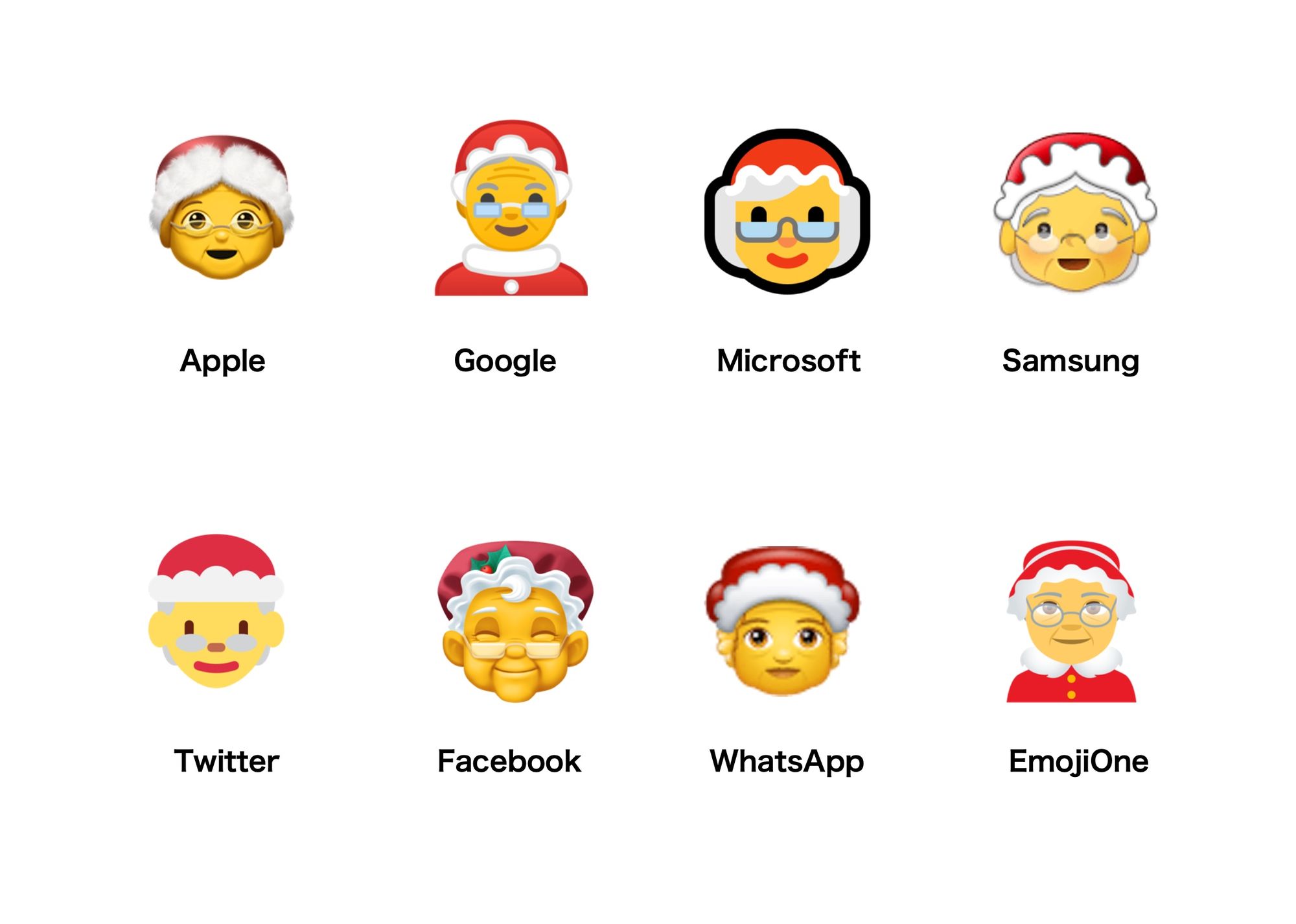 Some points to note on the 🤶 Mrs. Claus Emoji:
🎄 Christmas Tree
An evergreen tree decorated with lights, tinsel, or other colorful items.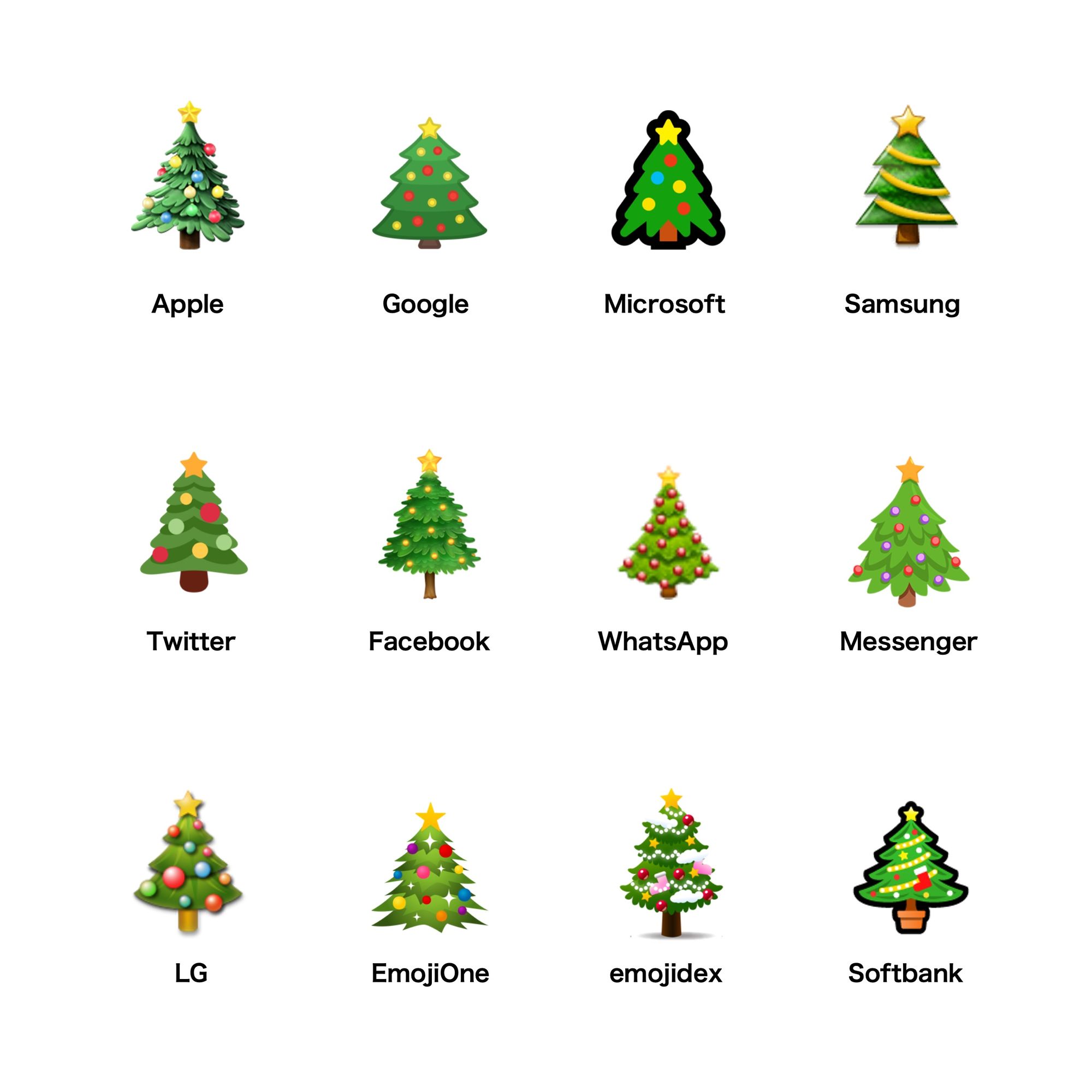 Some points to note on the 🎄 Christmas Tree Emoji:
🦌 Deer
What is the difference between a deer and reindeer? I have no idea. What I can tell you is that they look the same in my mind, and at emoji sizes, would be hard to tell the difference. Or would it?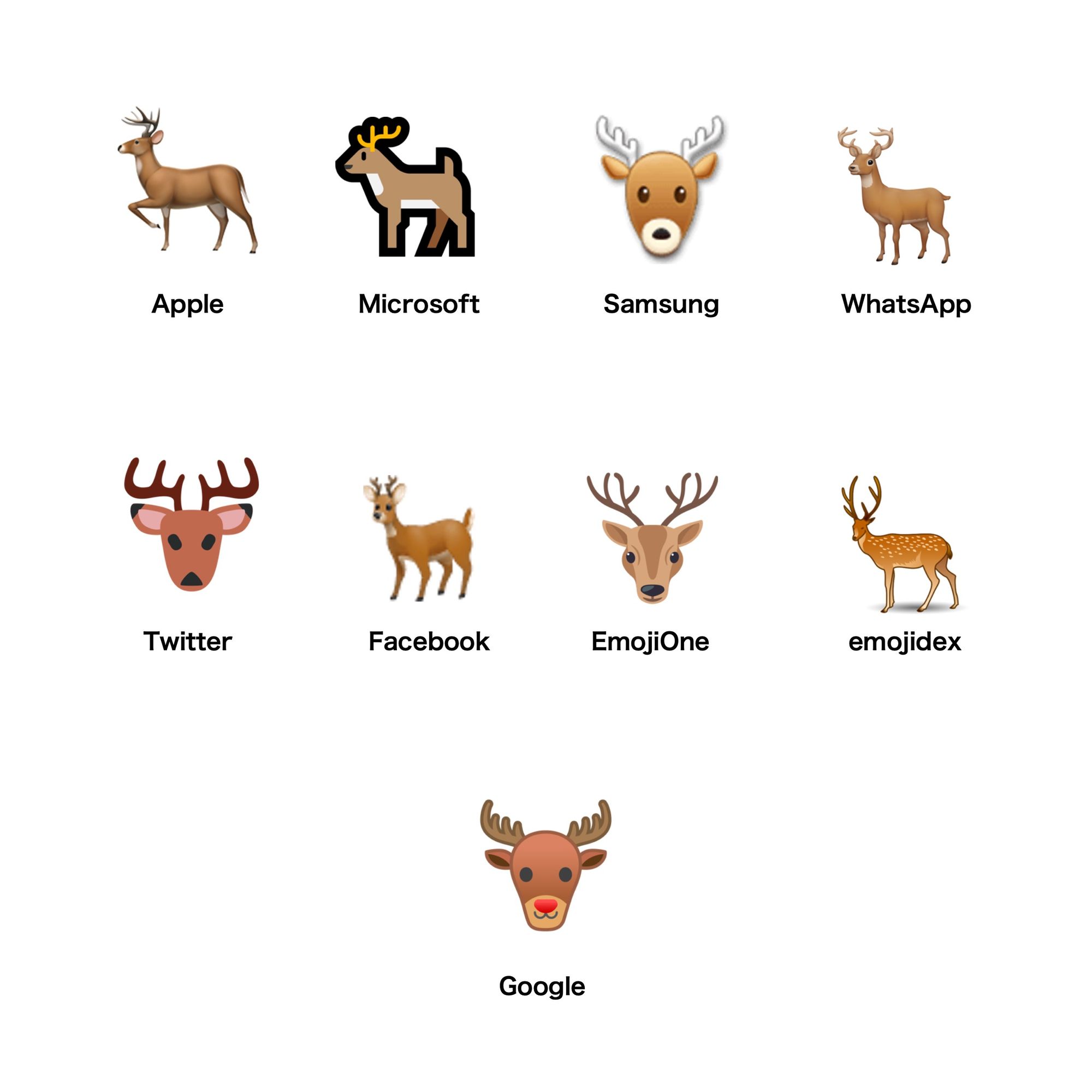 Some points to note on the 🦌 Deer Emoji:
🎁 Wrapped Gift
For some emojis, keeping a consistent emoji appearance between platforms is important to preserve the sentiment each intends to convey. For others—like this wrapped present—the style of wrapping paper or type of bow does little to affect how this will be perceived.
As such, here's how this emoji looks on different platforms today: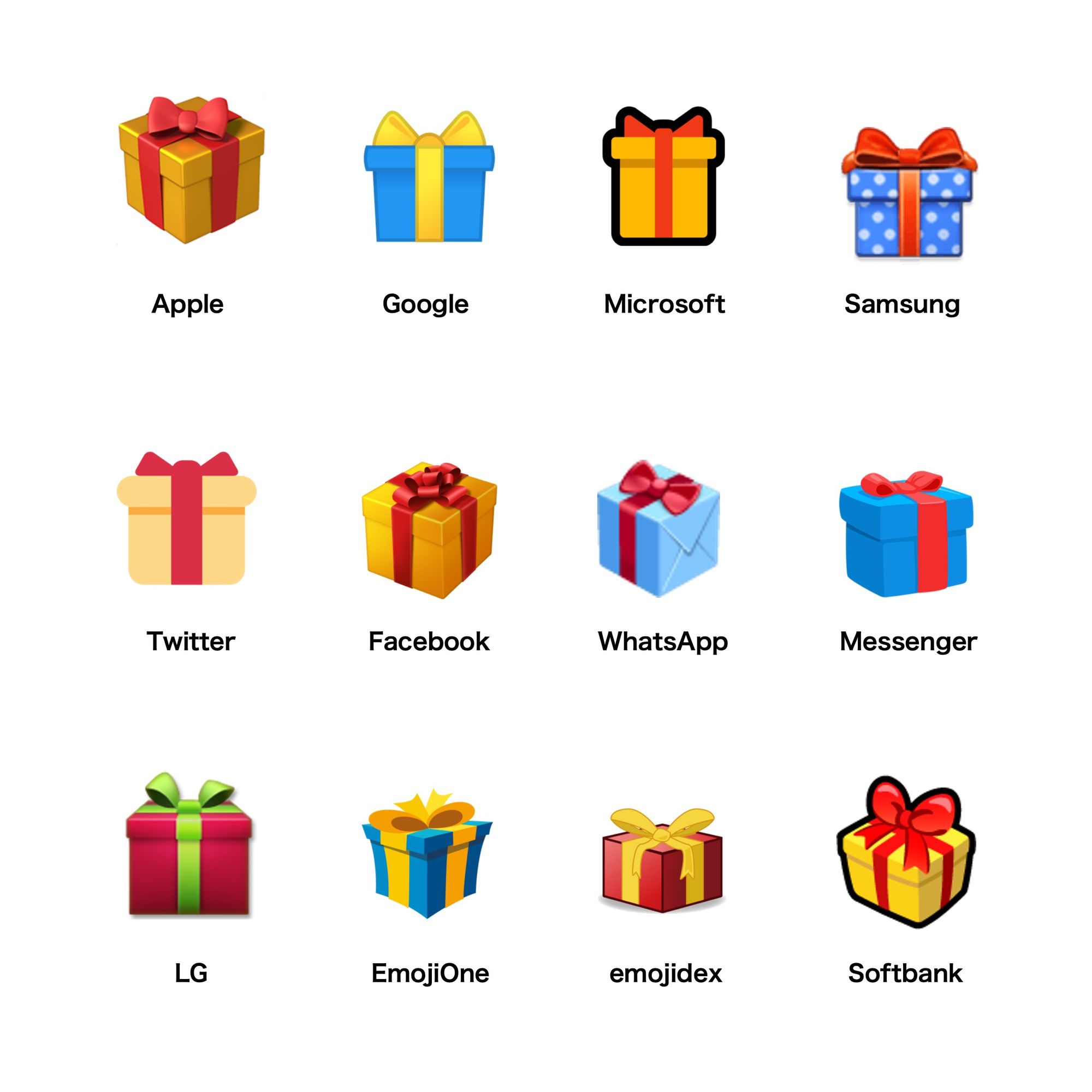 WhatsApp's gift appears to be the same sized box as the package emoji. LG, in its now-discontinued emoji set, doubles down on this being a Christmas present with red and green packaging.
Some points to note on the 🎁 Wrapped Gift Emoji:
⛄ Snowman Without Snow
Without snow? What!? Never fear, the snowman itself is made of snow, but there is no snow falling from the air around this emoji.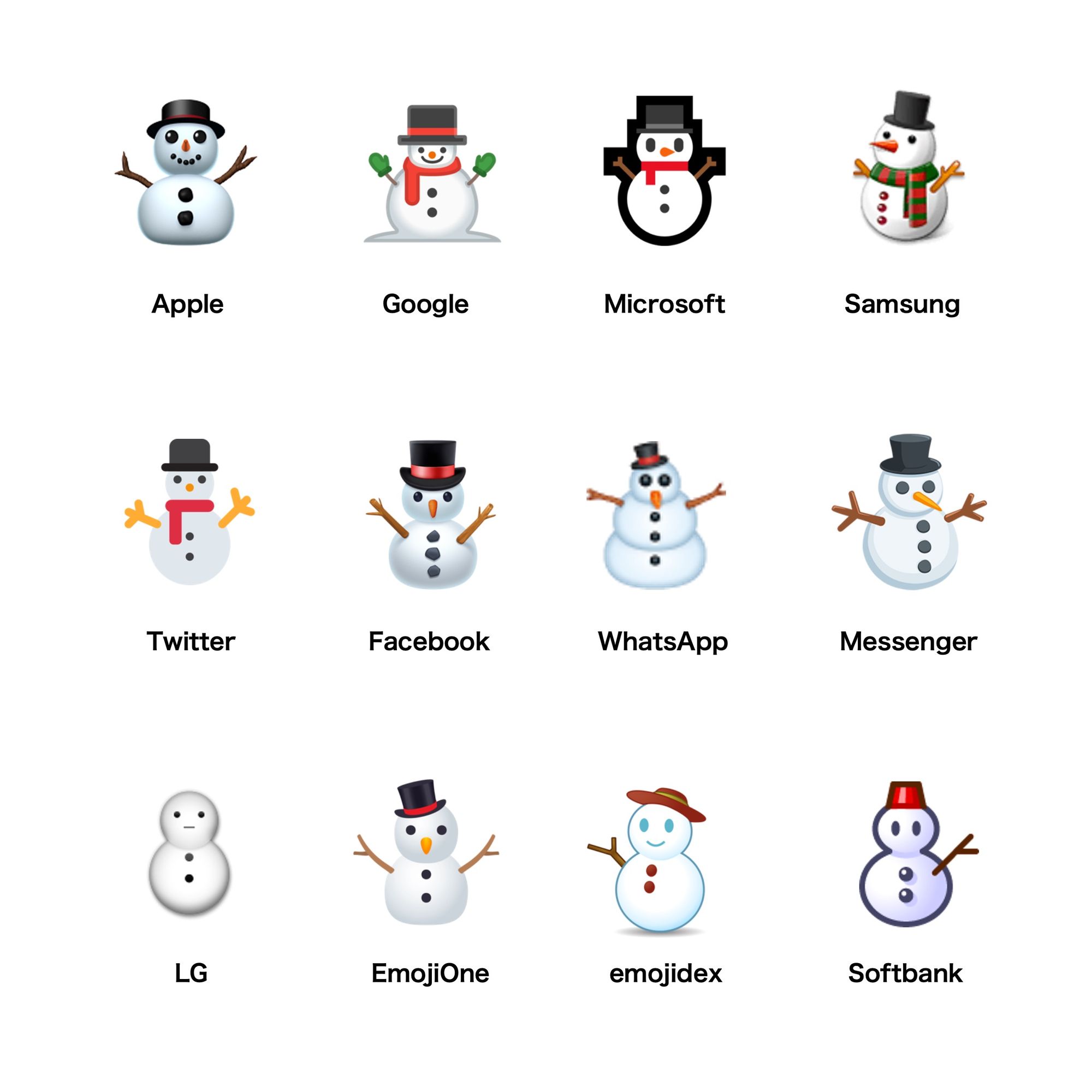 Some points to note on the ⛄ Snowman Without Snow Emoji: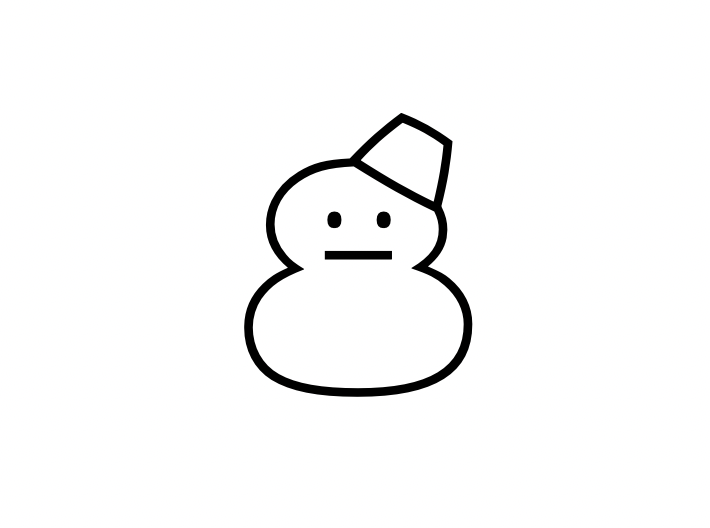 In recent years, most platforms have moved from an unadorned head or a fez to a design showing the snowman wearing a top hat—something seen in earlier versions from Twitter, Microsoft and Facebook.
Apple also added stones to make a mouth, instead of the previously ambiguous snow cavity of a mouth.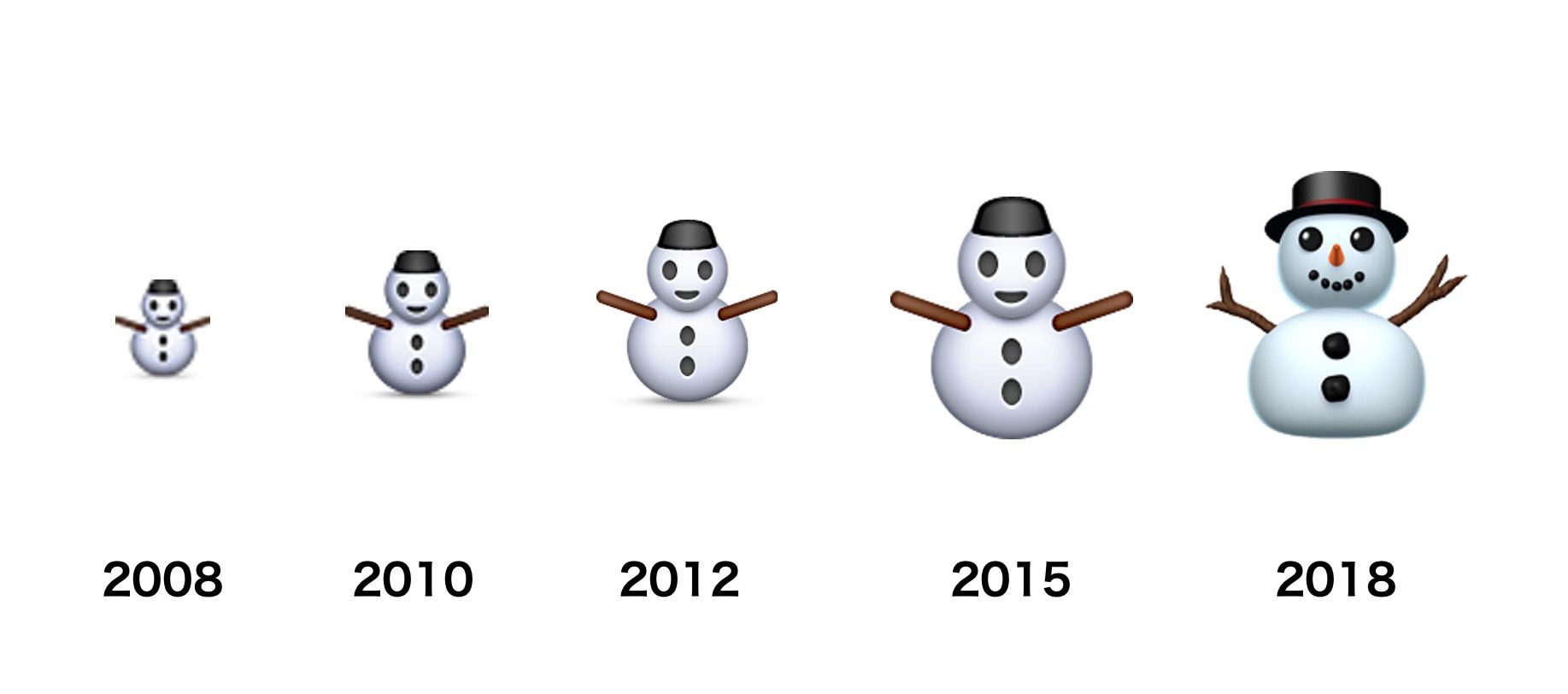 More Christmas Emojis
What exactly constitutes a Christmas emoji varies from person to person. These are some of the most commonly trending emojis on Emojipedia at this time of year, indicating a correlation for many people:
🔥 👶 🎶 🌟 ❄️ 🔔 ⛄️ 👼 🦌 🍪 🥛 🎅 🤶 🧝‍ 🎁 ⛪ 🕯  👪 ✝️ 🎄 🍷 🍴 🧦
View the Emojipedia Christmas Emoji list for names and links to learn more about these characters or take a look at our Emojiology series with the recent look at the history behind the 👼 Baby Angel emoji.
Or Festivus, if you prefer.
🌯 Subscribe to Emoji Wrap
🙋‍♀️ If you enjoyed this article, consider signing up for our free monthly email newsletter. It's full of hand-picked stories about emojis, stickers, and more of this sort of thing.
💕 We only use your email for the newsletter, nothing else.
📥 Subscribe to Emoji Wrap now: