Global Emoji Use Reaches New Heights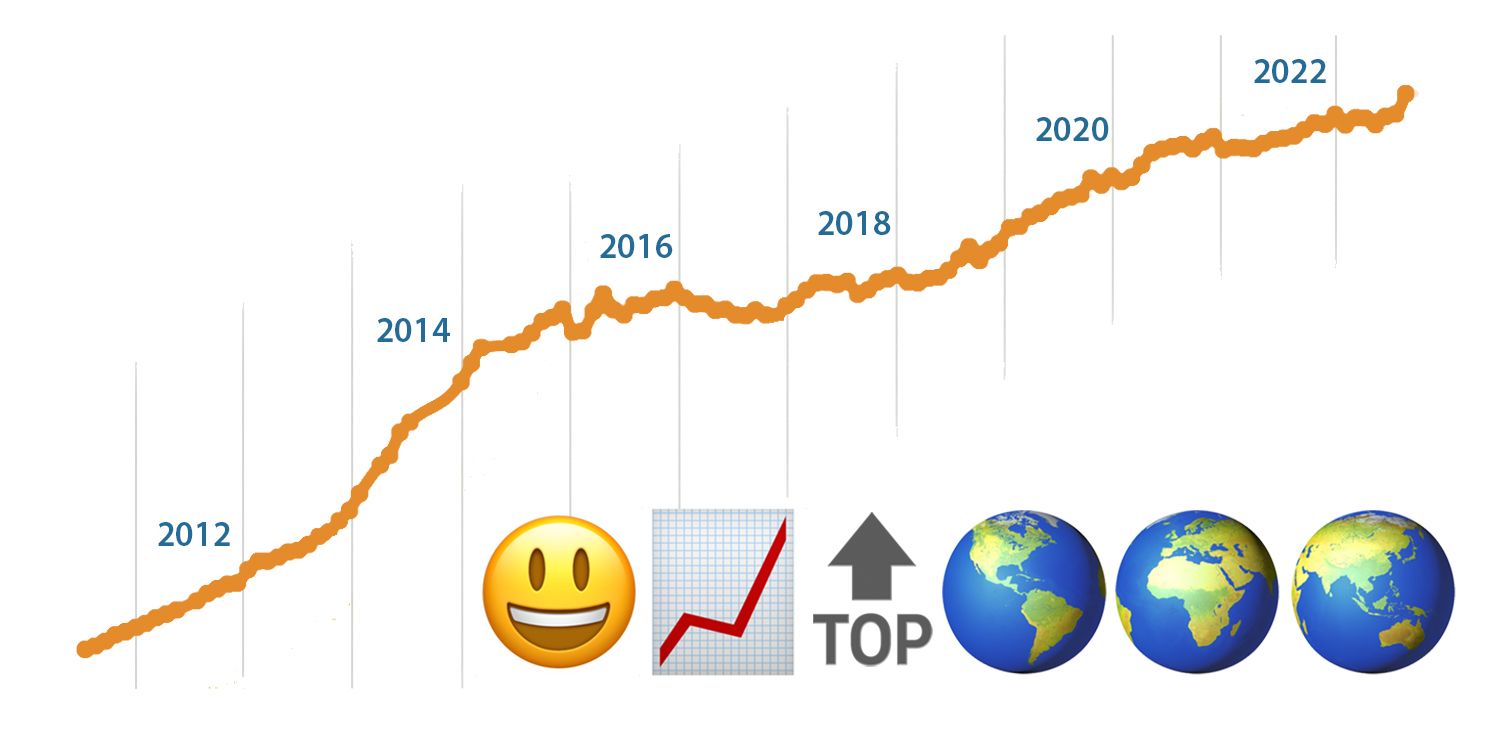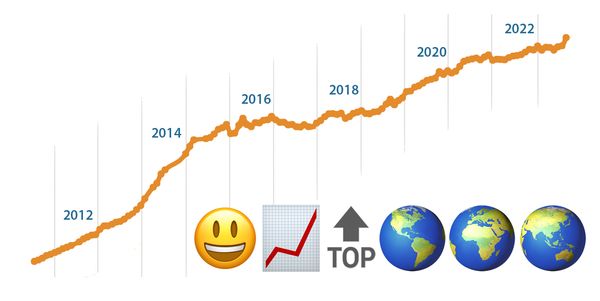 Last year, ahead of World Emoji Day 2021, we revealed that emoji use on Twitter had reached a ten-year high. Today, with one week to go before our World Emoji Day 2022 celebrations, Emojipedia can reveal that emoji use on the microblogging platform has experienced another record-breaking increase.
As shown below, over 22% of all tweets sent within July thus far have included at least one of the 3,600+ emojis freely available to us all on our emoji keyboards.
In fact, as shown above, June 2022 saw a marginally greater level of emoji use on Twitter than our previously reported top month of December 2021, during which the now-expected holiday-based surge in emoji use occurred thanks to the like of 🎄 Christmas Tree, 🎅 Santa Claus, and 🎁 Wrapped Gift.
This means that June 2022 and July 2022 thus far are record-breaking months for emoji use: the highest instances of emojis-per-tweet since our records begin in July of 2011.
😂🆚😭: The Latest Update
During the majority of these eleven years, the 😂 Face with Tears of Joy was the world's most popular emoji - widely used to show that something was funny or pleasing.
This changed in March 2021, when the 😭 Loudly Crying Face took the top spot on Twitter - the very first time any emoji had overtaken 😂 Face with Tears of Joy in popularity on the platform.
However, the newly-founded dominance of 😭 Loudly Crying Face would only last 10 months, with 😂 Face with Tears of Joy just narrowly retaking the top spot back in January of this year after use of😭 Loudly Crying Face dropped considerably.
While 😭 Loudly Crying Face briefly retook the top spot in March, it now appears like 😂 Face with Tears of Joy is experiencing a resurgence of sorts (or at least was until this month).
Whether or not the former Oxford Dictionary Word of the Year will be able to reclaim former heights is unknown. What is clear, however, is that reports of the 😂 Face with Tears of Joy being canceled have been greatly exaggerated, at least when it comes to overall global use.
As always, we here at Emojipedia will be sure to keep you updated on all the latest emoji trend data.  📈
🥳 World Emoji Day
At the time of publication, World Emoji Day 2022 is only seven days away!
For those unaware, World Emoji Day is the annual celebration of emoji use across the world. Created and hosted by Emojipedia, the event is in its ninth year and is celebrated on 📅 July 17 each year.
As part of the festivities this year, Emojipedia will be debuting a video series entitled "Emojis Across The World".
These videos will be available via the official Emojipedia YouTube channel, and feature contributions from a wide range of global emoji experts and aficionados.
Stay tuned! I was part of the video series on "Emojis Across the World"! https://t.co/zjgGk8f3pB

— Agnese Sampietro PhD (@agnesampietro) July 9, 2022
Had a great time chatting about the impact of emojis in meme culture. Check it out when the video drops next week! https://t.co/VfUrlwrqkZ

— Don Caldwell 🦑 (@DonCald) July 8, 2022
You can view the full line-up of contributors here.
To keep up with what else we have in store in the leadup to July 17, you can read our list of celebratory events on the official World Emoji Day website, use the #WorldEmojiDay hashtag or follow the official accounts:
And to get involved, consider voting in the World Emoji Awards, currently tallying the Most 2022 Emoji to be announced on July 17 - we're almost finished the open round and will soon be entering the quarter-finals!
We asked which *single* emoji you feel best sums up the year so far, and we've pulled together the responses as your nominees.

Now, it's back to you to help pick a winner. Here's a look at the bracket with your options!

We'll be voting between now and #WorldEmojiDay!⬇️ pic.twitter.com/XSAcWOUoHn

— World Emoji Awards 🗳🌍🏆 (@EmojiAwards) July 5, 2022
📖 Read More