First Look: Google's New Emoji Bonanza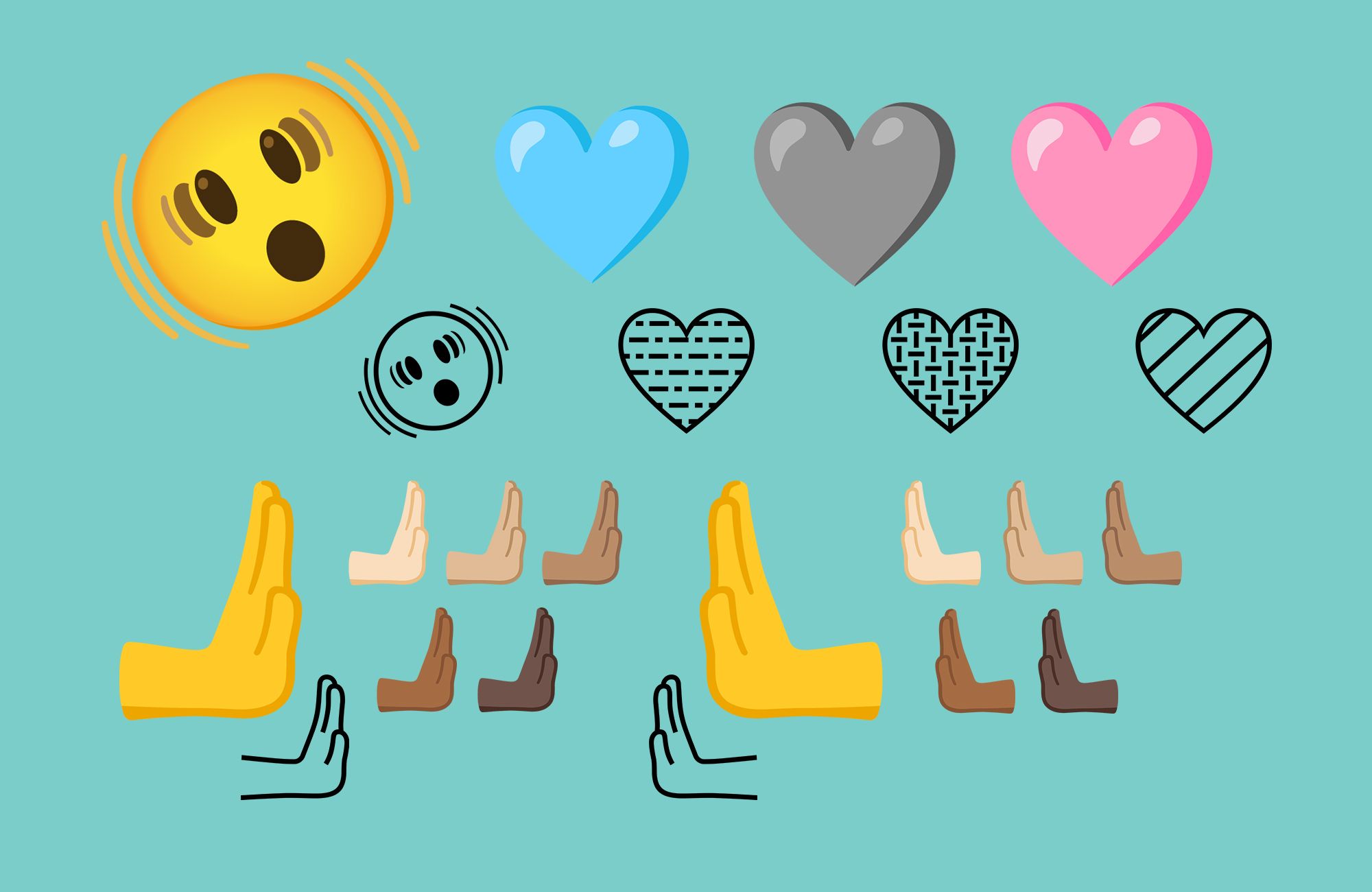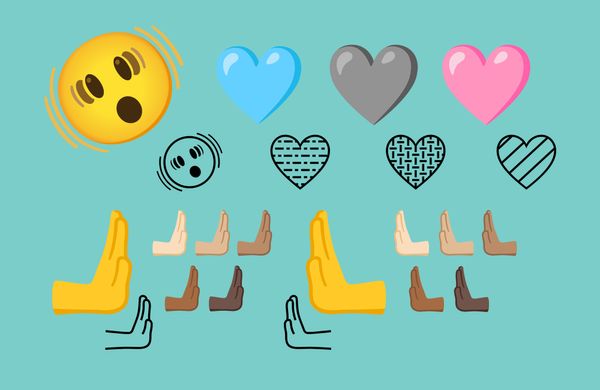 Earlier today the latest batch of emojis, Emoji 15.0, was formally approved by Unicode. Mere hours later, Google unveiled a whole host of new emoji-based features, which included their support for Emoji 15.0 as well as a brand new set of animated emojis which are now viewable on Emojipedia.
BRACE YOURSELF WE GOT A TON OF EMOJI ANNOUNCEMENTS DROPPING https://t.co/LKi2aSrNi6 pic.twitter.com/l8zT76FqBA

— Jennifer Daniel (@jenniferdaniel) September 13, 2022
Today's feature announcements also come just days after Google revealed a new "Emojify" text feature for Gboard, which is currently available for beta testers.
🆕 New Emoji Support
As part of their new feature announcement earlier today, Google have previewed their support for today's Emoji 15.0 recommendations, including Shaking Face and the plain Pink Heart emoji.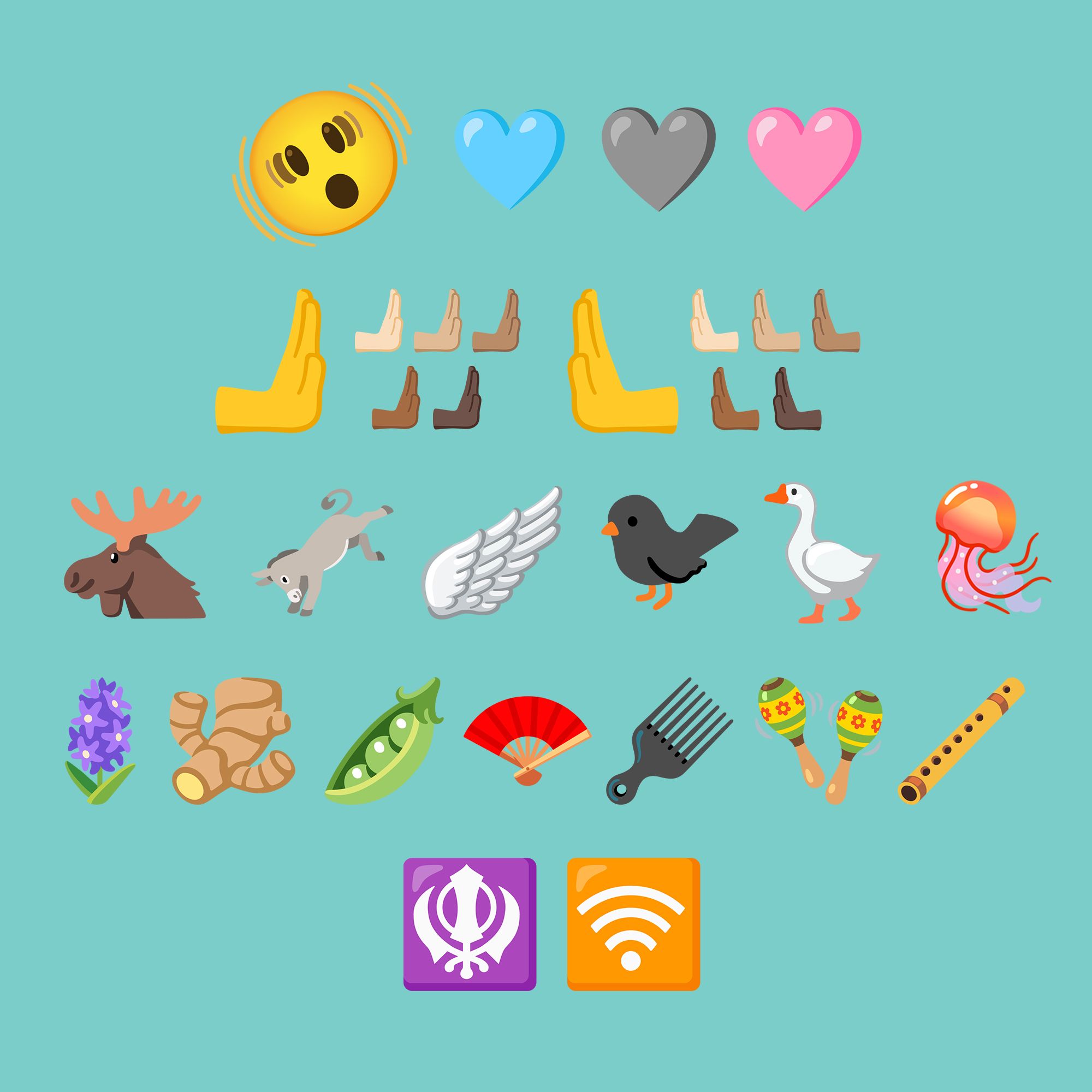 The above designs are part of the latest update to Google's Noto Color Emoji font, which is used by Android devices by manufacturers Xiaomi, Oppo, Huawei, and of course Google themselves.
The update is currently available as a color vector font file. According to Jennifer Daniel, Google's Emoji and Expression Creative Director and the current chairperson of the Unicode Emoji Subcommittee, these emoji designs will:
all coming to Android soon and will become available across Google products early next year.
The fully updated Noto Color emoji set can be viewed here.
Additionally, Google today have released an updated version of their monochrome Noto Emoji font, which supports all of today's new Emoji 15.0 emojis such as the Donkey, Hyacinth, Folding Hand Fan, and Pink Heart.

These full set of monochrome Noto Emoji designs, including the new Emoji 15.0 additions, can be viewed on Emojipedia here.
💃 Animated Noto Color Emojis
In addition to detailing their support for the newly-approved Emoji 15.0, today Google also revealed a set of animated emojis designs.

This animated version of the Noto Color Emoji set includes a selection of 180 different animated emojis from up to 2021's Emoji 14.0 recommendations.
Shown above are the animated incarnations of the following emojis:
You can view all 180 of Google's animated Noto Color Emoji designs on Emojipedia here.
🎨 New Color Font Support
In addition to providing support for Emoji 15.0 within their Noto Color Emoji and Noto Emoji fonts, Google have also demonstrated how the relatively new COLRv1 font format allows for the customize the appearance of color fonts, such as the Noto Color Emoji.
Emoji innovation isn't limited to your phone anymore and there is a lot to be explored in web environments. Thx to a new font format called COLRv1 you can also do some sweet things to customize the appearance of color fonts 🦆

Give it a try! Make a duck!https://t.co/LKi2aSrNi6 pic.twitter.com/HyE8i7LrWL

— Jennifer Daniel (@jenniferdaniel) September 13, 2022
You can play around with manipulating the colors of the 🦆 Duck emoji via this tool, provided that you are using the latest version of Google's Chrome browser.
You can also find out more information about COLRv1 here.
We just added a whole bunch of new fonts and they're all #colorfonts! This is just the beginning for the COLRv1 file format, which supports gradients, customized color palettes, and more. Check out all 9 and find out why 6 of them are for Arabic scripts. https://t.co/CgQIkYZros pic.twitter.com/yWt3Obmn6k

— Google Fonts (@googlefonts) September 13, 2022
🪄 Emojify Text
As aforementioned, today's announcements come less than a week since a new beta update to Google's Gboard Android keyboard: the ability to fully "emojify" a text-based message once an emoji has been added to it.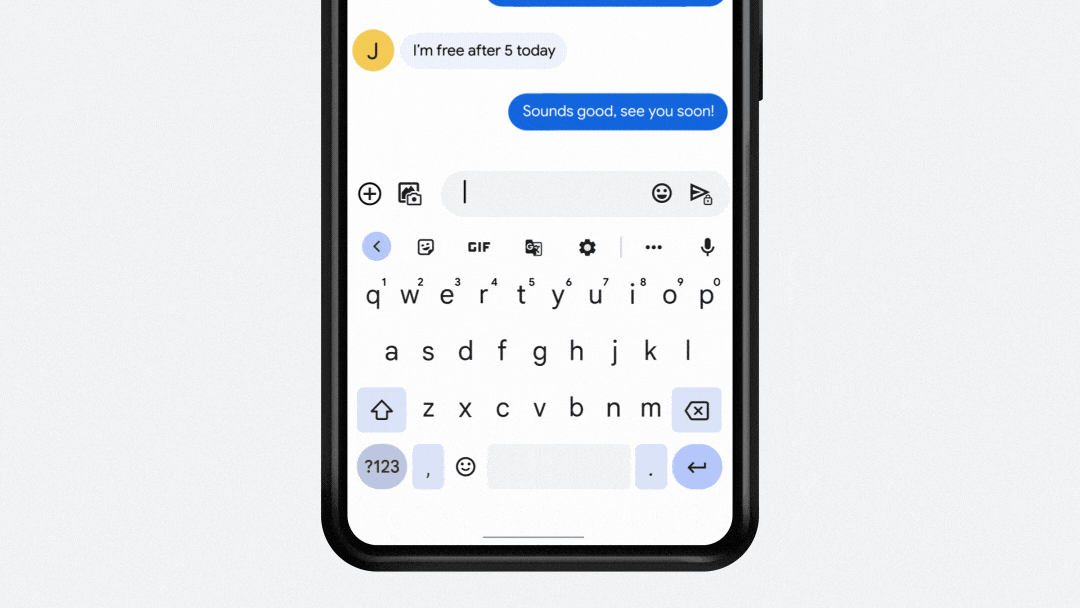 The feature, which is presently in beta for the Gboard Beta app in English, allows users to toggle through a variety of different "emojifying" options for a text message after a single emoji has been initially added to that message.
This is done through a new magic wand icon, which only appears after an emoji has been added to the text.
😜 lol ✨ I ✨ didn't 😜 mention ✨ what ✨ the 😜 feature ✨ does ✨ or 😜 how ✨ you ✨ can 😜 use ✨ it 😜

Using Gboard, type a message in a chat app of ur choice

Add an emoji — ✨voila✨ a magic wand will appear

Tap the wand to emojify ur message https://t.co/YsQIrZ1SzL pic.twitter.com/LgD8P4bRJ9

— Jennifer Daniel (@jenniferdaniel) September 11, 2022
The feature is expected to be rolled out to all Gboard English users over the coming weeks.
You can read about the background of this new feature via Jennifer Daniel's latest blog post.
🧑‍🍳 Emoji Kitchen Expansion
Finally, alongside the addition of the new "Emojify" feature, the latest beta update for Gboard introduced support for additional new emojis within Google's Emoji Kitchen feature.
For those not yet aware, the Emoji Kitchen allows Gboard users on Android devices to send merged or elaborated sticker versions of Google's emoji designs, including some classic Google blob emoji designs.
New additions to the feature as per this latest beta update include 🍁 Maple Leaf, 🍬 Candy, and 🌽 Ear of Corn.
You can view an extensive list of the emojis supported by the Emoji Kitchen here.
📖 Read More