What's New in Unicode 15.0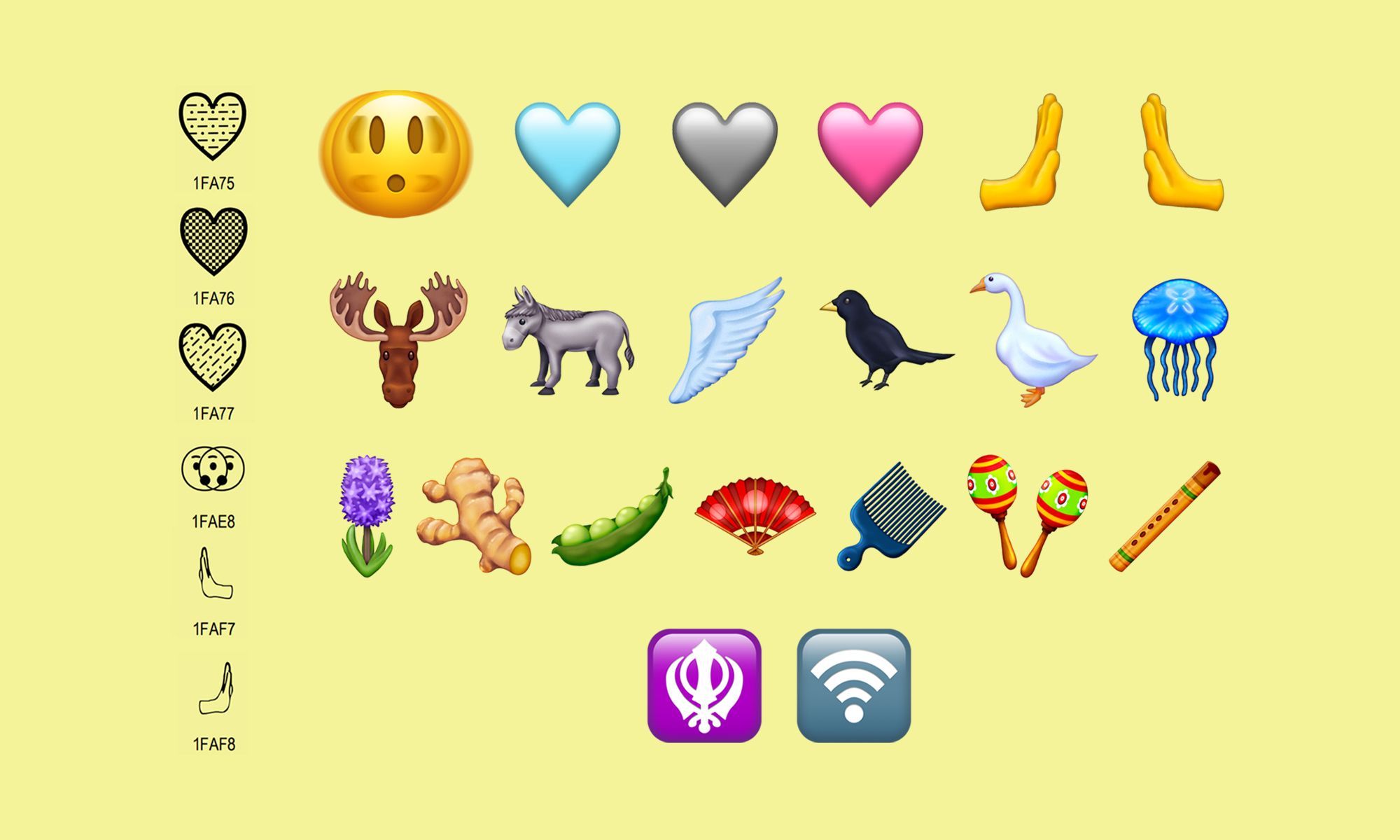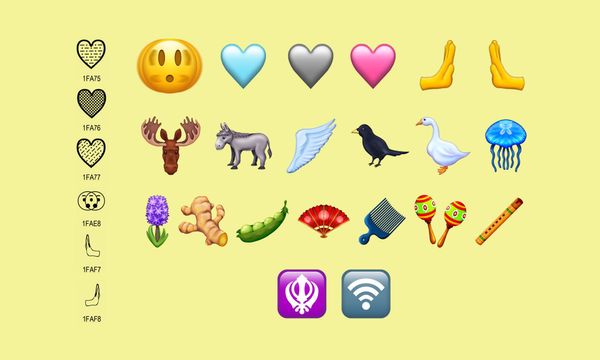 The latest emoji list drafted by the Unicode Consortium is due for formal approval today, with new emojis including a Goose, a Hyacinth, a Shaking Face, and a plain Pink Heart.
The release of version 15.0 of the Unicode Standard today, 13 September, formalizes what has until now been only a draft release of new emojis and several thousand additional non-emoji characters.
The 4,489 new characters in #Unicode15 include 20 new #emoji, along with new emoji sequences, expected to show up on 📱s, 💻s, and other platforms sometime next year → https://t.co/92bPON11bP #絵文字 pic.twitter.com/Tk9cyV1SXo

— The Unicode Consortium (@unicode) September 6, 2022
Browse Unicode 15.0 on Emojipedia or see the Unicode 15.0.0 release notes provided by the Unicode Consortium.
🧮 How Many?
Unicode 15.0 includes 4,489 new characters, of which 20 are brand new emoji code points.
Additionally, the Emoji 15.0 recommendation list which accompanies Unicode 15.0 includes an additional 11 emoji sequence recommendations, leading to a total of 31 new emojis being approved for release today.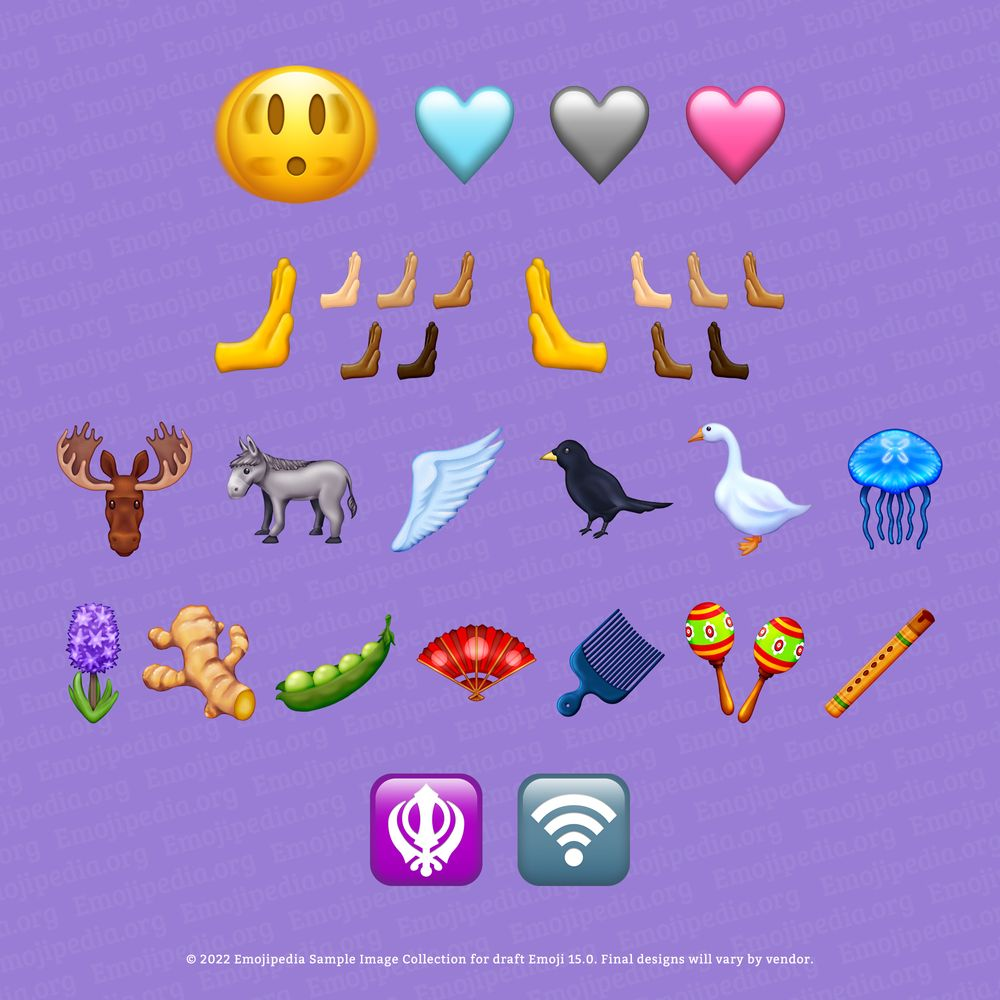 These 11 sequences are ten new skin tone modifier sequences - five each for the new Rightwards Pushing Hand and Leftwards Pushing Hand emojis - and one new zero width joiner (ZWJ) sequence, namely, the new 🐦‍⬛ Black Bird.
The distinction between Unicode 15.0 and Emoji 15.0 is that the latter includes sequences where two or more code points can be combined to display a single emoji, while the former only includes the list of standalone emoji codepoints.
By way of example, 2020's Emoji 12.1 and 2021's Emoji 13.1 recommendations only included emoji sequences and came out at a separate time from any full Unicode release.
No changes have been made to the draft emoji list since we here at Emojipedia previewed the Emoji 15.0 draft list on July 17, aka World Emoji Day.
As of Emoji 15.0, there are now a total of 3,664 emojis recommended by Unicode.
🆕 New Emojis
The most attention-grabbing aspect of draft Emoji 15.0 list was the inclusion of the much-requested plain Pink Heart emoji.
Draft Emoji 15.0 Design: Pink Heart #WorldEmojiDay https://t.co/ULIB9NaKNZ pic.twitter.com/rXOvaUIfUt

— Emojipedia (@Emojipedia) July 13, 2022
Now that Emoji 15.0 has been approved, this Pink Heart will be joined by a Light Blue Heart and Grey Heart within the emoji keyboard.

While formal documentation for the Unicode Standard only provides glyphs in black and white, color emoji implementations can and do vary from these designs.
New entries are shown in yellow and other additions alongside these three new colored hearts include Maracas, a Flute, a Shaking Face, and both a Rightwards Pushing Hand and Leftwards Pushing Hand.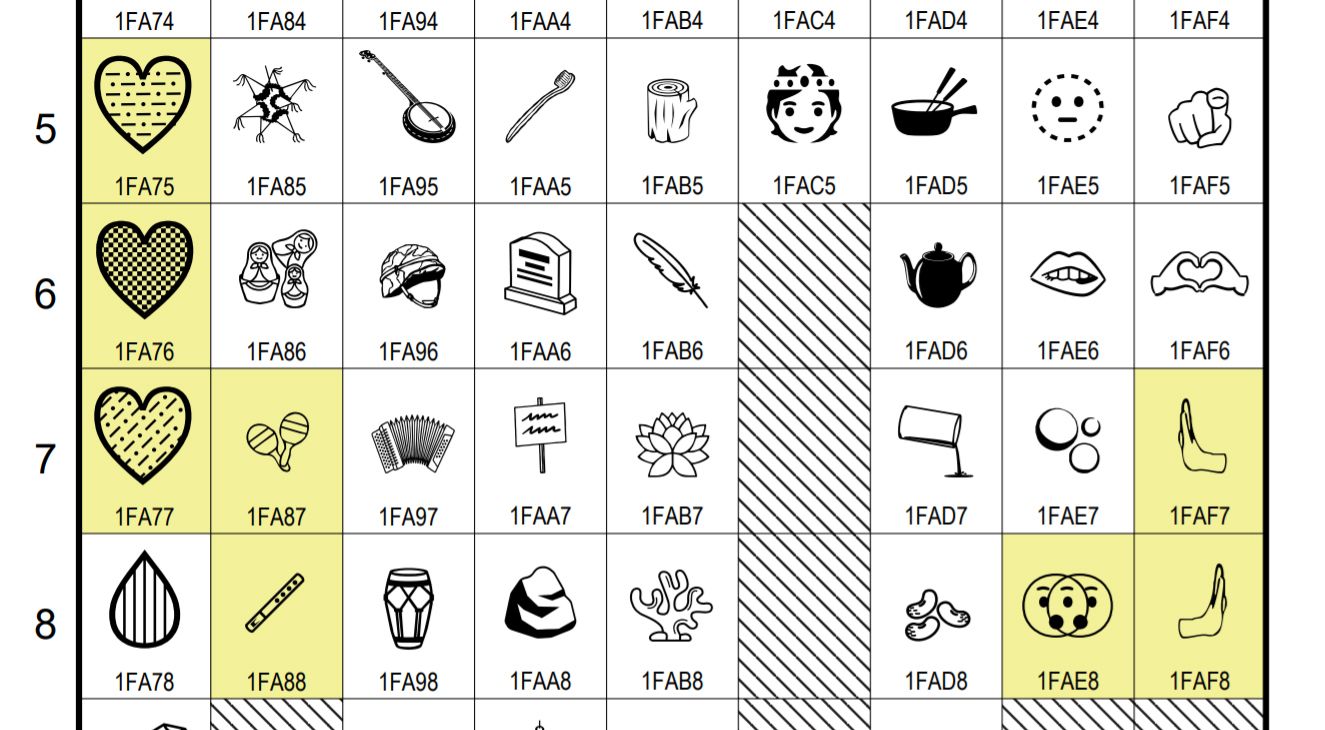 Proposals for new emojis can come from a variety of sources, including members of the public.
Example color images are commonly shown on pages of new emoji information by Unicode and come from various sources. These are intended to convey the preferred design choices for vendors when implementing emojis.
In recent years new updates have been more closely aligned to these color images than in the past. While the designs shown on these emoji information pages aren't formally part of the Unicode Standard, they do provide useful direction for implementors.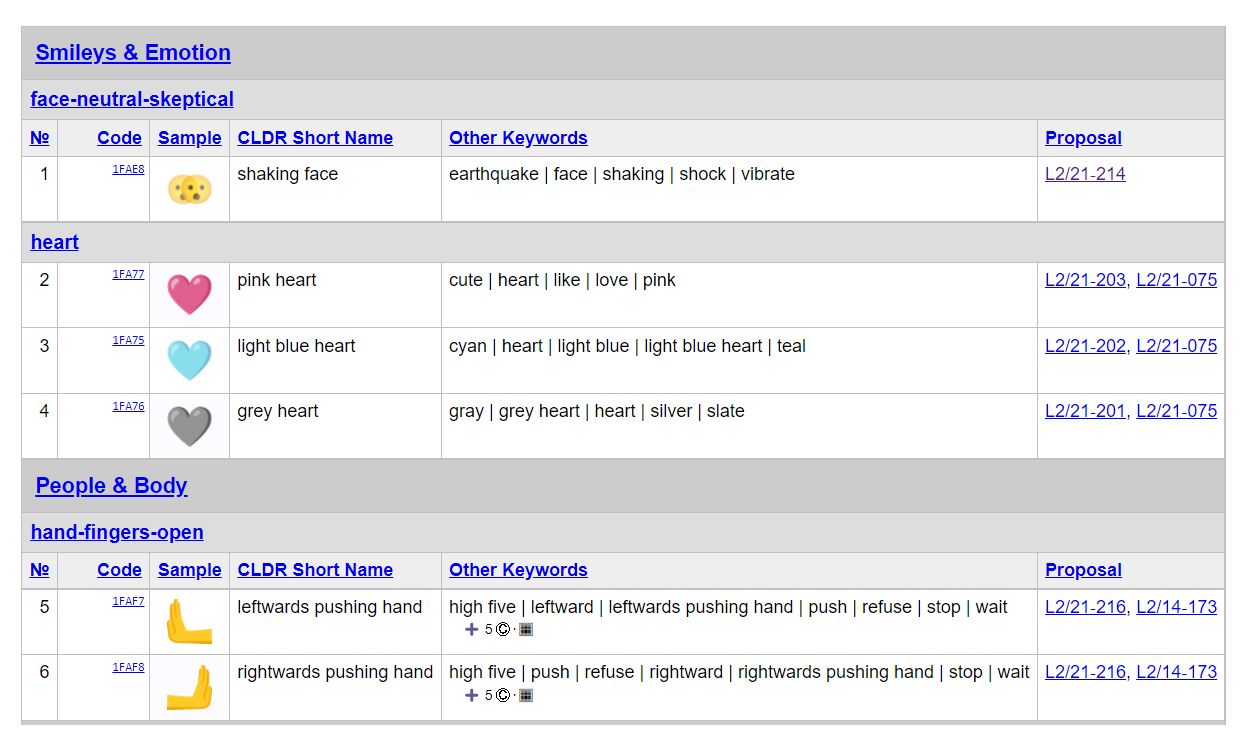 🔡 Non-Emoji Updates
The vast majority of characters in the Unicode Standard are not emojis. Emoji updates are given priority here at Emojipedia, but it's worth taking a moment to look at some of the other new characters approved in this release.
The Unicode Consortium is the non-profit standards body responsible for the Unicode Standard. Voting members include Apple, Google, and Microsoft.
Regarding version this update, Unicode notes:
Unicode 15.0 adds 4,489 characters, for a total of 149,186 characters. These additions include 2 new scripts, for a total of 161 scripts, along with 20 new emoji characters, and 4,193 CJK (Chinese, Japanese, and Korean) ideographs.
To put it in perspective, the total number of RGI emoji characters and sequences totals 3,633 in Unicode 15.0, compared to the 149,186 characters in the entire Unicode Standard.
The bulk of the 4,489 new characters in #Unicode15 are 4,192 CJK Unified Ideographs in the new #ExtensionH block in Plane 3, along with one that has been appended to the #ExtensionC block → https://t.co/92bPON11bP #CJK統合漢字 #CJK统一汉字 #拡張H #扩充H pic.twitter.com/V60MuhphEW

— The Unicode Consortium (@unicode) September 7, 2022
Symbols added in this release (which aren't implemented as emojis) also include the Kawi and NagMundari scripts, as well as the nine-pointed white star symbol used by members of the Bahá'í Faith.
#Kawi and #NagMundari are the two newly-encoded scripts in #Unicode15, thanks to the efforts of Aditya Bayu Perdana, @inurwansah, and @Biswaji13480606 → https://t.co/92bPON11bP pic.twitter.com/svA0APeLjv

— The Unicode Consortium (@unicode) September 8, 2022
The nine pointed white star, which is a symbol that is used by members of the Bahá'í Faith, is one of the many new characters you will soon find in #Unicode15 → https://t.co/92bPON11bP pic.twitter.com/54Hyn24OFe

— The Unicode Consortium (@unicode) September 12, 2022
🗓️ Emoji Release Schedule
The release of Unicode 15.0 and Emoji 15.0 does not mean users can immediately access or use any new emoji from this list.
What today's release from the Unicode Consortium does indicate is when major vendors such as Apple, Google, Microsoft, or Samsung can implement these new emojis in their software.
Expect to see some companies come out with early emoji support in late 2022, and the majority of updates to take place in the first half of 2023. Based on last year's post-pandemic release schedule, here is our estimate for when you can expect to see Emoji 15.0 emojis appear across different devices and platforms: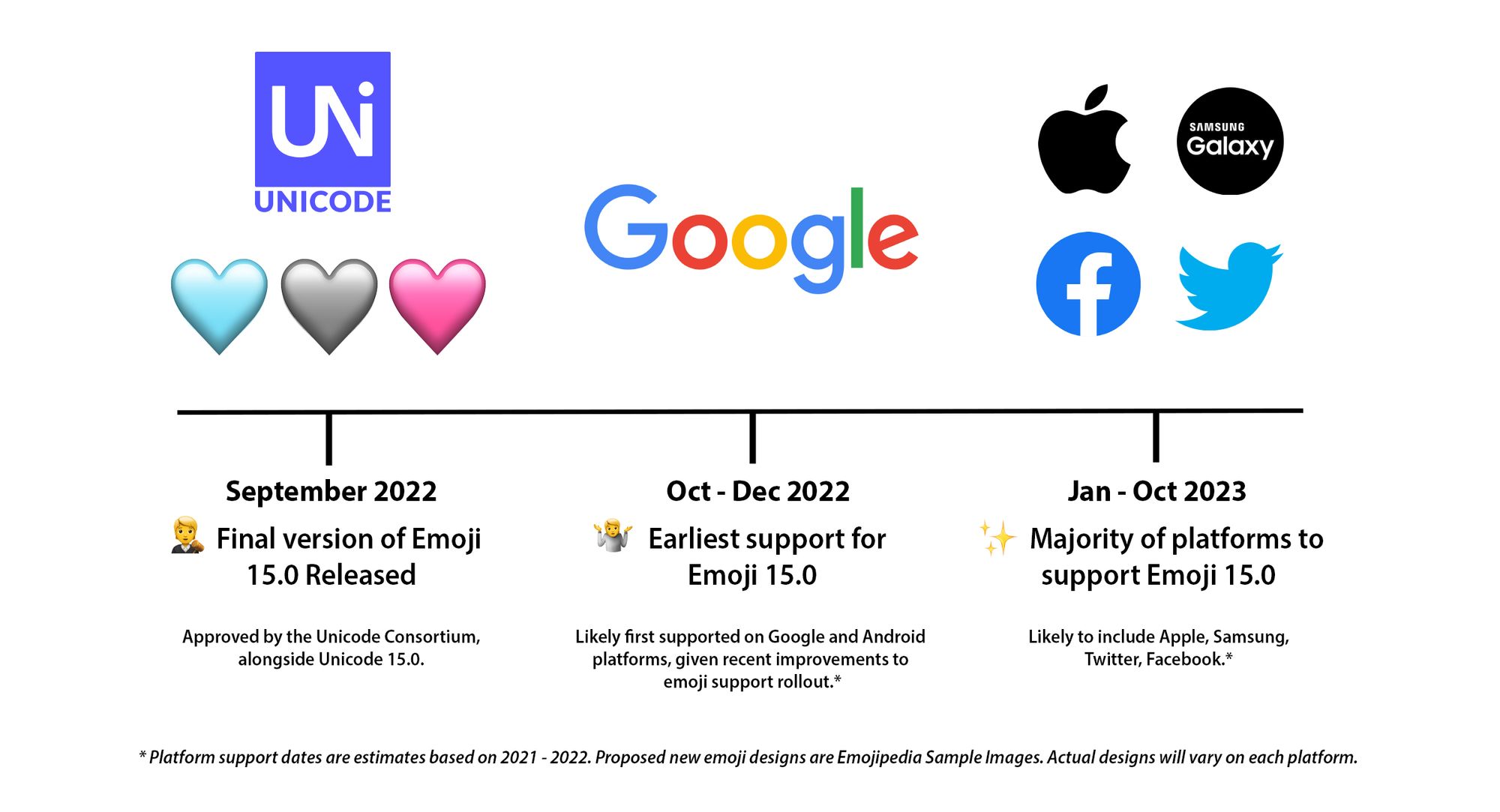 Last year, Google decoupled emoji updates from operating system updates, promising faster emoji updates for more Android users in the future. This quickly came to pass for last year's Emoji 14.0 release, which was available for select Android users from November 2021.
Apple's last major emoji update was in iOS 15.4, aptly released on 14 March 2022. This added support for Emoji 14.0, which was also aptly approved on 14 September 2021.
If Apple sticks to this release schedule, expect to see Emoji 15.0 support come to iOS 16.4 in March or April 2023.
No new emojis were included in iOS 16.0, which was released yesterday.
Now that the code points for Unicode 15.0 are stable, these remain in place forever.
Sending a 🩷 won't show as a Pink Heart emoji on any platforms at the time of writing, but once your app or operating system supports the latest new emoji additions, that missing character above will be replaced by that much-requested colorful emoji.
📋 Support Unicode
The Unicode Consortium is a small non-profit organization, which is funded primarily through membership fees and donations.
One means through which Unicode obtain additional funding is their Adopt A Character program, through which both people and organizations can be listed as a sponsor of an emoji or, indeed, any other character within Unicode. In fact, more than 136,000 characters can be adopted.
Adopting a character helps the non-profit Unicode Consortium in its goal to support the world's languages and of course, continue to encode new emojis within the Unicode Standard.
All sponsors are acknowledged in Sponsors of Adopted Characters and Uniocode's public Twitter feed and will receive a custom digital badge for their character.
📚 Resources