Gmail's Outdated Emoji Support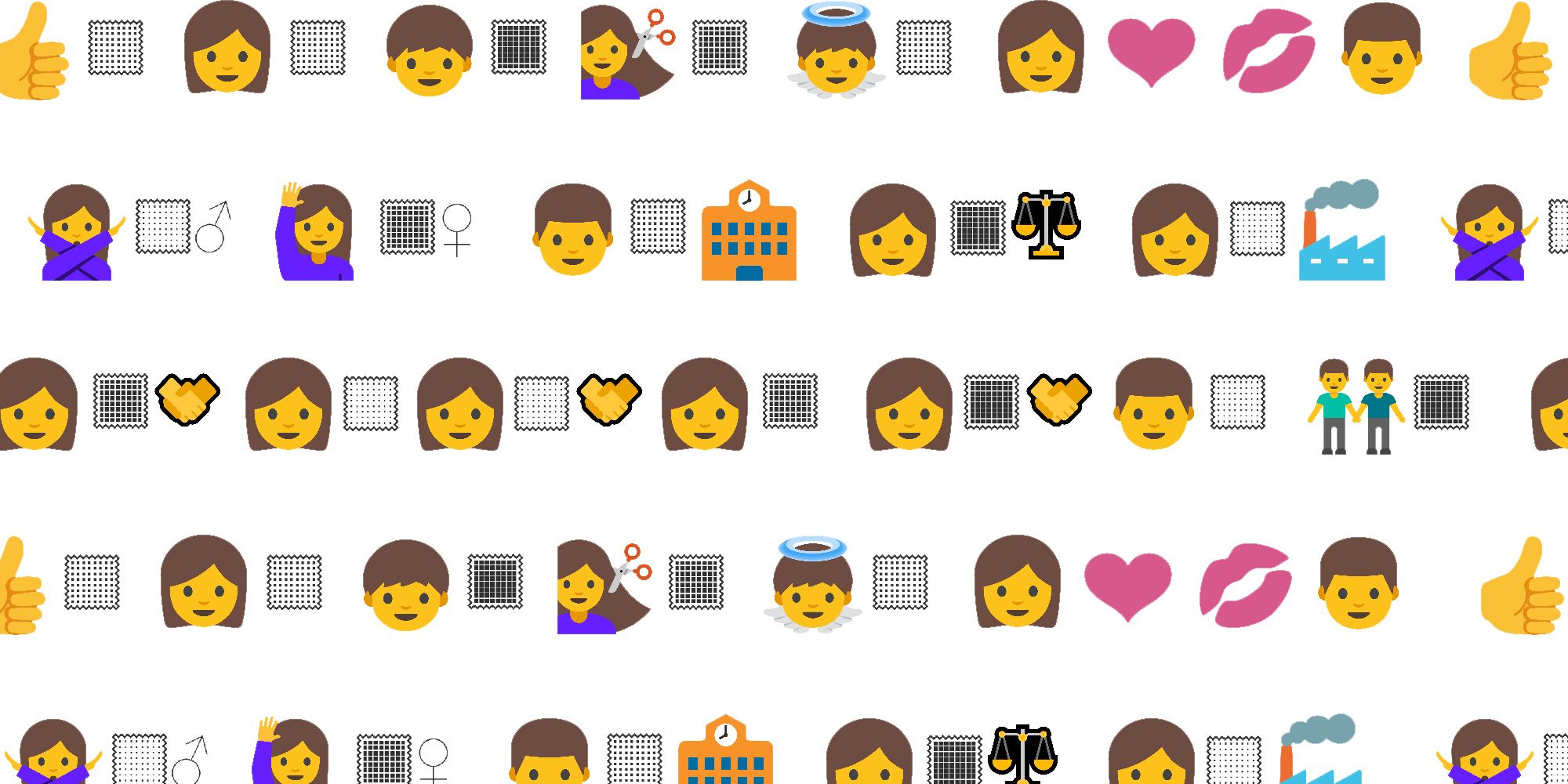 Google's Gmail service was one of the first platforms with emoji support, dating back to 2008. However, the platform's emoji support within browsers has been neglected over the last number of years.
Update: ahead of World Emoji Day 2021, Google have announced that Gmail will be receiving fully updated emoji support from July 2021 onwards.
This means that emails viewed in the Gmail web interface don't properly display emoji skin tone and gender variants.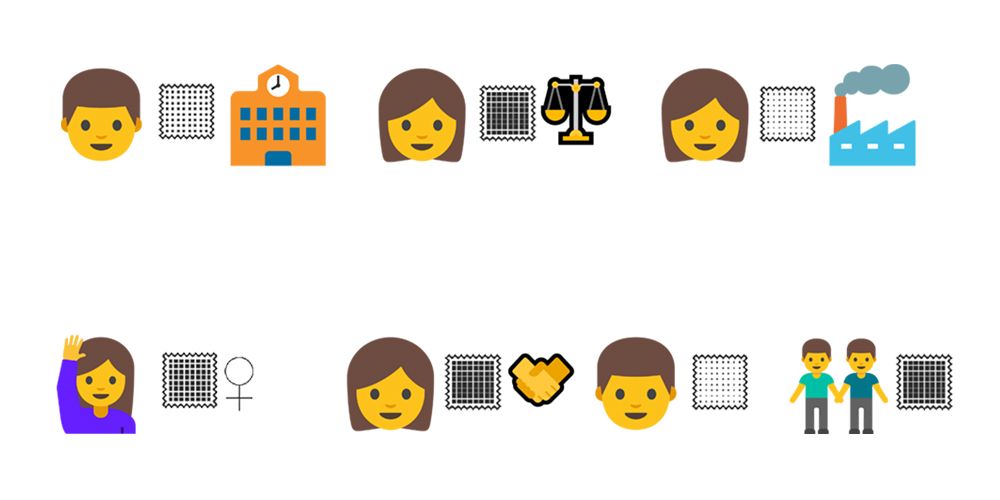 Above: Broken emojis as shown in the Gmail web interface.
As of the time of writing (March 2021), these emoji issues usually appear as square symbols or gender signs, shown alongside any unsupported emoji sequence.
Goomoji: the original Gmail emojis
When first introduced to Gmail, emojis appeared as colorful animated characters. This was a limited set, designed to be compatible with Japanese emojis of the day.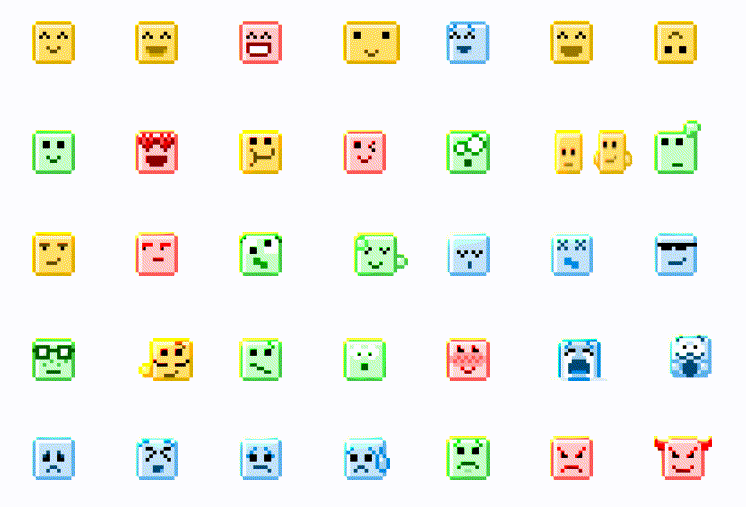 Above: Gmail originally used these animated square emojis in 2008.
This set was internally known as goomoji, and wasn't long for this world.
🔙 Back with the blobs
The original goomoji emojis (and their implementation[1]) were replaced after the introduction of Google's now-infamous blobs in 2013.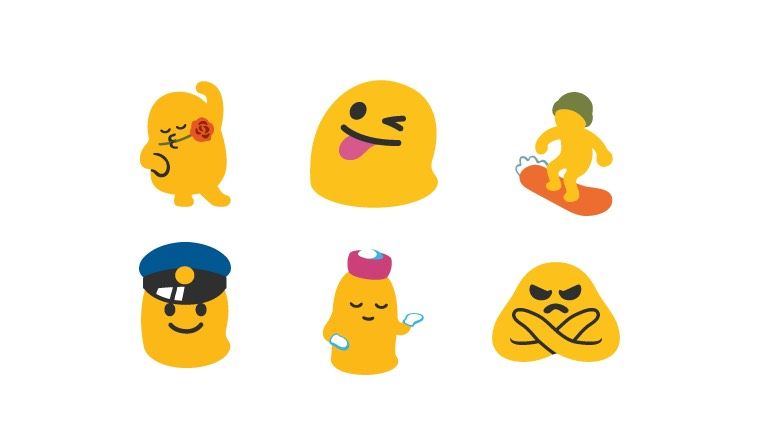 Above: Blobs used on Google platforms between 2013 and 2017.
To ensure that emojis would render in Google's emoji set across various browser platforms, Gmail would overlay an image of Google's blob emoji design over an emoji's code point via an image replacement function.
While Google discontinued the blobs in 2017, these older designs remained in place for users of the Gmail email service on their browsers.
Google's 2016 emoji set remained in Gmail. This set kept blobs for the smileys, but switched to human designs for people.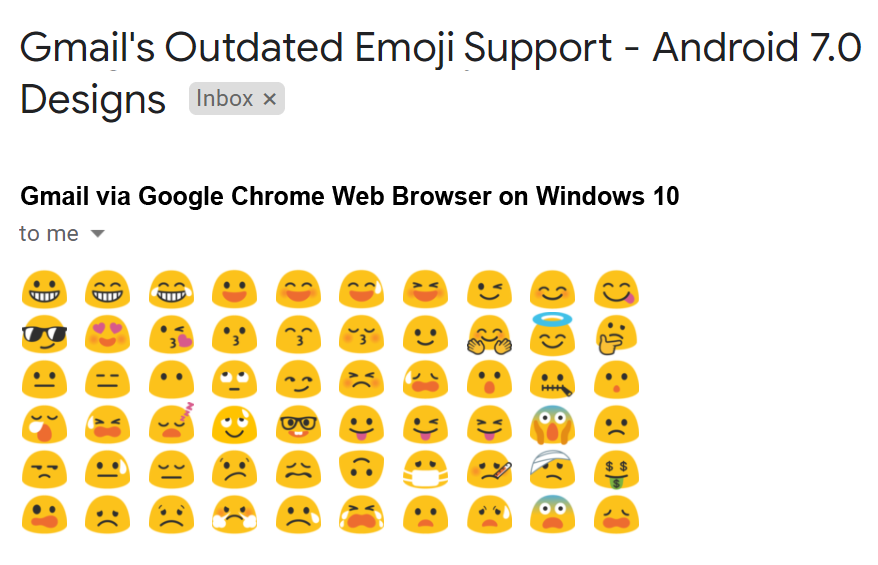 Despite the 2016 emoji support, Gmail does not appear to support the overwhelming majority of emojis introduced after August 2015[2] in its web interface.
This means that using emojis from mid-2016 onwards (such as 🤣 Rolling on the Floor Laughing, 🥰 Smiling Face with Hearts, or 🥺 Pleading Face) aren't included in Gmail's emoji implementation.
What happens when these are used, is the web browser defaults to the system-wide emoji font. In the case of Gmail being accessed on a Windows 10 device, this means the Microsoft emoji designs are shown when Gmail hits an emoji from the past five years.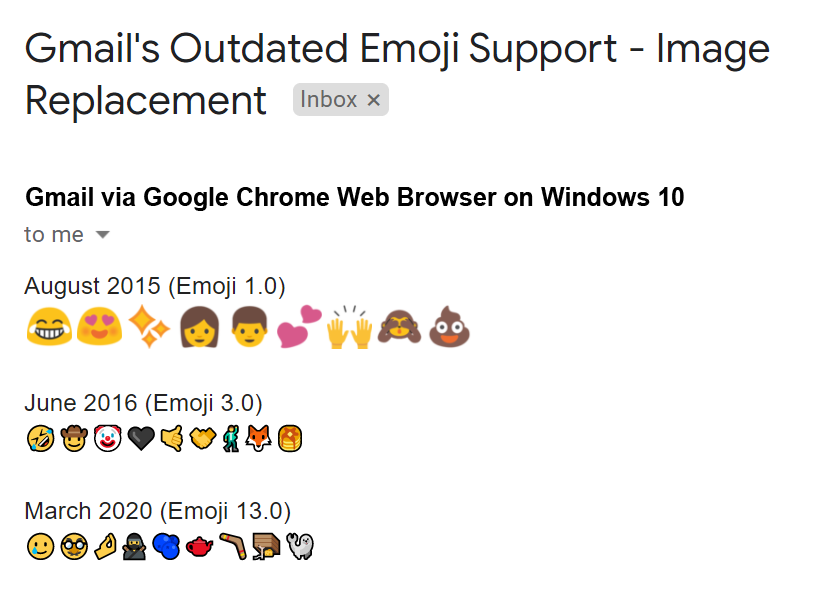 Above: an email being read by Gmail on Chrome for Windows, showing Android 7.0 image replacement for Emoji 1.0 emojis but showing Microsoft Windows 10 May 2019 Update designs for 2016 emojis and beyond[3].
Compare this to viewing the same email via the Gmail app on a Google Pixel 4a device, where all emojis use the system emoji font, and therefore support the latest additions, assuming the phone is up to date.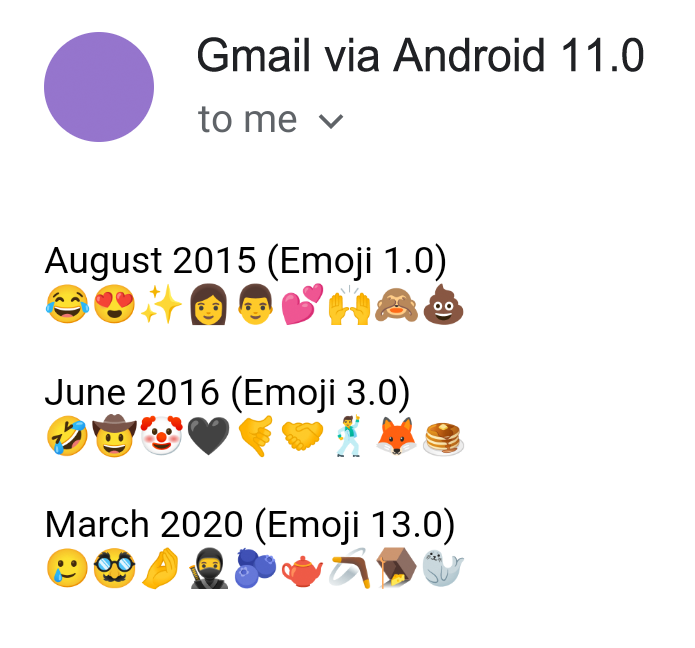 Above: Gmail on the Google Pixel 4a running Android 11.0 displays all the emojis with their most up-to-date Google emoji designs.
On the device you're currently reading this article on, these same emojis appear as follows:
August 2015 (Emoji 1.0)
😂😍✨👩👨💕🙌🙈💩
June 2016 (Emoji 3.0)
🤣🤠🤡🖤🤙🤝🕺🦊🥞
March 2020 (Emoji 13.0)
🥲🥸🤌🥷🫐🫖🪃🪤🦭
❌ What's broken?
Problems emerge when a user is attempting to add emoji sequences that are constructed using emojis introduced prior to November 2015.
This includes a large number of emoji skin tone and gender sequences introduced from in late 2015 and throughout 2016.
Instead of displaying a single emoji image, Gmail replaces the components of these emojis that it recognizes, resulting in these skin tone and gender sequences appearing "broken".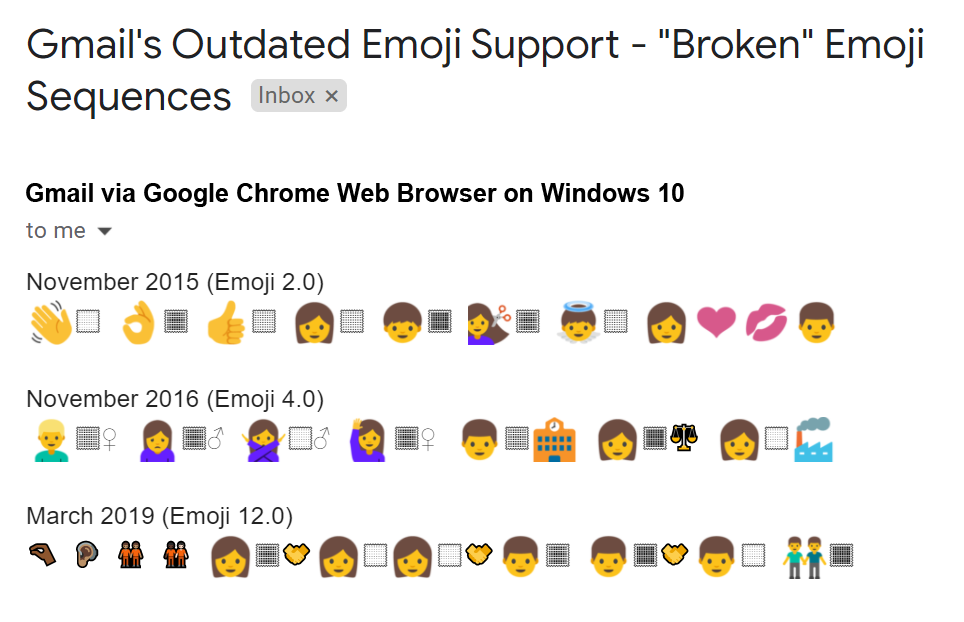 Above: examples of "broken" emoji skin tone and gender sequences within Gmail when accessed via the Chrome Web Browswer for Windows.
Compare this with how the same email appears when accessed via the Gmail mobile app, which uses native system-wide emoji support: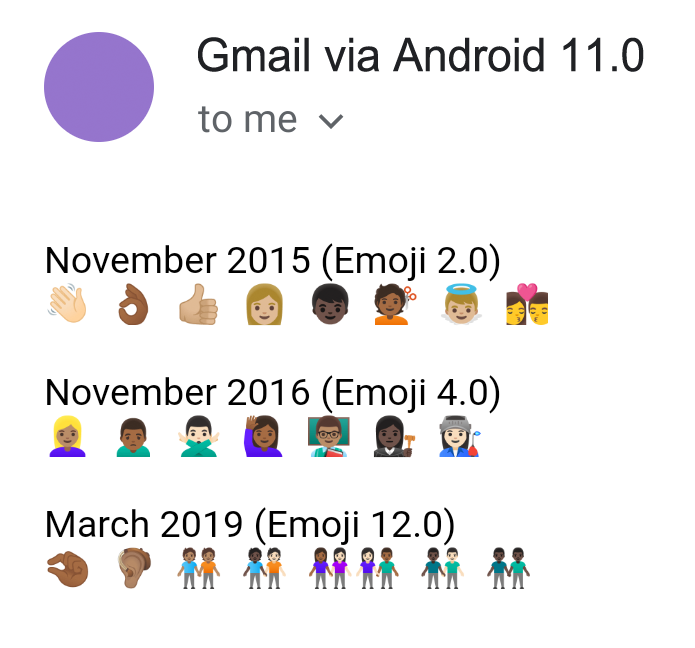 Above: Emoji skin tone and gender sequences displaying correctly using the Gmail mobile app.
On the device you're currently using, these same emojis appear like this:
November 2015 (Emoji 2.0)
👋🏻👌🏾👍🏼👩🏼👦🏿💇🏾👼🏼👩‍❤️‍💋‍👨
November 2016 (Emoji 4.0)
👱🏽‍♀️🙍🏾‍♂️🙅🏻‍♂️🙋🏾‍♀️👨🏽‍🏫👩🏿‍⚖️👩🏻‍🏭
March 2019 (Emoji 12.0)
🤏🏾🦻🏽🧑🏽‍🤝‍🧑🏽🧑🏿‍🤝‍🧑🏻👩🏾‍🤝‍👩🏻👩🏻‍🤝‍👨🏾👨🏿‍🤝‍👨🏻👬🏿
Below is a further selection of "broken" emojis on Gmail on Chrome for Windows compared to how they look across the Gmail mobile app on Apple, Google, and Samsung[4] devices: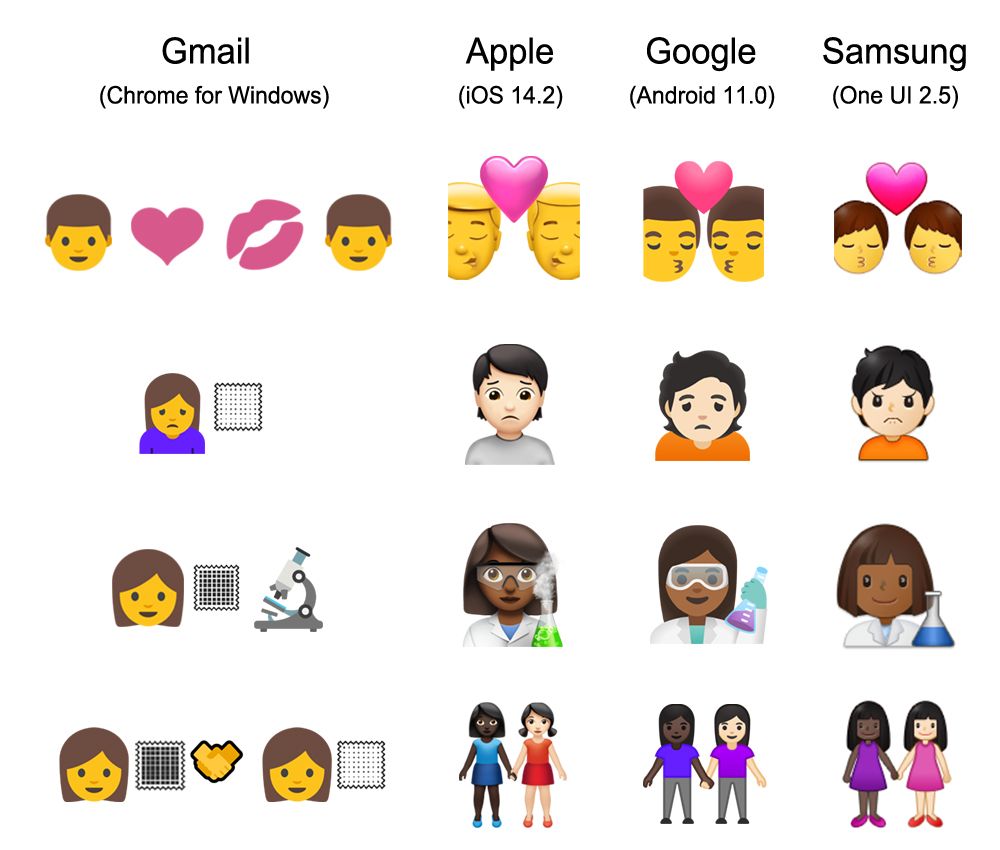 Above: a comparison of emojis across Gmail when used on Chrome for Windows, Apple devices running iOS 14.2, Google devices running Android 11.0, and Samsung devices running One UI 2.5.
The four emojis shown in the image above are, in descending order:
🕵 Why is this happening?
Emojis which specify a particular skin tone or gender are generally composed of more than one character. This happens behind the scenes, and isn't usually visible to the user.
In the case of skin tone emoji variants such as for 🤟🏿 Love-You Gesture: Dark Skin Tone or 🙍🏻 Person Frowning: Light Skin Tone, there are actually at least two emoji chracters being used to compose the single emoji design that displays on updated platforms: the base emoji character displayed in cartoonish yellow[5] and one of five skin tone modifiers characters:
🤟🏿 Love-You Gesture: Dark Skin Tone is composed of the 🤟 Love-You Gesture and 🏿 Dark Skin Tone, while 🙍🏻 Person Frowning: Light Skin Tone is composed by combining 🙍 Person Frowning and 🏻 Light Skin Tone.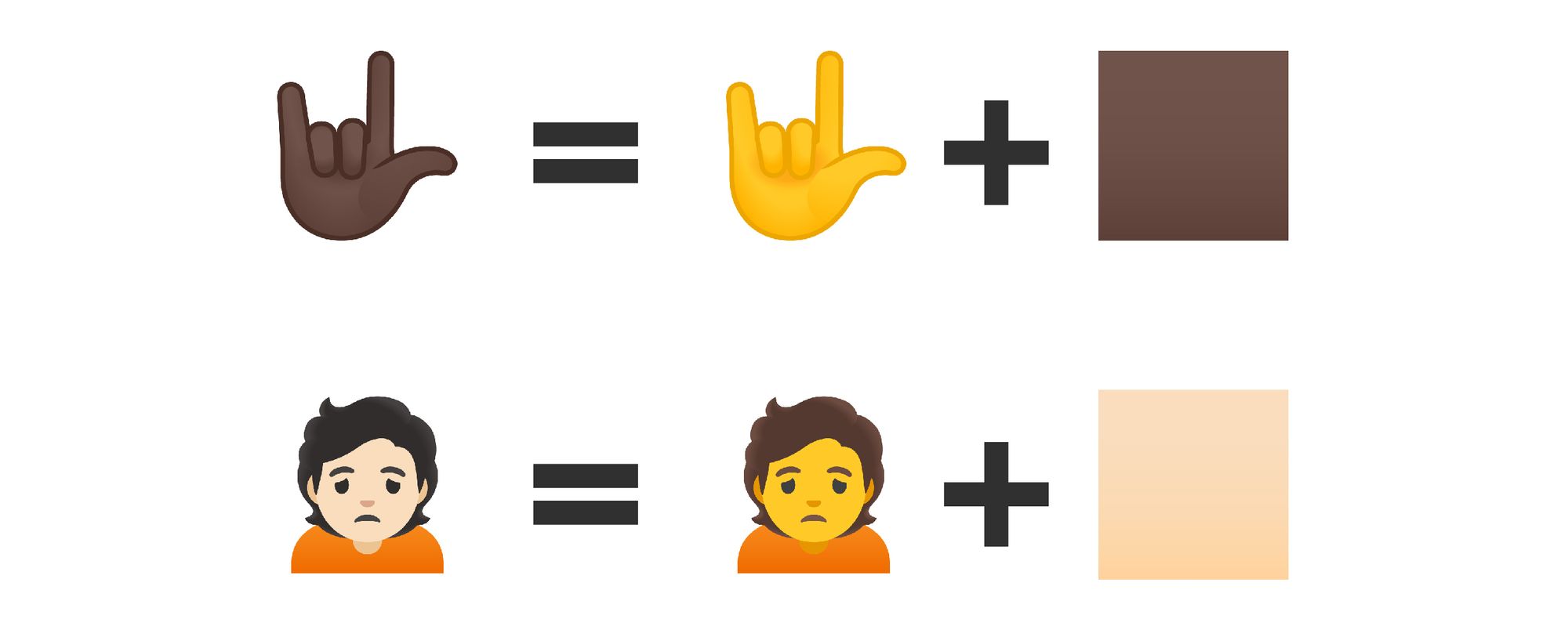 Above: 🤟🏿 Love-You Gesture: Dark Skin Tone and 🙍🏻 Person Frowning: Light Skin Tone are constructed via a skin tone modifer being combined with 🤟 Love-You Gesture and 🙍 Person Frowning respectively. Image: Google designs / Emojipedia composite.
An Emoji Modifier Sequence is created automatically when one of the five modifier characters shown above is inserted after a supported base emoji character, resulting in a single emoji with skin tone.
Mny emojis with skin tones are also Zero Width Joiner (ZWJ) sequences, due to the presence of additional characters for gender[6], multiple people, or a combination of people and objects. 👩🏽‍🔧 Woman Mechanic: Medium Skin Tone and 🤷🏾‍♂️ Man Shrugging: Medium-Dark Skin Tone are two examples: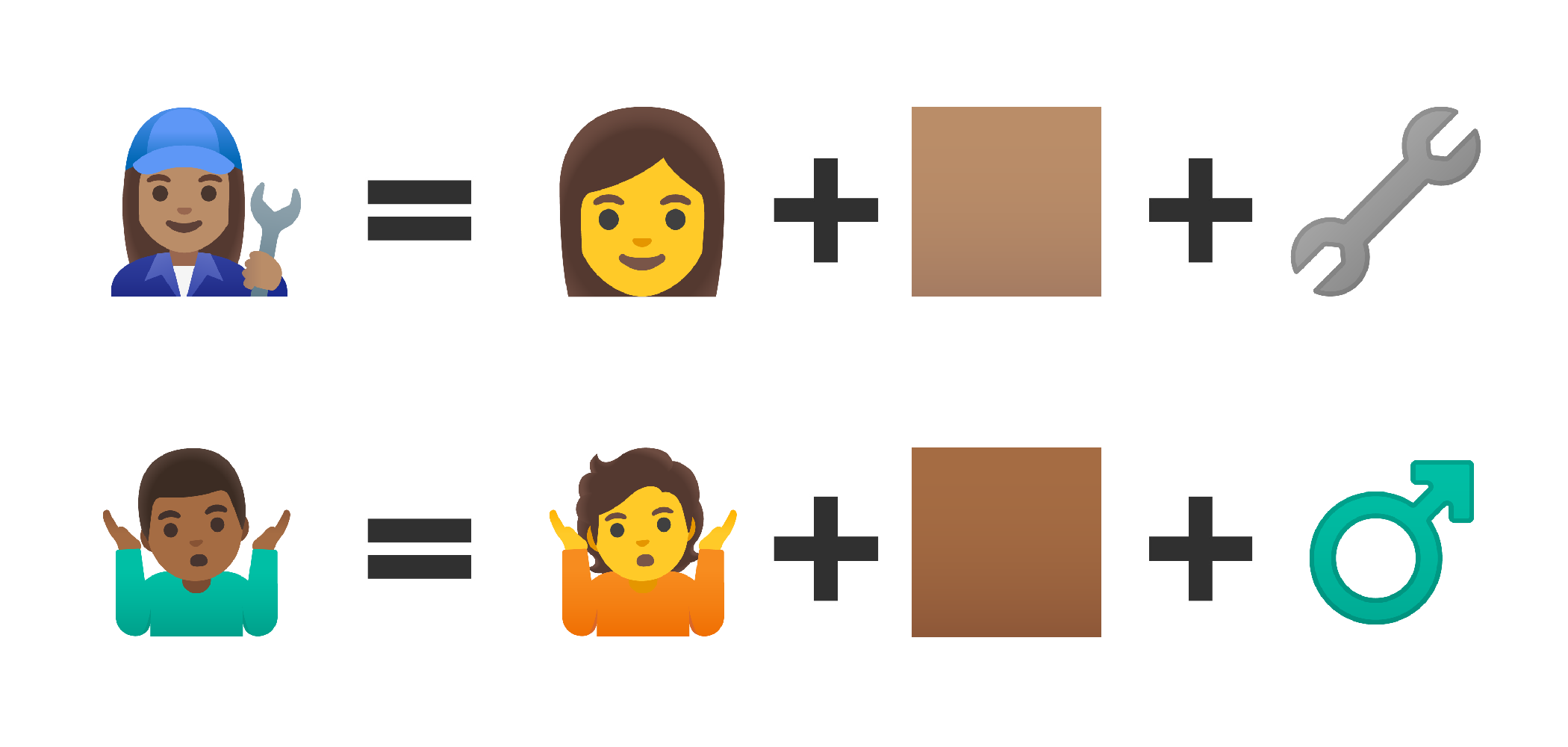 Above: Emoji sequences that involve both a skin tone modifer and either the ♂️ Male Sign or ♀️ Female Sign. Image: Google designs / Emojipedia composite.
What is breaking these emojis is the image replacement function feature in Gmail.
Were Gmail to simply use system-wide emoji support in the browser like it does in the apps, all this complication would be left to Apple or Microsoft, on macOS or Windows respectively.
By overlaying Android 7.0 designs for code points it recognises within an emoji sequence, any emoji sequence which is a mix of old and new emojis risks being fragmented into its component emoji parts.
🛠️ What's the fix?
At this stage, there is no known fix to the broken emoji issue seen on the Gmail website.
In the meantime, some options to see emails with broken emojis include:
Switch to the Gmail app on a mobile platform
Use Gmail via any other mail client or app
Fwd any broken-emoji email to another address that can be accessed outside of the Gmail interface
Copy and paste the email into another app. Most apps use the system-wide emoji support, which may be more up to date than Gmail.
As a last resort, copying an emoji + gender sign, or an emoji + skin tone 'patch' into Emojipedia should display the emoji as it was intended, on various platforms.
---