Google Emoji 13.1 Changelog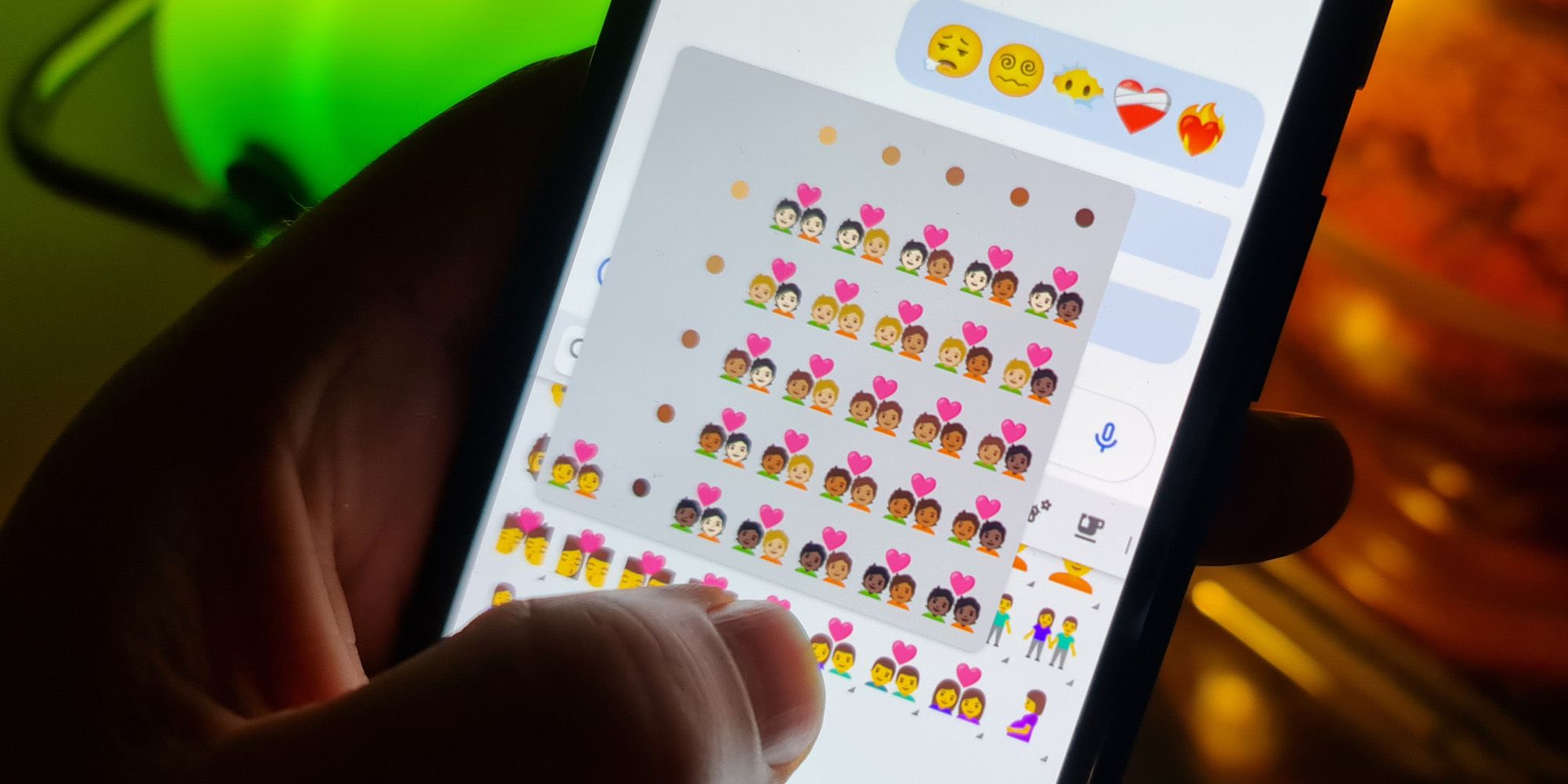 Owners of Google's latest Pixel phones now have access to new 217 new emojis, including a face exhaling and a heart on fire, as well as options to mix and match the skin tone of many couple emojis.
These come as part of the December 2020 Feature Drop announced last month for Google Pixel devices.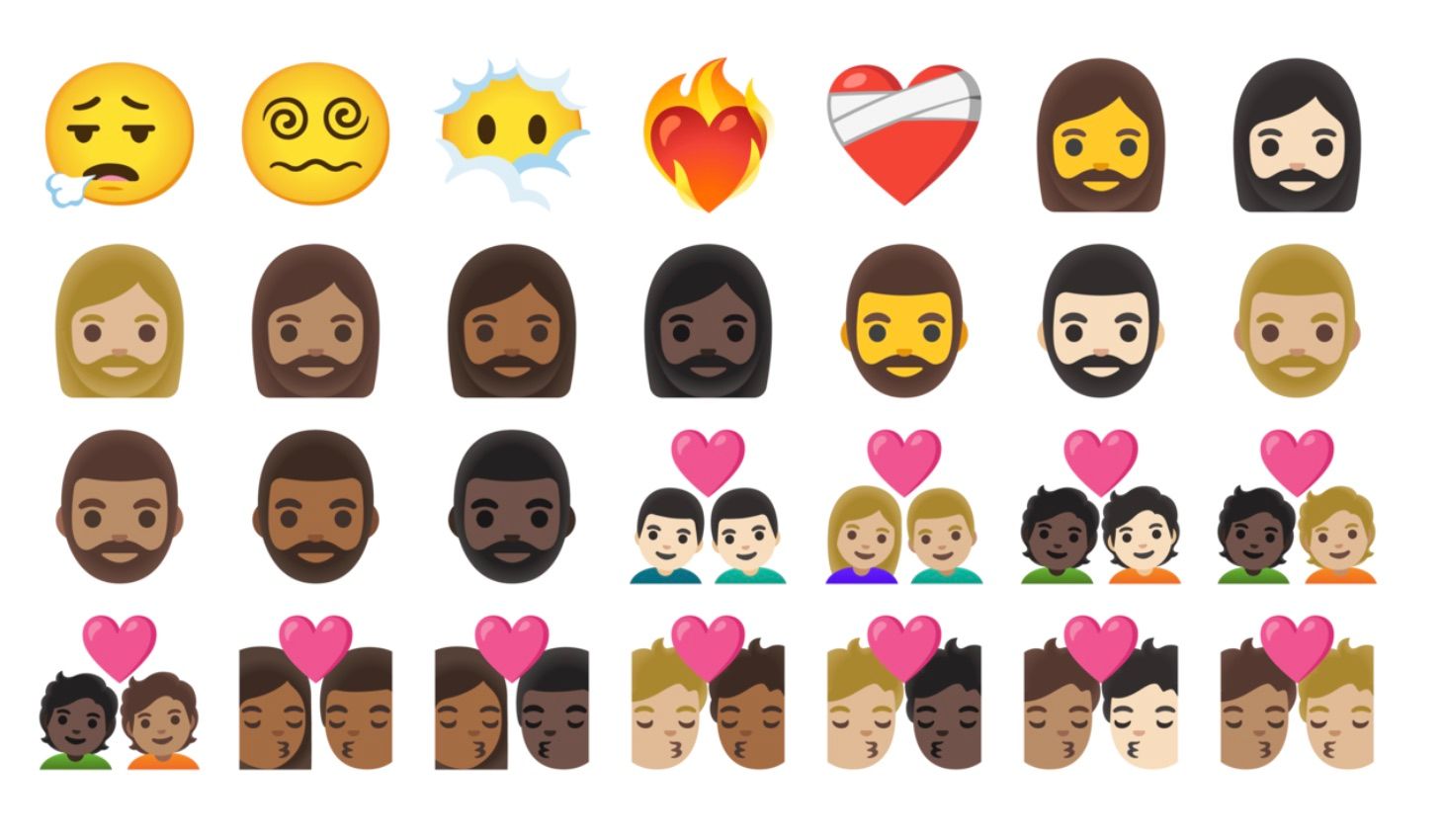 Above: New emojis available now for Pixel owners. Image: Google designs / Emojipedia composite.
All of the 217 new emojis supported by Google are from the Unicode Emoji 13.1 set, approved in late 2020.
This is a different timeline to past years where new emojis were approved at the start of the year. Under Unicode's new release schedule, emojis were approved in September 2020, and vendors like Google are expected to roll out to most users throughout 2021.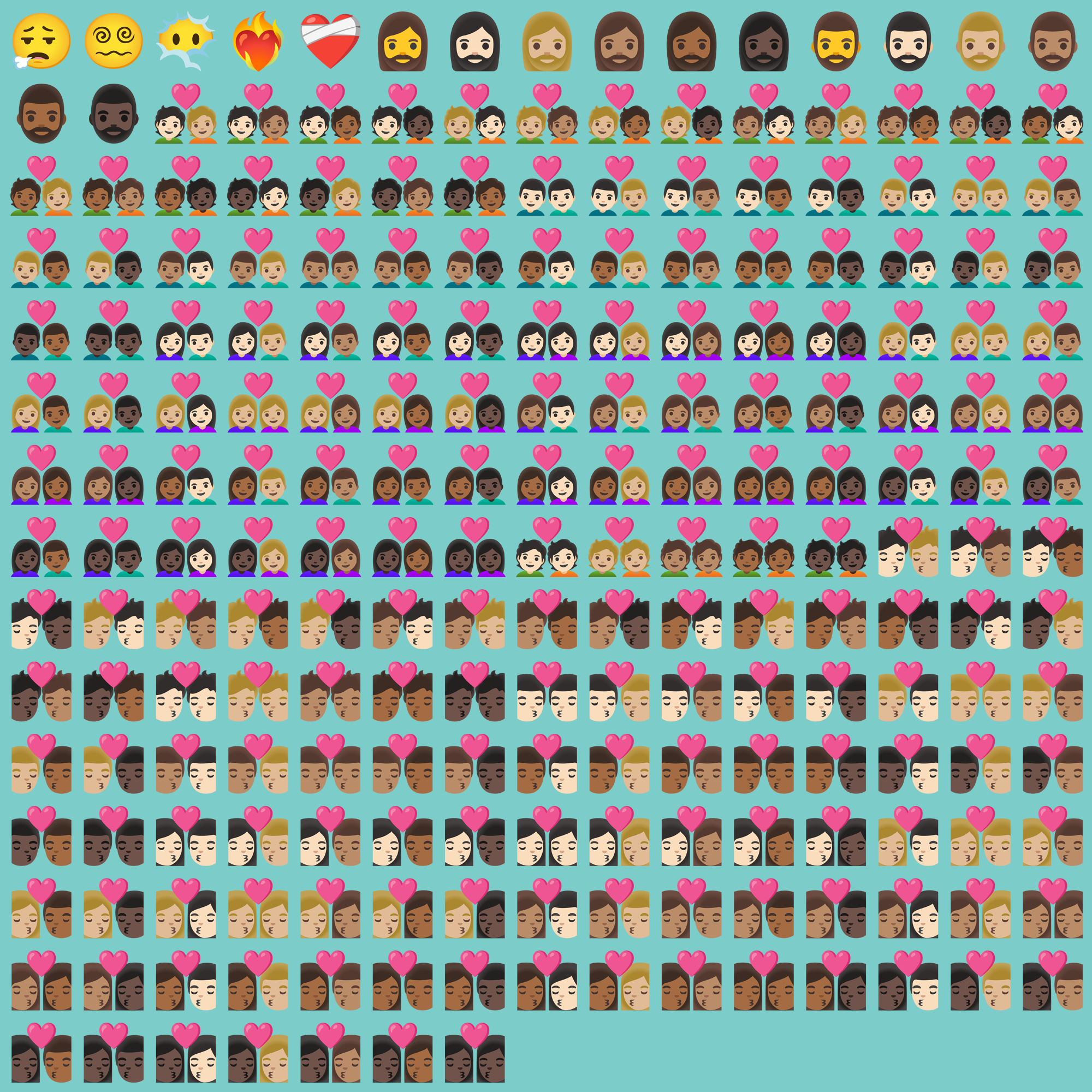 Above: 217 new emojis included in Google's latest update.
🆕 New & Changed
The three new smiley emojis in this update are: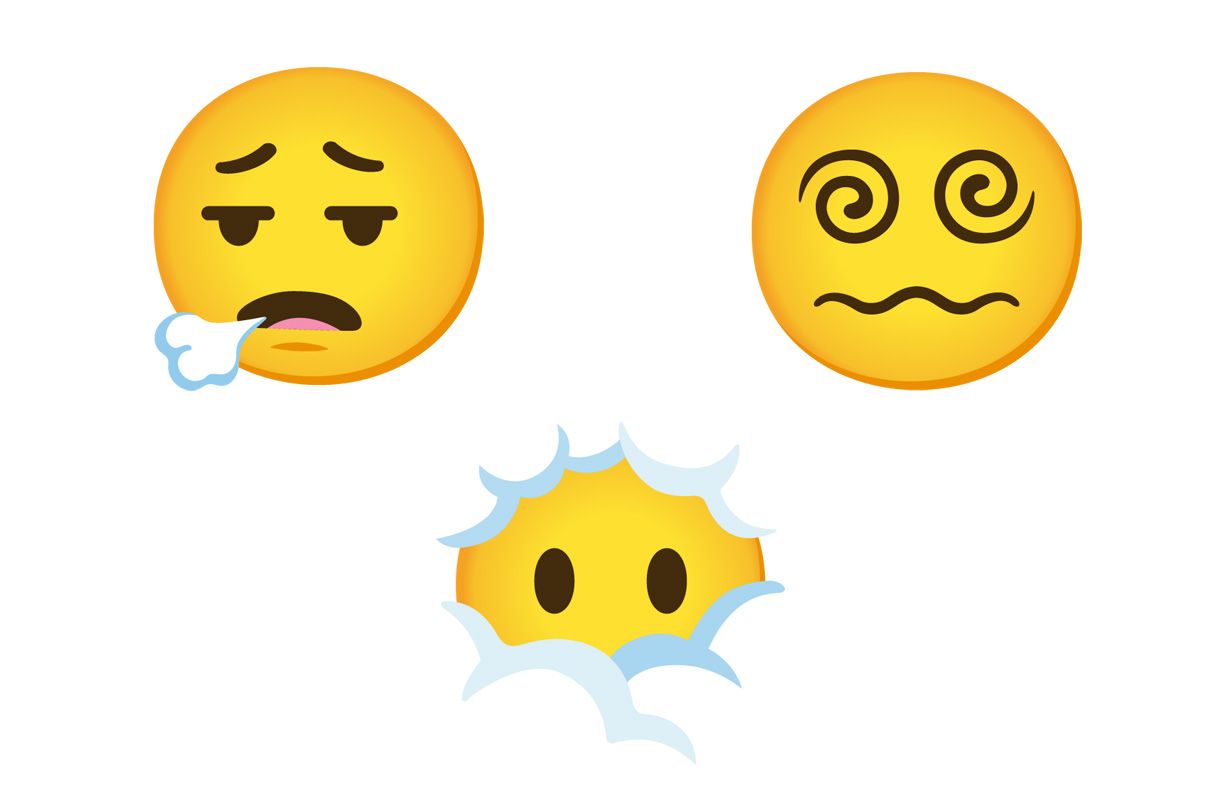 If you remember a face with spiral eyes on Android prior to this, you're not imagining things. The emoji 😵 U+1F635 was previously shown with spiral eyes on Android. That emoji changed to Xs for eyes in 2020 to ensure better cross-platform compatibility. This new spiral-eyed emoji fills the void, and will be consistent on all phones.
There are two new hearts in this update: ❤️‍🔥 Heart on Fire[1] and ❤️‍🩹 Mending Heart.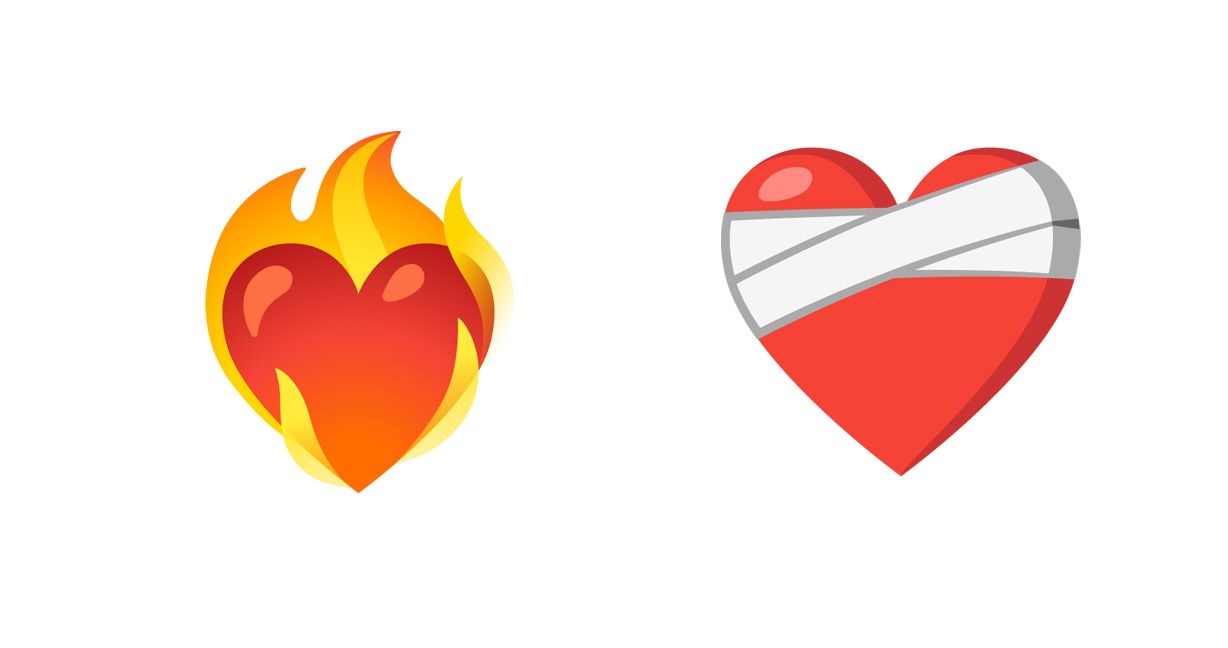 Hearts are consistently one of the more popular emoji types, and the mending heart provides a pleasant counterpart to 💔 Broken Heart.
As with many prior releases, consistency of gender options remains on the agenda. Now there are gender options available for the bearded person for the first time.
This update introduces the 🧔‍♀️ Woman: Beard emoji.
Due to the way these emojis are implemented, this means that there is a new gender-specific 🧔‍♂️ Man: Beard emoji, which looks the same as the (now-renamed and redesigned) 🧔 Person: Beard emoji.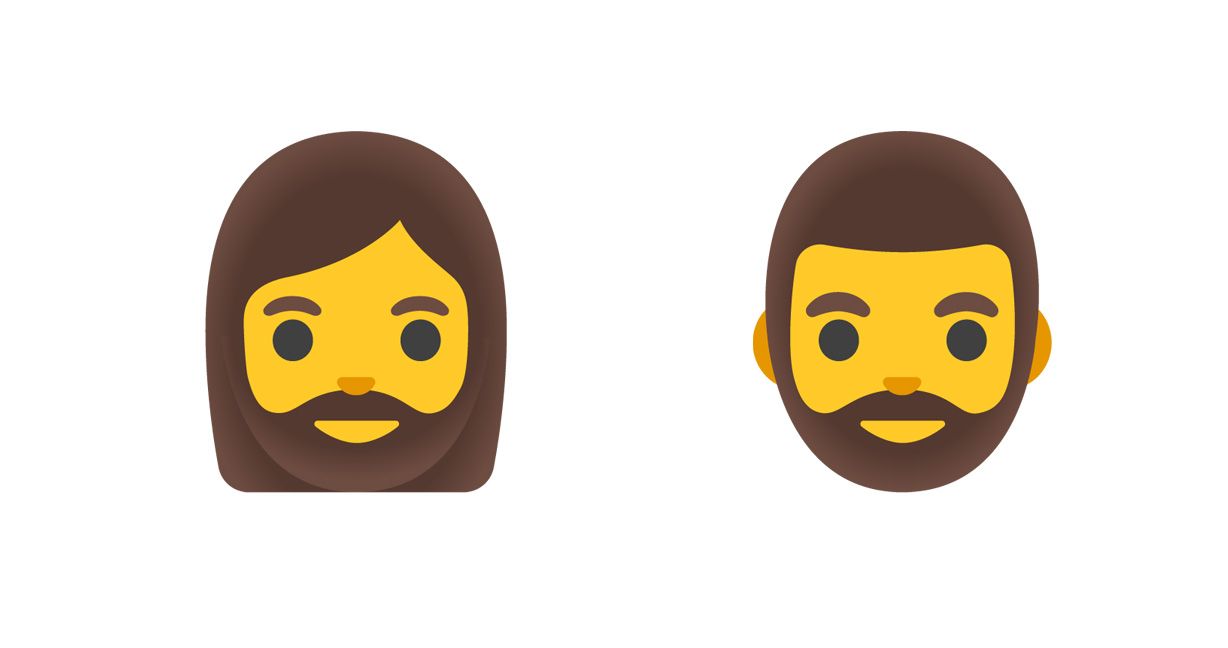 Above: Android now has gender-specific designs for 🧔‍♀️ Woman: Beard and 🧔‍♂️ Man: Beard.
🧔 Person: Beard now has a gender-inclusive appearance, in keeping with recent changes to other emojis which don't specify a gender. Given that hair style doesn't define gender, users are of course welcome to use whichever bearded emoji best represents the person or topic at hand.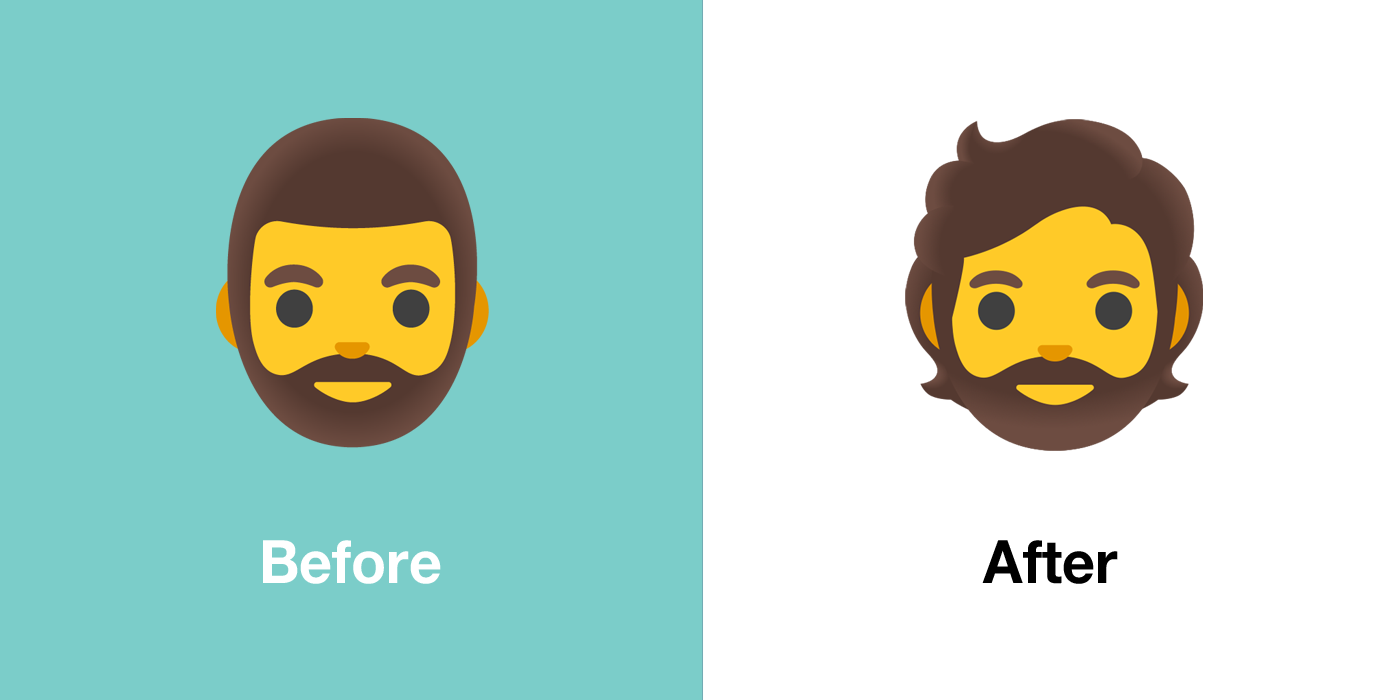 Only one other emoji was changed in this update: 🎑 Moon Viewing Ceremony now has a starry night sky with a prominent moon as a backdrop, akin to several other major vendors.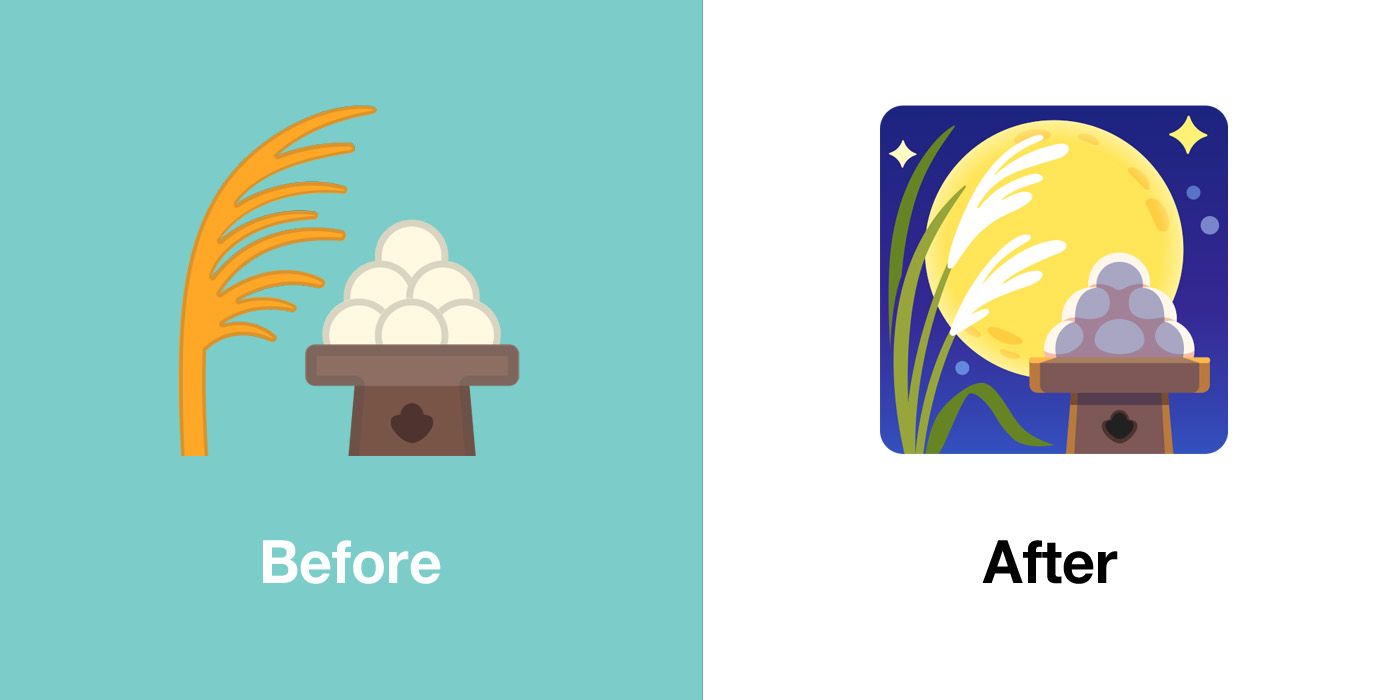 The remainder of new emojis are for different skin tone combinations for the 💑 Couple with Heart and 💏 Kiss emojis. In fact, 200 of the 217 new emojis in the Android 11.0 December 2020 Feature Drop are such variations.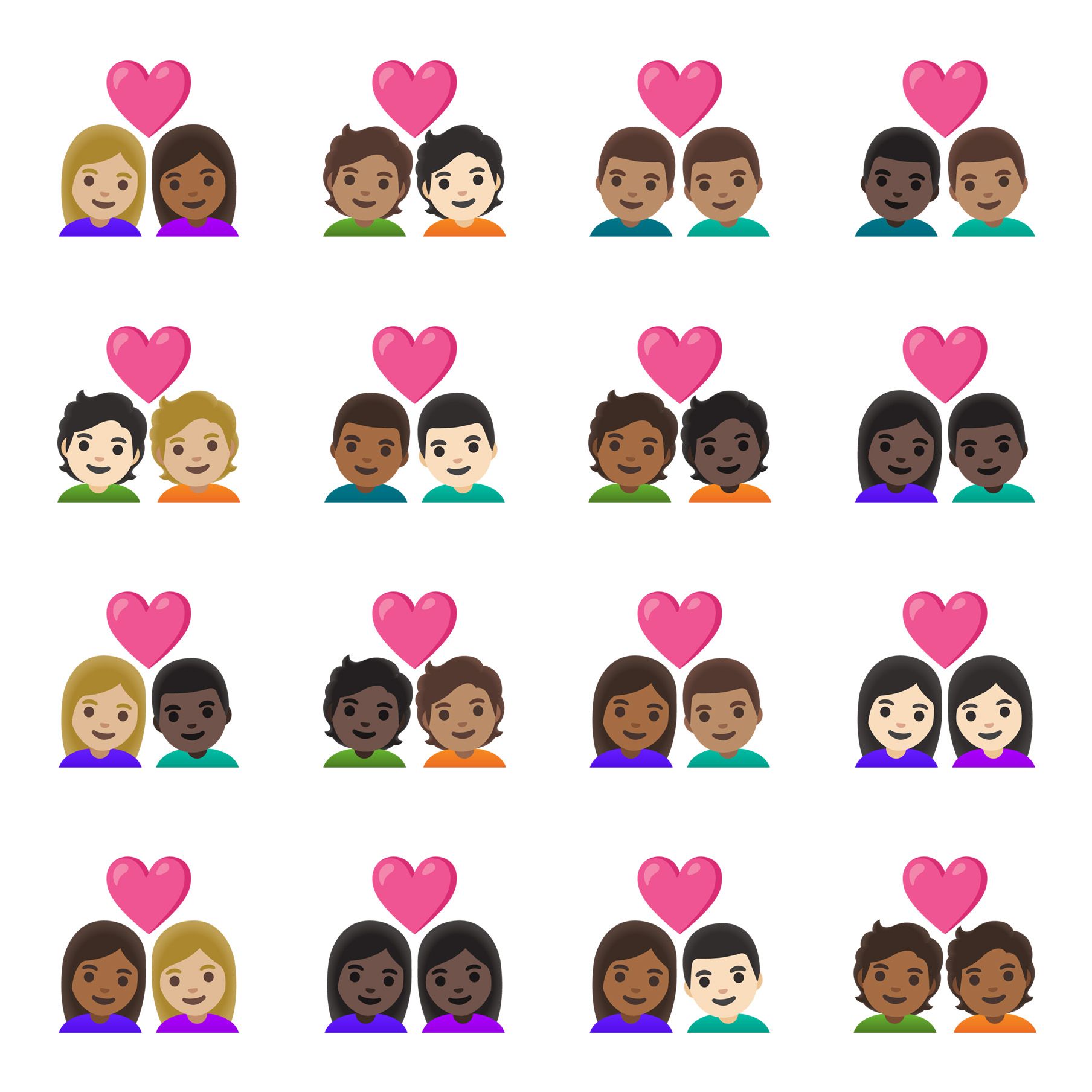 Above: 💑 Couple with Heart now comes with a choice of skin tones for either person.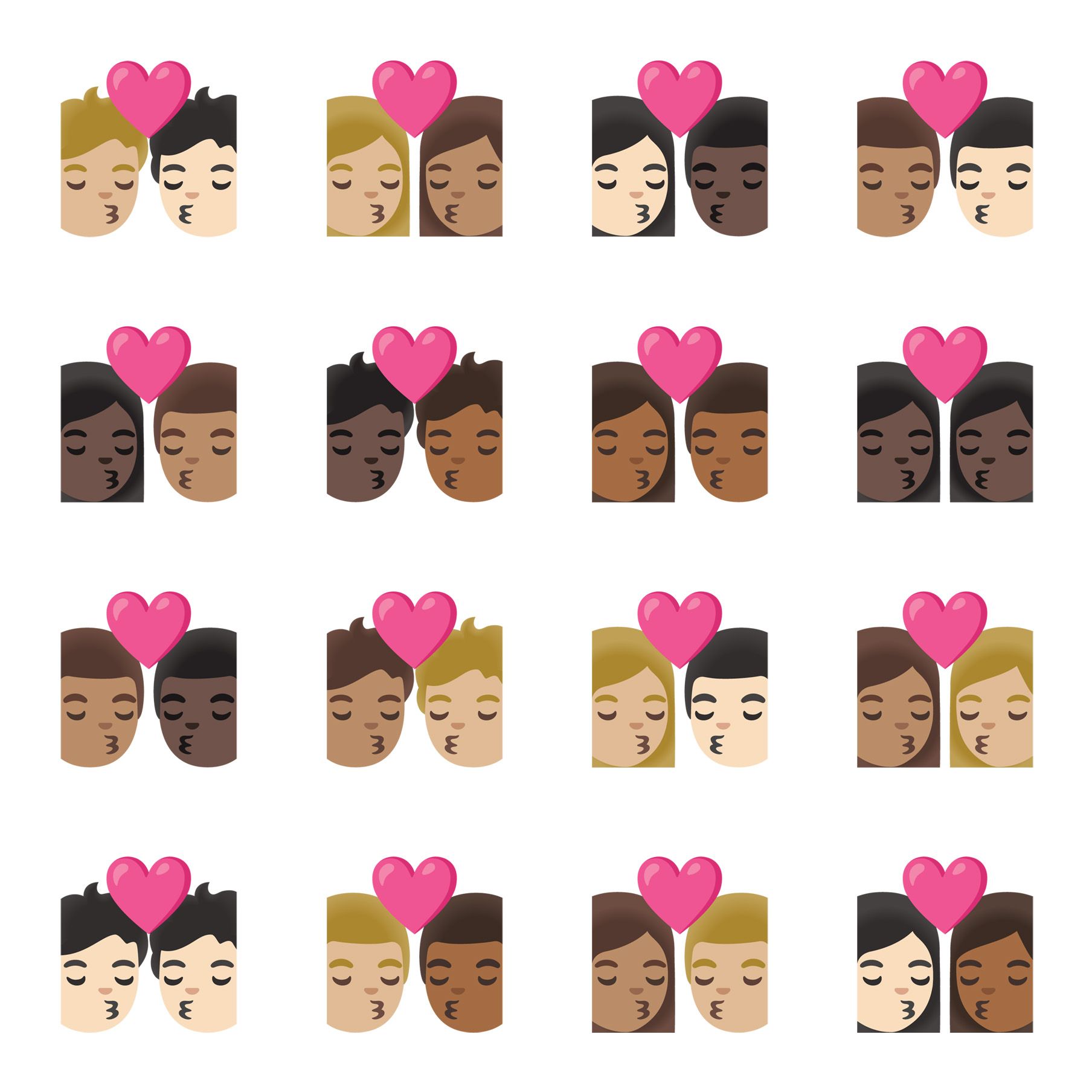 While this seems like a lot of options when all shown next to one another, in practice this seems less onerous on the emoji keyboard. It's only when users press-and-hold on one of these couple emojis that all the options are presented.
Above: 💏 Kiss now comes with a choice of skin tones for either person.
When using Google's own Gboard emoji keyboard, these new combinations of 💑 Couple with Heart and 💏 Kiss are displayed in a similar fashion to the various 🧑‍🤝‍🧑 People Holding Hands emojis.
This allows each of the people in these emojis to be chosen separately with a different skin tone. A neat grid design aligns each of the skin tones, making selection quick and easy.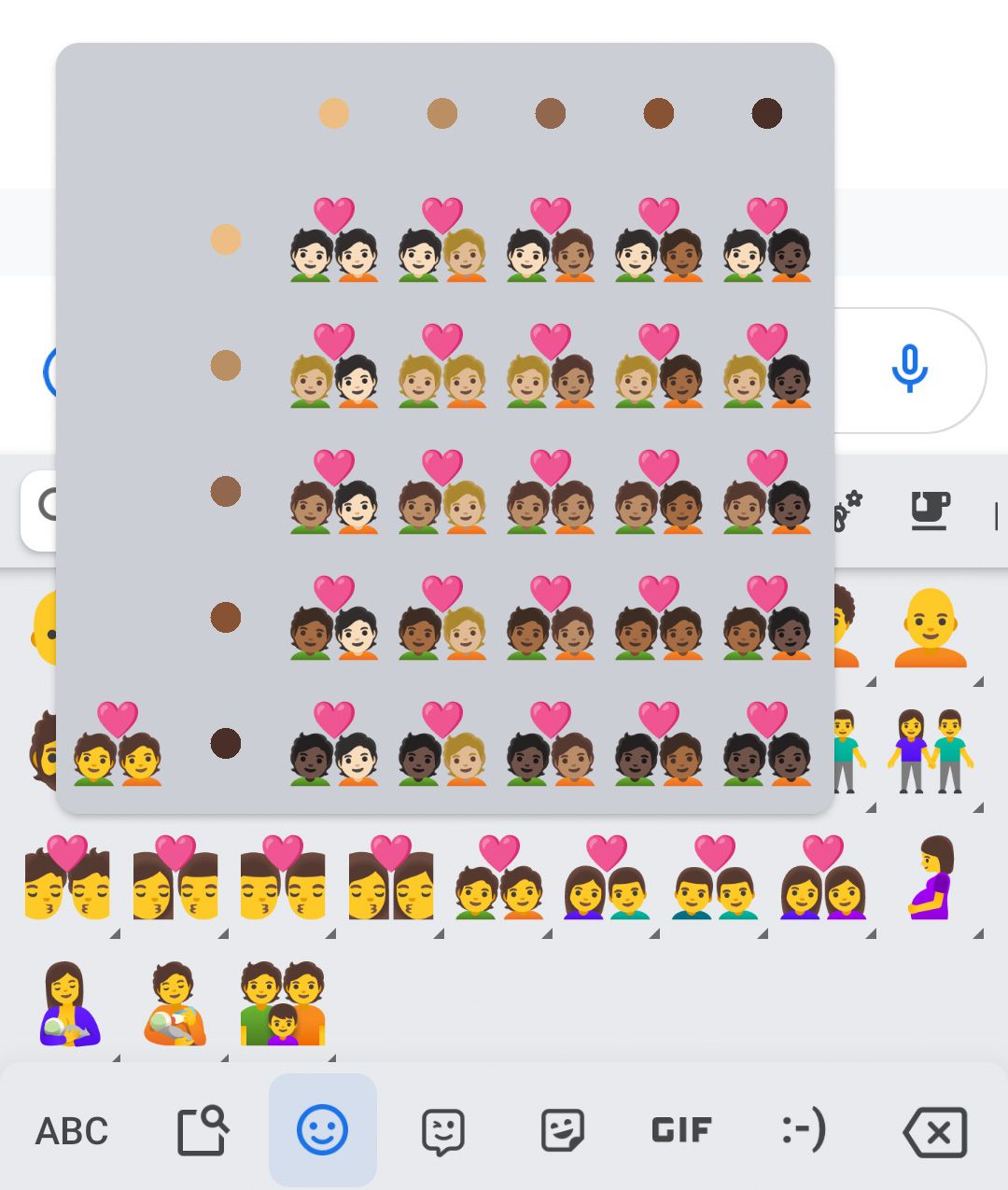 Above: the selection tool for the new 💑 Couple with Heart emojis on Gboard.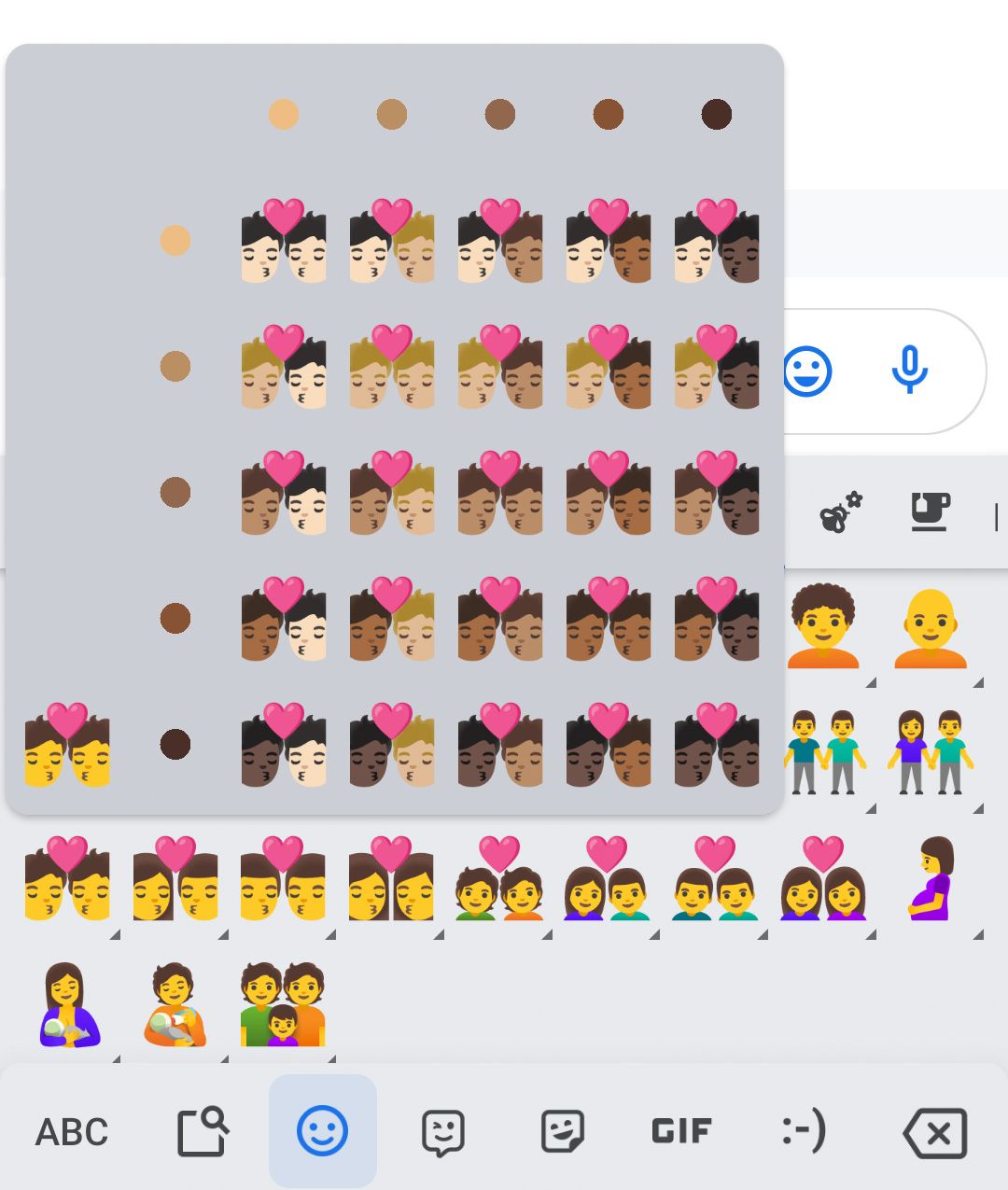 Above: the selection tool for the new 💏 Kiss emojis on Gboard.
This is likely to be the interface used for the Handshake emoji, which is drafted to get skin tone support in the next major emoji update. Google already supports shared skin tones for the handshake, but for a mix of skin tones, new code points need approval later this year.
📶 Release
Devices now receiving the December 2020 Pixel Feature Drop include Pixel 5, Pixel 4, Pixel 4XL, and Pixel 4a.
This is the second such "Pixel Feature Drop", following a similar update exclusive to Pixel devices in March 2020. That update included support for Emoji 12.1, which wouldn't be provided to non-Pixel devices until much later in the year.
📲 Non-Pixel Devices
If you're on an Android device and you don't have this update: how do you get it?
The answer varies in a few ways.
If using a Samsung phone, you won't see Google's emoji set, and will get updates on a different timeline. Samsung emojis look different to Google's, and come as part of Samsung Experience
Apps on Android such as WhatsApp, Twitter, Facebook and Signal also use their own custom emoji implementations, which use different designs and timelines to Google.
For the majority, Google's new emojis tend to arrive with future Android releases, such as Android 11.1 or even Android 12.0.
Google has not made comment on how or when non-Pixel owners will get these updates in 2021. The timeline for major Android software updates varies considerably by device manufacturer, device age, region, and/or mobile phone carrier.
🚀 Future Emoji Updates
Something to keep an eye on: reports indicate that Google may be looking to support new emojis for users without requiring a major OS update (or Pixel Feature Drop).
Some Emojipedia users in 2020 reported seeing new emoji updates on Android phones ahead of official Google releases. Perhaps a sign of things to come.
Whether users are seeing new emojis 'early' due to EmojiCompat (which promises that apps can opt-in to get new emoji support ahead of the OS) or as part of other functionality underway at Google, the aim seems clear: allow people to get new emojis on Android sooner, rather than waiting for manufacturers to approve and release software updates.
If the goal from Google is to allow all users to get emoji updates at any time of year, regardless of OS version, it seems possible this could be announced at the next Google I/O in May 2021.
For now: if you don't yet have these new emojis on your Android phone, keep checking that software update throughout the year.
---