Windows 10 Creators Update Emoji Changelog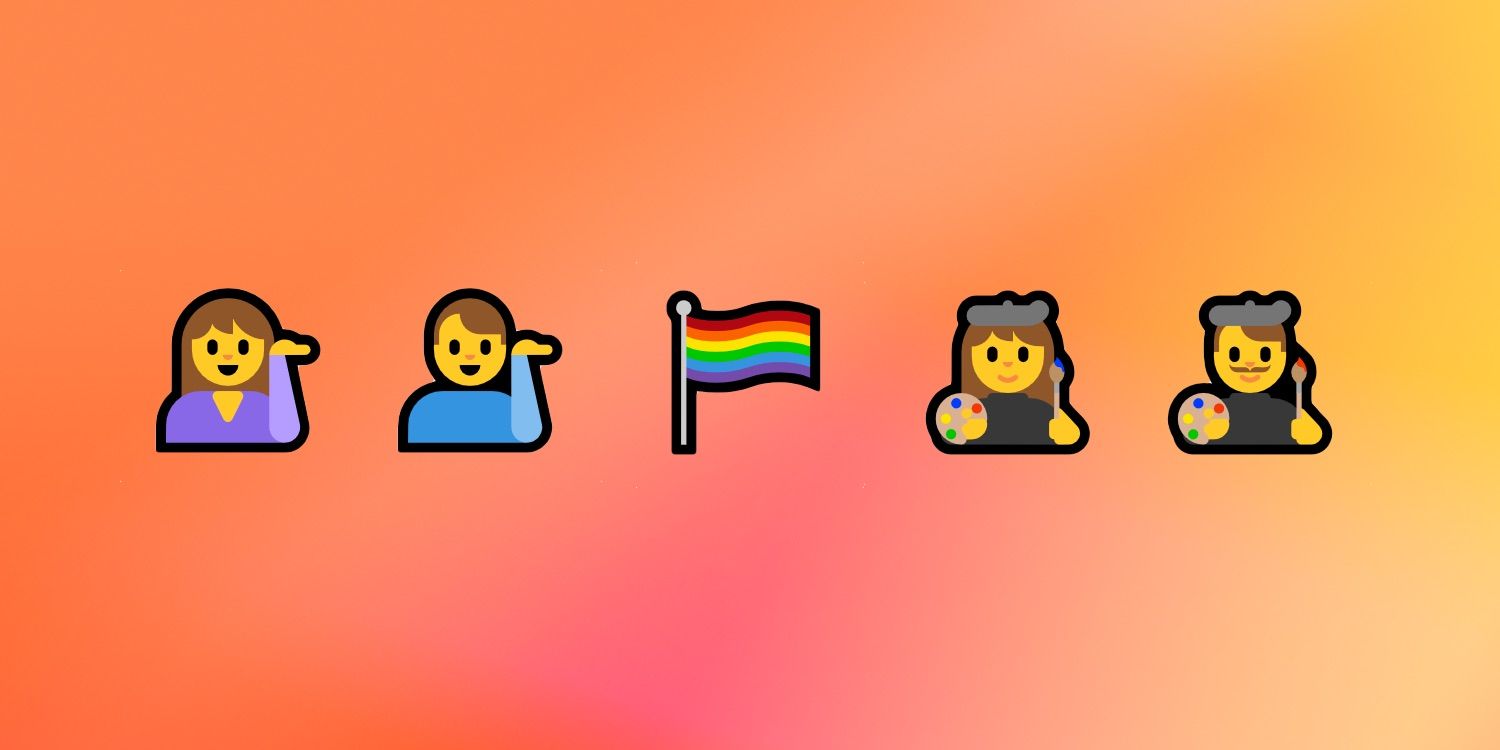 Microsoft today released Windows 10 "Creators Update" which adds support for the rainbow flag emoji, gendered emojis, and professions from Emoji 4.0 which was released in November 2016.
This update includes 482 new emojis, plus in a first for any major vendor — 288 additional variations for interracial couples.

With 770 total new emojis in Windows 10 Creators Update, the total number of emojis supported is now 2,381 when gender and skin tone are taken into account.[1]
Professions
In August of 2016, Unicode recommended a series of ZWJ Sequences which would cover common groups of professions. These included female and male versions of a teacher, artist, cook, and more.
These were released as part of Emoji 4.0 in November 2016, and now supported in this update from Microsoft.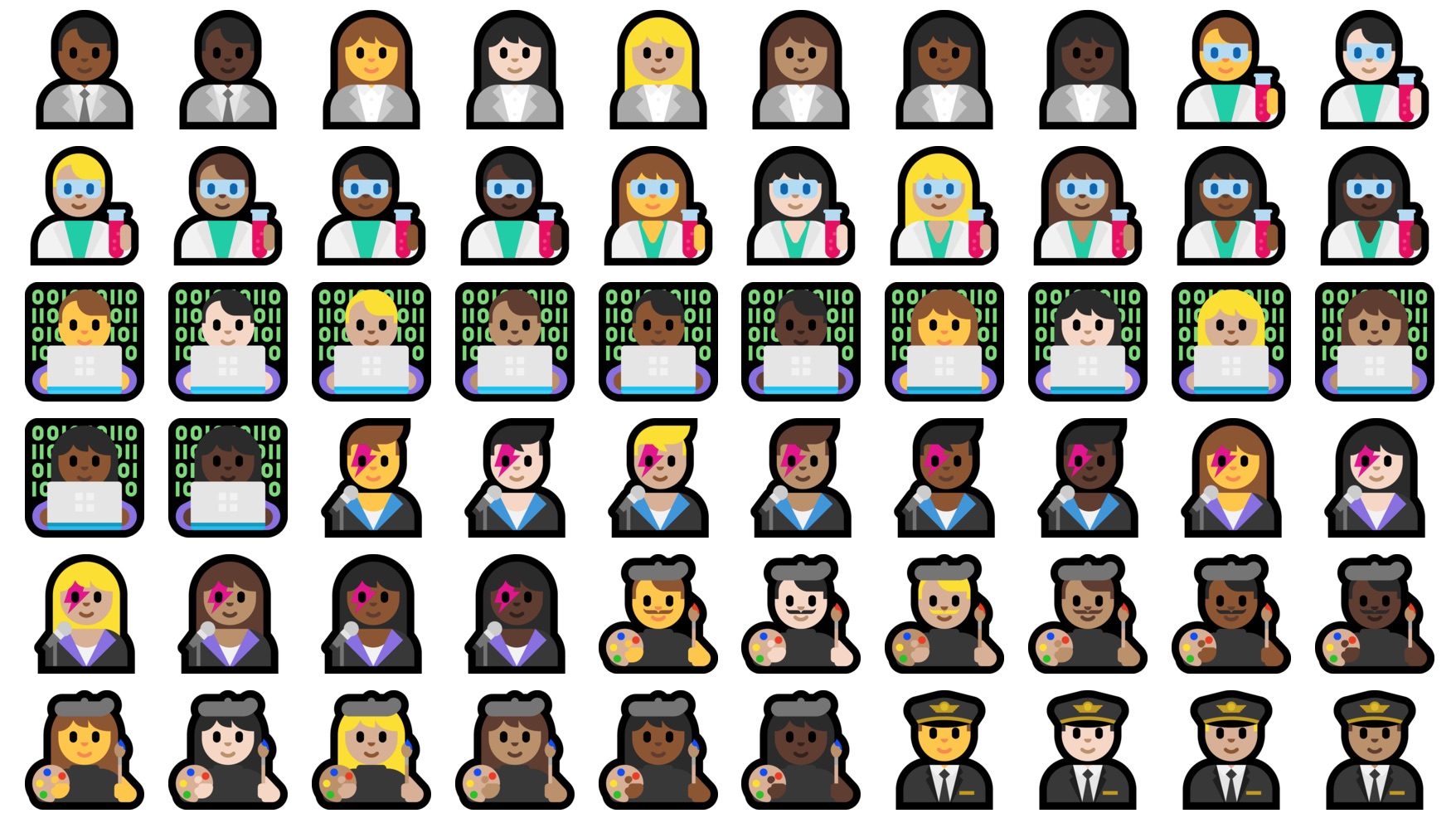 Singers taking on the Bowie-esque lightning bolt makeup used on other platforms.
Technologists are on-brand sporting a tablet with a Windows logo embossed on the back.
All are drawn with the distinct thick outline used in the entire Segoe UI Emoji font.
Genders
Also part of this release are updates to ensure every[2] emoji with a male appearance gains a female version, and vice-versa.


Above: Woman and men can run and frown.
Browse the Emoji 4.0 list to see every new version now supported.
Couples
Unicode lists family and couple emojis as ZWJ Sequences, which means more combinations and sequences can be supported than the baseline specified in the emoji documentation.
Non-Microsoft platforms have only supported default-yellow skin tone for 👩‍❤️‍👨 👨‍❤️‍👨 👩‍❤️‍👩 Couple With Heart and 👩‍❤️‍💋‍👨 👨‍❤️‍💋‍👨 👩‍❤️‍💋‍👩Kiss until now.
Windows 10 Creators Update adds 288 new interracial couple emojis, which is a first for any major platform.


Above: Microsoft is the first vendor to support interracial couple emojis.
These come in addition to the diverse family support added in Anniversary Update in 2016.
Compatibility
Each interracial couple emoji shows as a sequence of individual emojis when displayed on other platforms. For instance this emoji:
...is a combination of these emojis, glued together with a zero width joiner:
Depending on which platform you are viewing the article on, you may see a combined couple emoji above, or a single character with both women and the heart.[3]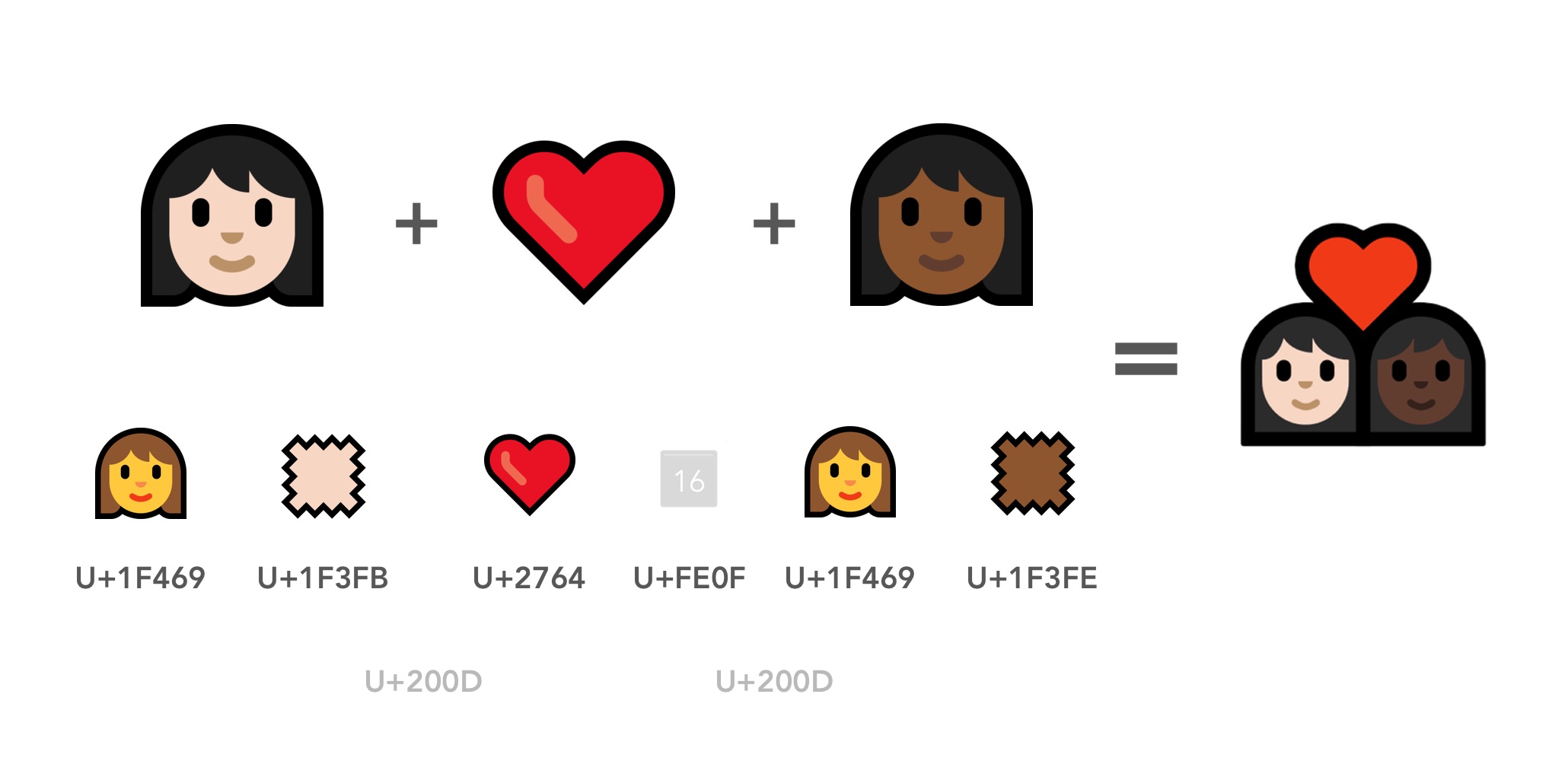 Above: The sequence of emojis used to create interracial couple emojis.
There's more detail on how these sequences work in our look at the Insiders build that first included these additions.
Rainbow Flag
The 🏳️‍🌈 Rainbow Flag (which is a ZWJ Sequence combining 🌈 + 🏳) is now supported on Windows:

Input
The emoji keyboard in Creators Update is available in one click (or tap) from the touch keyboard (which in turn is one click or tap to access from the taskbar).
This interface will be familiar to users of previous Windows releases, as it appears to be entirely untouched:

While the emoji support is comprehensive in this release, actually inserting a number of these characters is a challenge.
None of the new emojis documented in this changelog are available on the primary keyboard input for Windows 10.
This means that to access new emojis, users will need to copy and paste from the web, or use a third-party app or browser extension.
There is a new emoji-suggest feature, which looks great, but is only available to those using the Pinyin input method:
For those unfamiliar w/ typing in Chinese, here's a short gif using the 🆕 Pinyin IME emoji prediction & CTRL+Shift+B hotkey #WindowsInsiders pic.twitter.com/lCRN7iAoWW

— Jen Gentleman 🌺 (@JenMsft) January 15, 2017
Changes
A number of emojis have changed appearance in this update. Most are minor tweaks that either make existing images clearer, or more consistent with other platforms.
👯 People With Bunny Ears Partying (originally called "Woman With Bunny Ears") has gone from a pink outfit to black: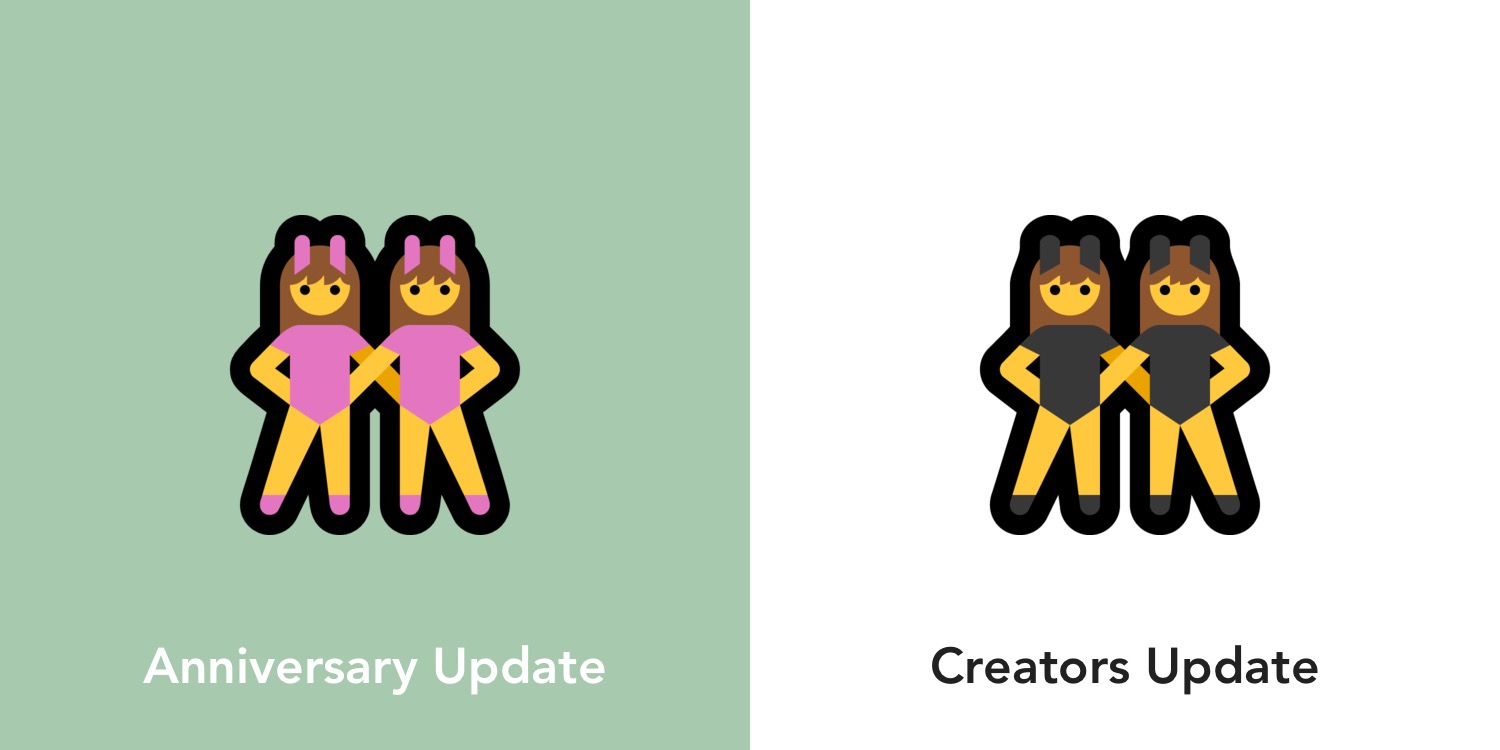 💯 Hundred Points loses its straight approach and gets a pleasing curve: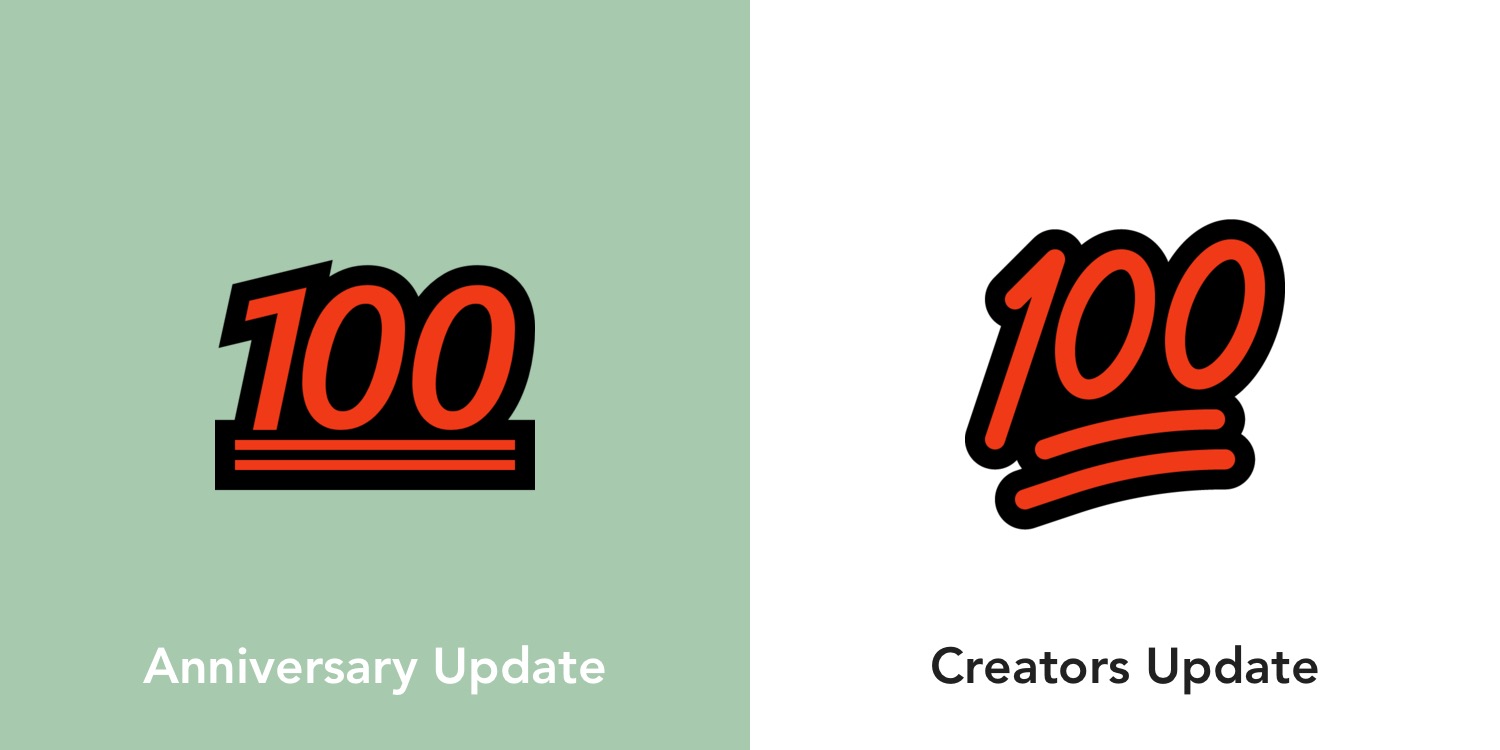 🔮 Crystal Ball gained an additional amount of sparkle: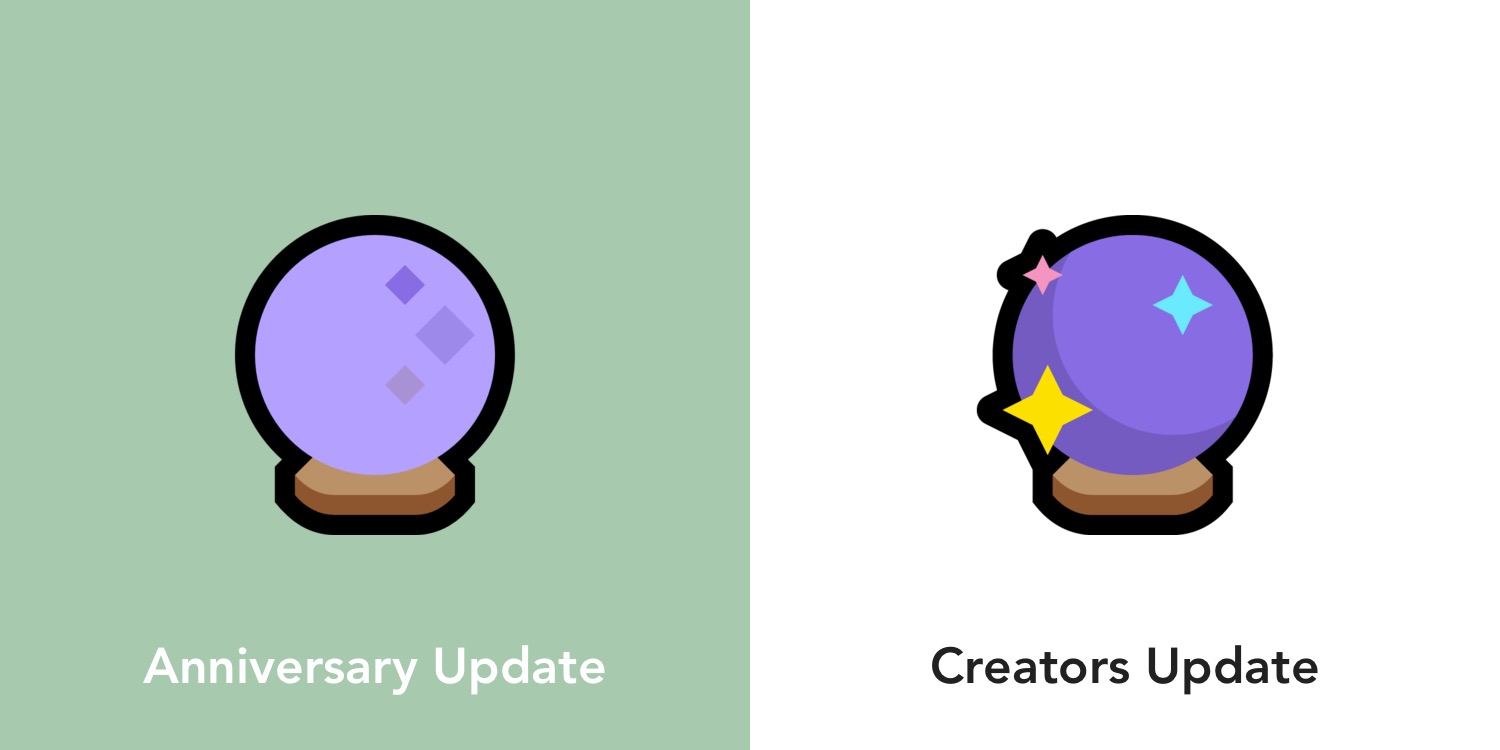 💃 Woman Dancing lost her eyes: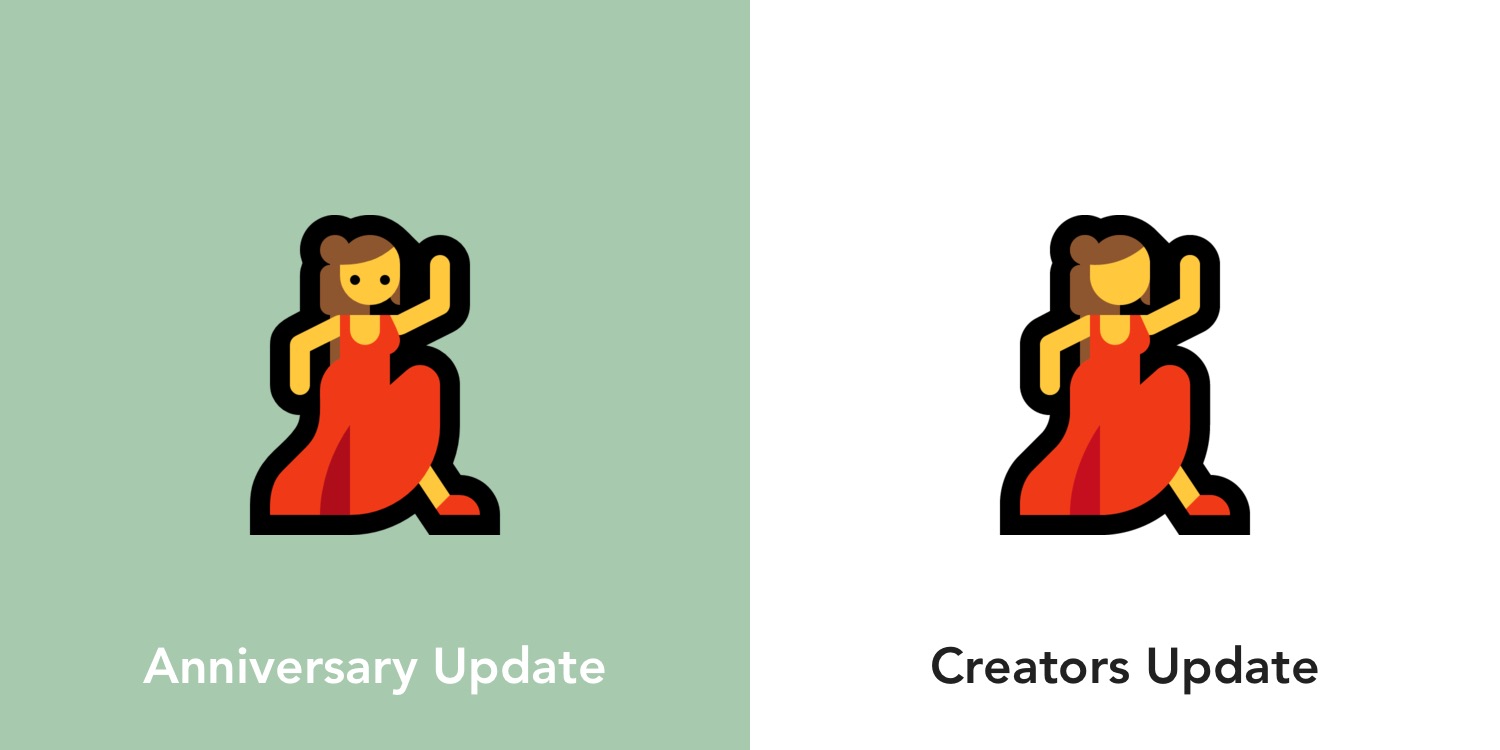 🤾‍♂️ Man Playing Handball switched from team green to team red: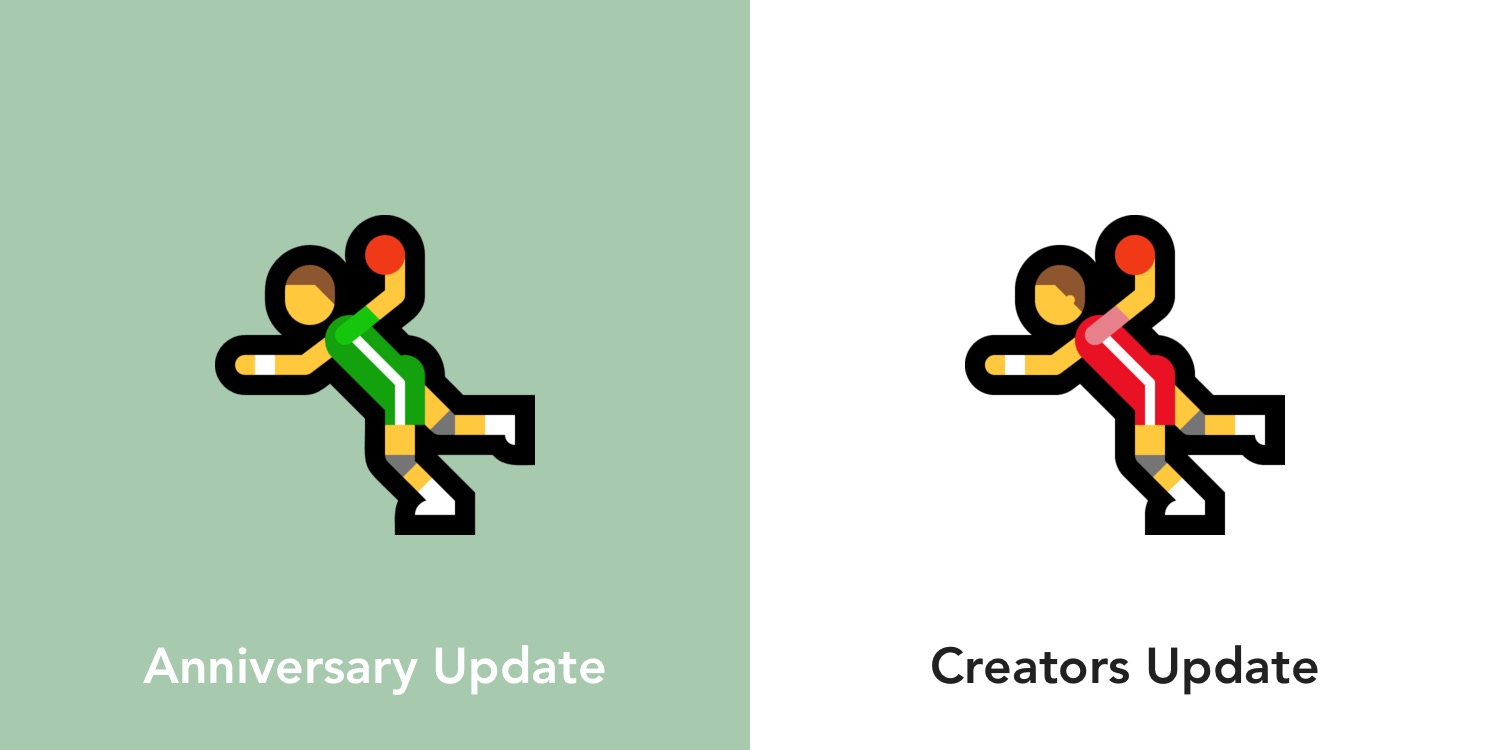 🕴️ Man in Business Suit Levitating is closer to his ska-based Webdings origins with hat and sunglasses: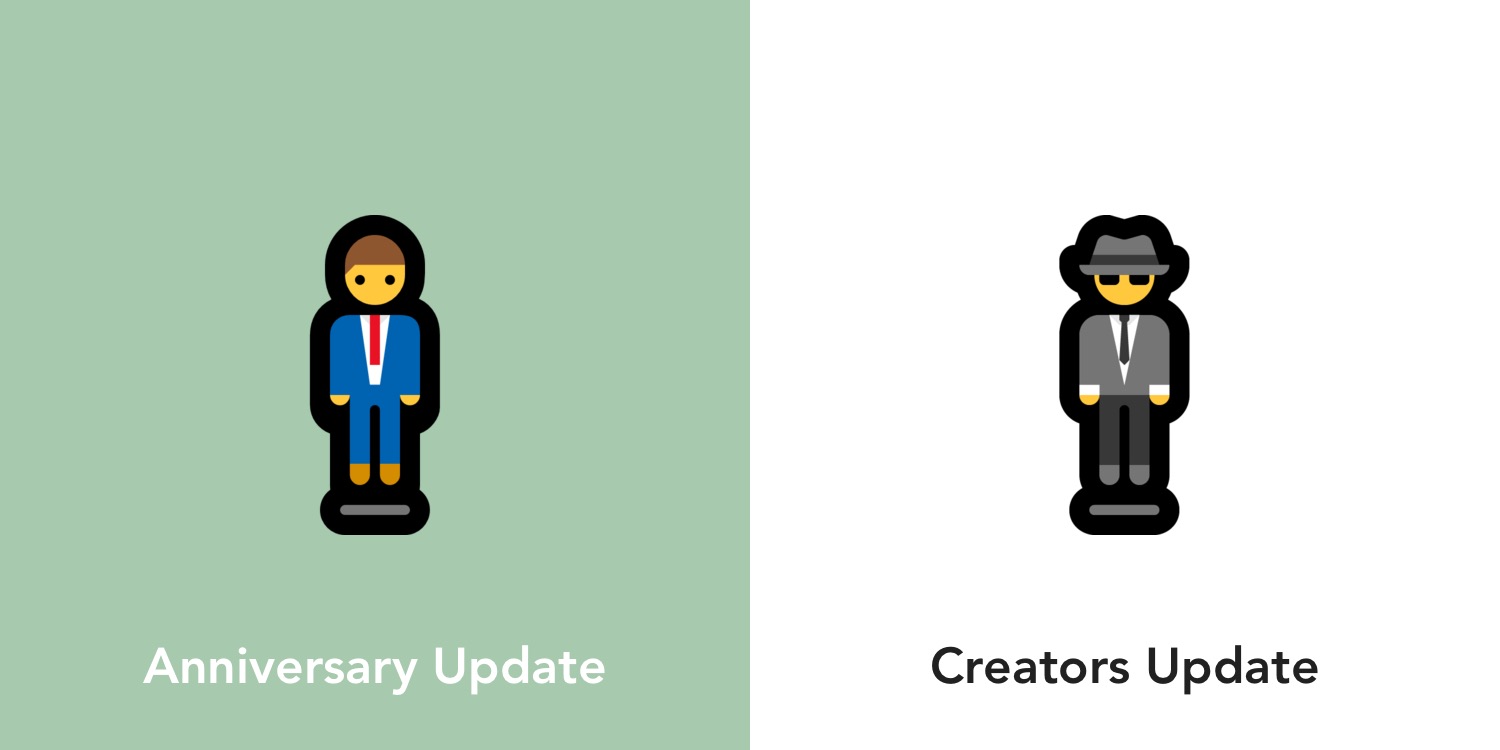 💆 Person Getting Massage shows sleeves on the descending hands, and the skin tone variants no longer change the skin tone of the masseuse as well: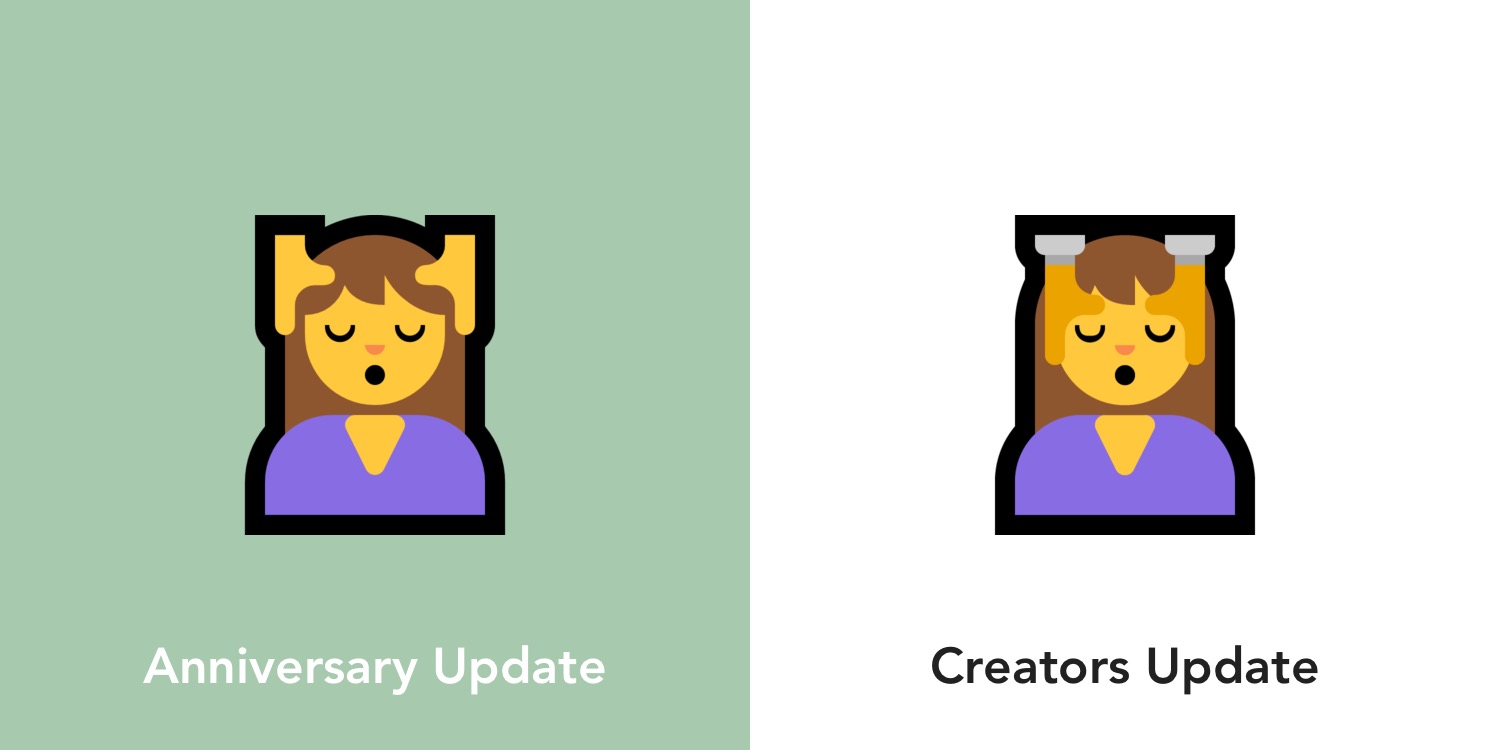 📣 Megaphone is now white with a red stripe: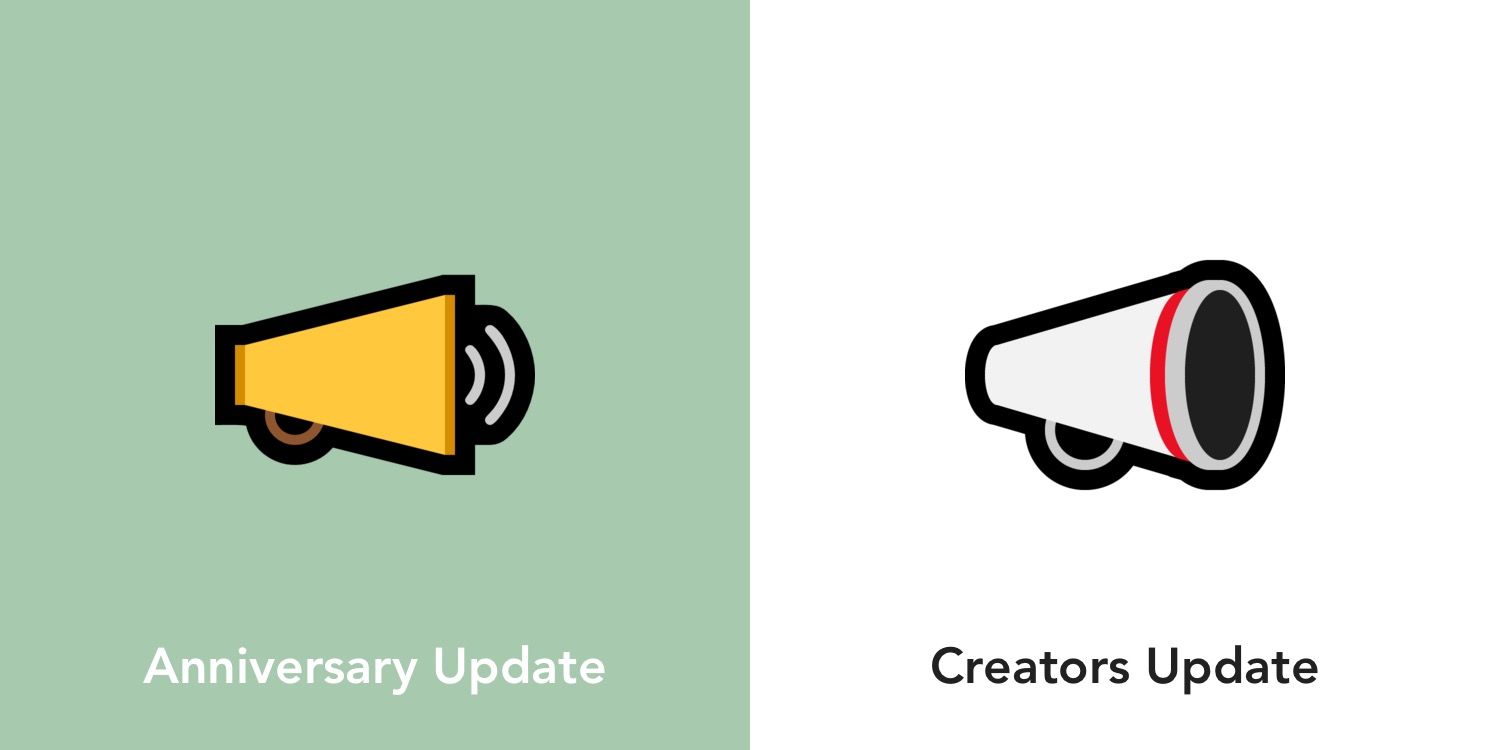 🍾 Bottle With Popping Cork now faces left, which is consistent with other platforms: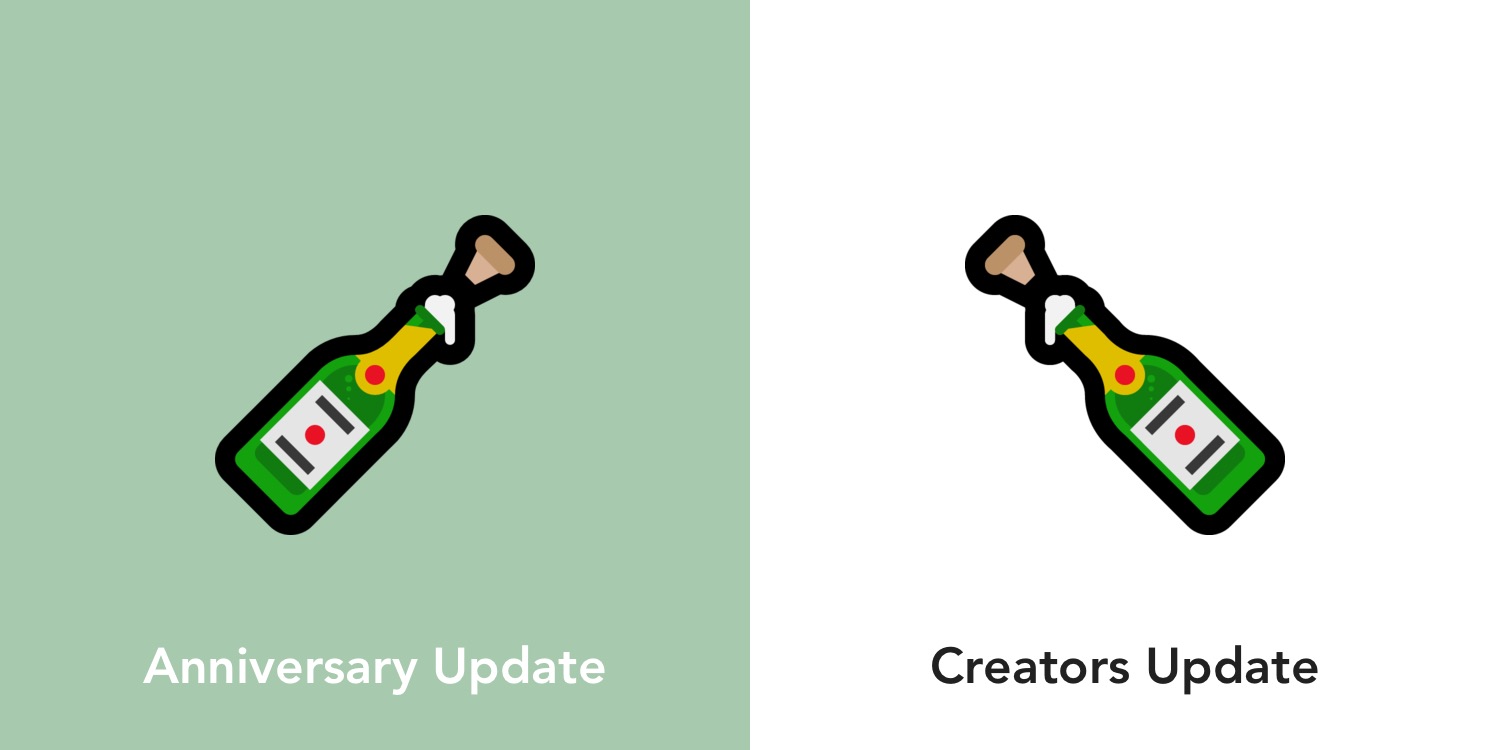 🤰 Pregnant Woman no longer displays arrows pointing to the pregnant belly: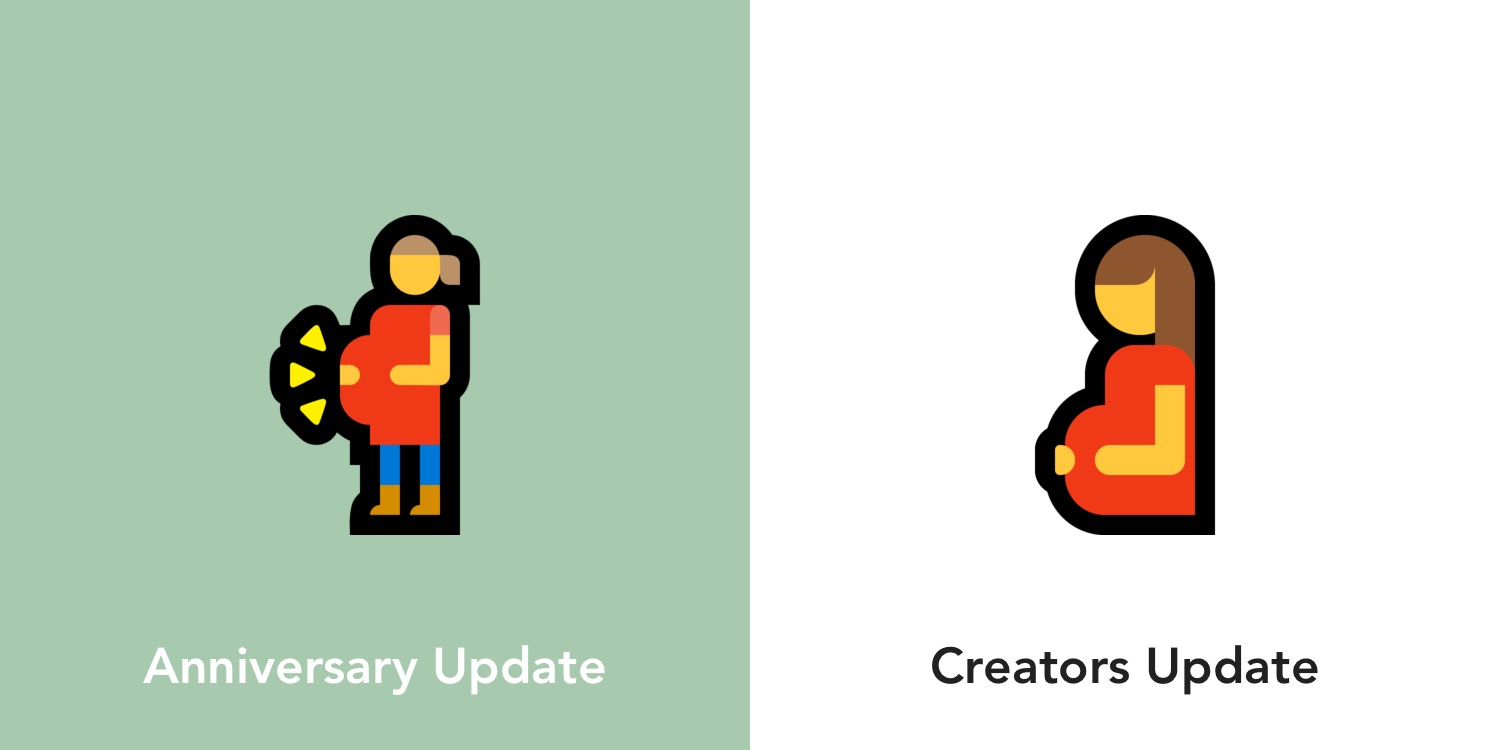 🚣 Person Rowing Boat features a more styled haircut: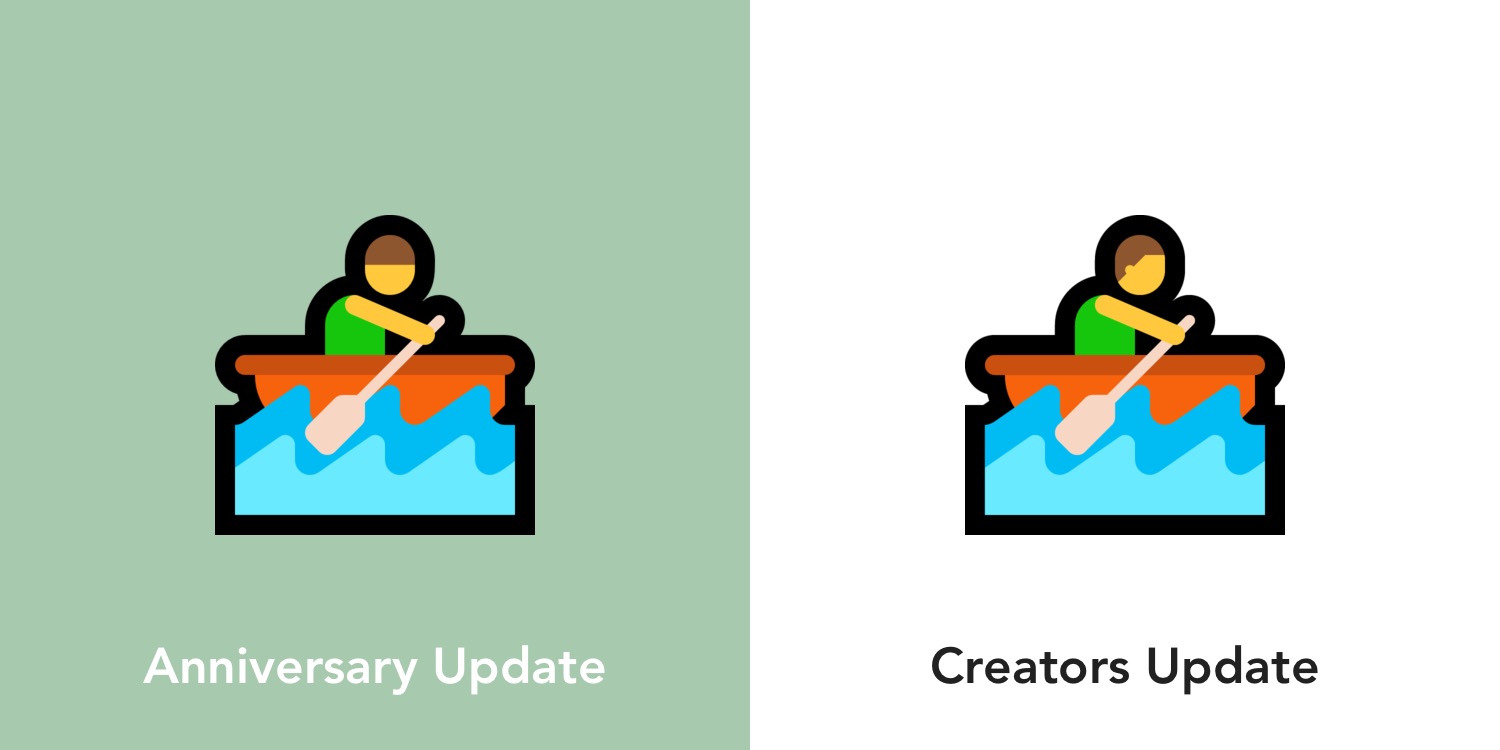 🏃 Person Running has a haircut, and lost an eye: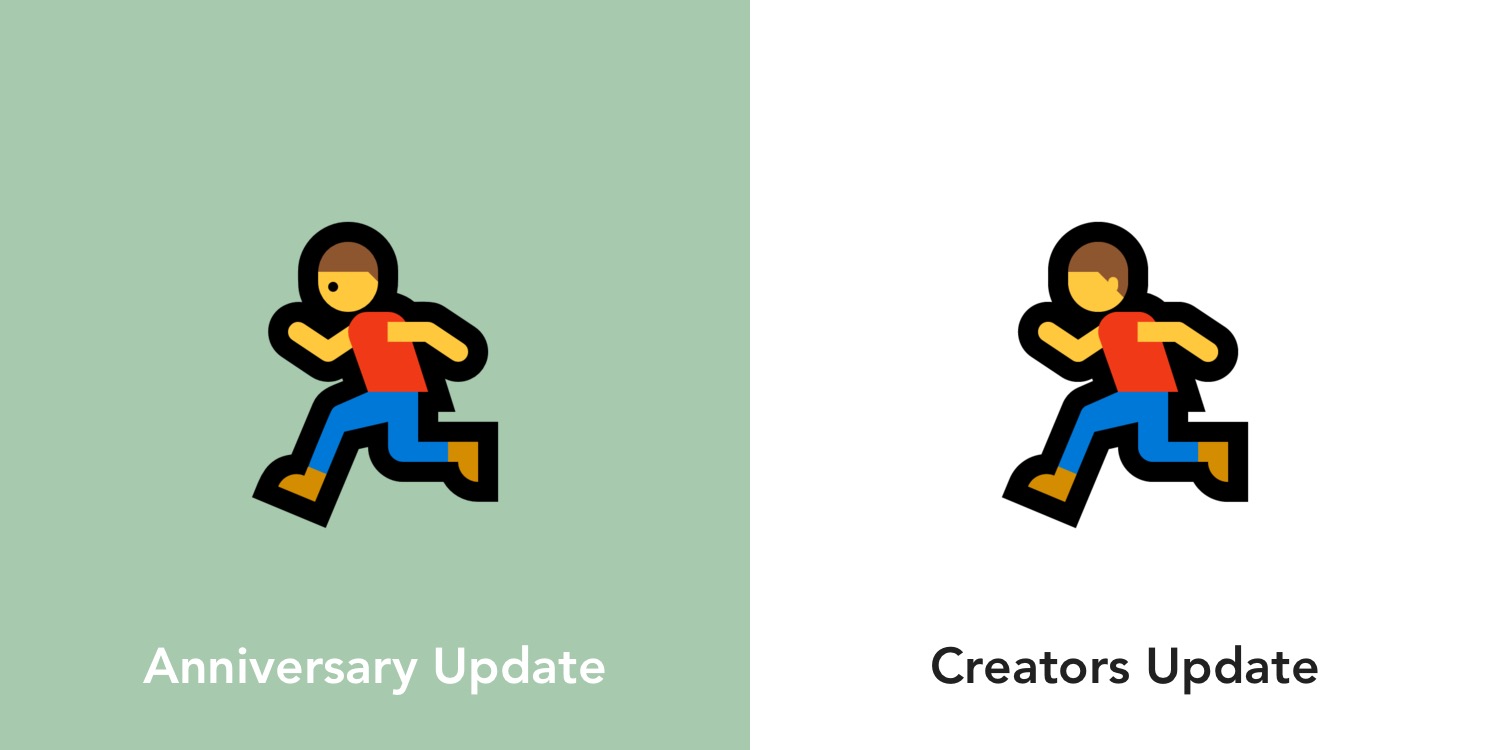 ❄️ Snowflake displays with six sides, as nature intended: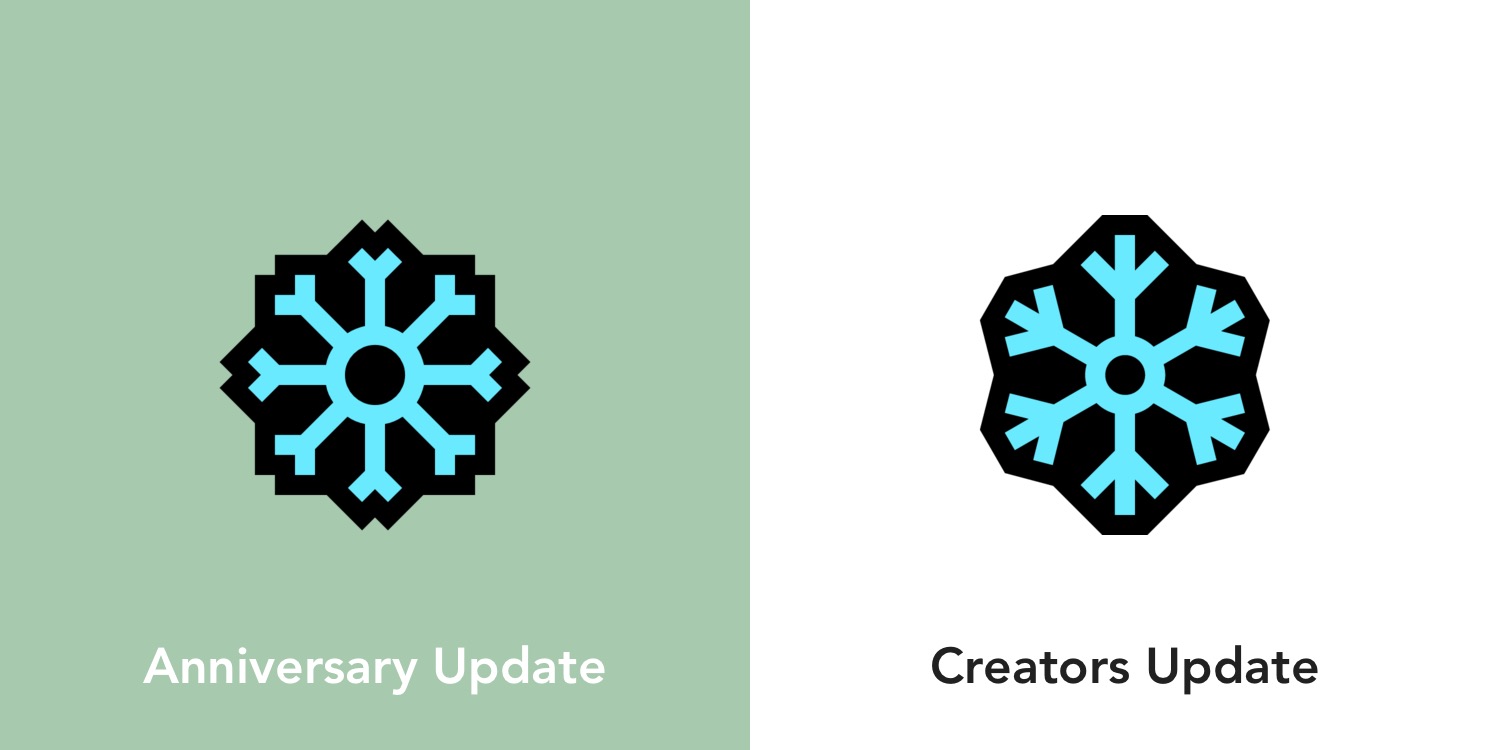 🏄 Person Surfing lost the wild hairstyle, and switched a wetsuit for board shorts: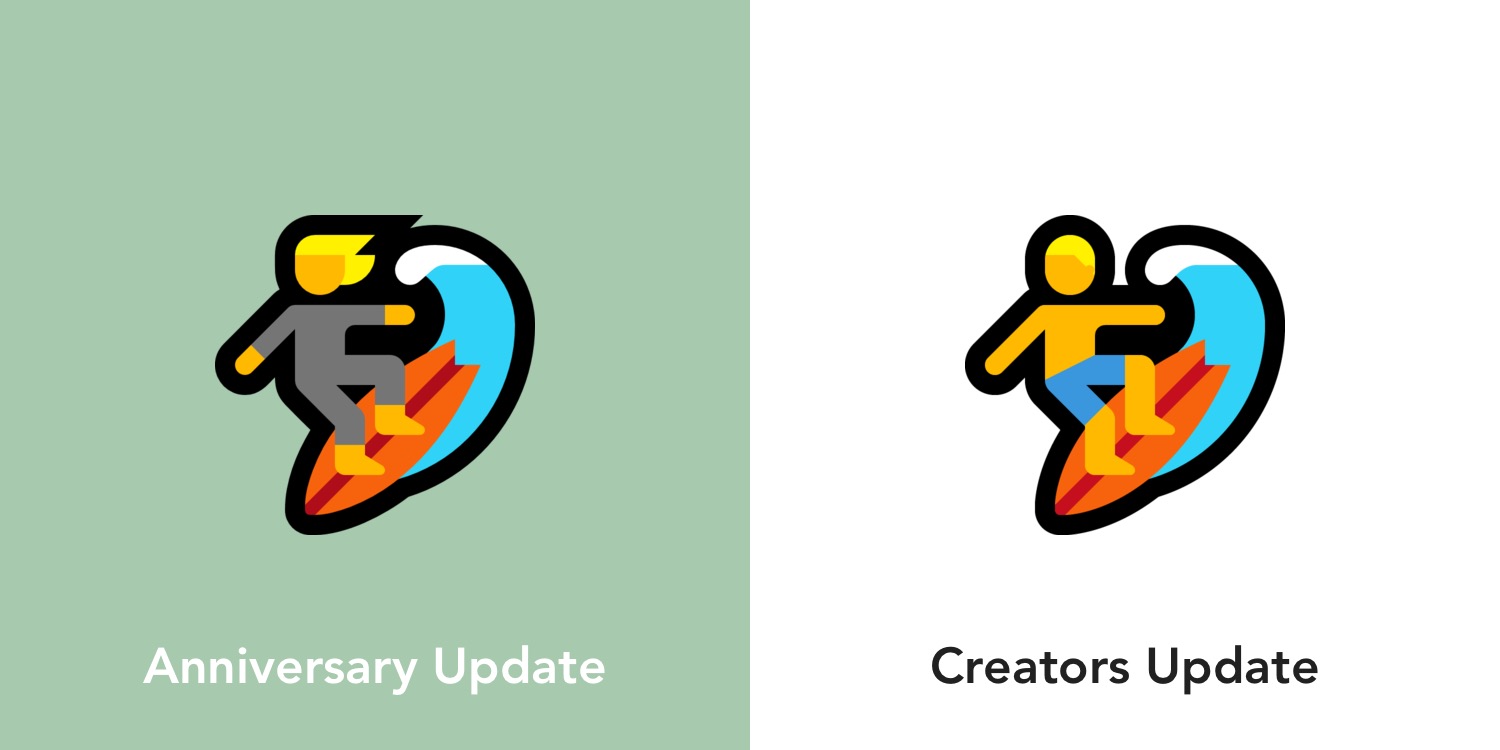 💦 Sweat Droplets (originally called "Splashing Sweat Symbol") have a gentler, curvier display: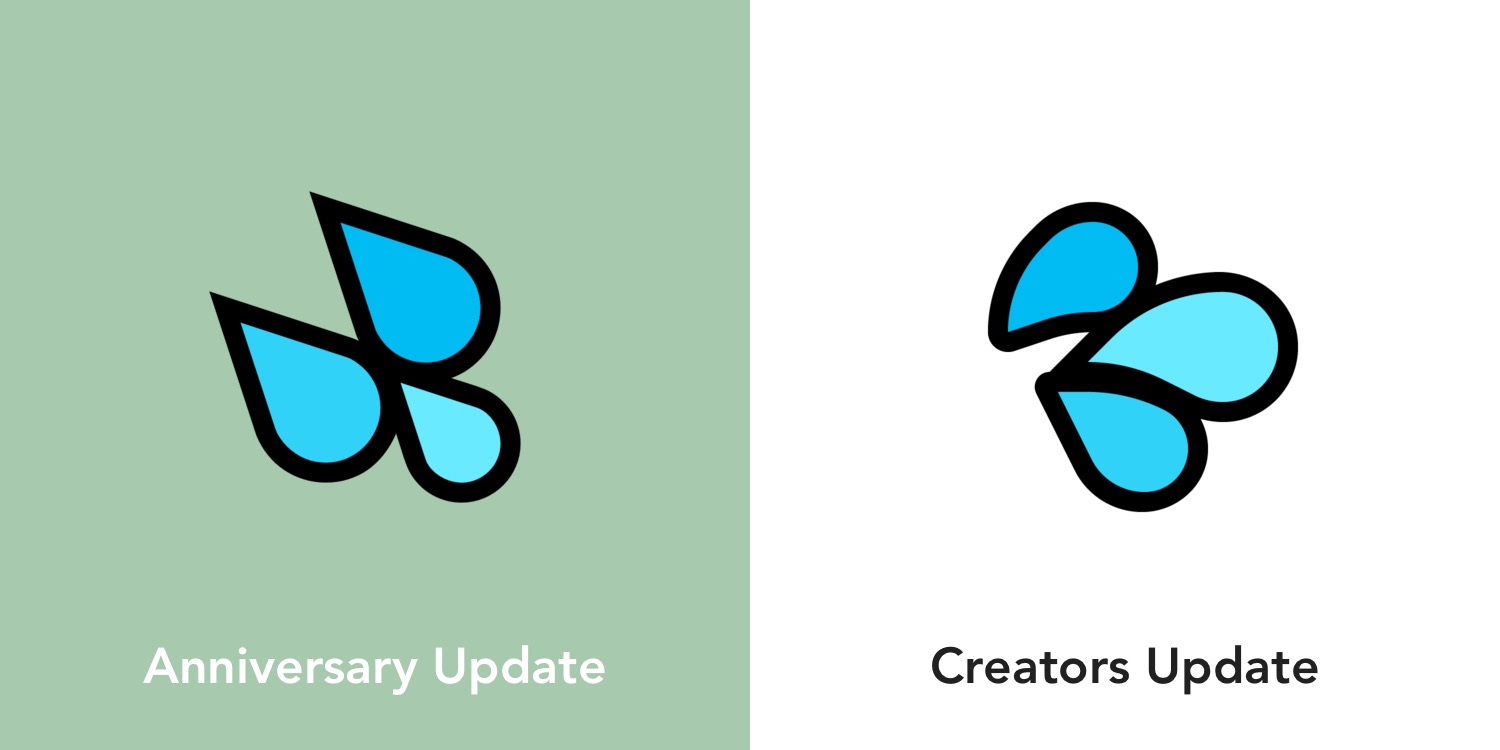 🏊 Person Swimming got some goggles: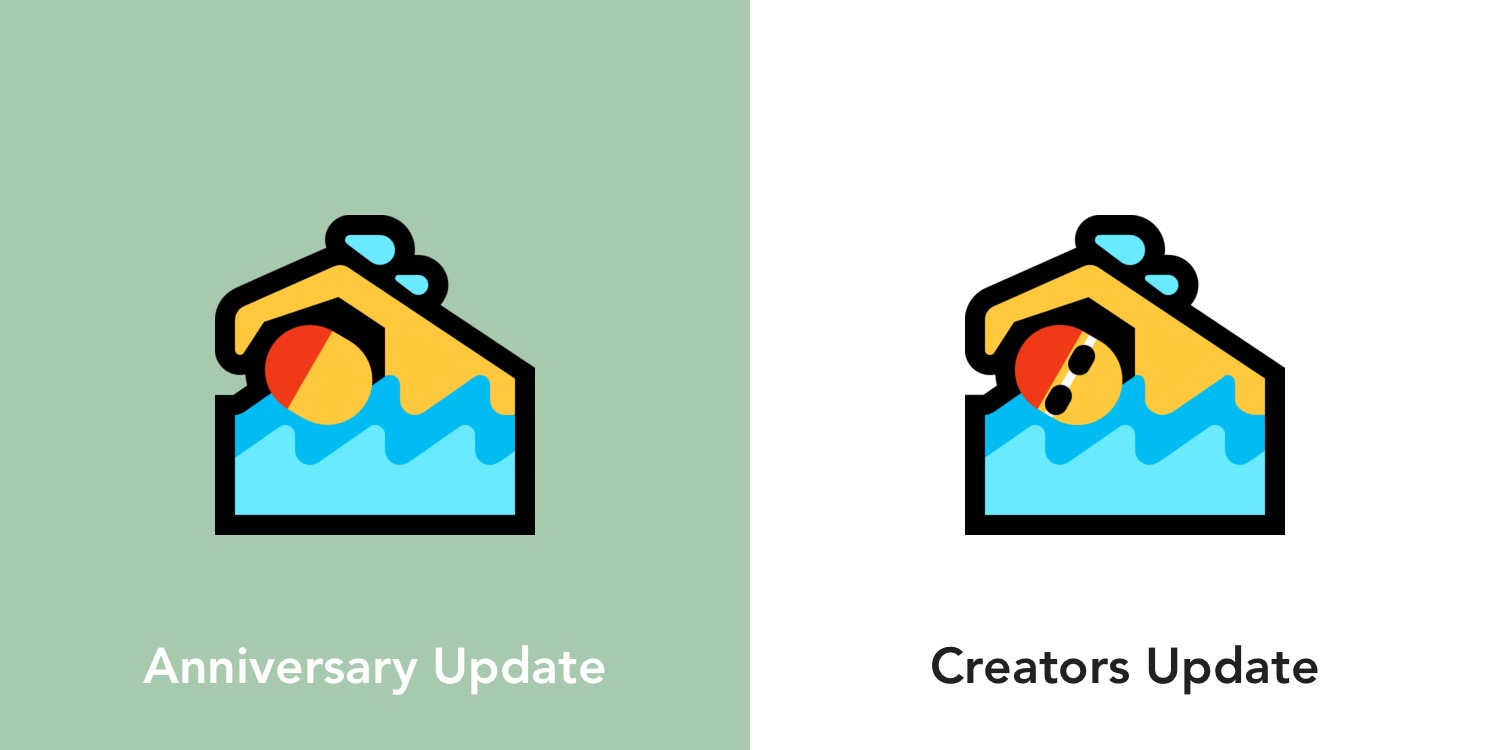 👳 Person Wearing Turban has grown a beard: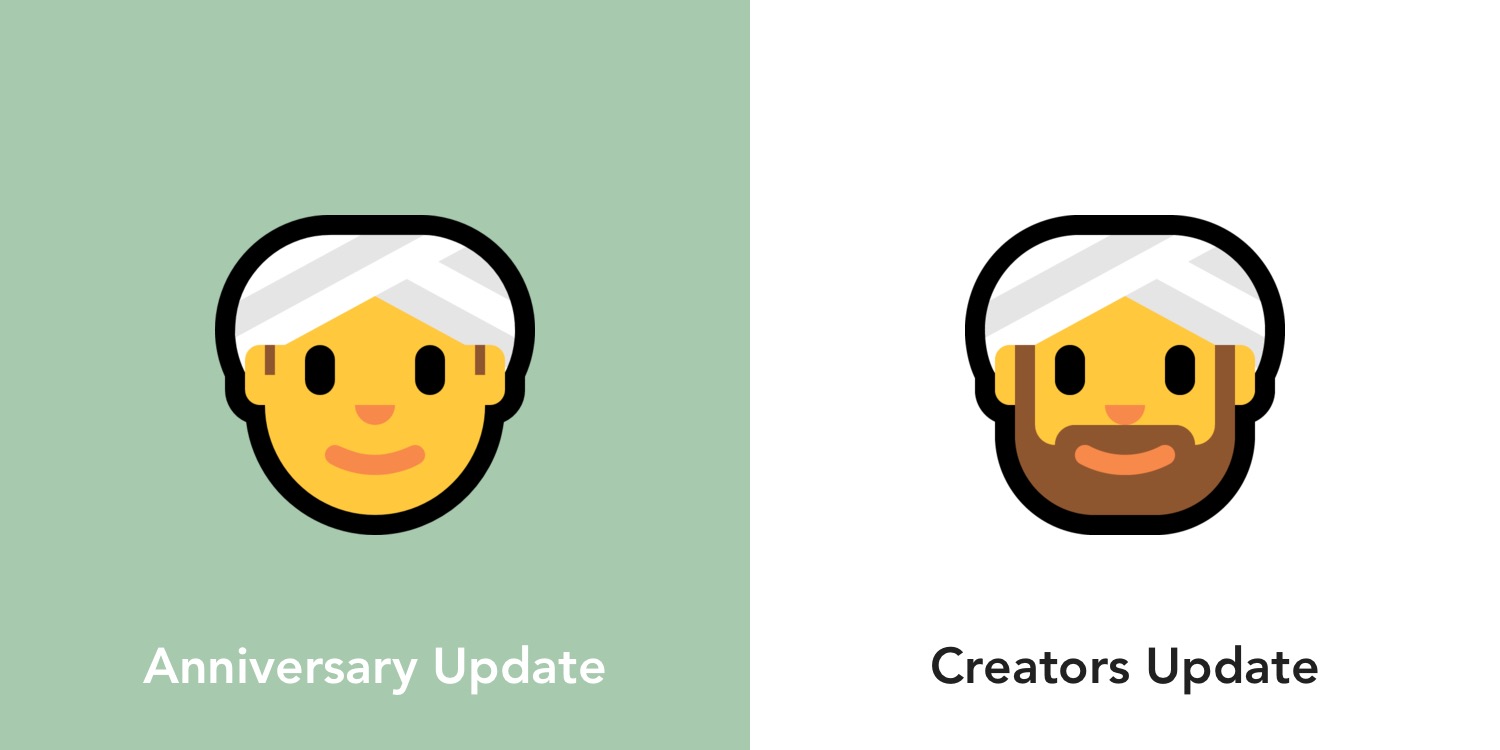 ♿ Wheelchair Symbol has a more active appearance, as promoted by The Accessible Icon Project: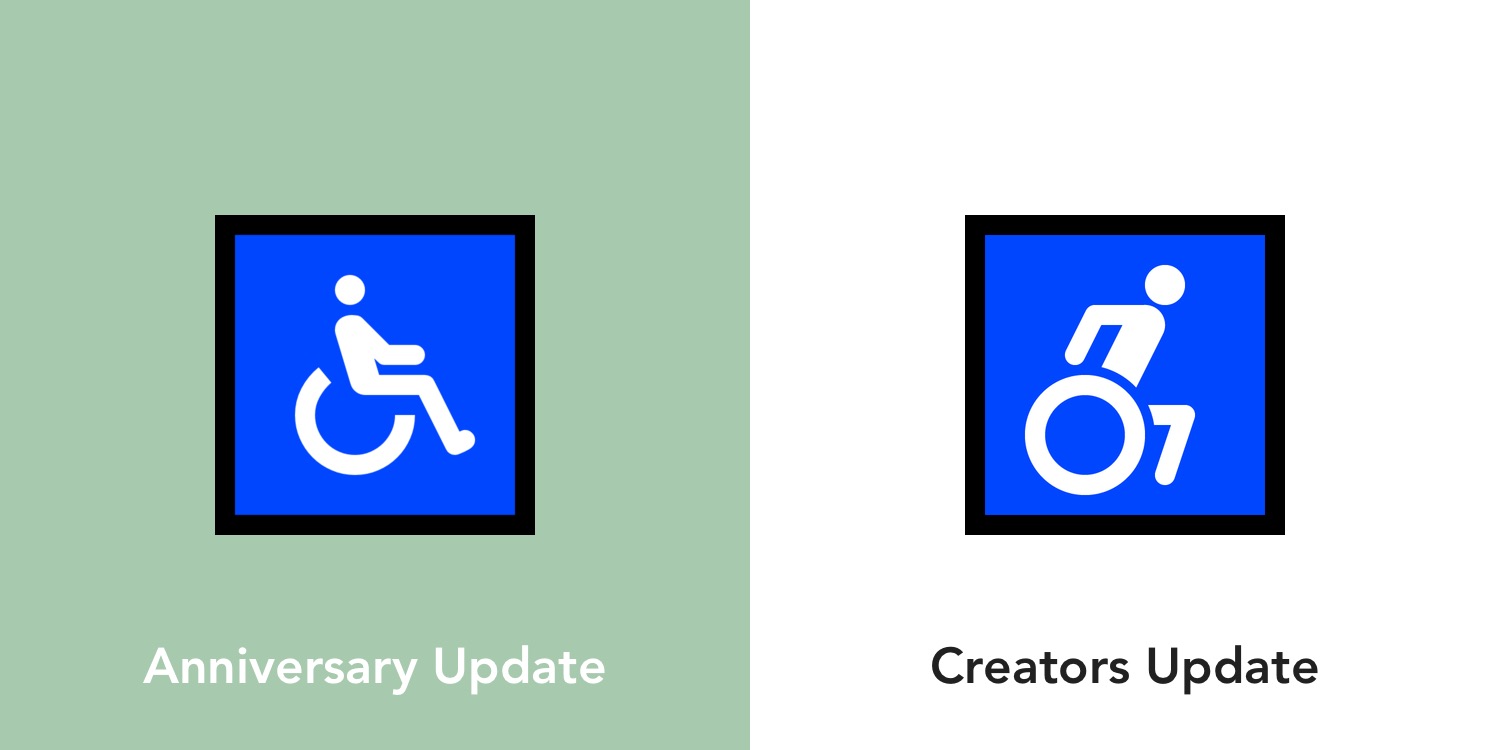 View every emoji that changed in Windows 10 Creators Update.
Omitted
As with all past Windows releases, emoji flags are not supported in this update.
This extends to the new 🇺🇳 Flag for United Nations where only the letters UN are shown.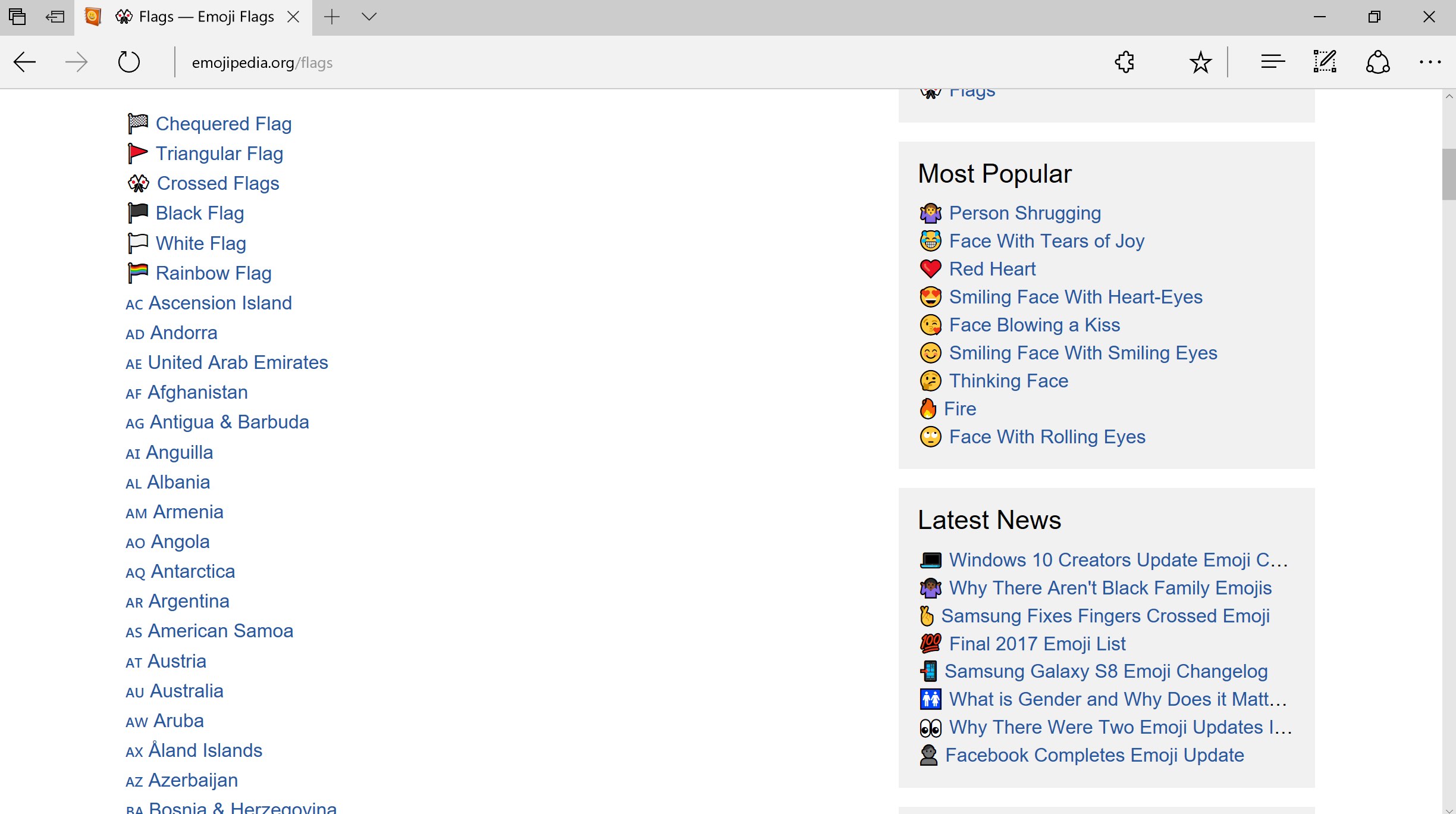 Above: Windows 10 does not support images for country flags. Other (non-geographic) flags are supported.
Release
These emoji updates are coming to all Windows 10 users from today: April 11, 2017.
Windows Phone users will begin receiving this update from April 25, 2017.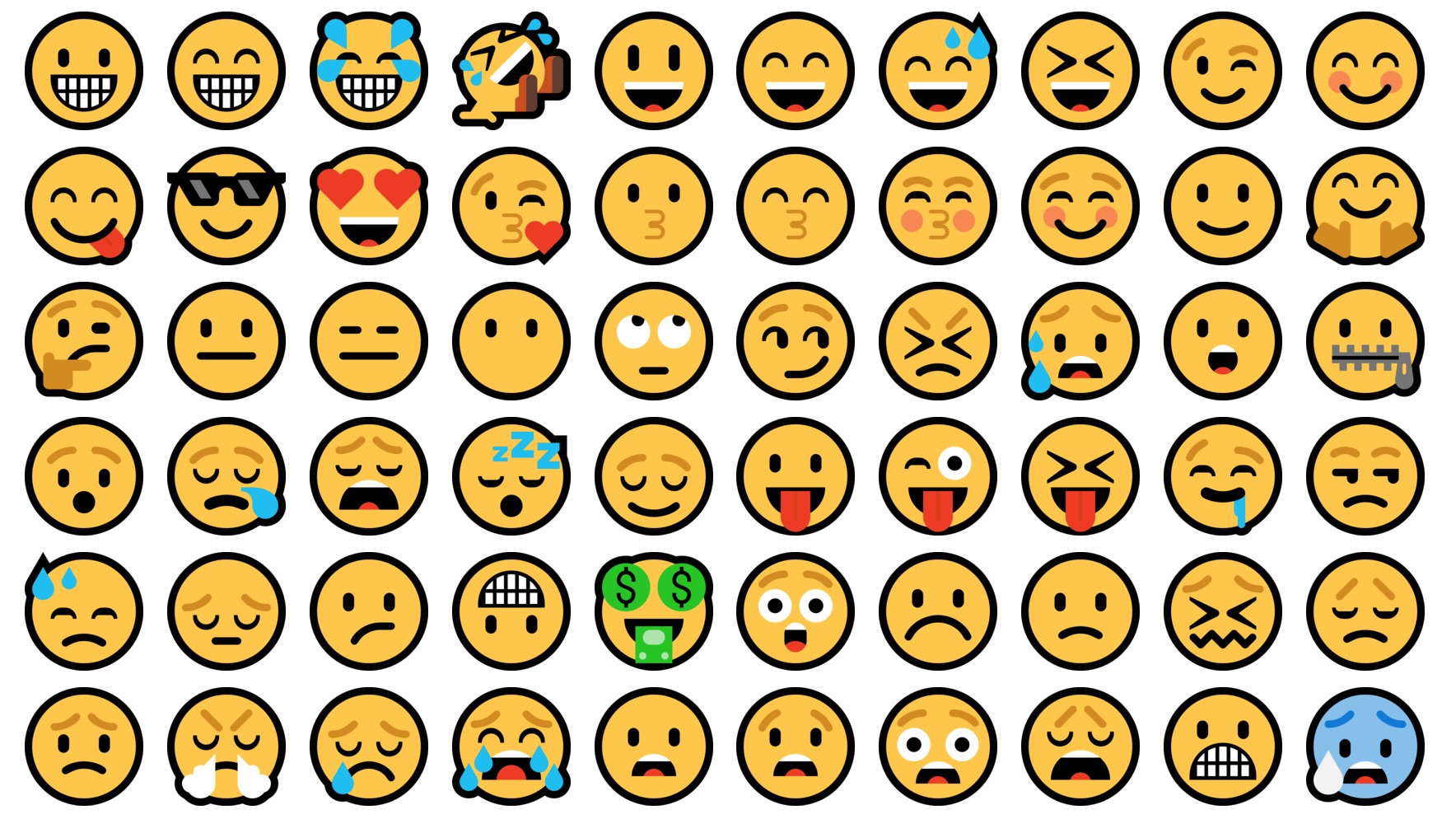 Don't Miss Out
If you enjoyed this changelog for Windows 10 Creators Update, you may also want to sign up for our free, monthly email to keep up with the latest emoji news:
👇 Sign up here 👇
---
---
Actually, there are a few more Unicode characters that support emoji presentation on Windows which we don't list on Emojipedia. ↩︎

There are exceptions such as Pregnant Woman. ↩︎

Even on the latest release of Windows, this may or may not appear, depending on which browser you are using. Edge seems to default to the black and white Segoe UI Symbol font, while Firefox recognizes an emoji and uses the color font. More testing needed here. ↩︎