Windows Adds Emojis For Interracial Couples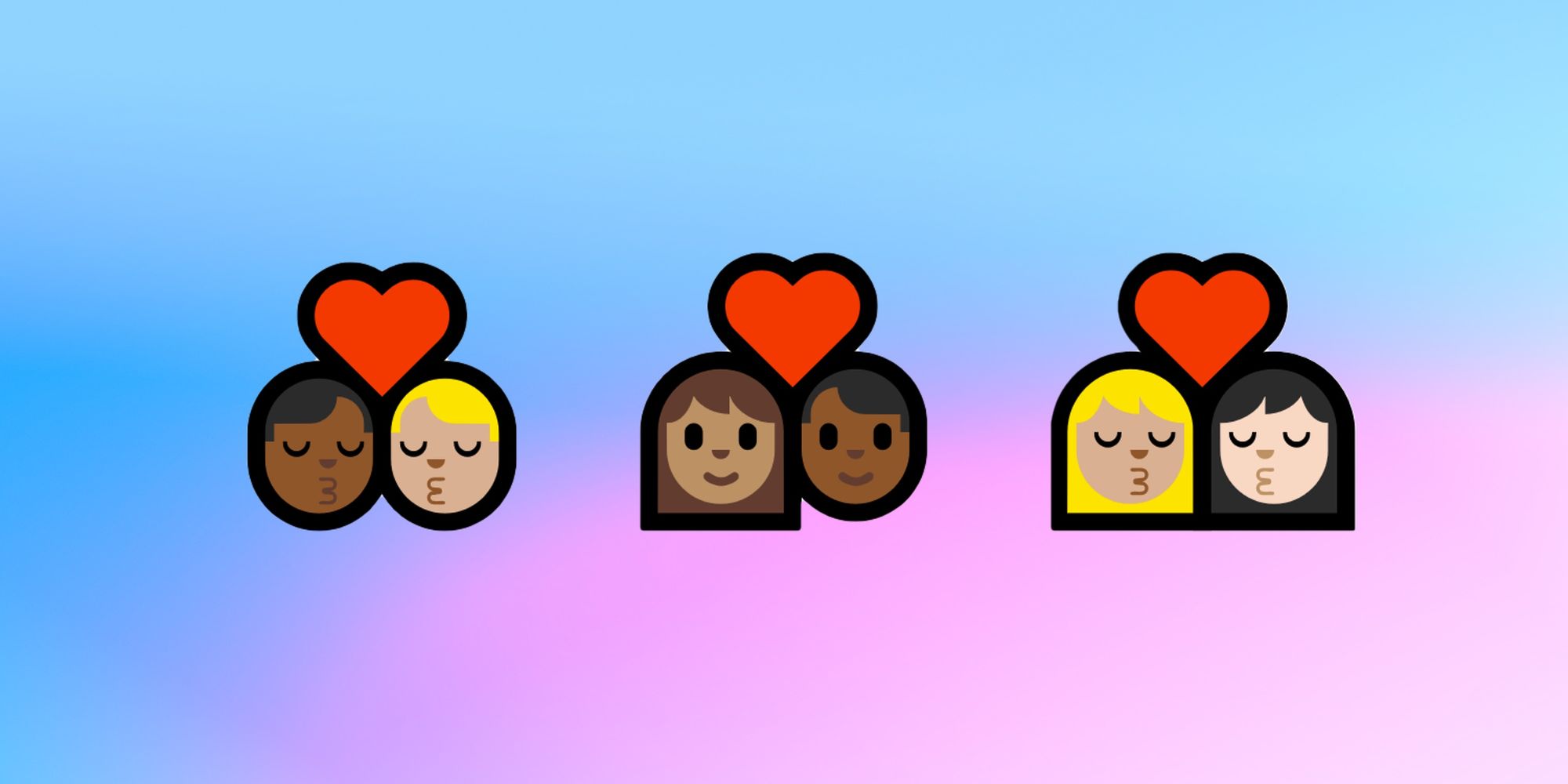 Buried within Microsoft's latest Windows 10 Insiders build is an emoji update which adds the 🏳️‍🌈 Rainbow Flag emoji, genders, professions, and in a first of any major platform — interracial couple emojis.
Until now, all platforms have only supported the default-yellow skin tone for 👩‍❤️‍👨 👨‍❤️‍👨 👩‍❤️‍👩 Couple With Heart and 👩‍❤️‍💋‍👨 👨‍❤️‍💋‍👨 👩‍❤️‍💋‍👩Kiss.
While the current yellow skin tone is intended as a "non-human" default skin tone, it's clear that some users see this as a defacto white skin tone.
As such, the issue of emojis for interracial couples or couples with darker skin tones has been ongoing one, that Microsoft appears to be addressing in this update.


Interracial Couple Emojis are coming to Windows 10 Creator's Update.
New emojis are supported within Windows 10 Insiders build 15002, which means they should be available for the general public as part of the Windows 10 Creator's Update in the coming months.
As the built-in emoji keyboard has not received any updates, the only way to access these new emojis in the current build is via copy and paste.
Implementation
The new interracial couple emojis are implemented in the same way Microsoft added diverse families to Windows 10 Anniversary Update: using Emoji ZWJ Sequences.
ZWJ sequences are already in use for many emojis, for example the 👩‍❤️‍👩 Couple With Heart (Woman, Woman) emoji is glued together using these characters on all platforms:

This update from Microsoft differs from all other platforms in that each person in the couple (man or woman) supports skin tones.
The same rules as any other ZWJ sequence applies, and this is what is behind an interracial couple emoji: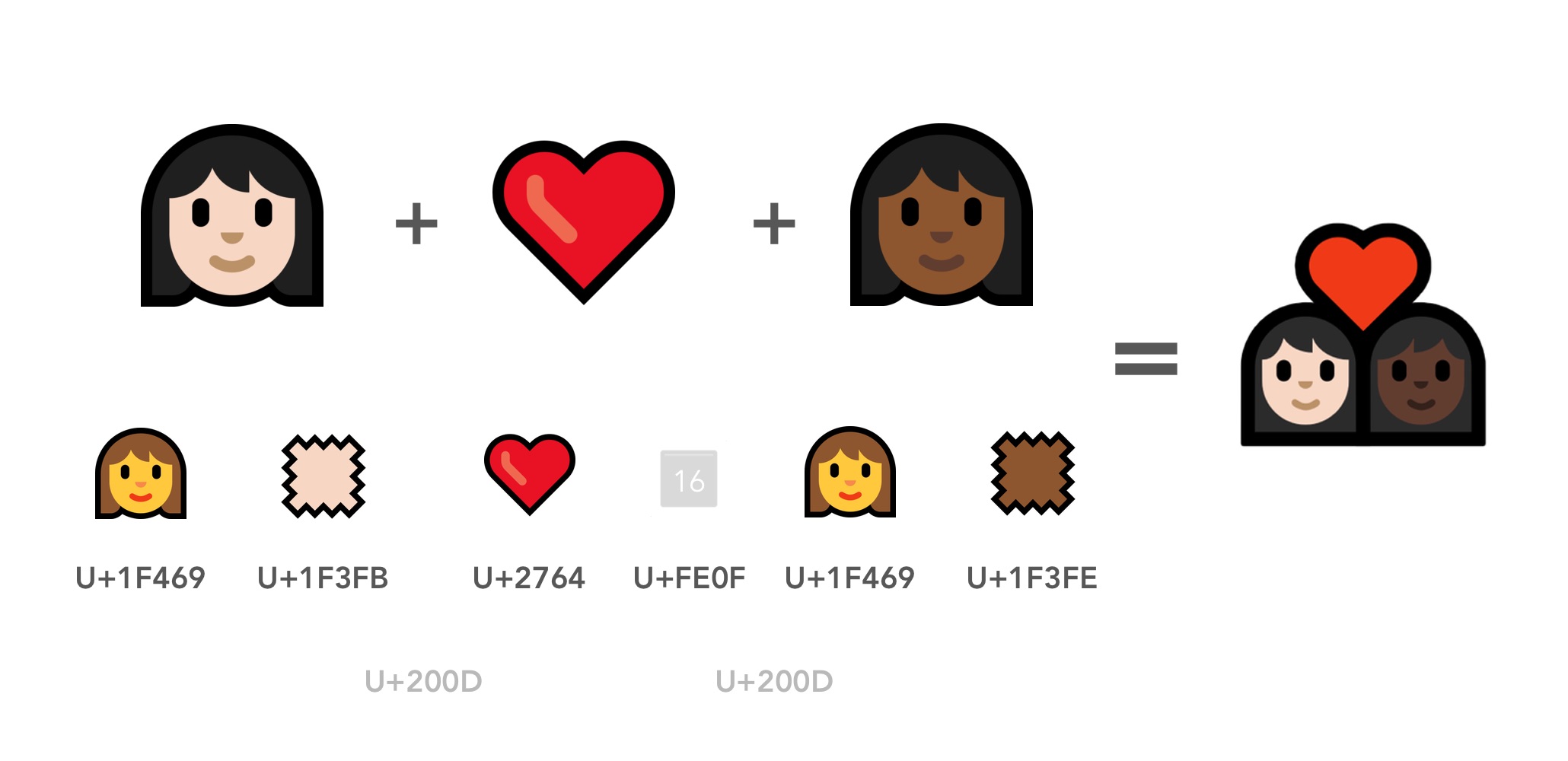 In total this change adds 144 new emojis. Each of these combinations are supported:
👨 Man + 👨 Man
👨 Man + 👩 Woman
👩 Woman + 👨 Man
👩 Woman + 👩 Woman
Either person can have one of six skin tones (default + five skin tone modifiers), and man/woman can be shown on the right or left.

*Above: How a ZWJ Sequence is created.*
Backward Compatibility
Unicode provides support for vendors to implement Emoji ZWJ Sequences without prior approval needed.
Thankfully, Emoji ZWJ Sequences degrade gracefully on other systems, and the result of sending one of these emojis to an unsupported would be the display of each individual emoji.
Here is a list of sample combinations:
👩🏼‍❤️‍👩🏽
👩🏾‍❤️‍👨🏻
👨🏾‍❤️‍👨🏿
👨🏼‍❤️‍👩🏻
👩🏽‍❤️‍👨🏾
👨🏼‍❤️‍👨🏻
👩🏻‍❤️‍👩🏿
👩🏽‍❤️‍💋‍👨🏻
👨🏾‍❤️‍💋‍👨🏼
👩🏼‍❤️‍💋‍👩🏻
How the above list looks on various platforms: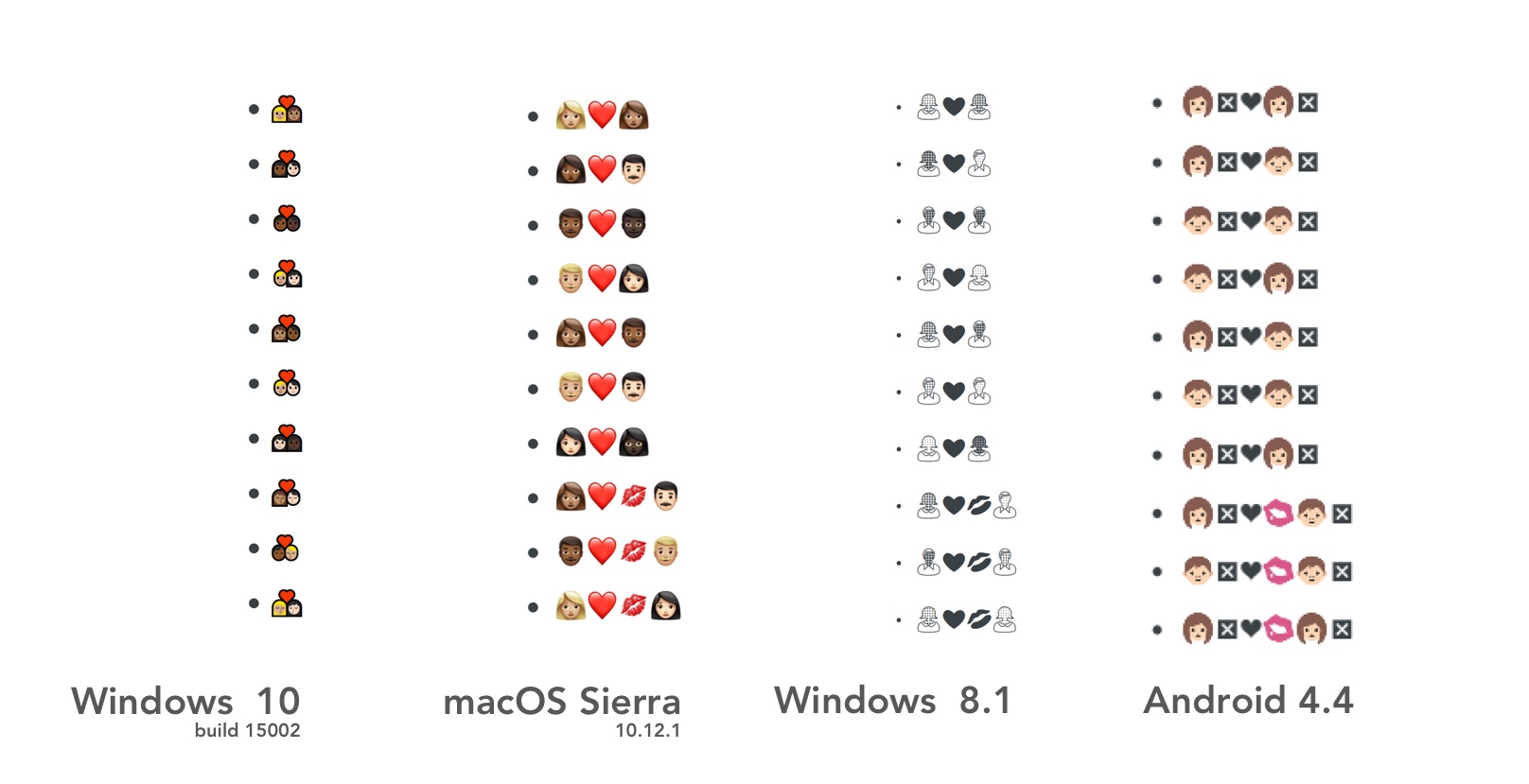 As these have not been documented within the Unicode Standard, it's unlikely they will see support from other vendors at this stage.
Implementing this many variations presents challenges for user interface, and on systems with bitmap emoji images like iOS, a technical challenge too.
What's Else
As per Emoji 4.0 every[1] emoji that has a gendered appearance now has a female and male version.
The gendered additions range from 🏃 Runner to 🙍 Person Frowning.


Above: Female Runner joins and Man Frowning are new on Windows.
16 new professions are all included, each with a male and female counterpart. These include jobs such as a 👩‍🔧 Mechanic, 👨‍🔬 Scientist, or 👩‍🎤 Singer:[2]

Each emoji profession is a Emoji ZWJ Sequence which combines a Person (👨 Man or 👩 Woman) with an Object (eg 🔧 Wrench for Mechanic, or 🔬 Microscope for Scientist) to display a single emoji.
Input
In fact, the emoji keyboard currently looks and works the same as it did in the Windows 10 Anniversary Update:

None of the new emojis appear on the keyboard, and no improvements have been made to the interface presented.
There are improvements to emoji insertion for users of the Pinyin (Chinese) input, which look to be promising:
For those unfamiliar w/ typing in Chinese, here's a short gif using the 🆕 Pinyin IME emoji prediction & CTRL+Shift+B hotkey #WindowsInsiders pic.twitter.com/lCRN7iAoWW

— Jen Gentleman 🌺 (@JenMsft) January 15, 2017
In my testing, this was rather confusing to setup, and clearly not intended as a primary input for English, non-touch screen devices.
However for users of Pinyin input, the new emoji shortcut of Ctrl-Shift-B which brings up this panel is considerably faster to use than the touch keyboard interface: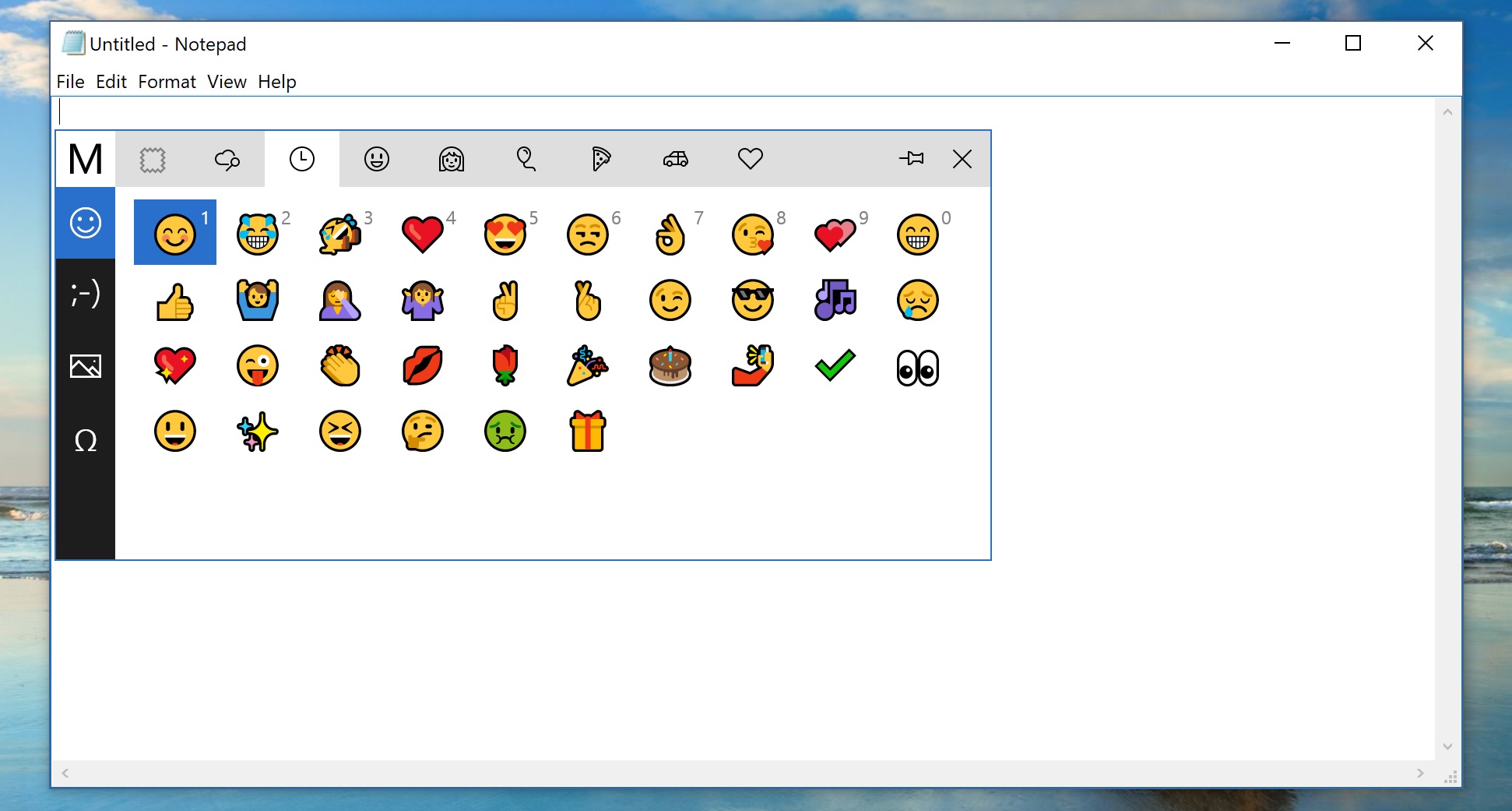 I suspect this UI may form the basis of a new emoji input for all users in future. This is purely speculation, but it's clear the keyboard UI isn't suited to emoji insertion on the desktop.
As the Pinyin IME also show stickers and kaomoji (which aren't available anywhere for non-Chinese language users) it's possible that this could lay the groundwork for a better emoji picker for other users in a future release.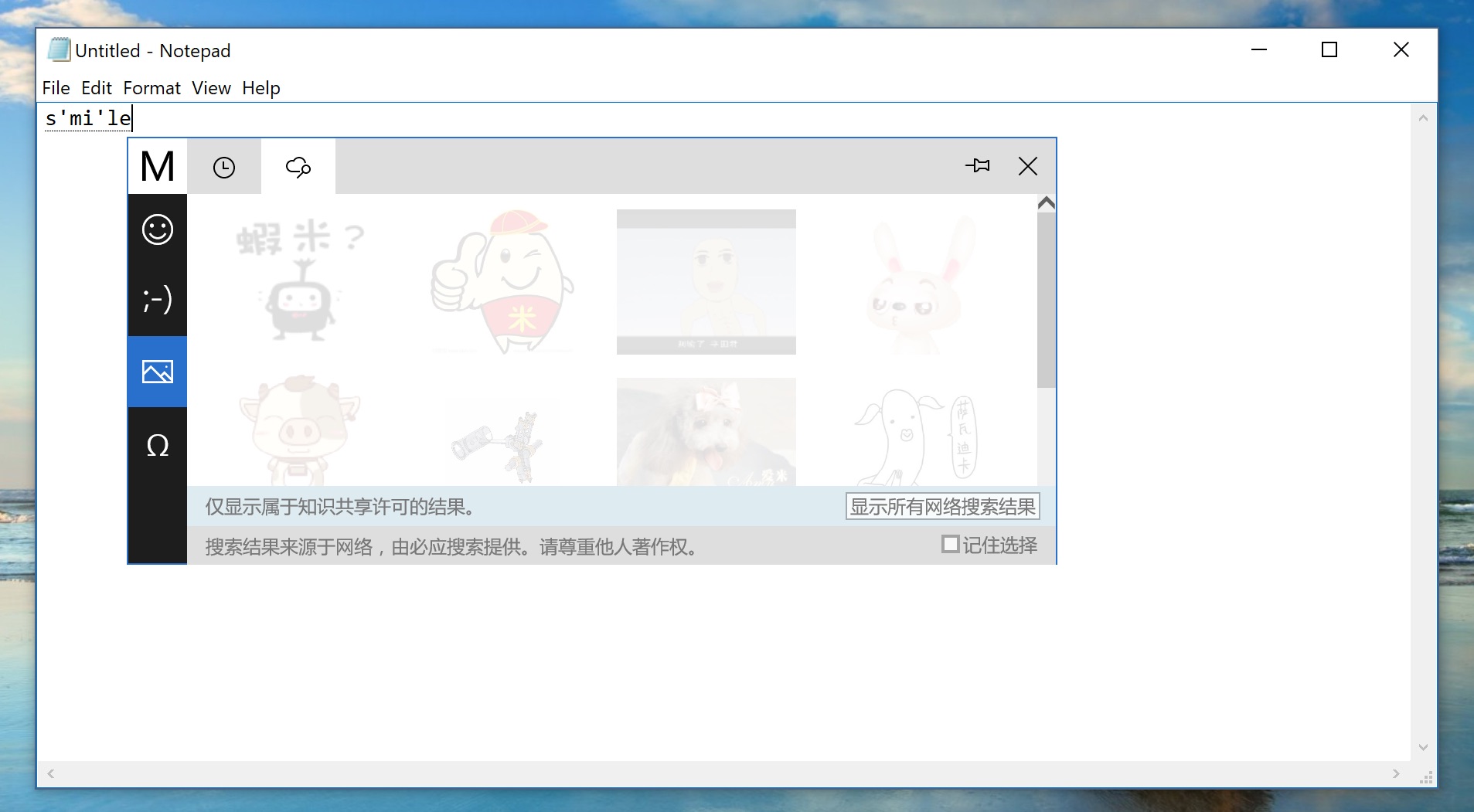 Above: Stickers have come to Windows, but only for some users.
Release
As with all preview builds, issues may be present, and all emojis are subject to change prior to the final release.
I did come across some bugs in emoji rendering, and ongoing lack of color emoji support in many parts of the OS. Those will be more notable if still present in the final release.
Windows 10 Creator's Update, is scheduled for release in Northern Hemisphere Spring (March-May 2017).
Related
Don't Miss Out
We can't all spend our days here on Emojipedia. Sign up for our free, monthly email to keep up with the latest emoji news:
👇 Sign up here 👇
---
---
Nearly every gendered emoji gets a pair. Some are excluded such as 🤰 Pregnant Woman and 🤵 Man In Tuxedo, as per Unicode documentation. ↩︎

Both the man and woman singing have a Bowie-like lightning bolt on the face, as first implemented by Google, and also added by Apple in iOS 10.2. ↩︎