Twemoji 2.6 Emoji Changelog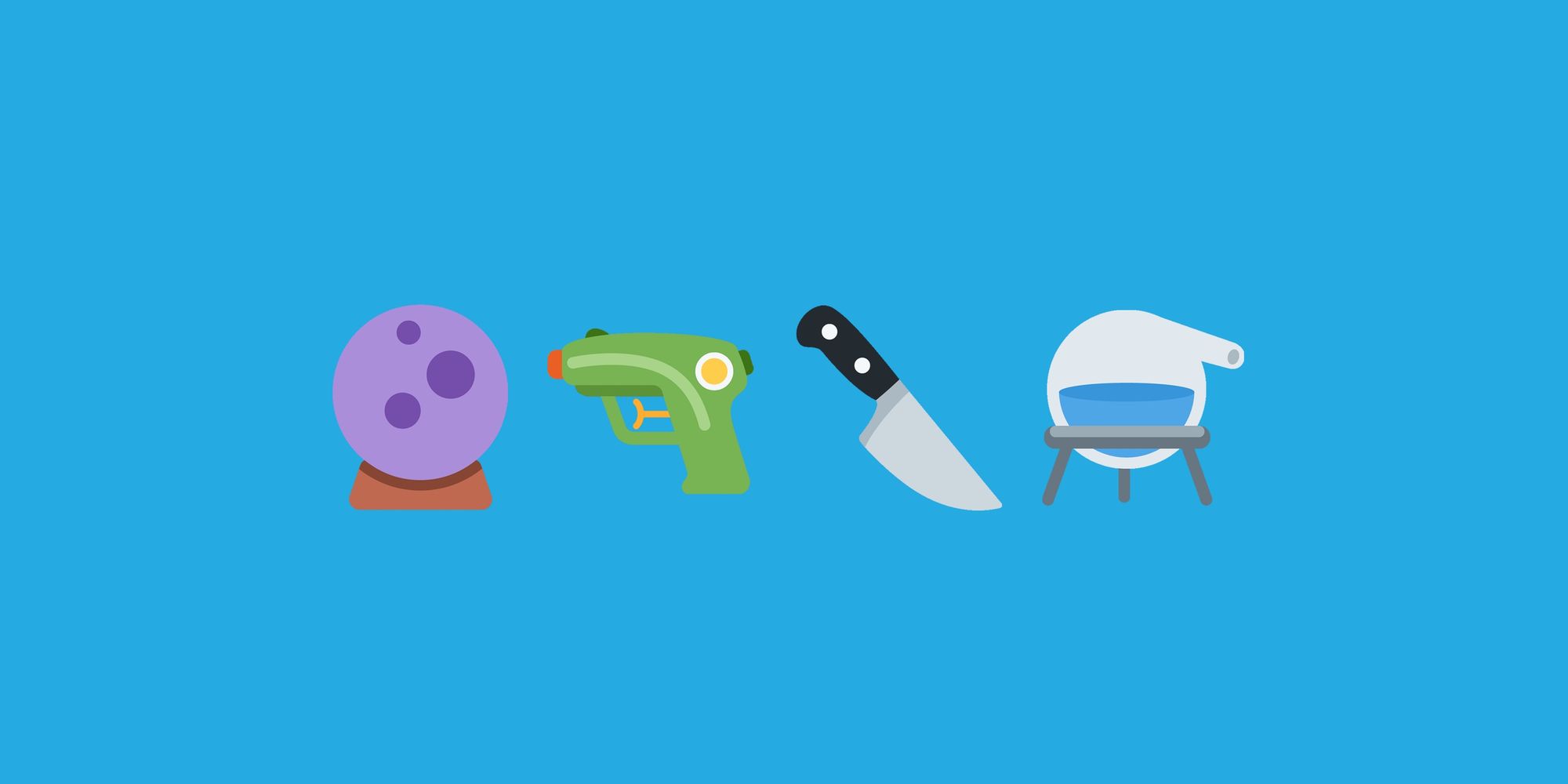 Roughly two months since making a series of small design changes via its Twemoji 2.5 update, Twitter has today begun the rollout of Twemoji 2.6.
Akin to the latest release, this update features no new emojis: Twitter has been fully up-to-date with Emoji 5.0, the latest emojis to be fully sanctioned by the Unicode Consortium[1], since May of 2017[2].
A total of ten different emoji designs have been tweaked in this update. While most of these changes range from minor to miniscule, one is quite significant: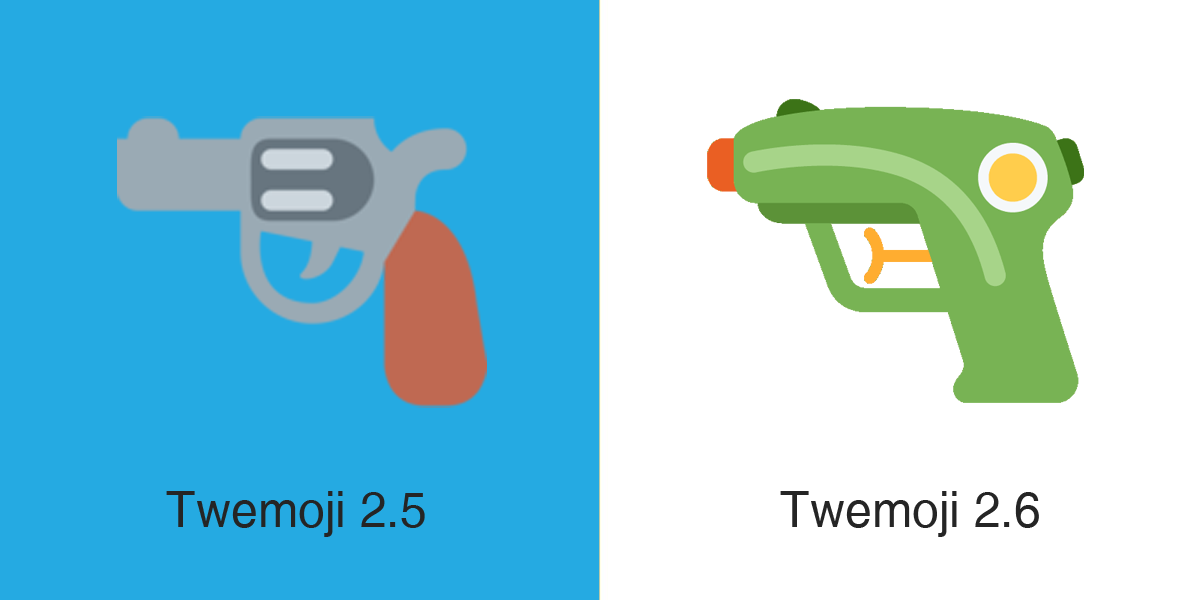 Yes, Twitter has altered its 🔫 Pistol emoji design away from a realistic revolver towards that of a plastic squirt gun. This update echoes the change made by Apple in 2016, which has since been followed by WhatsApp and, more recently, Samsung.
It certainly seems like the days of realistic gun emoji designs are numbered, and it's quite likely that other vendors may follow suit in the near future. Maybe 2018 will indeed be the year of emoji convergence.
While significantly less dramatic than the gun, the 🔪 Kitchen Knife has also received some notable modifications.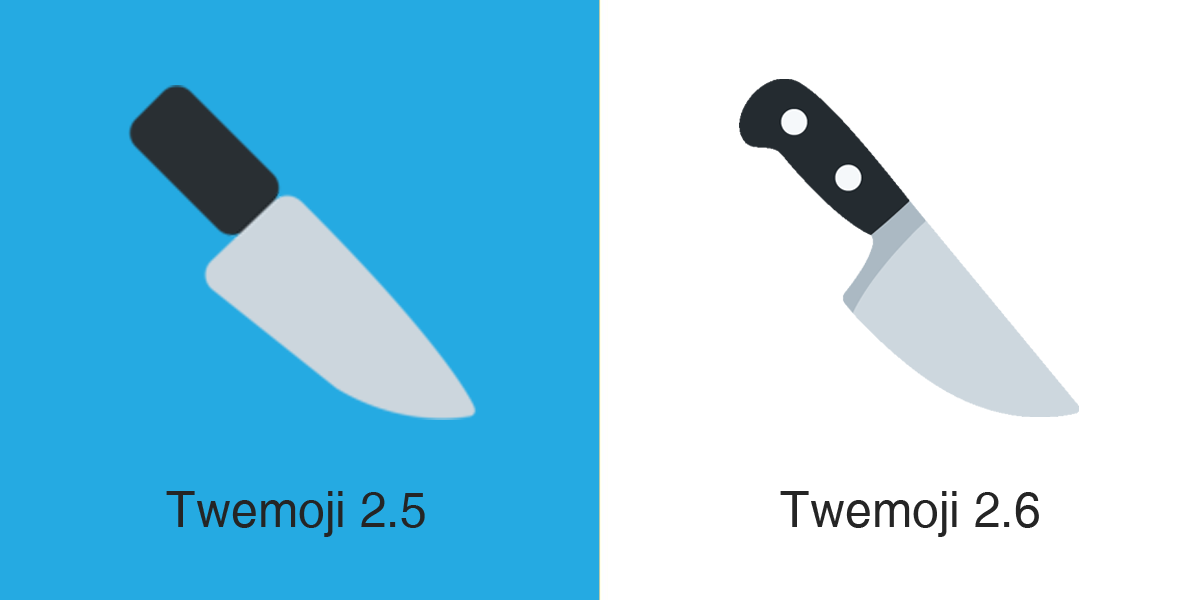 The blade is now more curved and features a dark grey bolster at the top of the handle. The handle itself has also been curved and now featured two metal rivets. Overall this results in the blade looking more clearly like a chef's knife[3].
Next, the 🔮 Crystal Ball has had its stand modified to have triangular curvature and no longer obscure the bottom of the violet glass sphere.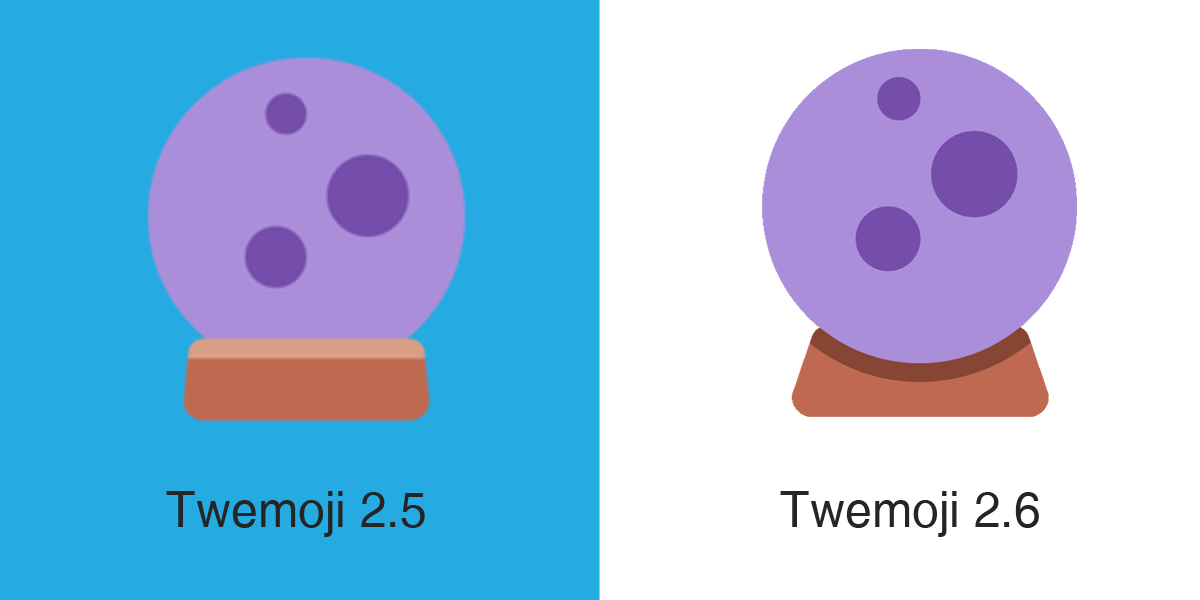 The water within the ⚗️ Alembic is slightly darker and features an additional shade on its surface. The centre leg of the metal frame is also shown as being behind the glass, as opposed to in front of it, with the frame also darkened. There is also a small grey opening featured at the end of the glass vessel's downward pointing neck.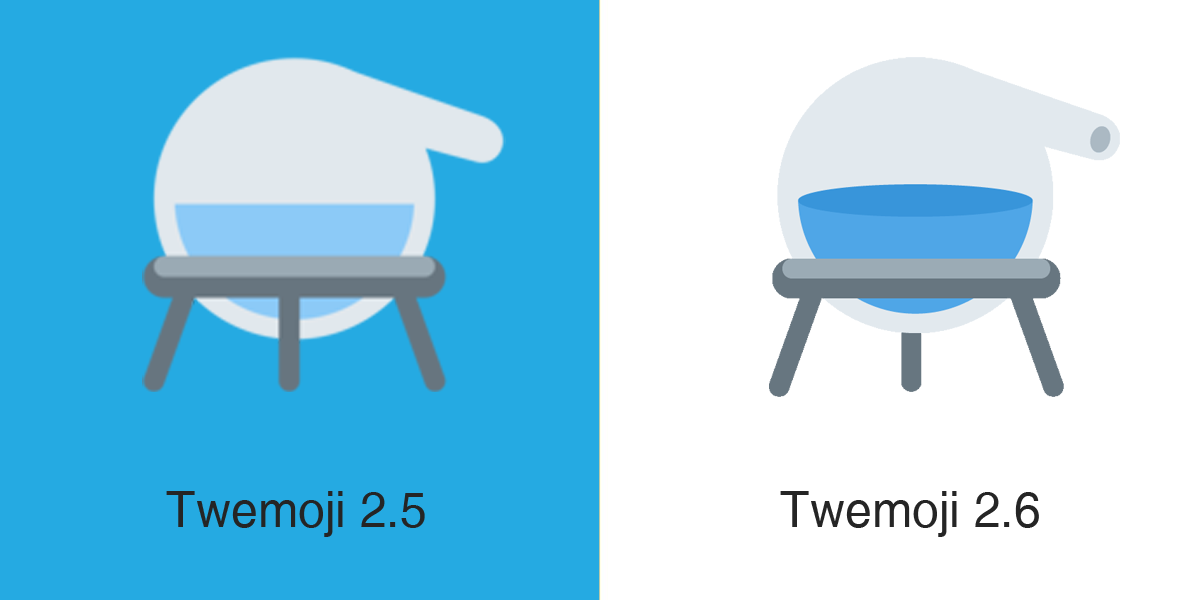 Additionally, both the 🔍 Magnifying Glass Tilted Left and 🔎 Magnifying Glass Tilted Right have had their handles reduced in length and their glass portion increased in size. Both the handle and the glass framed are now also darker shades of grey. Peer at the left-leaning variant below: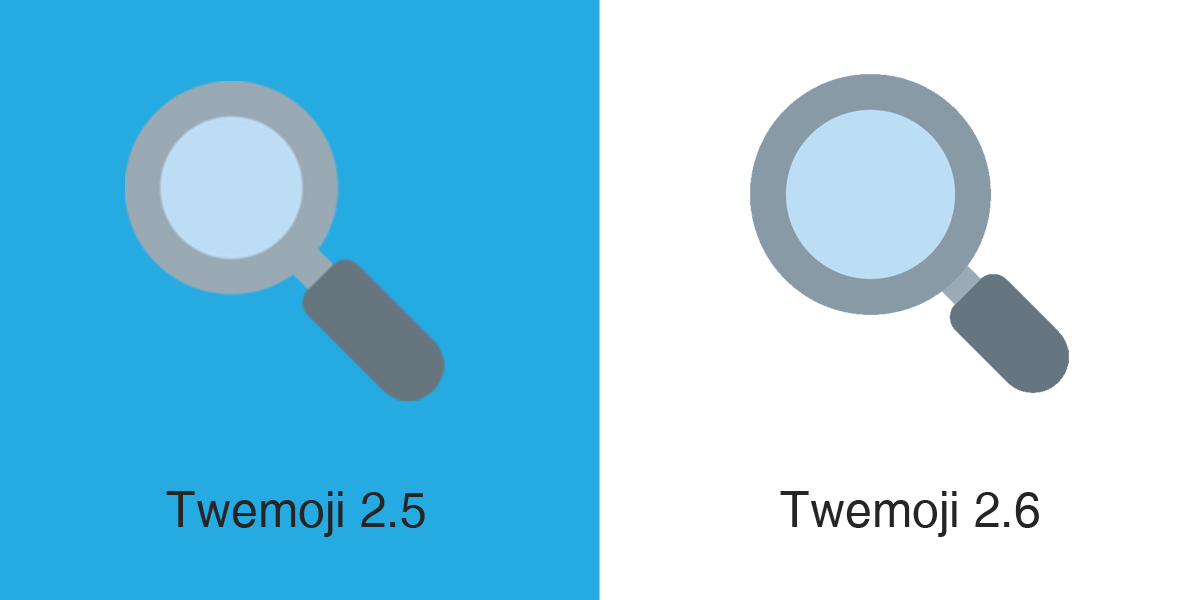 And then inspect the right-leaning version here: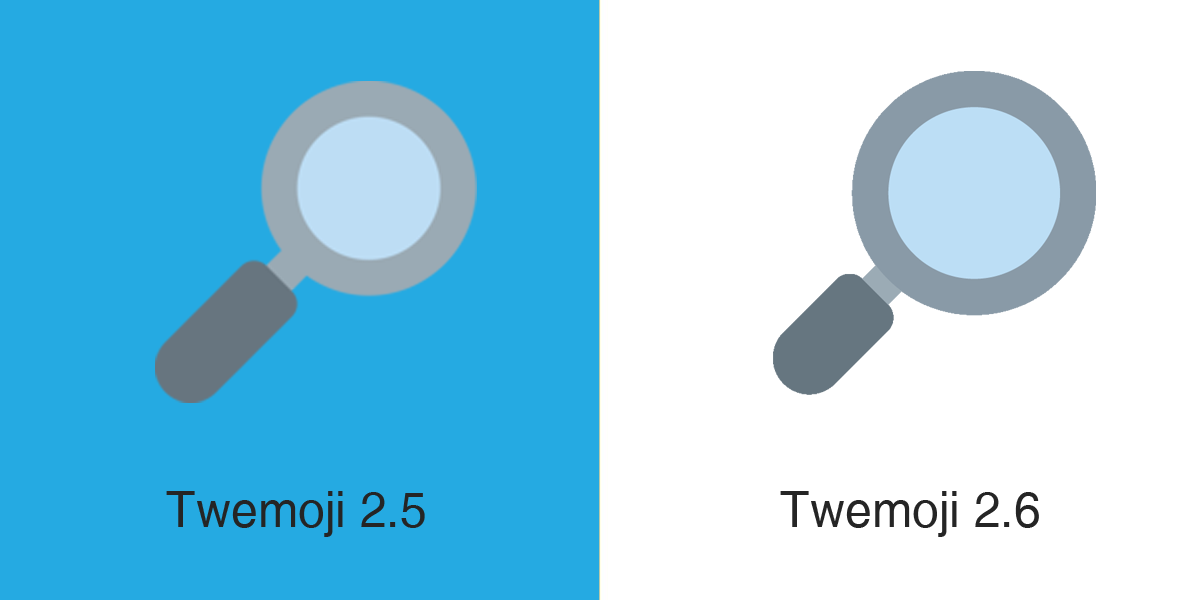 The remaining changes within Twemoji 2.6 are even more minute. The 🧥 Coat has a reduced number of creases across its arms and torso, while the oval curves of the 👀 Eyes are very slightly more rounded than before.
Finally, both the 😈 Smiling Face With Horns and the 👿 Angry Face With Horns have had their purple skin tones changed to the same shade used for the 🔮 Crystal Ball.
Release
Twemoji 2.6 has begun rolling today. It will be available for all users of the Twitter website, Twitter mobile site, and Tweetdeck. As always, these updates are expected to appear within the Twemoji Open Source project shortly.
---
Although Emoji 11.0 has been finalised for inclusion in the Unicode 11.0 update (Emoji 6.0 - Emoji 10.0 were skipped as reference numbers, bringing the next emoji update's numbering in line with that of the Unicode Standard's updates). ↩︎

It was in fact the first major vendor to fully comply with the update. ↩︎

The kitchen knife was initially introduced into the Unicode Standard in 2010 under the name "hocho", the word used to described most types of kitchen knives in Japan. ↩︎