Samsung Puts Japan Back On The Map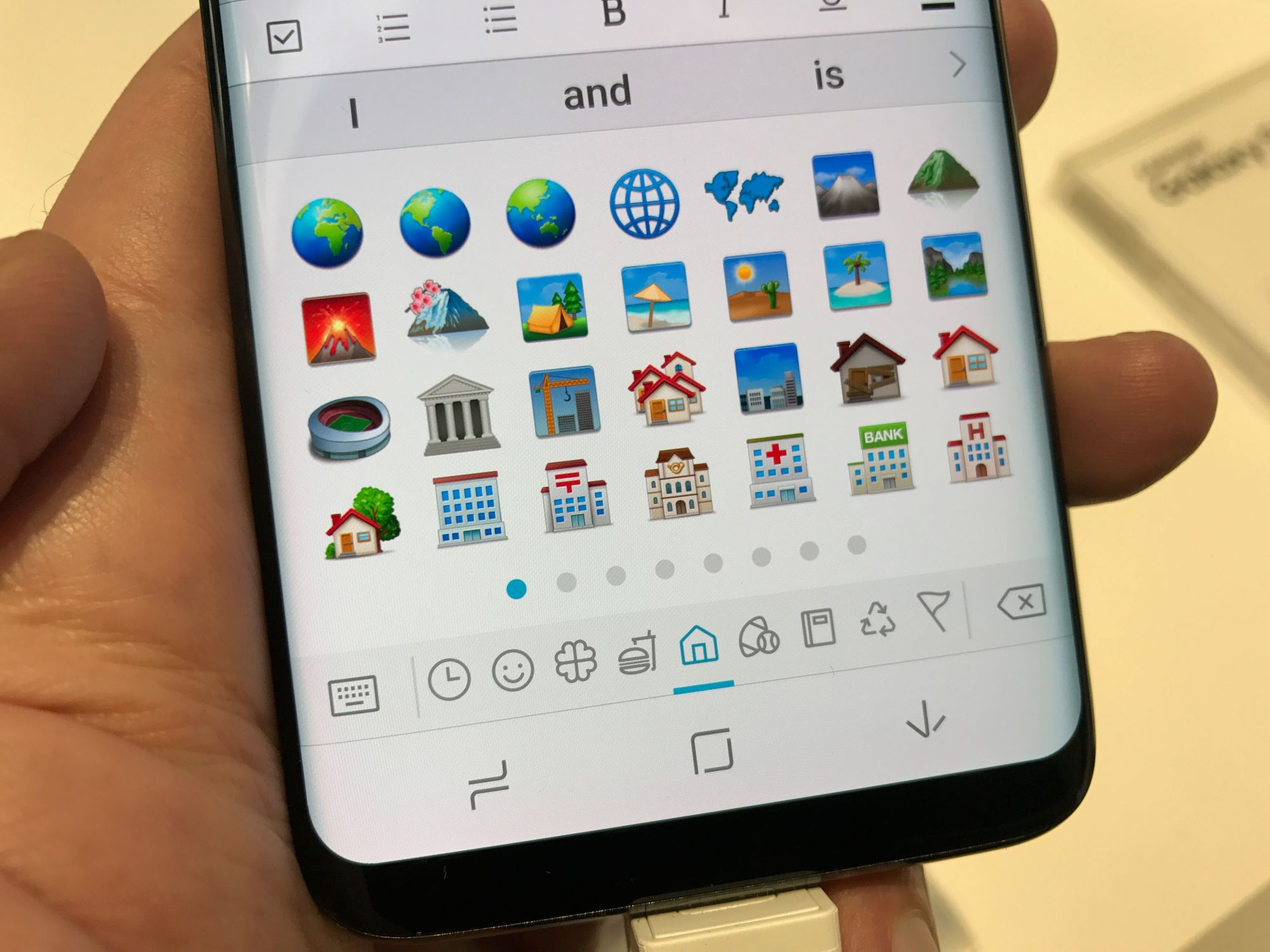 Samsung released a software update last week which included the return of three Japan-specific emojis that had previously been removed by the South Korean company.


Above: These emojis had previously been removed from Samsung phones.
🗾 Map of Japan is one emoji that has returned in the latest update for the Samsung Galaxy S8, after being removed in 2016.
It's not clear if Samsung made this reversal intentionally.
There are signs pointing to the return of these Japanese emojis being an accident.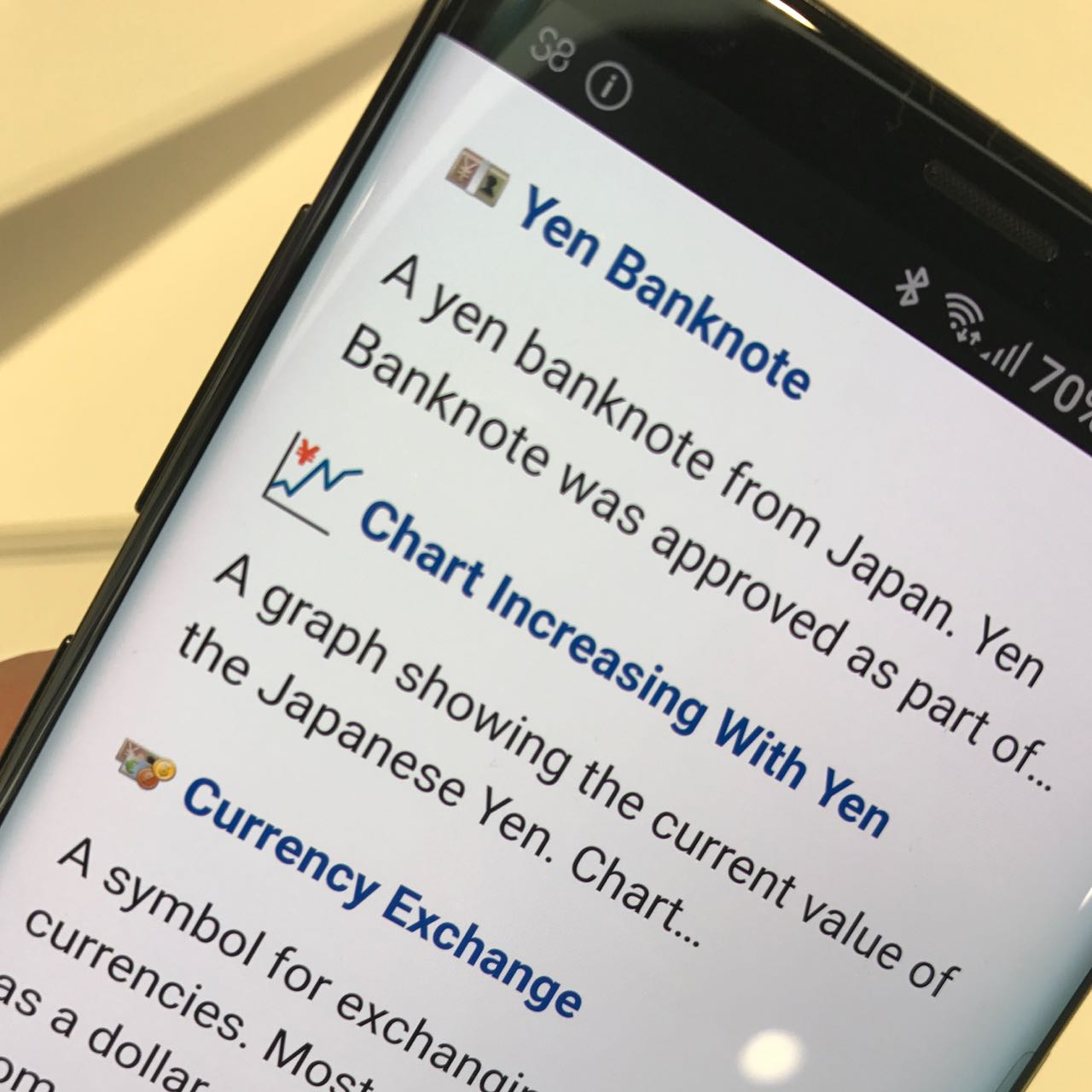 Above: 💹 Chart Increasing With Yen is once again available on Samsung phones, with one small change. Photo: Jeremy Burge.
Three emojis have been returned in the latest "Samsung Experience"[1] update. This is the latest version of Samsung's software runs on all of the new Galaxy S8 models.
The redeemed emojis are:
You might notice that each of these quite specifically refers to Japan in some way.
Strangely, many other Japan-specific emojis have remained available on Samsung devices throughout 2014-2017, including:
Of the three emojis that have returned, each has come back with a Google design, instead of a Samsung design.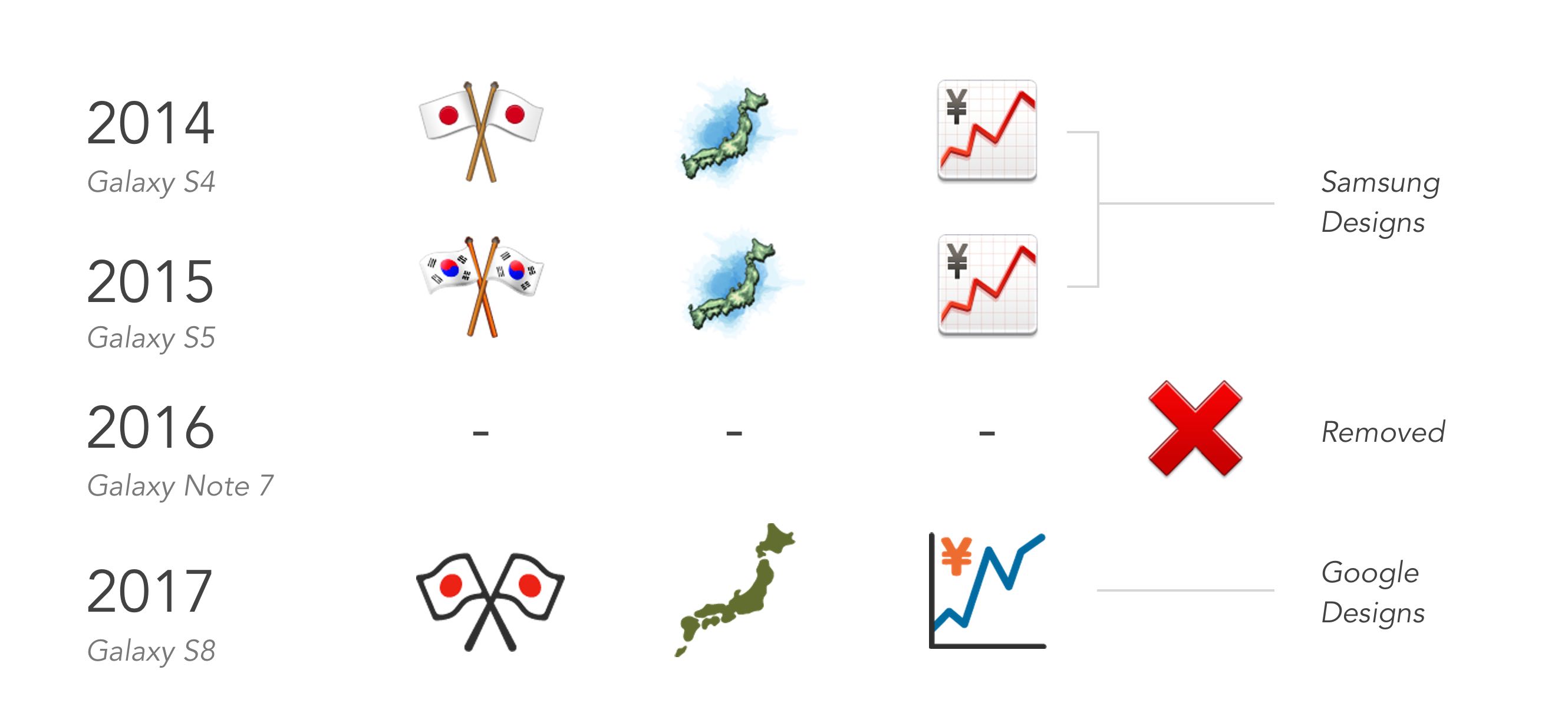 These emojis do not use Samsung designs, and they also remain hidden from the Samsung emoji keyboard.
Further, when inspecting the emoji font, each of these three emojis uses a different resolution bitmap image to the rest of the set.
Every other emoji on the Galaxy S8 has a shiny Samsung style design, these three stand apart with their flat Google designs.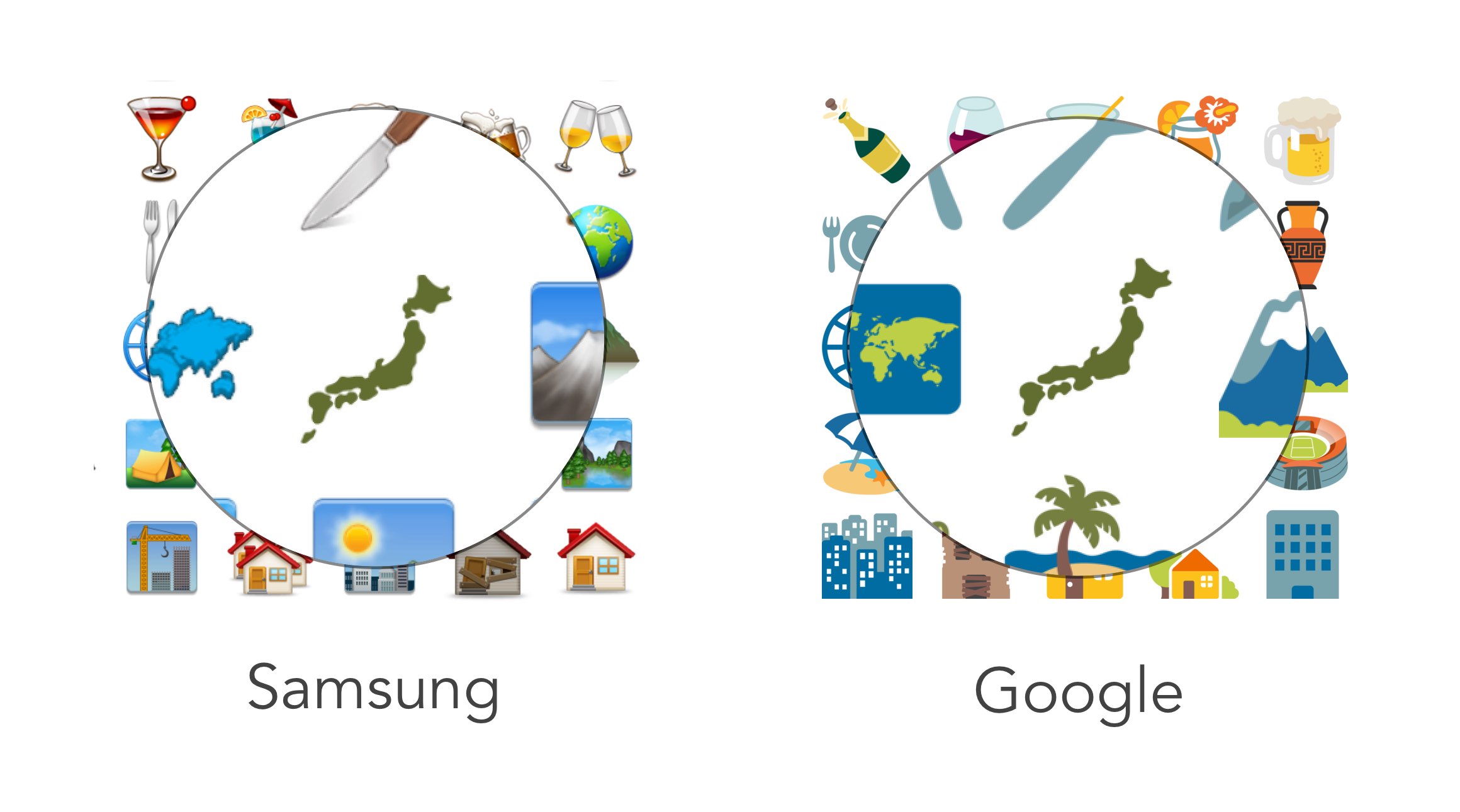 Above: 🗾 Map of Japan uses a Google design on the Galaxy S8: identical to the one that ships with stock Android.
It's these factors which make it look as though the return of three Japanese emojis in this latest update may not have been a deliberate feature.
Otherwise, why not simply return the emojis using the previously-used Samsung designs?
History
The 🎌 Crossed Flags emoji already has a history with Samsung.
While most devices ship this emoji as two crossed Japanese flags, Samsung experimented with changing this to a pair of South Korean flags in 2015.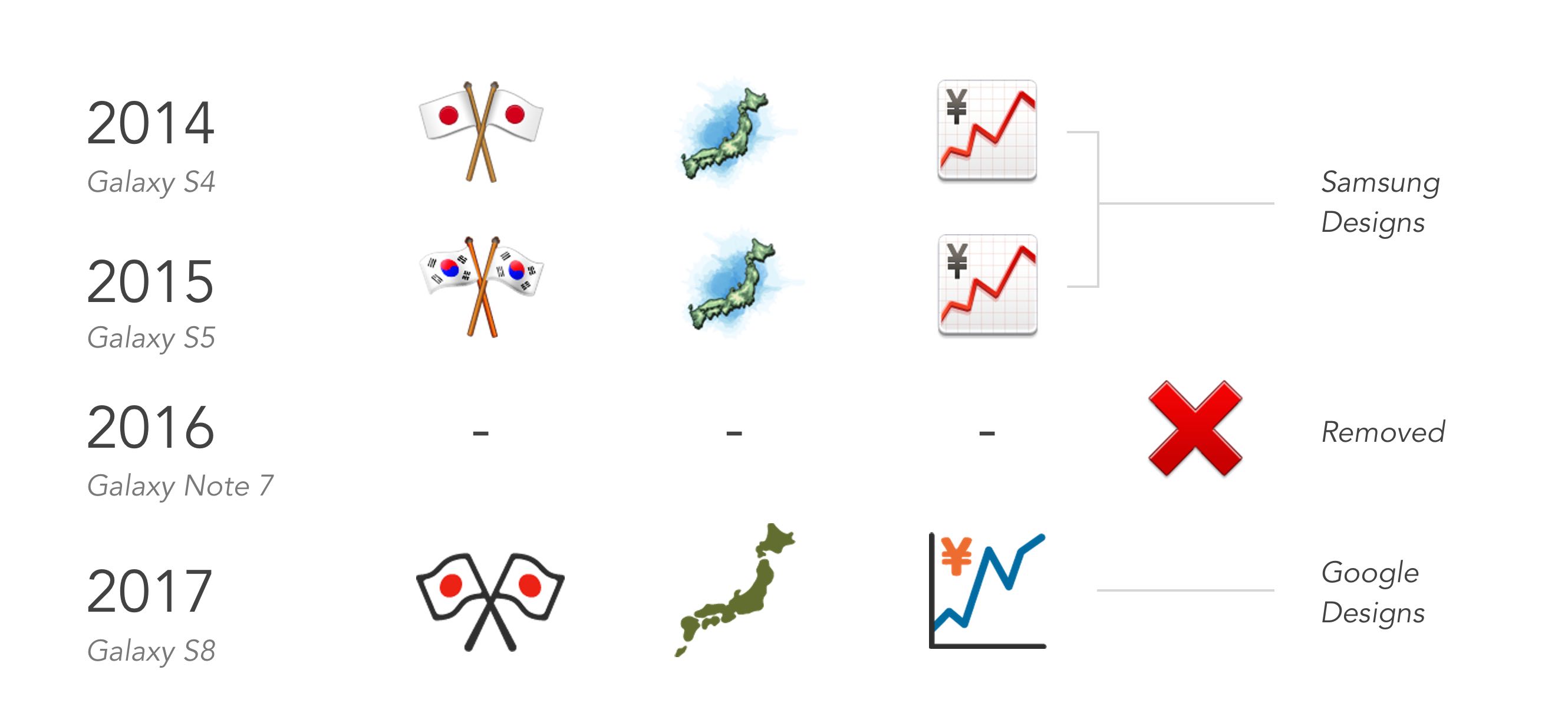 In August 2016, the 🎌 Crossed Flags was removed from all Samsung phones running the latest software update, and that remained the case until April 2017.
In total, six emojis were removed from Samsung devices in all of 2016. These are:
Of the six emojis listed above, only the latter three have returned — and with a Google design, and lack of inclusion on the keyboard. It is yet to be seen if they will be removed again, or if they are here to stay this time.
If these emojis have been deliberately returned, it would be assumed that these might make their way back to the emoji keyboard, and using a Samsung design in a future update.
Samsung did not respond to questions about these changes.
More
Samsung has update their emoji font three times in 2017. The first two updates were:
---
---
Samsung Experience is what was previously known as TouchWiz: a software layer that Samsung uses to customize Android on their own devices. ↩︎