iOS 10.2 Emoji Changelog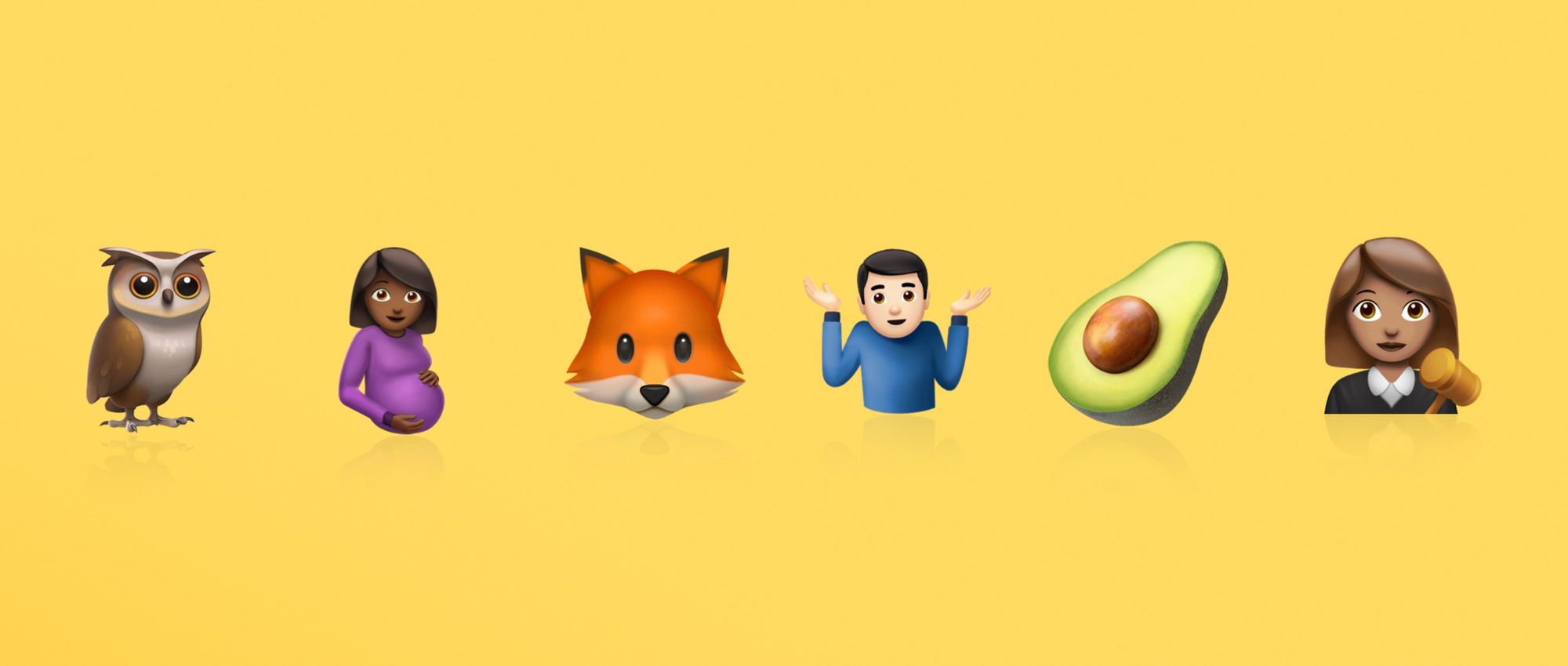 After a lengthy beta period, Apple today released iOS 10.2 to the public.
With 104 new emojis and a brand-new 3D emoji design, this is a big update for iPhone users.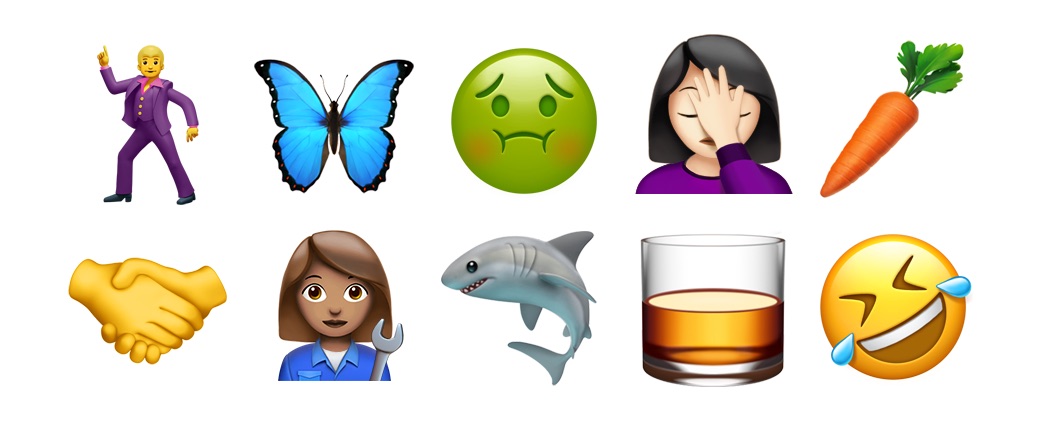 When taking into account skin tones and gender, a total of 422 distinct emojis are possible in iOS 10.2. It's all down to how you count them.
Here they are:
These updates include 16 new emoji professions (32 when both genders are counted), Unicode 9.0 emoji support (72 in total + gender + skin tones), and changes to nearly every emoji design in the set:
TL;DR: To see all the emoji updates in iOS 10.2, here they are:
Otherwise, read on for details of exactly what to expect from this update.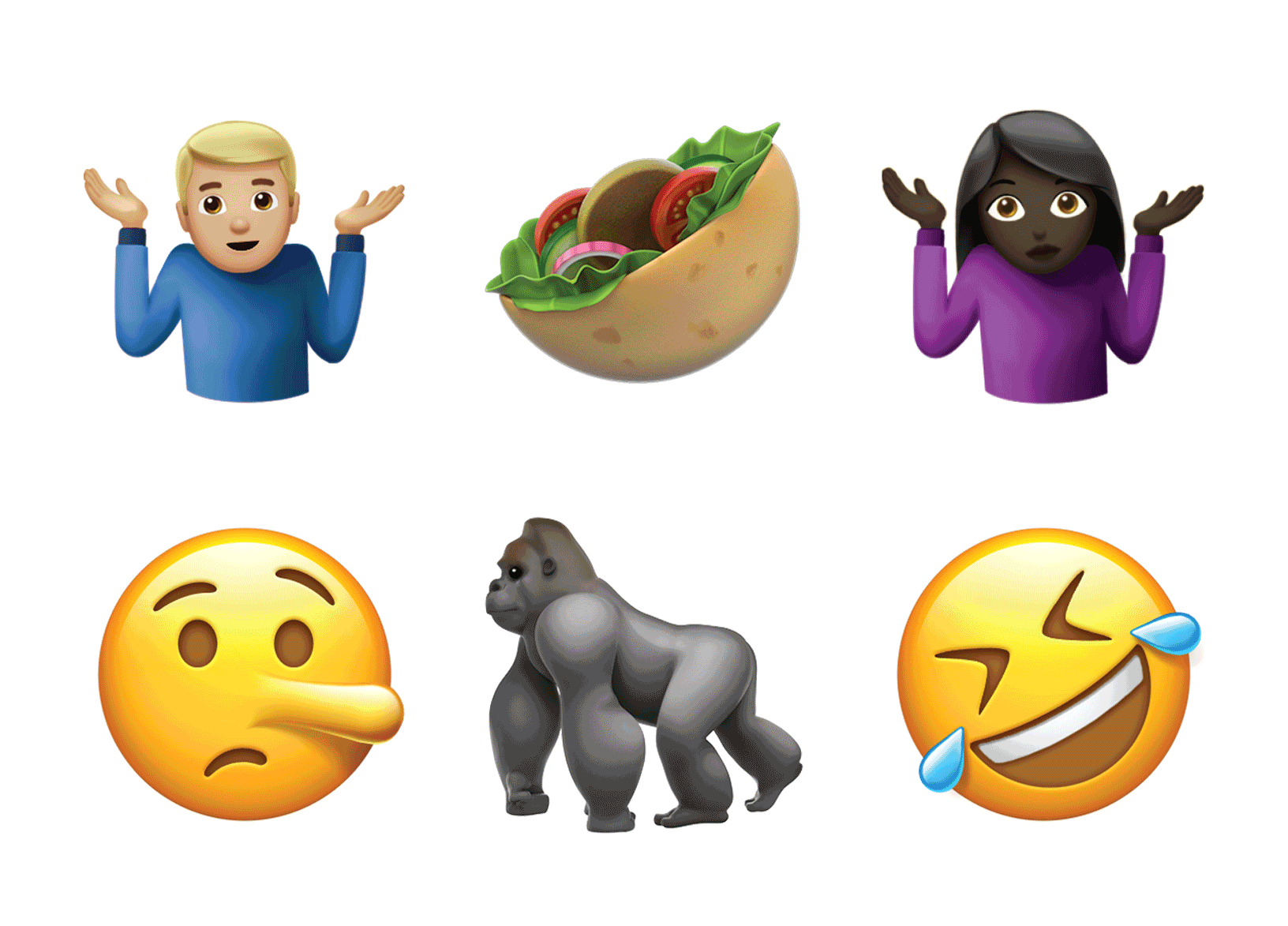 Above: Selection of new emojis in iOS 10.2. Image: Apple.
What's New
This update brings two distinct sets of emoji updates to iOS for the first time in iOS:


Above: Fingers Crossed Emoji is now available in iOS.
Unicode 9.0
Most popular among the new additions are likely to be face palm, shrug, fingers crossed, nauseated face, and black heart.
It's no surprise that these are mostly faces, as these consistently sit among the top emojis on Emojipedia.

Unicode 9 actually predates much of the work on emoji and gender that took place later in 2016. As such, four specific characters exist that are gender-pairs for existing emojis.
👰 Bride With Veil is joined by 🤵 Man In Tuxedo: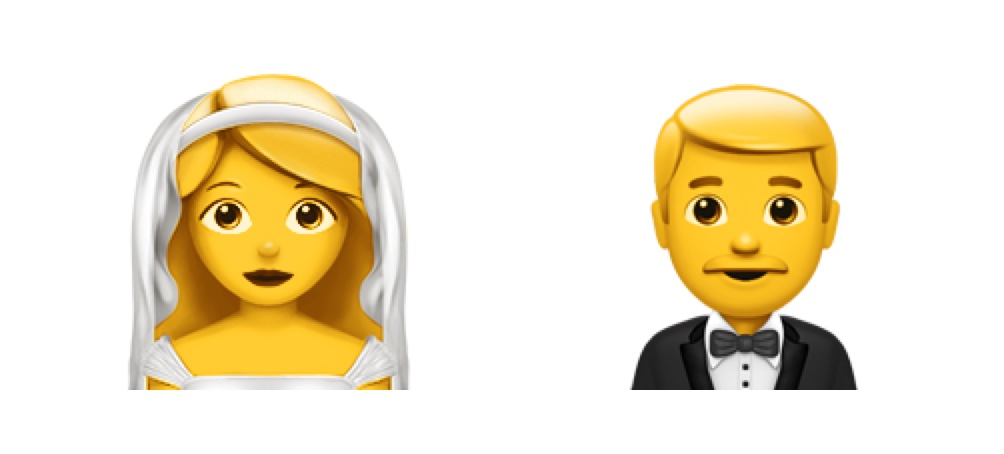 🎅 Father Christmas is joined by 🤶 Mother Christmas: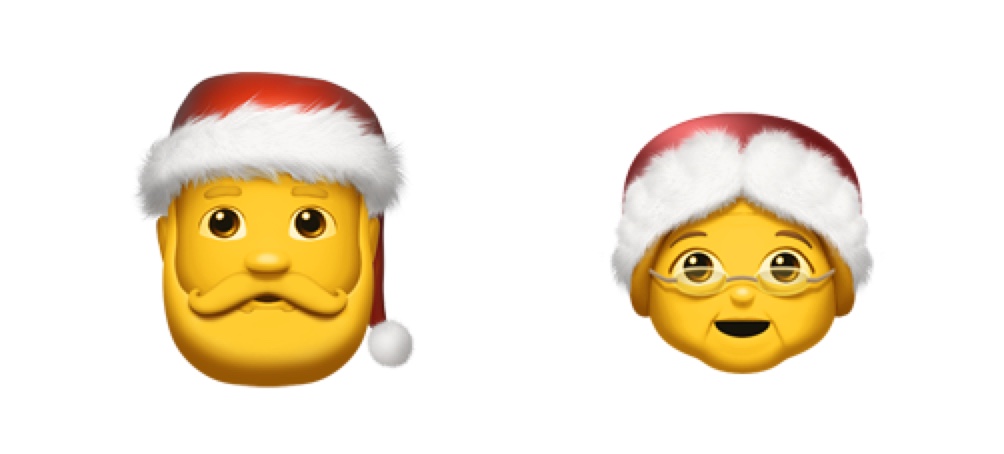 🤴 Prince has been added as a counterpart for the 👸 Princess: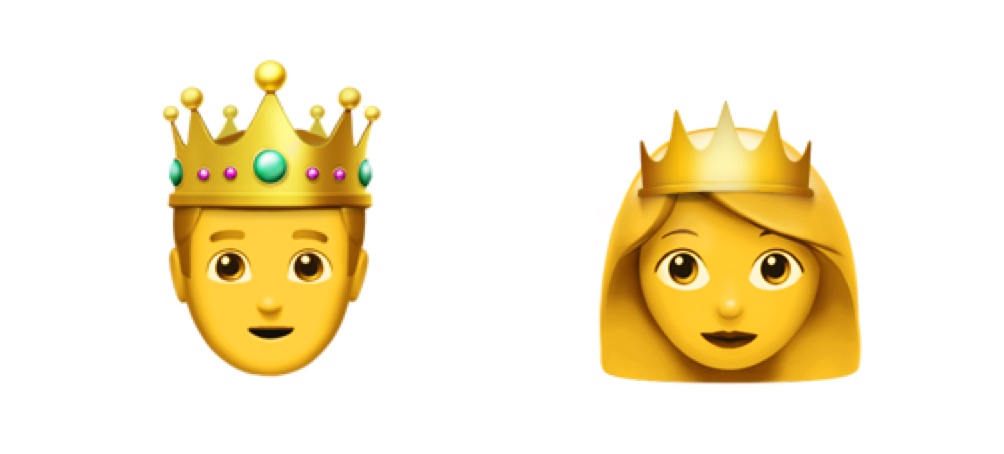 Even though not specified with gender originally, 💃 Dancer has unified on most platforms as a salsa-dancing woman, so 🕺 Man Dancing has been added as her pair: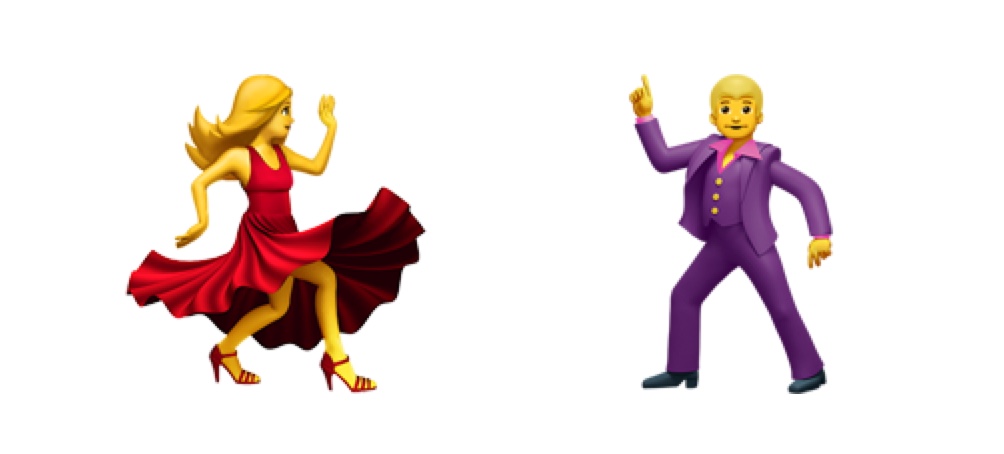 Animals are well represented in this update, with a duck, butterfly, and shark some of the most frequently sought after:

New food and drink additions include a whisky glass (officially called Tumbler Glass), avocado, and paella ("Shallow Pan of Food").

And if you haven't got enough ways to convey your preferred means of transport via emoji, there's now a scooter and motor scooter available.

Other miscellaneous items are included too, such as spoon, drum, and stop sign.

Lastly, the 🤡 Clown that no-one wants: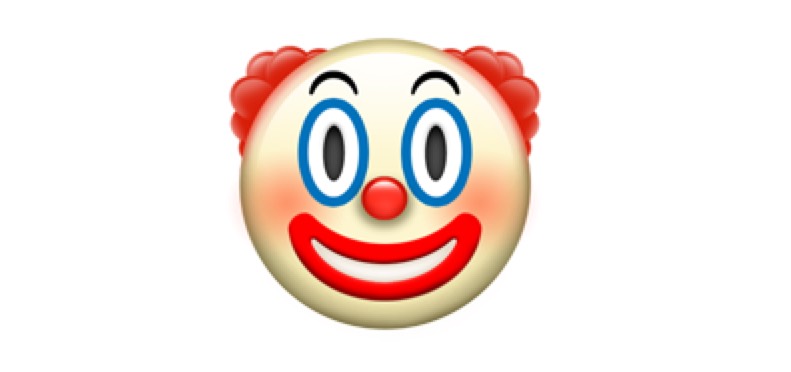 Full list of new emojis in Unicode 9.0 now available on iOS:
Note: people listed above have female and male variations. For the base emoji Apple has chosen a variety of appearances. For example:
Each of these has a specific female and male ZWJ Sequence available as well as the base character.
Emoji 4.0
16 new professions are available in iOS 10.2, with a choice of male or female appearance, plus any of the five optional skin tones.
The total count of professional emojis to choose from balloons up to 192 when both genders and all skin tones are tallied.
Some of these are: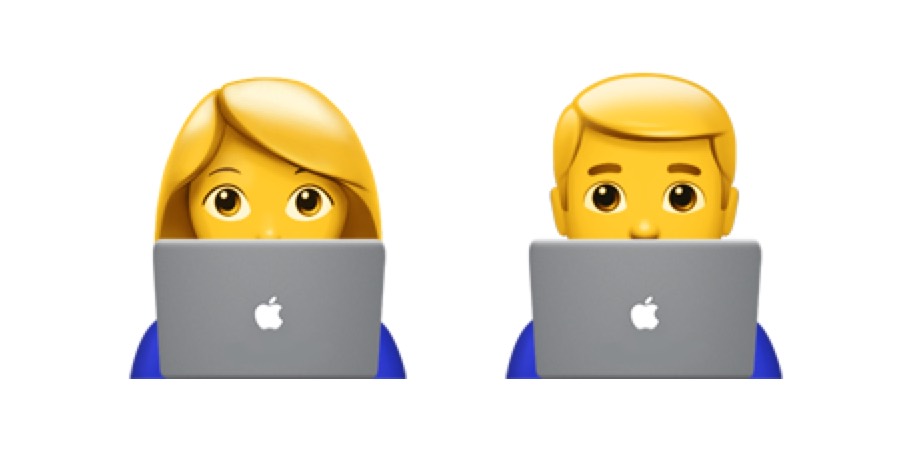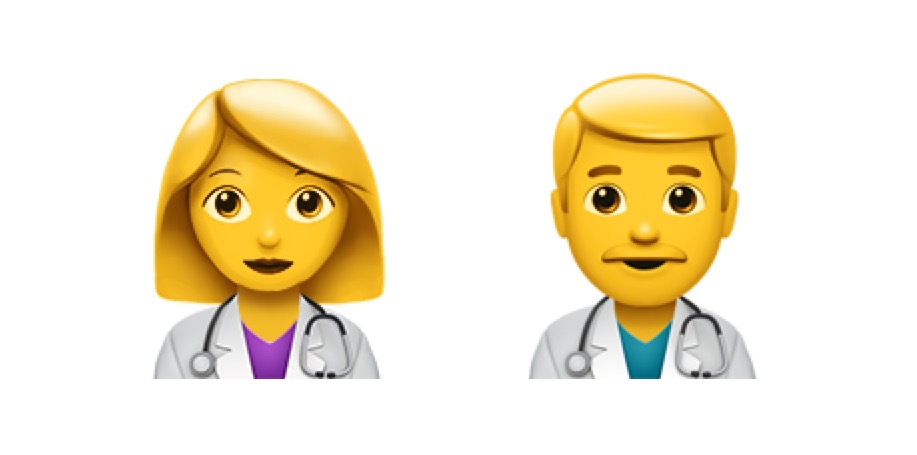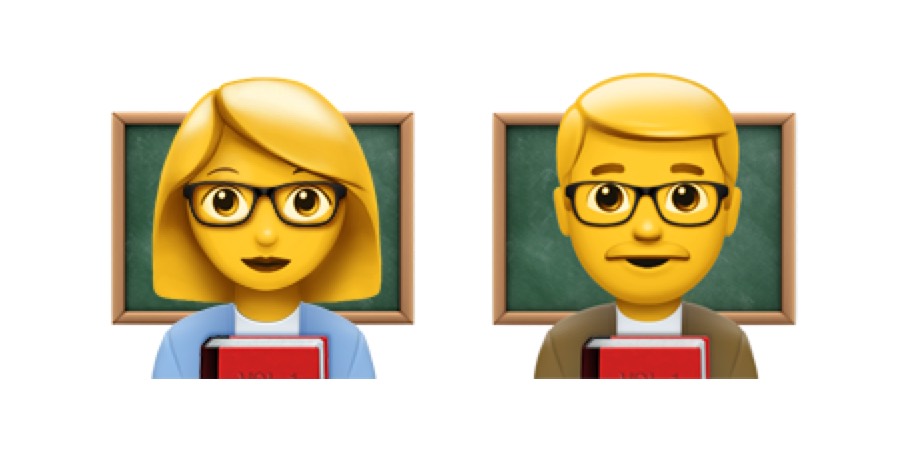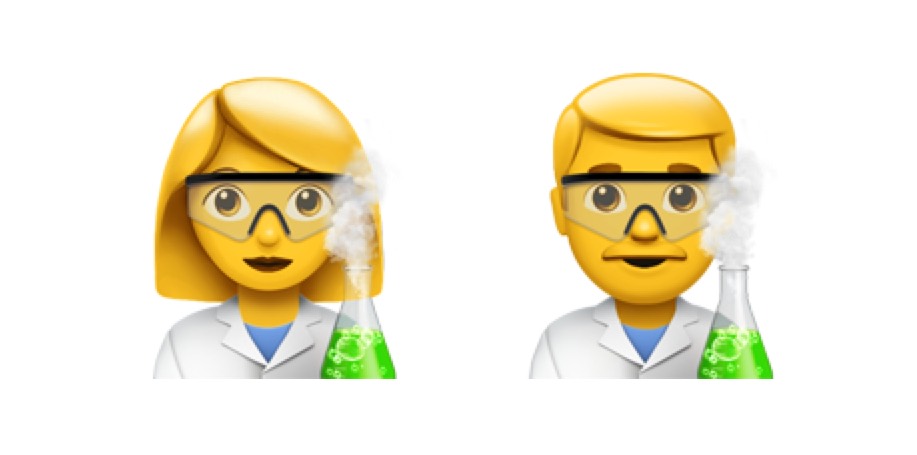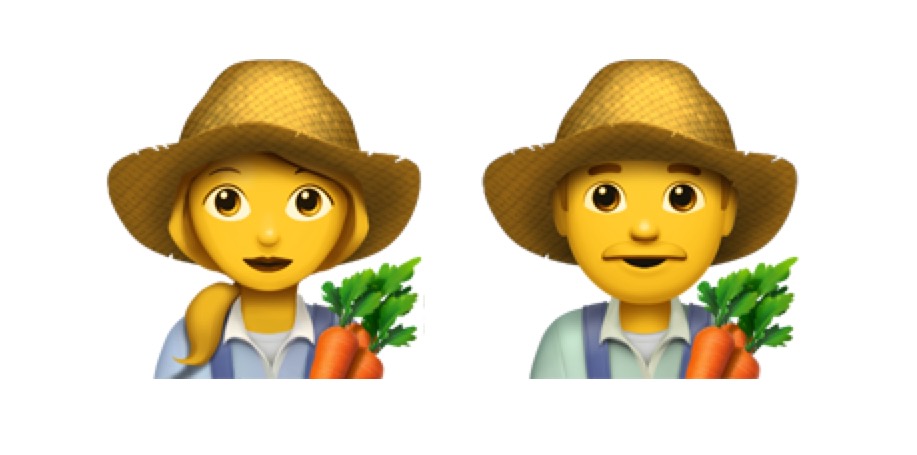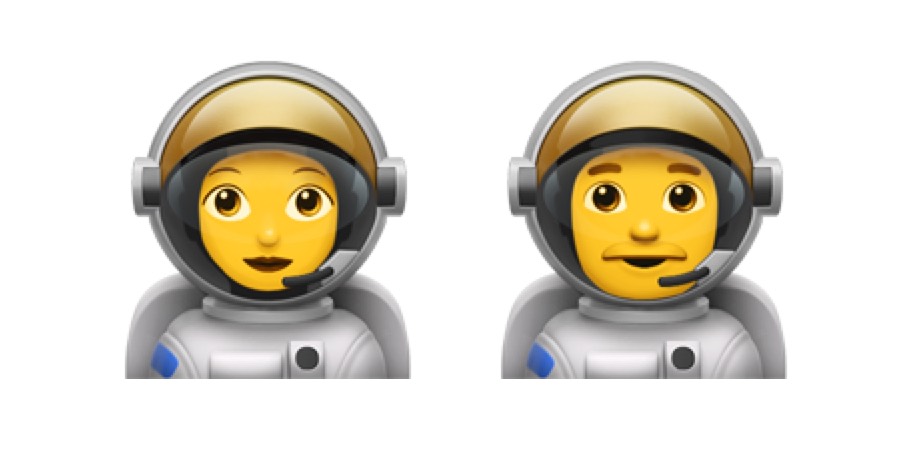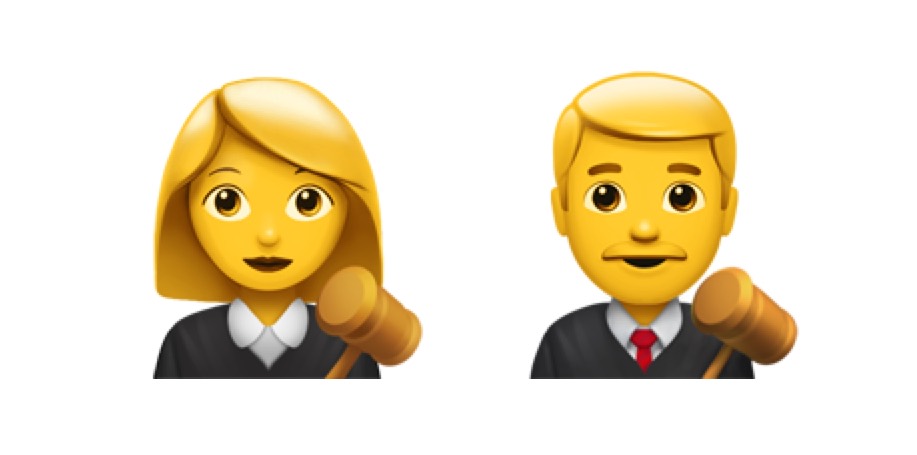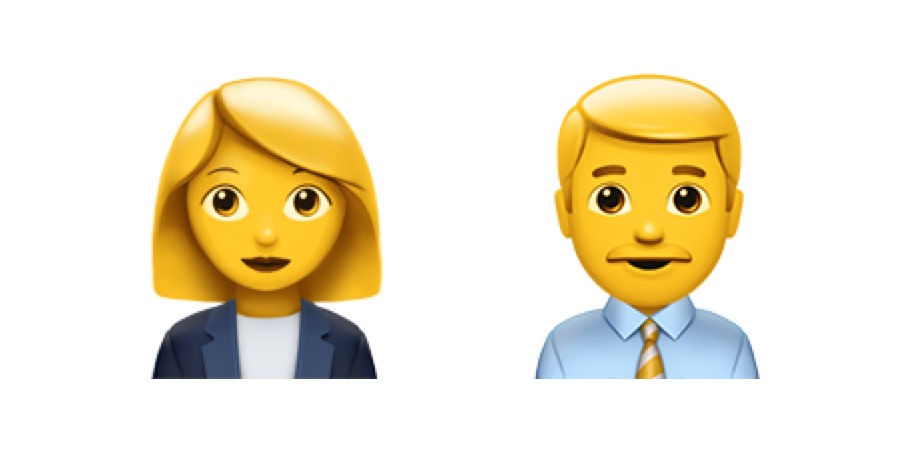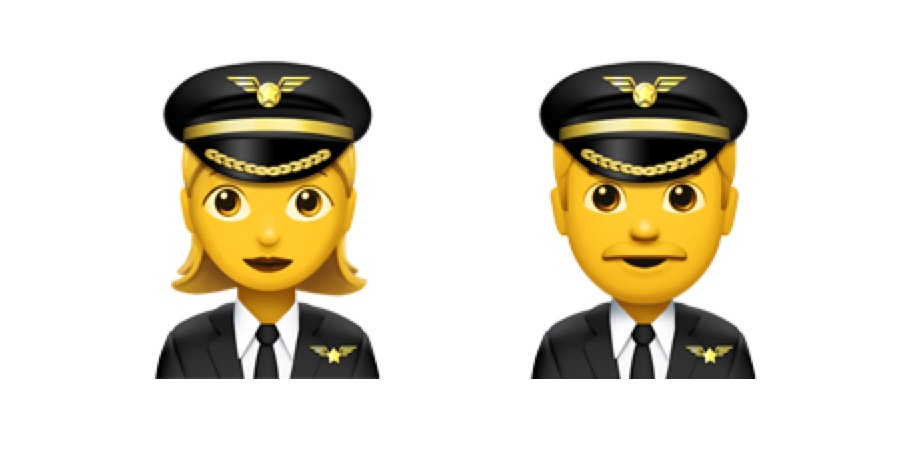 In a nice touch, the Firefighter has the updated 🔥 fire on the helmet: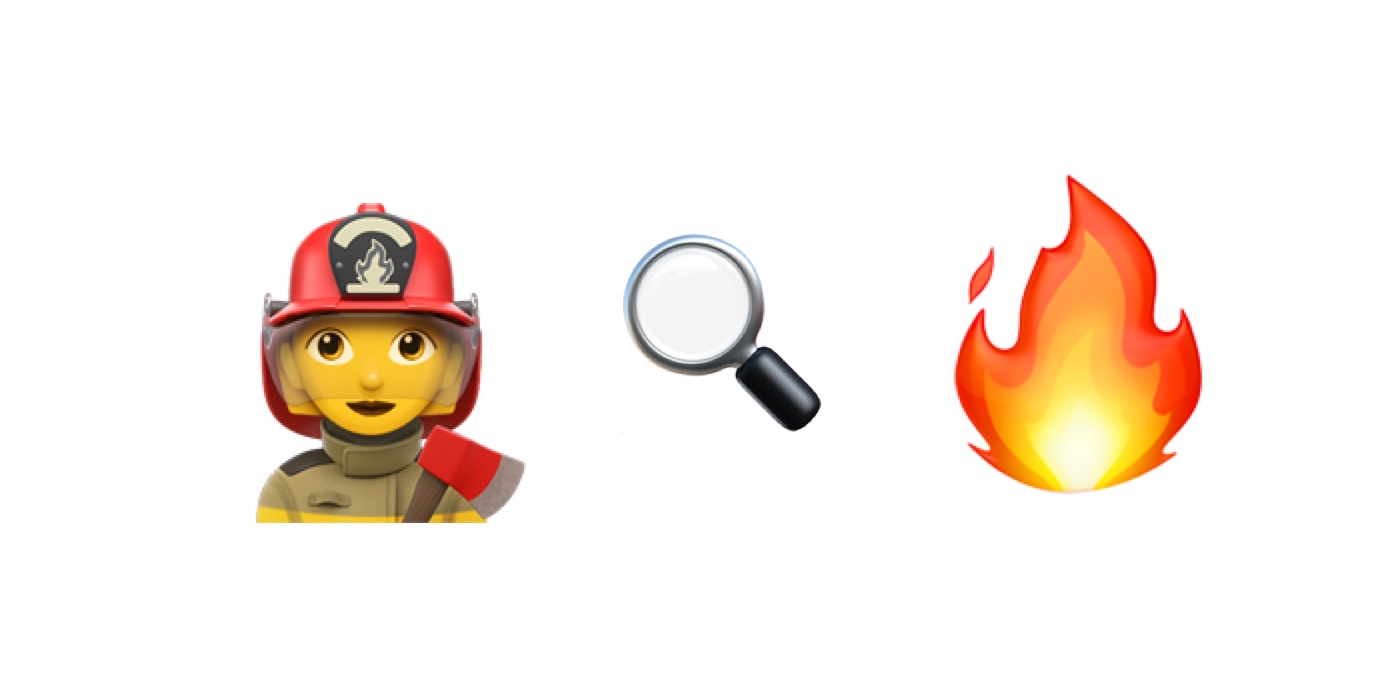 It should be noted that as these professions are implemented as ZWJ Sequences they are somewhat backward-compatible with older systems.
Users who have not updated will see the two emojis that make up these professions, such as:
The side-effect of this is that each of these emoji professions uses up additional characters in a tweet, SMS, or other character-limited platform.
Full list of new emoji professions in iOS 10.2: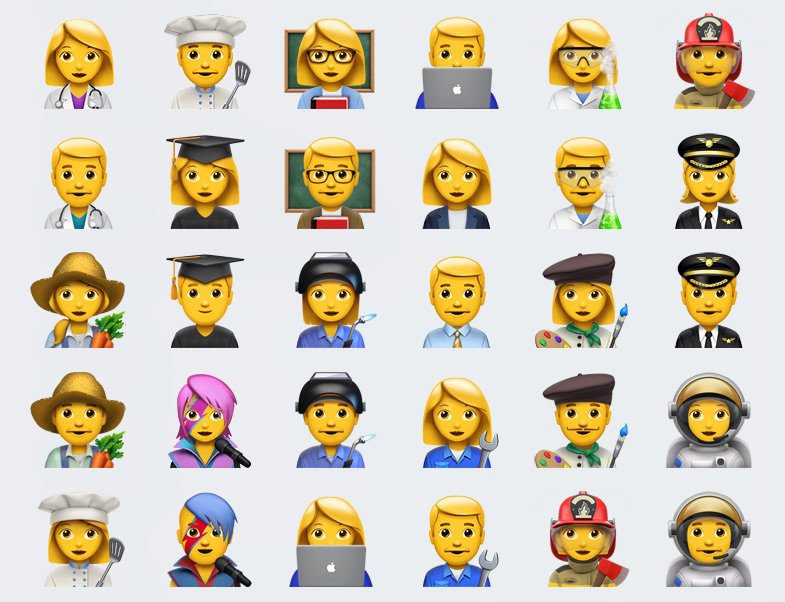 Above: New professions showing on the iOS 10.2 emoji keyboard.
There were other new emoji additions in the Emoji 4.0 documentation, but these were already added to iOS 10.0 in October 2016.
That update included gendered variations of Police Officer, Construction Worker, as well as Rainbow Flag, but left the above professions hanging until now.
Minor Additions
🕴 Man In Business Suit Levitating gained support for skin tones in this update:

🏇 Horse Racing used to support skin tones for the jockey, until iOS 9.3 removed that support last year. Well, now it's back again: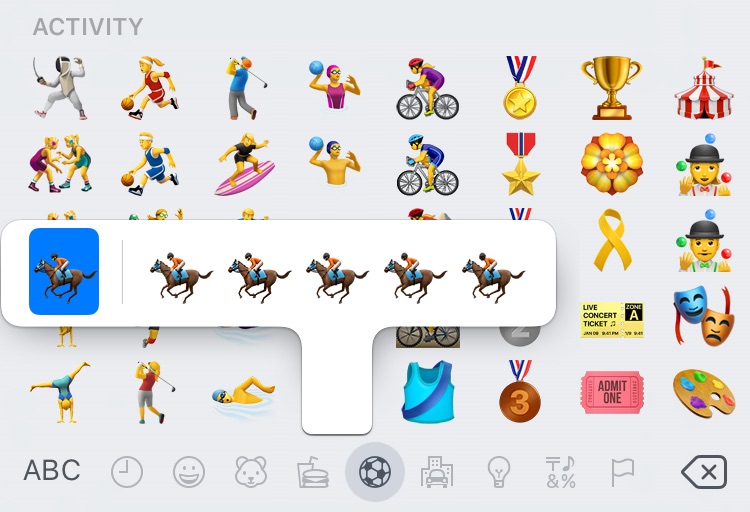 Above: On-again-off-again support for skin tones returns to the Horse Racing emoji.
Changes
There are so many design changes in this update, it won't be possible to outline them all here.
View the list of redesigned emojis, or read on for some noteworthy changes.
Nearly every emoji had a complete redesign in this update. It's clear that Apple's previous set was a mixture of designs from over the years.
By comparison, this new set has clearly been a major effort from Apple to start fresh on high resolution images, for high resolution displays.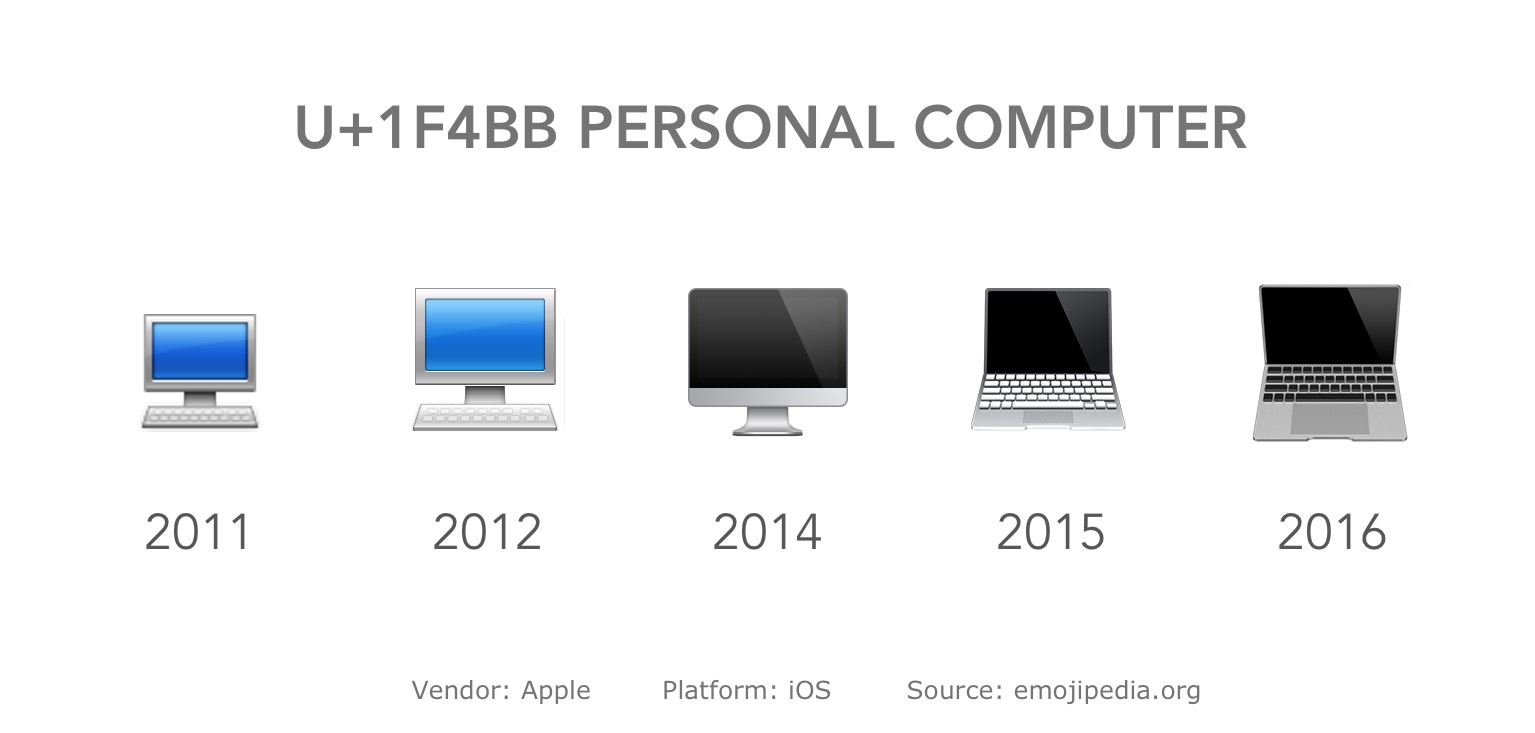 Above: 💻 Personal Computer has been updated to match Apple's latest MacBook Pro.
Existing people now display shoulders, which brings these into line with the aforementioned emoji professions: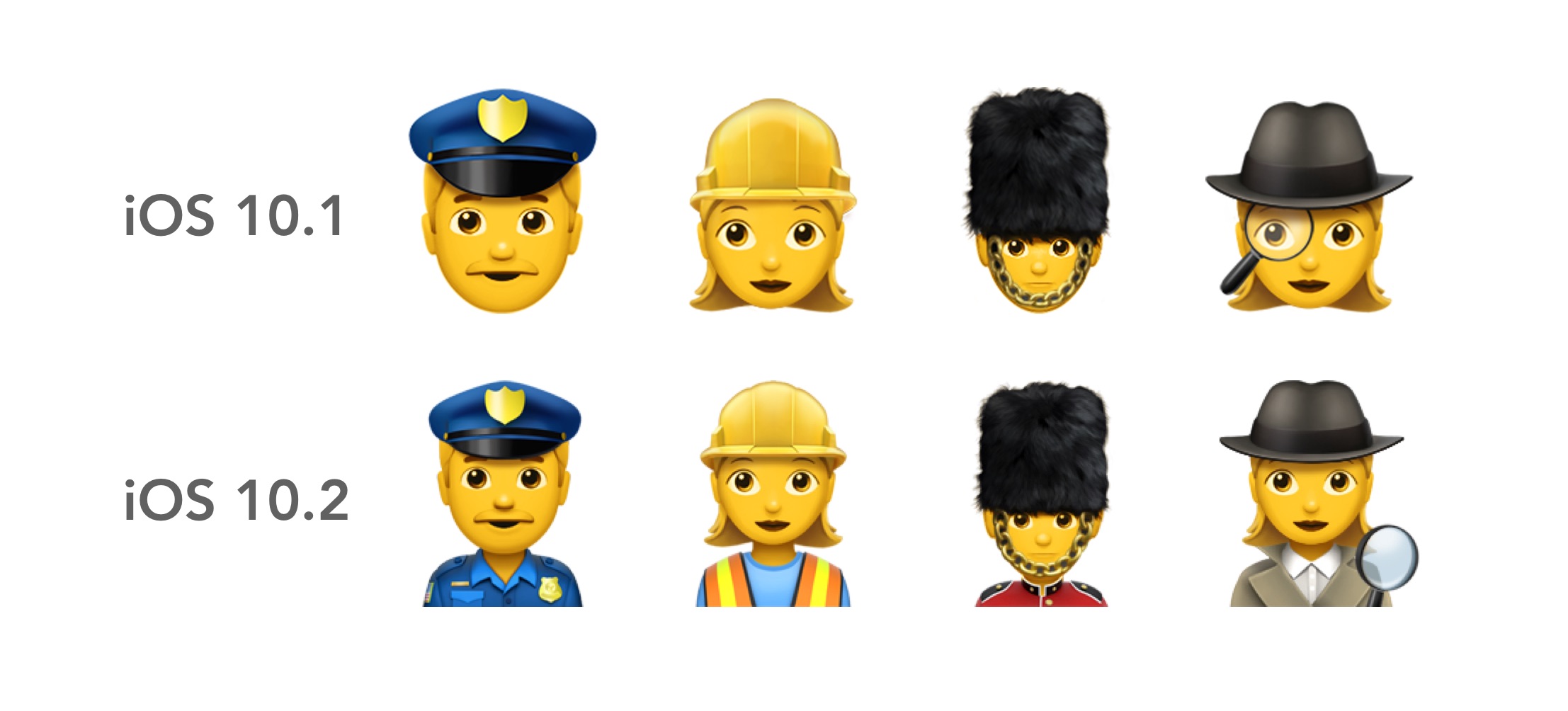 ⛹️‍♀️ Woman With Ball loses the perspex glasses: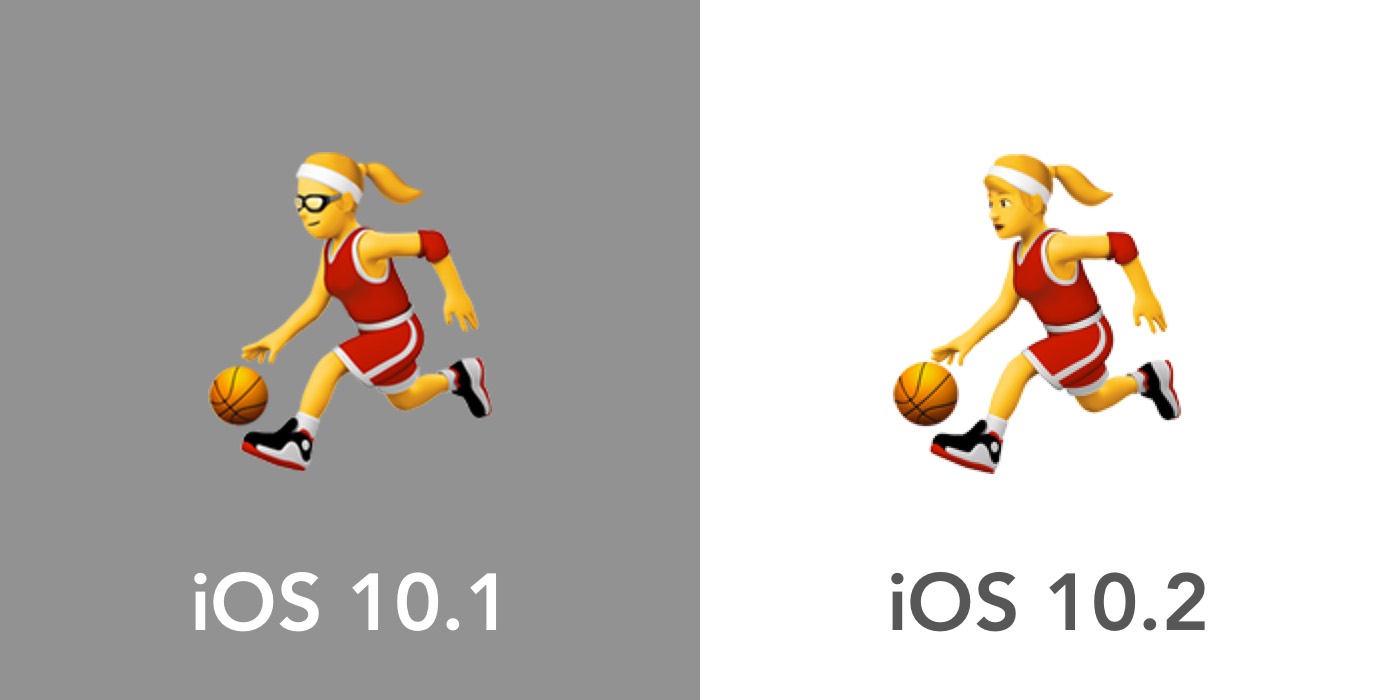 💃 Dancer gains a nose, mouth, and fingers: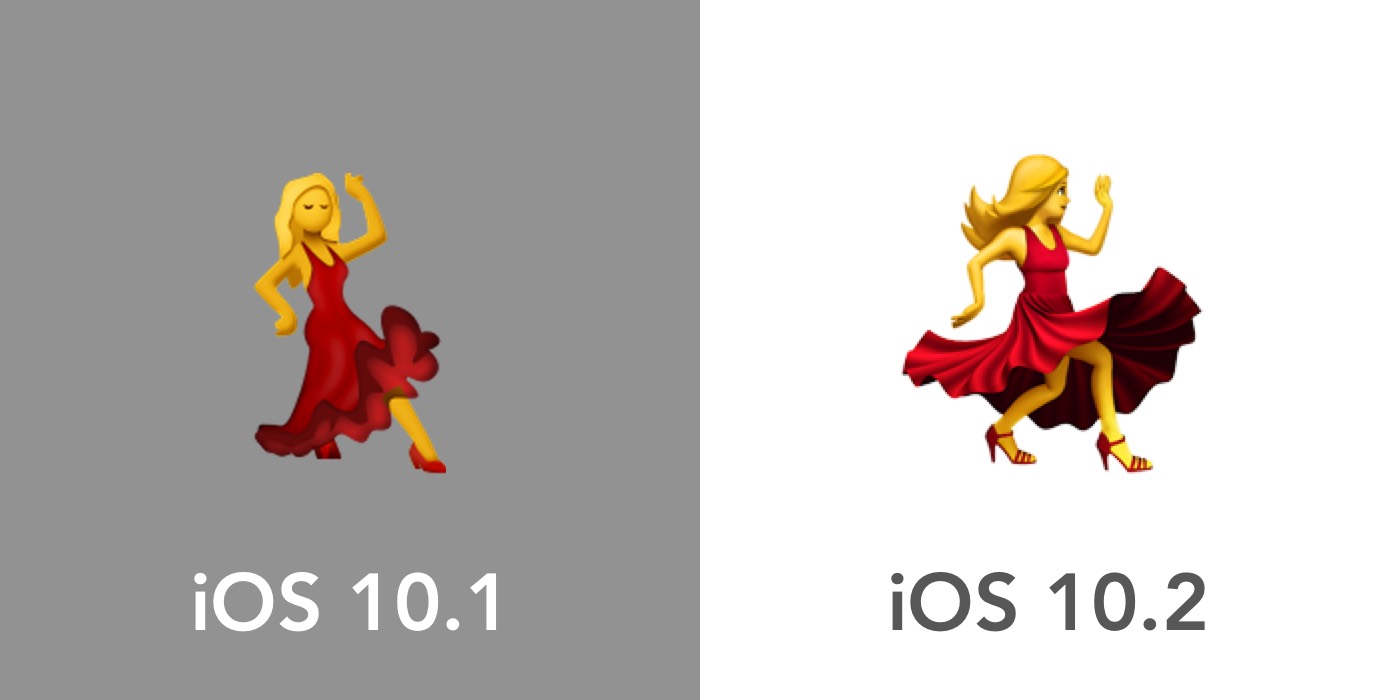 🏄‍♀️ Woman Surfing now has a black wetsuit instead of fluorescent green: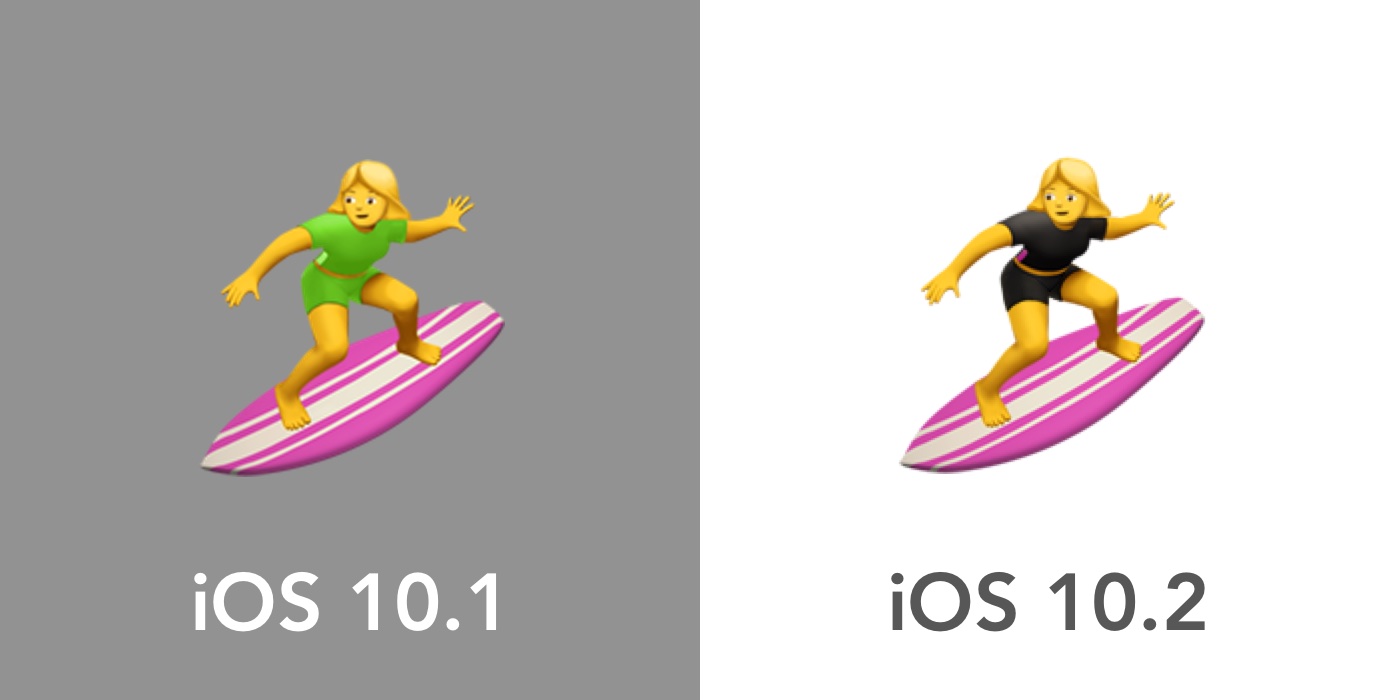 🎧 Headphones no longer display an earbud, and have been replaced with an over-ear style: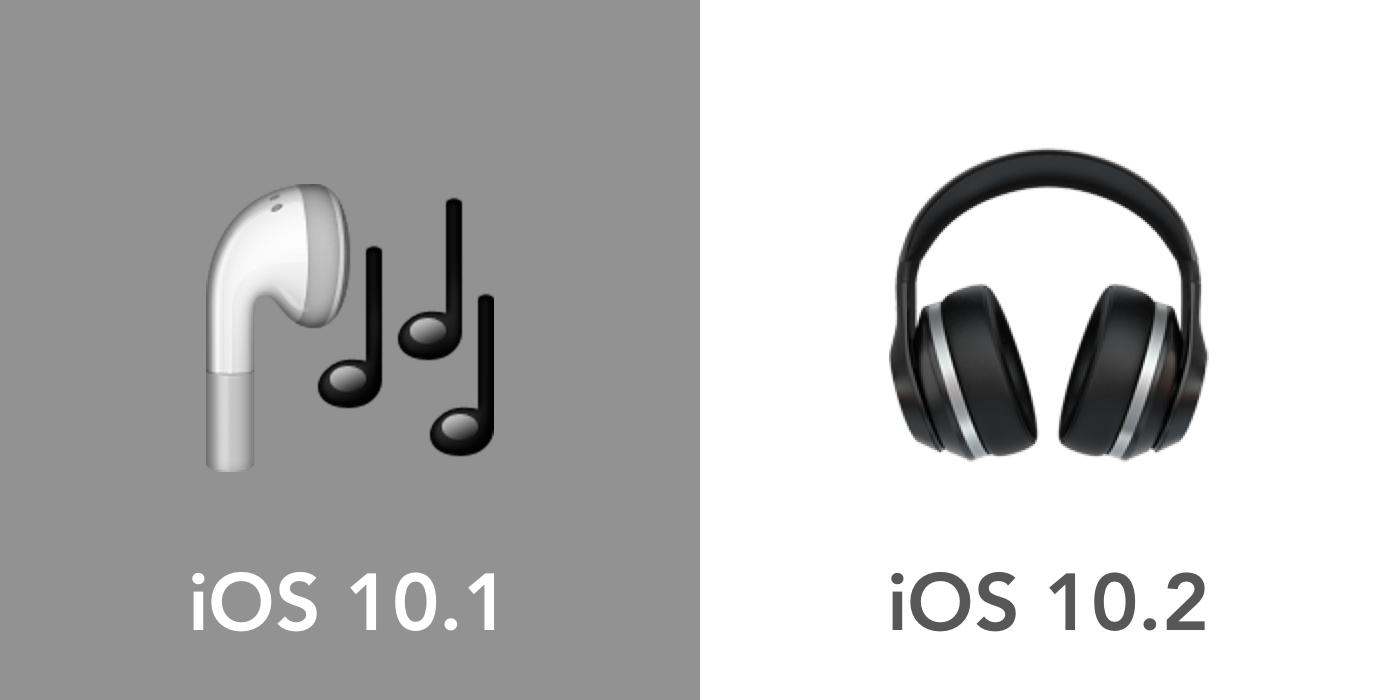 🏜 Desert has lost its "photo frame" edging, and now sits solo in a scene: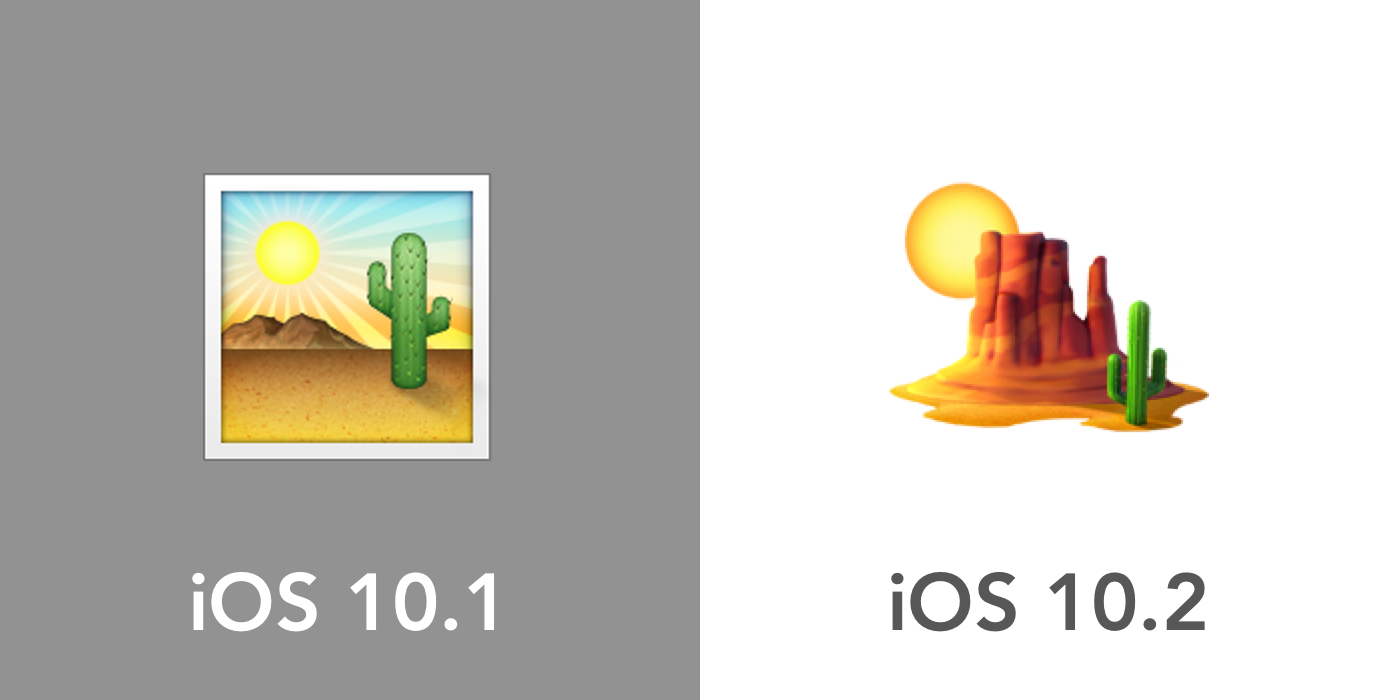 ☃️ Snowman gains a carrot nose, and more protective hat: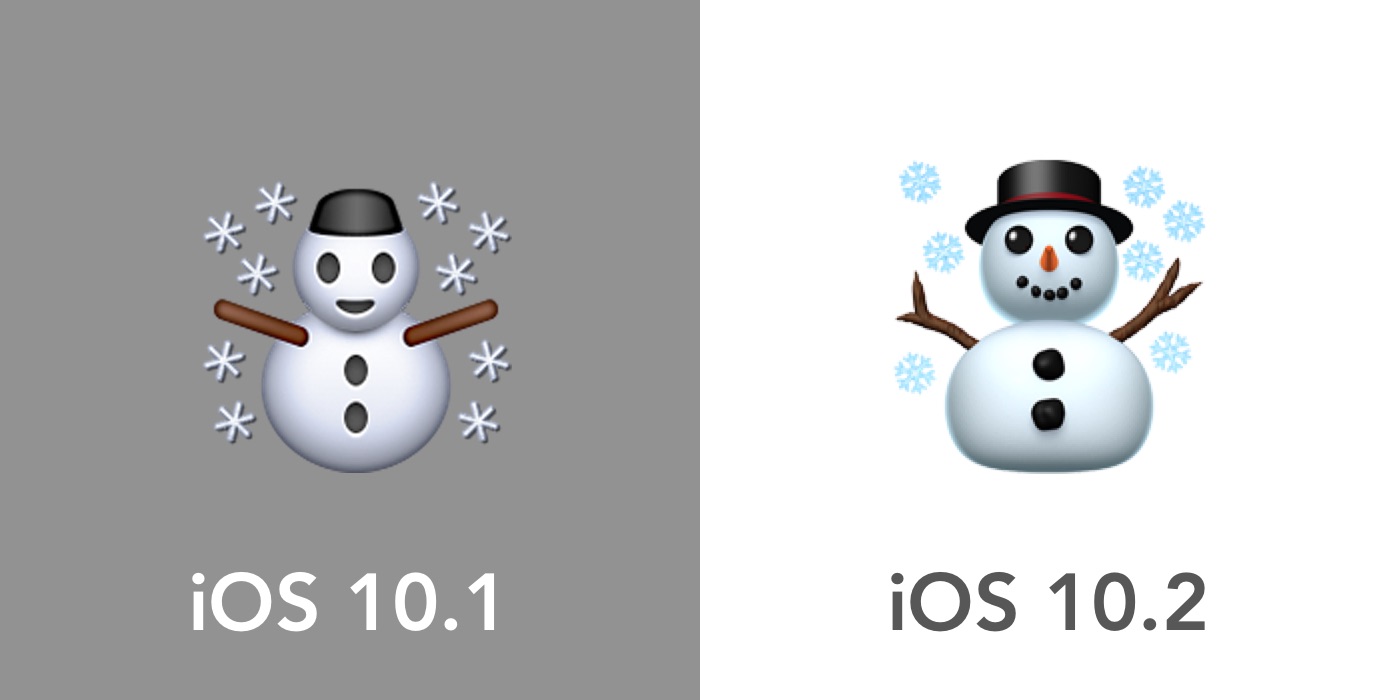 📰 Newspaper has always featured the 🌋 Volcano emoji on the front page. True to form, the first new issue since 2012 keeps this tradition alive, and adds one more: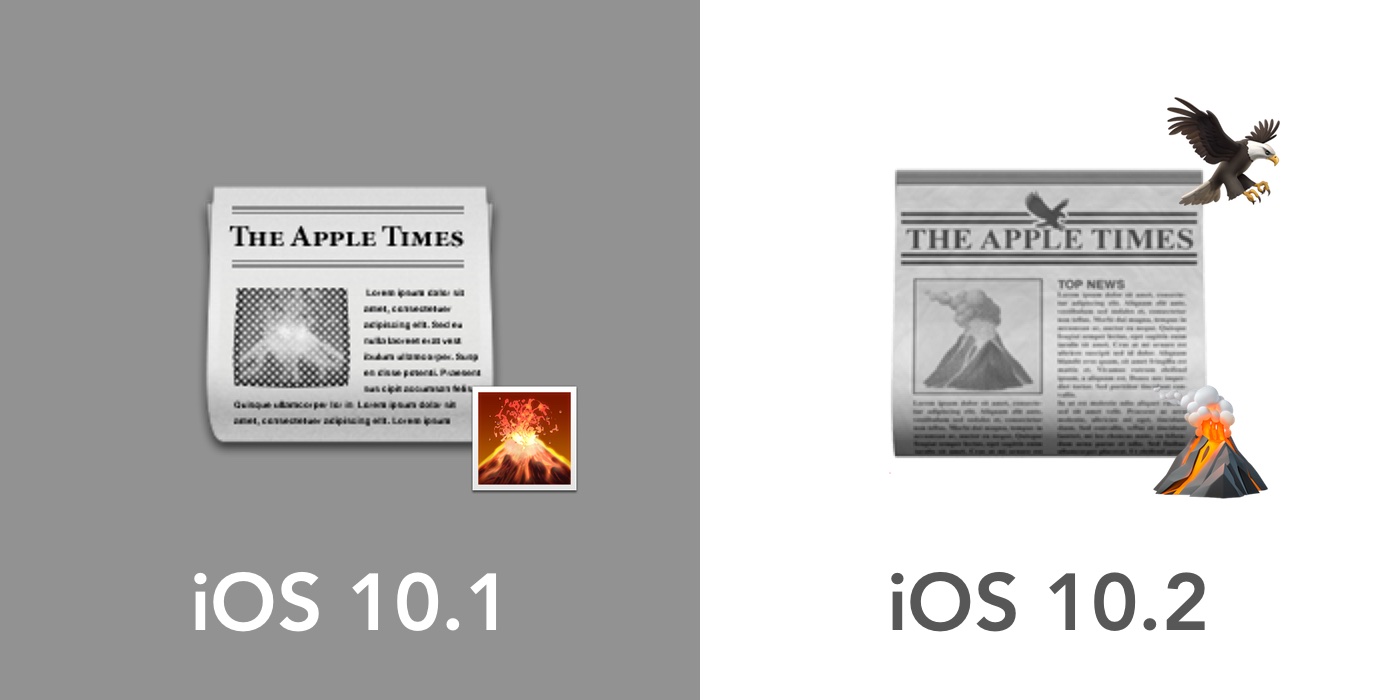 👖 Jeans get a bit skinnier, with more visible stitching: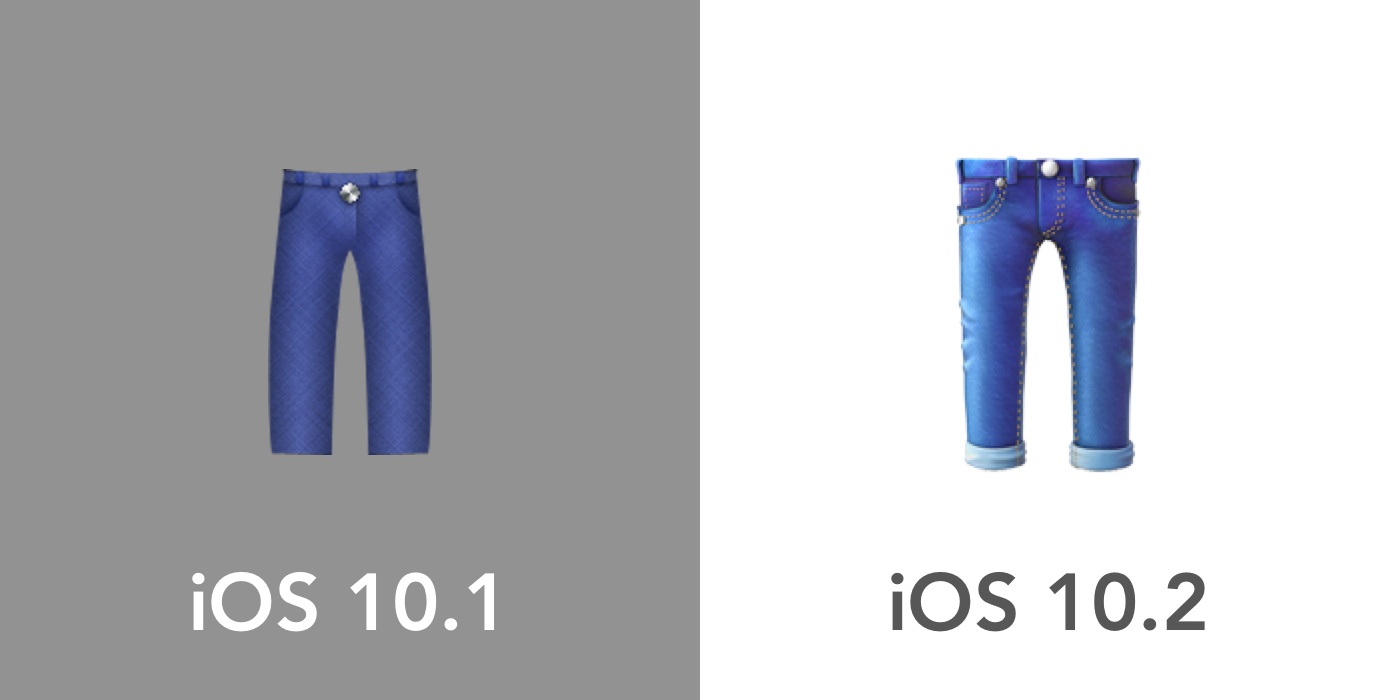 🍂 Fallen Leaf now shows more richly textured leaves: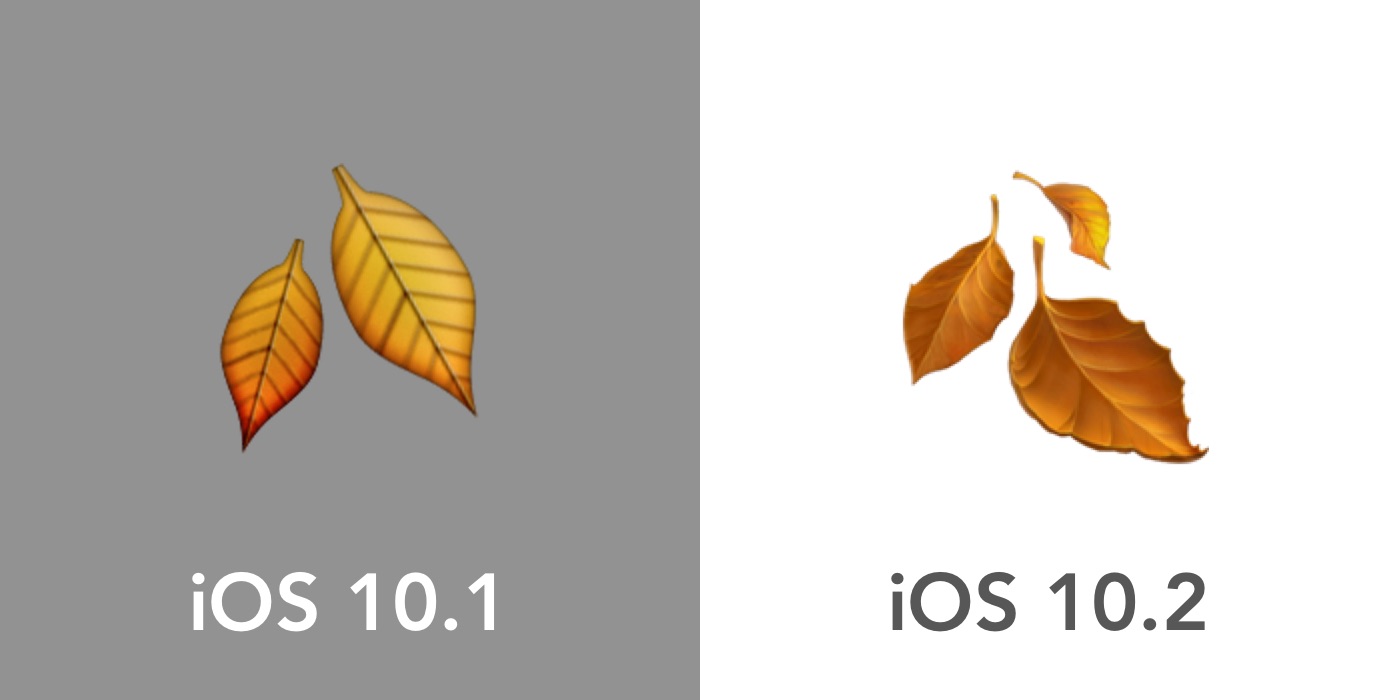 🚞 Mountain Railway gets a new lick of paint: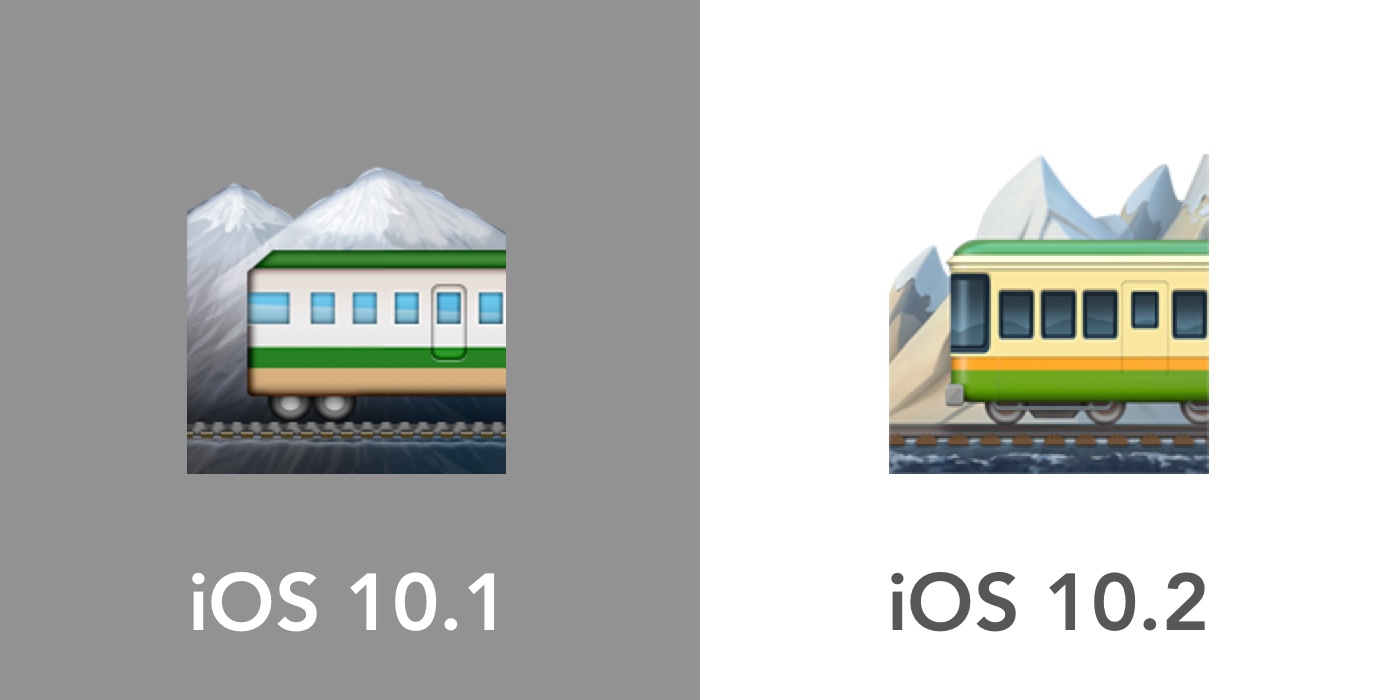 🐺 Wolf Face no longer resembles a cute yellow/brown dog, and now looks somewhat like a wolf: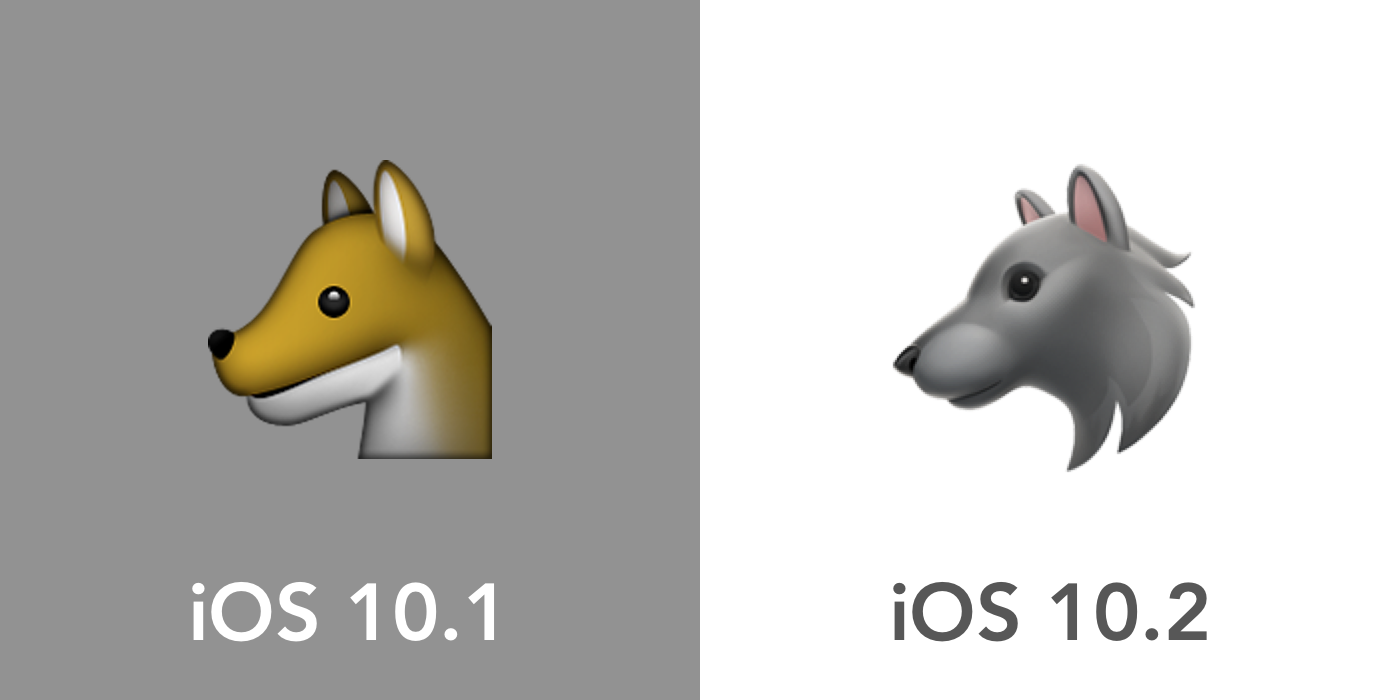 📇 Card Index replaces John Appleseed's photograph[2] with the woman emoji. Other contact details remain the same: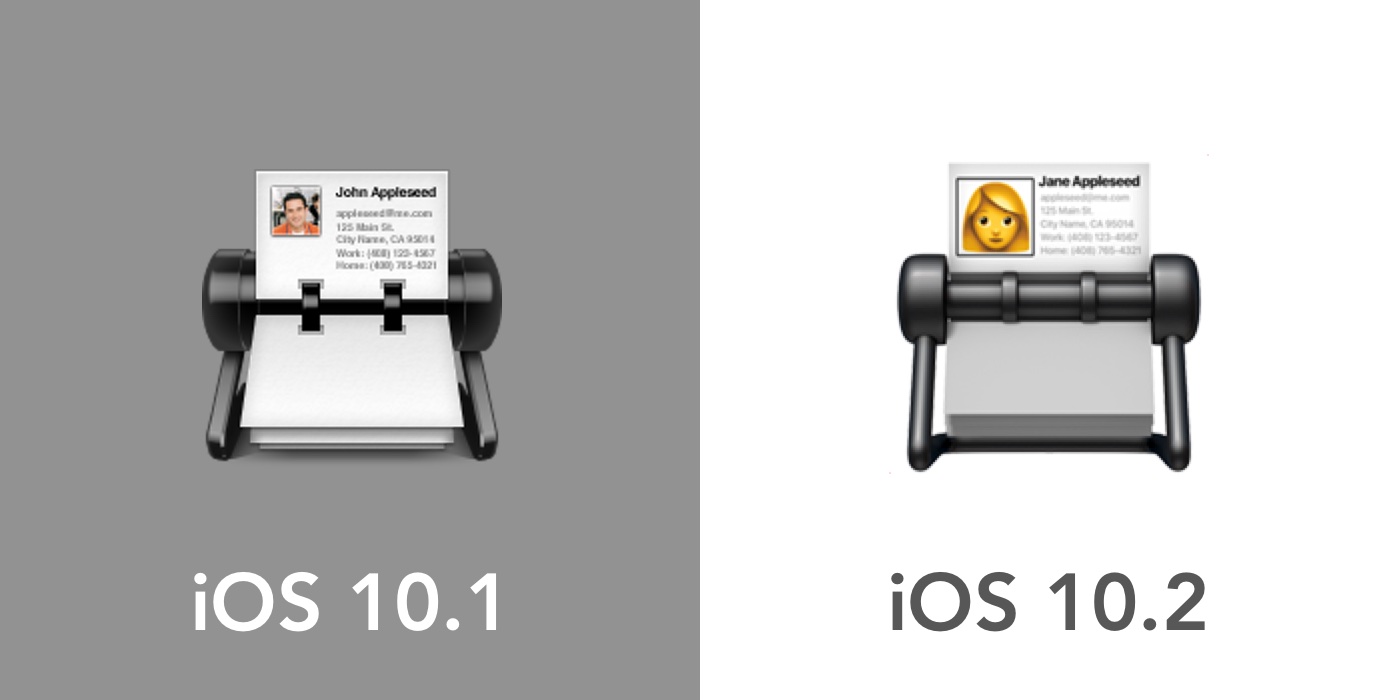 🎸 Guitar gains some strings, and a Fender Stratocaster-like appearance: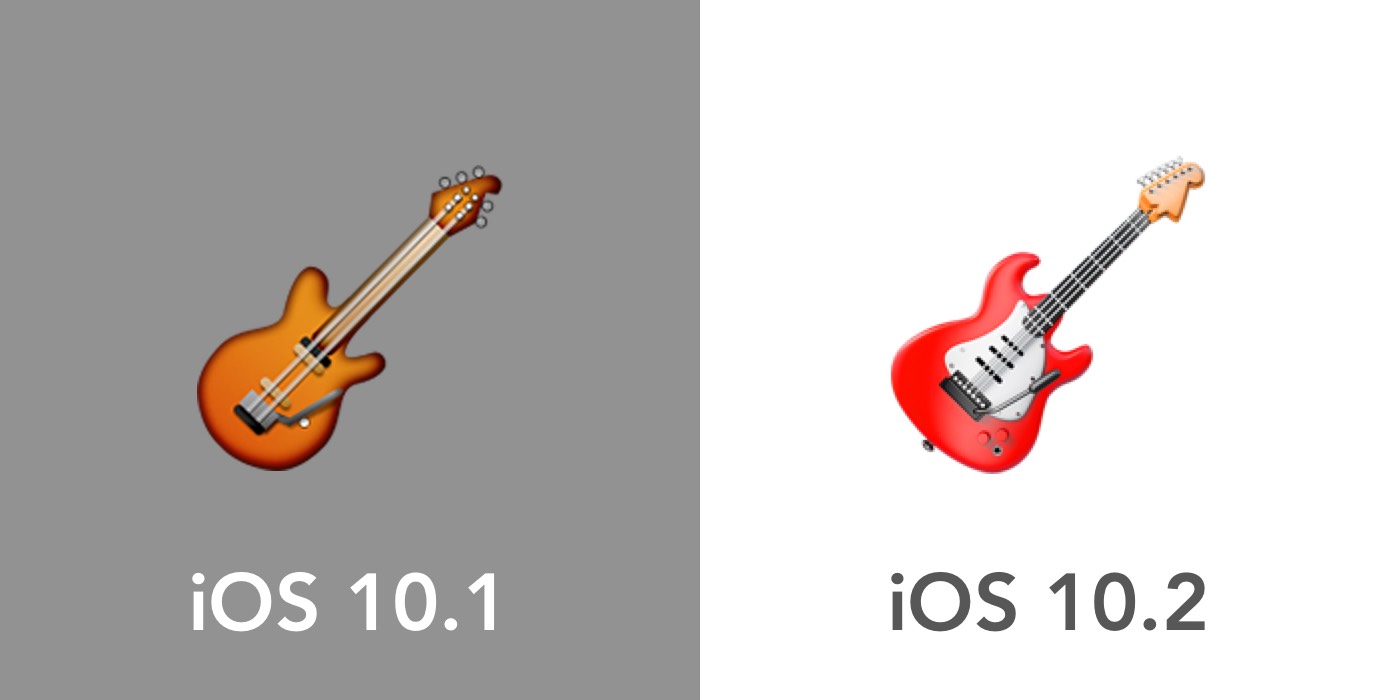 🌈 Rainbow now looks almost like colorful rows of piping: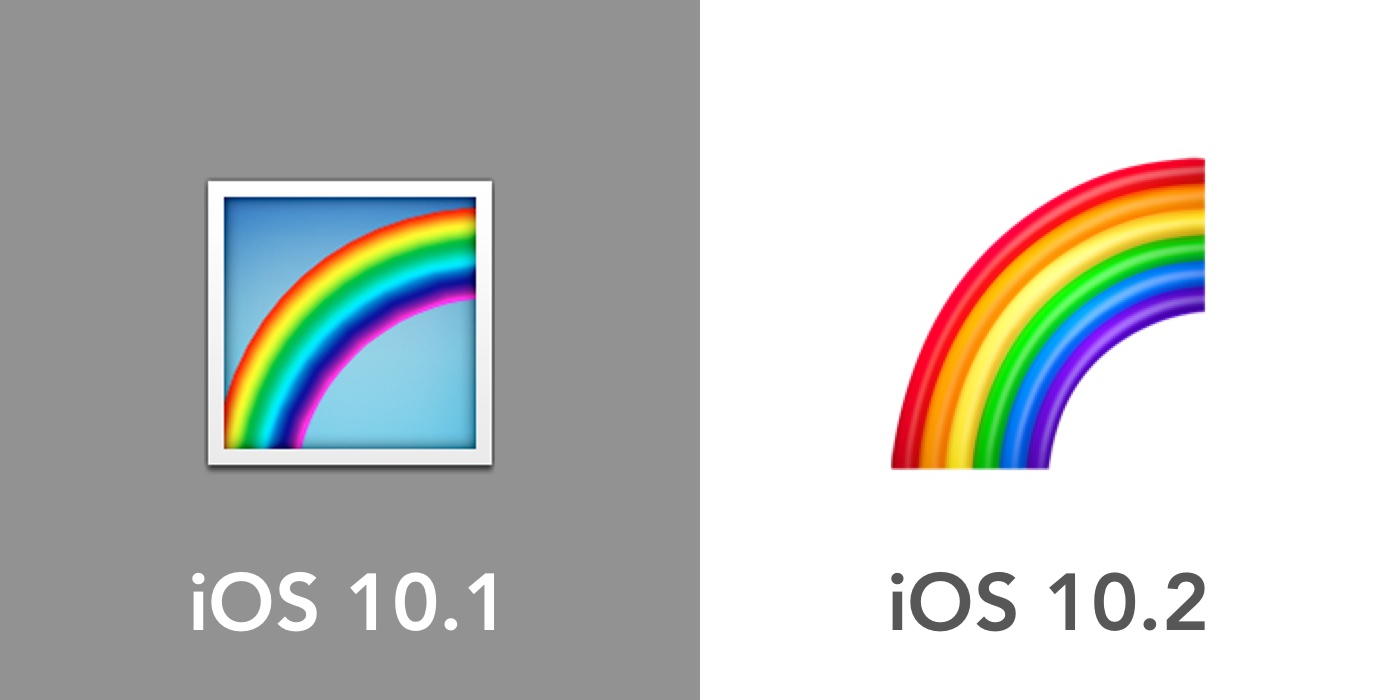 🌻 Sunflower gets a borderline photo-realistic appearance: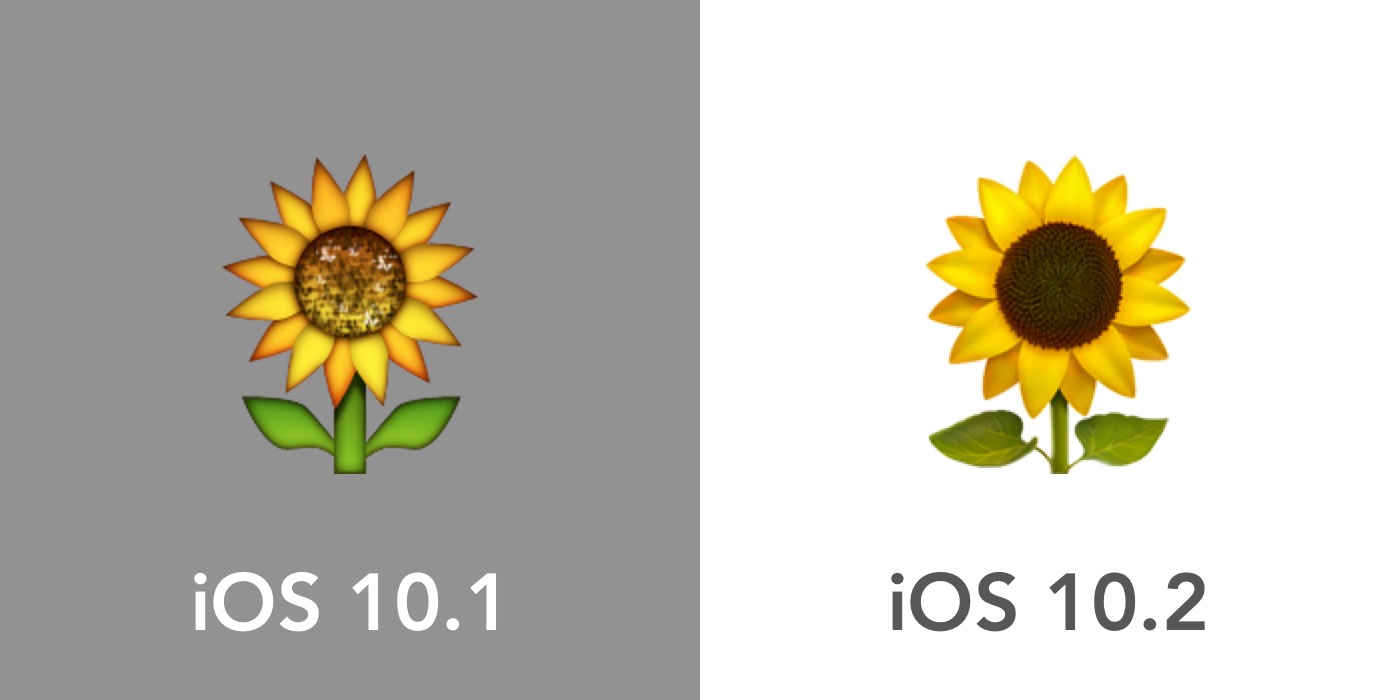 🚰 Potable Water Symbol is the only symbol to gain an upgrade into the Objects category[3], and lose its symbol-like appearance: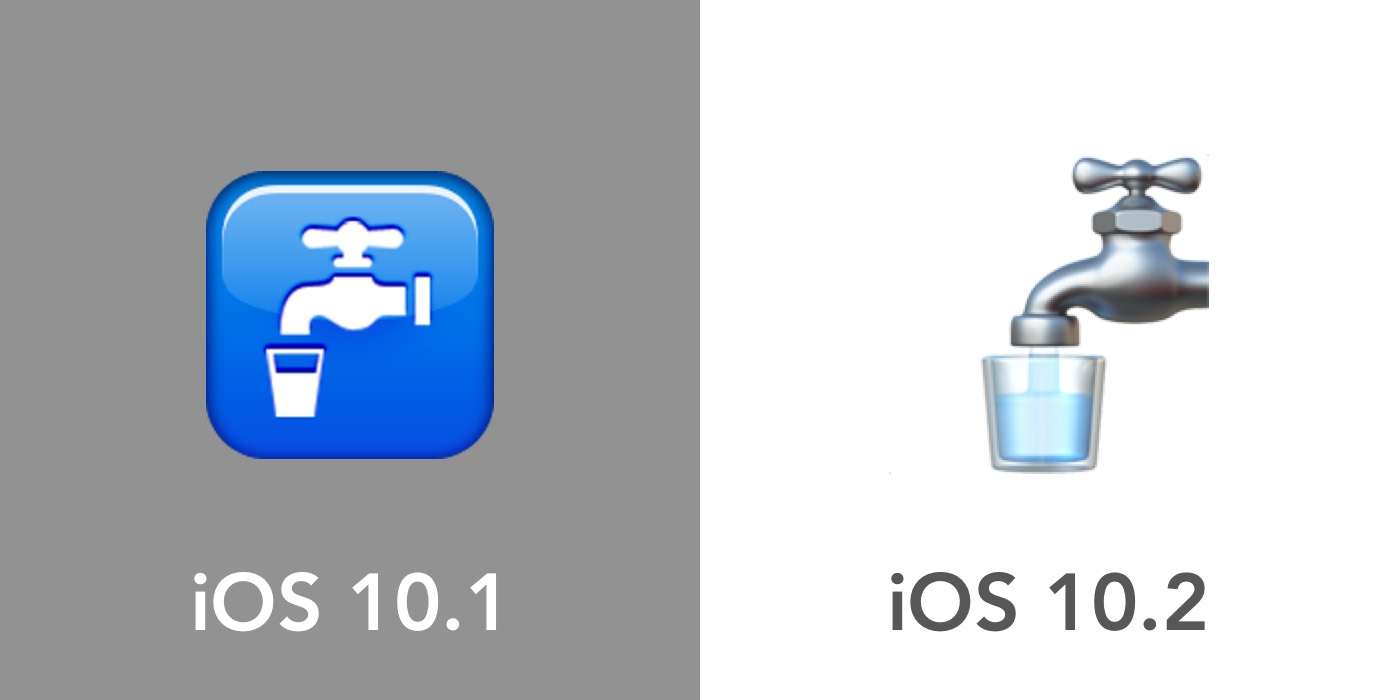 🌯 Burrito has turned into a Mission burrito: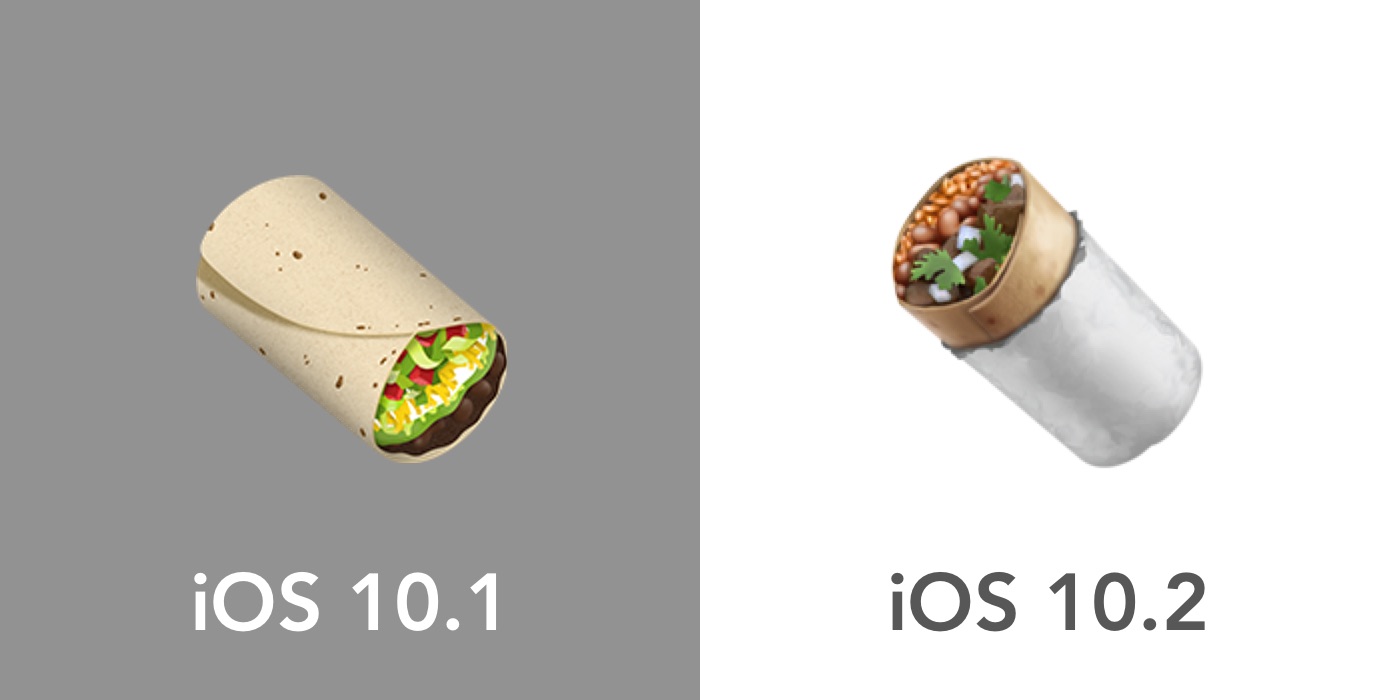 🐐 Goat is no longer white, now a shade of brown: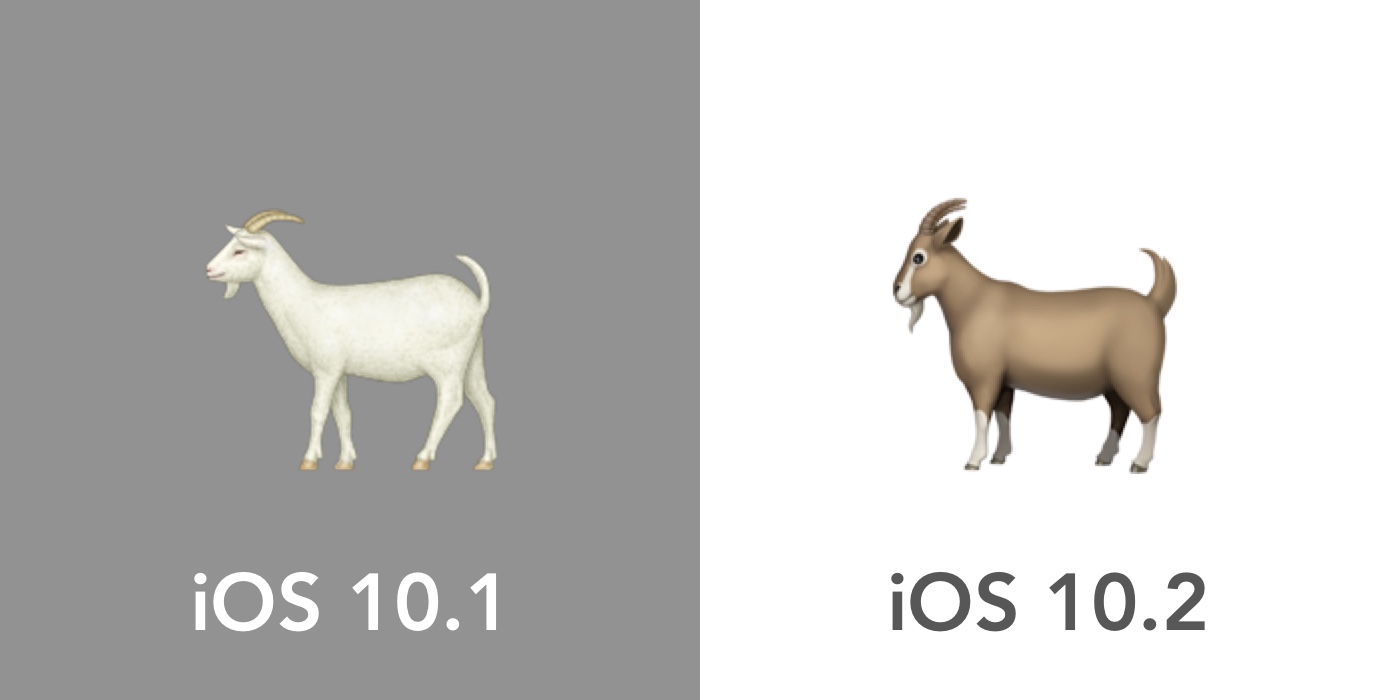 ☄️ Comet is barely recgonizable, now with a new meatbally appearance: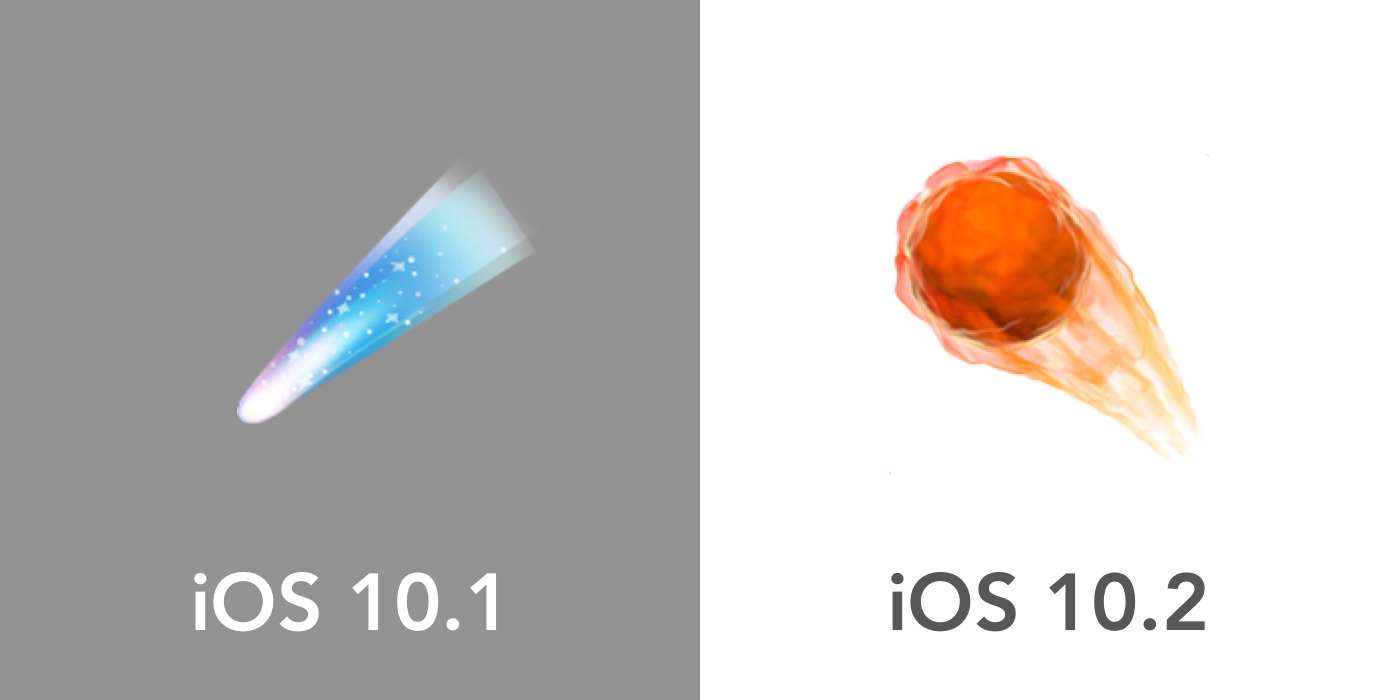 🌖 Waning Gibbous Moon Symbol shows off some beautiful shadows on the more textured surface: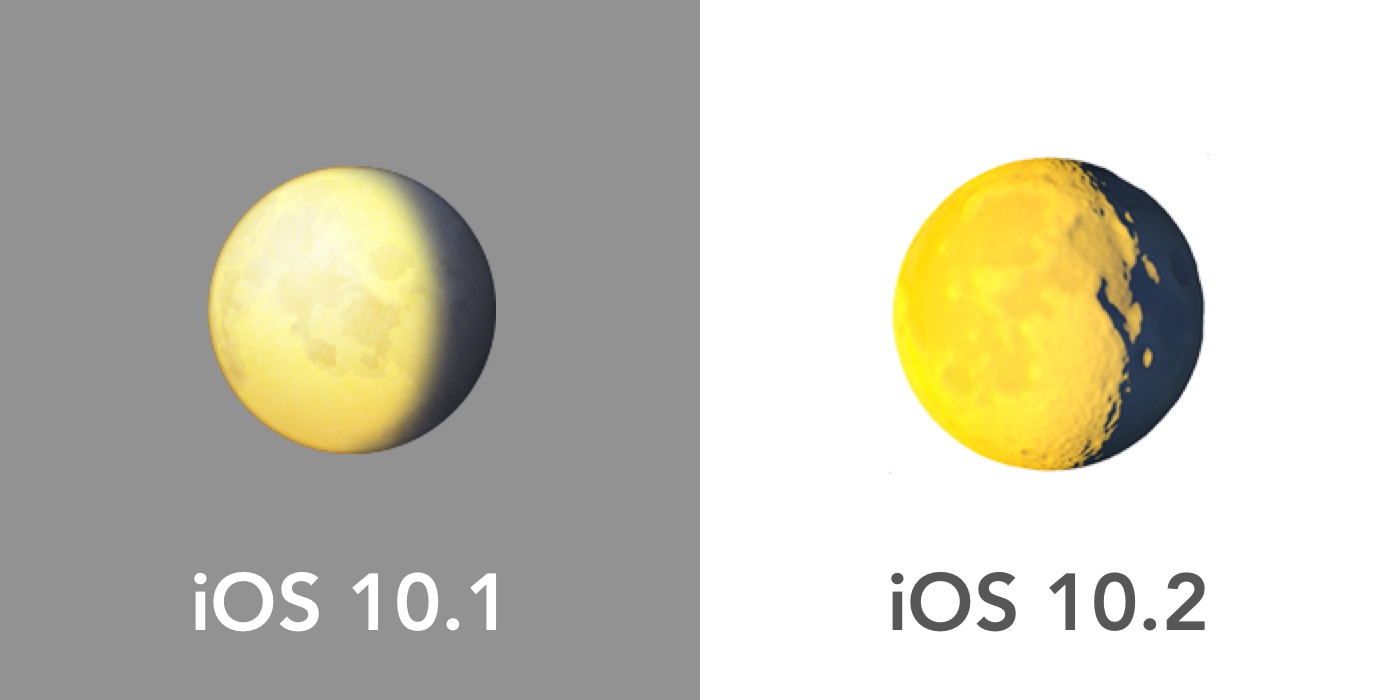 🎷 Saxophone makes better use of the space available, with creative proportions: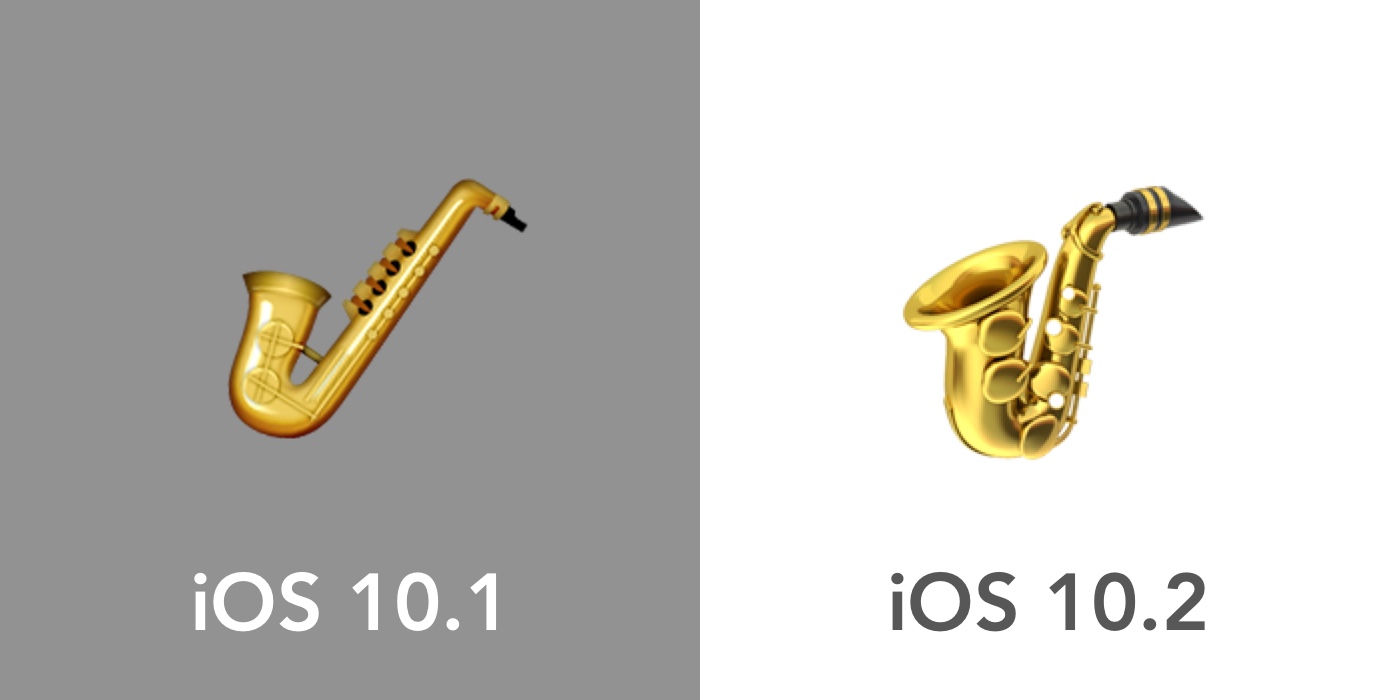 📟 Pager got new hardware, but kept its old number: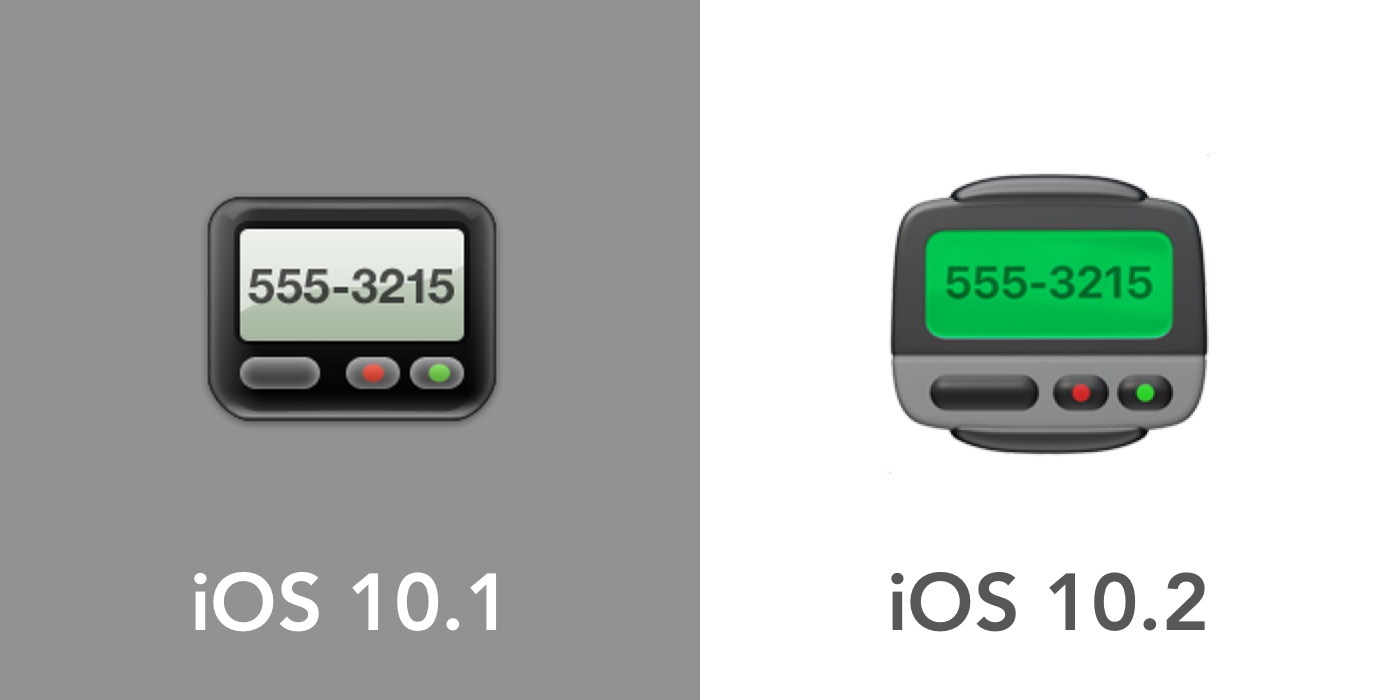 📠 Fax Machine lost the beige and gained a larger LCD screen: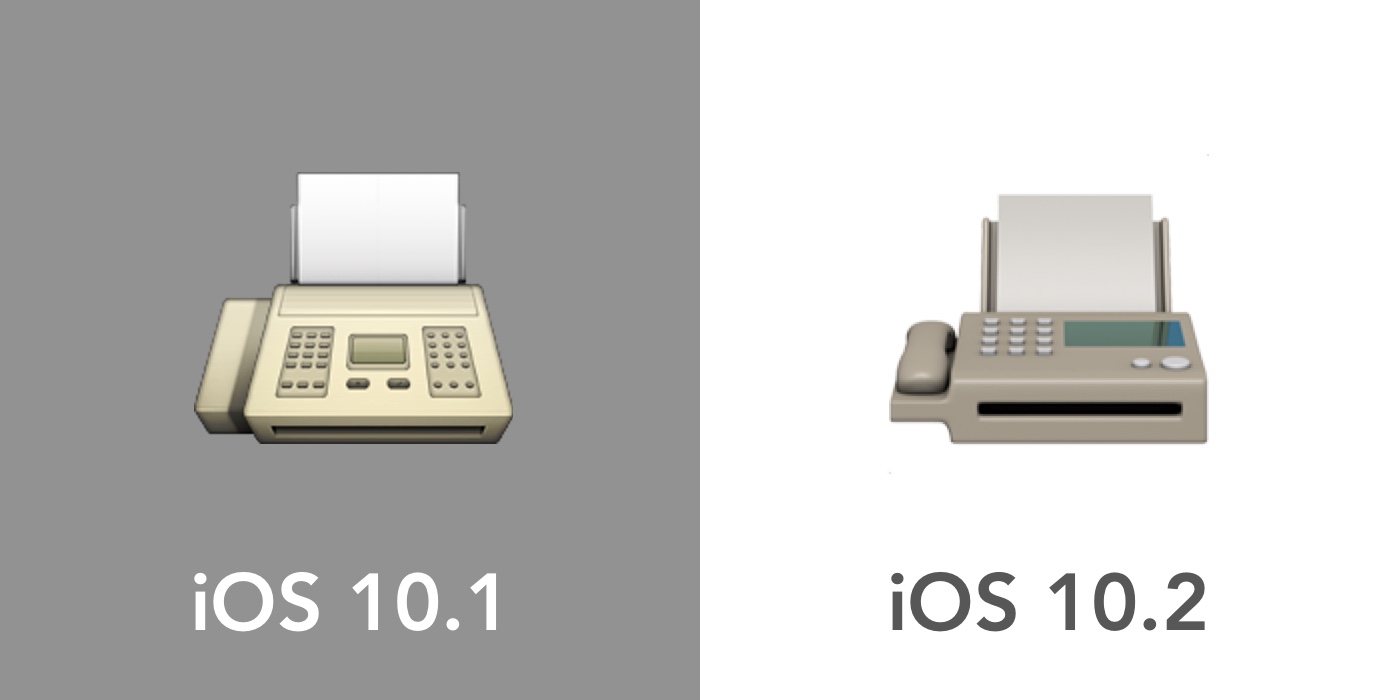 Omissions
Three characters have been given emoji status in Emoji 4.0, yet omitted from this iOS release.[4] These are:
In addition, one new flag has been added in Emoji 4.0, but not supported as yet:
In a near-miss, Apple changed course on a planned overhaul of the 🍑 Peach which looked like this in a developer beta 2: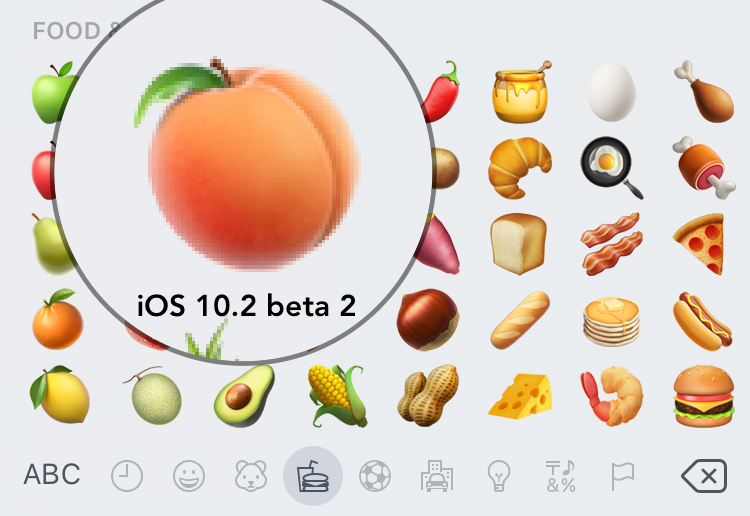 It turned out that far more people use the peach emoji as a butt, than a fruit.
After word of #PeachButtGate spread across this internet, the final appearance of this emoji returned to its butt-like shape in beta 3: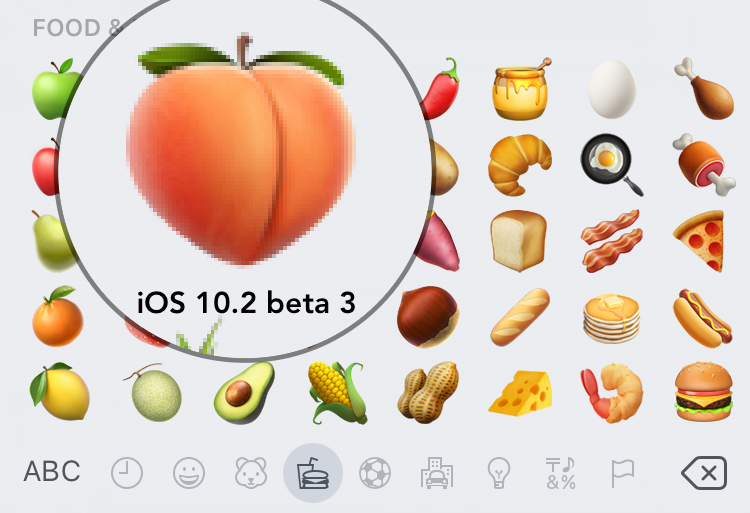 Emojis untouched in this revision are limited to flags, or those that were already updated in iOS 10.0, which were mostly humans and smileys.
Release
iOS 10.2 is available now for all supported iPhone or iPad devices. The same emoji updates appear in:
tvOS 10.1
watchOS 3.1.1
macOS Sierra 10.12.2
Browse all of the emoji updates on Emojipedia:
Don't Miss Out
We can't all spend our days here on Emojipedia. Sign up for our free, monthly email to keep up with the latest emoji news:
👇 Sign up here 👇
---
---