Facebook Emoji 14.0 Changelog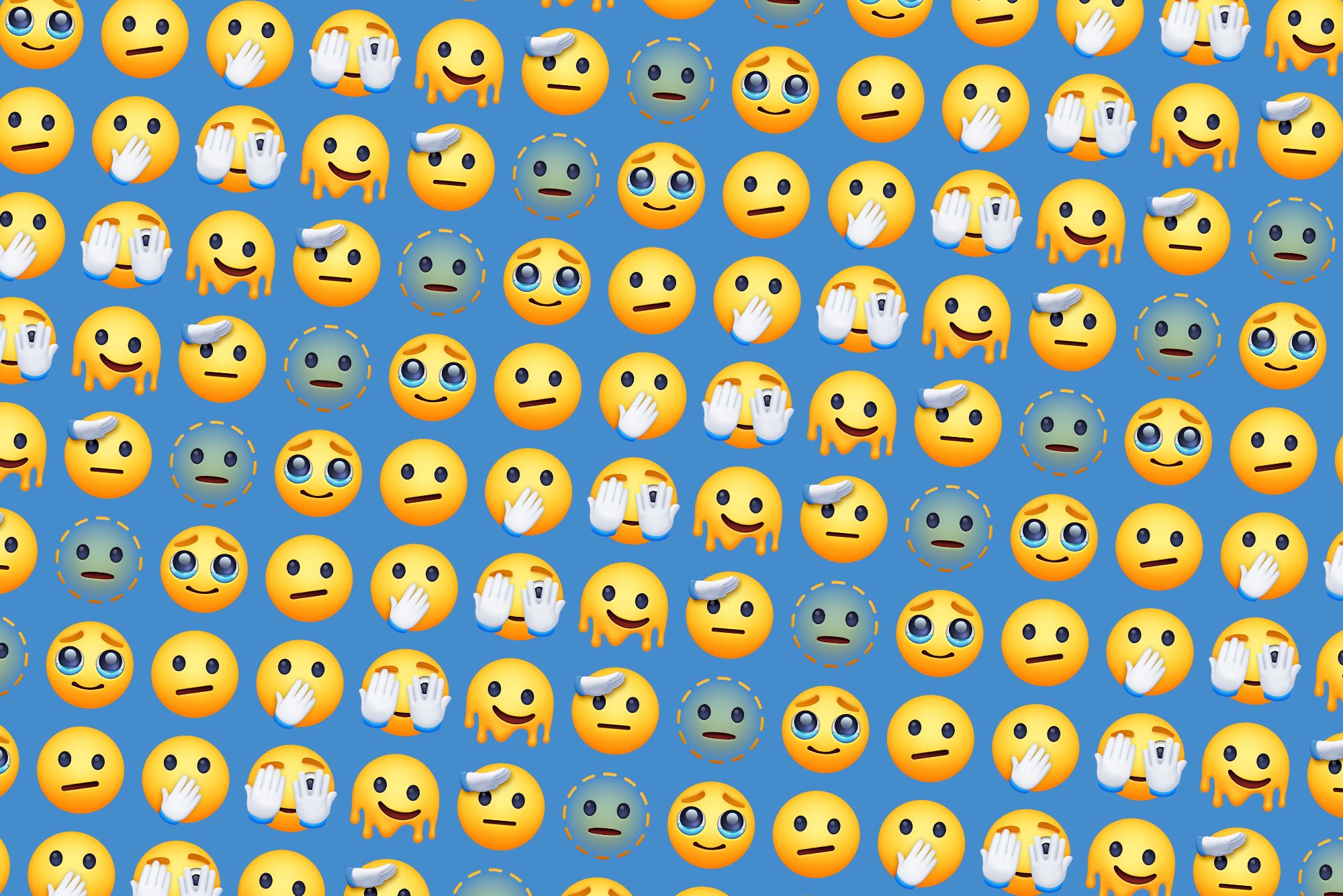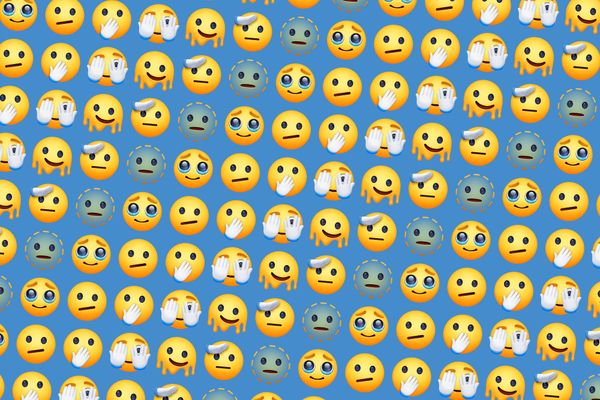 Facebook has begun rolling out a new emoji update, introducing the likes of 🫠 Melting Face, 🥹 Face Holding Back Tears, and 🫶 Heart Hands to the platform while also updating the existing 🤭 Face with Hand Over Mouth and 💉 Syringe emoji designs.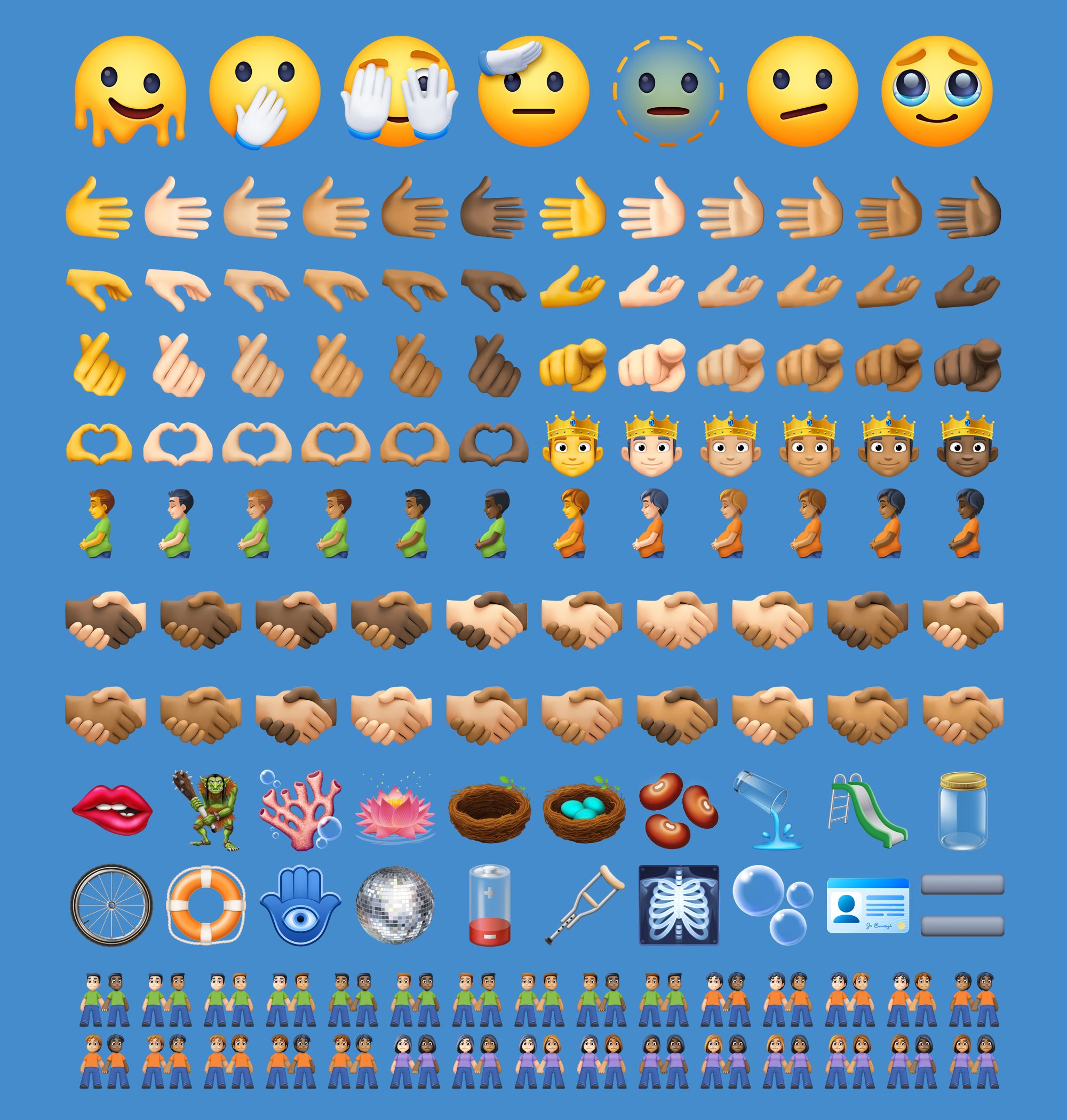 These emojis are for Meta's Facebook and Messenger platforms and will be made available to an increasing number of global users over the next weeks and months. Meta's other social properties - namely Instagram and WhatsApp - will not include these emoji designs at this time.
A total of 137 new emojis have been introduced in this update. 107 of the come from late 2021's Emoji 14.0 recommendations list, which introduced 🫡 Saluting Face, 🫦 Biting Lip, expanded 🤝 Handshake emoji skin tone options, amongst others.
The remaining 30 emojis, however, are from late 2019's Emoji 12.1 recommendation list.
While Facebook has supported the majority of Emoji 12.1 since summer 2020, today's update is the first to include a selection of different 🧑‍🤝‍🧑 People Holding Hands emojis - specifically, those that display an individual with the lighter of the two featured skin tones on the left of the emoji design.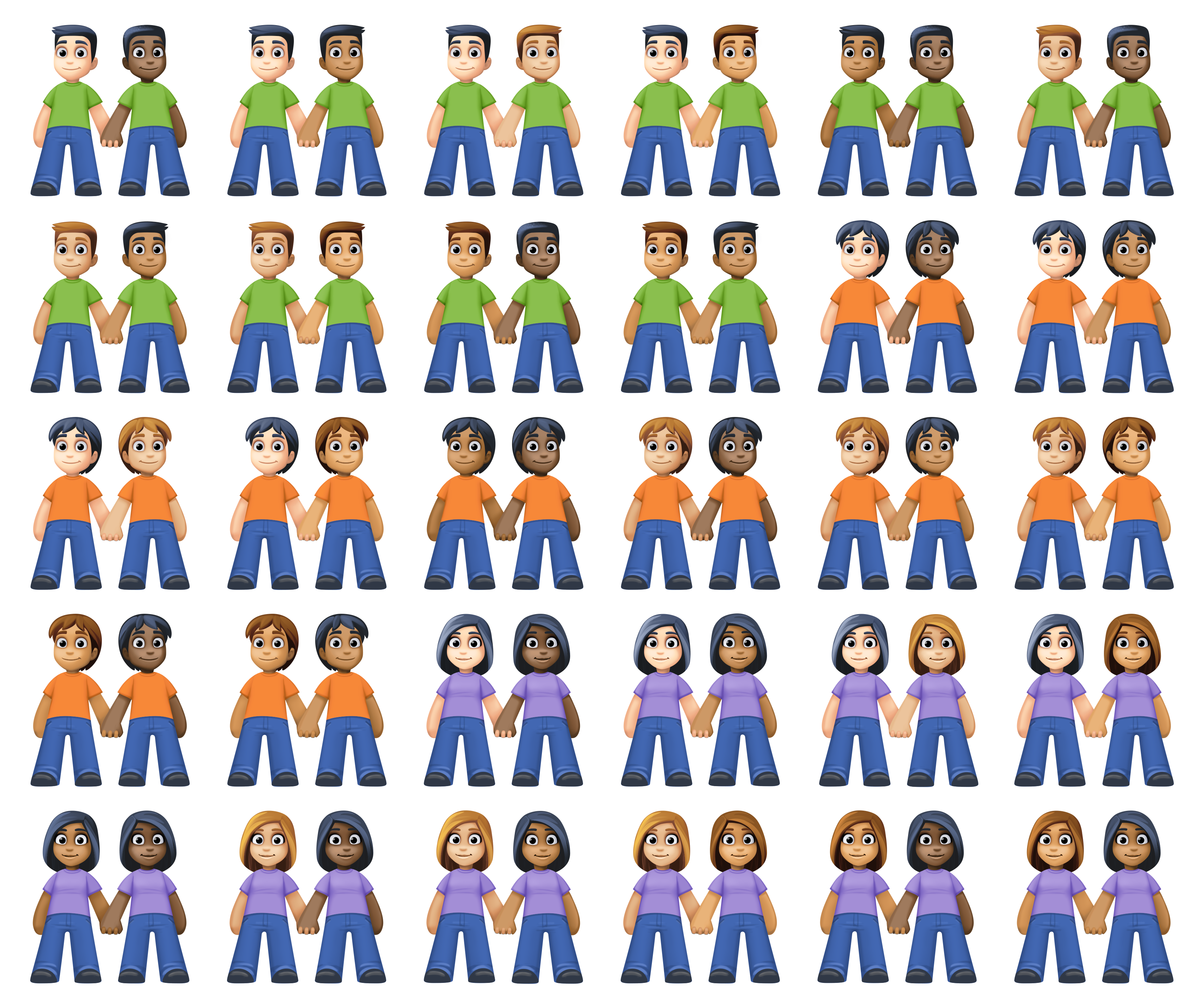 Additionally, three emojis have had their designs updated: the aforementioned 🤭 Face with Hand Over Mouth and 💉 Syringe emojis, as well as the 😐 Neutral Face.
🆕 New
This update includes seven brand new smiley face emojis - the largest number within a single Facebook emoji update since they first provided support for Emoji 5.0 in July of 2017.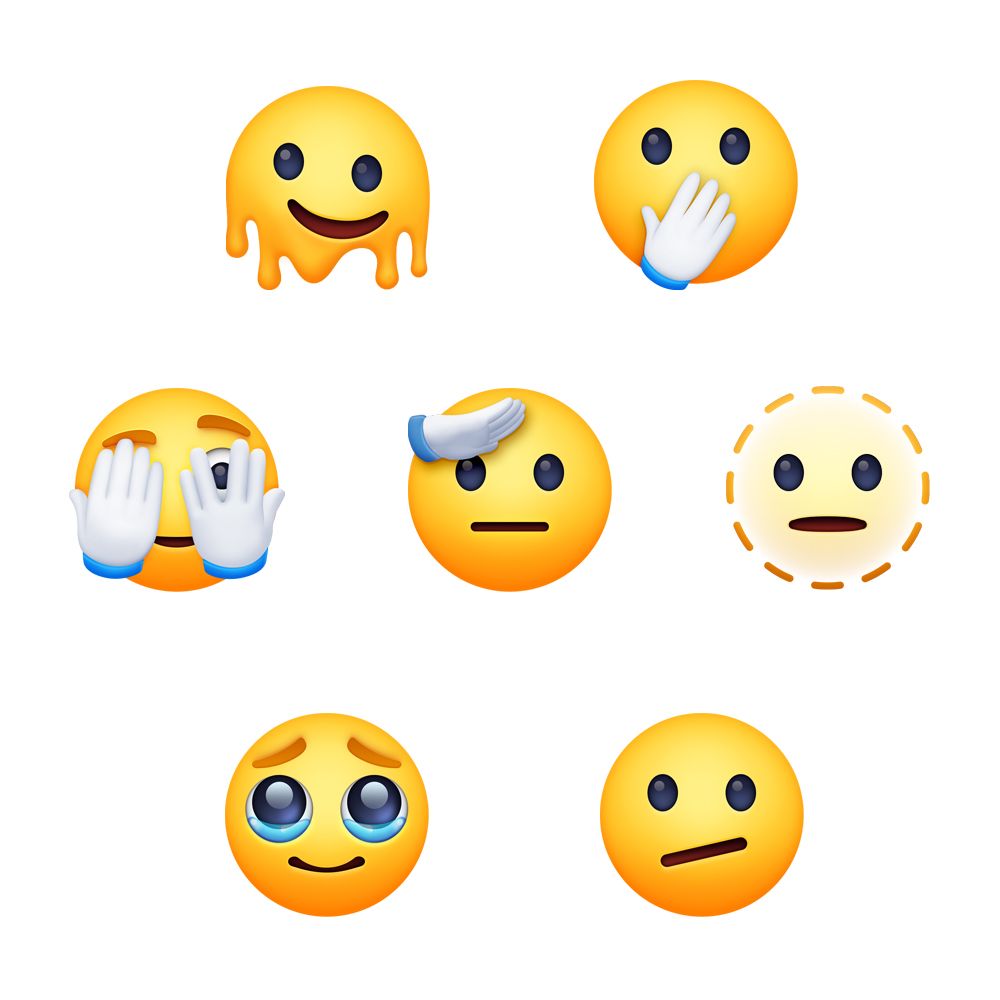 As with Apple's iOS 15.4 update earlier this year, the 🫢 Face with Open Eyes and Hand Over Mouth is of particular interest.
Those familiar with Facebook's emoji set would not be mistaken in believing they've seen this exact design previously. That is because, before this update, it was the design used for their 🤭 Face with Hand Over Mouth emoji, which has been given a brand new design.
Why the change? Well, across the majority of other major emoji vendor sets, the 🤭 Face with Hand Over Mouth emoji had historically displayed with a content expression. This contrasted greatly with the concerned, opened-eyed stare of the design on Apple and Facebook platforms in late 2017 and late 2018 respectively.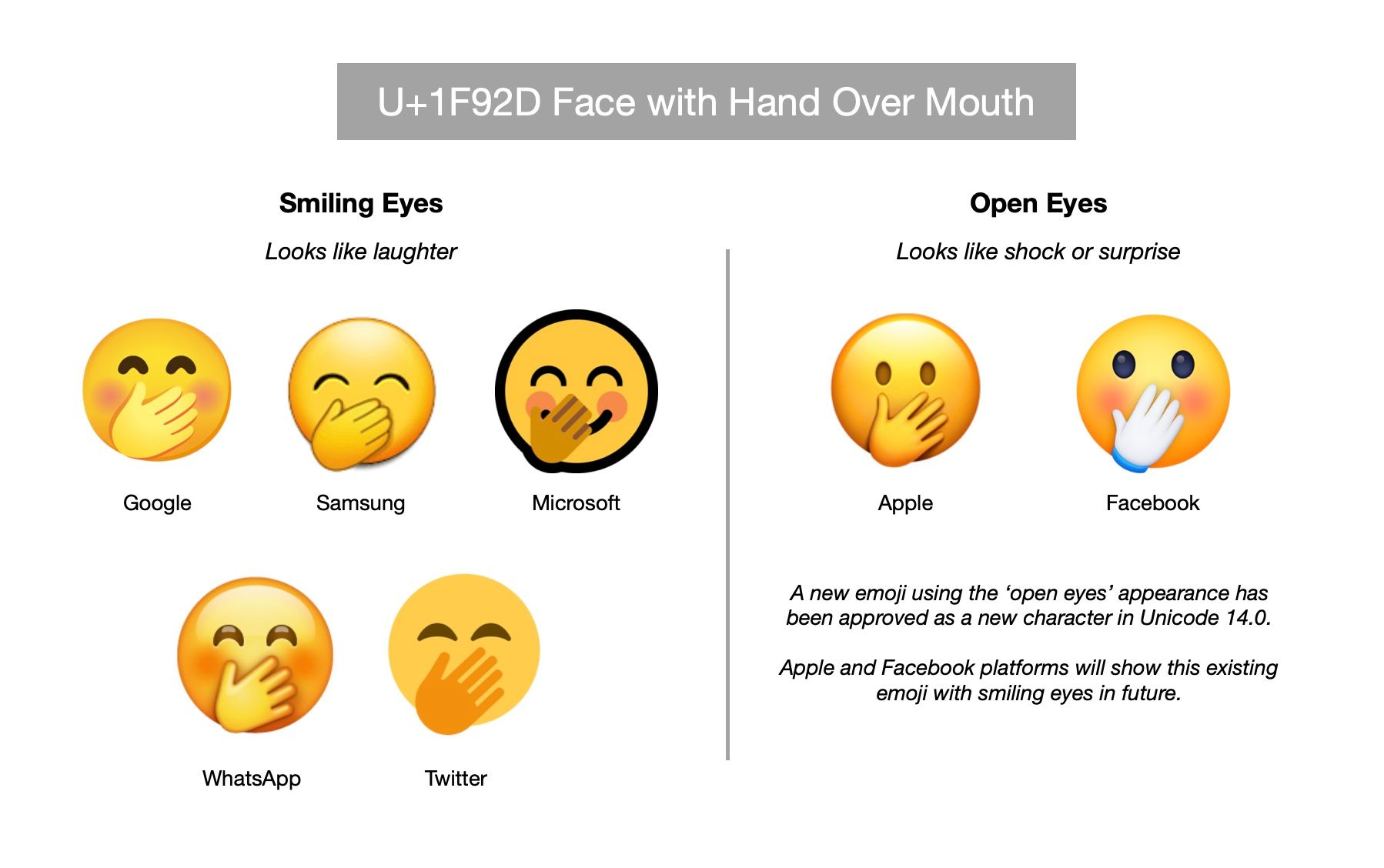 However, following this Facebook update and Apple's iOS 15.4 update in March of this year, the 🤭 Face with Hand Over Mouth now has a convergent expression across all major emoji vendors.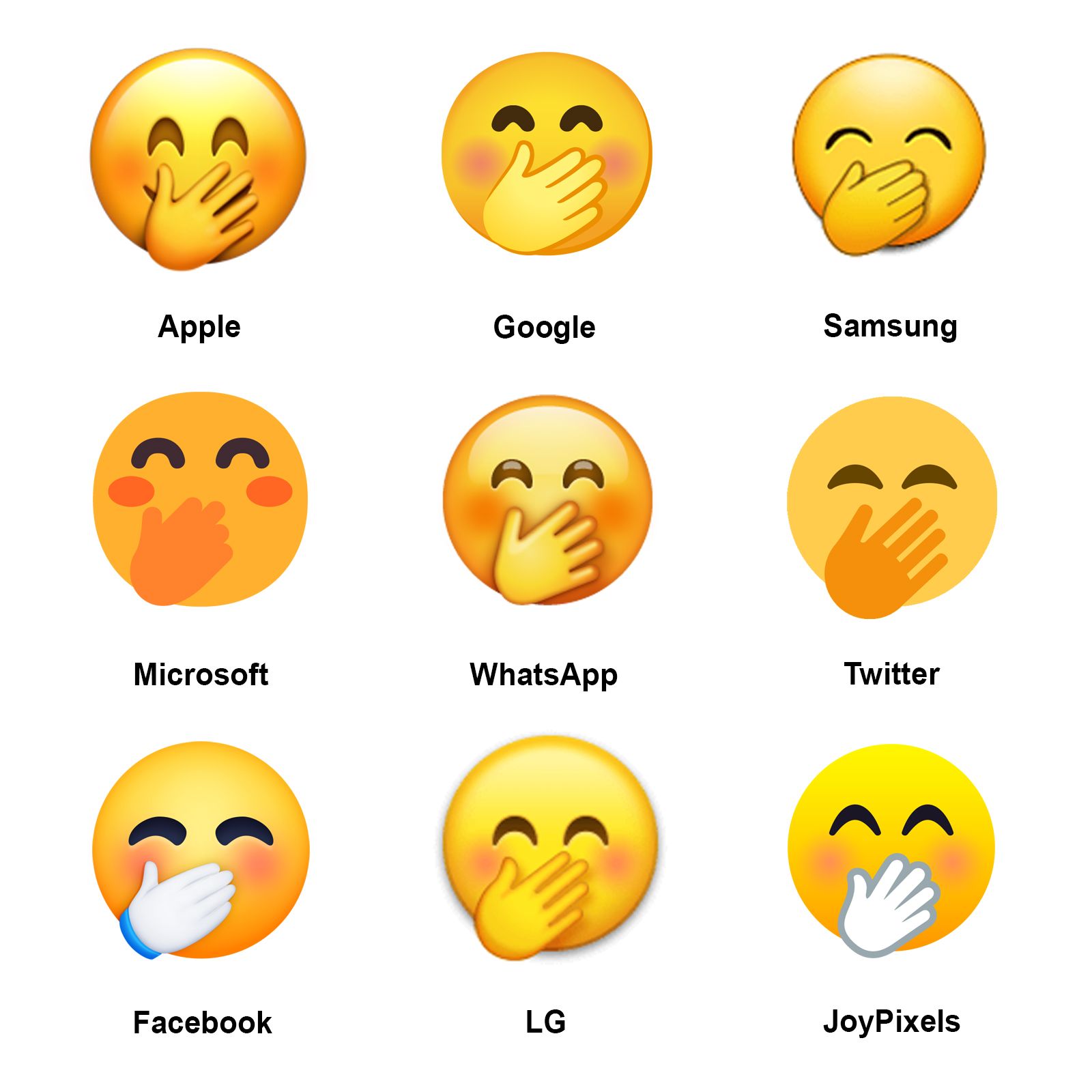 The update also introduces seven brand new hand gestures to Facebook's emoji set.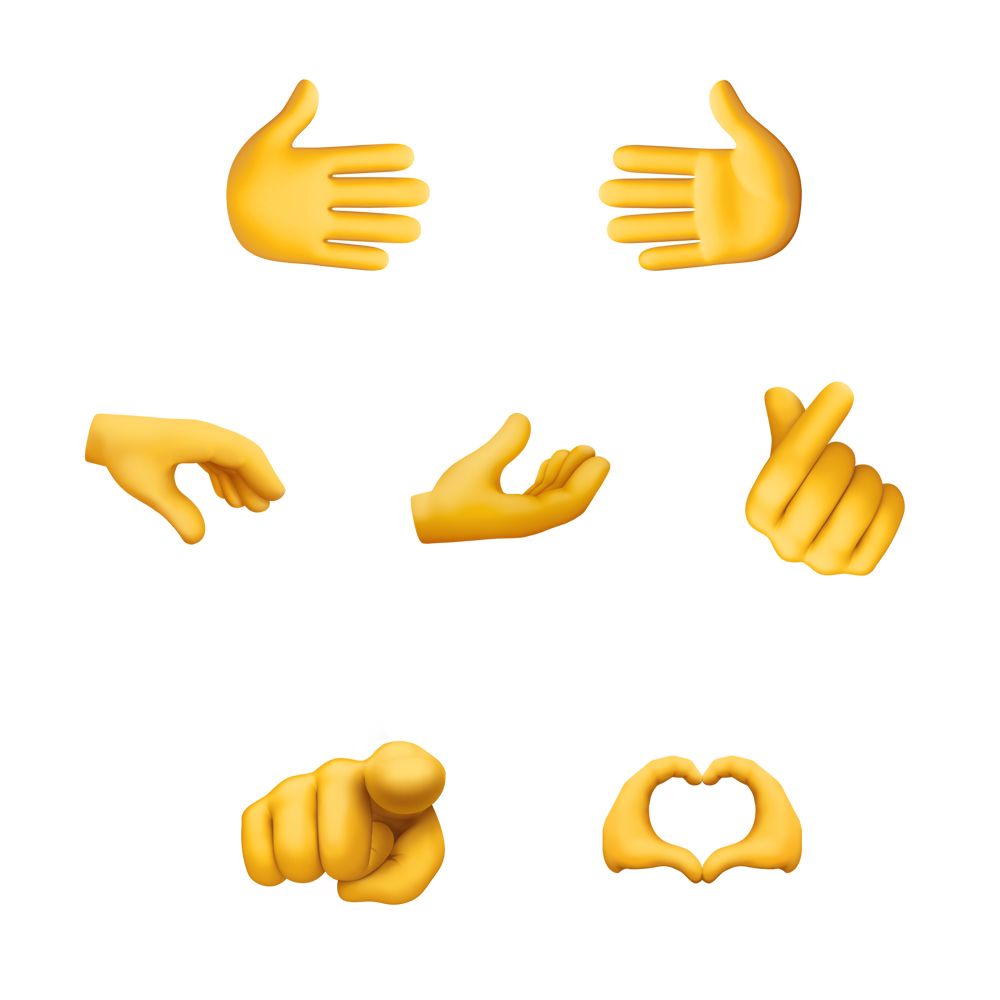 As with all other hand gestures, these new additions support skin tone modifier options.
Additionally, two of these new hand gestures - namely 🫱 Rightwards Hand and 🫲 Leftwards Hand - have been used to create a series of new 🤝 Handshake emoji sequences with multiple different skin tone options.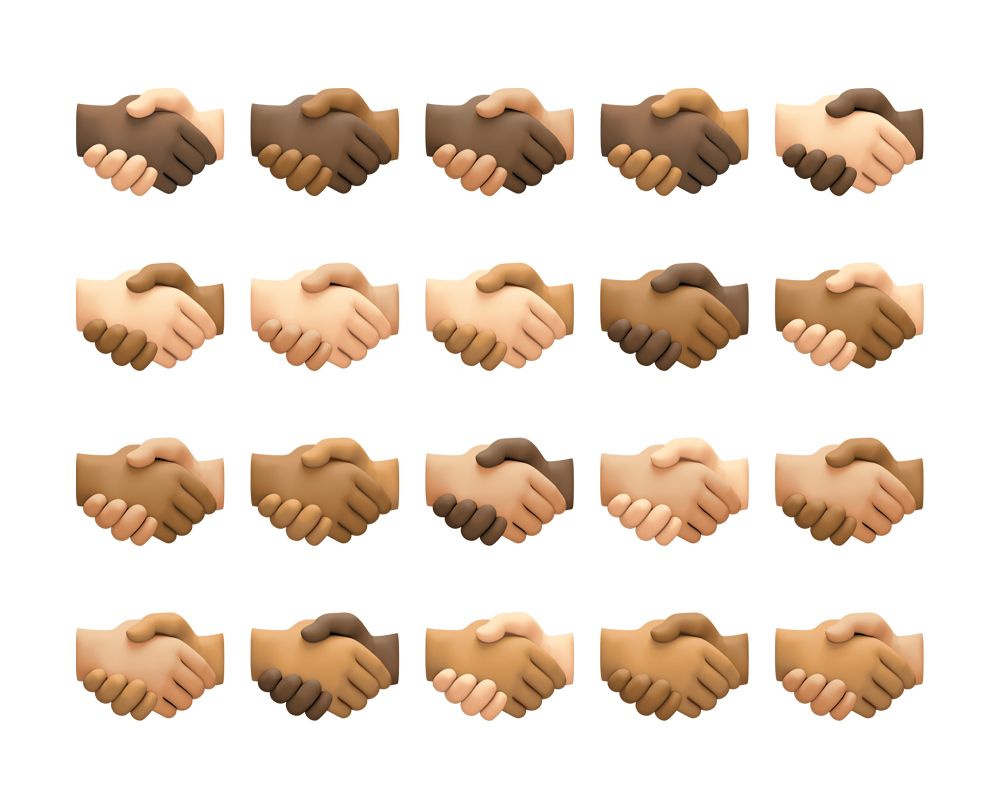 Five other 🤝 Handshake emoji variants - namely those that display both hands with the same skin tone - have been supported by Facebook since 2017 despite only being formally recommended for general interchange (RGI) in last year's Emoji 14.0.
Alongside the 30 variants from Emoji 12.1 highlighted above, this Facebook emoji update adds three people emojis: the gender-neutral 🫅 Person with Crown and 🫄 Pregnant Person, as well as the 🫃 Pregnant Man.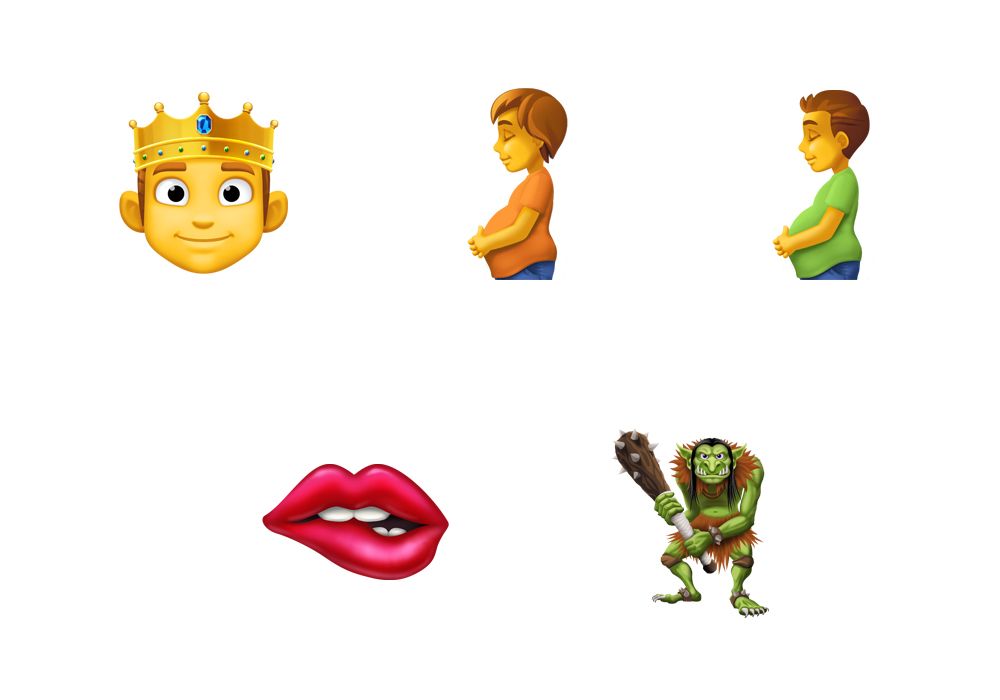 The update also includes toothy 🫦 Biting Lip and a battle-ready 🧌 Troll fantasy creature.
Finally, this update also includes a small number of new additions to the 🐻 Animals & Nature, 🍔 Food & Drink, 💡 Object, and 🔣 Symbol emoji categories.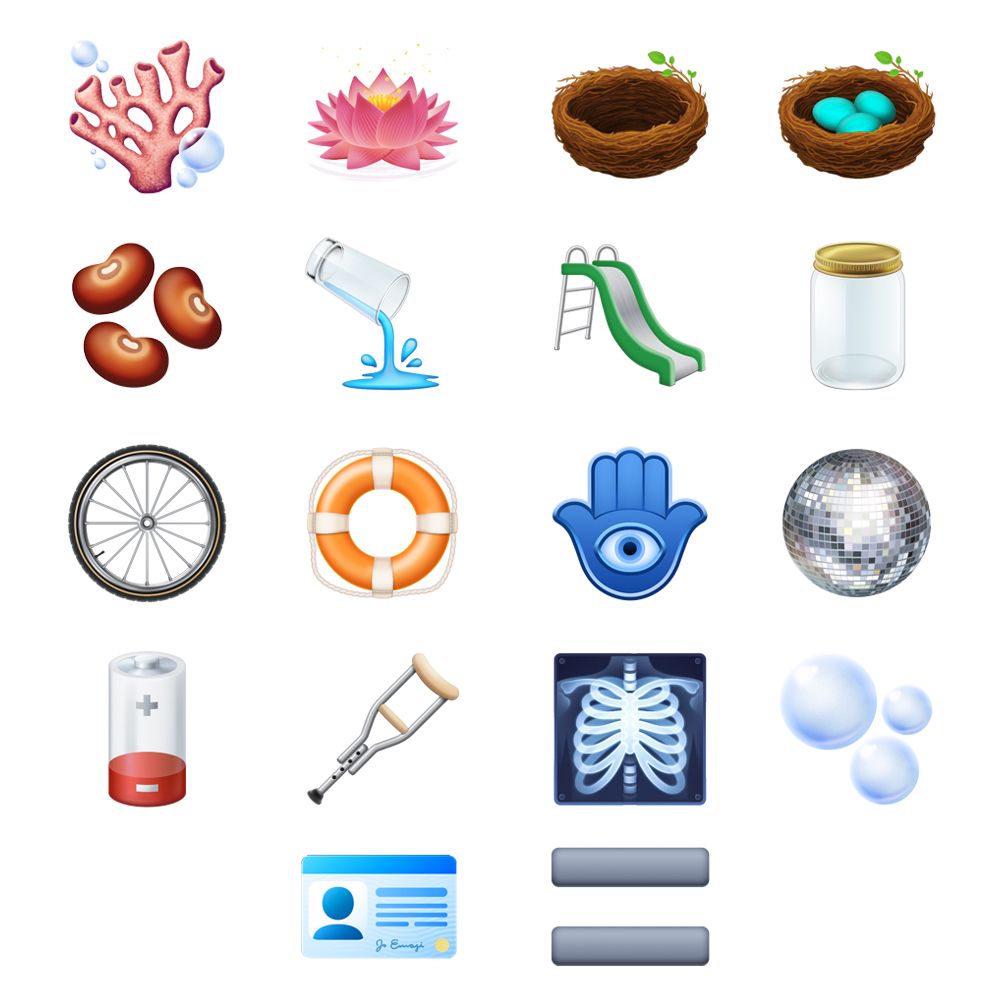 🆙 Changed
💉 Syringe has been updated to remove its blood-red contents and droplets, as per other vendors' recent changes.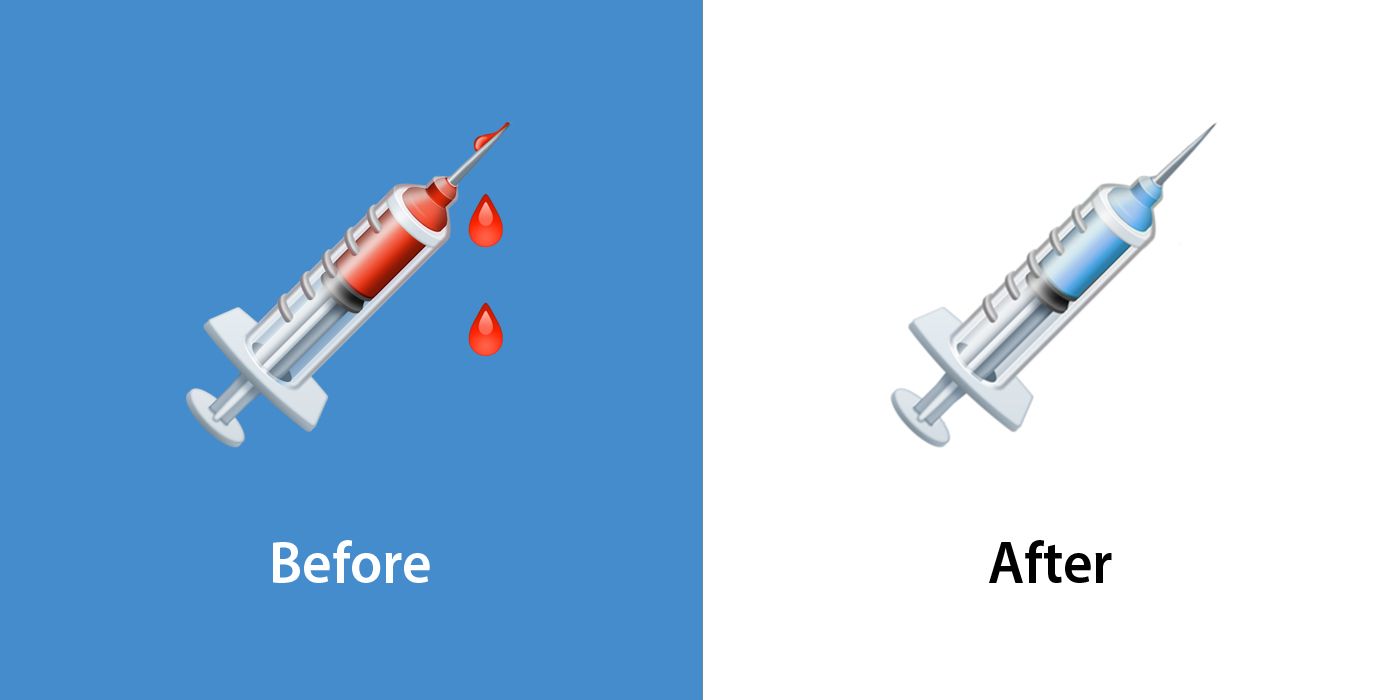 🤭 Face with Hand Over Mouth now has a contented expression to match other vendors' designs.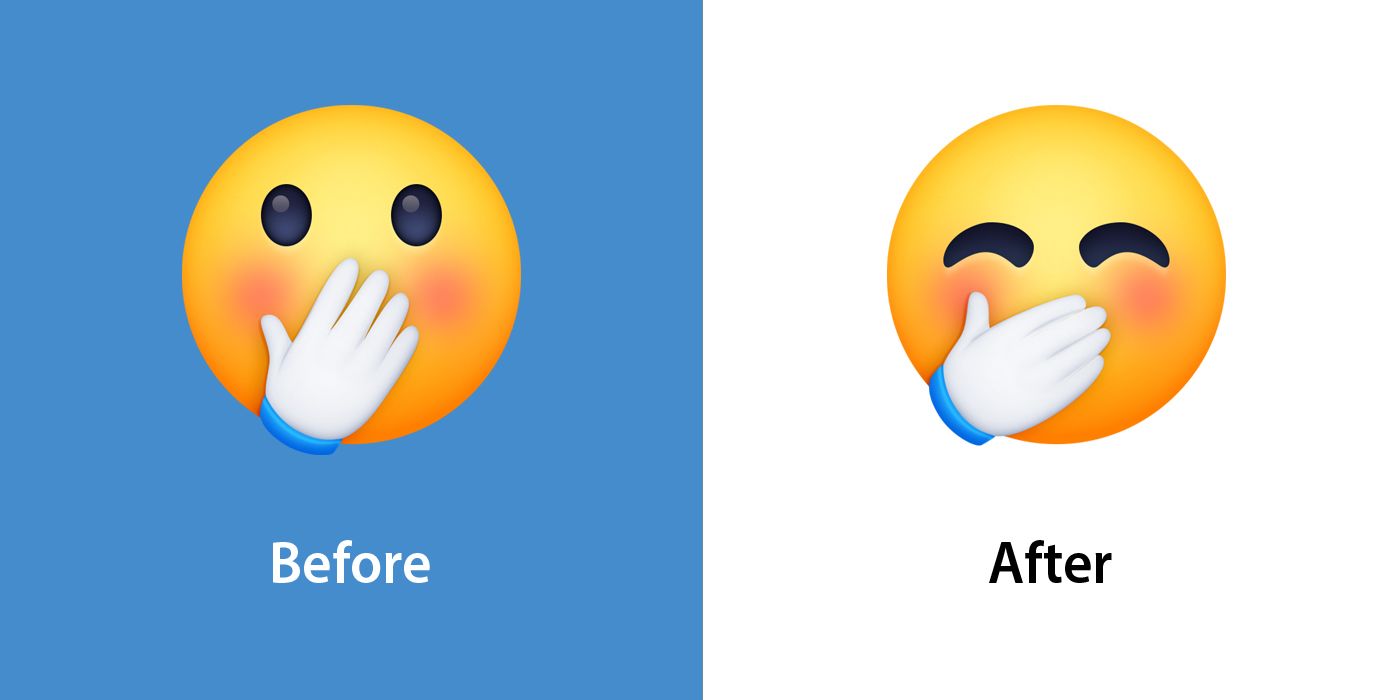 😐 Neutral Face now has a rigidly vertical mouth, as per other vendors.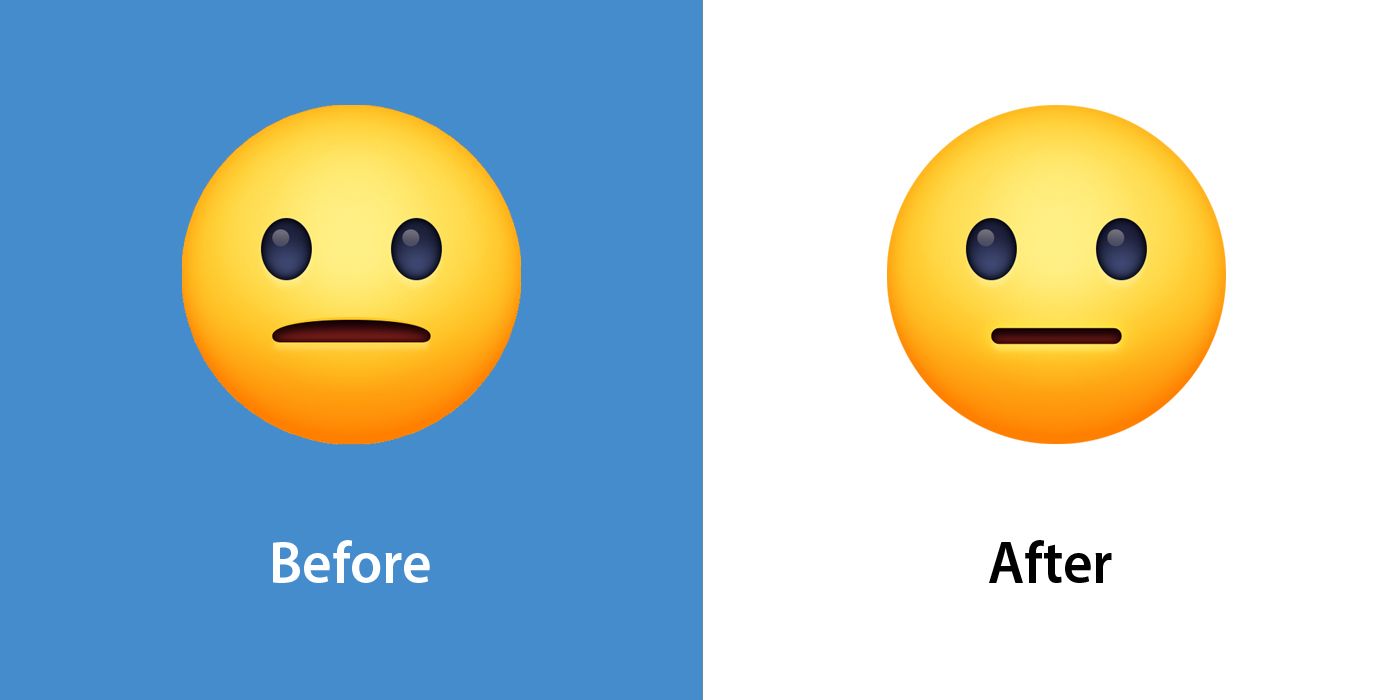 📶 Release
Facebook's support of Emoji 14.0 began its rollout in April and will become available for a majority of global users in the coming weeks and months.
Users of Facebook and Messenger see these designs on the social network and messaging app across Android and Windows platforms.
iOS users will see Apple's native emoji designs within the Facebook and Messenger mobile apps, though they will see Facebook's design set if accessing Facebook.com or Messenger.com via MacOS.
📖 Read More