Android 12 Beta Updates Emoji Designs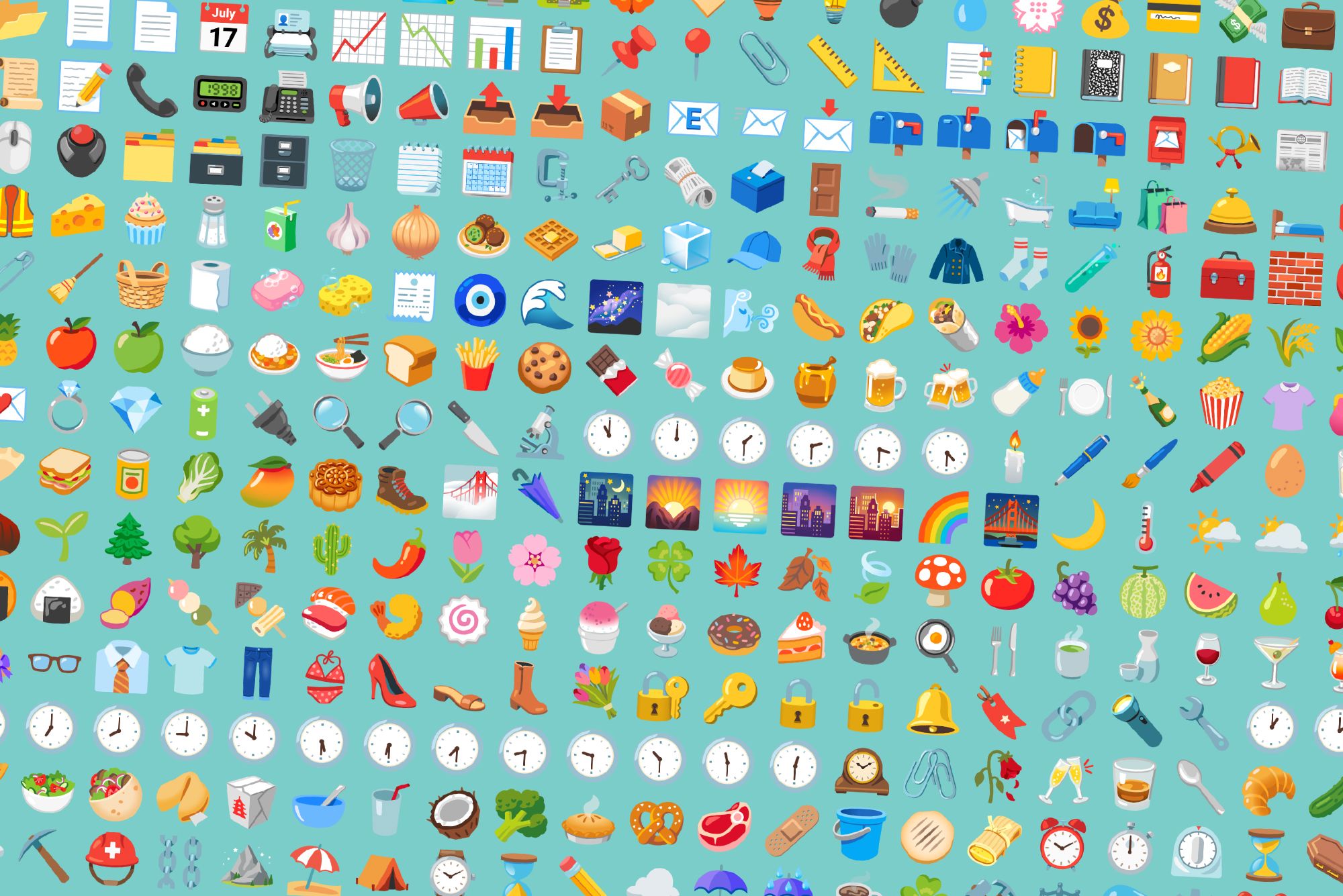 Following their I/O 2021 keynote earlier today, Google release their first public beta for Android 12. Included within the beta are changes to hundreds of existing emoji designs, with a particular focus on food, drinks, objects, and nature.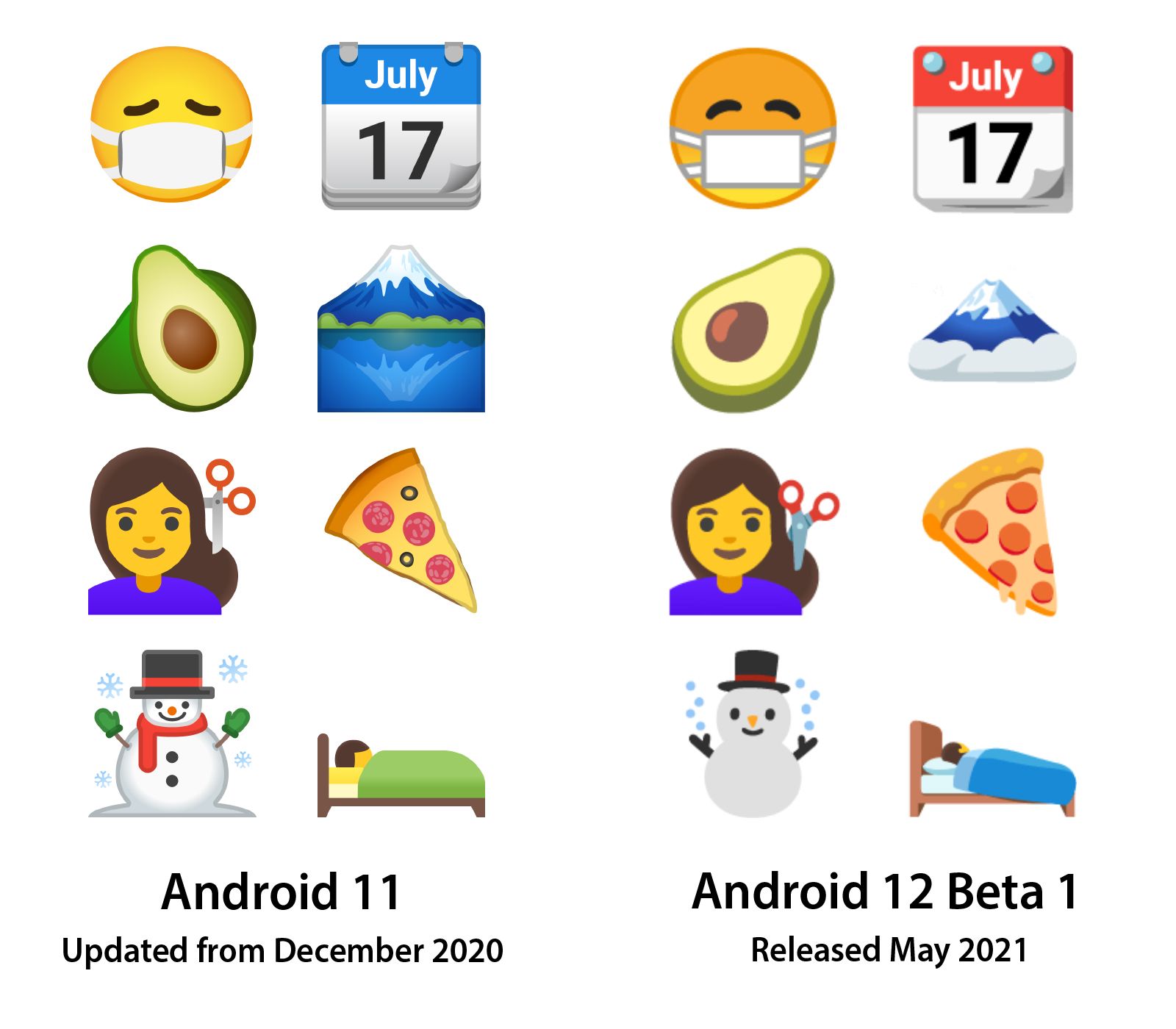 Above: a comparison of several emoji designs as they appear between Android 11 and the first public Android 12 beta.
Perhaps the most notable of these beta changes is the reversion of the 😷 Face with Medical Mask back to its earlier Android 10 design.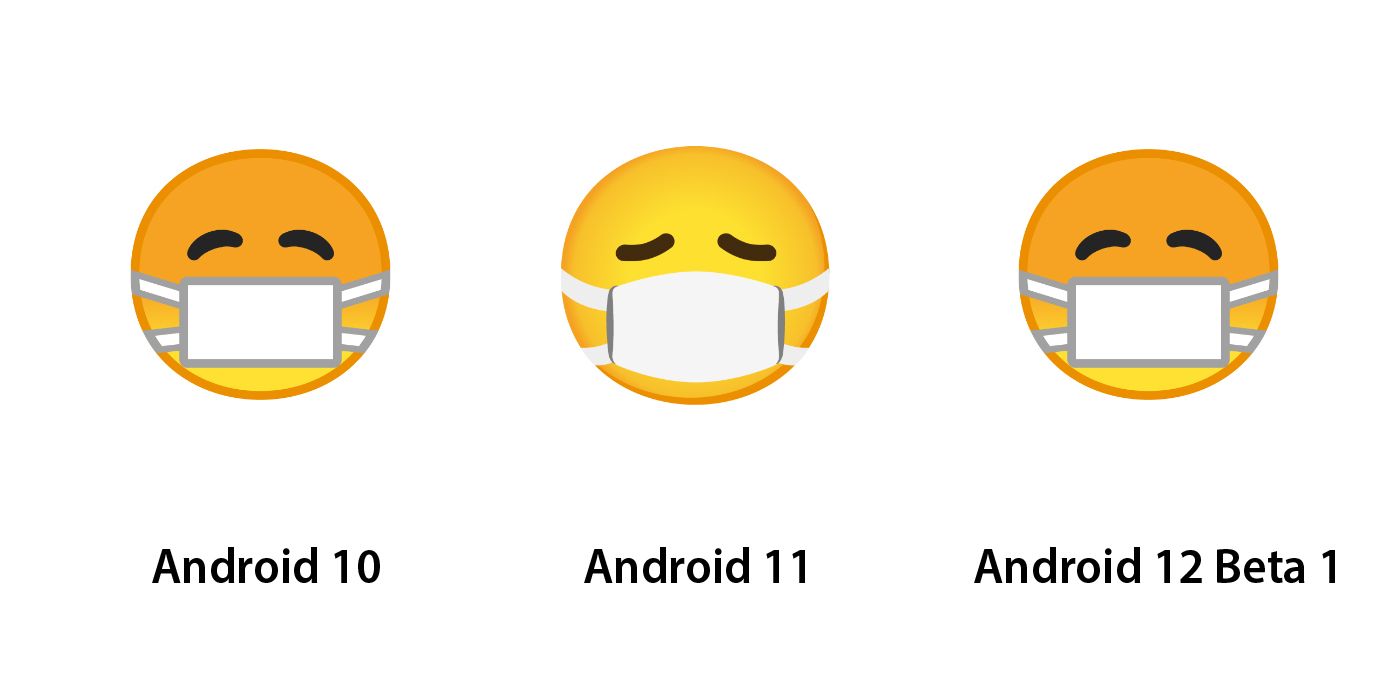 As with all beta software, the designs released by Google today are subject to change prior to the final release. It's therefore quite likely that the 😷 Face with Medical Mask has been reverted back to its Android 10 design in error, and indeed may either be returned to it's Android 11 appearance or given an entirely new design come future Android 12 beta releases.
Today's beta release does not feature any brand new emojis alongside these design changes. This is not surprising, as Unicode's 2021 emoji recommendations are still currently being drafted.
However, at the tail end of 2020 Google began rolling out support for Unicode's Emoji 13.1 recommendations. Initially released as via a feature drop exclusive to Google Pixel devices, new emojis such as 😮‍💨 Face Exhaling and ❤️‍🔥 Heart on Fire are available to users running Android 11 on eligible devices.[1]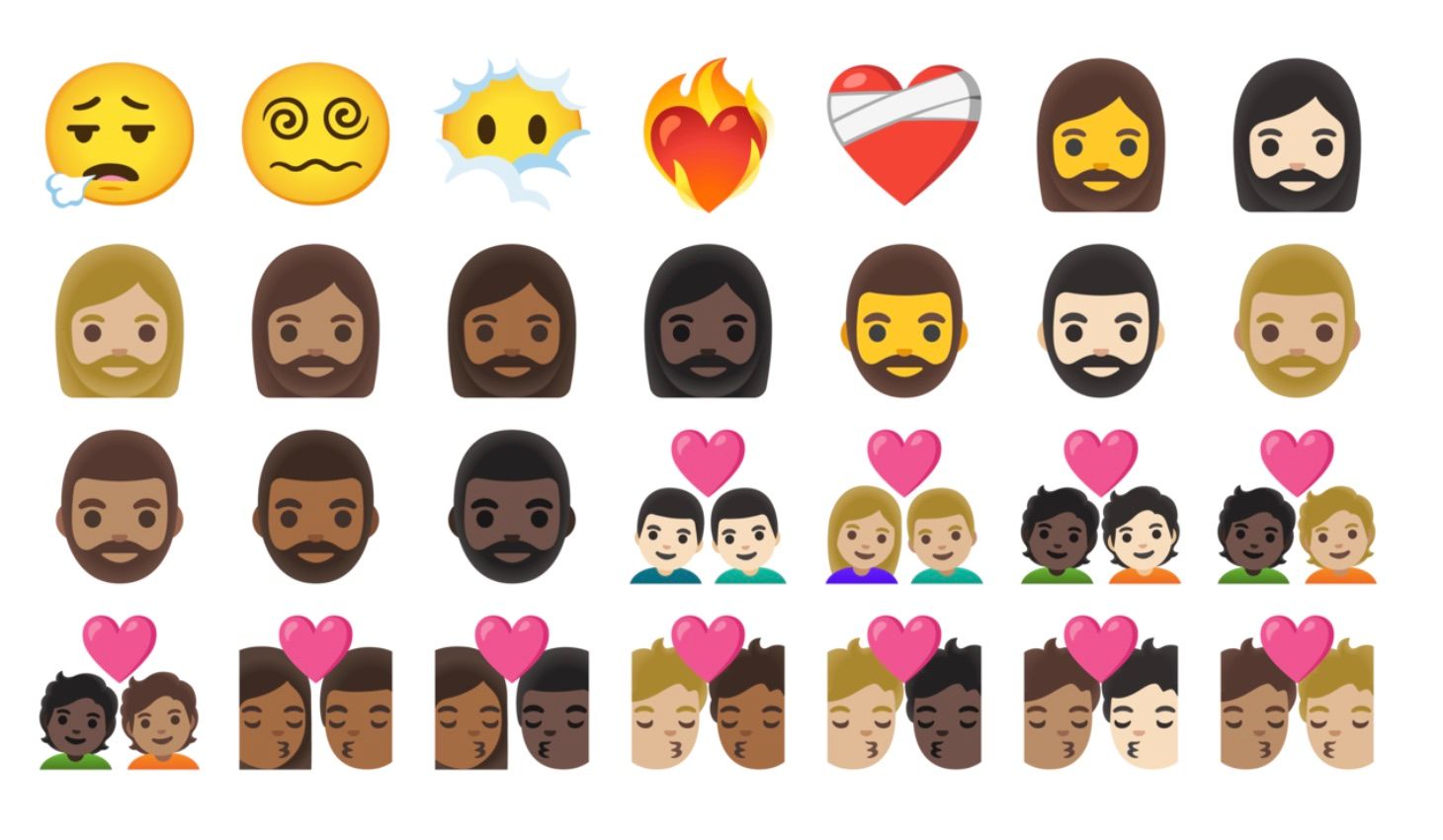 Above: emojis from Emoji 13.1 which were released previously by Google in late 2020. Image: Google designs / Emojipedia composite.
Despite this beta featuring no new emojis, it is entirely possible that a later Android 12 beta will contain new emojis once Unicode's 2021 list has been finalised later in the year.
In the meantime, while it is no longer possible to make a proposal to Unicode for a new emoji to be released in 2021, proposals for new emojis for 2022 are now being accepted.
✨ Notable Changes
The scissors that appear in 💇‍♀️ Woman Getting Haircut have been given a new shape.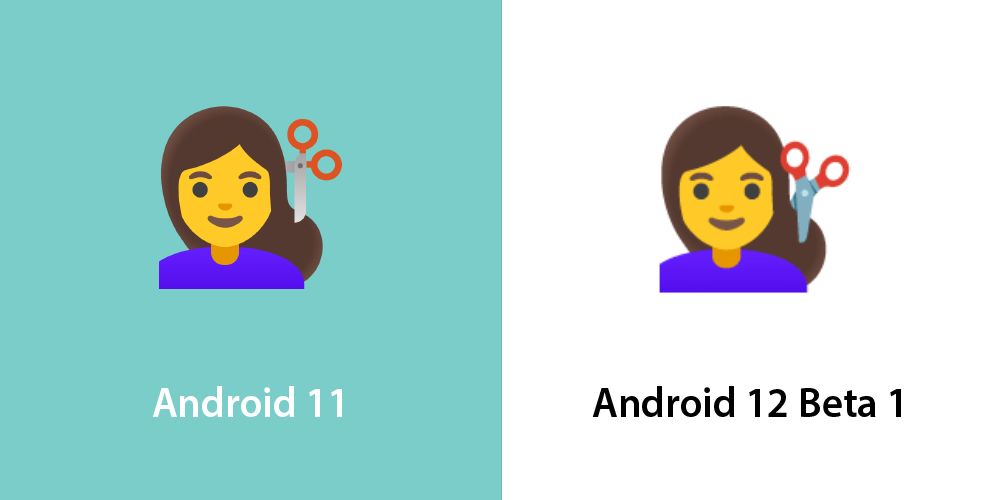 🍕 Pizza slice's crust has been given an added dimension and has had its black olives removed.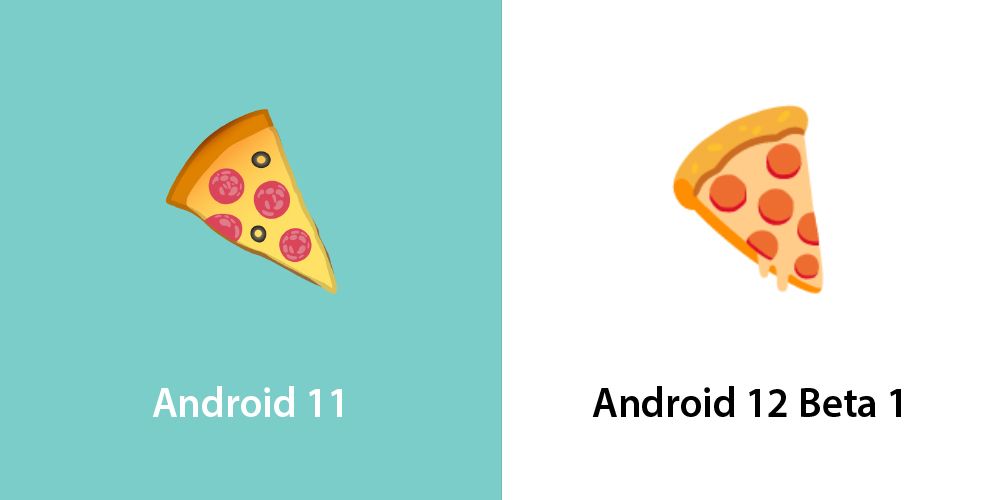 🥑 Avocado now only features a solitary half of the fruit.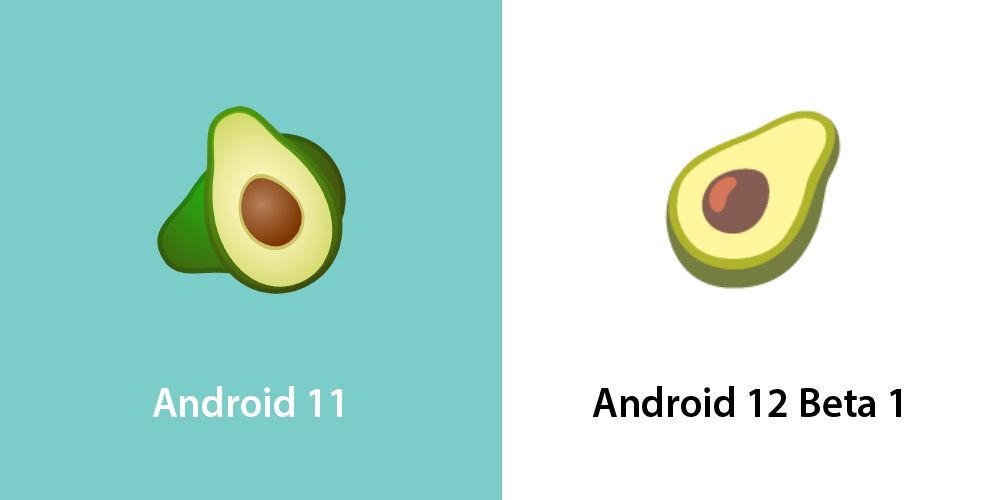 🗻 Mount Fuji no longer features its own reflection, instead having its base surrounded by clouds.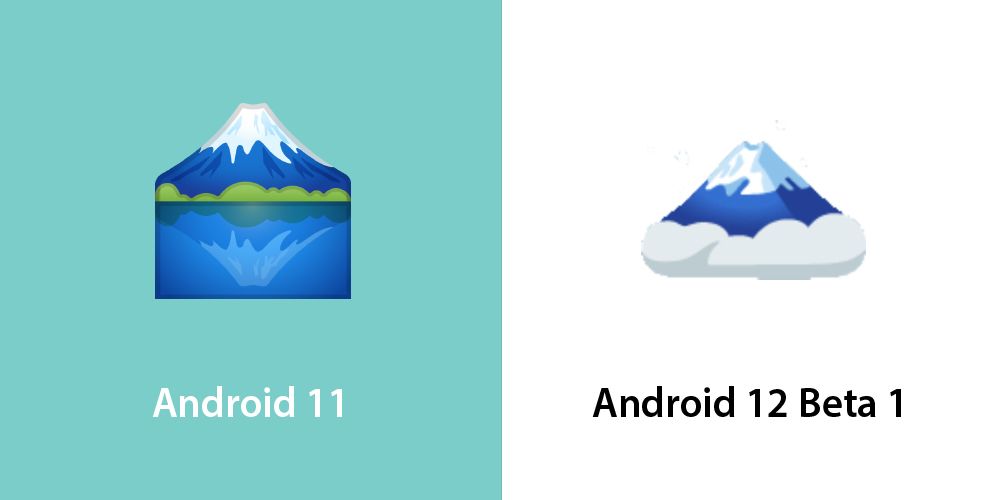 📆 Tear-Off Calendar now has a red heading trim, akin to most other vendors.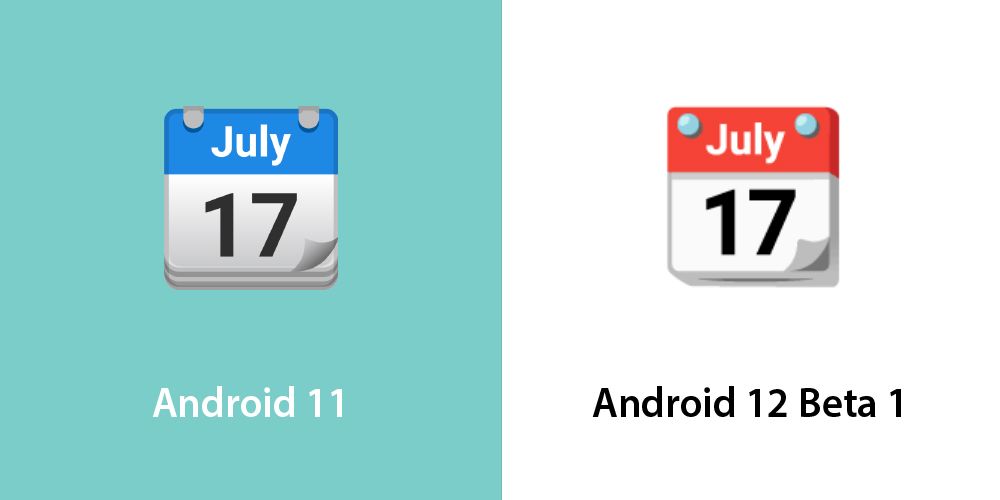 ☃️ Snowman has a new design inspired by its Android 7 incarnation, though he continues to wear a top hat.[2]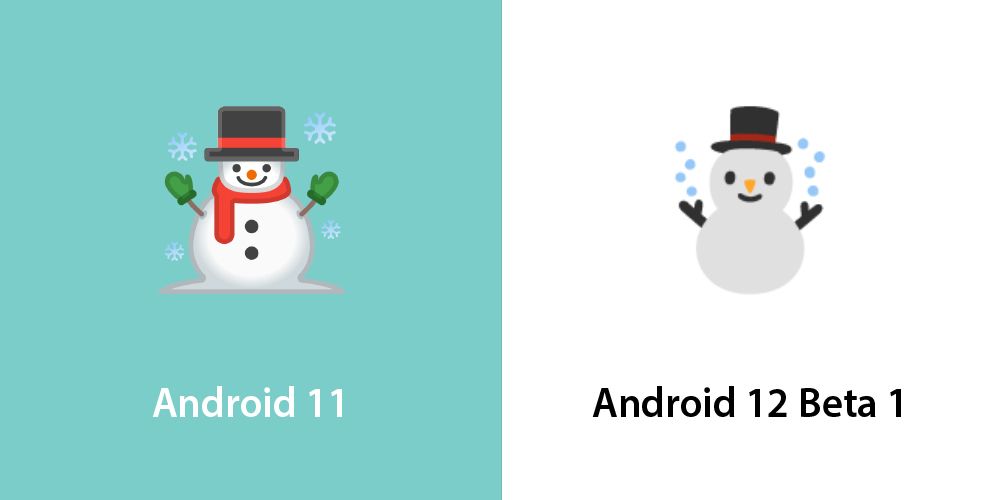 📶 Release
The Android 12 beta is now available for eligible devices. These include Google's Pixel range from Pixel 3 onwards, as well as several other phones from manufacturers like Asus, OnePlus, and Vivo, who have partnered with Google for the Android 12 beta release.
While the official release of Android 12 is not expected until the latter part of 2021, future betas are expected. These in turn may debut further emoji design changes.
🔮 Future emoji updates?
It is worth noting here that there have been ongoing reports that Google may be looking to support new emojis for users without requiring a major OS update (or Pixel Feature Drop). It is therefore possible that some Android users will beginning to see these revised emoji designs even without downloading the beta.
While we had speculated that a new emoji release method could be officially announced at today's I/O 2021 keynote, this does not appear to have been the case.
In the meantime, keep checking your device's software update throughout the year. While these new emoji designs have first appeared in the Android 12 beta, given Google's recent emoji release history, these same emoji designs could make their official arrival via a means other than the official Android 12 release.
But again, as with all beta software, the emoji contents of the Android 12 beta 1 are subject to change. We'll just have to wait and see.
---
If using a Samsung phone, you won't see Google's emoji set, and will get updates on a different timeline. Samsung emojis look different to Google's, and come as part of Samsung Experience. Additionally, many apps on Android devices such as WhatsApp, Twitter and Facebook also use their own custom emoji implementations, which use different designs and release timelines to Google's native emoji set. ↩︎

Interestingly, this design was recently added to the Google emoji font's Github page, alongside changes to the ⛄ Snowman Without Snow and 🍏 Green Apple emojis that are also featured in this beta release. ↩︎