117 New Emojis In Final List For 2020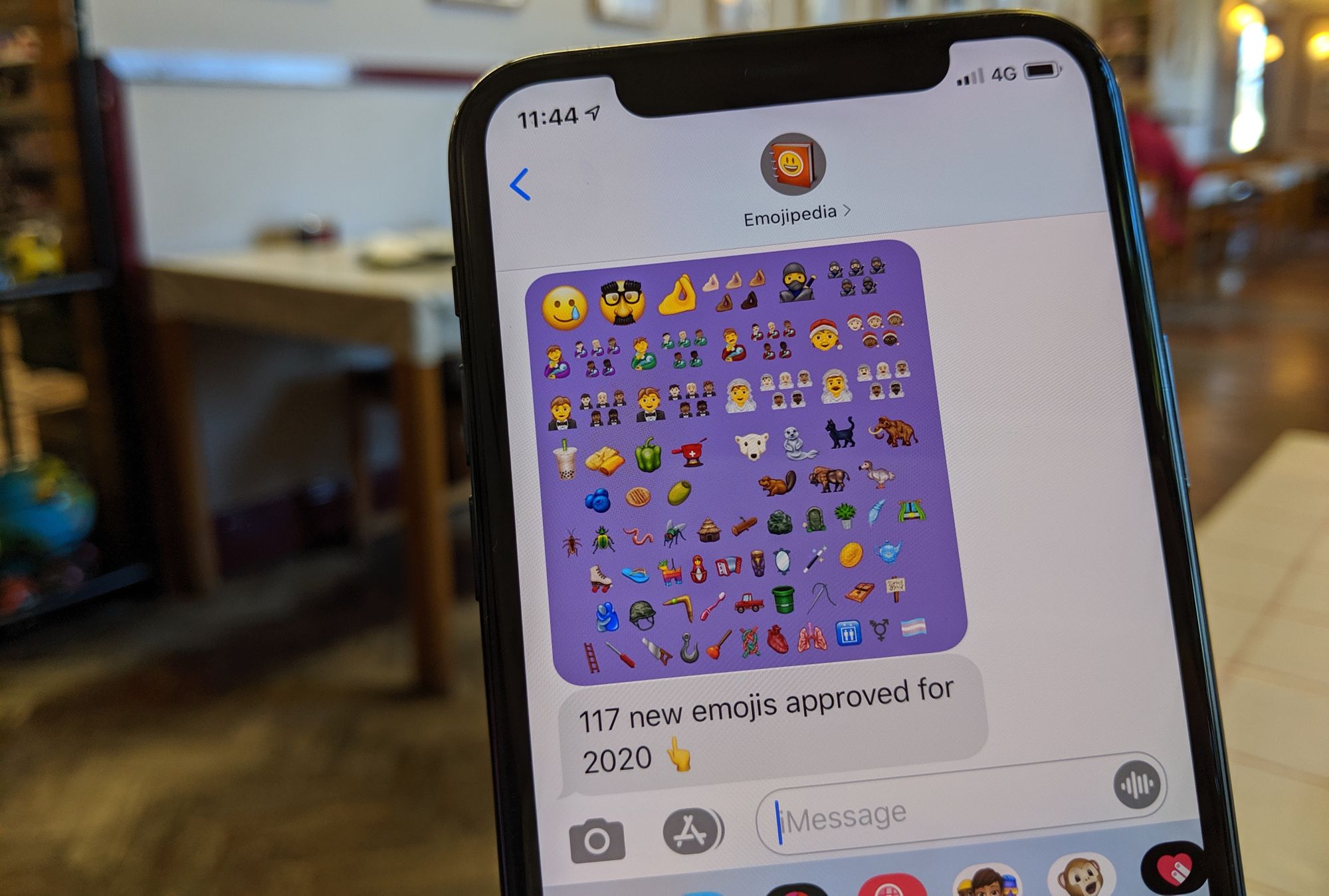 The emoji list for 2020 is now complete, with 117 emojis making the final cut for release this year.
Additions include Bubble Tea, Smiling Face With Tear, bottle-feeding parents and the Transgender Flag.[1] Emojipedia is today releasing sample images for each of the new emojis approved as part of this list.
Above: New emojis approved for release in 2020. Video: Emojipedia.
Welcome additions include an emoji showing People Hugging which shows a greater sense of empathy than the previous excited-looking 🤗 Hugging Face, a pinched finger gesture which is commonly referred to simply as "Italian Hand Gesture".
Variations of existing emojis now approved for 2020 include a woman or gender-inclusive person in a tuxedo, as well as a gender-neutral person or a man in a veil (both were changes proposed by Google). These, along with other approved emojis, will be coming to phones later this year.[2]
Also included in this update is a gender-inclusive alternative to 🎅 Santa Claus and 🤶 Mrs. Claus, named Mx. Claus. This addition is part of an ongoing effort to make more consistent set of gender options across the board, and expands upon the 138 new gender-neutral emojis added in late 2019 as part of Emoji 12.1.[3]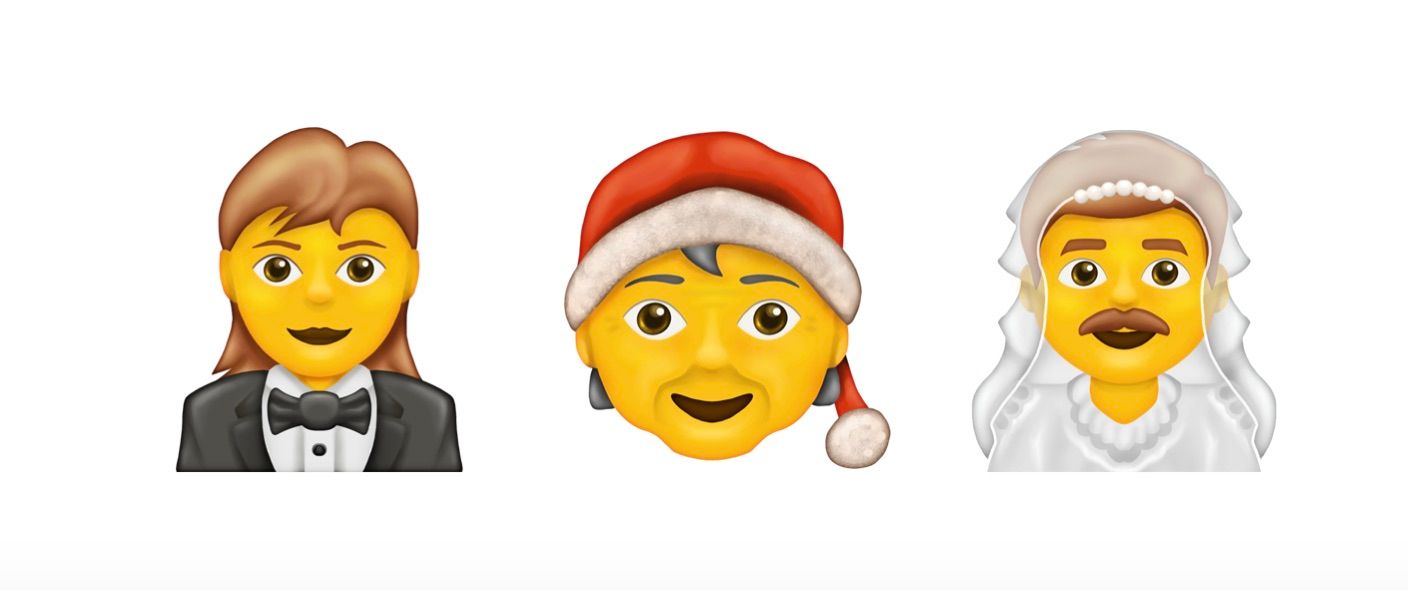 Above: New emoji options available in 2020: Woman in Tuxedo, Mx Claus, Man with Veil.
Announced today by the Unicode Consortium, the 117 new emojis form part of Emoji 13.0 and will come to most platforms in the second half of 2020.[4] As part of today's announcement, Unicode has posted data files and charts for Emoji 13.0, with the sample images shown in the charts for vendor guidance.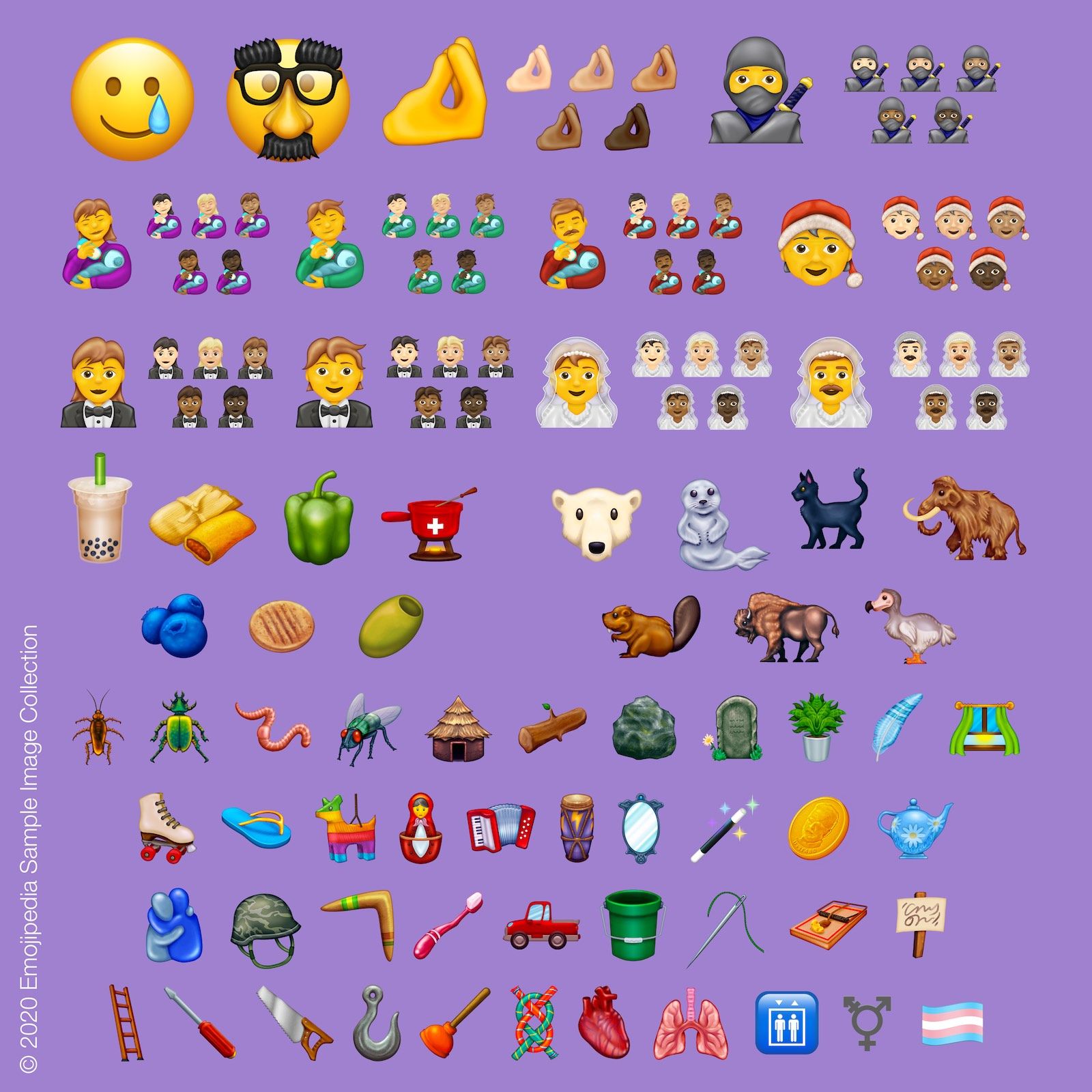 Above: Original images from Emojipedia showing how the new emojis may look.
As with all new emoji releases, the appearance of each emoji varies by platform. Images shown on this page (and tweet thread) are original designs created by Emojipedia in a glossy style to show one potential way these may look when implemented on major platforms such as iOS, Android, WhatsApp, or Twitter.
📋 2020 Emoji List
Listed below are are each of the new emojis approved in Emoji 13.0, minus any skin tone variations.
📝 Now approved: 117 new emojis for 2020 #Emoji2020 https://t.co/SojQuXZvv6 pic.twitter.com/sHp7GDsSal

— Emojipedia 📙 (@Emojipedia) January 29, 2020
For the purposes of this list, Person in Tuxedo and Person with Veil are shown as new, even though these are existing code points. Not listed: new sequences for Man in Tuxedo and Woman with Veil which are expected to have the same appearance as the current implementations.


Above: Key additions in the emoji set each year. Images: Apple 2014–2018; Emojipedia 2019–2020.
Vendor Preview
For most users, these new emojis will come to devices in software updates throughout 2020.
A number of designs from Google are shown below which are subject to change prior to final release, but give a reasonable indication of how these might look on Android. In past years, Apple has waited until the second half of the year to preview new emojis, often doing this on World Emoji Day in July.
Prior to today's announcement, Twitter already supported Woman in Tuxedo, Transgender Flag and Transgender Symbol emojis, and these are also shown below.


Above: Emojis coming to Android and Twitter in 2020. Images: Google (via Unicode chart / Twitter (via Twemoji).
Release
Unicode announced the publishing of Emoji 13.0 data files on 2020-01-29 (California / US Pacific Time), with the announcement being made ahead of the rest of the Unicode 13.0 release to give vendors appropriate time to work on their emoji release for the year.
Expect to see these new emojis on major operating systems in the second half of 2020.
These tend to come to Android in beta around August, and to iOS and macOS in October or November.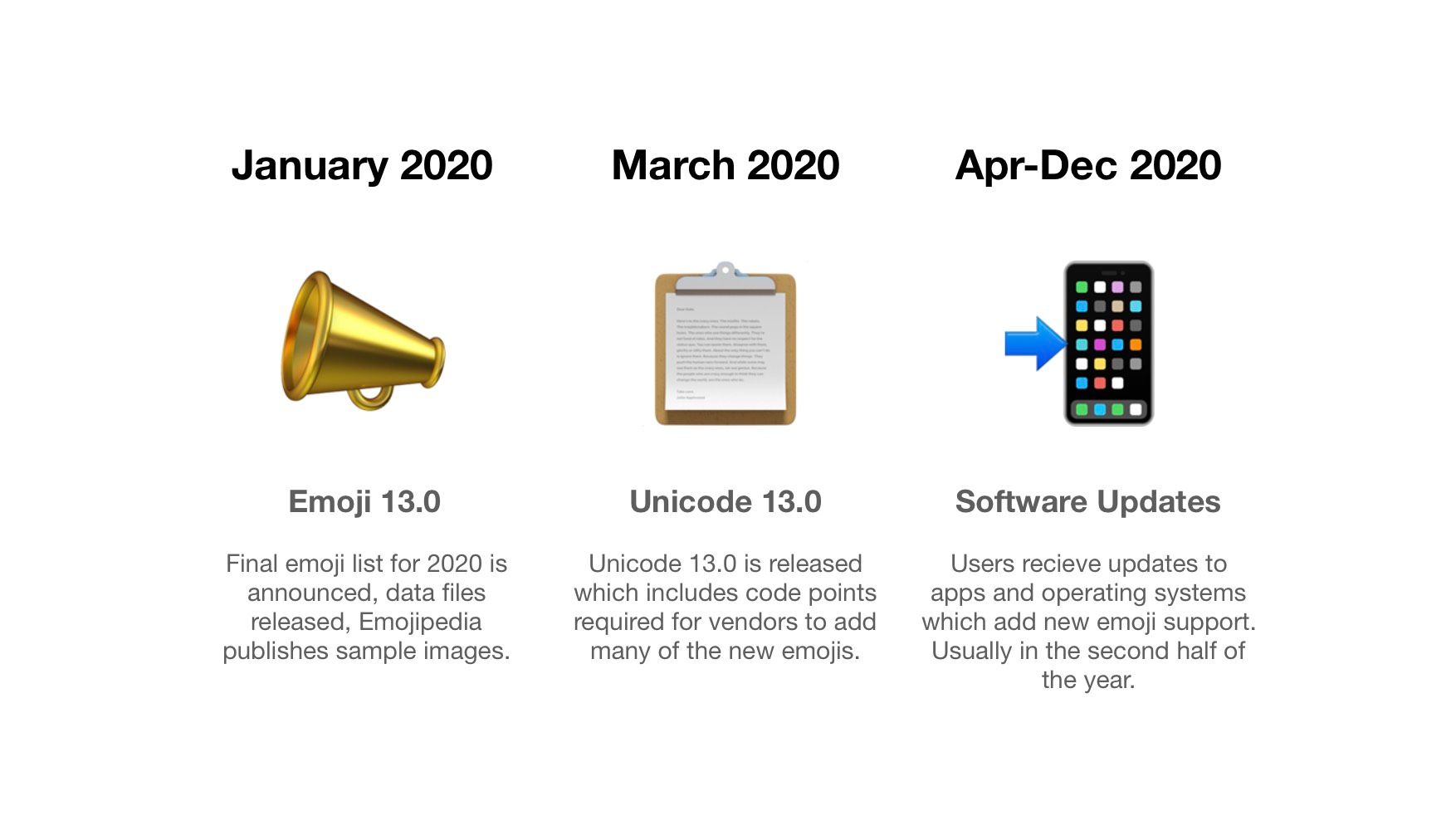 Resources
Be First 🥇
Sign up for our free, monthly email so you're first to know the latest emoji news. Emoji Wrap is published monthly, and we won't use your email for anything else.
👇 Your email address 👇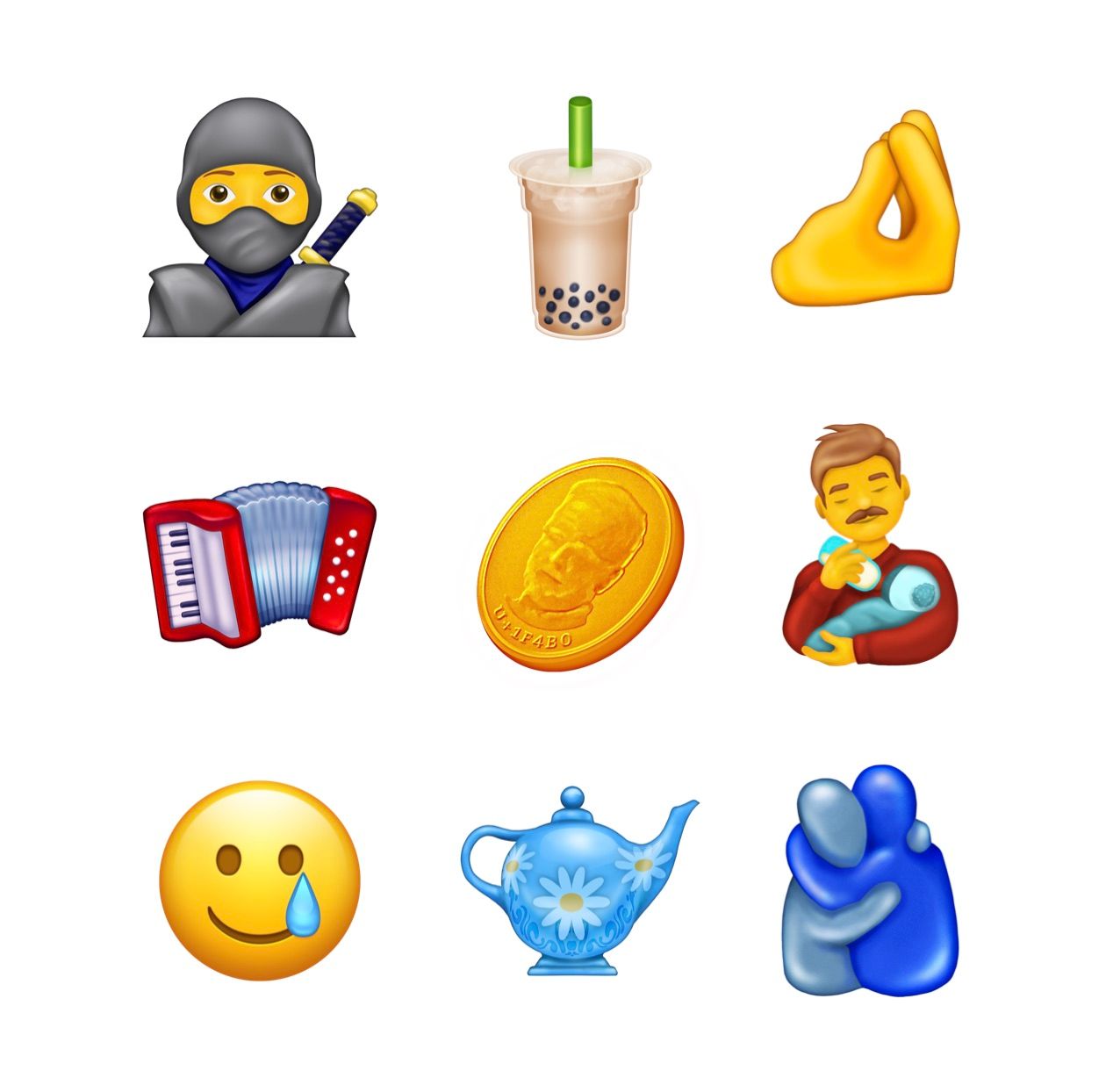 Above: New in 2020: Ninja, Bubble Tea, Pinched Fingers, Accordion, Coin, Person Feeding Baby, Smiling Face With Tear, Teapot, People Hugging. Images: Emojipedia Sample Image Collection.
---