Make Emojipedia Great Again!
We've been building some fun things at Emojipedia recently, from the history feature which rolls out past versions of each emoji, to our new API which powers Botmoji 24/7.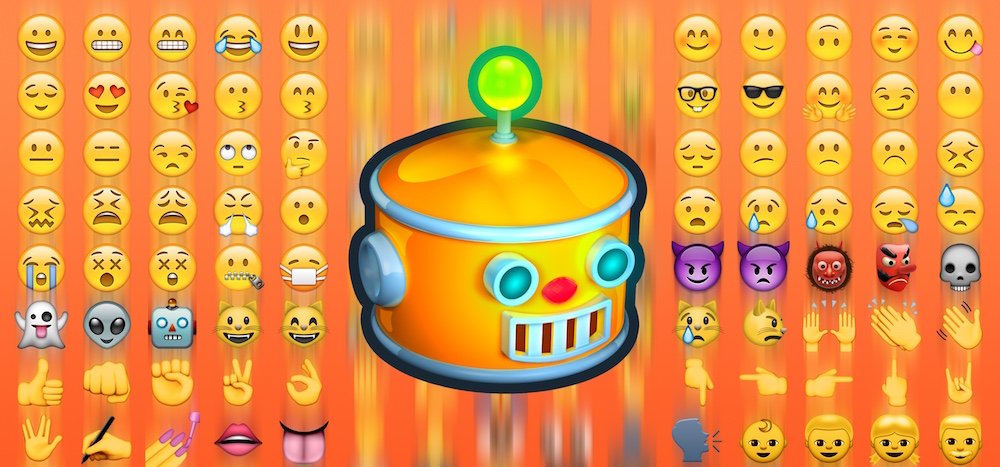 Above: Botmoji is looking forward to new friends.
There's all kinds of weird Unicode stuff™ that we need to take into account when developing any new features on Emojipedia: from the U+FE0E and U+FE0F variation selectors and how we use those for display on the site; to how emoji sequences compare to ZWJ sequences. Oh, and do we put U+FE0F within a ZWJ sequence? Sometimes. 🤷
Simple enough though, right? Then we get onto browsers. Some of them display emoji presentation just fine, but modify the line spacing to do so. Others need a little help to call the right font.
Oh and iOS: that way you refuse to change the size of an emoji like OS X does? Cute 💁
Once all of this is sorted, there's the usual considerations to keep in mind for a website serving 15 million pageviews a month. A lot of people rely on Emojipedia, and even a few minutes downtime means hundreds (or thousands, depending on the time of day) of disappointed users.
Not only do we need to stay online, but the site has to be fast. It's not just for information, many use Emojipedia as their go-to emoji tool of choice.
If you are a freelance developer and all of these challenges sound interesting, then we'd like to hear from you!
Wanted: 🤓 💻
Emojipedia is looking to bring on a full-stack developer to work on our site. You should be familiar with Django and PostgreSQL, and able to work with mobile-first responsive layouts.
The work will be remote, from wherever you prefer to do it ☕️
Include in your email:
Links to 1 or 2 projects you have developed
A couple of lines about the projects: your role, and what the project is/does
Visiting Emojipedia, what would you like to improve?
Your primary location/timezone
Rates and general availability
No attachments please
📧
We have an email address setup just for this application (no other mail should be sent here!):
☁️ address removed ☁️
Subject: 🤓 💻 👍🏽 (actually, any emojis are fine)
💙
I am mindful that as a freelancer, you don't want to spend your time doing lengthy 'applications' for work with long formal letters and CVs.
A few friendly lines of what you're all about and any idea/s for how you would like to improve Emojipedia is what we're after.
All applications will be read, so please don't send multiple emails. We will be in touch if you are considered suitable!
Apologies in advance to those who we don't get back to, and thank you for presumably being an Emojipedia user already.
Update: Thanks to all who emailed, it really is appreciated. We have now filled this position, and look forward to whats next!