New Glossy Twemoji Designs Appear in Fleets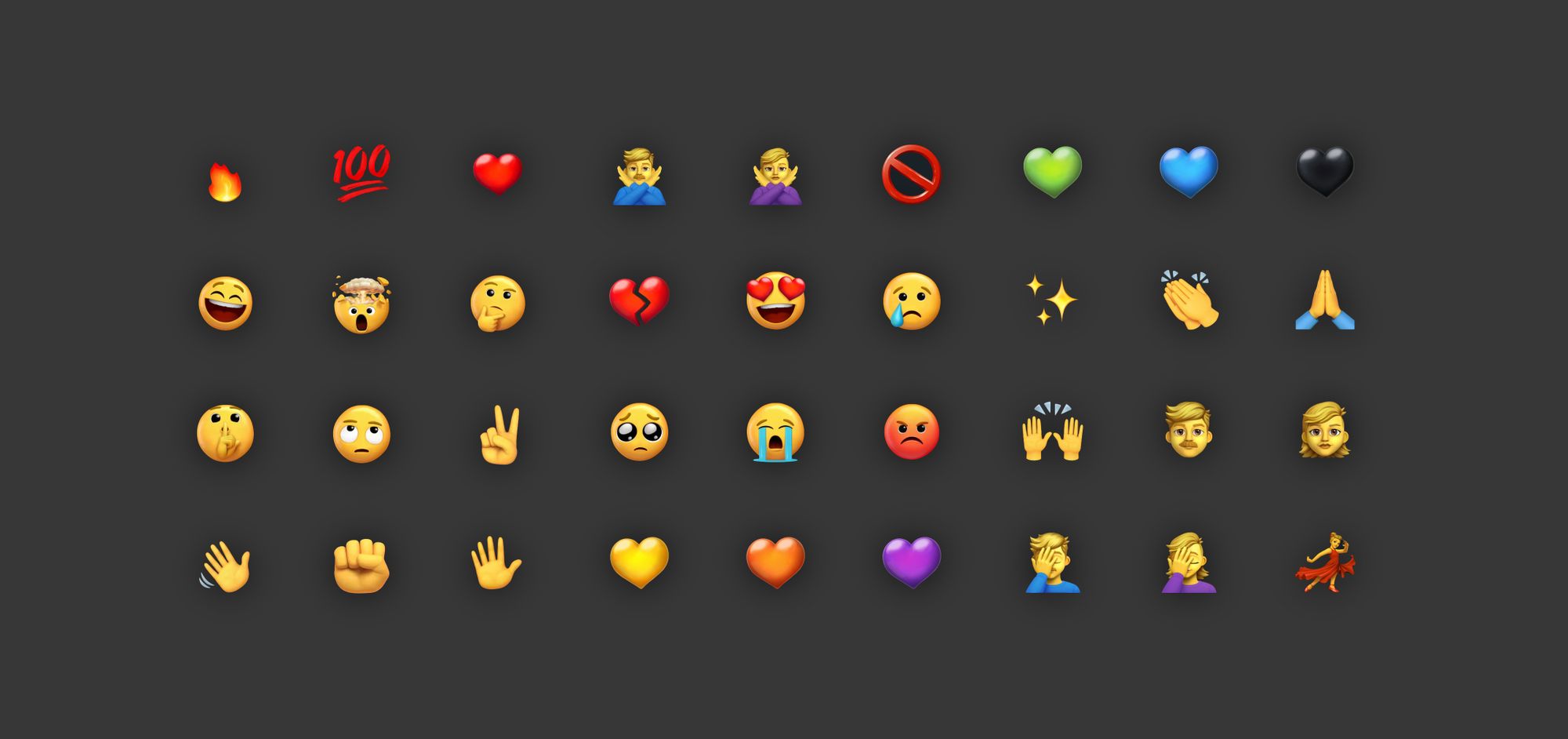 Twitter appears to be teasing a brand new style for the Twemoji emoji set: one that would be a significant departure from their current flat designs.
Editor's Note: As of January 2022, these possible new designs have yet to be implemented. They have, however, been sighted within additional areas on Twitter since this article's original publication.
Shown with a highly detailed and realistic appearance, these updated graphics are closer in style to what can be seen in emoji sets from Facebook or Apple.
Available now as stickers within Fleets, these newly redesigned emojis have also been shown in a tweet from the Twitter Design team.
Editor's Note: On the July 14 2021, Twitter announced that they would be discontinuing Fleets, with this coming into effect August 3 2021.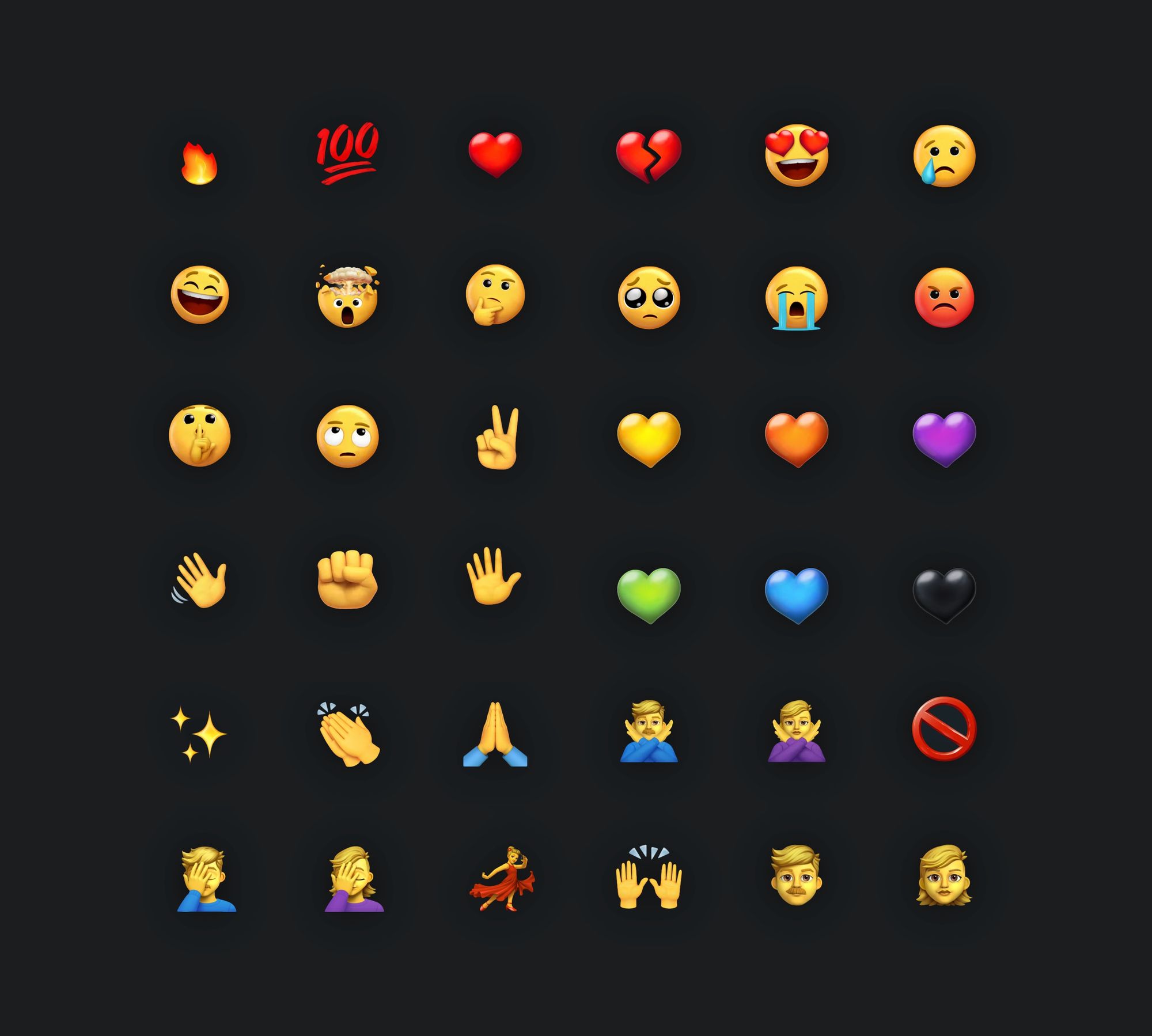 Above: New Twemoji designs are now available as stickers within Fleets. Image: Twitter designs / Emoijpedia composite.
What isn't clear at the time of writing is whether these are intended as a replacement for the entire Twemoji image library, and if so, when the actual emoji implementation on Twitter may be updated to use this style.
Twemoji Origin 📜
Twemoji is the name of the open-source emoji project created owned by Twitter, and is used for emoji display on the Twitter website, Twitter app for Android, and Twitter PWA (Progressive Web App, a sort of half-way point between a native app and a website).
Being open source, other apps can also use these images free of charge, as is the case for Discord.
The original Twemoji project was launched in 2014 with 874 emojis and used a style which showed mostly flat colors instead of detailed gradients or gloss. Twemoji has been designed in conjunction with the Iconfactory, and to this day retains a similar appearance to that first set.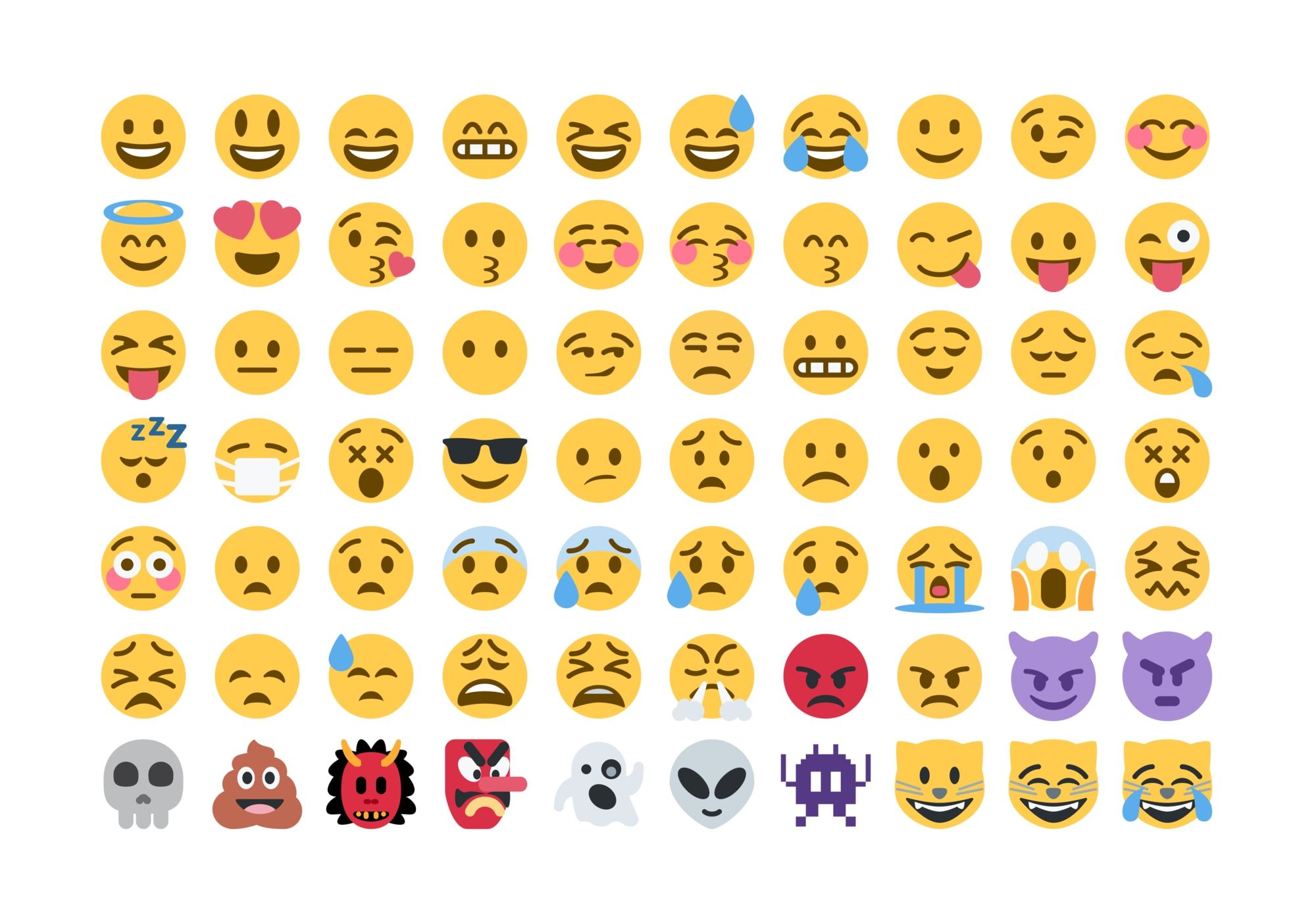 Above: Twemoji was launched in 2014 as an open-source emoji project that can be used within other apps.
Twemoji 13.0.2 is the most recent release of this set, and includes 3,348 emojis.
If Twitter is to update Twemoji to use all-new designs, it will be a large project to redesign all 3,348 emojis of the current set, plus the 217 new emojis in the most recent update from Unicode.
Such a comprehensive redesign would take months, if not longer, to see through from concept to completion.
New Glossy Future 💅
The new Twemoji designs are more elaborate than the existing Twemoji design set: instead of flat designs using block colors, the designs shown thus far have an elaborate, glossy 3D-like design that is reminiscent of Facebook's 2018 emoji overhaul.
Indications towards a large-scale emoji redesign have thus far taken the form of a user survey regarding emoji reactions, Twemoji Stickers within the recent Fleets feature, as well as the Twitter Design team seeking feedback on how better to represent disabled Twitter users in emoji designs.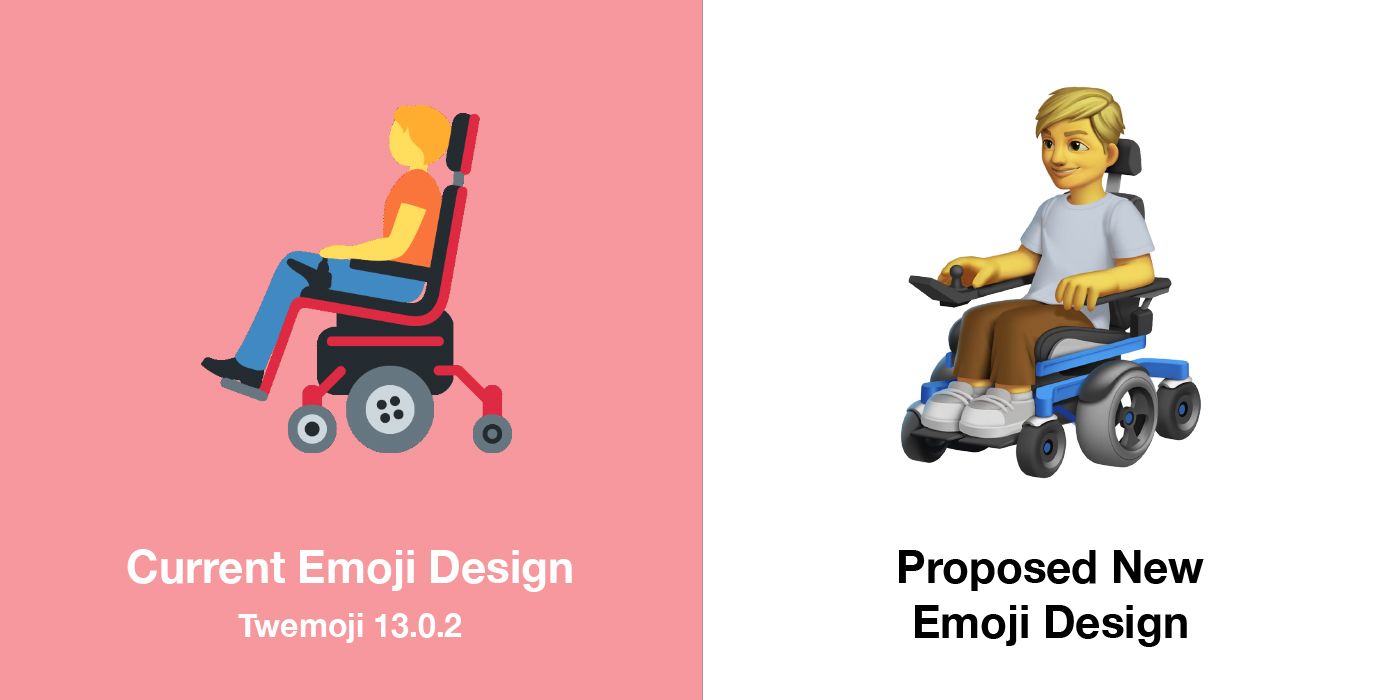 Above: a comparison between the current 🧑‍🦼 Person in Motorized Wheelchair Twemoji design and the design previewed by the Twitter Design account.
Seen side-by-side against the existing Twemoji set, the changes are considerable.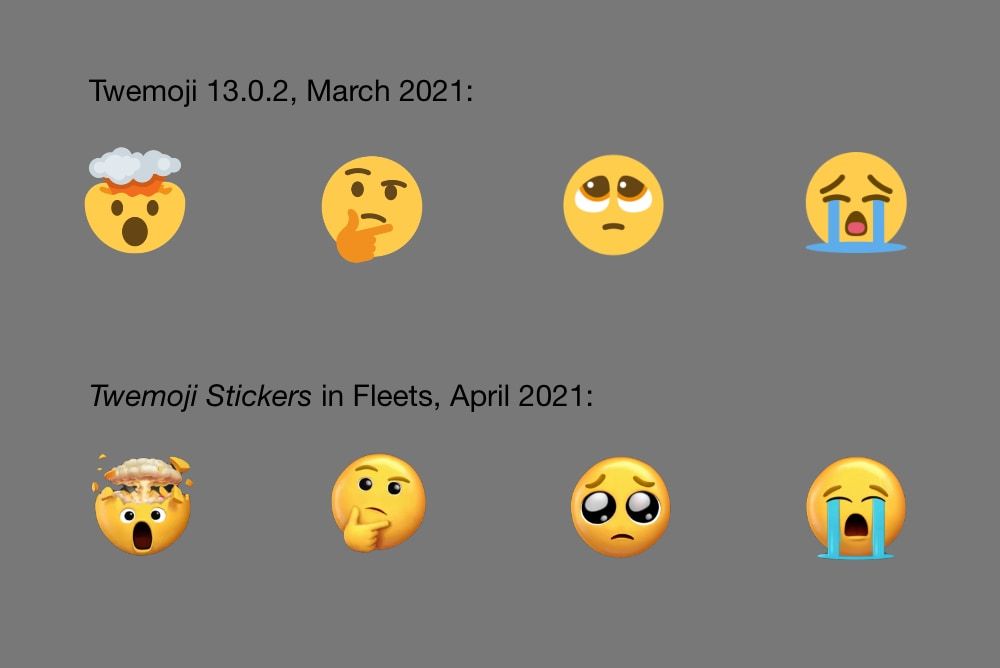 Emoji Reactions ❤️😂
The first appearance of these possible new designs was within a recent Twitter user survey. Users were asked to give feedback on a potential emoji reaction feature for tweets[1].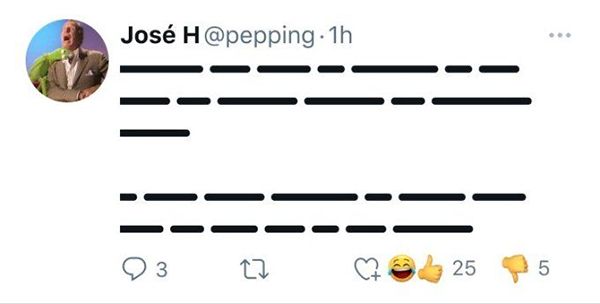 Above: an example of emoji reactions on a tweet presented within a Twitter user survey. Image Credits: WFBrother on Twitter.
Note that design of the 😂 Face with Tears of Joy, 👍 Thumbs Up and 👎 Thumbs Down emojis being used as reactions: these are significantly different to the current designs used for these emojis on Twitter.[2]
Additionally, the survey requested feedback on which emojis users would be most happy to see appear as reactions to their tweets, as well as which of three potential sets of reaction options they would most like to see put into use on the platform.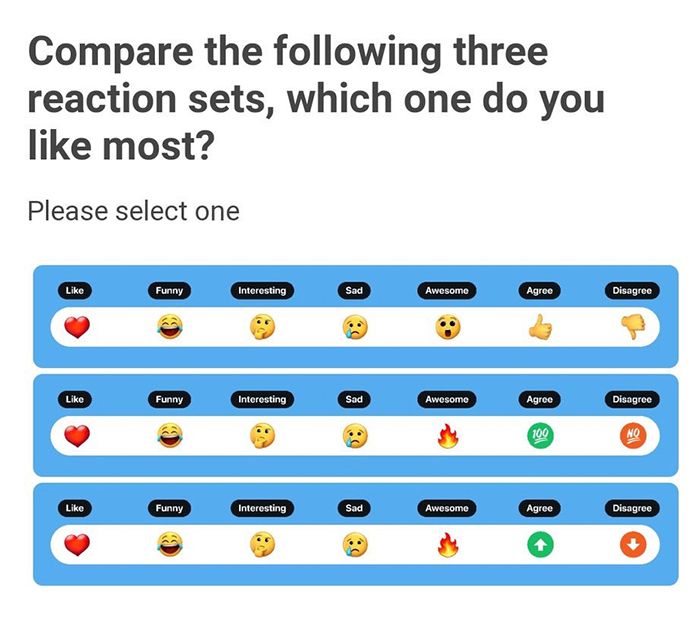 Above: three possible new reaction sets for tweets, as presented by Twitter to survey participants. Image Credits: WFBrother on Twitter.
Shown across the three reaction options in the above image are new designs for the following emojis[3]:
While this proposed emoji reactions feature does not use Twitter's current emoji designs set, design variation has been the case on the other platforms. Facebook's reaction emojis use animated designs that bares little resemblance to their own emoji design set.

Above: Facebook's current set of emoji-inspired reactions.
Fleet Stickers 📨⏳
Additional indications of a possible redesign comes from Twitter's recently added Fleet feature. When adding a Fleet, users are able to add animated stickers to their image or video, as is the case with similar features on other platforms.
Within the default list of stickers are 36 emoji-inspired animations which are listed used the heading "Twemoji".
These designs match those displayed within the emoji reactions survey questions.[4]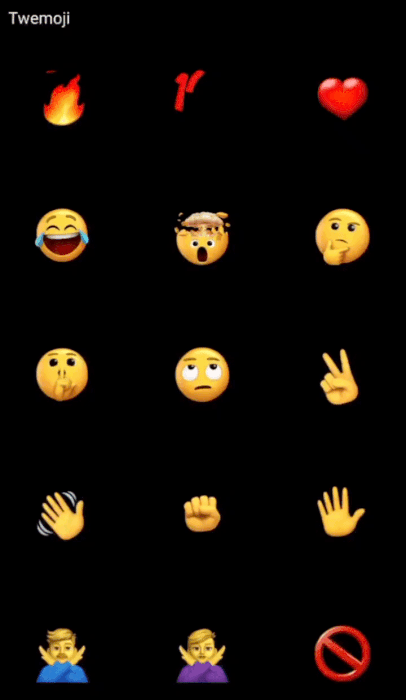 Above: a selection of emoji-inspired "Twemoji" animated stickers users can added to fleets on Twitter.
Now available as Twemoji Stickers within Fleets are:
Twitter Design & Disability 🦾
Finally, we return to the Twitter Design account and the images it previewed in the last few days.
Hey #DisabilityTwitter and @TwitterAble communities,

We're working with @TwitterA11y to redesign Twemoji to ensure disability is accurately represented and have a couple examples. Our designs will include all gender identities and skin tones.

WDYT? pic.twitter.com/QST8t5do4g

— Twitter Design (@TwitterDesign) April 1, 2021
Although shared on April 1st, is is highly unlikely that this is a poorly-considered April Fool's Day joke[5]. Instead, it appears to be a genuine request for feedback on these designs from users that these specific emojis can be used to represent.
Included in the tweet are new versions of 🦾 Mechanical Arm and 🧑‍🦼 Person in Motorized Wheelchair, the latter of which we highlighted earlier.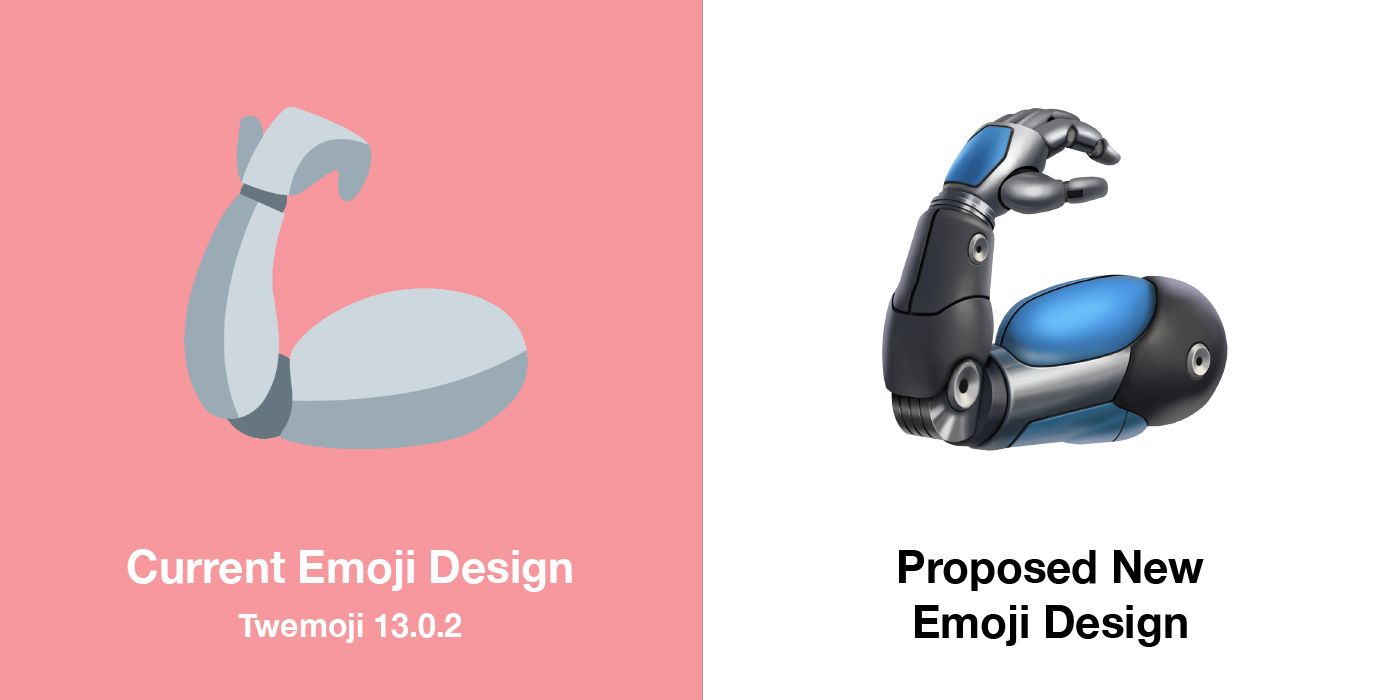 Above: a comparison between the current 🦾 Mechanical Arm Twemoji design and the design previewed by the Twitter Design account.
Given the fact that the tweets clearly states that "We're working with
@TwitterA11y to redesign Twemoji", we must conclude that such elaborate and glossy designs are within Twemoji's future in some form or another.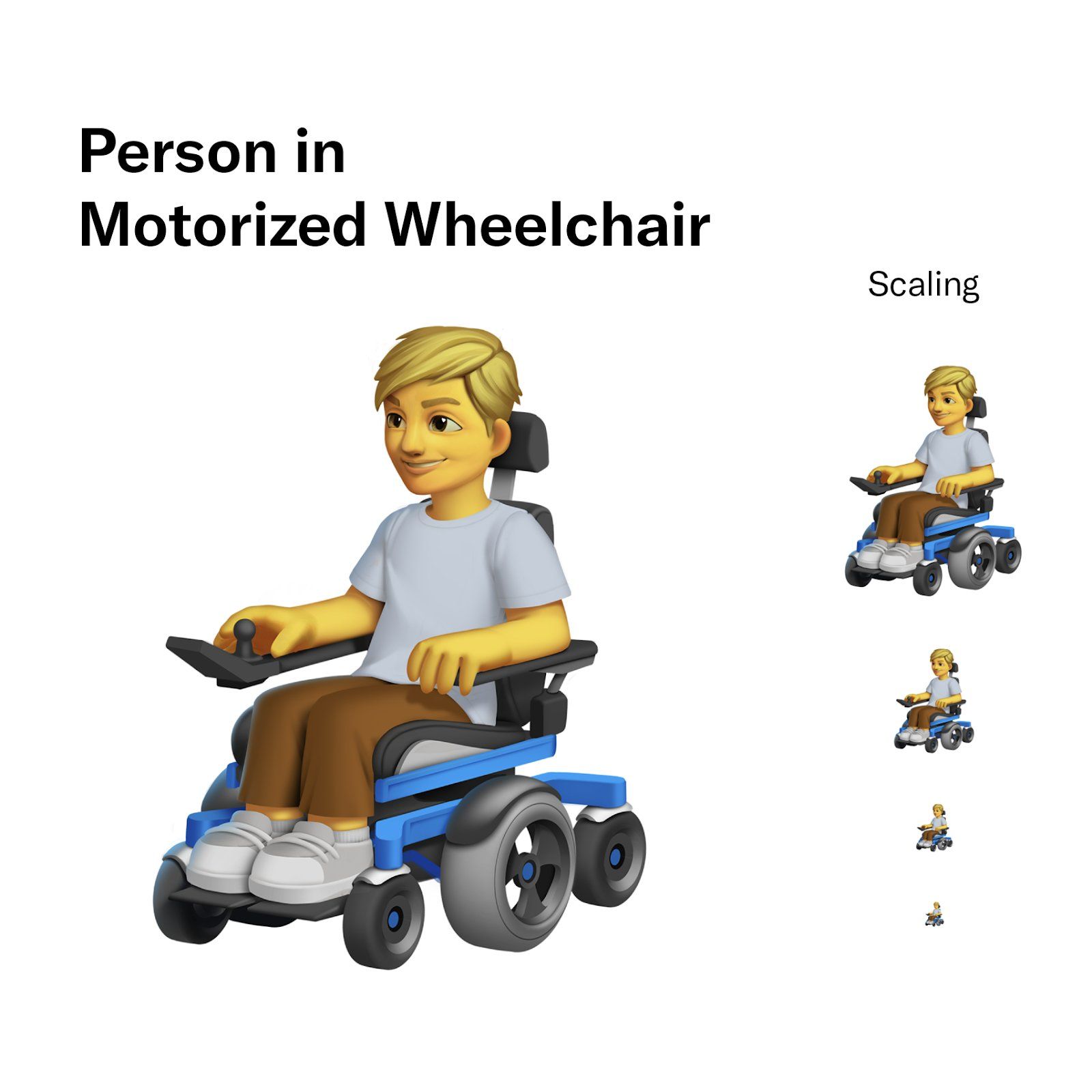 Above: A demonstration of a new Twemoji graphic at various sizes. Image: Twitter Design.
🔮 Release
There is no indication at this stage when this redesign will become the Twemoji default, or if in fact, it will.
All indications point towards this being the future of Twemoji, and we will update this article if or when this is confirmed.
It's unlikely that these new designs will be debuted in the short term, as Twemoji's 13.1 update appears to be imminent.
In the meantime, these new Twemoji designs are available now as a set of 36 stickers within Fleets, and watch this space for any further developments.
---