More Emoji Flags Come To iOS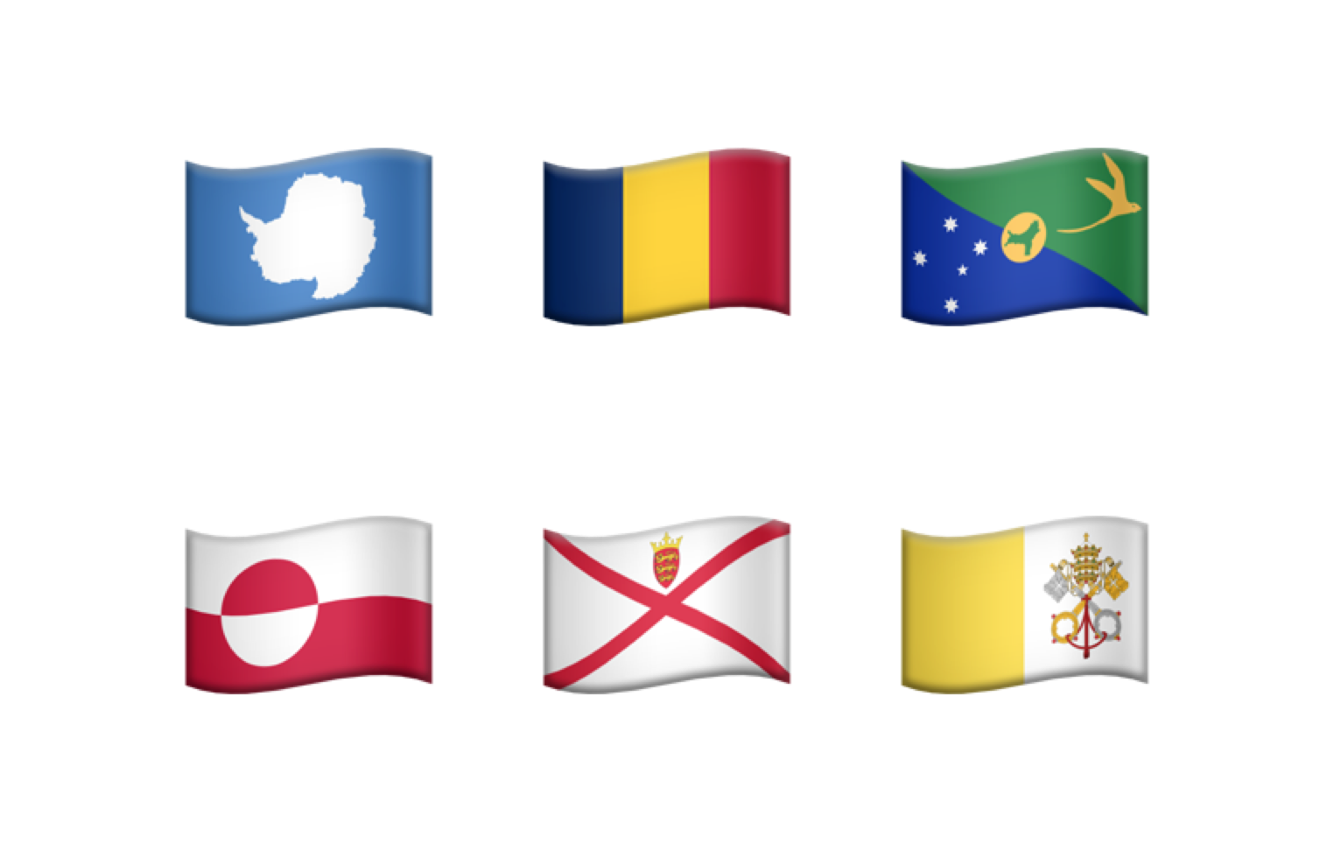 Above: Flags for Antarctica, Chad, Christmas Island, Greenland, Jersey and Vatican City are some of the new flags in iOS 9
The iOS 9 beta 1 released to developers this week at WWDC contains a new flags category on the emoji keyboard, support for new flags, and placeholders for additional flags that might be on the way.
A total of 29 (update: 33) new country flags are included in iOS 9 that were not previously supported on iOS or the Mac. Apple added 198 new flags to iOS 8.3 in April of 2015. Now the following 29 countries get their own flags in iOS 9:
In addition to these new flags, placeholders are now showing for Bouvet Island, Heard Island and McDonald Islands, Svalbard and Jan Mayen, Taiwan and United States Minor Outlying Islands. The images for these country flag emojis are not yet visible, and instead appear as an ellipsis on the keyboard that inserts the relevant two-letter regional indicator.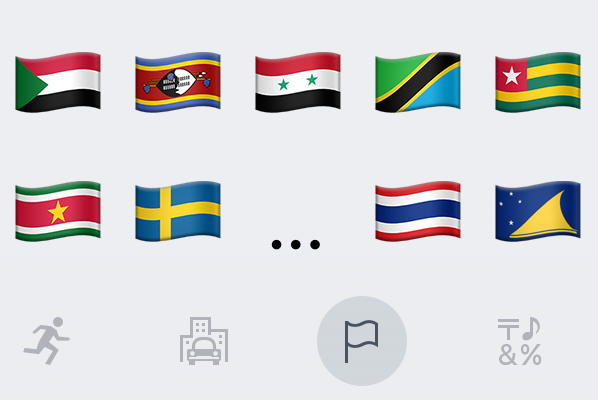 Above: iOS 9 developer beta showing a placeholder for Flag For Taiwan
In total, 190 new flags show on the iOS 9 emoji keyboard, plus five placeholder ellipsis's. This is made up of 126 flags that were previously supported (but hidden from the iOS 8.3 keyboard), plus the newly-supported country flags listed above.
---
Access All The Flags
For those wanting access to all 208 country flags supported today, Quartz has partnered with Emojipedia to release an iOS keyboard app, focussed solely on this task.
The emoji flags app includes all flag emojis supported by iOS, listing country names next to each flag. No more confusing 🇮🇪 Ireland for 🇮🇹 Italy when boasting about travel abroad.
This is a free download from the App Store and requires iOS 8.3 or above.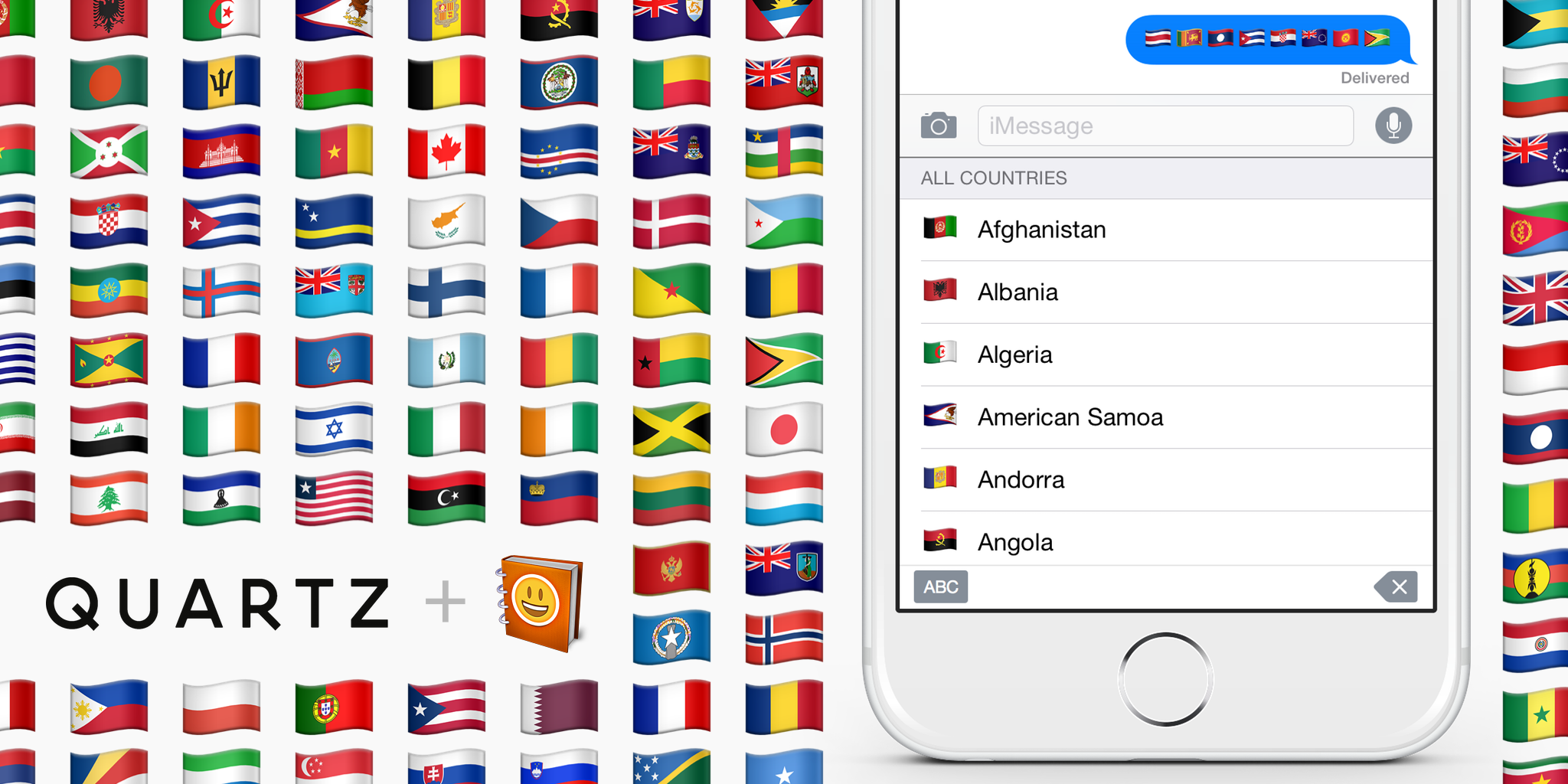 ---
The Flag Deciders
The Unicode Standard defines emoji flags by their two-letter country codes, which effectively absolves the Unicode Consortium from deciding which countries earn an emoji flag; deferring the list to the ISO 3166-1 alpha-2 country code standard.
It is then over to individual companies, such as Apple or Google, to decide which countries on this list gain an emoji representation.
At the time of writing, no version of Windows includes an emoji flags. Windows displays the two-letter country code (otherwise known as a regional indicator) instead of a flag for all countries.
New Flags Category In iOS 9
The current developer beta of iOS 9 from Apple now shows a new Flags category between Travel & Places and Objects & Symbols, with all supported flags displayed (except one [1]) directly on the keyboard.


Above: iOS 9 developer beta showing a new flags category
As this is beta software, there is no guarantee that these changes will make their way to the final release later in the year.
Still absent from emoji support in iOS 9 in the current beta is the long-awaited middle finger emoji (supported by Windows 10) or any of the other Unicode 7 emojis approved in 2014.
---
Update: June 13, 2015 Twitter user vXBaKeRXv discovered that three regions of France have also updated images in iOS 9, and now display their (unofficial) local flags instead of the Flag For France. The updates regions are:
Interestingly, the Flag For Réunion is only one of many contenders to replace the flag. The Wikipedia entry for the flag shows other current proposals. The image that Apple is using is not the flag shown as the Unofficial Flag of Réunion.
---
Update: June 24, 2015 The second developer beta of iOS 9 has been released, and includes some changes.
The 🇪🇺 Flag For European Union is no longer hidden. It now displays on the emoji keyboard, alongside other country flags.
Four more previously-unsupported flags fave been added:
The only flag that remains unsupported as of iOS 9 beta 2 is:
Unlike iOS 9 beta 1, the second beta of iOS 9 does not include a placeholder ellipsis for the Taiwanese Flag on the emoji keyboard.
Android supports the Flag For Taiwan in Android 5.0 and above.


Above: Flag For Taiwan displayed on Android 5.0 Lollipop
On a related note, Kosovo does not have a permanent ISO 3166-1 code (yet). A temporary code of XK has been issued, but this has not proved sufficient to give it an emoji flag in iOS 9 beta 2.
---
Update: July 9, 2015 The third developer beta of iOS 9 has been released, and includes the 🇹🇼 Flag For Taiwan Emoji for the first time.
OS X 10.11 beta 3 does not (yet?) have this flag, and displays it as the ◻️ White Medium Square Emoji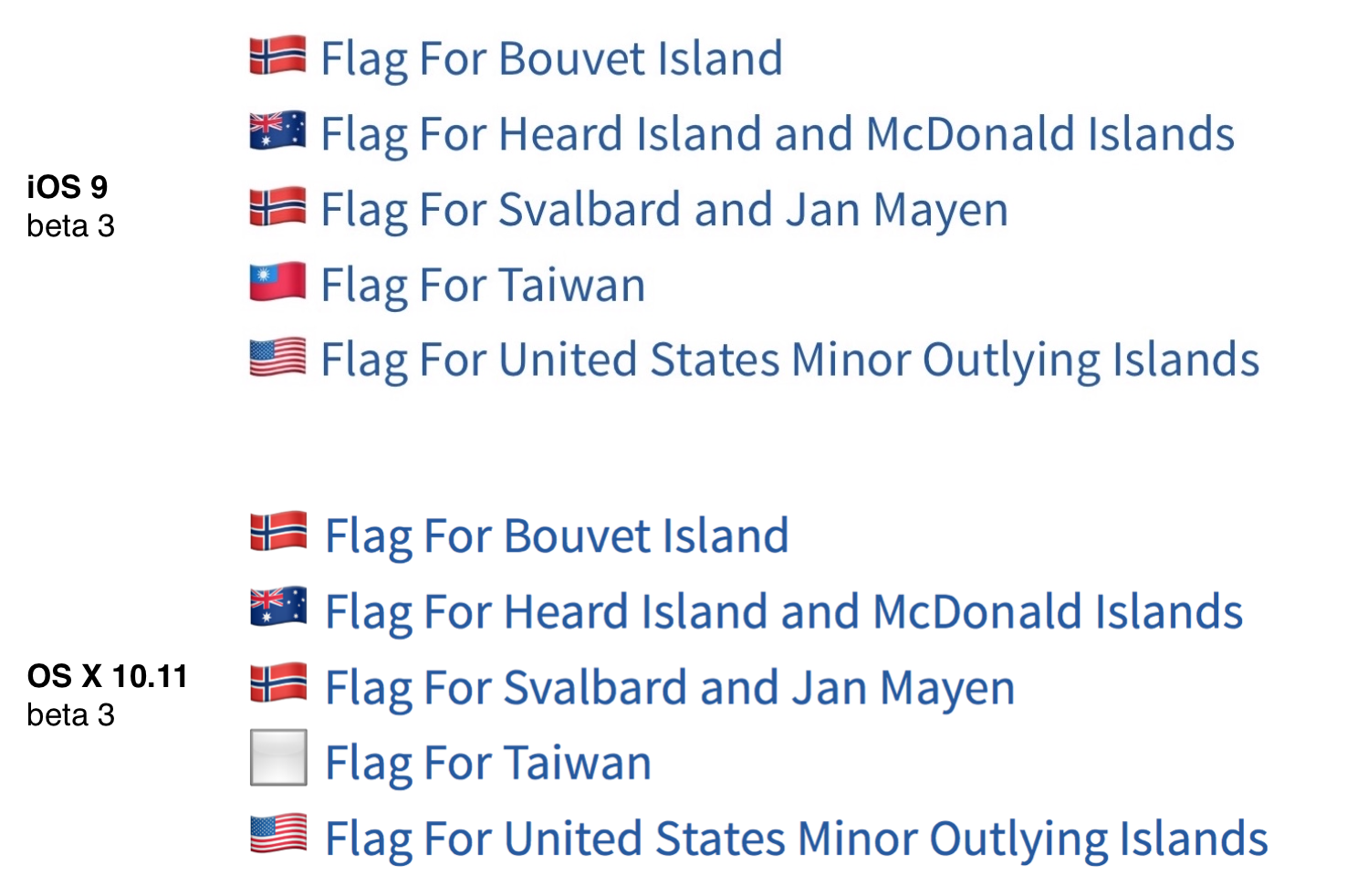 Also new in iOS 9 beta 3 is the inclusion of the 🇽🇰 Flag For Kosovo Emoji and the following flags which are considered exceptional reservations in ISO 3166-1 alpha-2:
Exceptional reservations are regional indicator codes "reserved at the request of national ISO member bodies, governments and international organisations".
---
Related
---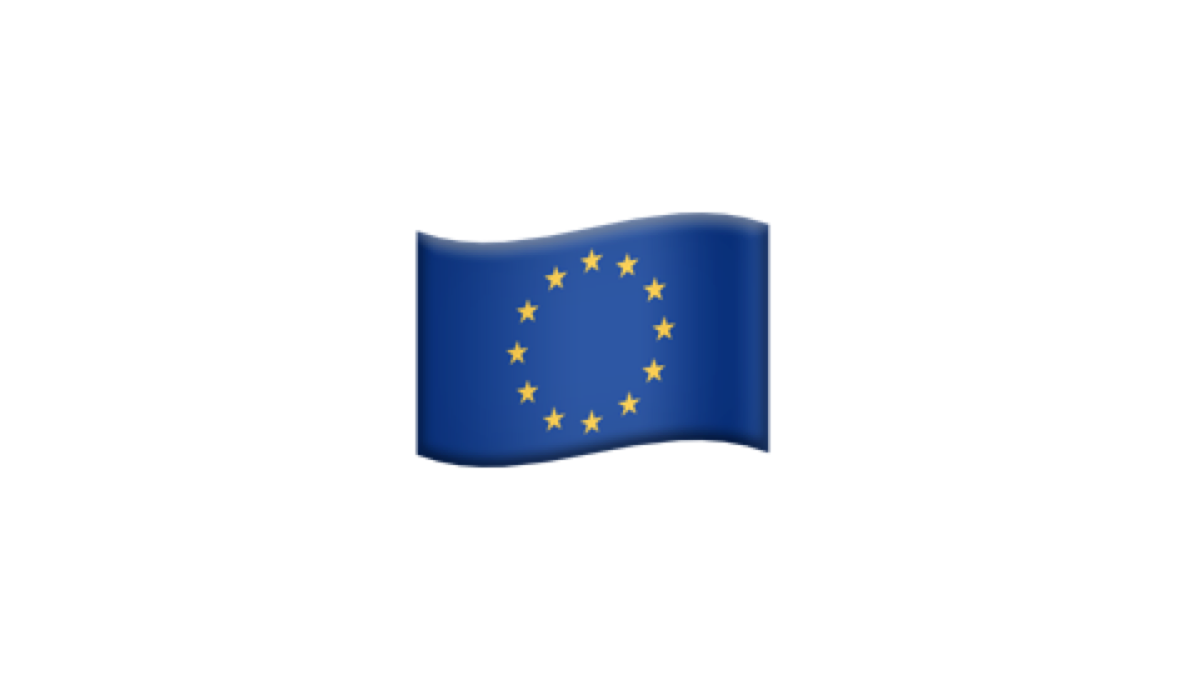 ---
The Flag For European Union is not technically part of the ISO 3166-1 standard which defines emoji flags, but is noted as a reservation. Apple has included this in iOS 9, but it does not appear on the emoji keyboard. This becomes the second hidden emoji on the platform. ↩︎