Apple's Emoji Evolution 1997—2018

Since updating the Emojipedia archives with the SoftBank emoji set from 1997, it's a good time to now show how this original set of 90 emojis released over two decades ago has a direct lineage to the emoji set used on iOS today.
The fact that Apple's emoji designs were created to be largely compatible with SoftBank in Japan is not new - and the evolution of Apple emoji is an area we've covered many times before.
What is new is the restoration of the original emojis from 1997, and the ability to place these in the wider context of the Apple Color Emoji font of today.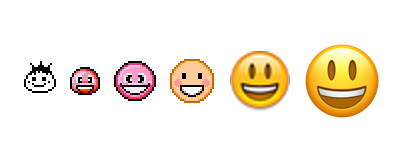 Shown below are a series of tables highlighting three key years:
1997: The first emoji set from SoftBank (née J-Phone)
2008: The year Apple created its own emoji set for iPhone in Japan
2018: The most recent version of Apple's emoji set
The Original 90
All of these images can be browsed on Emojipedia either by viewing an entire vendor set (eg iPhone OS 2.2 from 2008) or by clicking / tapping an emoji to view its full history, as shown here with 👧 Girl on iOS, Android, Windows, and SoftBank.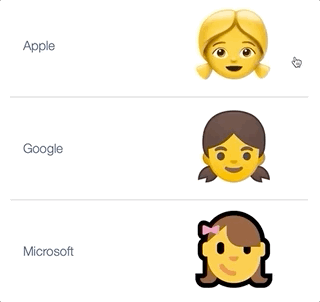 SoftBank in particular has some interesting animated additions which are best browsed on their own - for instance SoftBank 2001 or SoftBank 2004.
What the compilation below aims to show is where this particular branch of emoji started, the transition phase, and the resulting characters we use today.
Enjoy!






More History
View the SoftBank Emoji Archive 1997–2014 (when the SoftBank emoji set was discontinued). Bolded are the entries shown above.
View the Apple Emoji Archive 2008–2018. Bolded are the entries shown above.