Apple has released its latest set of emoji characters to the public as part of iOS 8.3 and OS X 10.10.3. There's a lot that is new.
Previously reported changes to Apple's emoji lineup have continued, with changes right up until the public release of the latest update for iPhone, iPad, and the Mac. Here's what you can expect.

We hope you like yellow
As recommended by Unicode in 2014, any emoji that displays with white skin in the previous Apple emoji artwork, has been changed to display with a "non human" skin tone. Namely a bright, Lego-like shade of yellow.
The result of this is a yellow baby, yellow boy, yellow girl, yellow surfer, yellow Santa...you get the idea. These Simpson-esque emojis might not be to everyone's liking, but they do strive to make it clear that the default characters do not have a particular race or skin tone implied.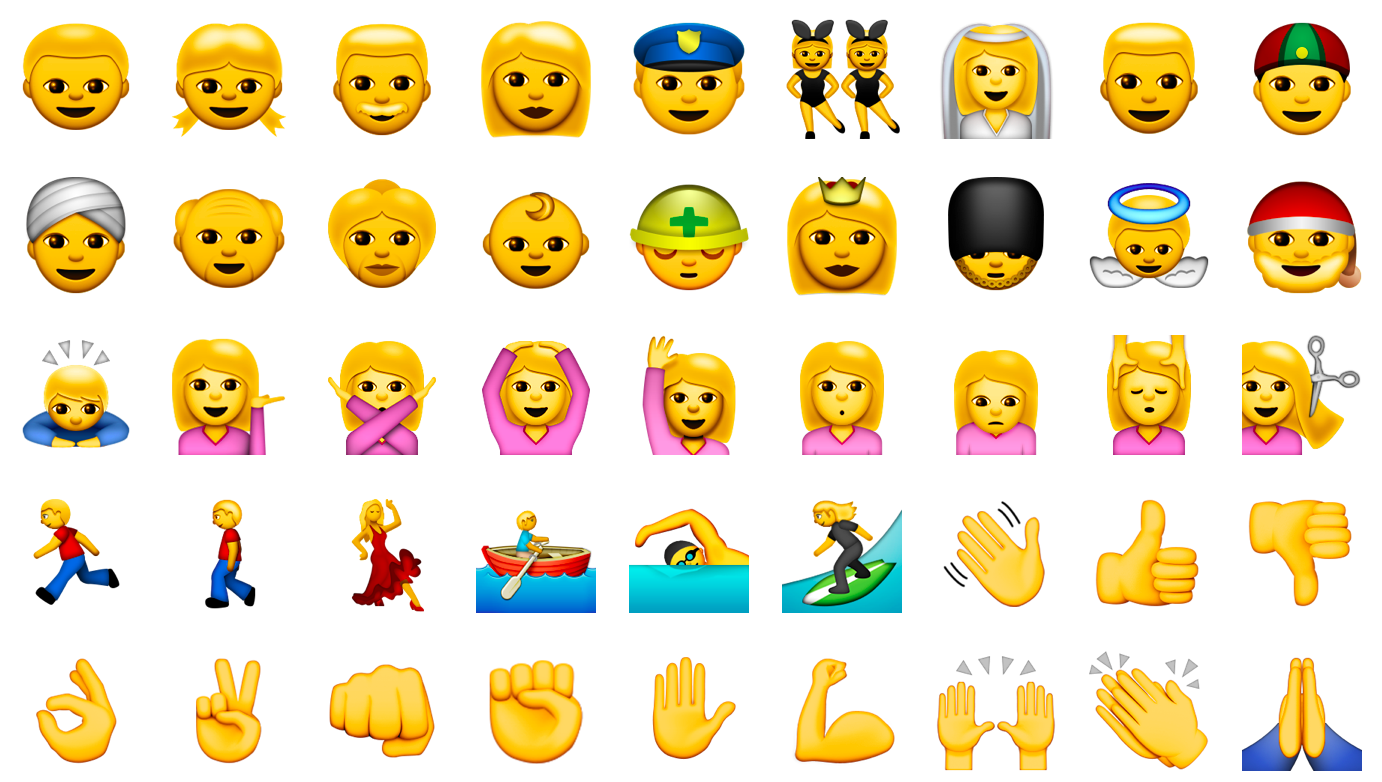 Above: Your new, yellow, emoji family
Interestingly, Apple went one step further with these images shortly prior to the public release of iOS 8.3 and OS X 10.10.3. The first developer beta versions used yellow-skin with dark hair for the defaults. All publicly-shipping default emoji people now have both yellow skin, and yellow hair.
Presumably this change was to make the defaults more distinct from the pale skin emojis which also feature dark hair, and light skin.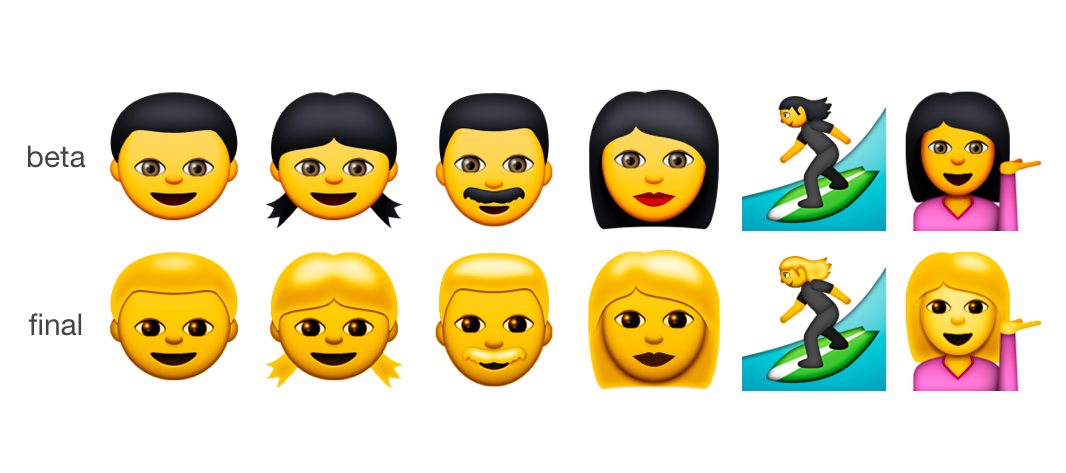 Above: Comparison of beta emoji artwork and final version
Google implemented a similar change to its characters with the release of Android 5.0 Lollipop in November 2014, which changed the skin tone of many white characters to yellow.
In fact, Google went one step further and made many of the emojis gender-neutral in Android 5.0. Unicode suggests that characters with no specific mention of gender or race should be gender-neutral where possible, however the result of this on Android is these 'blob' characters.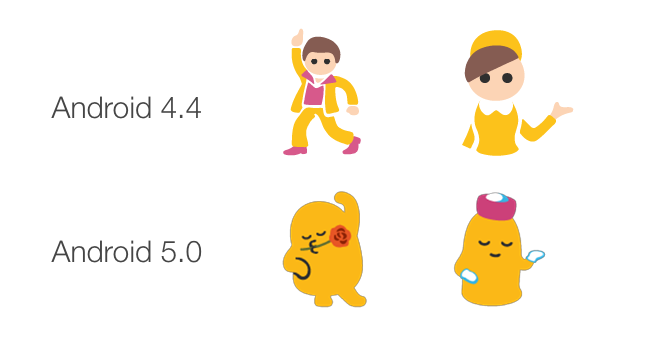 Above: Dancer and Information Desk Person are gender-neutral and race-neutral in Android 5.0
Change the tone
Every previously-white (human-looking) emoji now has a choice of five additional skin tones in the latest update from Apple. These are based on the Fitzpatrick Scale which is used to define various shades of skin tones.
The two whitest skin tones on the Fitzpatrick scale (type 1 and type 2) have been combined into a single pale skin tone known as Emoji Modifier Fitzpatrick Type-1-2. Presumably, these two tones were combined into a single modifier due to the similar of their shade being hard to distinguish at small sizes.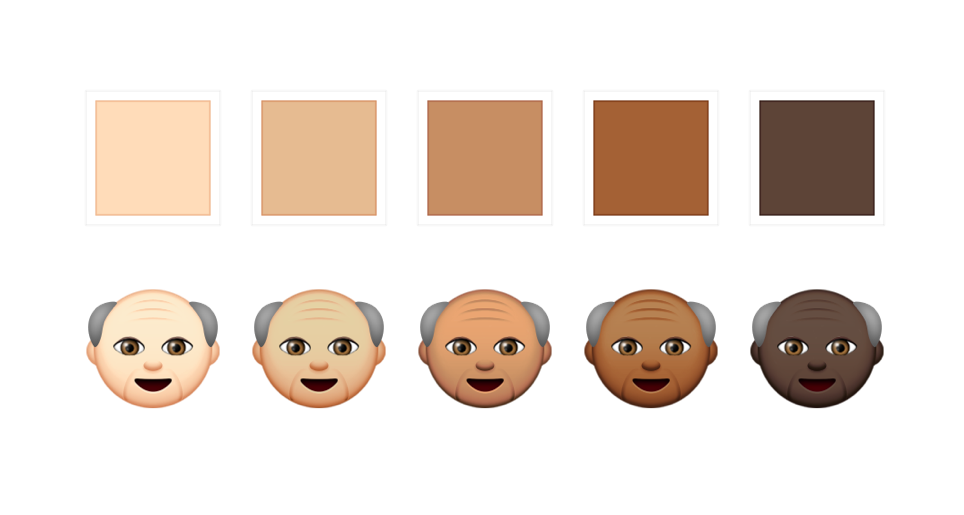 Above: The older man emoji shown with each available skin tone modifier
The skin tone modifiers available for selection are:
With the yellow default tone included, each character now has a choice of six appearances.
While not specified by the Unicode Standard, Apple has chosen to give each skin-tone-modified emoji a different hair color. Unless the emoji name specifies hair-color (such as the person with blond hair), Apple displays each skin tone paired with this hair color:
Type 1-2: Pale Skin — Black Hair
Type 3: Cream-White Skin — Blonde Hair
Type 4: Moderate Brown Skin — Medium-Brown Hair
Type 5: Dark Brown Skin — Dark Brown Hair
Type 6: Black Skin — Black Hair


Above: The boy emoji, showing each skin-hair combination
A notable exception here is the lack of redheaded hair on any emoji variation. Technically, the Unicode Standard only calls for different skin tones, and makes no mention of hair. Which leaves this sort of decision in the hands of those implementing each emoji image.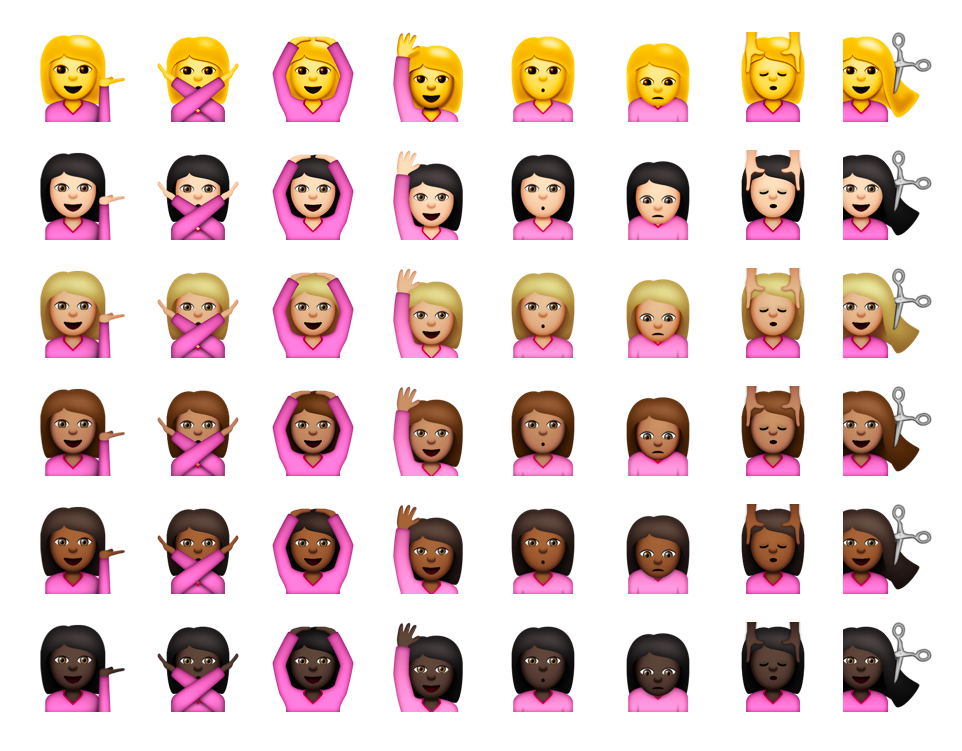 Above: Every skin tone shade available in iOS 8.3 and OS X 10.10.3. Default yellow, pale, cream white, moderate brown, dark brown, and black
The following emojis now support skin tone modification on all current Apple devices:
Skin tone choices are displayed in OS X by a click-and-hold in the emoji picker. The same choices are available in iOS with a tap-and-hold.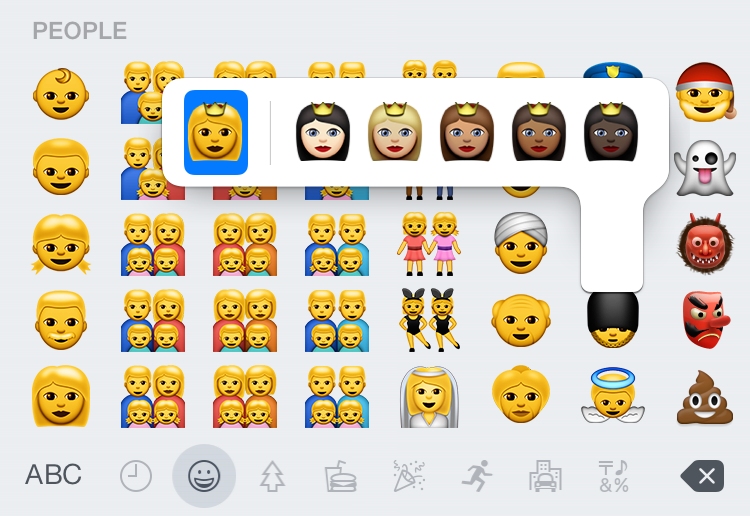 Above: the new emoji picker in iOS 8.3
After choosing a skin tone variation for a particular emoji, that preference becomes the default for next time. The next time that character is chosen with a regular tap (or click), the last-used variation will be inserted.
Family
14 new family combinations are now included in iOS and OS X, bringing the total emoji family choices up to 15.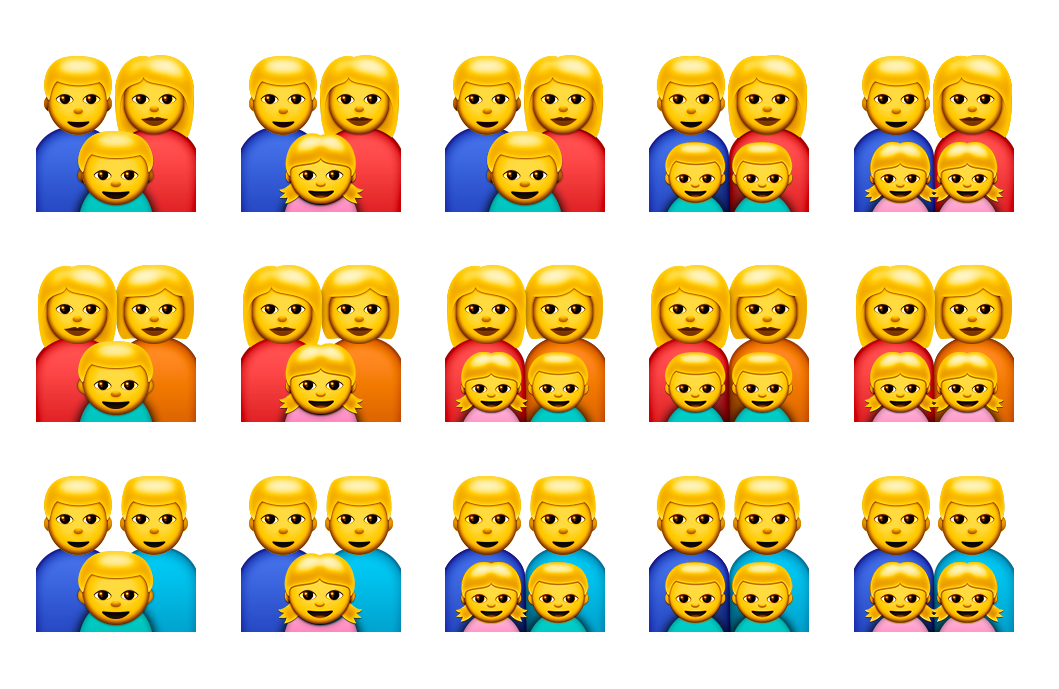 Above: The variety of family emojis available
The combinations now allow for two male parents, two female parents, and one or two children. All of the new family emojis:
These family emojis do not currently support skin tone modifiers. When sending any of the family combinations, default-yellow is the only choice available.
No provision is included for single-parent families, or families with more than two children in this update.
Gay Couples
New emoji characters for couples were first introduced in iOS 6, which for the first time included a gay male couple, and a gay female couple.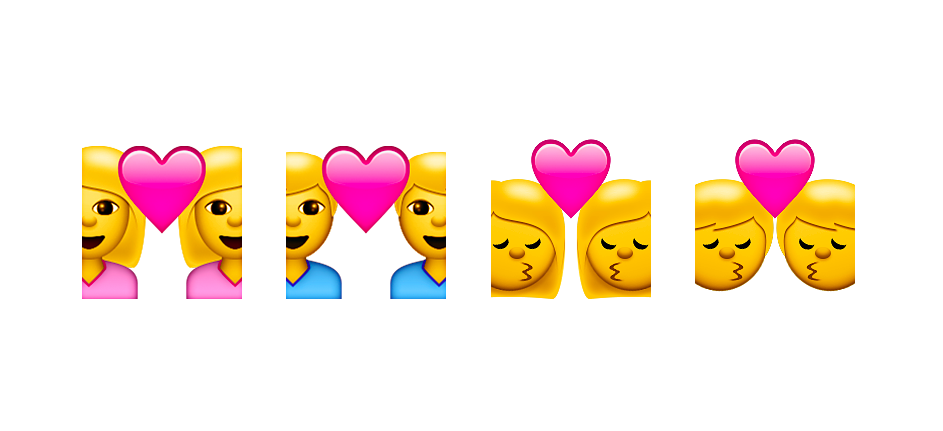 Above: The new couples with two women, or two men
iOS 8.3 and OS X 10.10.3 add the following gay couple emojis to accompany the existing heterosexual versions:
Live Long and Prosper
A late addition to Apple's 2015 Emoji Update was the inclusion of the Vulcan Salute just prior to the public release. This is not available on the emoji keyboard, so remains somewhat hidden.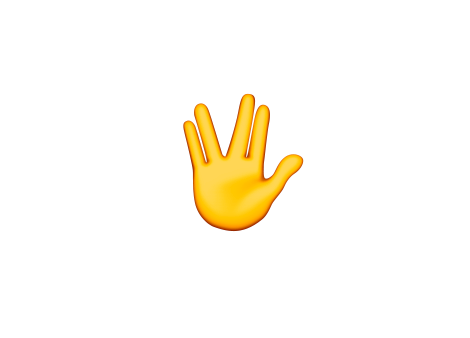 Above: The Vulcan Salute is the only Unicode 7 emoji inclusion in this update
This character was approved in June 2014 as part of the Unicode 7 New Emoji List, but is the first from the list to be implemented by Apple. Which brings us to...
Missing!
While Unicode approved 250 new emoji characters last year, only one has dominated the top emoji list on Emojipedia since its arrival.
A search of Twitter shows people practically begging for the inclusion of what is officially known as Reversed Hand With Middle Finger Extended: aka the middle finger emoji. Is it included in Apple's 2015 update? Sadly not.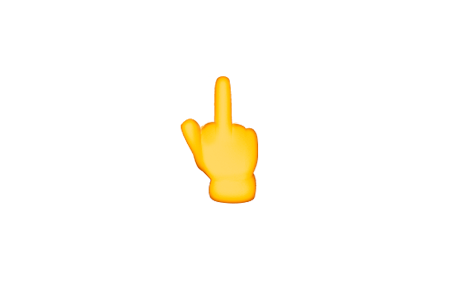 Above: This is what we could have had. Source
Emoji Categories
Prepare to re-learn the position of your favorite emojis, as they have all changed. New categories have been introduced, and emojis have been re-arranged within the existing categories as well.
The new categories are:
Examples of these changes include:
New Flags
A total of 198 emoji flags have been added to the existing 10 flags supported by the previous Apple Emoji font.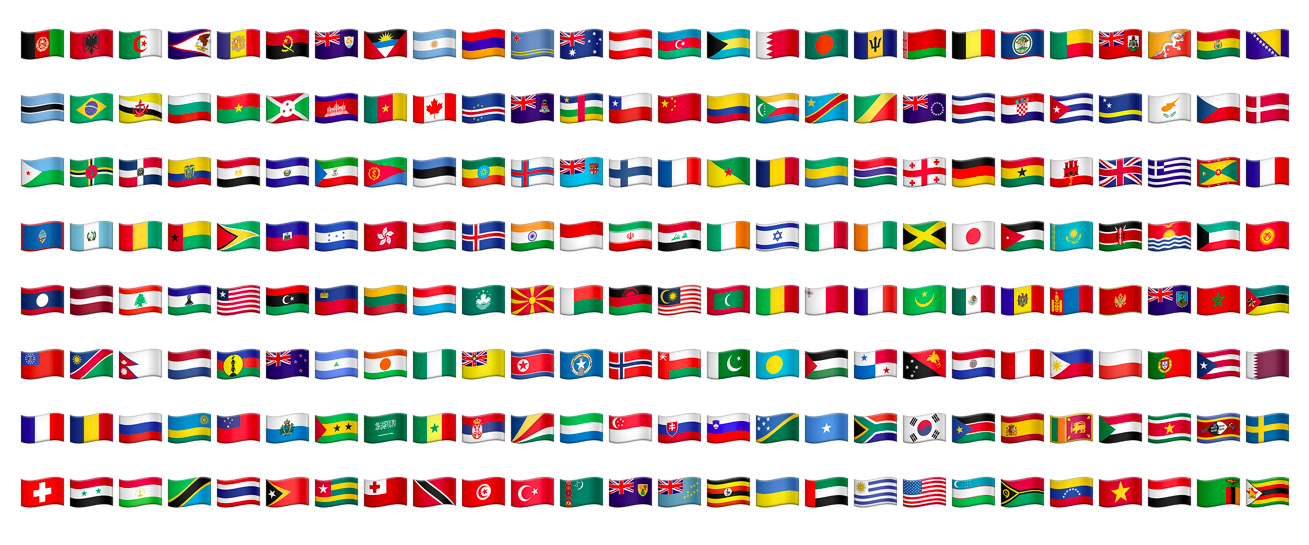 Above: All of the emoji flags from Apple
Only a subset of these flags display on the emoji keyboard, which may cause some confusion. Like the Vulcan Salute Emoji, this is a deviation from how Apple has previously addressed emoji. Prior to this update, the keyboard was a demonstration of every emoji supported. This is no longer the case.
The flags now supported on iOS and OS X are: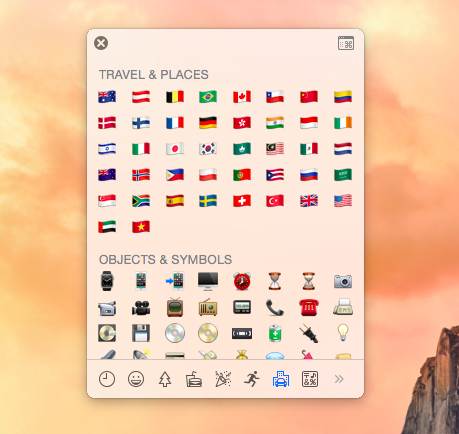 Above: The emoji flags shown here in the OS X emoji palette.
A common request is for individual flags for England, Scotland, or Wales. The Unicode Standard uses ISO 3166-1 as the basis for determining which two-letter codes translate into country flags.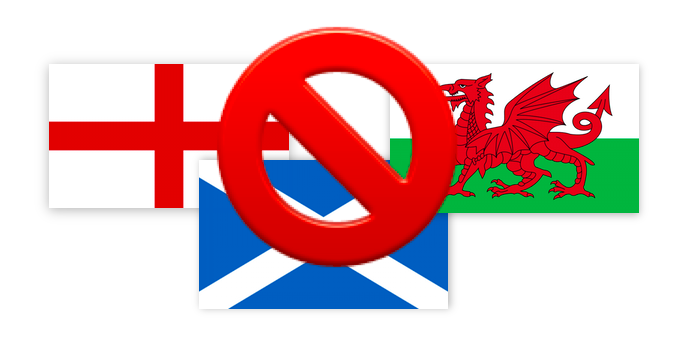 Above: No Emoji Flags for England, Scotland, or Wales
Under this standard, the United Kingdom flag is the one chosen to represent these countries. They are unlikely to appear in future updates, unless ISO 3166-1 changes accordingly.
Technology Images
To keep pace with new product releases, Apple has updated the watch, computer, and mobile phone emojis to represent the Apple Watch, iPhone 6, and current iMac.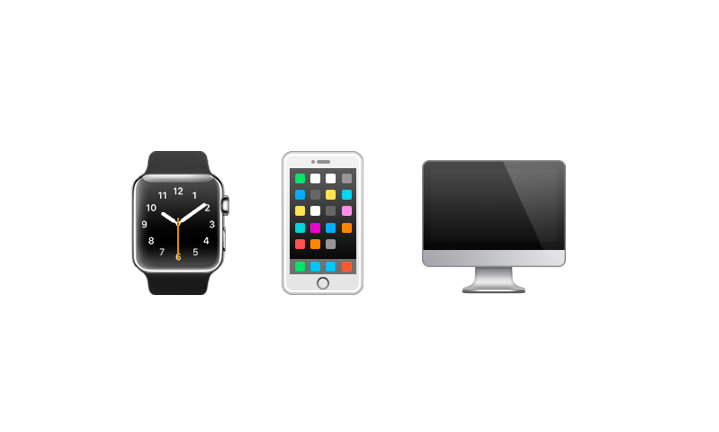 Backward Compatibility
What happens when you send a new emoji to someone who hasn't upgraded yet? Or who uses an Android or Windows device?
As an example, if the brown version of the Thumbs Up Sign is sent to an iOS 8.3 or OS X 10.10.3 device, this will display as intended:a brown thumbs up.
Should the recipient have an older iOS device (or any other OS that doesn't not yet support the skin tone modifiers) they will see a regular thumbs up emoji, with an empty square displayed after it. The meaning is not entirely lost, just the piece of information that their OS does not understand (the skin tone modifier character).
Flags that are not supported by other systems will instead display their two-letter country code. For instance, 🇨🇦 Flag For Canada displays right here in this post as a flag for some people, or the letters CA for those on systems that do not yet include this character.
What else?
🏊 Swimmer now wears goggles. No more sore eyes.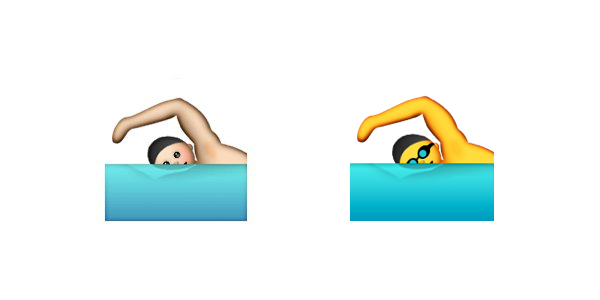 👯 Woman With Bunny Ears includes more prominent bunny ears on the two girls.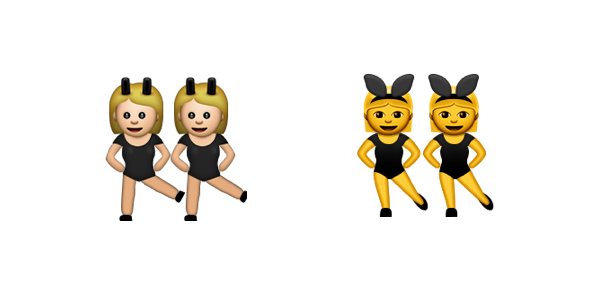 💃 Dancer now has eyes and hands. Mouth and nose upgrades not yet available.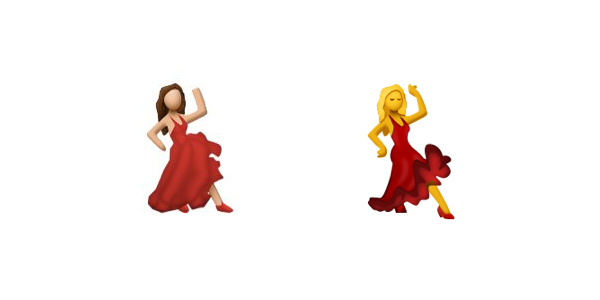 🙏 Person With Folded Hands no longer displays a burst of light behind the hands.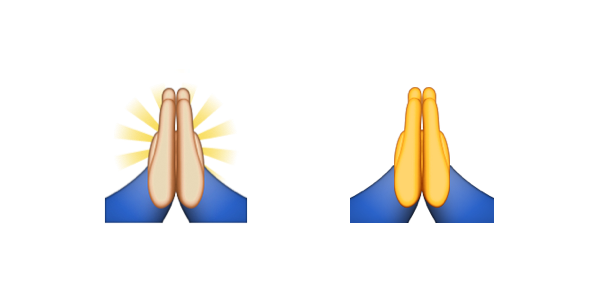 Person having a 🛀 Bath gains closed eyes.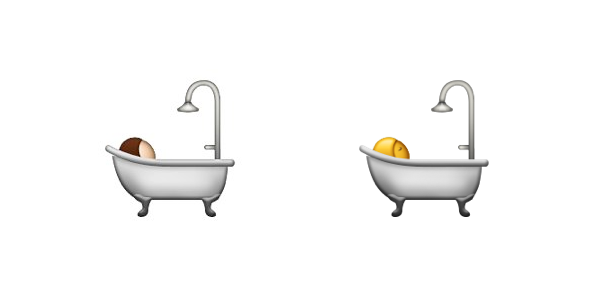 Notable omissions in this update: Single-parent families, emojis with red hair, the previously-noted middle finger emoji, and for that matter, the rest of the Unicode 7 emoji list.
---
Related