2015: The Year of Emoji Diversity
The Unicode Consortium has released a technical report which details a method for representing a range of skin tones in emoji.
Guidelines have previously suggested that emoji people be "as neutral as possible regarding race, ethnicity, and gender".
Basically, if the character name calls for a specific gender (👸 Princess) or accessory (👳 Man With Turban), then it should be included. But if the description is less specific (😍 Smiling Face With Heart-Shaped Eyes) then a gender-neutral "generic (inhuman) appearance, such as a yellow/orange color or a silhouette" should be used.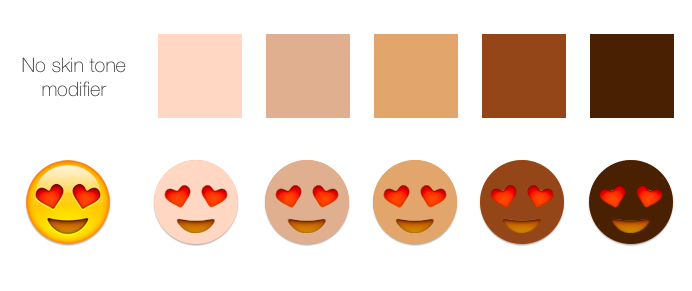 Above: Mockup of emoji skin tones. Colors are based on the Fitzpatrick Scale.
The Unicode 8.0 update, slated for mid-2015 release, proposes to introduce a skin tone modifier that can be added to each emoji, resulting in the ability to send any emotion, with any skin tone.
Plans for this functionality even go so far as to allow the couple emoji characters to feature any combination of skin tones for the man or woman. Or men. Or women.
The Unicode Consortium has set of date of mid-2015 for the release of the Unicode 8.0 standard. Skin tones and racial diversity inclusion are only a proposed draft at this stage, and made available for public review and comment.
Given that none of the major platforms yet support the new Unicode 7.0 emoji characters, (released earlier this year), it is not clear how long we will wait to see Unicode 8.0 updates included in iOS, OS X, Android or Windows.
Apple, Google or Microsoft have not made statements regarding their plans for Unicode 7.0 emoji, however Apple is on the record supporting emoji racial diversity.
In March of 2014, MTV contacted Apple directly to ask about the lack of racial diversity in the current set of emoji. This followed calls on Twitter from Miley Cyrus calling for an #emojiethnicityupdate. Then-Vice President of Worldwide Corporate Communications; Katie Cotton responded:
Tim forwarded your email to me. We agree with you. Our emoji characters are based on the Unicode standard, which is necessary for them to be displayed properly across many platforms. There needs to be more diversity in the emoji character set, and we have been working closely with the Unicode Consortium in an effort to update the standard.
Between this public comment, and the fact that the authors of the Unicode Emoji update document are from Apple and Google, this is a promising sign of things to come.
Update: February 23, 2015
The pre-release versions of iOS and OS X, now in development, have support for these skin tone modifiers.
---
Related