Better Emoji Exploration with New Emojipedia Frontend Features
We here at Emojipedia are excited to announce a new site redesign as part of our 10th annual World Emoji Day celebrations and our site's 10th anniversary. This redesign adds a host of new exploration features to our unrivaled archive of emoji info, as well as improving core existing features.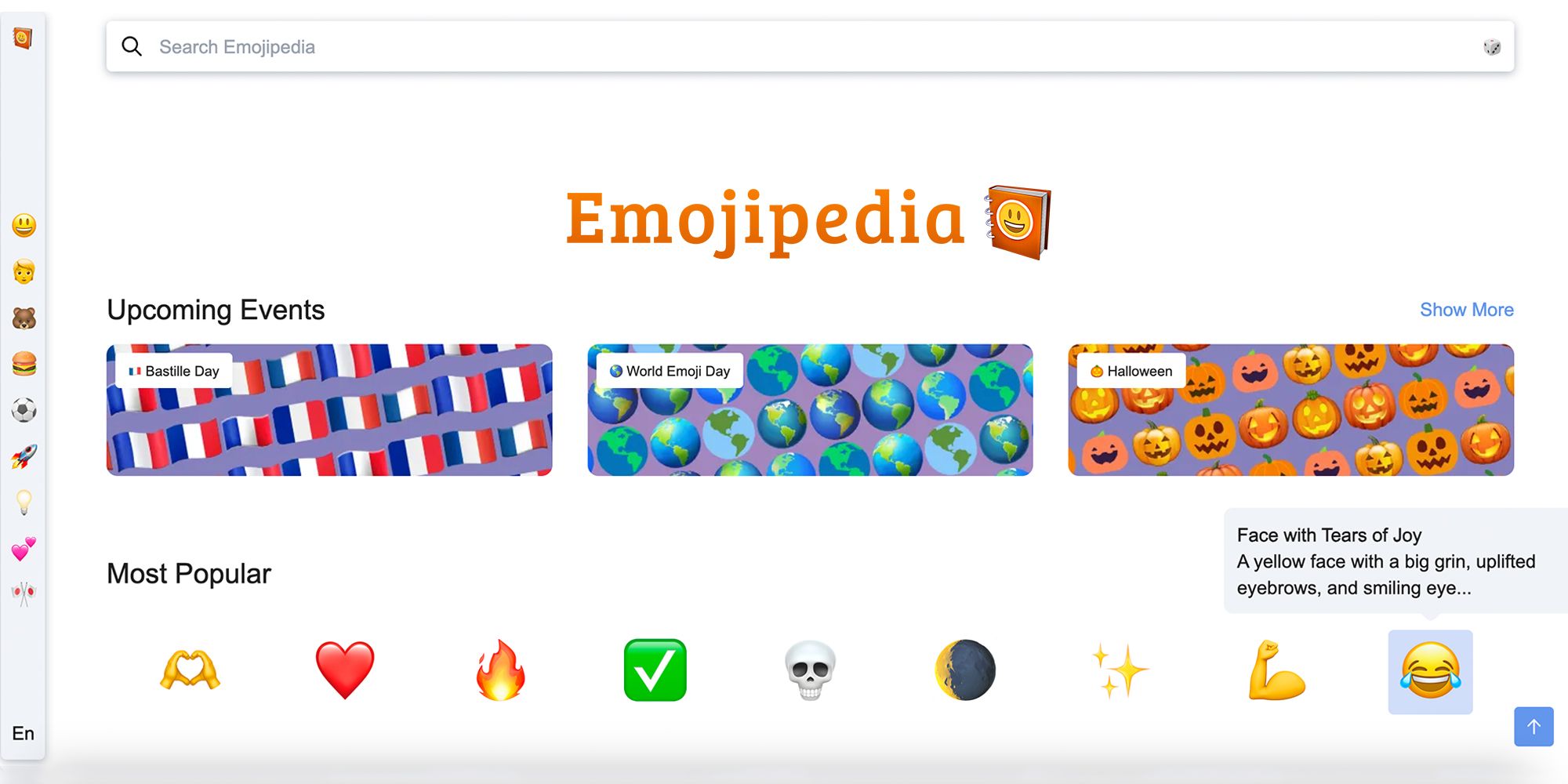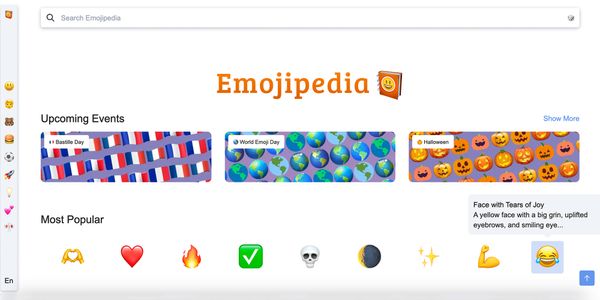 We here at Emojipedia are excited to announce a new site redesign as part of our 10th annual World Emoji Day celebrations and our site's 10th anniversary.
This redesign adds a host of new emoji exploration features to our unrivaled archive of emoji information and designs compiled over the last 10 years. The redesign also makes improvements to our emoji search results, our emoji copy function, and our overall site loading times.
This update has begun rolling out to our global user base since early this week but can be accessed directly while the rollout is ongoing.
🪟 Cleaner Copying & Dedicated Content Tabs
Our core emoji pages have been redesigned to place both the copy function and emoji information content side-by-side, allowing swift access to both simultaneously.

The copy function can be activated either by clicking the "Copy" button or clicking the emoji character itself.
We've also added a quick-to-use skin tone variation tool underneath supported people and gesture emojis, such as the 🫶 Heart Hands shown below.

There's also a "Goes Great With" section for each emoji, prominently displaying both individual emojis and emoji-based events and topics that compliment the emoji you're presently viewing.

Additionally, we have now grouped an emoji's history designs and its technical information within their own dedicated in-window tabs on each emoji page.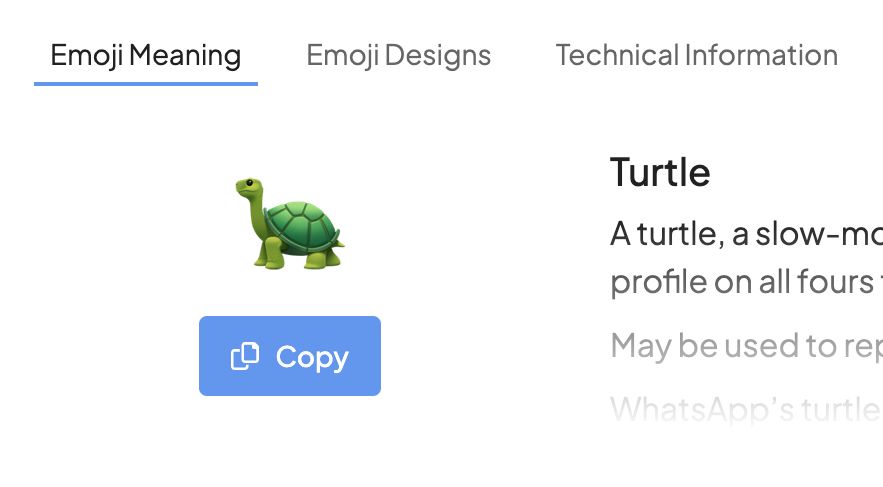 Selecting 'Emoji Designs' will show you an improved display of that emoji's designs not just across different vendors like Apple, Google, and Microsoft, but also across different vendor updates where that emoji was added or updated.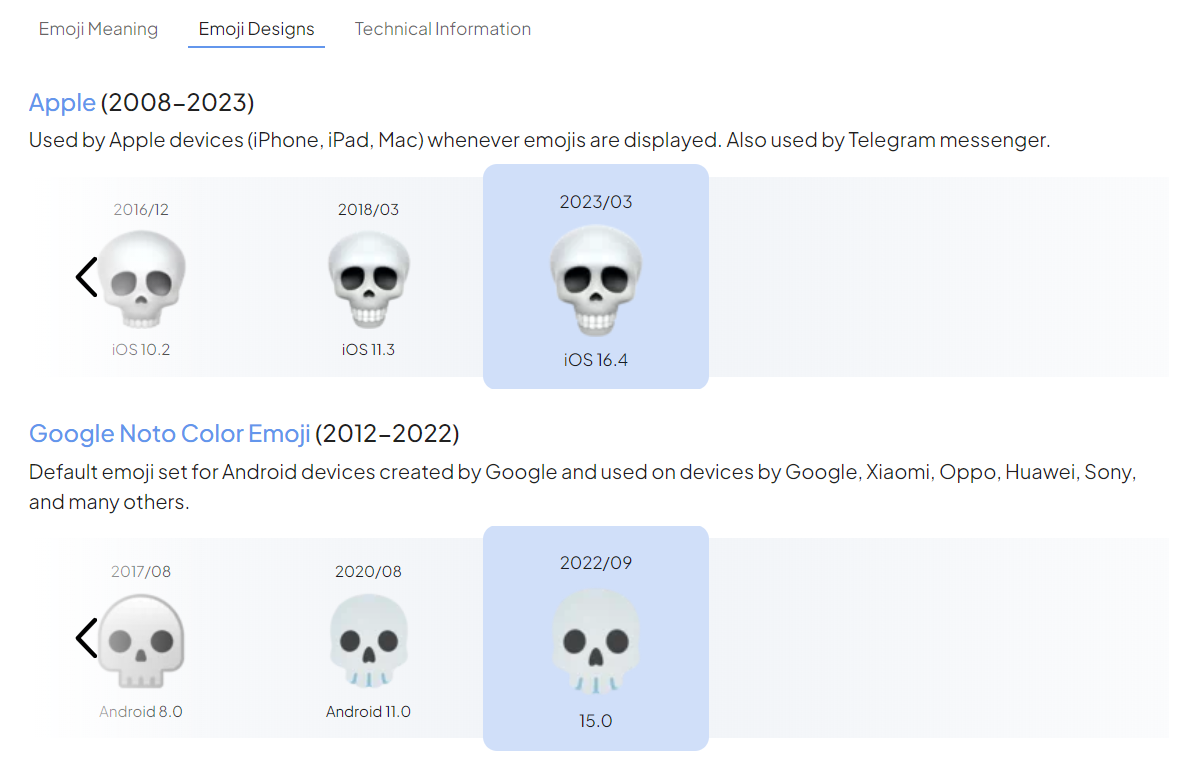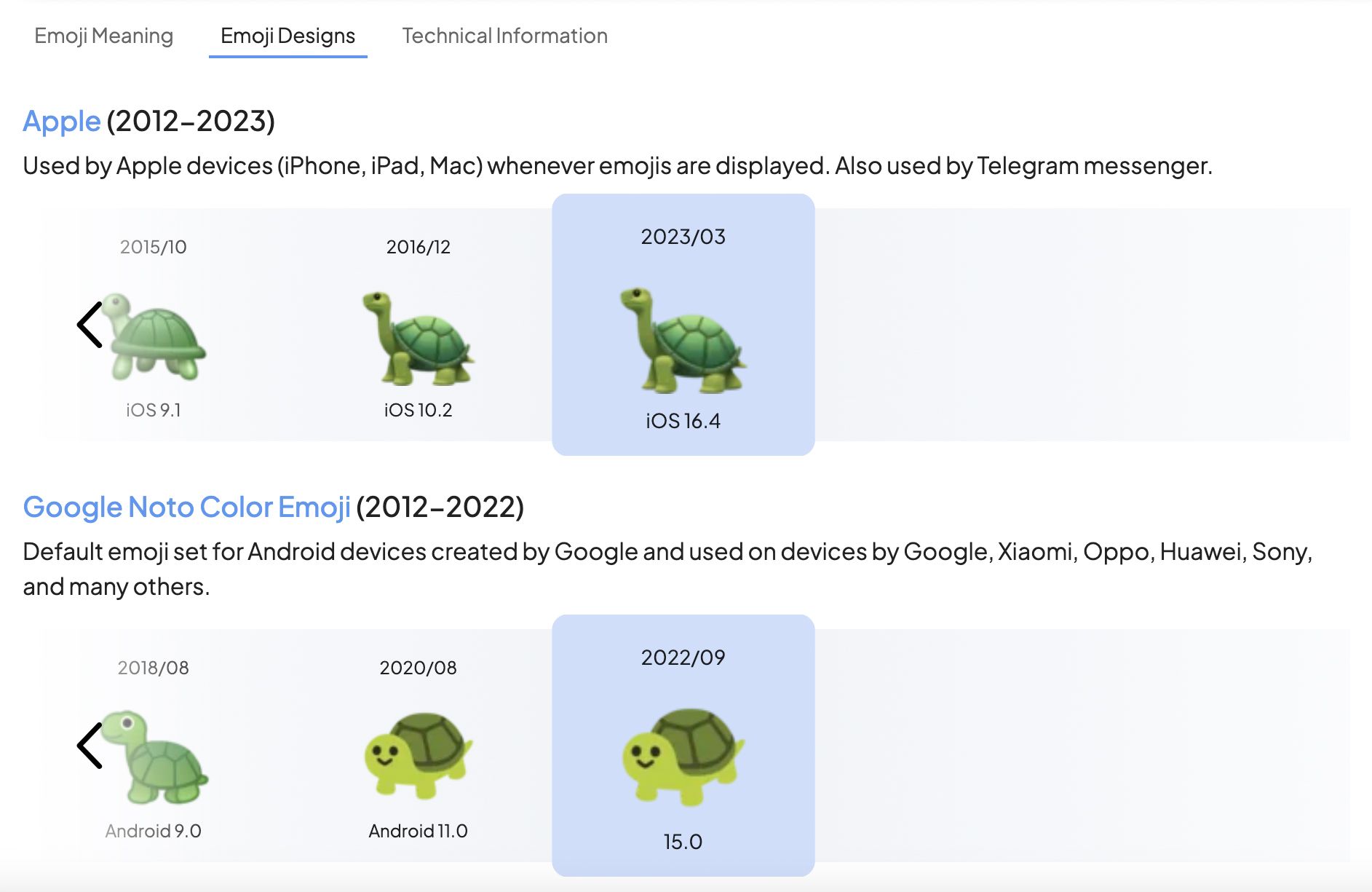 Each vendor's historic updates can be scrolled through using the within-row arrows.
Meanwhile, selecting "Technical Information" will show a host of additional information related to that emoji.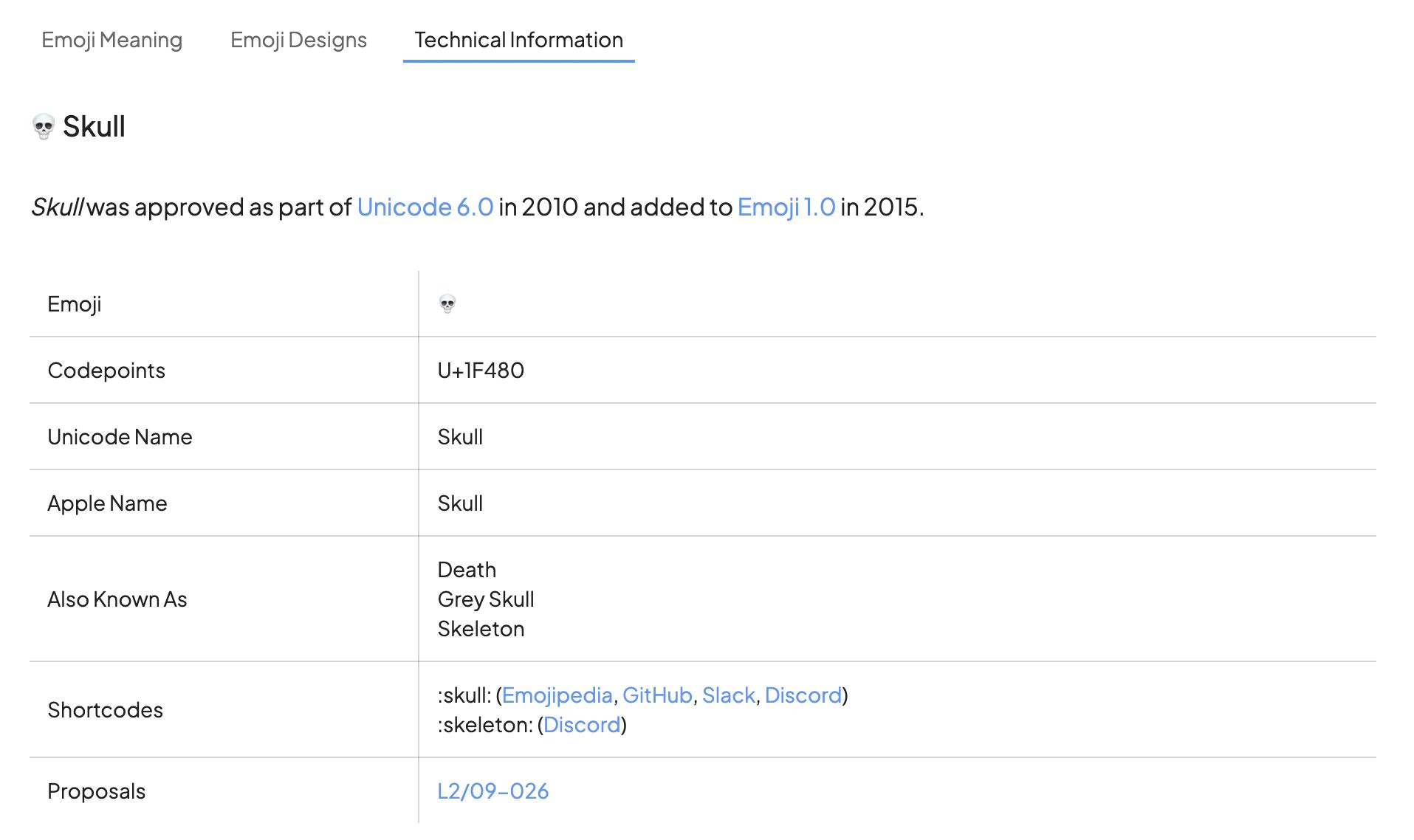 📜 Highlighting Emoji History
In addition to revising how we display an individual emoji's historic designs, we've also added a new site feature to allow our users to better explore different vendor updates from the likes of Apple and Google, as well as all of the historic emoji recommendations lists from Unicode.
Introducing our new timeline tabs feature.

This timeline will appear on site pages dedicated to:
Each notch on the timeline represents an individual update or release for that particular emoji vendor or Unicode release, named and dated upon hover.

So, the notches on the timeline shown each represent an update to the Google Noto Color Emoji set that is available within the Emojipedia archives (plus a bonus animated Gmail set from 2008).
This feature will allow our users to swiftly jump from the likes of Apple's latest iOS 16.4 designs back to their 2017's iOS 11.1 update (when 🤩 Star-Struck and 🤨 Face with Raised Eyebrow were first added), or even further back still to their original 2008 set on iPhone OS 2.2.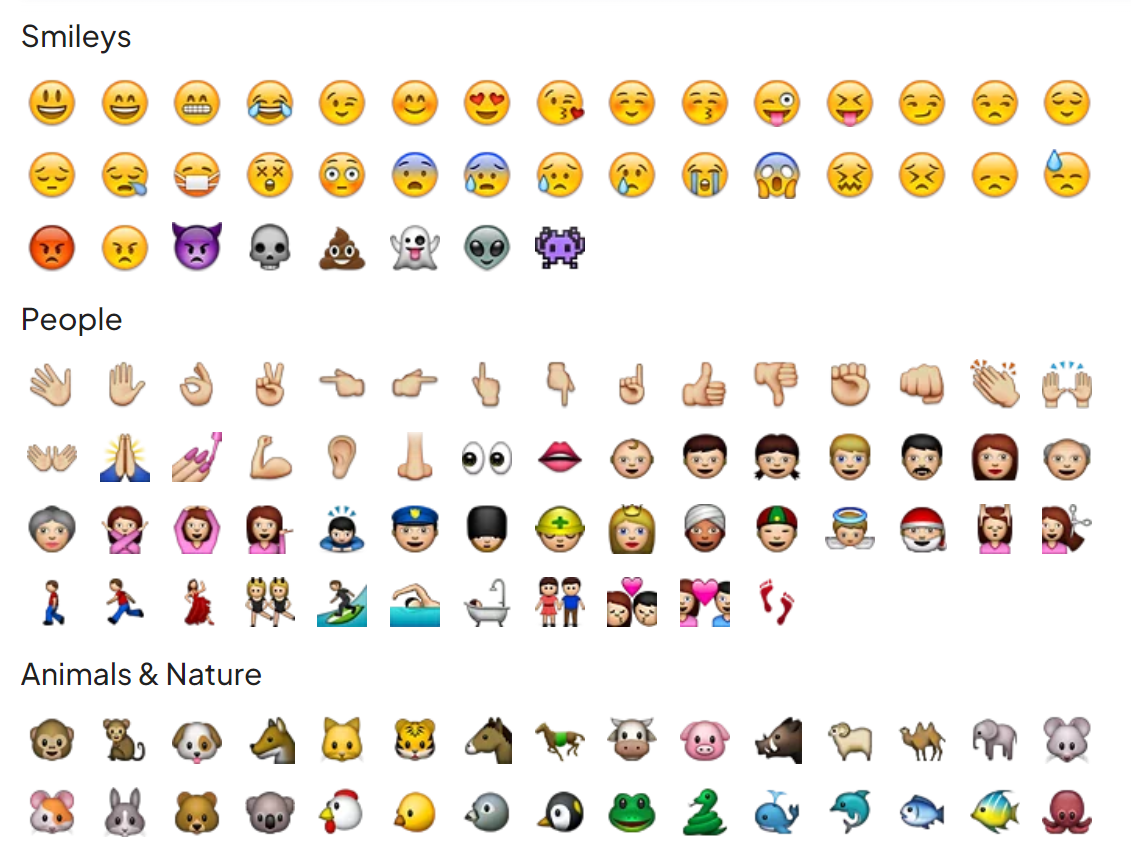 🎲 Improving Search & Rolling The Dice
A small but simple change we've made to our site is that we've made our "Random" feature more prominent by placing it within the right-hand corner of our sticky search bar, represented by the 🎲 Game Die emoji.

Selecting this will take you to a random emoji page from across the Emojipedia archives, allowing you to elegantly careen through the depths of our emoji archives from any point across the site.
We've also made considerable backend improvements to how our search functionality operates, leading you to your desired emoji even more swiftly.
📋 Cleaning Lists & Adding Categories
Our category, events and topic pages have also undergone a visual transformation, with emojis now displayed in a compact grid format instead of over-long lists.
Take, for example, the 🐻 Animals & Nature emoji category shown below.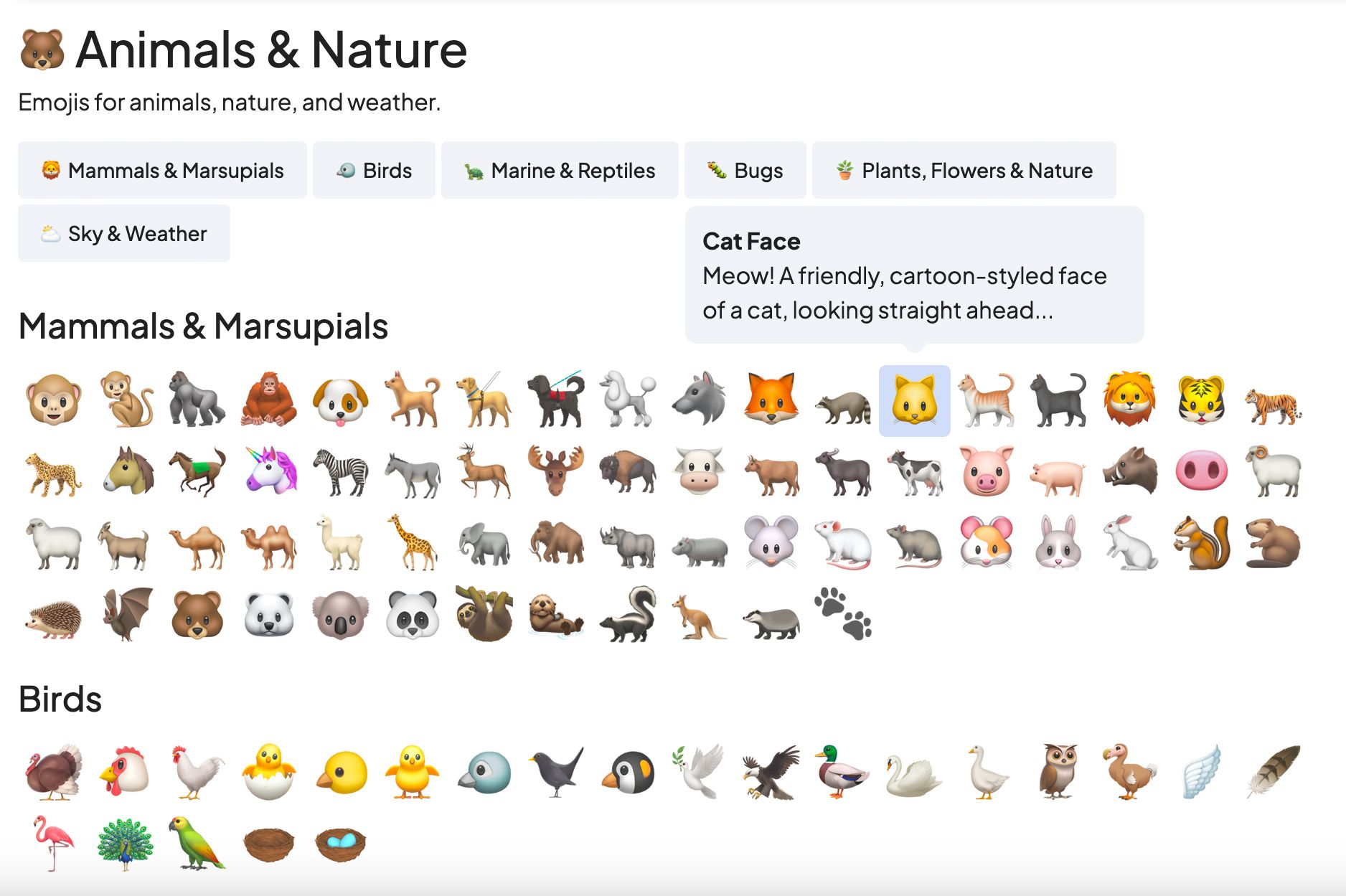 Hovering over an emoji character shown in this new grid display will show additional information about that emoji within a small pop-out window.
Selecting that emoji character will of course then take you to the emoji's emoji meaning page as always (so the 🐱 Cat Face is likely about to be visited in the image above).
Additionally, emoji category pages now include a selection of subcategory filters, such as those shown below for the 🍔 Food & Drink category page.

Selecting these with jump you to the area on a category page at which emoji's within that particular subcategory are grouped.
A similar categorization feature has also been added to our vendor pages, allowing you to quickly view designs from different categories.

💻 Release
The new and improved Emojipedia.org website is currently rolling out progressively to a proportion of our global audience, with a majority of users expected to see the new site design by World Emoji Day 2023 (July 17).
In the meantime, as mentioned above, curious users still on our classic site design can preview the all-new Emojipedia by following this link.
Read More