WhatsApp Adds Olympic Rings Emoji
Today WhatsApp quietly released an update which added support for an Olympic Rings emoji on iOS and Android.
Just in time for the Rio 2016 Olympic Games, this new emoji appears in the latest update1 for all users.
Interestingly, the release notes only notes the presence of larger emojis and no mention of this addition.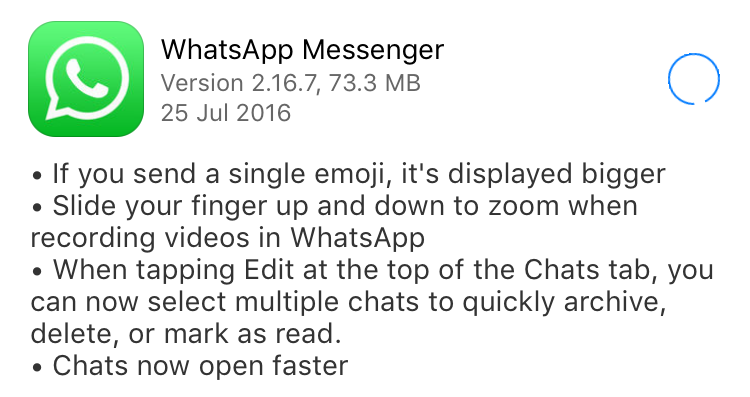 Above: No mention of this emoji in the release notes for WhatsApp 2.16.7.
Given how seriously the licensing for this symbol is taken by the International Olympic Committee, it's fair to assume that this logo was included as part of a sponsorship or other commercial arrangement.
How to use it
WhatsApp for Android includes a custom keyboard for emoji, which means additions like this can be shown.
The Olympic Rings emoji can be found after 🎳 Bowling on Android: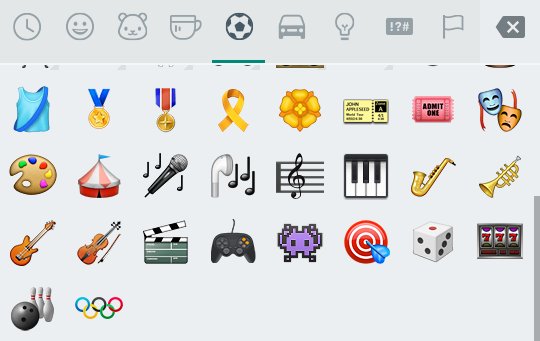 Sending the Olympic Rings emoji works across all versions of WhatsApp.
On iOS, it's trickier.
As this is not part of the iOS emoji keyboard, the only choice for those on iPhone is to copy and paste the emoji from a friend, or by copying this sequence (which looks like five circles outside of WhatsApp):
◯◯◯◯◯
This sequence turns into the Olympic Rings when pasted into WhatsApp: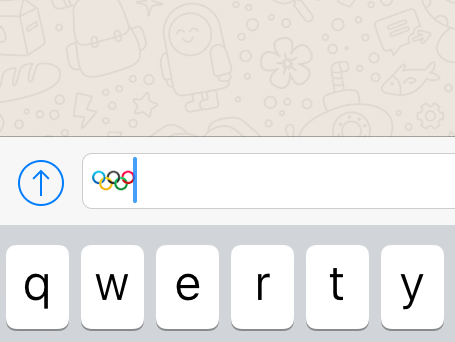 How? The magic of Emoji ZWJ Sequences.
ZWJ Again
The new Olympic Rings emoji is not a sticker or non-Unicode implementation. It uses the now tried-and-tested method of creating an Emoji ZWJ Sequence to render a new character.
Copy and paste the Olympic Rings emoji outside of WhatsApp and this is what you see: ◯◯◯◯◯
This sequence is created using five of the U+25EF LARGE CIRCLE2 Unicode Characters:

Above: Olympic Rings emoji does not show outside of WhatsApp. Shown here in Notes for iOS.
When this sequence is displayed in WhatsApp (joined with U+200D ZERO WIDTH JOINER characters), the emoji comes to life and displays the emoji included within WhatsApp: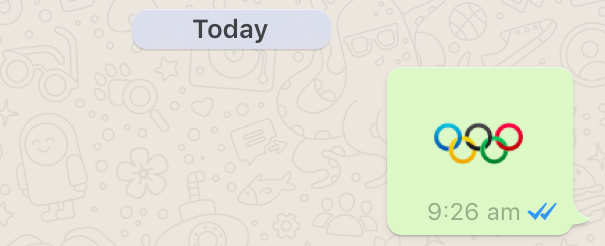 Not Apple
WhatsApp differs from most apps in that it shows the Apple emoji images on all platforms, eschewing the platform native characters on the various Android flavors and Windows Phone3.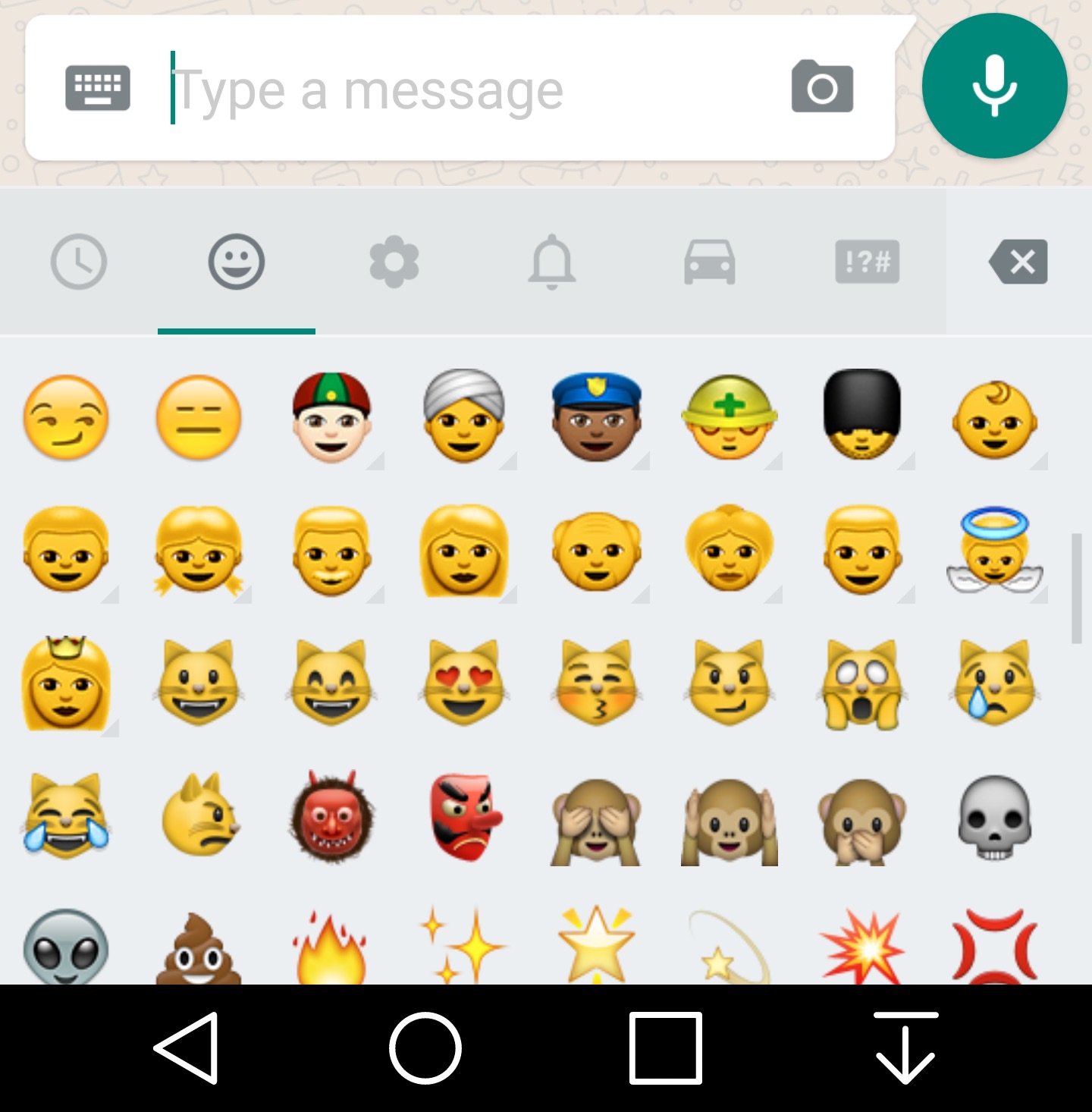 Above: WhatsApp for Android showing Apple emojis on the built-in emoji keyboard.
This is sometimes considered a benefit by users - who see Apple's emoji images as the most recognisable - but is certainly a change from how other apps4 behave.
In this instance, the Olympic Ring emoji has nothing to do with Apple, and is not copied from Apple's Color Emoji font on iOS.
Not the first time
WhatsApp has a history of clever5 ways to support emojis that aren't yet on other platforms.
In 2014, a Flag for England was quietly added. Emoji flags are based on an ISO standard which defines two-letter country codes. England doesn't get one of these codes, and as such is represented by the broader Flag for United Kingdom.6

WhatsApp used the regional indicator pair XE for this flag as a workaround.
Codes starting with X are reserved for exceptions, sort of like a 'private use area' for countries. Kosovo has one of these (XK), and presumably the "E" is for England.
In mid-2015, WhatsApp was the only platform with access to the middle finger emoji, approved in mid-2014.

Above: WhatsApp version of the middle finger emoji.
Apple included support for this emoji in iOS 9.1 in October 2015.
WhatsApp updated its app to use the Apple middle finger emoji soon after on iOS, but WhatsApp for Android still uses the custom middle finger image.
Other platforms
No other platform supports the Olympic Rings Emoji at present, outside of WhatsApp.
Unicode Emoji Selection Factors states the following as a factor for exclusion as emoji:
Images such as company logos, or those showing company brands as part or all of the image, or images of products strongly associated with a particular brand.
Emoji ZWJ Sequences are not held to the same standards at present, as they do not require approval from Unicode to be rolled out on one platform.
The 👁‍🗨 Eye in Speech Bubble suggests that if other companies had a commercial arrangement for including the Olympic Rings emoji, it may be possible.
My tip: expect to see more Emoji ZWJ Sequences from specific platforms in future.
---